Toaster Oven Roasted Carrots
Deliciously sweet and tender, toaster oven roasted carrots are an easy springtime side dish for two. A drizzle of balsamic vinegar adds an extra burst of flavor that makes this simple recipe shine.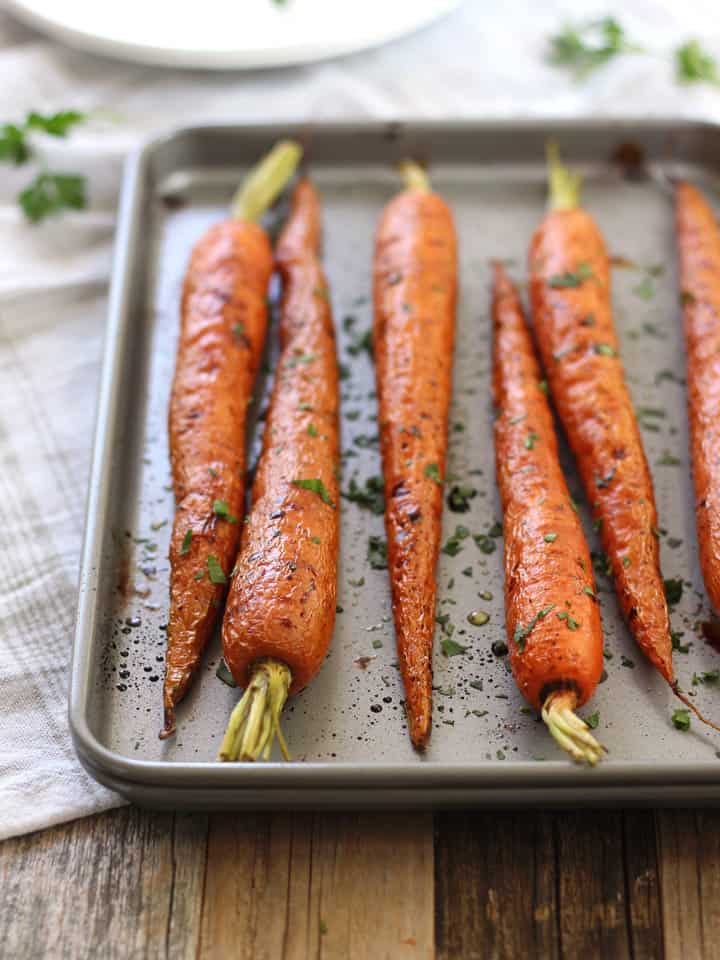 Carrots taste excellent raw but roasting transforms them into tender yet toothy, slightly smoky, sweet bites of veggie goodness.
​​To make this simple recipe you can use bagged, multi-colored, or fresh carrots. If the carrots have green tops attached, use a sharp knife to trim most of the tops off.
We don't usually peel our carrots but you can if you want – it definitely makes for a prettier presentation. Either way, give the carrots a good scrub and dry them well!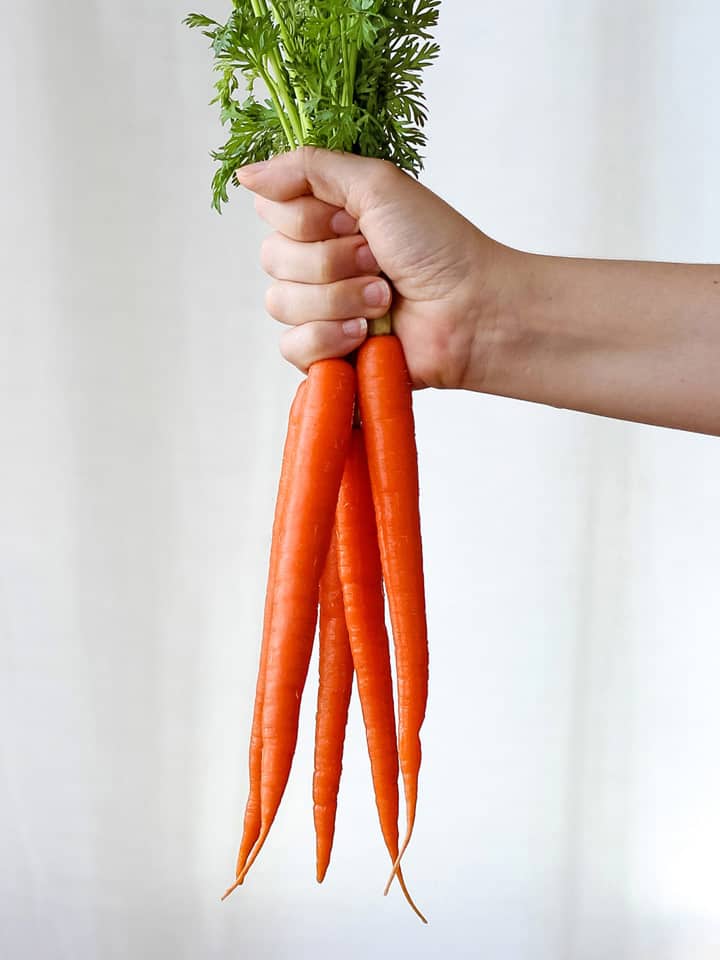 Balsamic Vinegar: It adds a deeper savory flavor to the dish and the vinegar's acid helps to balance the natural sweetness of the carrots. If balsamic vinegar isn't your thing, they're also tasty drizzled with our small batch dijon vinaigrette or Italian salad dressing.
Fresh Herbs: A sprinkle of chopped parsley adds a pop of color and brightness. Fresh thyme leaves, oregano, chives, or finely chopped carrot tops are good options too.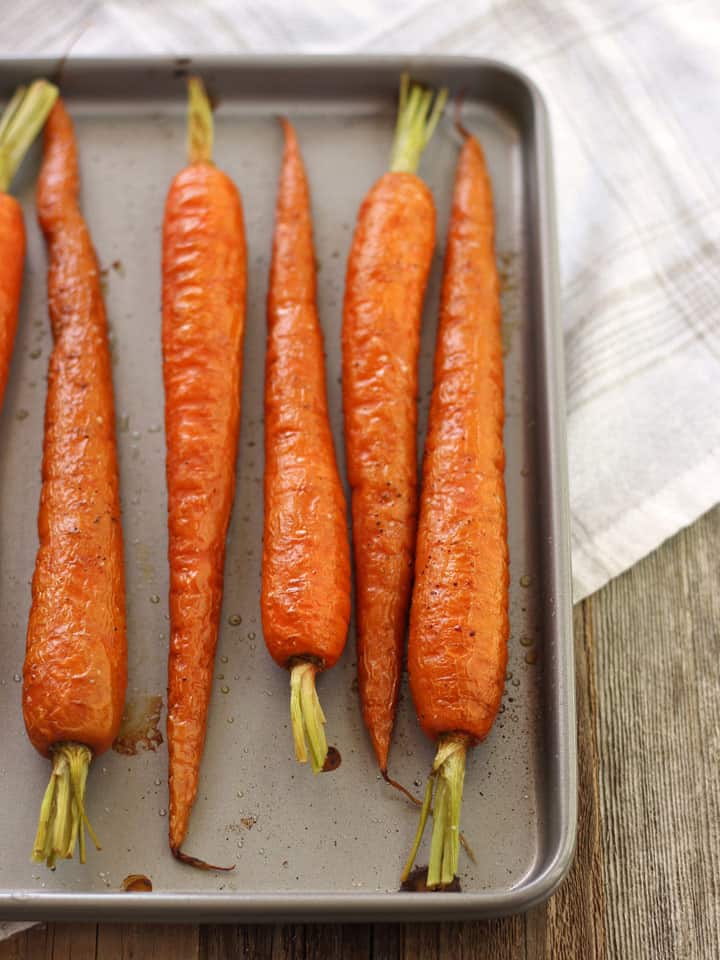 How Long Should I Cook My Carrots?
Similar to roasting brussels sprouts and asparagus spears, the cooking time will depend on how thick/large your carrots are.
Smaller carrots usually take about 15 to 20 minutes. While larger carrots can take longer, about 25 to 30 minutes. 
When ready, you're looking for the roasted carrots to be:
a deeper orange color
lightly browned
just tender enough to stick a knife through the thickest part.
Why Do You Add The Vinegar At The End?
The added moisture from the vinegar would cause the carrots to steam instead of roast. So we like to drizzle them with balsamic vinegar near the end of the cooking. 
Popping the carrots back into the hot toaster oven helps them absorb the vinegar and deepen their flavor without becoming soggy.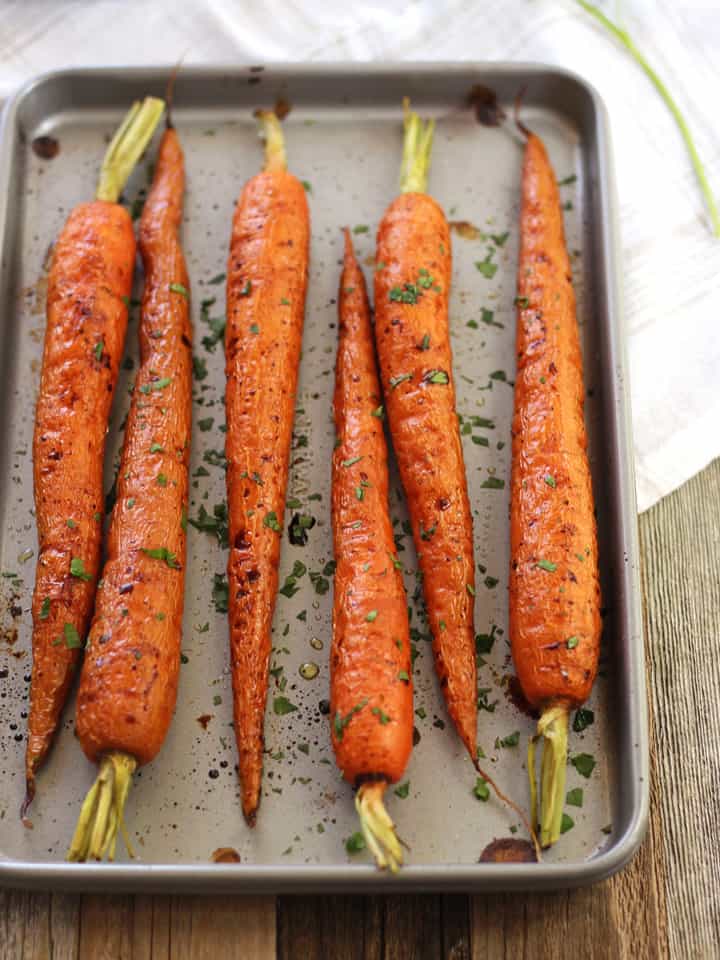 More Tasty Toaster Oven Vegetable Recipes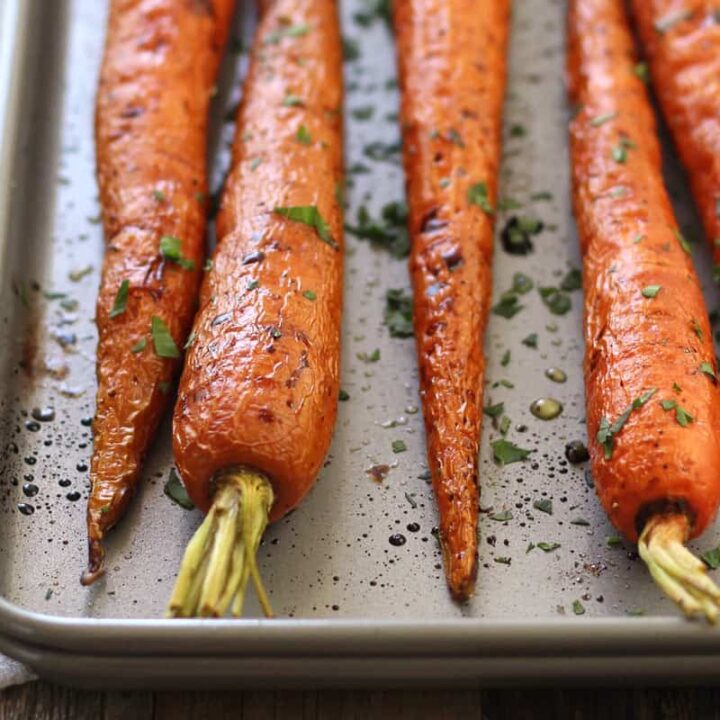 Toaster Oven Roasted Carrots
An easy recipe for sweet and tender toaster oven roasted carrots. Enjoy them lightly seasoned or dressed up with a drizzle of balsamic vinegar.
Ingredients
1 Bunch Medium Carrots (about 6 carrots), green tops removed, scrubbed, and dried
1 to 2 teaspoons Olive Oil or Avocado Oil
Salt and Black Pepper, to taste
1 teaspoon Balsamic Vinegar, optional
Fresh Parsley, finely chopped
Instructions
Adjust the cooking rack to the bottom shelf, select the BAKE setting and preheat the toaster oven to 425°F.
Place the carrots on a small rimmed sheet pan or your toaster oven's roasting pan. If they are too long, it's okay to chop a little off the end to make them fit.
Drizzle the carrots with the oil and season with salt and pepper. Rub the carrots with clean hands or roll them back and forth to coat with the oil.
Add the pan to the toaster oven and cook for about 15 to 25 minutes, flipping the carrots halfway through the cooking time. When ready they will be lightly browned and just fork-tender at the thick ends of the carrots.
Carefully remove the hot pan and drizzle carrots with balsamic vinegar. Gently shake the pan to roll the carrots and coat them with vinegar.
Return the pan to the toaster oven and cook until most of the vinegar has been absorbed about 5 minutes more.
Let cool for a few minutes. Then top with chopped parsley and enjoy!
Notes
Cook Time: The total amount of time will vary and depends on the size of your carrots. Smaller carrots usually take about 15 to 20 minutes and larger carrots can take 25 to 35 minutes. For the best results, begin checking on your carrots after 15 minutes and add more time as needed.
Carrot Greens: If you purchase carrots with the greens attached make sure to remove them before storing. Left on, the greens will raid the carrots of moisture and dry them out.
Nutrition Information:
Yield:

2
Serving Size:

3 Medium Carrots
Amount Per Serving:
Calories:

96
Total Fat:

2.3g
Saturated Fat:

0.3g
Cholesterol:

0mg
Sodium:

126mg
Carbohydrates:

18g
Fiber:

4.5g
Sugar:

9g
Protein:

1.5g