Sweet & Tangy Balsamic Roasted Carrots
Toaster Oven Roasted Carrots are sweet and tender olive oil roasted carrots drizzled with balsamic vinegar. Add this easy veggie side dish to your dinner tonight!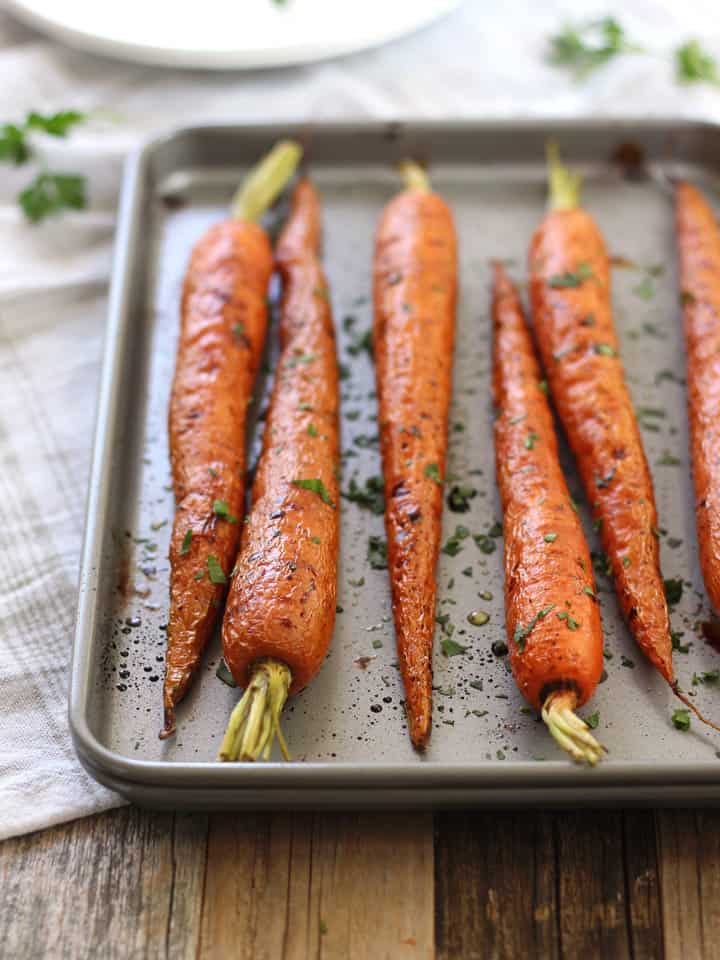 Tender yet toothy, sweet and slightly smoky that is how a well-roasted carrot should taste!
I've been on the receiving end of many a mushy cooked carrot. So I promise you no mush. No overly sweet syrup-drenched veggies.
These are the REAL DEAL. Simple roasted carrots so good I would serve them to Mr. Bugs Bunny himself.
They're the perfect side dish for any holiday table or weeknight dinner.
~ Keep scrolling for step by step photos & tips after the recipe ~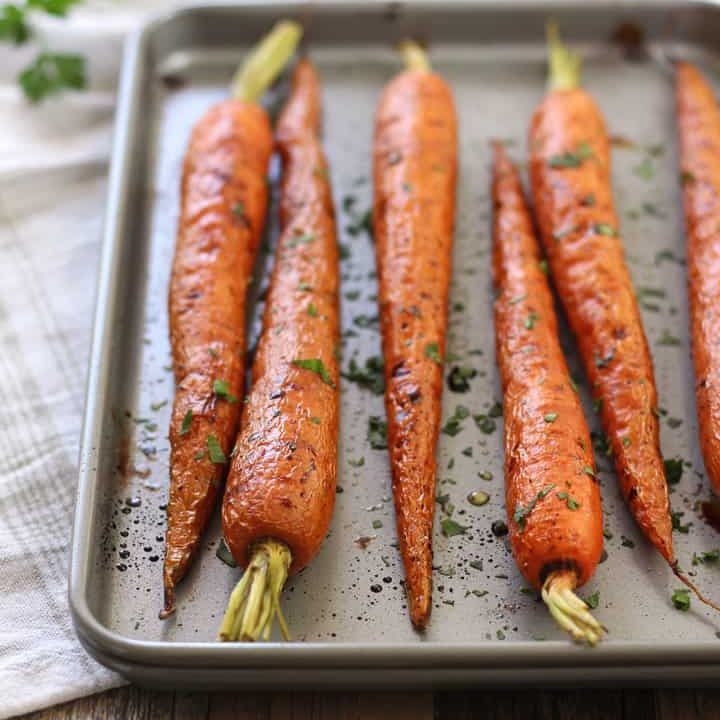 Toaster Oven Roasted Carrots Recipe
An easy recipe for sweet and tender toaster oven roasted carrots. Enjoy them lightly seasoned or dressed up with a drizzle of balsamic vinegar.
Ingredients
1 bunch fresh carrots, with green tops removed, scrubbed
1 teaspoon olive oil
Salt and pepper to taste
1/2 teaspoon balsamic vinegar, optional
1/2 teaspoon chopped fresh parsley, optional
Instructions
Preheat your toaster oven to 450 degrees F.
Arrange carrots in a single row on a rimmed toaster oven baking sheet.
Drizzle carrots with olive oil and shake the pan back and forth to roll the carrots and evenly coat with oil. Sprinkle with salt and pepper.
Roast carrots for 15 to 25 minutes, rotating the pan halfway through, until they are lightly browned and just tender.
Remove pan, drizzle carrots with balsamic vinegar and shake pan to coat them evenly with vinegar.
Return carrots to the toaster oven and cook for another 5 to 6 minutes until most of the vinegar has been absorbed.
Sprinkle cooked carrots with chopped parsley and serve warm.
Notes
*Cook time will vary and depends on the size of your carrots. Cook smaller carrots for 15 to 20 minutes and large carrots 25 to 35 minutes.
Nutrition Information:
Yield:

2
Serving Size:

Half of Recipe
Amount Per Serving:
Calories:

81
Total Fat:

2.6g
Cholesterol:

0mg
Sodium:

780.6mg
Carbohydrates:

14.4g
Fiber:

4.2g
Sugar:

7.1g
Which Carrots Are The Best For Roasting?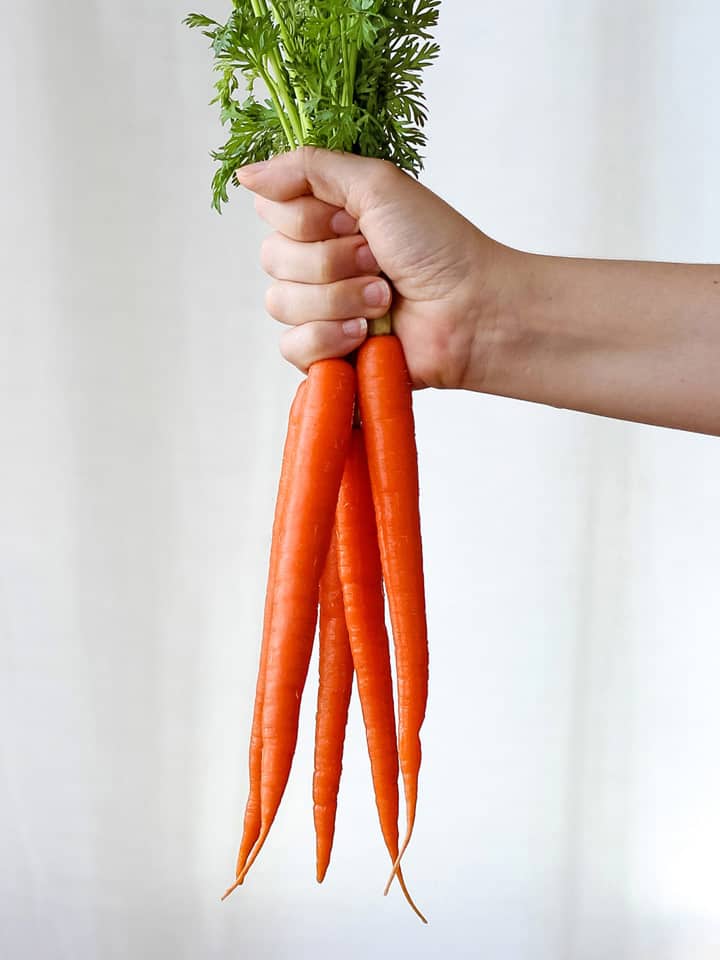 If your budget affords, purchase the organic ones.
Carrots absorb a lot of pesticides that get concentrated in their skins. Peeling helps to remove the pesticides but just like with toaster oven baked potatoes and baked sweet potatoes peeling steals away nutrients and flavor.
Hmmm…Should I keep or remove the greens?
If you purchase your carrots with their greens attached make sure to remove them before storing them. Left on the greens will raid the carrots of moisture and dry them out.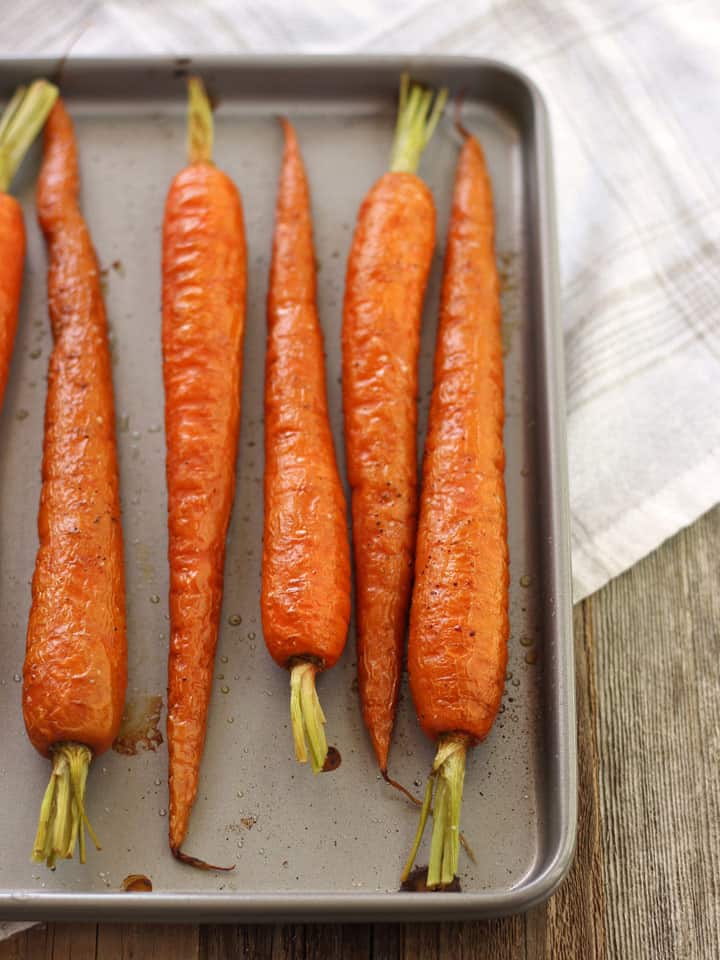 How To Cook Your Toaster Oven Roasted Carrots
Preheat your toaster oven and find the largest rimmed sheet pan or roasting pan you can fit in it.
Cut down the carrots to fit the sheet if necessary. Drizzle with a little oil and sprinkle of salt and pepper.
Super fun part → shake the pan back and forth to coat all of the carrots.
That's it, now we roast!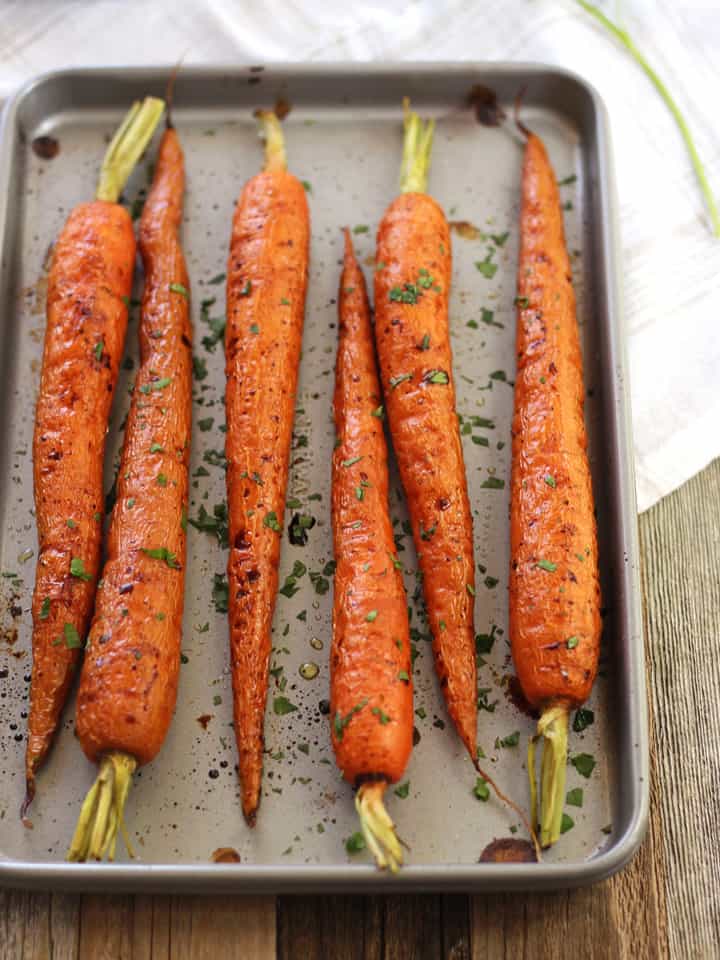 How Long Should I Cook Them?
Like roasted brussels sprouts, asparagus spears, and roasted beets, the cooking time depends on how thick/large your carrots are.
Smaller guys will need less time, big honking carrots take much longer. For medium-sized carrots start checking around 15 minutes.
You're looking for the carrots to be:
a deeper orange
lightly browned
just tender enough to stick a knife through the thickest part
Take Your Roasted Carrots Up A Notch
With a quick drizzle of balsamic vinegar!
Shake the pan back and forth again to coat and return to the hot toaster oven. After 5 minutes your carrots will have absorbed most of the vinegar.
Lastly, sprinkle on fresh chopped parsley. Then prepare yourself for a batch of most-certainly-not-mushy sweet and tangy roasted carrots!