Toaster Oven Sheet Pans (3 Things to Know Before You Shop)
With a good sheet pan, you can cook almost anything in a toaster oven. Gooey chocolate chip cookies, grilled cheese sandwiches, and even easy dinners for two – your options are endless.
There's just one problem, finding a small baking sheet for your little oven isn't always easy.
You might be wondering how do you know the right size? Which ones warp at higher temperatures? Do I even have to use a sheet pan? If you've got these questions and more, fear not, you are in the right place.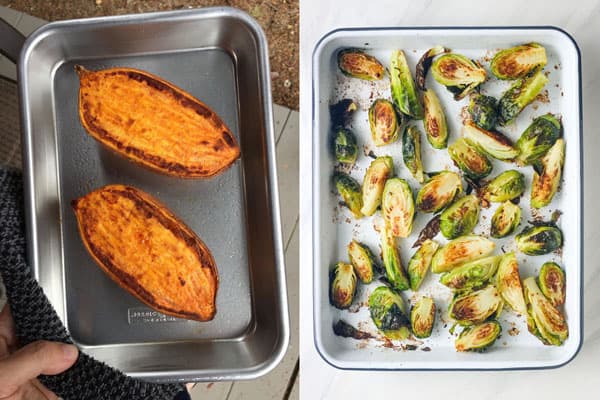 What You Should Know Before Buying A New Pan
In this post, we'll start by walking you through how to measure your toaster oven so you will instantly know if a pan will fit or not.
Next, we'll dive into the small baking sheets that we couldn't live without plus some new cast iron and enamelware pans that we've been cooking with (as always, we bought these pans with our own money – no affiliation with the companies).
Then we'll round things out with some sheet pan alternatives to consider and a few tips for keeping your little pans in tip-top condition. Let's get to it!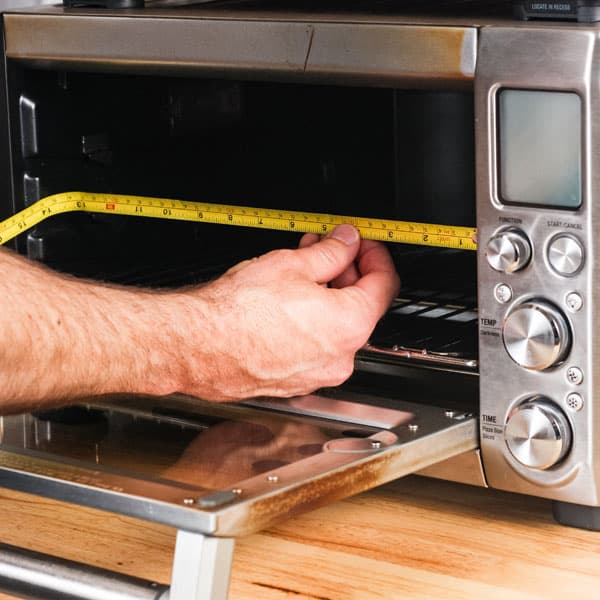 1. Your Toaster Oven's Interior Measurements
Taking the measurements is pretty straightforward. Grab a tape measure and measure the following distances inside of your toaster oven:
One sidewall to the other (make sure to account for any rack guides or attachments that stick out from the walls).
The back wall to the glass door (if the oven has a rounded bump-out on the back of the oven, don't include that space).
From the upper heating elements to the lowest rack placement.
This info is also good to have on hand if you're trying to find covered baking dishes, muffin pans, or cast iron skillets that you can use in your toaster oven.
Learn More >>> The Best Way to Know if a Pan Will Fit in Your Toaster Oven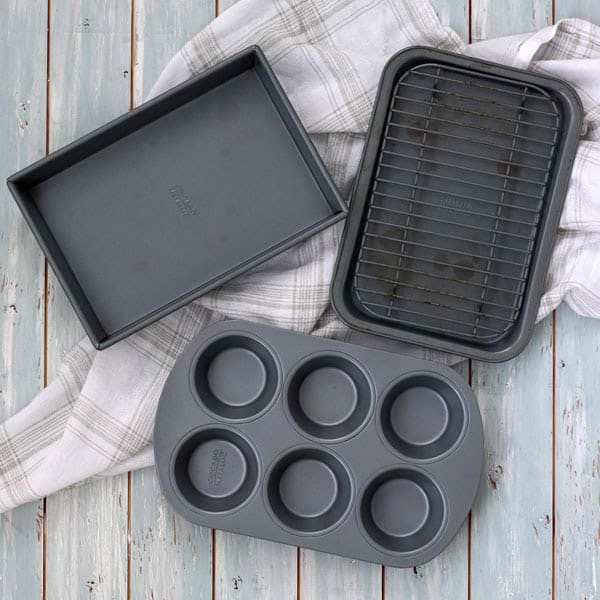 2. Most Toaster Oven Baking Sheets Are Not That Great
Back when we bought our first toaster oven, finding small cookie sheets for it was nearly impossible. So we ended up purchasing a few toaster oven pan sets.
While there was usually something that made each set worthwhile (like a mini rack or a small muffin pan), that thing was never the sheet pan.
I'm sure there are exceptions but for the most part, toaster oven cookie sheets are usually made out of flimsy thin metals.
Some warp at higher temperatures. Others are impossible to keep clean and rust or fall apart over time.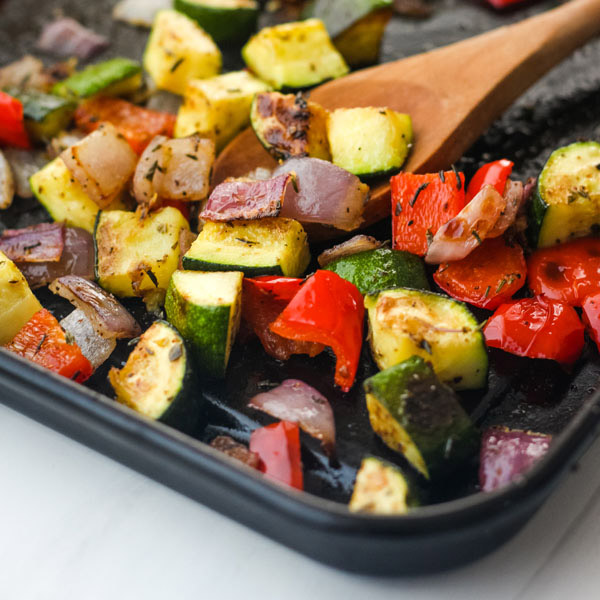 The darker roasting pans that came with our large countertop ovens have been great but aren't ideal for baking more delicate items like cookies.
Also, they have wells along the sides to allow for fat/liquids to collect when cooking proteins. These wells can cause some foods (like roasted chickpeas) to pile on top of each other.
Toaster Oven Tip
If you like the pan that came with your toaster oven, most manufacturers sell replacement accessories like the crumb tray, cooking rack, and roasting or baking pans.
Our Favorite Sheet Pans
For years our go-to pans have been the Quarter Sheet Pan and Eighth Sheet Pan from Nordic Ware.
They are essentially smaller versions of their popular full and half-size rimmed sheet pans that are used in restaurants and kitchens all over.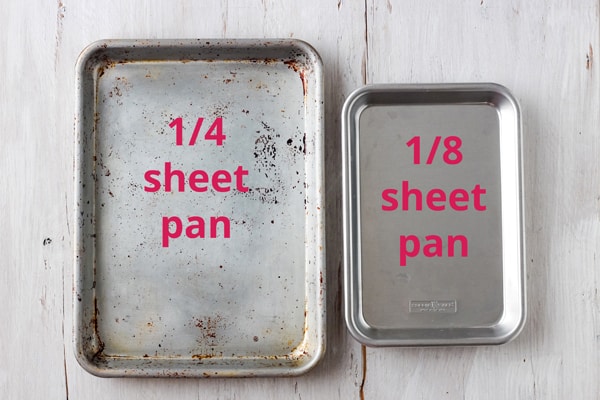 Although they fit nicely in our toaster ovens and perform quite well, they are not marketed as toaster oven pans.
Here's a little more about each pan and why we like them so much.
Nordic Ware Naturals Eighth Sheet Pan (1/8th Sheet Pan)
Cooking Surface: L: 9.3" x W: 6.25" x H: 1"
Exterior Pan Measurements: L: 10" x W: 7" x H: 1"
Even though it's small, the pan feels sturdy and doesn't warp at higher temps. And according to Nordic Ware, their natural aluminum will never rust.
We use this pan for little jobs like baking a few cookies, making a grilled cheese sandwich, toasting nuts, or whipping up a late-night snack of cinnamon toast.
If your toaster oven has multiple cooking racks or is very large (more than 14" wide), you can use two pans for meals where the components have different cooking times.
Nordic Ware Naturals Quarter Sheet Pan
Cooking Surface: L: 11.35" x W: 8" x H: 1"
Exterior Pan Measurements: L: 12.94" x W: 9.63" x H: 1.13"
This is our everyday go-to pan. Personally, I think it's the best pan to have on hand if you've got a larger toaster oven like our Breville Smart Oven Pro.
An all-around workhorse, these Nordic Ware Quarter Sheet Pans heat evenly and clean up easily with soap and water. You can roast, bake, toast, and pretty much do anything with it.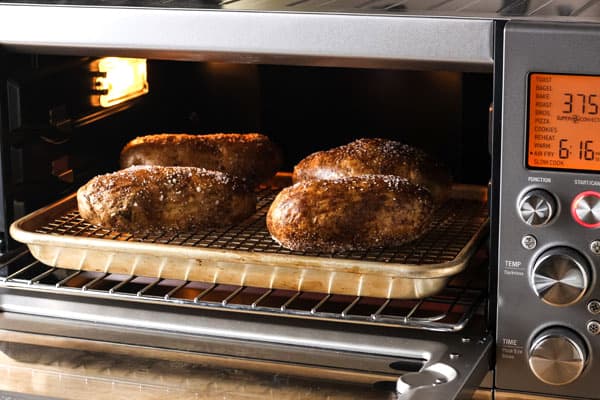 Best of all, because it's a "standard size" finding silicone baking mats and metal baking racks that fit in it isn't a struggle.
A rimmed sheet pan plus a baking rack is the secret to making awesome baked potatoes and cooking air fryer recipes in a convection toaster oven.
If you're looking for some non-aluminum options, we recently picked up two pans (based on reader suggestions) that might be of interest to you.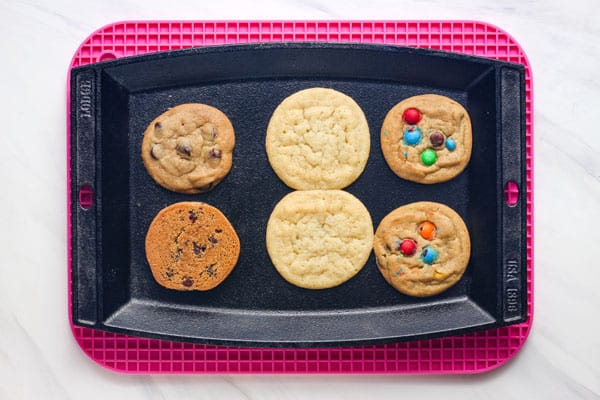 Rectangular Cast Iron Griddle from Lodge
The exterior measurements are 11.5 x 7.75-inches but the interior cooking area is only 8.5 x 5.9-inches. You can see a full overview of the dimensions on the Lodge website.
Baking cookies on the griddle took a few minutes longer than our regular sheet pan but the cookies tasted good.
Due to the limited cooking surface, I could only fit six cookies. Even then, two of the cookies baked into each other.
Making vegetarian sausages and peppers went a little better. The griddle kept all of the ingredients contained but there wasn't a lot of room so the peppers ended up steaming more than roasting.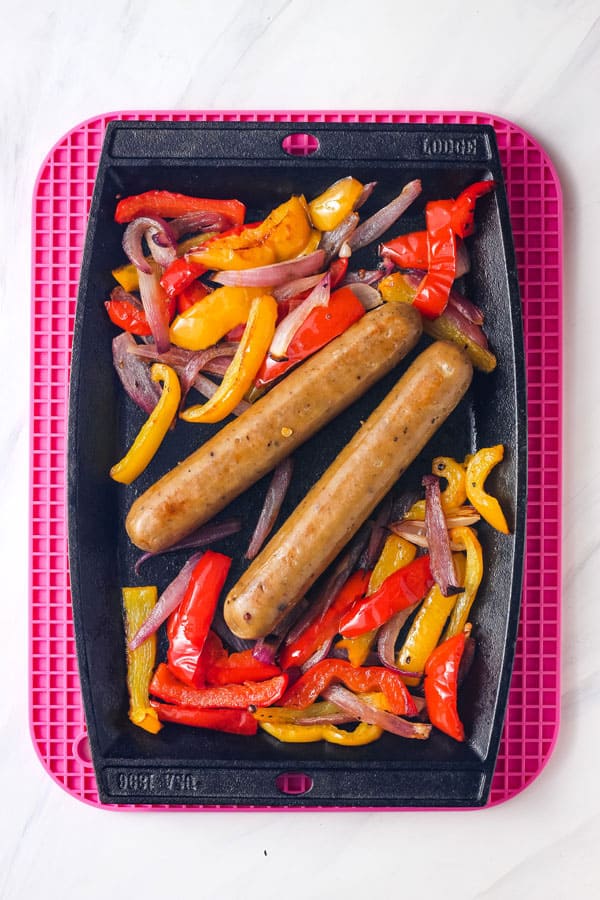 I'd say this pan is a good option if you're cooking meals for one person. Using it to make enough food for two people might be a challenge.
Also, the griddle is heavy and weighs almost 4 pounds without any food on it. For comparison, the Nordic Ware Quarter Sheet Pan weighs around 1 pound empty.
Depending on how strong your oven's cooking rack is, the increased weight could bend it. In addition, lifting this heavier pan may be an issue if you have decreased grip or forearm strength.
Learn More >>> Mini Cast Iron Skillets and Pans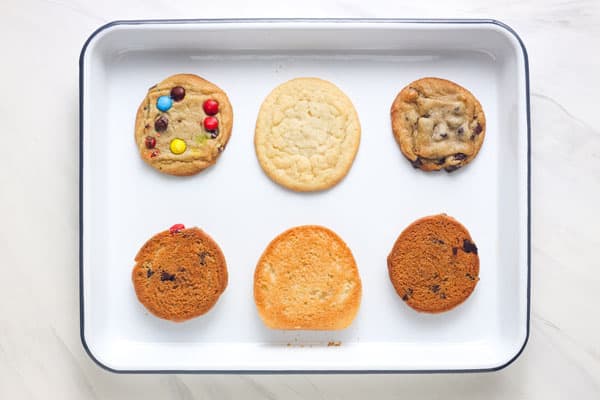 Enamelware Vintage Small Rectangle Tray
This tray/pan is made by a company called Crow Canyon Home. The pan's exterior dimensions are: 11.25 x 9 x 1.25-inches.
The cookies we baked with it turned out fantastic. They had soft and chewy centers and nicely golden browned bottoms that gave the cookies a hint of caramelized flavor.
They were ready a little faster than the shortest baking time noted on the package. So I'd definitely check on more delicate things like pastries a little early.
Also, I couldn't believe how easily the cookies came off the ungreased pan. Even the one that I accidentally put too close to the edge released without breaking.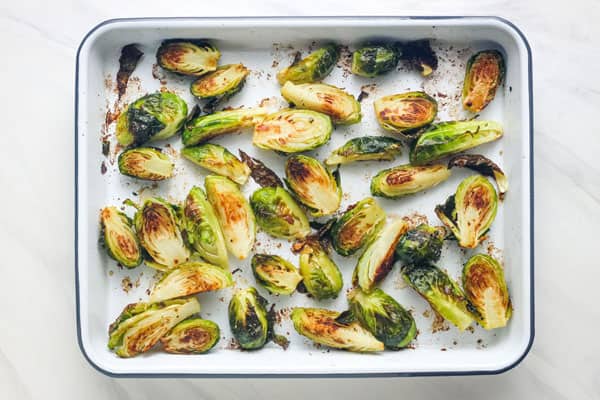 In making our toaster oven Brussels sprouts recipe I could only fit about 12 ounces of sprouts (instead of 16 ounces) onto the pan. But they baked up evenly and browned nicely.
Lastly, I can't say enough good things about how easy it's been to clean this pan. Just soap, water, and done!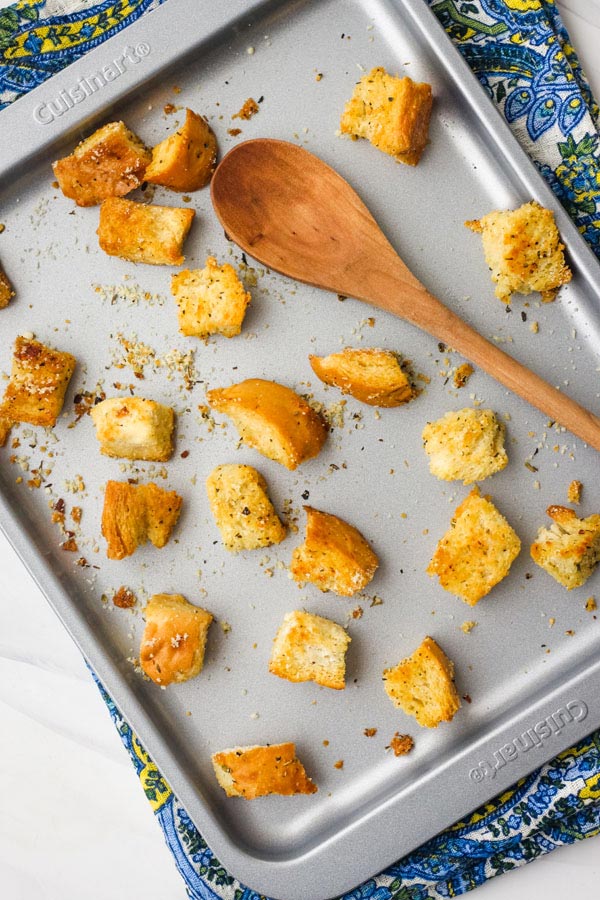 What About All of The Other Toaster Oven Baking Pans?
Nowadays, there are so many options out there. My best advice is to check the reviews for any pan you're interested in. We try to avoid baking pans that:
Warp significantly at higher temperatures (leading to uneven cooking).
Have folded edges that can trap water and are hard to keep clean.
Are lightweight and made from a super-thin metal (the pan will conduct heat poorly).
Have cheap colored coatings that can wear off or chip over time.
If your options aren't stellar, check out the next section for some of the sheet pan substitutes that we've used before. There's a good chance you already own one of them!
3. There's No Rule That You Have To Use A Sheet Pan
Rimmed baking sheets are great for roasting and baking. They have rolled edges that are low enough to let air easily circulate around the food while still keeping it contained on the pan.
But if you can't find a baking sheet that will fit in your oven we've got a few alternatives that have worked for us.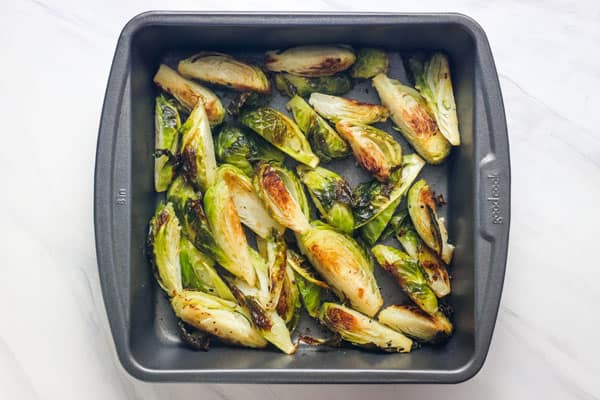 8 x 8 Pan
With our first toaster oven, we would roast all kinds of vegetables in an 8 x 8 baking pan.
If you're making a lot of veggies the pieces will be closer together so you'll want to stir them more often. The extra stirring will help the veggies (like these brussels sprouts) brown more evenly and keep them from steaming.
Many of our readers like the square cake pans from Fat Daddios because they are available in a wide range of sizes from 4 x 4-inches to 16 x 16-inches.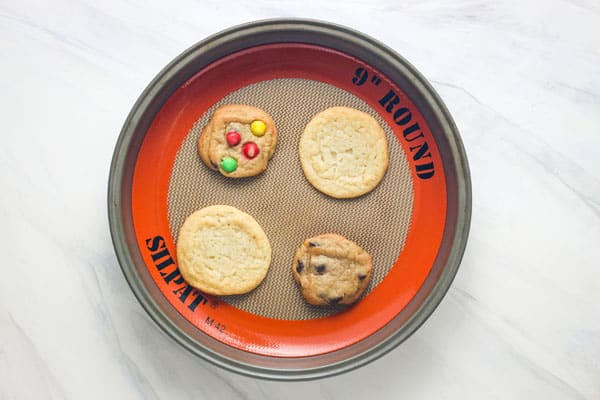 9-inch Round Pan
Although the cooking surface may feel limited by the round shape, the lower sides of this type of pan make it great for roasting vegetables, baking cookies, and cooking smaller sheet pan meals.
Fun Discovery: I was able to fit a small round silicone baking mat in our pan. The mat did not sit completely flat but it worked well enough for us.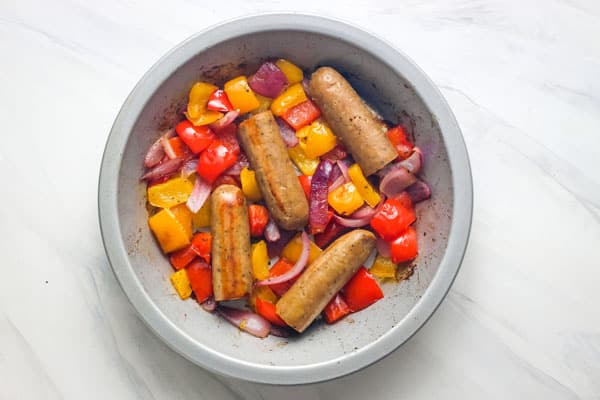 Metal Pie Pan
Because the edges are tapered in a pie pan, some ingredients may end up piled on top of each other.
Similar to the sprouts we cooked in the 8 x 8 pan above, we had to stir these peppers, onions, and veggie sausages more often. Also, the entire dish took about 5 minutes longer than usual to cook completely.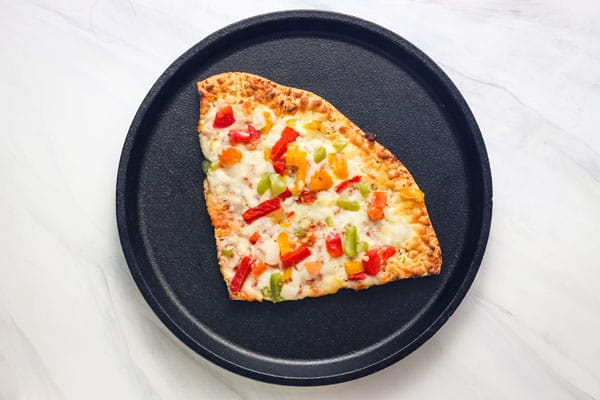 Lodge 9.25 Inch Round Cast Iron Serving Griddle
This little pan is fantastic for cooking up meals for one person or ¼ of a frozen 13-inch pizza.
Since cast iron retains heat well but takes time to warm up we like to pop it in the toaster oven while it's preheating.
It is on the heavier side (about 3 pounds) but the lack of handles makes it a bit lighter than most cast iron skillets. You can see a full overview of the dimensions on the Lodge website.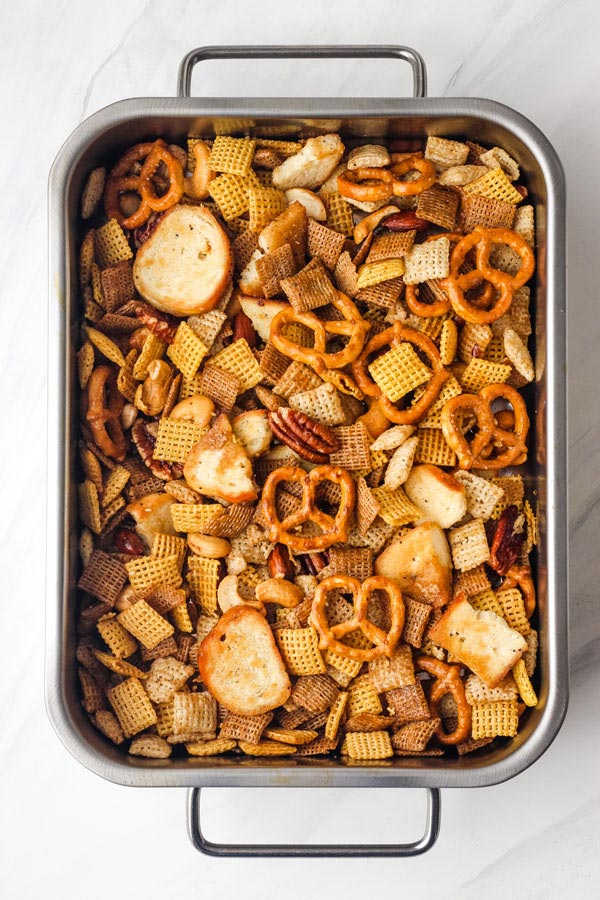 KONCIS Small Roasting Pan
This little stainless steel roasting pan from IKEA is another good option. The pan measures L: 10 ¼" x W: 7 ⅞" x H: 2 ⅛".
It heats evenly, is easy to clean, and has small handles that fold down so they don't contribute to the length. We love using it to roast rosemary potatoes and baking small batch Chex mix during the holidays.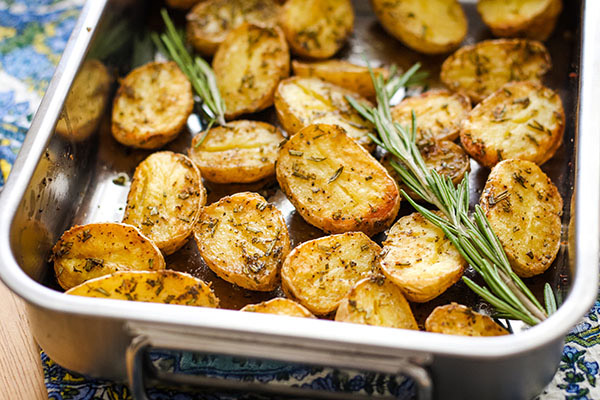 Okay, those are all of the ideas I can come up with right now. But I bet if you're willing to get creative and think outside the box, there are even more pans that will work in a pinch.
Tips For Longer Lasting Toaster Oven Pans
Once you've found a pan that you love, the next challenge is keeping it in good shape. Below are a few tips to help you do that.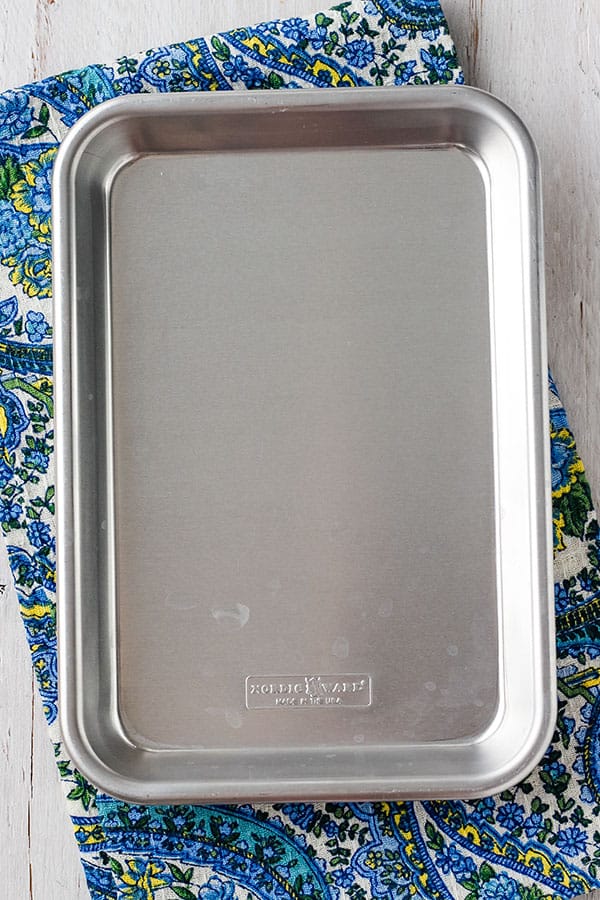 Handwash Your Pans
Even if the manufacturer says a pan is dishwasher-safe, the detergents can discolor or corrode pans and damage nonstick coatings.
Ultimately, it's your kitchen and you need to decide what works best for you.
If you do hand wash your pans know that soaking them is usually okay. But you never want to submerge your pan in water as it can cause rust.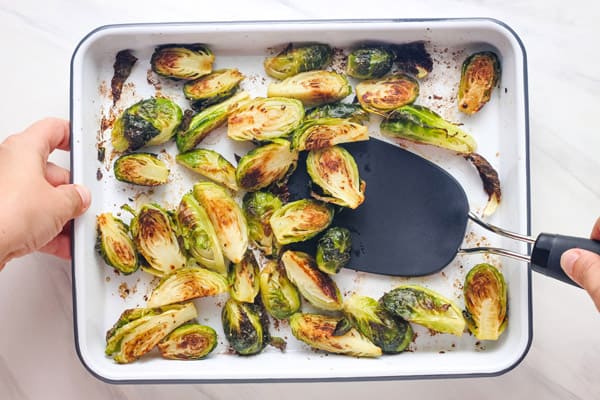 Use Wooden or Silicone Cooking Utensils
Metal utensils and knives can scratch the pans.
Be Conservative With Cooking Oil Spray
It can leave a sticky residue that gets baked onto the pan and is difficult to remove. If you want to use a spray oil, spray the food, not your pan.
Accept That Your Pan Will Never Look Brand New Again
Over time some of the oils from roasting vegetables or other foods will bake onto the pan. This article from America's Test Kitchen explains why that can actually be a good thing.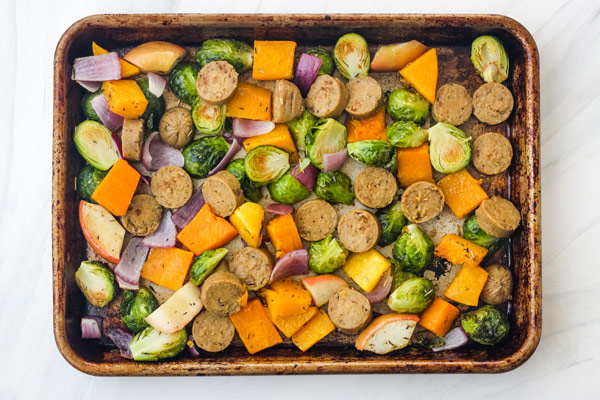 But if the darkened color is bothering you or it's affecting how your food is cooking, you can always try giving your pans a deep clean.
Recently, we followed the steps in this article from The Kitchn to refresh one of our Nordicware Quarter Sheet Pans and it cleaned up nicely.
What's Been Working For You?
Have you found a great sheet pan (or alternative) for your toaster oven? Tell us about it in the comments!