Mini Sweet Potato Hand Pies
A fun single-serving treat, these cute mini sweet potato hand pies are easy to make using a store-bought pie crust. They're great for the holidays or any time of the year!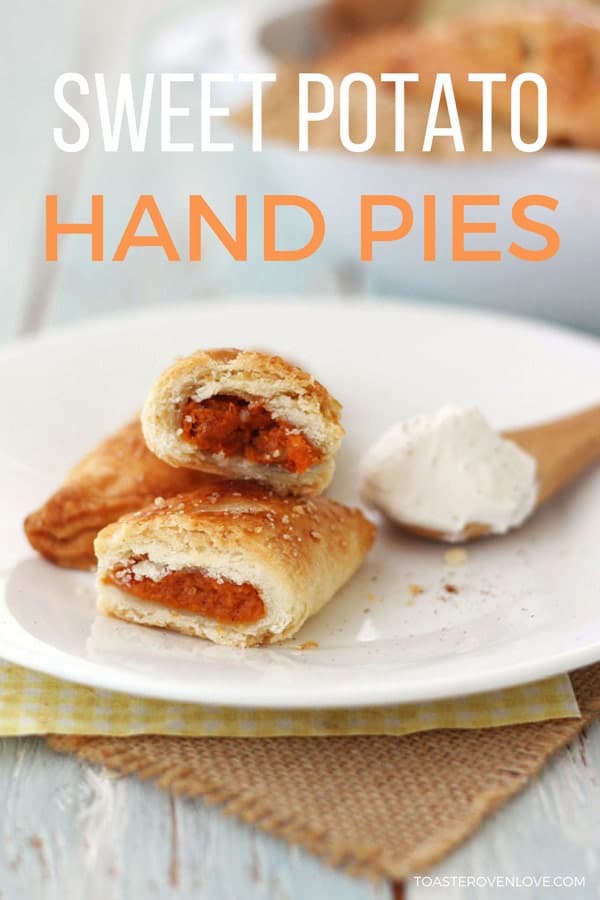 Whole pies are pretty great but mini sweet potato hand pies are so much better. They have all the tasty flavors of a big slice of sweet potato pie in tiny individual portions.
And you get to eat them with your hands!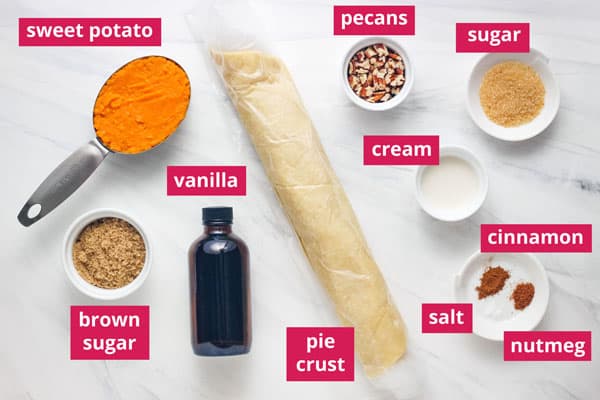 Ingredient Notes
Making the filling is the perfect way to use up a leftover quick baked sweet potato or a traditional toaster oven baked sweet potato. If you don't have any leftovers you can use the microwave to quickly cook one or substitute canned sweet potato puree.
At our house, we've always made hand pies using store-bought dough so they're ready in no time. And truthfully, my homemade pie dough skills are pretty weak.
Is homemade pie dough your kryptonite too? Then the pre-made stuff is going to make you feel like a rock star. It's buttery, flaky, and hard to ruin.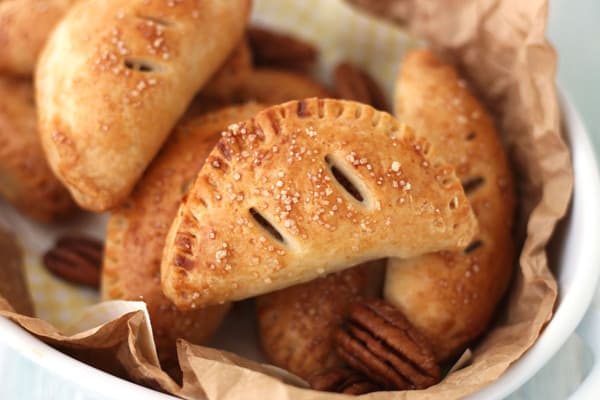 Hand Pie Tips
If you're iffy about using a pre-made crust check out this article from Simply Recipes on the best and worst store-bought pie crusts, our favorite, Trader Joe's store brand crust was awarded the title of "Best Value."
Even with using a pre-made crust, I did notice some things I could have done a bit better making our pies:
Next time I'd pay more attention to how thick the dough is rolled. The filling-to-dough ratio was a tiny bit off.
The dough was a little more crumbly than flaky. That's probably because it was over 90 degrees the day I baked them. If your house is really warm pop the pan in the freezer for 10 minutes to let the butter in the crust firm up before baking.
Feeling adventurous I tried sealing the dough edges a few different ways. Pressing with a fork was easiest and did the best job so I'd just stick with it next time.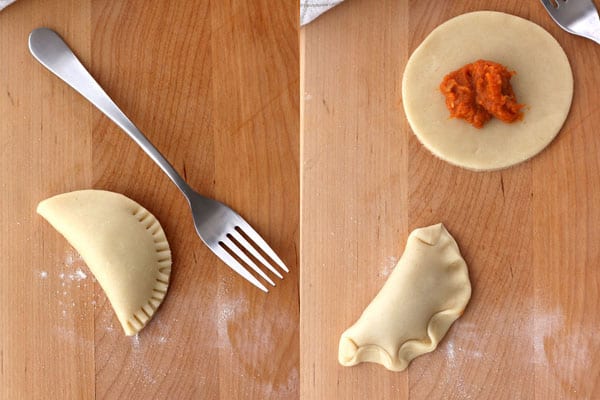 Bake A Test Pie First
The secret to making tasty hand pies in your toaster oven isn't in the pie dough…it's baking a single mini pie first!
Just like when baking toaster oven cookies, baking a "test pie" is the easiest way to find the best cooking time and temperature for your specific toaster oven.
Related: 5 Tips That Will Make You A Toaster Oven Cookie Baking Expert
Then you can adjust the recipe based on your test, pop the remaining hand pies in to bake and rest easy that they'll all turn out perfect.
Pssst…I promise not to tell if you eat the already cooked one while you wait!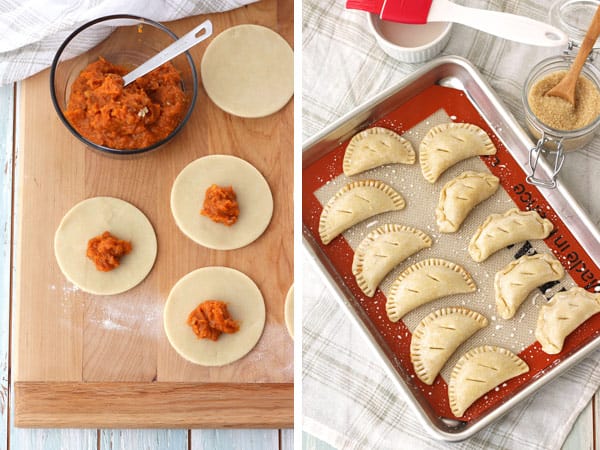 Convection Baking
And if you've been avoiding your toaster oven's convection function this is a great recipe to start with. The convection fan will cook them faster and the crusts will be beautifully light and golden.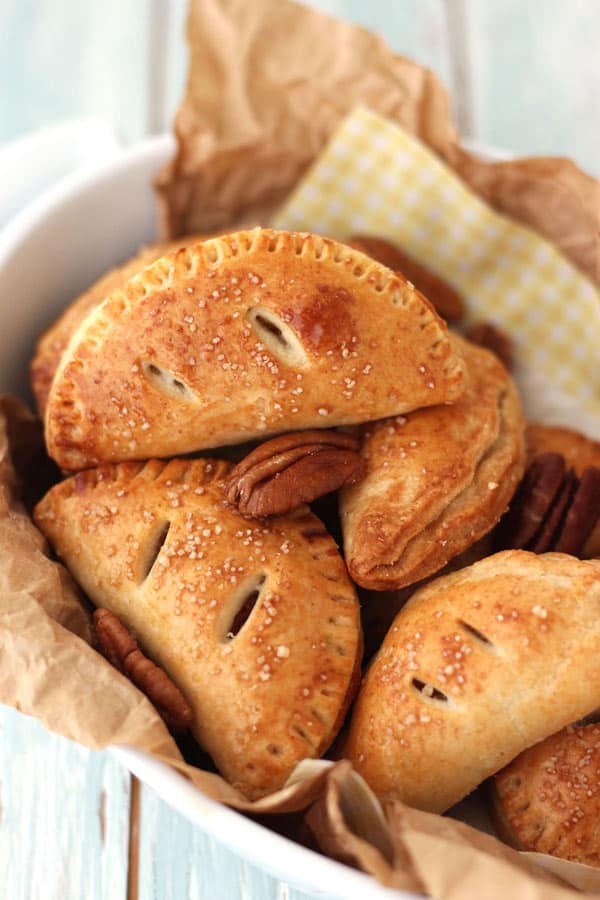 More Sweet Potato Recipes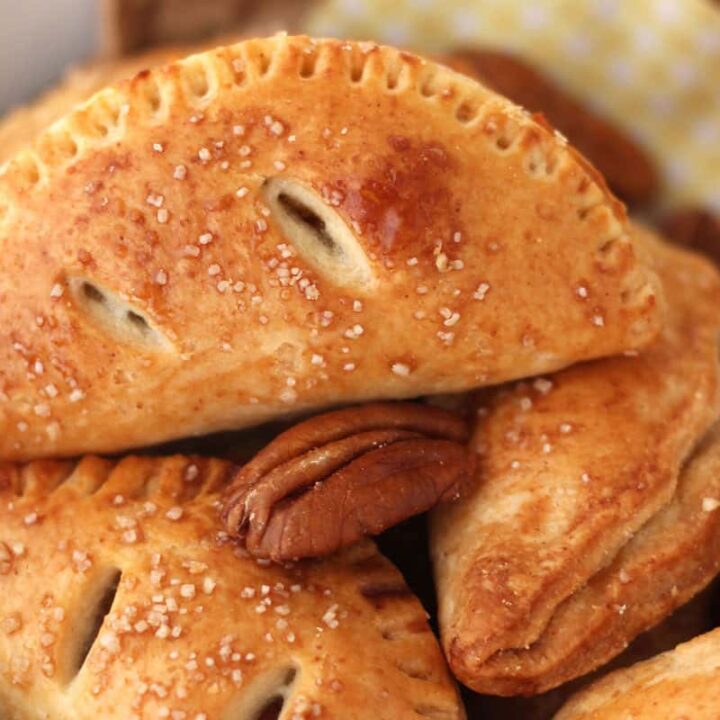 Mini Sweet Potato Hand Pies
Warmly spiced with a flaky crust, these mini pies are a great single-serving treat. If you're cooking for just one or two people, the leftovers freeze well and taste delicious warmed up in a toaster oven. 
Ingredients
1 Premade 9-inch Pie Crust, thawed as directed on package
Flour, for rolling
1/2 cup (130 grams) Cooked Mashed Sweet Potato (or canned sweet potato puree)
2 tablespoons (25 grams) Packed Brown Sugar
1/4 teaspoon Vanilla Extract
1/8 teaspoon Ground Cinnamon
1/8 teaspoon Ground Nutmeg
Pinch of Fine Sea Salt
2 tablespoons (14 grams) Chopped Pecans
2 teaspoons Heavy Cream or Half and Half
2 teaspoons Turbinado Sugar for topping
Instructions
Adjust the oven's cooking rack to the middle position and preheat to 400°F or 375°F for convection/forced fan ovens. If using a toaster oven, select the BAKE setting.
Lightly grease a quarter sheet pan or line with a silicone baking mat.
In a medium bowl combine the mashed sweet potato, brown sugar, vanilla, cinnamon, nutmeg, salt, and pecans. Taste and add more sugar or spices as desired.
Unroll pie crust onto a lightly floured surface and roll to a 1/8 to 1/4-inch thickness.
Use a 3-inch round cookie cutter to cut out circles from the dough. Reroll dough scraps to make more rounds.
Spoon 1½ to 2 teaspoons of filling onto one side of each round. Fold the un-topped dough over the filling side and press the edges with a fork to seal well. Cut two ½-inch vents on the top of each pie to release steam during baking.
Lightly brush the top of the pies with half and half or cream and sprinkle with sugar.
Bake until golden brown, about 12 to 14 minutes.
Cool pies on the pan for 5 minutes, then carefully move to a wire rack to cool completely.
Serve mini pies warmed or chilled, they taste great dipped in whipped cream!
Notes
Toaster Oven Rack Placement: If you're toaster oven only has two positions, use the bottom placement and check on the mini pies a little earlier.
Freezing Leftovers: Cool pies completely before packaging. Add to a freezer-safe bag in a single layer and keep frozen for up to 2 months.
Reheating In The Toaster Oven: Preheat the toaster oven to 325°F on the BAKE or REHEAT setting. Place a small cooking rack inside of a baking sheet and add pies to the rack. Cook until warmed through, about 5 to 7 minutes. Add a few extra minutes to the baking time if the pies are frozen.
Nutrition Information:
Yield:

12
Serving Size:

1 mini hand pie
Amount Per Serving:
Calories:

81
Total Fat:

4.3g
Saturated Fat:

0.6g
Cholesterol:

0mg
Sodium:

77mg
Carbohydrates:

9.9g
Fiber:

0.4g
Sugar:

3.1g
Protein:

0.8g
(This sweet potato hand pies recipe was first posted on Food Fanatic)