How To Bake Sweet Potatoes In A Toaster Oven
The Ultimate Guide for how to prep and bake sweet potatoes in your toaster oven. Learn which varieties are best for baking, get step-by-step directions and find out what pans to use to make the best tasting toaster oven baked sweet potato tonight.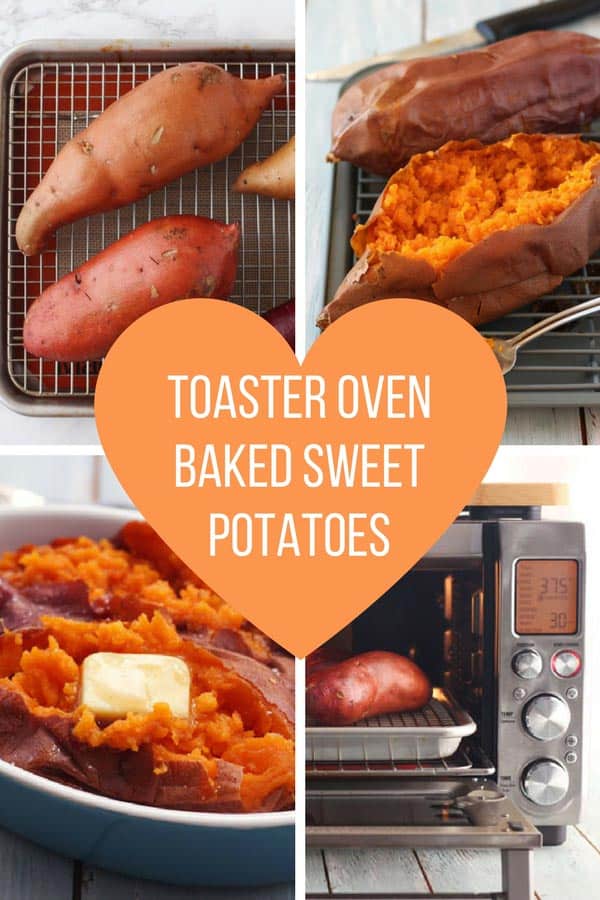 (Note: Some of the links below are affiliate links, which means that if you choose to make a purchase through them, we will earn a commission.)
Baked sweet potatoes, they're not just for Thanksgiving, friend.
Full of essential vitamins and lots of fiber, sweet potatoes are one of the healthiest vegetables around. Baked or roasted they make a tasty meal or snack and today we're sharing the best way to cook them in your toaster oven.
Sweet potatoes don't cook up fast (unless you slice them in half) but after just one bite of their sweet creamy interiors, you'll know it was absolutely worth the wait.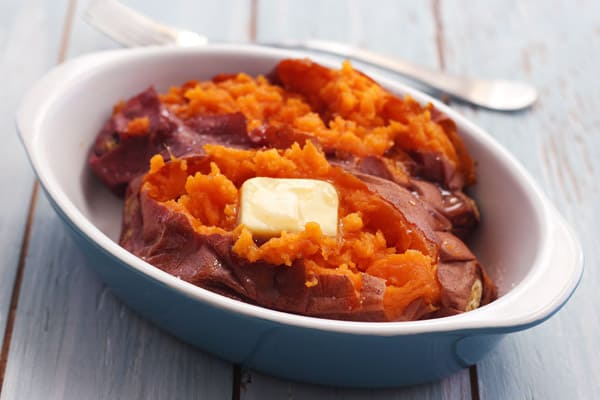 First time here?
Then you should read, ahem, skim the full post, it's got helpful toaster oven tips, step-by-step photos and more.
If you're not interested in ALL the sweet potato talk, here's an easy recipe for your toaster oven.
~ Keep scrolling for step by step photo directions, tips and a way to bake your sweet potatoes faster after the recipe ~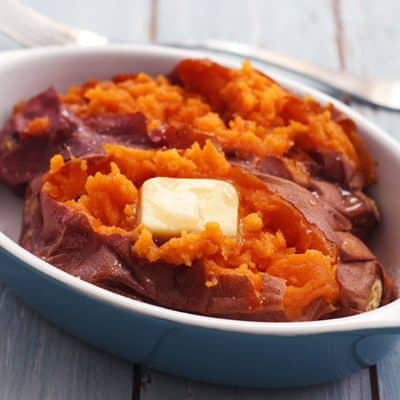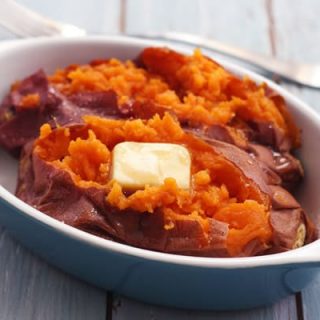 Toaster Oven Baked Sweet Potatoes
A simple guide to Toaster Oven Baked Sweet Potatoes, no need to heat up the whole house when you can use your toaster oven!
Ingredients
2 sweet potatoes, (medium size, about 8 oz each )
1/2 teaspoon oil, (like coconut oil, olive oil, avocado oil or canola oil)
Instructions
Adjust the toaster oven cooking rack to the lowest position and preheat to 400°F on the "Bake" setting.
Insert an oven-safe rack inside of a rimmed toaster oven baking sheet.
Wash the sweet potatoes, scrubbing the skin well and dry completely with a kitchen towel. Stab each sweet potato with a sharp knife or fork a few times, rub with oil and place on the rack in the prepared baking sheet.
Bake until a knife slides easily into the sides of the sweet potatoes, about 45 to 55 minutes for medium potatoes.
The sweet potatoes will be hot, allow them to rest 5 to 10 minutes before handling. To serve slice a line across the top of the sweet potatoes, push the edges towards the center to puff them up and fluff the interior with a fork.
Notes
Bake Small Sweet Potatoes (5 to 7 ounces): 35 to 45 minutes
Bake Medium Sweet Potatoes (8 to 12 ounces): 40 to 55 minutes
Bake Large Sweet Potatoes (13 to 16 ounces): 55 minutes to 1 hour and 15 minutes
For your convenience, we've put helpful tips in the post below, we'd suggest looking those over prior to making this recipe.
Nutritional information is an estimate of one medium (8 oz) coconut oil rubbed sweet potato.
Nutrition Information:
Yield:

2
Serving Size:

1 Baked Sweet Potato
Amount Per Serving:
Calories:

215
Total Fat:

1.5g
Saturated Fat:

1g
Sodium:

82mg
Carbohydrates:

47g
Fiber:

7.6g
Sugar:

14.7g
Protein:

4.6g
Below you'll find everything you've ever wanted to know about cooking sweet potatoes in a toaster oven.
Click on the topic you want to read about and it will take you straight to it on the page.
Toaster Oven Baked Sweet Potatoes 101:
Alright, you ready to do this? Great, let's grab a few sweet potatoes from the store.

CAN YOU SPOT THE YAM?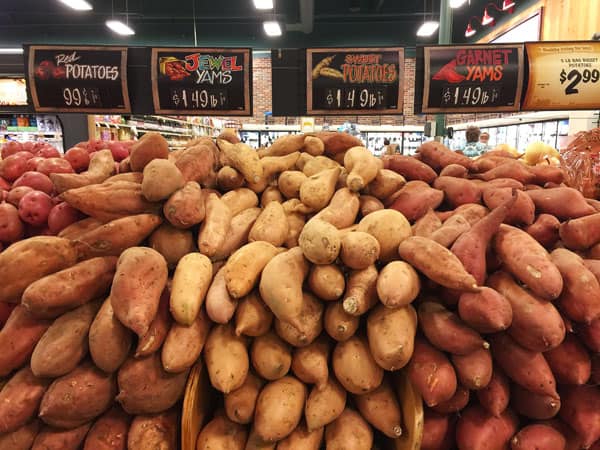 Hold on, what's the difference between yams and sweet potatoes?
When we first started buying sweet potatoes, this yam thing was super confusing. I want to make it easy for you…there are ZERO yams in the picture above.
Despite what the signs say, ALL of those are just different varieties of sweet potatoes.
There are a lot of interesting articles (like this one from Bon Appetit) about where real yams come from, how they're different from sweet potatoes, and the history of why we call some sweet potatoes yams.
But here's the thing, you don't need to know ALL about yams to bake a sweet potato in your toaster oven.


The difference between an orange, white or purple sweet potato and how to cook them?
Now, that's way more related to your current dinner goals.

SWEET POTATO VARIETIES
GARNET: Have a darker red skin color with deep orange flesh. When baked the Garnet sweet potatoes have flesh with a slightly heartier texture that is still creamy and sweet but more earthy like an acorn or butternut squash.
JEWEL: Our favorite of all the varieties, Jewel sweet potatoes have orange skin and flesh. They are sweeter and creamier than Garnet's when baked with a flavor that's more reminiscent of pumpkin.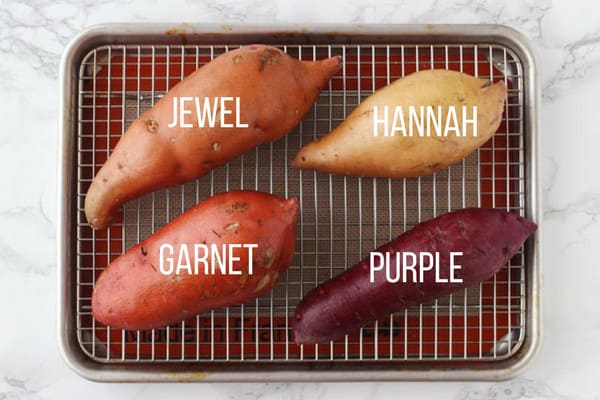 PURPLE STOKES: You'll probably encounter a lot of spuds labeled as "purple sweet potatoes" in this instance we're talking about ones where the skin and flesh are purple. We've found the Purple Stokes variety to be less sweet and much drier than the Garnet or Jewel. With those qualities, purple sweet potatoes are a better choice for roasting.
HANNAH: These lighter colored sweet potatoes have a white skin and flesh. During baking, the flesh turns a yellowish color that becomes ultra rich and creamy. Their flavor is very different from the squash-like Garnet and Jewel varieties. It's still sweet but more like a mashup between a russet potato and a parsnip.

WHICH IS THE BEST FOR BAKING?
Like most food things, it's gonna come down to your personal preference but the Hannah, Garnet, and Jewel varieties are always good bets for cooking tasty baked sweet potatoes.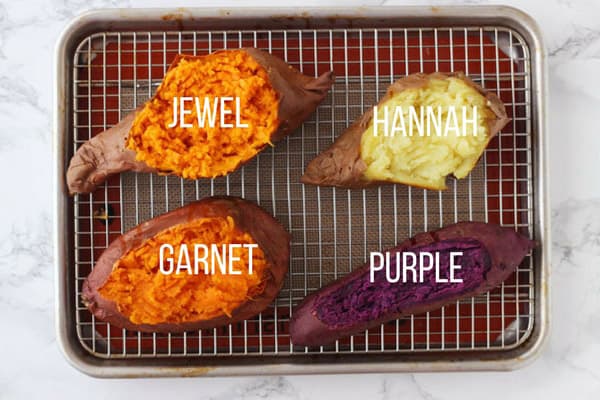 Okay, so you've got your perfect sweet potatoes selected. Now, there's just one more thing you'll want to know about…
A Sticky Situation
During baking, most sweet potatoes ooze a sticky sap. Don't worry, it's completely normal.
But the sap does present a few problems:
It can seep under your sweet potatoes and make the bottoms soggy.
After 45 minutes to an hour in your 400-degree toaster oven that sticky sap may burn on the pan.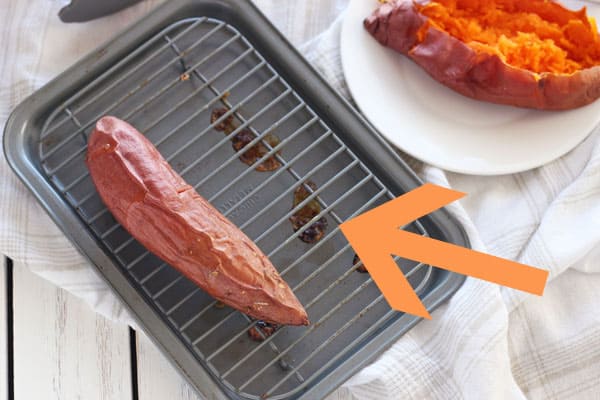 WHAT TYPE OF PAN SHOULD I USE?
First let's talk real quick about what not to use, namely glass baking dishes. That's because most manufacturers warn against using them in a toaster oven. Related: 4 Surprising Things I'll Never Use In Our Toaster Oven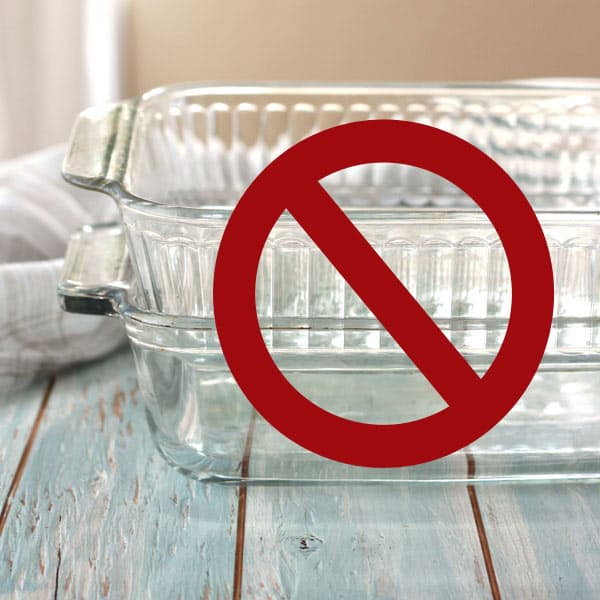 We've had success baking sweet potatoes in our large stoneware Le Creuset baking dish, in a dutch oven, and even in a cast iron pan.
To get the most evenly baked sweet potatoes that don't have bottoms covered in gooey sap we rely on three things:
A rimmed baking sheet
An oven-safe baking rack
For Smaller Toaster Oven's like our little Oster, you can lightly oil the pan that came with it or use this Chicago Metallic Toaster Oven Baking Set (affiliate link).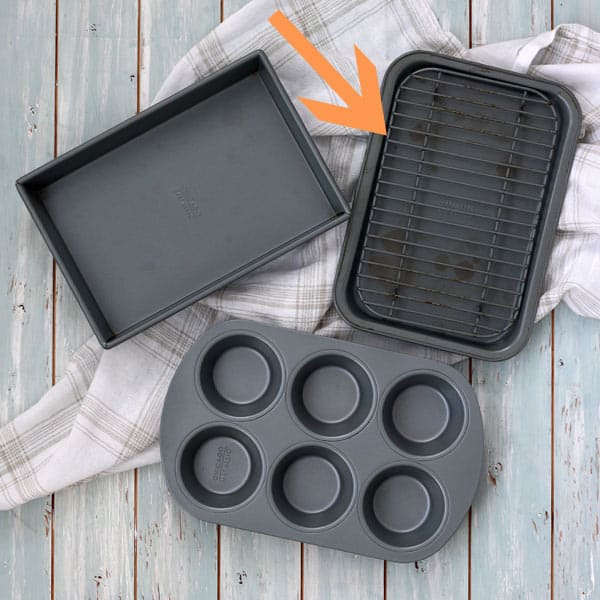 The set has a mini rack and pan that will accommodate two large sweet potatoes, fits in most small to medium-sized toaster ovens and is also awesome for cooking super fluffy crispy skinned toaster oven baked potatoes.
Unfortunately, we haven't found a silicone baking mat small enough for this pan set…yet.
If you have a Large Toaster Oven like our Breville Smart Oven Pro (BOV845BSS) a rimmed 1/4 sheet pan (affiliate link) with an oven-safe baking rack (affiliate link) works great.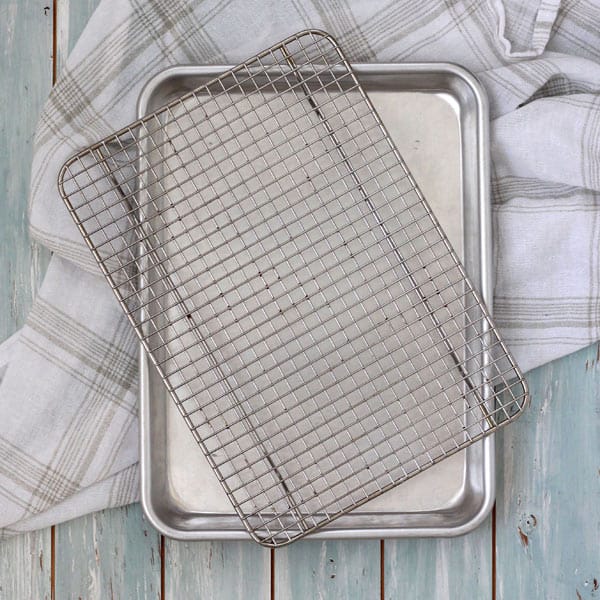 For easier "sap" cleanup, you can line your pan with a small silicone baking mat, they come in a toaster oven size and a slightly larger quarter sheet pan size too.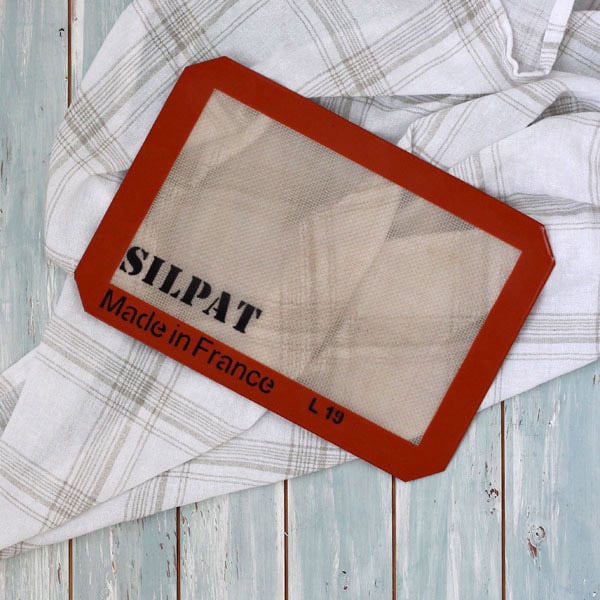 Toaster Oven Tip
* Check your manual before using foil to line your pan.
Manufacturers have specific instructions regarding the use of foil in their toaster ovens, so always make sure to consult your manual before using foil in your toaster oven.
Never put foil in the bottom of your toaster oven. Placing anything near the heating elements is dangerous and can cause a fire.
How to Bake Sweet Potatoes In A Toaster Oven
Start by adjusting the cooking rack in your toaster oven to the lowest position and preheating it to 400°F on the "Bake" setting.
Then insert an oven-safe rack inside of a rimmed toaster oven baking sheet.
Next, grab two sweet potatoes.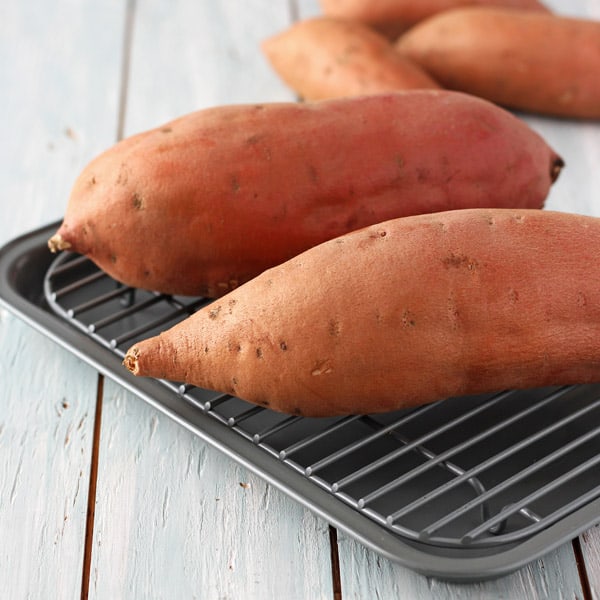 The sweet potatoes pictured above are from Costco so they were a whopping 16 ounces each! Unless you're sharing with my husband Tim, yours don't have to be so beastly.
Small (5 to 7 ounces), medium (8 to 12 ounces) or large (13 to 16 ounces), any size spuds will do.
With caked-on dirt and other fun oddities, sweet potatoes can look pretty gnarly straight from the farmers market or grocery store. Store them in a cool dry place (not your fridge) and then when you're ready to bake them, toss your spuds into the sink for a good wash and scrub.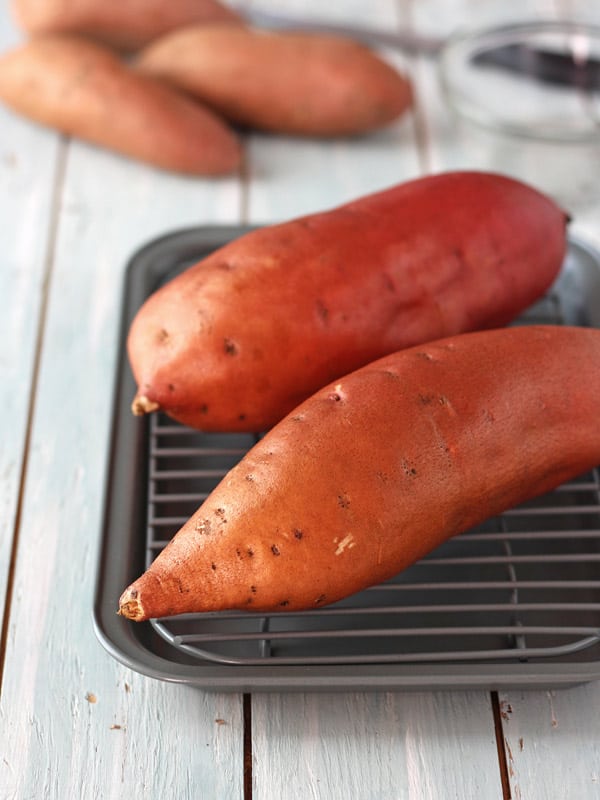 Dry each sweet potato well with a kitchen towel and then stab them once or twice on each side with a fork or sharp knife.
Note: Stabbing Is Optional
Some people don't do it at all. We always err on the side of caution and so far have never had to clean an exploded sweet potato off our toaster oven.
Next, rub the potatoes with a little oil and place on the prepared rack or baking pan.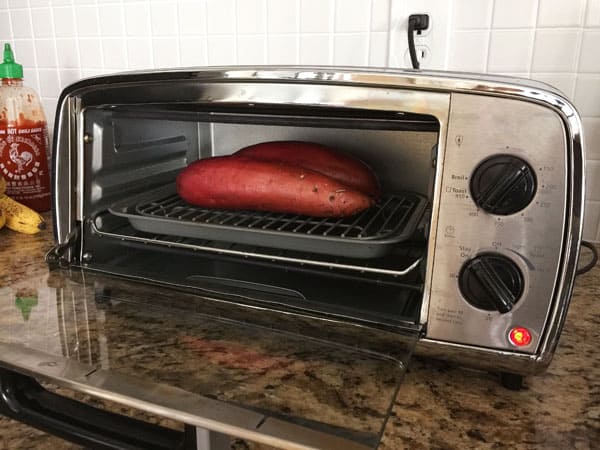 Place the pan in your preheated toaster oven and bake the sweet potatoes until a knife slides easily into their sides, about 40 minutes to 1 hour or more depending on their size.
---
Bake Them Your Way
There are hundreds of time and temperature combos for baking sweet potatoes that work out just fine.
Don't stress, it's really hard to make them wrong.
This way works for us, but your go-to way should be based on what works best for you and your little oven.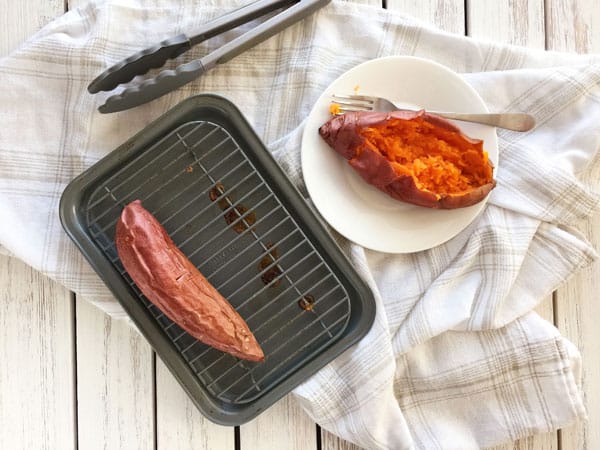 If you think 400 is too high, lower the temperature to 350 or even 300. Those spuds will taste fantastic and you'll have less of a burning sap problem too.
Just remember, the lower the temperature the longer it will take.
---
Once the sweet potatoes are ready let them rest for a few minutes before handling.
Slice a line across the top of each one, push the edges towards the center to puff them up and use a fork to fluff the interiors.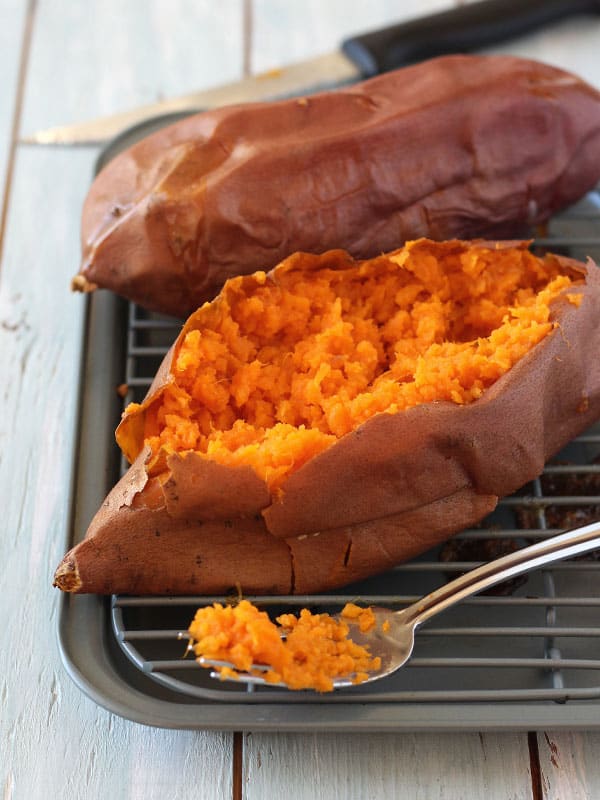 WHAT ABOUT CONVECTION TOASTER OVENS?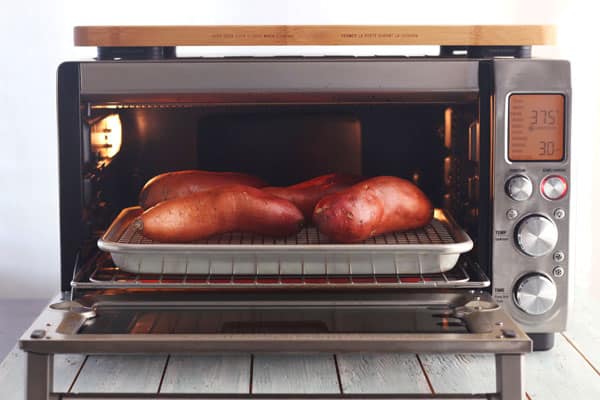 We've baked sweet potatoes a few times in our Breville Smart Oven Pro (BOV845BSS) with the temperature reduced to 375°F and convection fan on. Each time it took about 40 to 45 minutes to cook sweet potatoes weighing between 7 and 8 ounces.
So, they didn't bake any faster than a conventional toaster oven though they did seem a little creamier.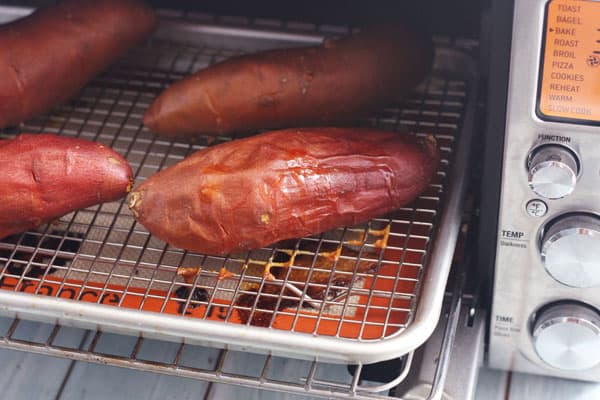 During baking, we needed to flip the potatoes halfway through the cook time as the top of the sweet potatoes were over-browning.
Because of this, we'd stick with a temperature of 375°F or lower when using the convection setting or a convection toaster oven.
Related: Everything You Need to Know About Convection Toaster Ovens

TIPS FOR GETTING YOUR PANS CLEAN
Don't wait to soak your pans.
Once you've got your sweet potatoes on the plate get your pan, rack, and silicone baking mat(if using) covered in hot water. Below is a picture of our baking rack and mat after baking a batch of sticky sweet potatoes.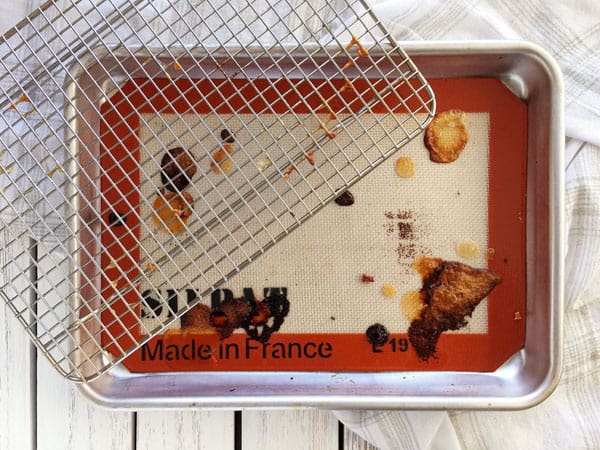 After a quick soak and scrub with the cutest kitchen sponge around The Scrub Daddy (affiliate link) they were clean.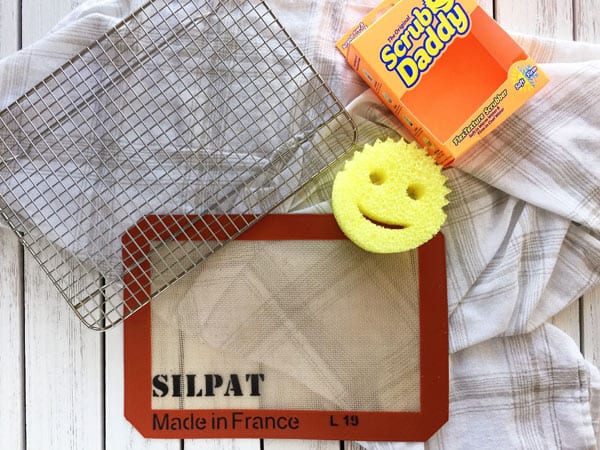 COOK FASTER SWEET POTATOES
Like baked potatoes you can cheat and use the microwave but nothing beats the flavor and texture of a creamy baked sweet potato.
If you're craving a baked sweet potato but don't have an hour to spare, check out these Quick Baked Sweet Potatoes, or give these Addictive Roasted Sweet Potato Rounds a try. They take about half the time and taste delicious.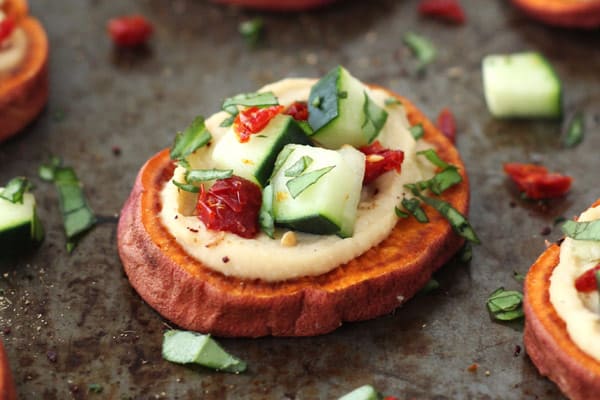 SWEET POTATO TOPPING
Baked sweet potatoes taste great topped with anything, sweet or savory.
Keep things simple, with butter, salt, and a drizzle of maple syrup or go nuts:
However you top them, we hope this guide helps you enjoy a warm and comforting batch of toaster oven-baked sweet potatoes anytime, not just during the holidays.