Sweet and buttery, this easy Graham Cracker Crumble has an infinite amount of delicious uses. The simple recipe bakes up quickly and tastes fantastic on everything from ice cream to oatmeal!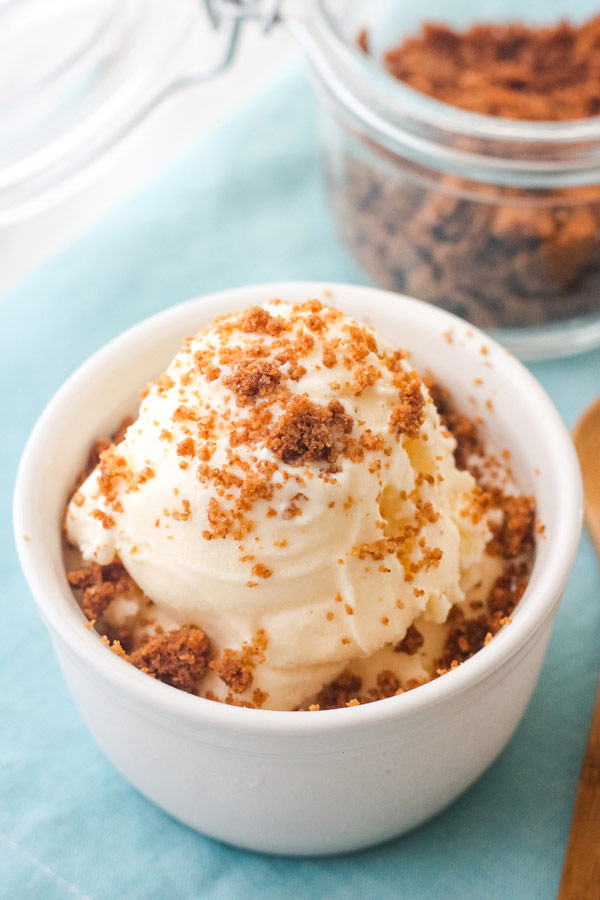 If you're a fan of graham cracker crusts (like on a cheesecake or chocolate pie) then you're really going to enjoy this easy recipe.
The ingredients are similar but instead of using a pie pan, you spread the mixture onto a tiny sheet pan and bake it up in the toaster oven.
The result is a deliciously sweet graham cracker topping.
The crumble keeps well in the pantry and is great for adding a delightful crunch and touch of sweetness to Greek yogurt, fresh or baked fruit, and of course ice cream.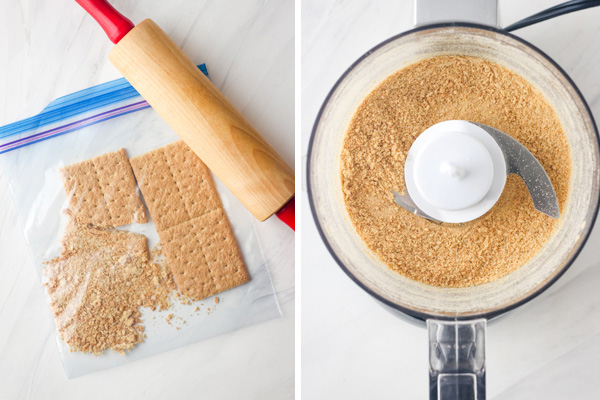 How to Make Graham Cracker Crumbs
To get started, you need to finely crush two full graham crackers sheets. You can do this a few different ways:
Putting the grahams in a plastic bag and rolling over them a bunch with a rolling pin.
Or popping them in a mini food processor and pulsing until ground.
Regardless of your chosen method, you want to make sure the grahams are finely crushed. You should have about 1/4 cup of crumbs.
How to Make Graham Cracker Crumble
In a small bowl, combine 1 tablespoon of melted butter with a teaspoon of sugar, a little vanilla extract, ground cinnamon, and a pinch of salt.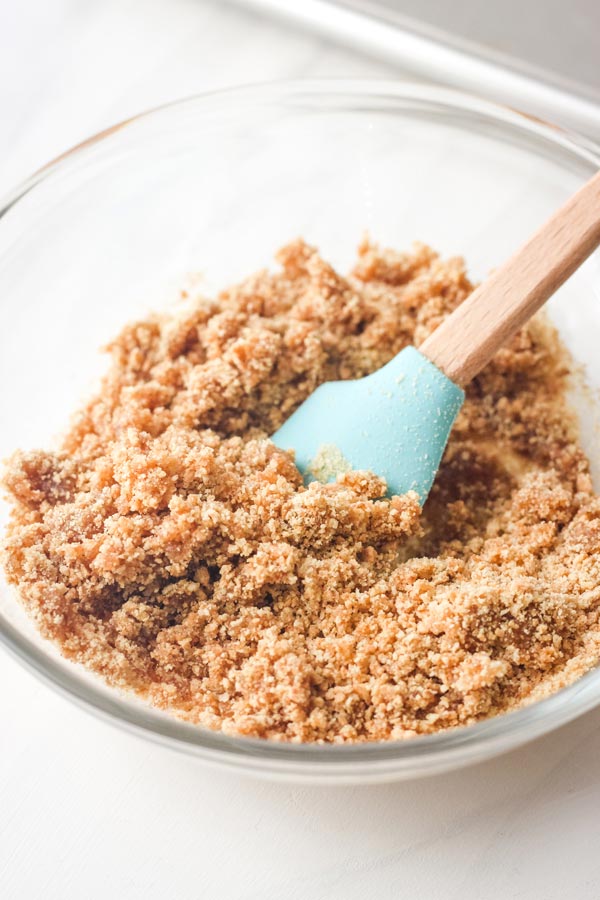 We like a lot of cinnamon in our crumble but if cinnamon is not your thing you can use less or omit it entirely.
You can also play around with adding different spices like ground ginger, cardamom, or pumpkin pie spice.
Next, add the crushed graham cracker to the bowl and stir well until all of the crumbs are coated and the mixture starts to look like wet sand.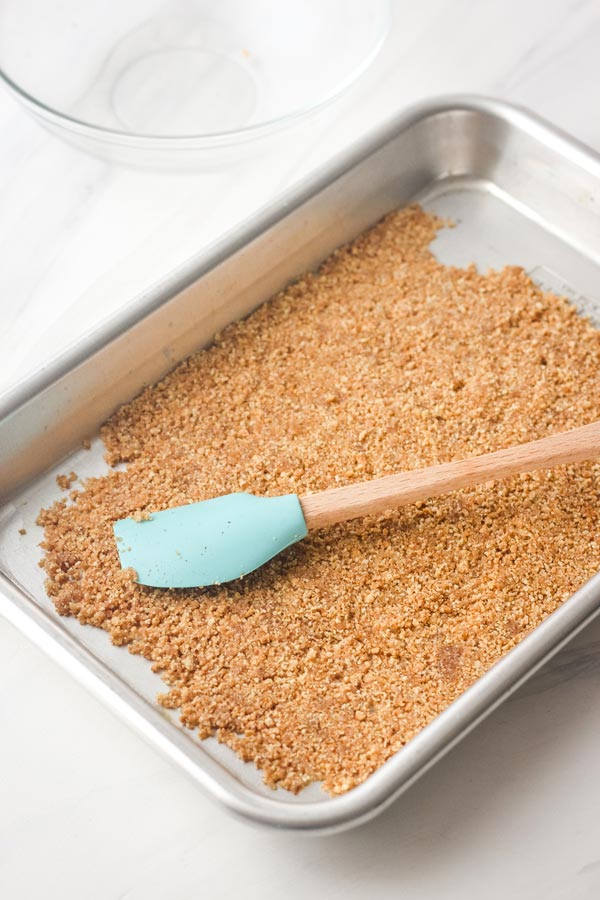 Pour the crumble onto a lightly oiled 1/8 sheet pan and use your hands or the back of a rubber spatula to firmly compact it into an even layer.
Don't worry about reaching the pan edges, because this is a small batch recipe the mixture will not cover the whole pan.
Bake in a 350°F toaster oven, without stirring, until the crumb has darkened a bit and a sweet smell starts to fill your kitchen, about 7 to 10 minutes, depending on your toaster oven. The mixture will still feel soft but will crisp up as it cools.
Toaster Oven Test Kitchen
Baked at 350°F in our large countertop oven the crumble was ready after 7 minutes, in our smaller toaster oven it took almost 11 minutes.
We also tried a batch using the convection fan with the temperature reduced to 300°F. That crumble was ready after about 9 minutes.
Once baked, remove the pan from the oven and leave it untouched (no stirring) to cool completely.
After it has cooled, use a spatula or your hands to break it into pieces. Try to be a little gentle here – the more you handle the pieces, the more they will, you know, crumble.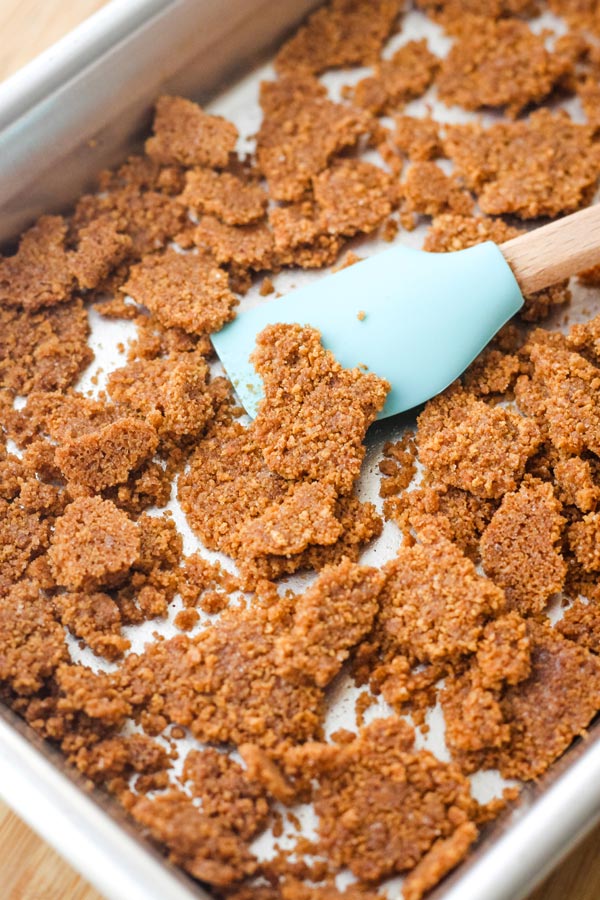 All that's left now is deciding what to do with your graham cracker crumble. Here are few tasty ideas:
Sprinkle over baked pears, apple nachos, or a bowl of whipped cream and strawberries.
Give your morning oatmeal some sweetness and crunch.
Add a dusting to Greek yogurt for a fun cheesecake-style vibe.
Or make a simple scoop of vanilla ice cream taste extra-special.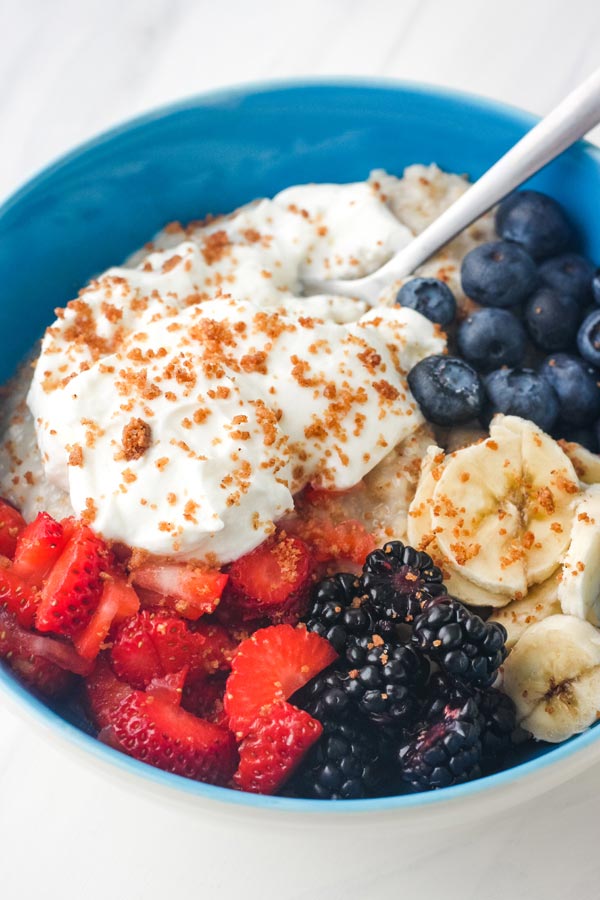 Graham Cracker Crumble
Yield:
5 to 6 Tablespoons
A sprinkle of this crisp and buttery crumble makes a fantastic addition to fruit, yogurt, and ice cream. Try making it with your favorite flavored graham crackers or using different spices like ground ginger or pumpkin pie spice. 
Ingredients
2 Graham Cracker Sheets (30 grams)
1 Tablespoon (14 grams) Unsalted Butter, melted and cooled
1 teaspoon (4 grams) Granulated Sugar
1/8 teaspoon Vanilla Extract
1/8 to 1/4 teaspoon Ground Cinnamon
Pinch Fine Sea Salt
Instructions
Adjust the cooking rack to the lowest position and preheat the toaster oven to 350°F on the BAKE setting. Lightly grease a 1/8 sheet pan or a small light-colored baking pan.
Crush the graham crackers into fine crumbs using a mini food processor or a plastic bag and rolling pin. You should have about 1/4 cup of crumbs.
In a small bowl stir together the butter, sugar, vanilla, cinnamon, and salt. Add the graham crackers crumbs and stir until combined. Pour the mixture onto your prepared pan and using your hands or the back of a rubber spatula, press it firmly into an even layer.
Bake until the crumble is fragrant and the edges are just starting to brown about 7 to 10 minutes. As toaster ovens vary, begin checking on the crumble after 6 minutes and add time as needed.
Remove the pan from the oven and cool completely (about 10 minutes) before gently breaking it into small pieces.

Notes
Convection Toaster Ovens: Reduce the temperature to 300°F or 325°F and bake for 7 to 9 minutes. Begin checking on it after 6 minutes and increase the time as needed.
Storage: The cooled leftover crumble can be stored in a well-sealed container at room temperature for 2 to 3 weeks.

Nutrition Information:
Yield:

5 to 6
Serving Size:

1 Tablespoon
Amount Per Serving:
Calories:

40
Total Fat:

2.4g
Saturated Fat:

1.3g
Cholesterol:

5mg
Sodium:

42mg
Carbohydrates:

4.4g
Fiber:

0.2g
Sugar:

2.1g
Protein:

0.3g