Crispy, sweet, and buttery, Cinnamon Toast is a delicious quick dessert for one or two people. Learn how to make this easy recipe in your toaster oven or countertop oven using the TOAST and BAKE functions.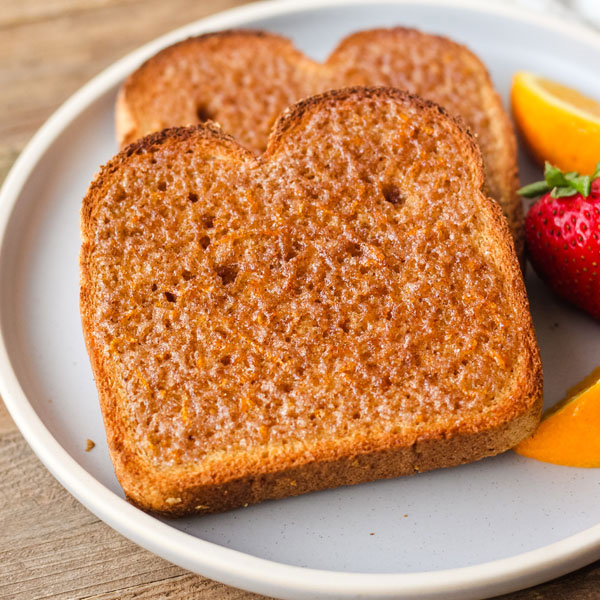 Cinnamon Toast is a classic childhood favorite. As kids, my sister and I used to make it regularly for breakfast.
But it's time to be honest and call this buttery, cinnamon+ sugar-coated treat what it really is…the BEST and EASIEST dessert you can make with a toaster oven!
What Do You Need to Make Cinnamon Toast?
For your basic cinnamon toast, all you need is 4 basic ingredients:
bread
softened butter
sugar
cinnamon.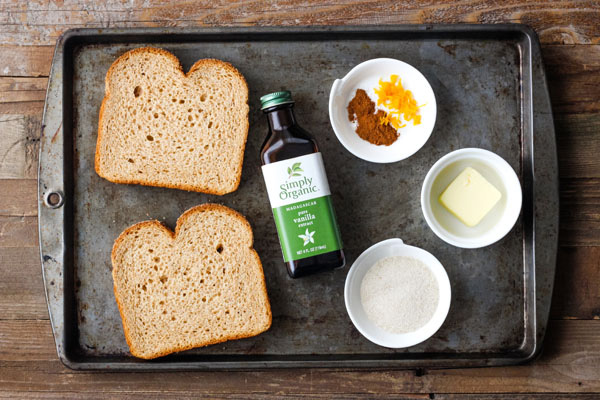 If you're looking to take things up a notch though, we've got a few ideas:
A splash of vanilla extract makes the toast smell and taste fantastic. 
Fresh orange zest balances the sweetness, is so yummy with cinnamon, and will immediately conjure up holiday memories of those canned Pillsbury orange sweet rolls (or maybe that's just me?).
At the end, use the broiler for just a few seconds and the sugar will caramelize into a crazy delicious Brulee-style topping.
How to Make Cinnamon Toast in a Toaster Oven
The trick to really good cinnamon toast is mixing the sugar, cinnamon, and any of your other favorite flavorings into the butter BEFORE toasting the bread.
You can even make up a bigger batch of the spiced butter and keep it in your fridge to handle any late-night snack emergencies.
Step 1: Mix Up Your Cinnamon Butter & Spread It On
Just dump everything in a small bowl and mash it with a fork until the ingredients combine into a smooth and creamy mixture.
Then, spread each slice of bread liberally with the butter.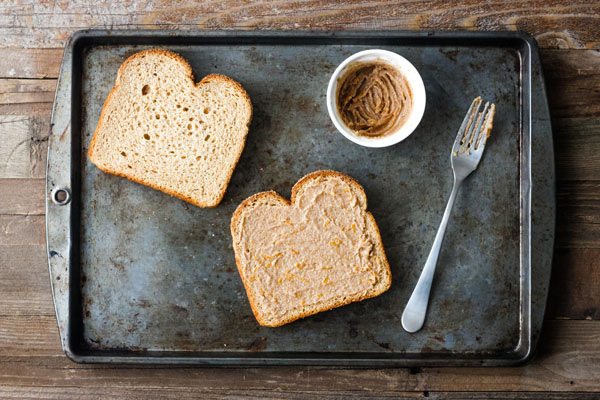 Step 2: Toast The Bread
If your toaster oven has a TOAST function then making Cinnamon Toast is pretty straightforward.
Place your buttered bread on the center rack.
Set the oven to TOAST. (Select the number of slices and set a toast color of medium if your toaster oven has these options.)
Cook until the bread is browned and the sugar has melted. This should take about 4 to 5 minutes depending on your oven.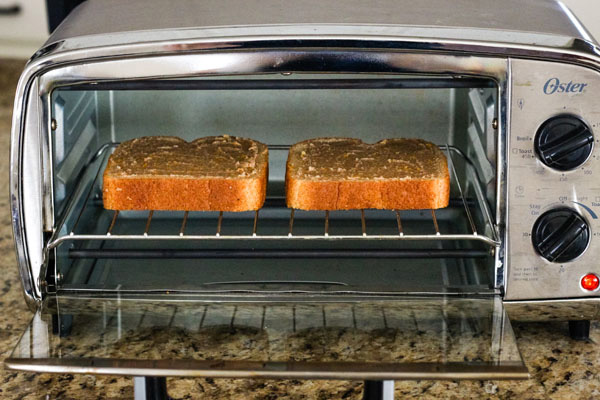 Your toast is already going to be delicious but in just 30 seconds you can up the yum-factor even more by quickly caramelizing the sugar.
To do this, switch to the BROIL function for 30 to 45 seconds. Keep an eye on the bread, you just want the sugar to bubble and brown a little – not burn.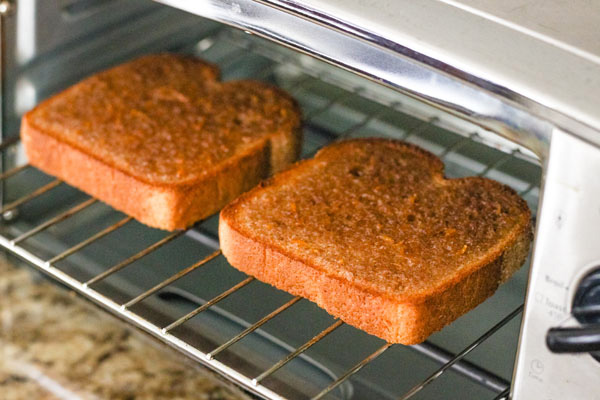 Lastly, remove the bread and let it rest for a minute or two before gobbling it up.
What if your toaster oven doesn't have a TOAST function?
If your oven doesn't have a toast setting (or you're not a big fan of it's toasting abilities), you can also make cinnamon toast using the BAKE function.
It's pretty much the same as the recipe above BUT before you start making up your cinnamon butter you need to preheat the oven.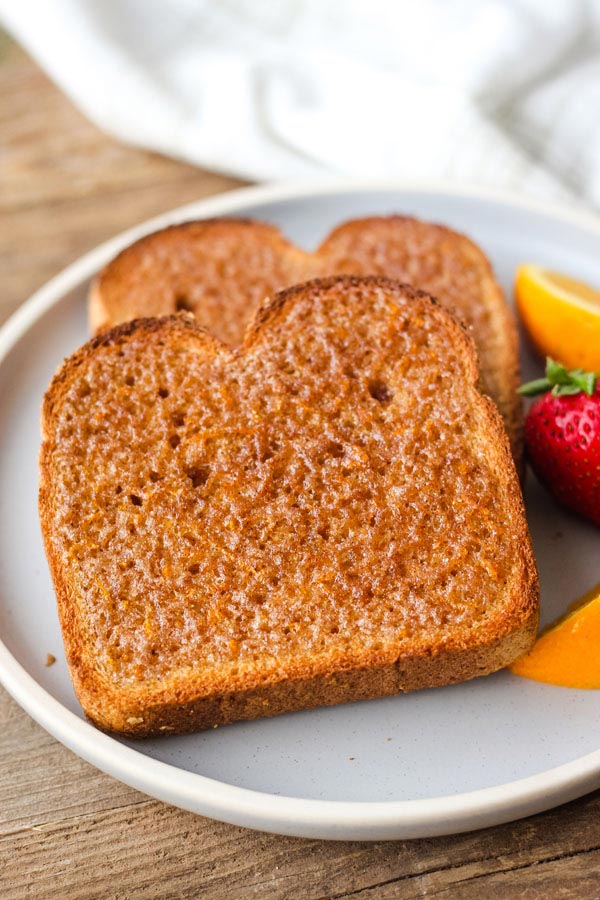 Set the toaster oven to BAKE at 400°F and move the cooking rack to the bottom position. For us, the bottom rack did the best job of toasting the bread. If your oven tends to run warm, you may want to use the middle rack position or reduce the temperature a bit.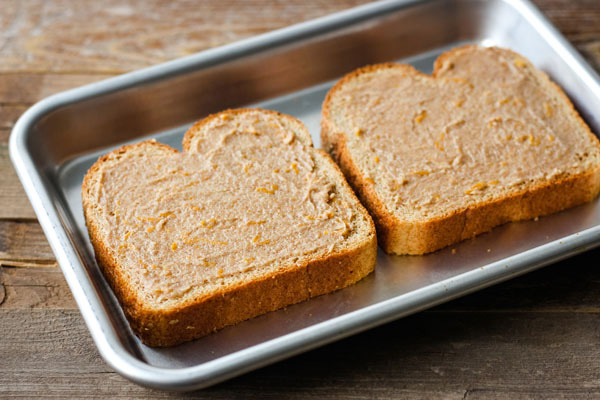 Once you've got your slices buttered and the oven preheated you've got two options for cooking the bread. You can either use a baking pan or cook the toast right on the rack.
Baking Pan = Softer Toast
Rack Cooked = Crispier Toasted Bread
For this example, we're going to add the bread to our favorite 1/8 sheet pan (it's perfect for small jobs like making apple nachos for two, rosemary cashews, or reheating muffins).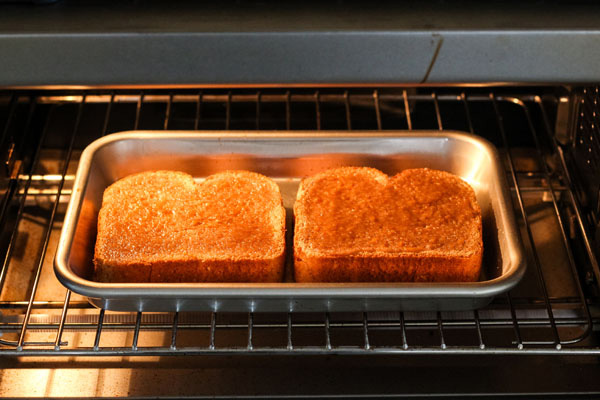 Place the pan in the oven and cook until the bread is golden brown on the bottom and the sugar has melted. This usually takes about 4 or 5 minutes in our Breville Smart Oven Pro (BOV845BSS) Countertop Oven.
Lastly, switch to the BROIL function for about 30 seconds to create a delicious Brulee-style topping. The sugar will bubble and turn a light golden brown quickly, so don't wander off or I guarantee it will burn.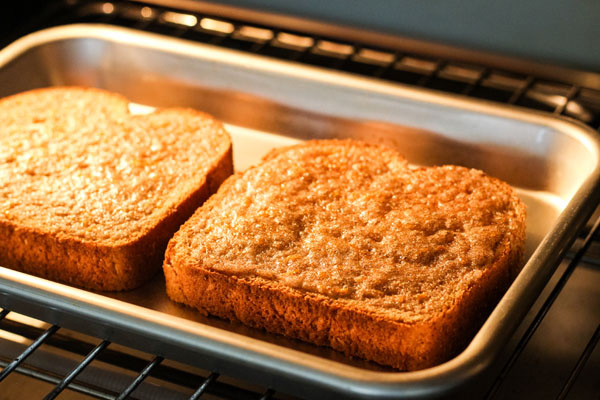 Let the toast cool for a few minutes (the sugar crisps further as it cools) and then devour.
Can You Freeze Cinnamon Toast?
Yes! You can freeze the unbaked/untoasted cinnamon-buttered bread. Seriously, this may be my favorite toaster-oven-related discovery.
How to Freeze Cinnamon Toast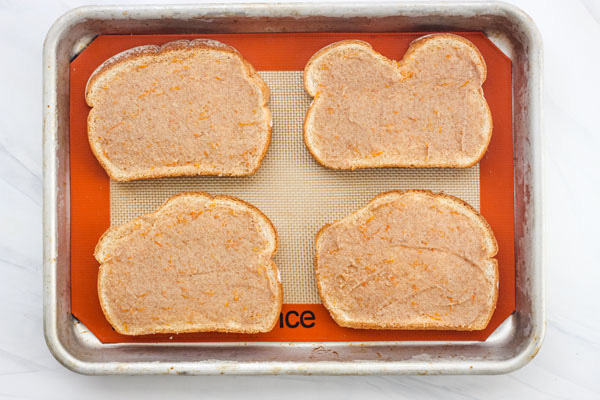 Once you've got your bread buttered place the slices on a baking sheet lined with a silicone baking mat or parchment paper.
Freeze until solid, at least 3 hours.
Store frozen slices in a sealed container or plastic freezer bag.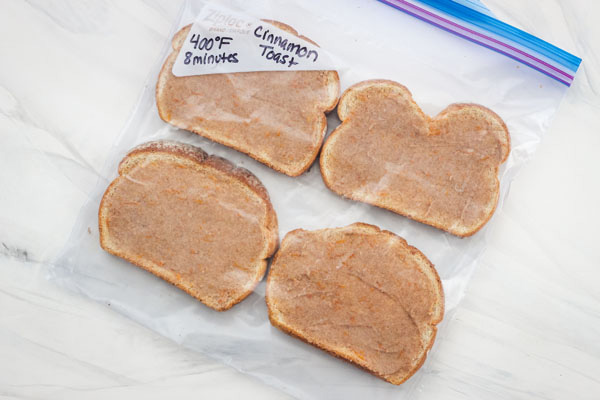 How to Bake Frozen Cinnamon Toast
Follow the recipe instructions above for baking the cinnamon toast but add a few extra minutes to the cooking time.
Our slices usually take about 7 to 8 minutes using the BAKE setting. Once the sugar has melted and the bread is toasted, BROIL for about 30 to 45 seconds and enjoy!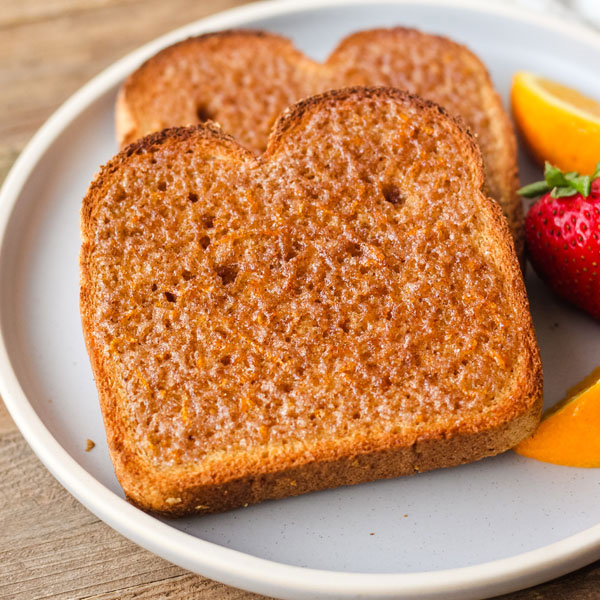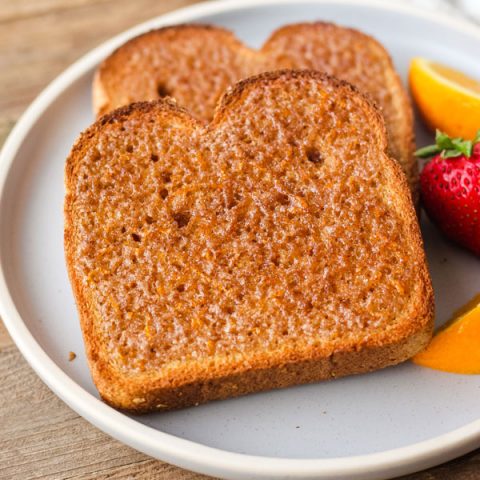 Toaster Oven Cinnamon Toast Recipe
Classic sweet and crispy cinnamon toast made in the toaster oven.
Ingredients
1 tablespoon Salted Butter, softened
1 tablespoon Granulated Sugar
1/4 teaspoon Ground Cinnamon
1/4 teaspoon Orange Zest (optional)
1/8 teaspoon Vanilla Extract (optional)
2 slices Multigrain Bread
Instructions
Prep The Butter
In a small bowl, stir together the butter, sugar, cinnamon, orange zest, and vanilla until well combined. Spread the mixture onto one side of each slice of bread.
To Toast
Adjust the cooking rack to the middle position and place bread directly on the rack.
Select the TOAST function and a medium darkness level.
Toast until the sugar has melted and the bread is golden brown, about 4 to 5 minutes.
To caramelize the sugar, BROIL for 30 to 45 seconds.
To Bake
Adjust the cooking rack to the bottom position, select the BAKE function and preheat to 400°F.
Place bread on a baking pan.
Cook until the sugar has melted and the bread is golden brown, about 4 to 5 minutes.
To caramelize the sugar, BROIL for 30 to 45 seconds.
Notes
Want to make just one slice?
Mix together 1½ teaspoons butter, 1½ teaspoons sugar, 1/8 teaspoon cinnamon, 1/8 teaspoon orange zest, and a splash of vanilla. Proceed with the recipe as directed.
Prep-Ahead Freezer Instructions:
Prepare cinnamon toast but do not bake.
Add slices to a sheet pan lined with parchment paper or a silicone mat.
Freeze at least 3 hours.
Store frozen slices in a sealed plastic bag.
When ready to eat, follow the baking directions above increasing the cooking time by 3 or 4 minutes.
Nutrition Information:
Yield:

2
Serving Size:

1 Cinnamon Toast
Amount Per Serving:
Calories:

136
Total Fat:

6.6g
Saturated Fat:

3.8g
Cholesterol:

15mg
Sodium:

161mg
Carbohydrates:

17.2g
Fiber:

1g
Sugar:

7.4g
Protein:

3g