INSIDE: Have you been struggling to find toaster oven baking dishes? We've got a few new ideas for you plus fun pans and accessories for your little oven.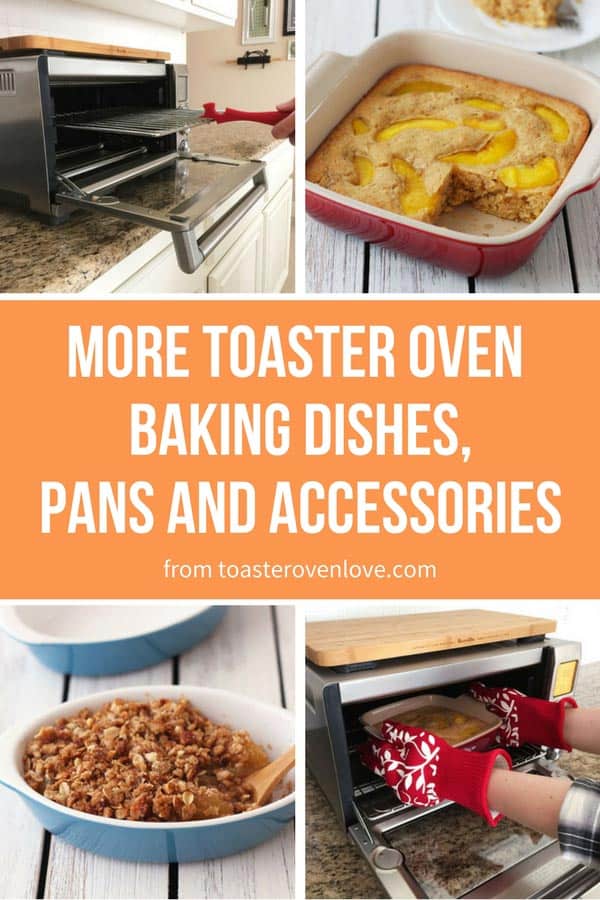 The Amazon links are affiliate links, read our disclosure for more on what that means.
You're loving your new (or maybe new-to-you) toaster oven but…the little pan that came with it is limiting your recipe creativity.
So you dig around in the cupboards looking for toaster oven-sized baking dishes. Your trusty 9 x 13 casserole dishes are way too big. Small 4-inch ramekins work but barely hold a handful of broccoli.
Oof, feeling like a frustrated toaster oven Goldilocks you wonder, "Why is it so darn hard to find baking dishes that will fit in my toaster oven?"
Don't worry, you're not alone, it was a struggle for us too.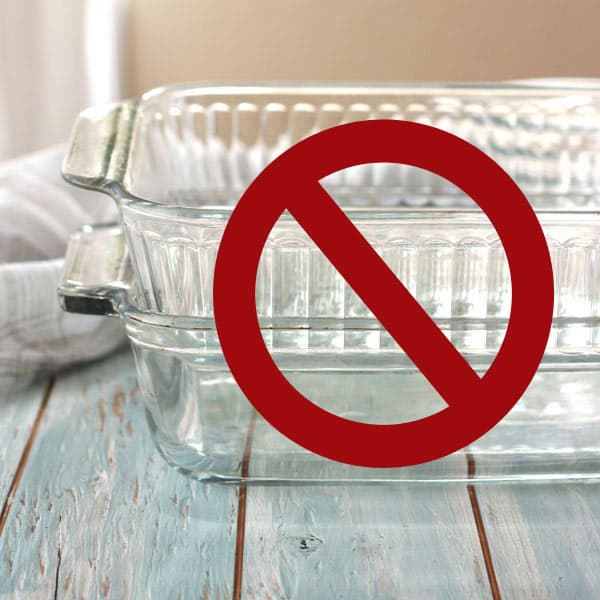 It was a sad day in the Toaster Oven Love house when we learned that Pyrex warns not to use their products in a toaster oven.
Since retiring our glass casserole dishes we've been on a search for suitable replacements and I'm happy to say we've found more than a few good candidates (along with some new pans and fun toaster oven accessories).
Hopefully, one of these will work for you too.
Starting with this all-purpose 1.7 qt.; 8.5″ (9.75 with handles) x 8.5″ x 2.5″ Le Creuset Baker that's made of an enamel coated stoneware. We've used it for baked pasta dishes and it did a great job cooking a toaster oven pancake with frozen peaches and orange zest (check out those crispy edges!).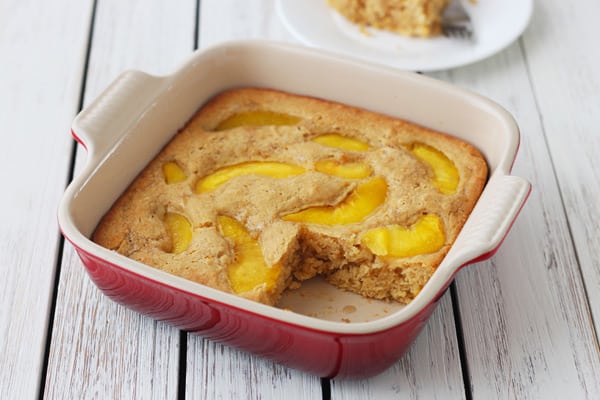 You may remember from our post on things you shouldn't put in your toaster oven that Le Creuset said if you can fit them, their dishes are A-OK to use in a toaster oven.
And they're also listed among the recommended bakeware in The Gourmet Toaster Oven Cookbook (affiliate link).
We purchased that large baker from Sur La Table as a set with this super cute matching 18 oz.; 5.75″ (6.75″ with handles) x 5.75″ x1.75″ baker.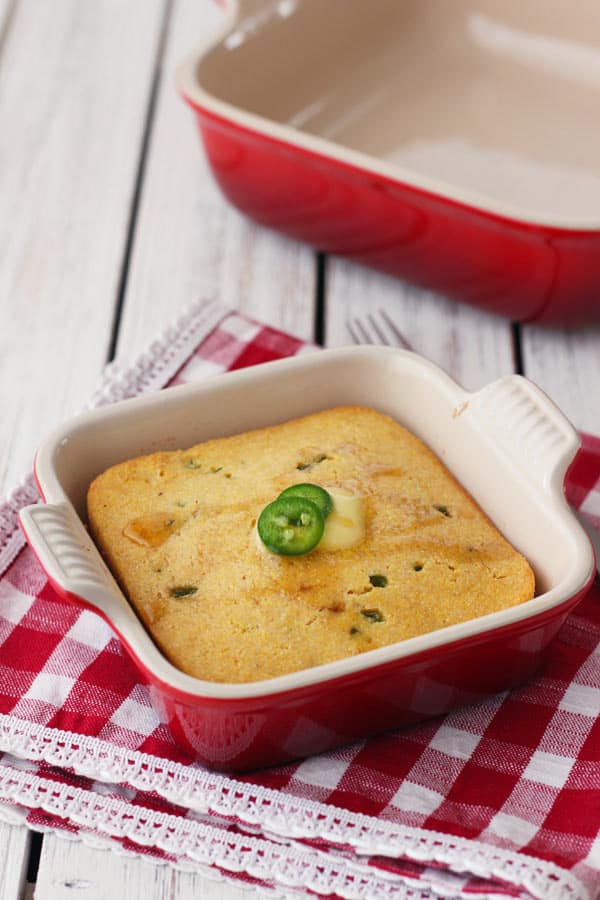 It's pretty small for a two-person household but I did use it to bake this tasty cornbread for one recipe from One Dish Kitchen.
The instructions are for a big oven and say to cook the cornbread about 20 to 25 minutes. Using the Breville Smart Oven Pro (w/o the convection), our cornbread was done at 17 minutes, so check on yours early.
If you're not interested in the full set you can purchase just the 5.75 x 5.75-inch Baker on Amazon (affiliate link).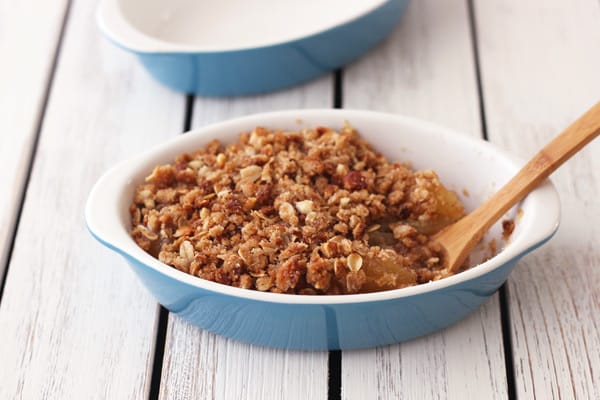 These stoneware Au Gratin pans from Sur La Table are a perfect size (7″ x 5″ x 1.5″) for cooking little casseroles and crisps for one or two people.
The first thing we cooked with them was a blueberry peach cobbler. After 30 minutes we had a pair of juicy sweet cobblers but our brand new dishes were covered (inside and outside) with a pink and blue baked-on sugary fruit syrup.
I thought for sure they'd never get clean but after a quick soak and scrub, they looked brand new.
While these do fall in the "keeper" category, given the choice, I'd probably pick the next pan over them.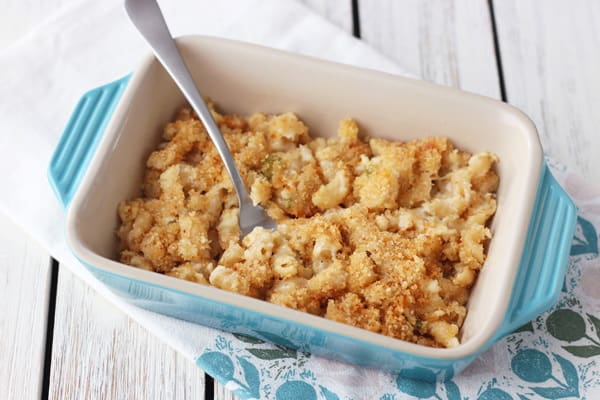 Right now this 7 x 5 Le Creuset baking dish (affiliate link) is the most used dish in our house.  According to Amazon, with the handles, it's full measurements are 8.5 x 5 x 1.8 inches.
It's great for reheating one or two servings of leftovers and for cooking those small frozen meals where the box states the container for the food should not be used in a toaster oven. We just pry the food out of its container and plop it in the baking dish.
I purchased it to test this special reader requested recipe for Toaster Oven Potatoes Au Gratin For Two.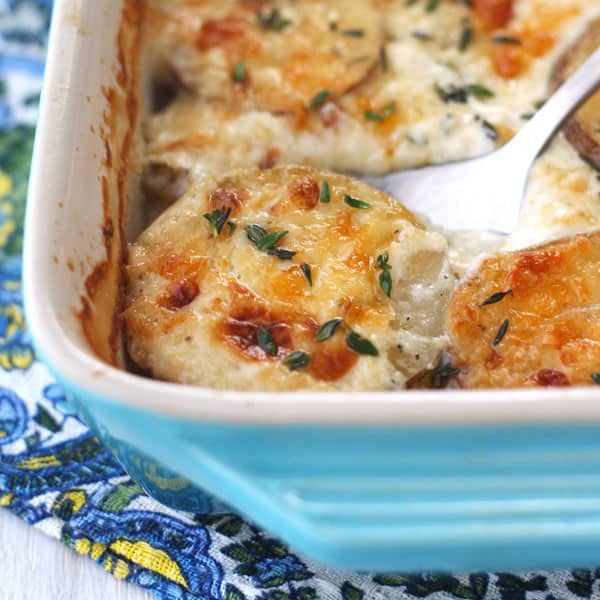 Toaster Oven Tip #157
Always chat up the salespeople at your local kitchen supply store.
They're a great source of information and unique ideas.
On our last trip to Sur La Table (it's becoming an obsession) I was talking to the salesclerks about foil alternatives for covering dishes.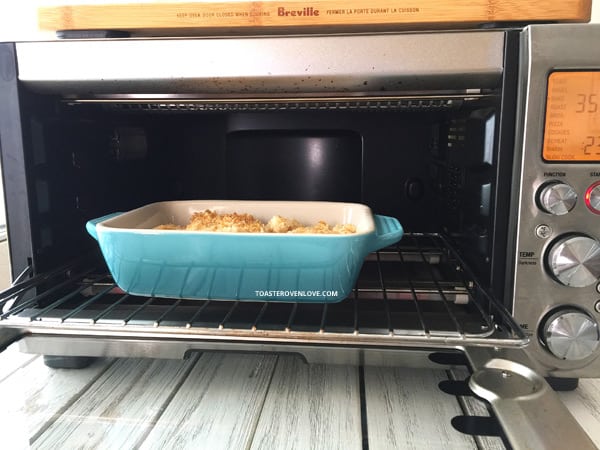 Despite what it may seem, we are not an anti-foil household.
It's just that one of our toaster oven's manuals says not to use it so we're always on the lookout for practical alternatives and we know you are too!
The four of us involved in this "alternative foil think tank" came to the conclusion that covering the dish with another pan was probably the best solution.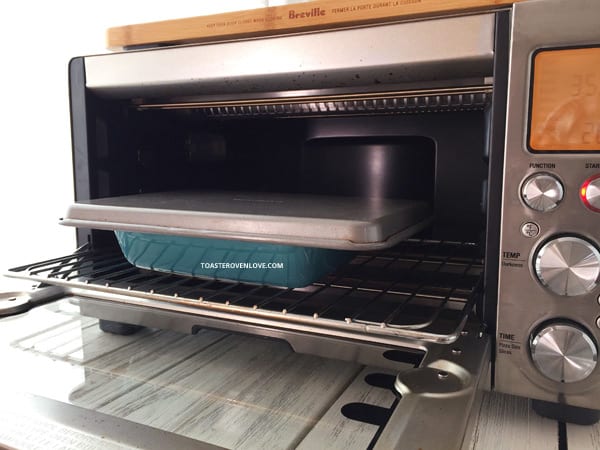 So for a few weeks now, Tim and I have been doing just that.
With the 8×8 baking dish, we use an overturned quarter sheet pan or the metal pizza pan that came with our Breville Smart Oven Pro (affiliate link).
For this 5×7 cutie, we use a 10 x 7-inch sheet pan that came in our Farberware toaster oven baking set.
At first, it took a little getting used too, but so far, I'm sold on the idea.
We haven't used foil for weeks and recipes requiring covering are turning out great.
Speaking of metal pans…the muffin tin that came in our Chicago Metallic Toaster Oven Set has been one of my favorite pans for years.
But its handles are a real problem.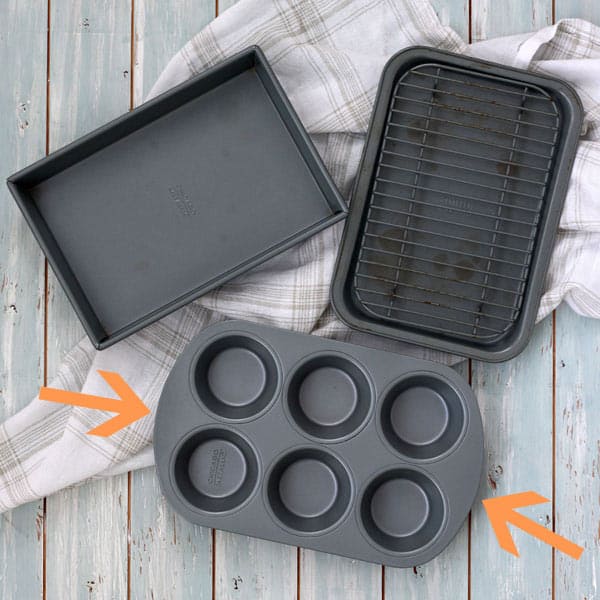 They extend out the pan edges making it just a hair too large for many of your toaster ovens and our little Oster too.
We've been working on a toaster oven muffins tips post (a reader request from the toaster oven cookie tips).
Wanting to make sure the tips will work in more toaster ovens than just our Breville, we busted out the tape measure and tracked down this 6-cup muffin pan from CasaWare on Amazon (affiliate link).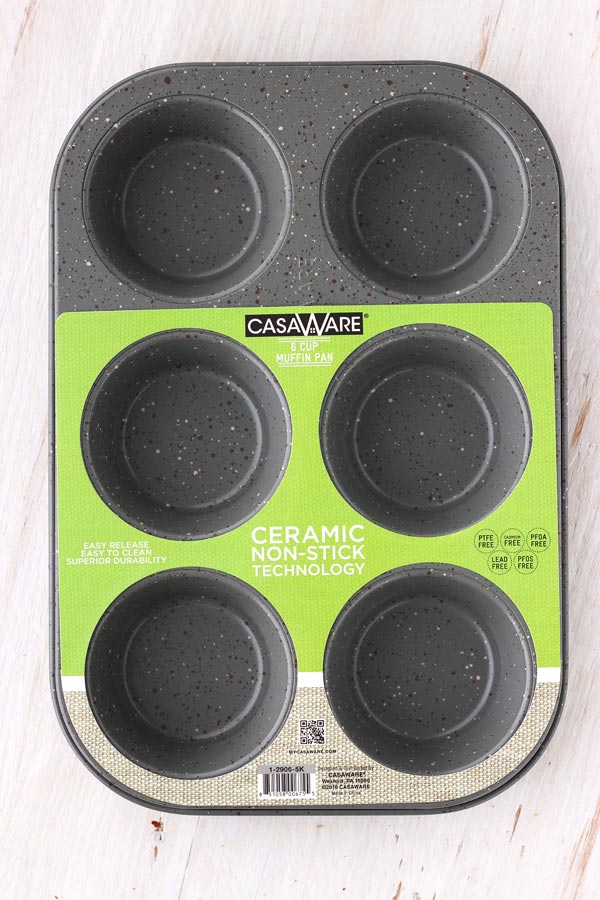 I've only used it a few times but I'm already a fan.
Though I do think the non-stick coating is browning the bottoms of our muffins more than usual. It's hard to tell though when you bake with whole grain flours all baked goods tend to look a little over-browned.
We'll be baking with it a bunch over the next few months so I'll be sure to include a full review in our upcoming muffin guide.
Not too long ago, I bought this Wilton toaster oven pan on a whim.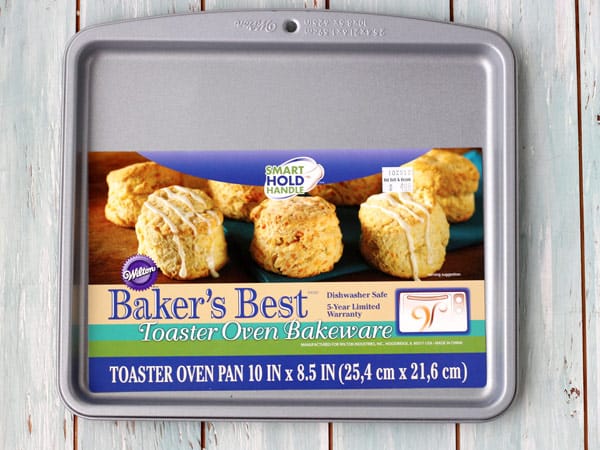 It's 10 x 8.5-inch size seems like a nice middle ground between a large quarter sheet pan and the tiny 9-1/2 by 6-1/4-inch cookie sheet in the Chicago metallic toaster oven pan set.
But we haven't had a chance to give it a few good toaster oven cookie test runs yet.
Do you own this pan? If you do, we'd love it if you shared your thoughts in the comments.
And if you're looking for more metal toaster oven pan ideas, check out our best toaster oven pans guide.
Lately, that guide's been having a lot of activity in the comments section. A few weeks ago, Denise left this great question:
"What I'm trying to find is a technique or tool for removing hot dishes safely.

My husband has a shaky hand from a stroke (called intention tremor, it gets worse when he tries harder) and I'm just a clutz. We love using the counter height toaster oven, but I can't seem to get my hand around a casserole or muffin tin while wearing an oven mitt. We've been sliding it out by pulling out the rack until it tips, then nudging the dish onto an oven mitt, but if it topples, it would hurt!

Any advice for the small clearance in a toaster oven?"
If you've got a great suggestion for Denise, can you do us a favor?  Hop on over and leave a reply to her comment.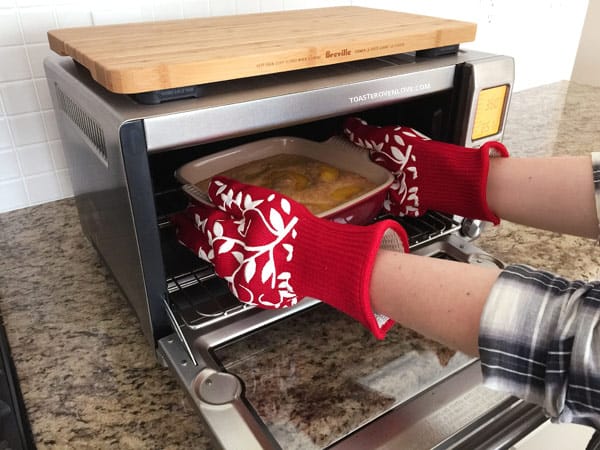 One of our ideas for Denise was these oven gloves from Sur La Table.
They're stylish, at least as stylish as oven gloves can be and I love that you can really use your fingers to grip dishes and pans.
The big cuff at the top is the best.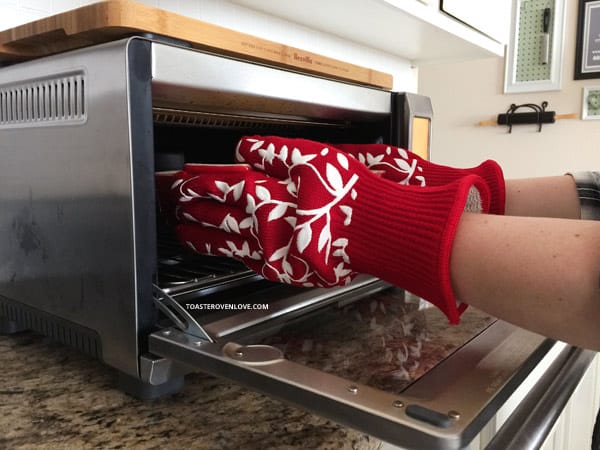 I used to accidentally burn my wrist a lot taking pans out of the toaster oven, now they're well protected from my clumsy kitchen ways.
One drawback though is how big the gloves are.
Can you see where my thumb is pressing in the photo below? That's where the tip of my index finger is.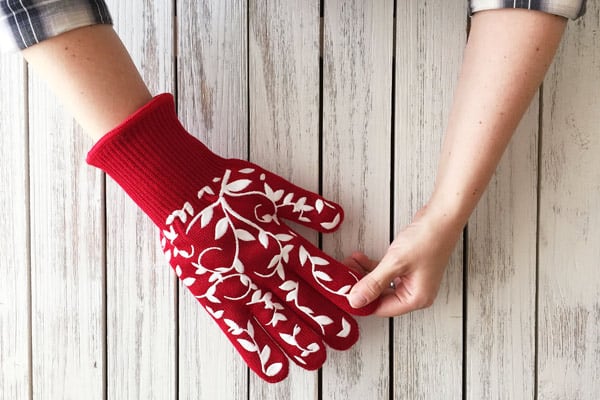 They fit Tim's giant paws perfectly but are fairly large on my tiny child-sized hands.
Although I wish they offered an option for smaller hands, overall I'm super happy with the flexibility and protection the gloves offer. And they're so warm, come winter it might be hard to want to take them off…even when you're not cooking.
This cutting board had been on Tim's wish list since we first purchased our Breville Smart Oven Pro. Given its higher price, I wasn't totally sold at first.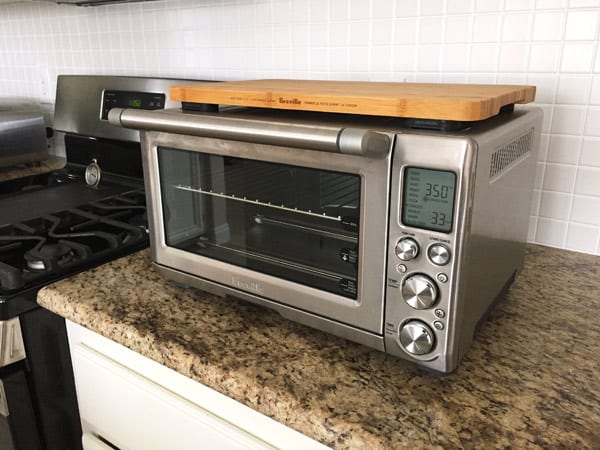 Then the paint on the cabinet door above our toaster oven started to bubble a little.  After that, I got onboard and ordered the cutting board from Amazon (affliate link).
Seeing it in person, I think Breville is way underselling its quality-level and features.
This board is awesome.
Aesthetics wise, the bamboo wood is nice and looks sharp paired with the toaster oven's shiny metal. It feels well constructed too with rubber feet that are thick and sturdy.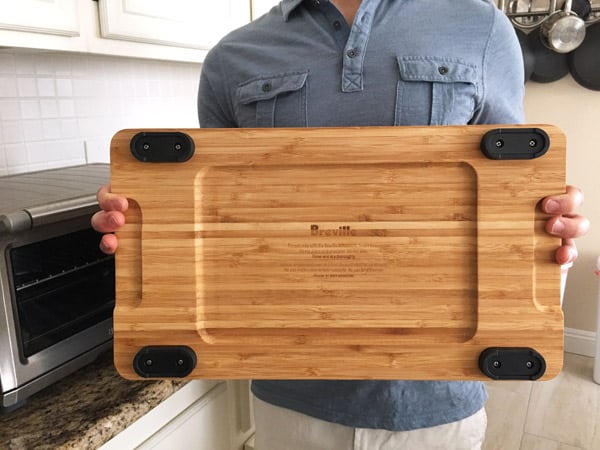 It's definitely helping with the heat as the door hasn't gotten any worse with our frequent toaster oven use. Having an extra place to set cooked food to cool is nice and we use it all the time as a serving tray too.
If you already own a Breville XL or Smart Oven Pro, it's an accessory worth considering.
Now, this final toaster oven accessory proves I'm a total sucker for Amazon's add-on suggestions. Those things are harder to resist than candy bars at the grocery checkout, right?
The Norpro Silicone Oven Rack Push/Pull is a high-heat resistant…I want to say, device? That helps you to grab and push the rack in and out of your toaster oven.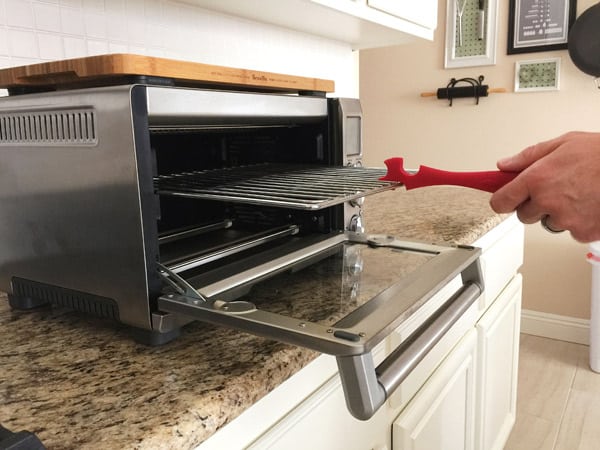 It's pretty nifty and keeps you from sticking your hands deep in the toaster oven to grab a rack or pan.
The problem is that for the life of me I cannot remember to use it, even when it's sitting right next to the darn toaster oven.
Do you own this little gadget? If so we'd love to hear how/if/when you use it.
With all of these pans and accessories, the only thing left on our "Wish List" is a 2 or 3-quart coated cast iron dutch oven. I've been stalking Craigslist regularly keeping an eye out for just the right one.
So far, I'm feeling a little like Goldilocks.
---
Join The Conversation
What's the last thing you bought for your toaster oven?  Which baking dishes and accessories are top on your Wish List?