Toaster Oven Baking Dishes and Accessories
From handy kitchen tools to sheet pans and baking dishes, these are the toaster oven accessories we reach for every day. They help us to make the most of our little oven and we hope you'll find them useful too!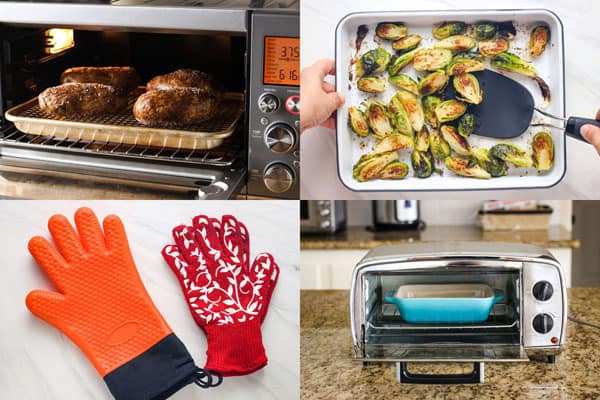 That rack puller I bought on a whim, yeah, it's never seen the light of day. And our collection of mini pans could definitely use a good dusting.
When you've been creating toaster oven recipes for 7+ years it's easy to accumulate lots of kitchen tools and equipment. Speaking from experience, some are significantly more useful than others.
Listed below are our go-to toaster oven accessories and bakeware. We've included a little about why we love them and why they're so helpful when cooking with a smaller oven. 
But before we get to the list, a word of caution.
If you are new to cooking with a toaster oven, avoid the urge to load up on pans and baking dishes that you might never use.
Instead, spend some time getting to learn how to cook with your little oven first. This Toaster Oven Beginner's Guide (combined with your manual) is a great place to start.
After making a few recipes, you'll quickly discover what kind of accessories are needed to cook the foods that you want to eat.
Table of Contents
Disclosure: This post contains Thermoworks affiliate links. Purchases made through those links may earn us a small commission.
Accessories That Make Cooking Easier
We use our toaster ovens every day to test new recipes and to prepare our own meals. Below are the tools that help us safely and successfully bake, broil, toast, and so much more!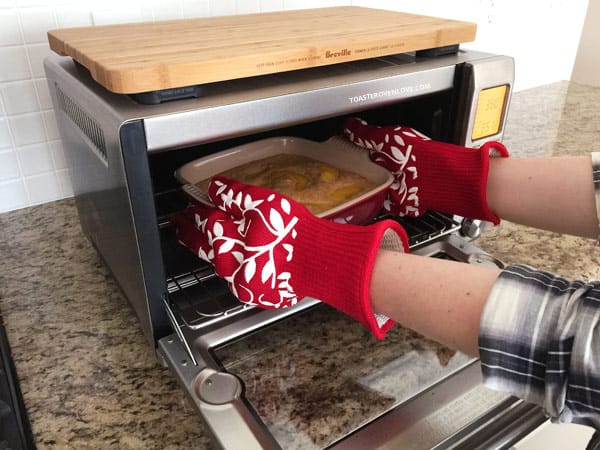 Oven Mitts or Gloves
Even if you're careful, it's easy to accidentally bump the (very hot) sides of a toaster oven when pulling cooked dishes out of it.
Using oven mitts that cover more than just your hands gives a nice layer of added protection to your wrists and forearms.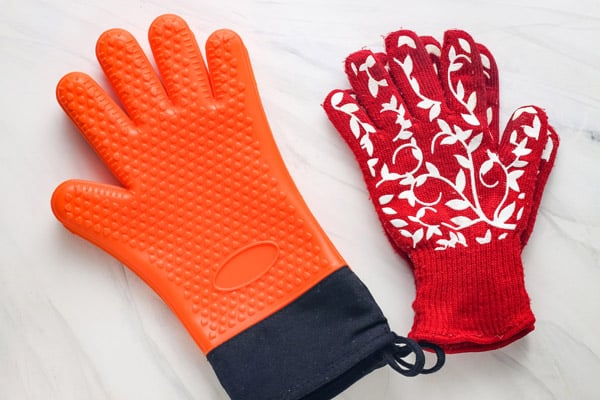 Silicone oven mitts or grill mitts that have a high-heat tolerance are a good option. They usually offer more forearm coverage and can be rinsed off or wiped clean.
If you're cooking a lot of smaller dishes you might find that oven gloves allow you to get a better grip on the pans. We like the gloves sold at Sur La Table because they are available in both small and large sizes.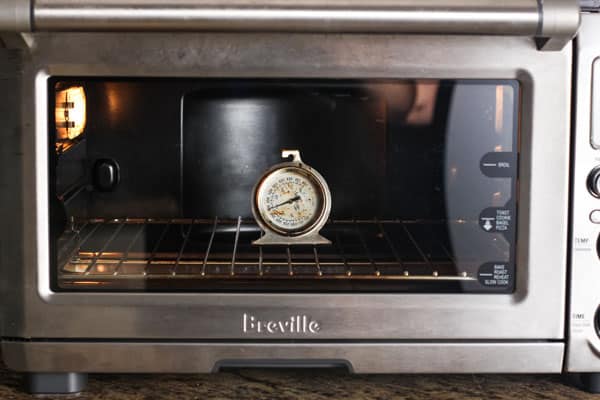 Oven Thermometer
Most digital toaster ovens are designed to signal (or beep) that they have fully preheated before they actually reach the temperature you've set on the dial.
And with analog knob-style toaster ovens, it can be tough to tell if you've let the oven preheat for long enough.
This isn't always a problem but for some recipes, it's important that the oven has actually reached its target temperature before adding your food.
That's why we love our cheap little oven thermometer. We just pop it in the center of the toaster oven and wait until the thermometer shows it has reached the desired temperature.
Learn More >>> Is Your Toaster Oven Lying About Its Temperature?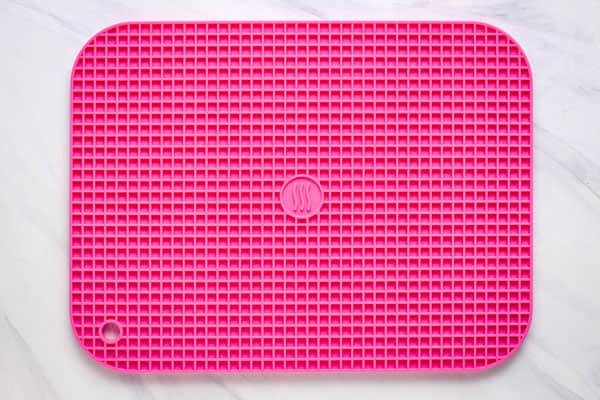 Large Hotpad or Trivet
How many times have you pulled a casserole out of the toaster oven only to realize you have nowhere to set it?
Hotpads and trivets are something you never think about until you need them. It doesn't help that most of us keep them buried in a drawer or cabinet where they're not of much use anyway.
That's why we love our 9″x12″ Silicone Hotpad/Trivet from Thermoworks. It's designed to withstand high temperatures and is the perfect size for a quarter sheet pan, casserole dish, or dutch oven.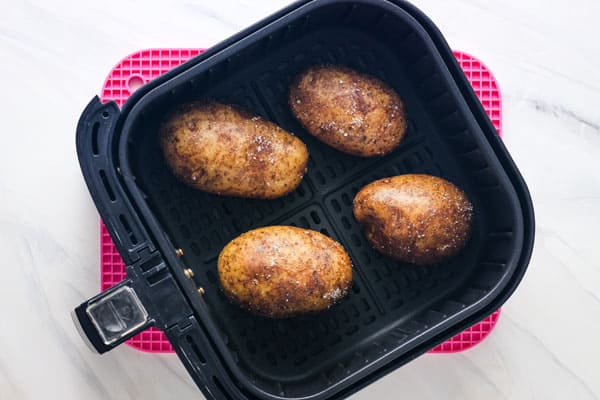 We also use it with our air fryer as a handy place to set the basket down when tossing roasted cauliflower or flipping air fryer baked potatoes.
The pad is available in a variety of bright and fun colors so it's impossible to misplace and it's dishwasher safe too.
We leave ours out all of the time but you could always toss it in a kitchen drawer (preferably one that's close to your toaster oven).
If you have a Breville countertop oven or toaster oven, another option to consider is their cutting boards.
Our main toaster oven is a Breville Smart Oven Pro (BOV845BSS). One of the accessories offered for it is a cutting board that is specially designed to sit on top of the oven during use.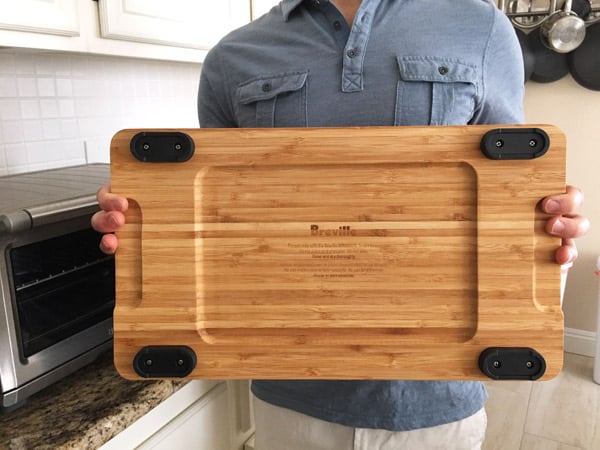 It's a little pricy compared to a traditional cutting board, I think we paid around $40.00. But it's a nice quality bamboo board. Ours has been holding up well for 5+ years and provides a great place to set down hot pans.
Toaster Oven Tip
Most toaster oven manufacturers caution against placing anything on top of their ovens. Always check your manual and follow the manufacturer's recommendations.
Kitchen Timer
For safety reasons, toaster ovens are designed to turn off when the set cooking time ends. This is a great feature that will keep you from accidentally leaving the toaster oven turned on unattended.
But it can be a little frustrating if you don't know exactly how long your item will take to cook and end up needing to add extra time.
Our main oven is designed to bypass the preheat if it's already at the desired temperature. But some toaster ovens will make you cycle through the preheat if you need to restart the oven to add more time.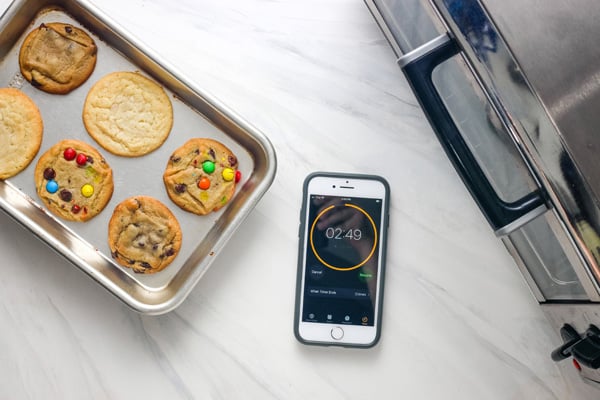 When I'm making a recipe for the first time and am not sure how long it will cook, I set the toaster oven timer for a little longer than I think it will take. That way it won't automatically turn off.
Then I use my phone's timer to set an early reminder to check on the food and make adjustments as needed.
Also, if you're cooking something that needs to be flipped or you need to rotate the pan halfway through the cooking time, you can use the timer to remind you to do that too.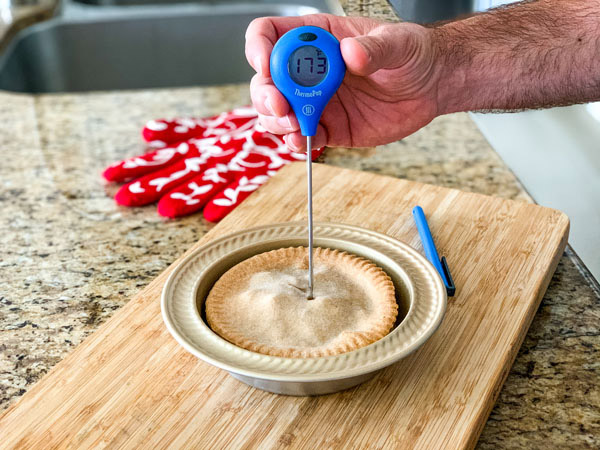 Instant Read Thermometer
It can be tough to tell if foods are cooked all the way through just by looking at them.
With an instant-read thermometer, you can easily check the internal temperature of proteins and frozen foods (like this veggie pot pie). You'll quickly know if your food is ready or if it needs to be cooked longer.
Our favorite instant-read thermometer is the ThermoPop from Thermoworks. It's compact but has an easy-to-read screen and comes in a bunch of fun colors.
We use it all of the time when cooking frozen meals, air frying, baking bread, and testing proteins to see if they've reached a food-safe temperature.
One thing to note is that you do have to press the power button a little aggressively (IMHO) to turn it on.
Thermoworks makes a variety of highly-rated digital thermometers including a talking thermometer that says the temperature out loud.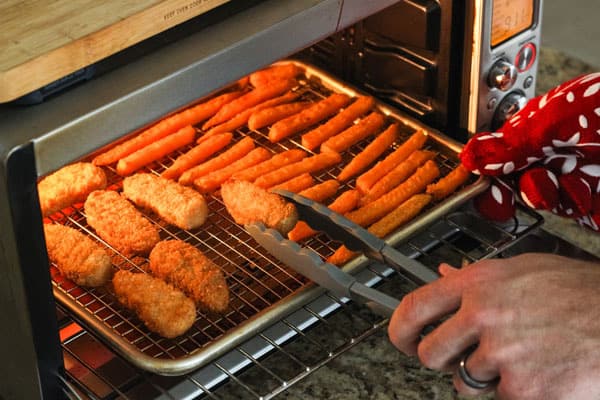 Tongs With Silicone Tips
Tongs are great to have on hand for all kinds of things: flipping roasted red peppers and cabbage wedges, tossing marinaded mushrooms for some meatless subs, plating food, and more.
Heat-safe silicone-tipped tongs are our favorite because they don't scratch up metal pans or tear apart the breading on veggie nuggets and buffalo cauliflower bites.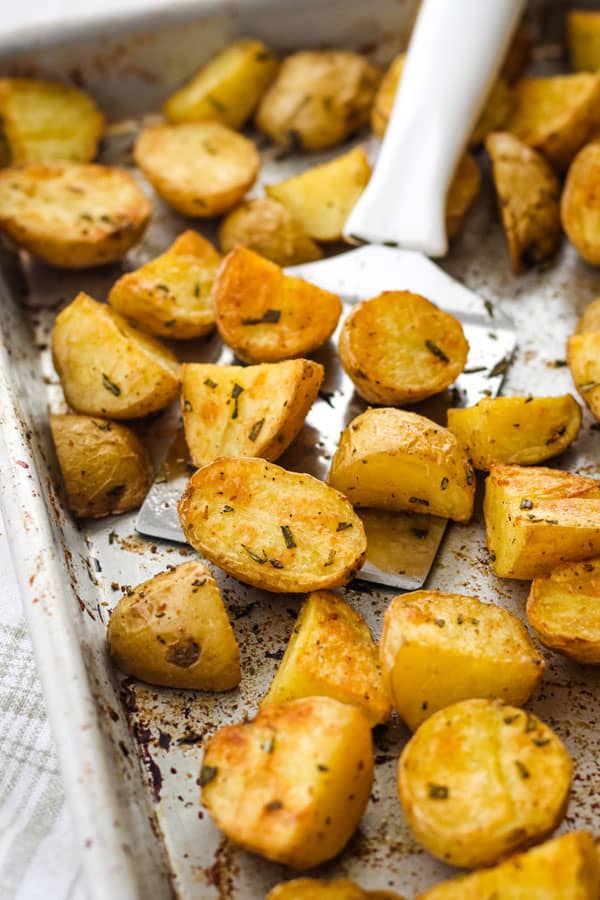 Cookie Spatula
If you've ever tried to use a full-sized spatula to remove cookies from a tiny toaster oven pan you know that it can be super awkward.
What you need is a cookie spatula. These down-sized spatulas can fit into tight areas and are great for lifting, transferring, and flipping foods on smaller pans.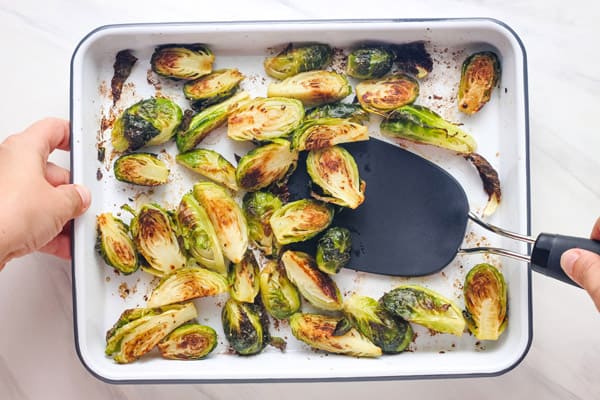 Our old Wilton Cookie Spatula has worked pretty well will our smaller pans but I really like the OXO Silicone Cookie Spatula.
Similar to the silicone-tipped tongs above, using a silicone spatula won't scratch your pans. Plus it's more flexible with thin edges that slide under foods with ease and has an easy-to-grip handle.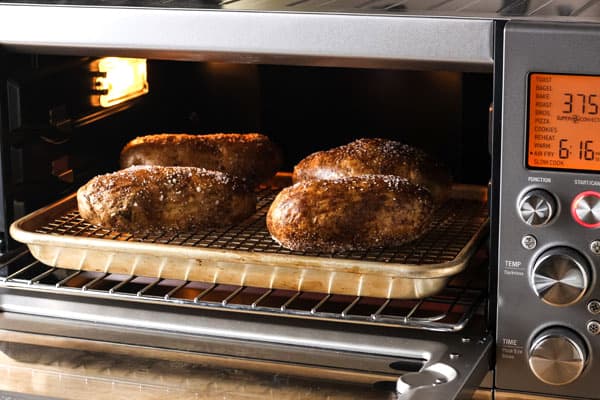 The Dynamic Sheet Pan Duo
Rimmed sheet pans are our favorite toaster oven workhorse. We use them to roast vegetables, bake cookies and make easy dinners for two.
When you slide a wire rack into a rimmed sheet pan it creates an elevated surface for food to sit on.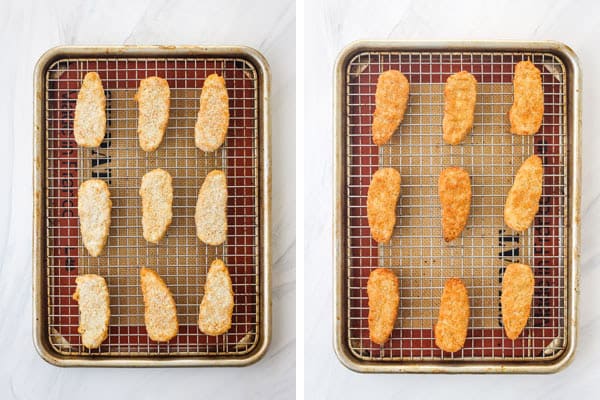 This allows the toaster oven's warm air to circulate around the food and leads to more even cooking and crisping. It also helps to keep fattier foods from sitting in a puddle of grease.
If you want to cook air fryer recipes in a convection toaster oven, make the best-tasting baked potatoes, or bake flaky cinnamon tortilla chips this dynamic duo can help you do all that and more.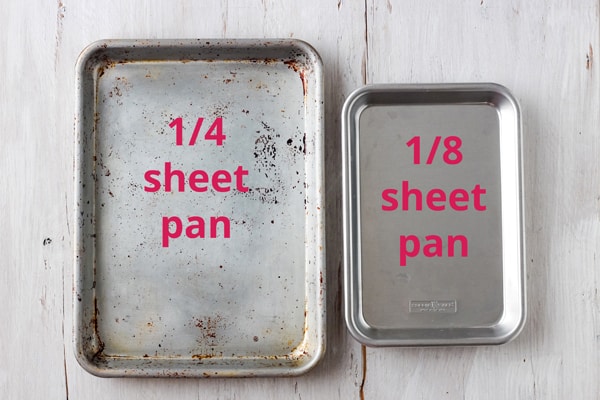 Rimmed Sheet Pan
We own a bunch of these Nordic Ware Natural Aluminum Quarter Sheet Pans and use them daily with our main toaster oven, a Breville Smart Oven Pro.
The pans heat food evenly, don't have a funky coating and are super easy to scrub clean.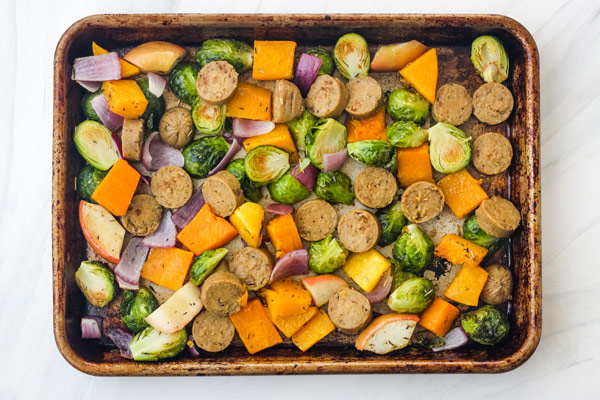 Like all sheet pans, they will stain and develop a "patina" over time. So I like to keep at least two on hand. One for roasting (that I let get really dark) and one for baking (that we use lined).
If you have a smaller toaster oven, they also make a ⅛ Sheet Pan that is half the size of the quarter sheet pan.
It's great for little jobs like toasting nuts, baking a couple of cookies, or making a grilled cheese sandwich in your toaster oven.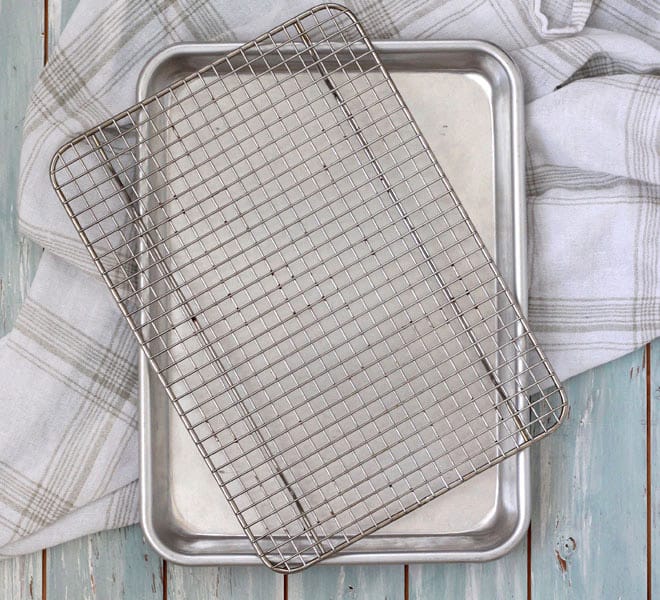 If you're not sure what size pan to get, this post for How To Know If A Pan Will Fit In Your Toaster Oven can help!
Heat-Safe Cooling/Baking Rack
The wire rack that fits in our quarter sheet pans measures around 11 ¾ x 8-inches.
If you want to use a rack with the ⅛ rimmed sheet pan, you'll need a much smaller one (around 9 x 5 ⅞ -inches). The rack in the Chicago Metallic Toaster Oven Pan Set is the closest I've seen in that size.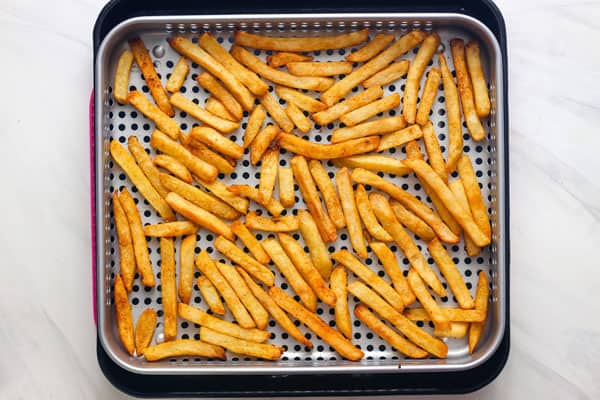 Other options to consider if you can't find a rack that will fit in your favorite pan:
Air Frying Basket (like the Cuisinart basket pictured above)
Crisper Tray/Pan
They're available in a variety of different sizes and can provide a similar elevation/increase in airflow during cooking.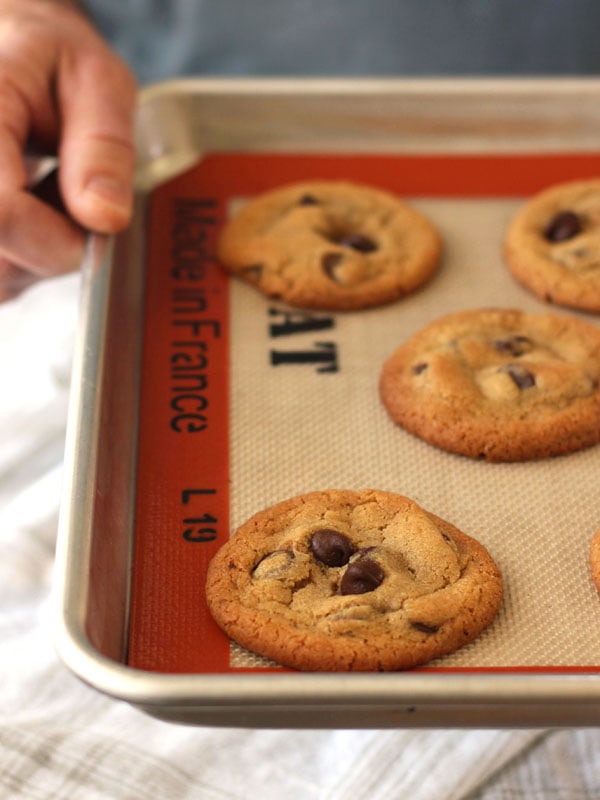 Silicone Baking Mat
One way that we've been able to eliminate kitchen waste in our house is by lining our pans with reusable silicone baking mats instead of parchment paper or foil.
Our favorite brand of silicone baking mat is Silpat. Their Petite Jelly Roll Mat measures 8 ¼ x 11 ¾ inches and fits nicely in a quarter sheet pan. The company also makes a Toaster Oven Mat that is 7 ⅞ x 10 ⅞-inches.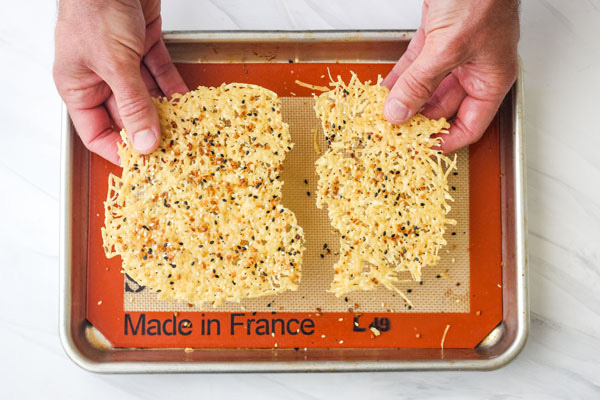 We use our mats to make crispy chips out of cheese, bake cookies with ease, and roast veggies for calzones without having to use lots of oil. They clean up quickly and are dishwasher friendly too.
One thing to note about silicone mats is that they absorb strong odors.
To keep our chocolate chip cookies from tasting like yesterday's rosemary roasted potatoes, we always have two mats on hand and use one strictly for cooking savory items.
Learn More >>> What is a silicone baking mat?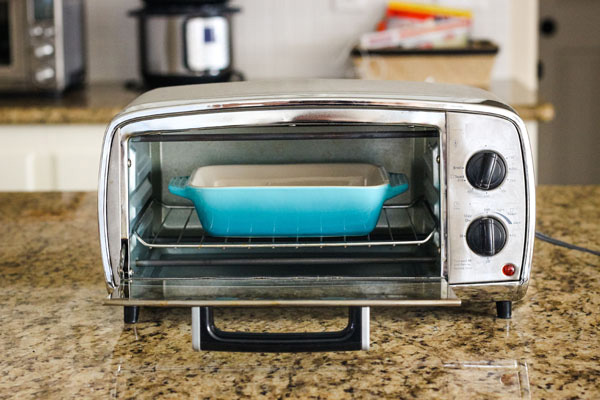 Our Go-To Baking Dishes (Big and Small)
Unless specifically designed for use in a toaster oven, the majority of glass baking dishes have care and use guides stating that they should not be used in a toaster oven. (Souce: Pyrex® Safety and Usage Instructions and Anchor Hocking FAQ)
So we like to cook with stoneware baking dishes and ramekins instead.
But due to the proximity and uneven heating of the elements, stoneware, and ceramic dishes do have the potential to crack in a toaster oven.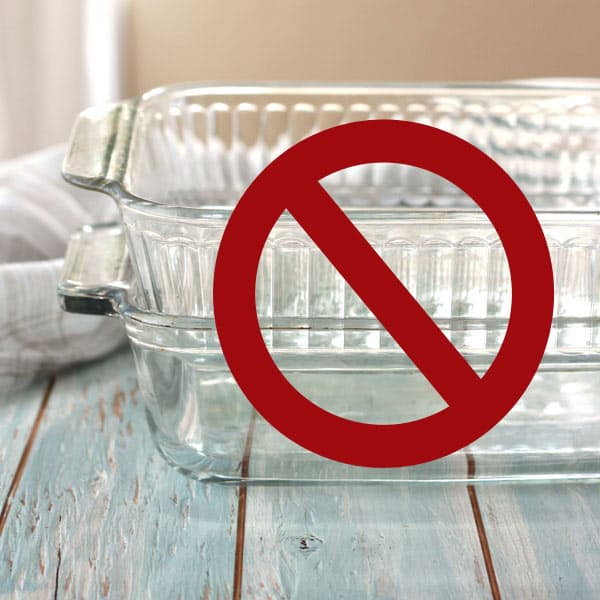 That's why some baking dish manufacturers like Corningware don't recommend using their products in a toaster oven, countertop oven, or air fryer. (Source: Corningware Bakeware Dish Care and Use)
In addition, most toaster oven manufacturers direct users to be cautious when cooking with pans and baking dishes that are not made of metal.
To Recap: Always read the care and use directions and if you're not sure about a baking dish you own reach out to the manufacturer for guidance.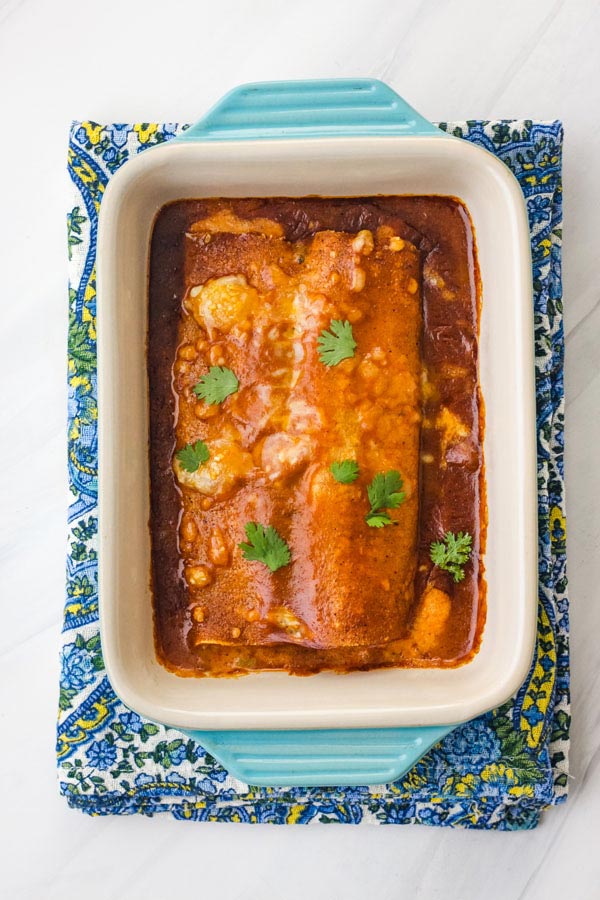 Small Casserole Dish
If you're cooking for one or two people, a small casserole dish can be very handy.
This smaller 7 x 5-inch Le Creuset is one of the most-used dishes in our house. It's made from a solid enamel-coated stoneware, has a capacity of 22-ounces, and the exterior measurements including the handles are 9 1/8″ L x 5 5/8″ W x 2″ H.
A dish this size is great for reheating one or two servings of leftovers, baking pears, and snack cakes, or making a small batch of comforting potatoes au gratin.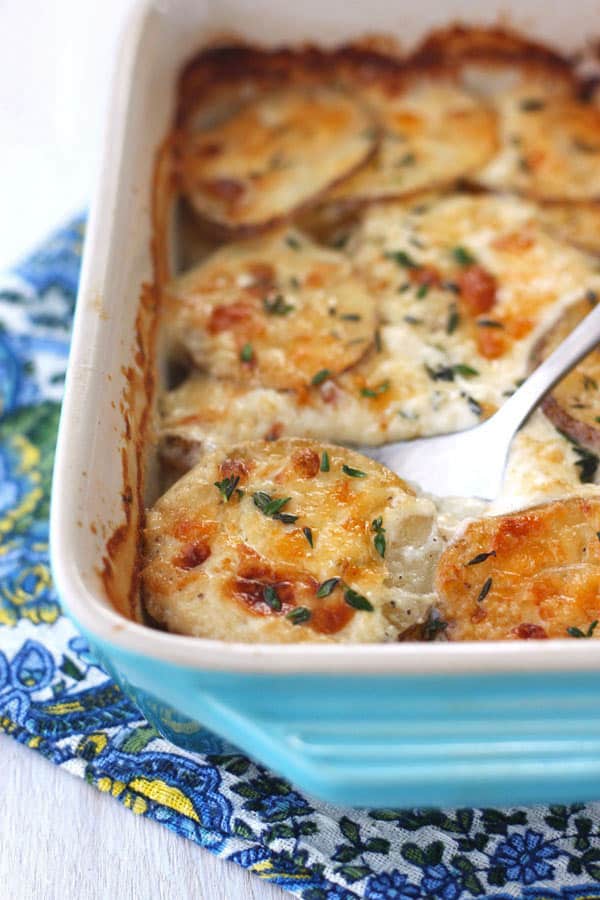 We also use it to cook frozen meals where the box states the container for the food should not be used in a toaster oven. We just pry the food out of its container and plop it in the baking dish.
Unfortunately, it appears this specific baking dish may have been discontinued by the company.
Though I have seen it along with other similarly sized baking dishes for sale at Home Goods (a discount housewares store) and on eBay, Etsy, and Poshmark.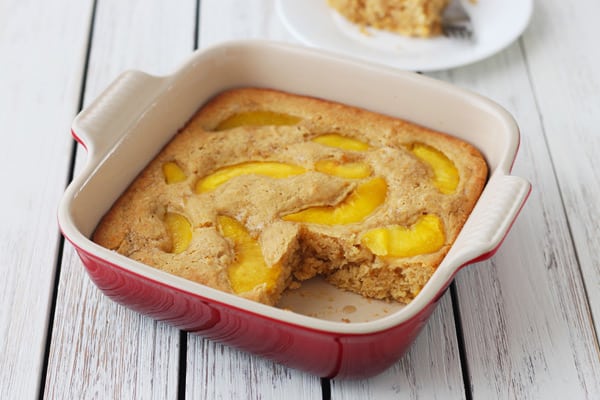 Square Baking Dish
For recipes that make 4 servings, a larger square baking dish does a good job. I like to use our 1.7 qt.; 8.5″ (9.75 with handles) x 8.5″ x 2.5″ Le Creuset Baker to make casseroles, baked pasta dishes, fruit crisps, or a double batch of our toaster oven egg bake.
It did a great job cooking the toaster oven pancake with frozen peaches and orange zest pictured above. Check out those crispy edges!
We originally bought that baking dish from Sur La Table. It came as a set with this cute 18 oz.; 5.75″ (6.75″ with handles) x 5.75″ x1.75″ baker that's fun for making little desserts or this cornbread for one recipe from the website One Dish Kitchen.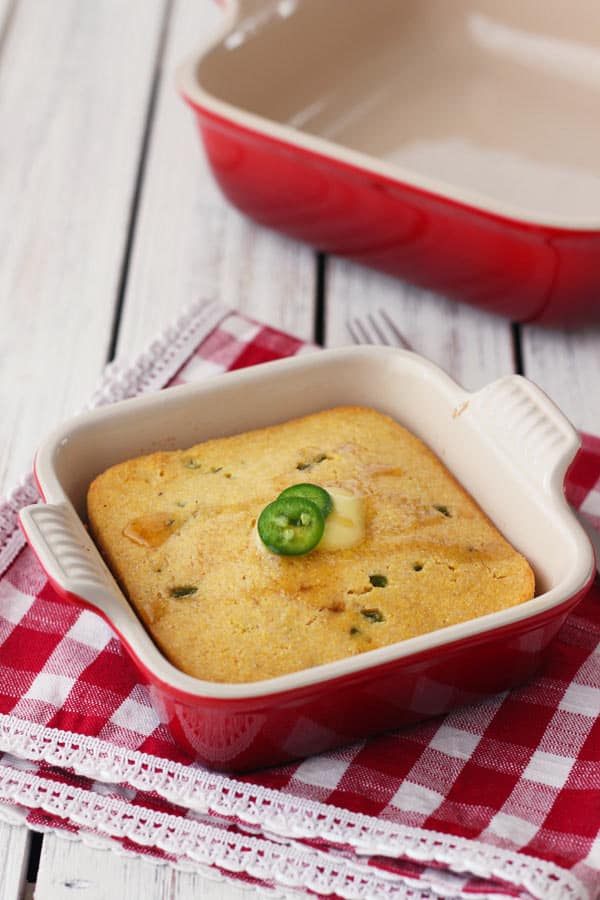 It appears the set and the larger baking dish (on its own) are still sold by Le Creuset.
Similar to the smaller casserole dish above I've seen different versions of these baking dishes for sale at discount housewares stores and on eBay, Etsy, and Poshmark.
Also, many readers have reported finding high-quality gently used baking dishes like these at second-hand stores.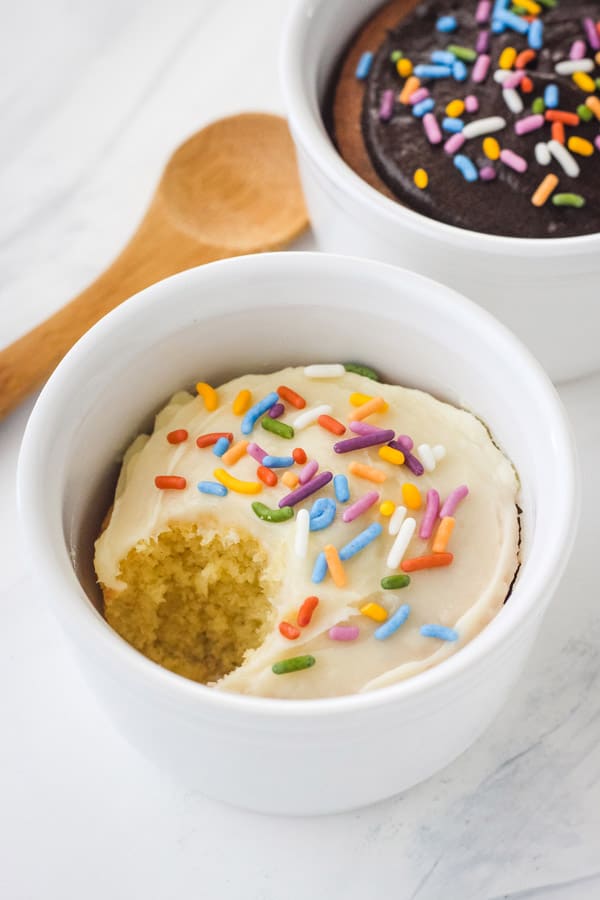 Ramekins
Tiny 4-ounce or 5-ounce ramekins are great for making single-serving desserts like these cake mix mini cakes. While 8-ounce ramekins are good for egg dishes, individual casseroles, and dips.
We also have some stoneware mini cocotte (they're like tiny dutch ovens) that are handy for reheating smaller portions of food or anything you want to keep covered.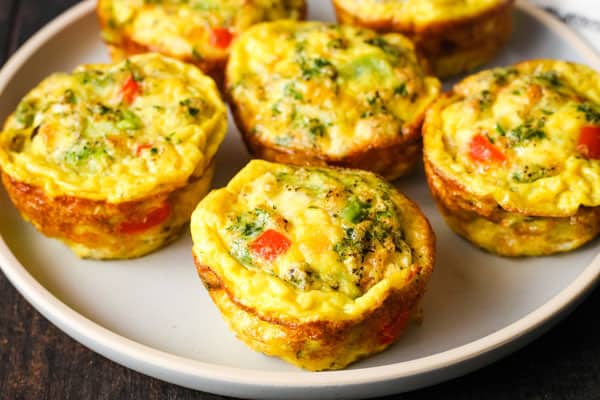 Fun Pans to Have Around
We don't use these pans every day but they are nice to have on hand and make it possible to do even more with a toaster oven.
6-cup Muffin Tin: Good for muffins and other small single-serving items like mini frittatas and individual pies. Flipped over, you can even use them to make dessert tacos using leftover potsticker wrappers!
Learn More >>> Which toaster oven muffin pan is the best?
8 x 8-inch Square Pan: Useful for all kinds of baking from boxed brownies to blueberry coffee cake, but also roasting veggies or cooking anything that isn't crazy sticky.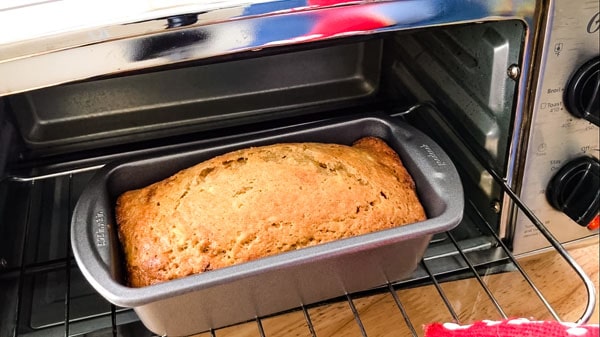 Mini Loaf Pan: Our 5-¾" x 3" x 2" mini loaf pan is one of my favorite toaster oven pans. I love using it to make mini quick bread like our banana bread for two or this mini cranberry orange bread.
6 x 2-inch Round Pan: Perfectly sized for making little cakes (like our toaster oven carrot cake) or small batches of dinner rolls. This pan is also a good size for cooking frozen bowl meals or reheating leftovers.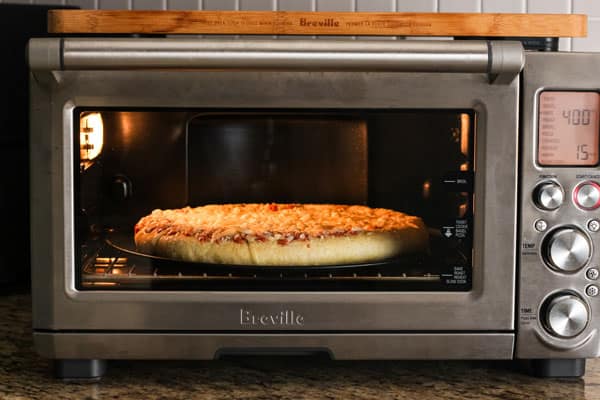 Pizza Pan: We use ours all of the time to cook frozen pizza in the toaster oven but pizza pans are also good for baking cookies, toaster oven quesadillas, and canned biscuits.
Smaller Cast Iron Pans: They are heavier and require some maintenance, but when cared for properly a good cast iron pan will outlast you. From making a mini berry skillet cake to a frittata for two, they're very versatile.
Learn More >>> Mini Cast Iron Skillets and Pans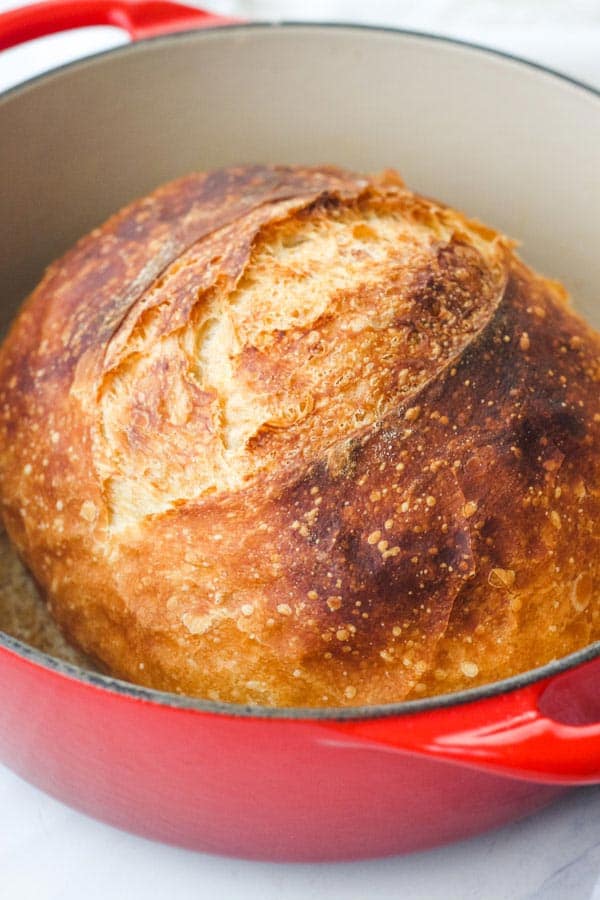 Small Dutch Oven: Finding covered baking dishes that will fit in a toaster oven (and don't have a glass lid) can be difficult. If you're cooking with a larger toaster oven a dutch oven might be a good option.
We use our 2 ¾-Quart Le Creuset dutch oven often to bake a small loaf of no-knead bread. It's also great for casseroles or anything where you're trying to keep moisture in. One Thanksgiving I even cooked a Tofurky and braised vegetables in our toaster oven using it.
Your Turn!
What are your toaster oven must-haves? Share your favorites in the comments below.