Toasted Peanut Butter and Jelly Sandwich
This Toasted Peanut Butter and Jelly Sandwich is comfort food at its best. Buttery, crispy, sweet, and delicious!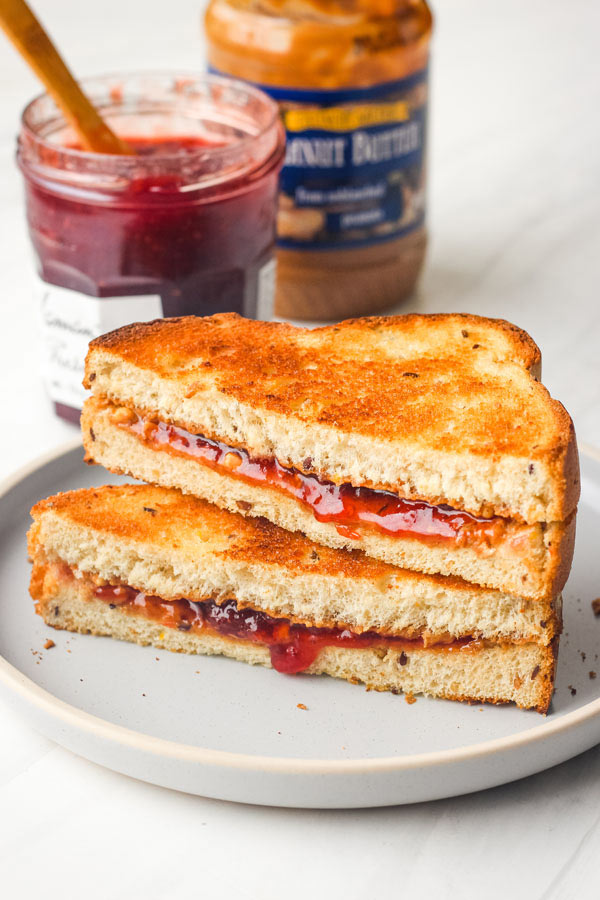 This is less of a recipe and more of a general PSA. If you have a toaster oven, you need to make a toasted peanut butter and jelly sandwich with it. Like right now.
The bread gets buttery, golden, and perfectly toasted on the outside but stays tender and squishy inside. Just like a classic PB&J…but better.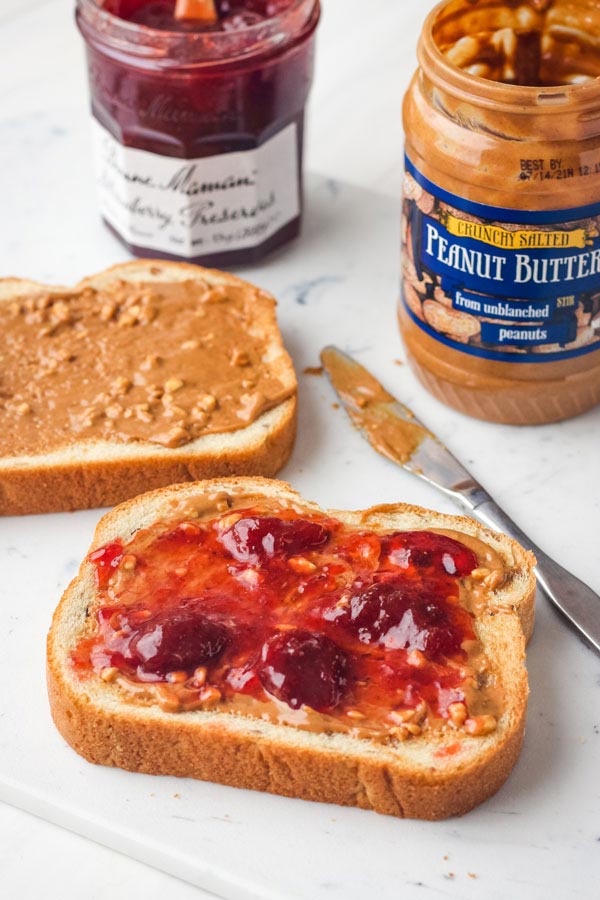 Fillings
I'm old-school and prefer just peanut butter + jelly. Tim likes his with banana slices, walnuts, and honey.
If you're out of jam, check out this small batch blueberry jam recipe from Homemade In The Kitchen. It would definitely make a tasty addition to any PB&J.
Whether you get creative or keep things basic, you really can't go wrong.
Like a cozy toaster oven grilled cheese or piece of cinnamon toast, this simple sandwich is the kind of comfort food that's good for your soul. Enjoy!
Methods and Tips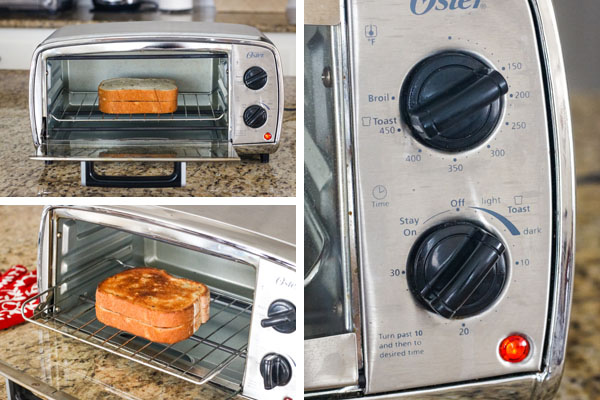 The main toasting method works best in a basic toaster oven like our little Oster. It's the kind where you just pop your food in and turn the dial.
We did try using the TOAST setting in our larger Breville Countertop Oven but found the top got over-browned before the bottom was toasted enough.
Using the BROIL setting on LOW resulted in a more evenly toasted sandwich. The only drawback is that you have to remember to flip the sandwich so both sides get evenly toasted.
You can also toast your PB&J in a traditional oven. Since the oven takes a while to preheat, this method works best if you're cooking more than one sandwich at a time. Again, you'll need to flip the sandwich to get it evenly toasted and browned.
*Whatever method you choose, you might need to play around with it a bit to find the perfect timing for toasting your sammie.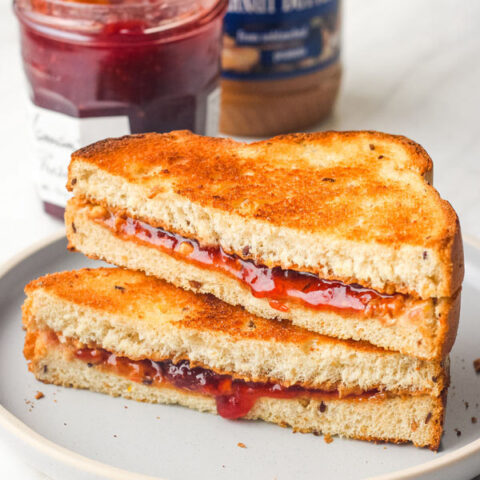 Toasted Peanut Butter and Jelly Sandwich
Poping your PB&J in the toaster oven is a fast and fun way to transform this lunchtime classic. Try swapping the preserves with fresh fruit like bananas or berries!
Ingredients
2 slices bread
2 teaspoons butter, softened
2 tablespoons peanut butter
1 tablespoon fruit preserves
Instructions
Spread butter on one side of each bread slice. Flip slices over and spread with peanut butter. Spread preserves onto one slice and top with remaining bread slice, buttered-side-up.
Adjust the cooking rack to the center position if possible, otherwise use the bottom position.
Place sandwich directly in the center of the toaster oven cooking rack.
Set toaster oven to TOAST on MEDIUM and cook until bread is toasted about 2½ to 3 minutes, adding more time as needed.
Use tongs or a spatula to carefully remove the sandwich. Cool slightly, then slice in half and dig in!
Notes
Broiler Method
Set the Broiler to LOW and use the middle rack position.
Place prepared sandwich on a baking sheet and add to oven or toaster oven.
Cook until the top of the sandwich is golden and toasted, about 1 to 3 minutes.
Using oven mitts, carefully remove the pan and flip the sandwich.
Return to oven and broil the second side until browned, about 1 to 2 minutes more.
Air-Fryer Toaster Oven
Do not preheat, select the AIR-FRY function, and set the temperature to 350°F.
Add sandwich to air fryer basket, turn the oven on and cook for 3 to 4 minutes until golden on top.
Carefully remove the basket, flip the sandwich and continue cooking until the other side is toasted about 1 to 3 minutes.
Traditional Oven
Preheat oven to 425°F.
Add prepared sandwich to a sheet pan and cook until the bottom is golden, about 4 to 5 minutes.
Wearing oven mitts, carefully remove the hot pan and use a spatula to flip the sandwich.
Return to the oven and cook until the other side is toasted, about 2 minutes more.
*As ovens and types of bread vary, you'll probably need to adjust the timing for your sandwich. Stay close by the first few times you cook one and take note of any changes for your specific oven / chosen method.
Nutrition Information:
Yield:

1
Serving Size:

1 Sandwich
Amount Per Serving:
Calories:

425
Total Fat:

25.8g
Saturated Fat:

7.8g
Cholesterol:

20mg
Sodium:

273mg
Carbohydrates:

36.6g
Fiber:

6.9g
Sugar:

10.3g
Protein:

14g
How To Make a Peanut Butter and Banana Sandwich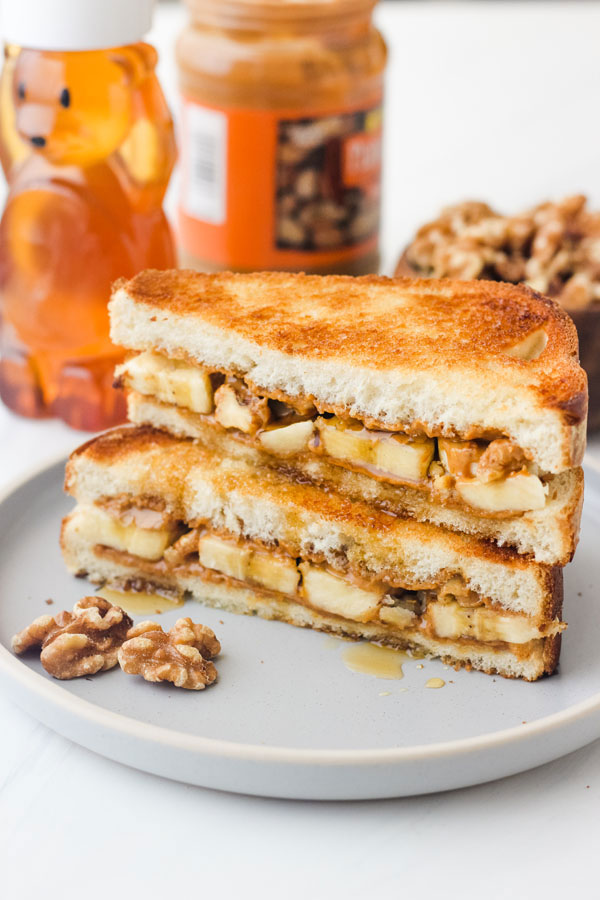 Omit the jelly.
Prepare and toast the sandwich using your preferred method.
Let it cool for a minute and then separate the two bread pieces.
Layer one side with banana slices and chopped walnuts. Drizzle with honey and sprinkle on a pinch of salt.
Top with the remaining bread slice and devour.
I like to add the banana slices after the sandwich has been toasted. If you add the banana before toasting, it will soften and release juices. That may or may not be your kind of thing.