Cooking For One Cookbooks
Cooking for one person usually means lots of boring leftovers and wasted ingredients. To help you feel less frustrated and more inspired we're rounding up our favorite Cooking For One Cookbooks. They're full of delicious single-serving recipes, kitchen tips, and more!
We ask our new email subscribers what their biggest frustration is cooking for a small household.
A lot of solo cooks say that resizing larger recipes is a pain and yields mixed results. But they put up with it because it's hard to find good single-serving recipes.
The good news is there are quite a few cooking for one cookbooks filled with tasty recipes for one!
Below is a list of the ones I've read with a brief overview of the recipes and the type of cook that will enjoy each book.
Right now there are only four reviews. So I've also included a list of cookbooks we want to check out and review in the future. I'd love to hear your thoughts if you've tried any of them!
Lastly, we've put together a list of Cooking For Two Cookbooks for those times when your table is set for two!
One quick bit of business. This post contains affiliate links which means that as an Amazon Associate we earn a commission from qualifying purchases.
Table of Contents
Click on a title to head straight to the review for it.
The Ultimate Cooking For One Cookbook
A treasure trove of single-serving recipes (there are 175!), The Ultimate Cooking For One Cookbook by Joanie Zisk is perfect for solo cooks. From breakfast to dinner and even dessert, it makes cooking for one easy and delicious.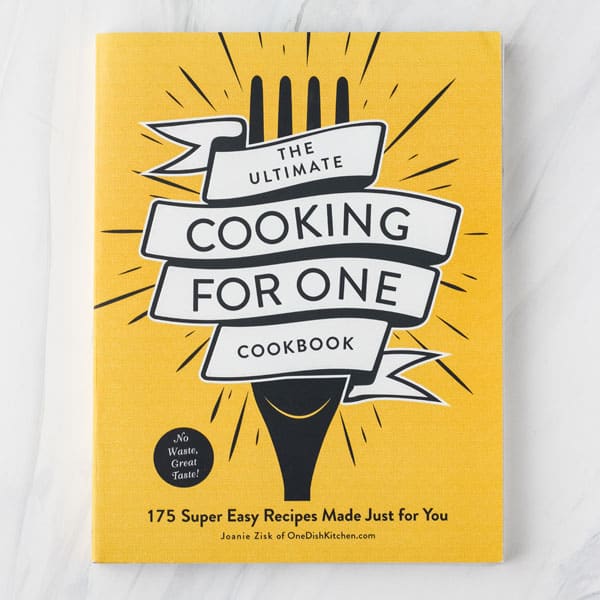 (Quick note: I received a free copy of The Ultimate Cooking For One Cookbook – you can read my full review here.)
Chapters & Recipes: There are 8 chapters in total. The first chapter focuses on the basics of cooking for one with tips for smart shopping, avoiding food waste, and small-batch kitchen equipment.
The recipe chapters cover breakfast, side dishes, chicken main dishes, beef and pork main dishes, fish and seafood main dishes, vegetarian main dishes, and desserts. There's a nice variety of healthier fare, global and regional cuisines, classic comfort food, and decadent desserts.
All of the recipes include full nutritional information and have headnotes that provide serving suggestions, substitutions, or storage tips. The majority are single-serving while a handful of recipes for desserts and baked goods make 2 to 4 servings.
Things You Should Know: There are some tasty photos but the majority of the recipes do not have an accompanying photo. While I found the vegetarian mains chapter robust (23 recipes!) and there are plenty of meatless options in the breakfast and side dishes chapters, this is not a vegetarian cookbook.
Extras: Some of the recipes include directions for properly storing leftover ingredients or ideas for using them in other recipes. There are also helpful cooking tips peppered throughout for things like "The Secret to A Perfect Meringue" or "How to Bake a Single Serving of Rice."
Skill Level: Beginner to Intermediate
Recipe Effort: Easy to Medium
This Cookbook Is For:
Empty nesters or anyone cooking for one for the first time.
Solo cooks who are bored and looking for flavorful single-serving inspiration.
Anyone who doesn't know what to make for a meal when it's just them.
Click Here to Buy The Ultimate Cooking For One Cookbook on Amazon
Designed For One!
If you're looking for nutritious dinners for one, Designed for One!: 120 Diabetes-Friendly Dishes Just for You by Nancy S. Hughes has you covered. All of the recipes follow the American Diabetes Association's nutritional guidelines.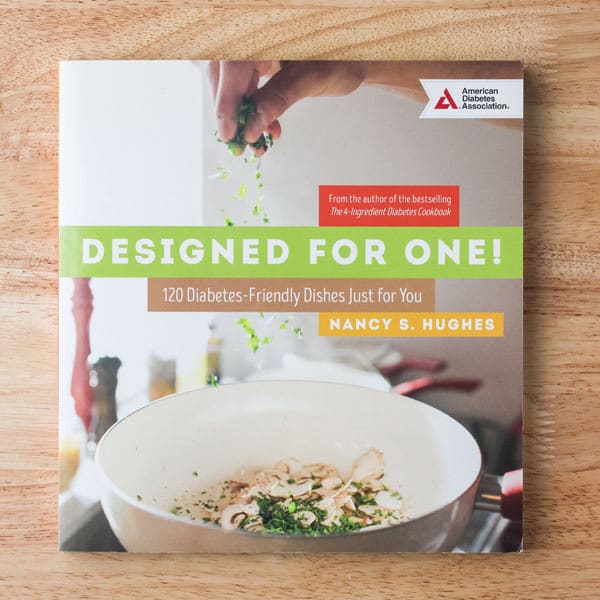 Chapters & Recipes: There are chapters for salads, starchy sides, non-starchy sides, chicken, fish, beef, and a whole chapter(!) for meatless main dishes.
The Two-For-One chapter has 16 recipes that make 2 servings. These could come in handy for entertaining or if you'd like to have a prepared meal available for breakfast or lunch the next day.
Most of the recipes use around six ingredients and have clear easy-to-follow cooking instructions. Also, there is full nutritional information and exchanges included for every recipe.
Things You Should Know: One drawback is the lack of photography, only 16 of the 120 recipes have pictures.
Also, many of the recipes are very basic flavor-wise. They make a great starting point if you like to experiment with seasonings and ingredients. But if you only want to follow a recipe, there's a chance you'll get bored after a while.
Extras: There is a great 'How To' section. It includes tips for selecting and storing fruits and vegetables, shopping for one, and handy kitchen shortcuts.
The author has also included an Extra-Easy Desserts chapter. It features healthier single-serving desserts. Most of the desserts use fruit and require little-to-no cooking or baking.
Skill Level: Beginner
Recipe Effort: Easy
This Cookbook Is For:
Your single friend or family member whose managing their diabetes and in need of budget-friendly easy recipes for one.
Anyone cooking for one and looking to add more vegetables/healthy proteins to their diet without lots of leftovers.
Click Here to Buy Designed for One! on Amazon
Cooking Solo
Klancy Miller's Cooking Solo: The Fun of Cooking for Yourself is a celebration of cooking for one. The recipes range from simple and classic to high-end restaurant fare.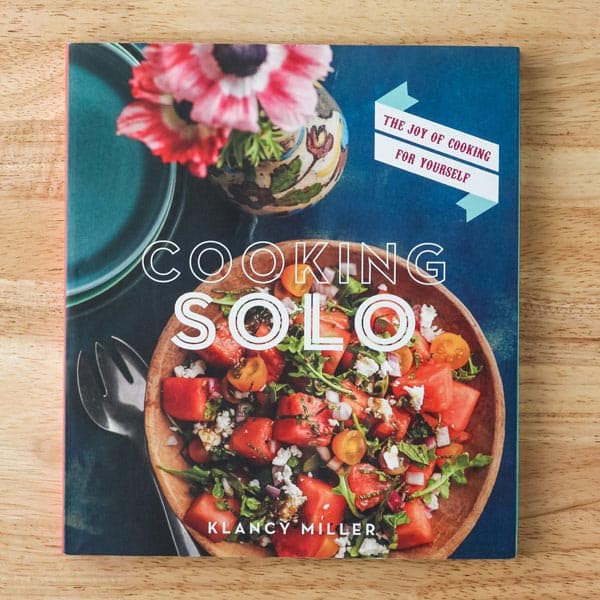 Chapters & Recipes: There are 7 chapters covering breakfast, lunch, meaty dishes, seafood dinners, vegetarian mains and sides, recipes for entertaining, and dessert.
Most of the mealtime recipes call for fresh in-season vegetables and have easy-to-follow instructions. If you're an omnivore or pescetarian, you'll be quite pleased with the number of meat and fish recipes.
Things You Should Know: Many of the recipes call for more expensive ingredients that could be hard to find locally. Things like chestnut cream, truffled cheese, pine nuts, and quinoa flour to name a few.
If you're looking for only single-serving recipes this book is not for you. There are plenty of one-serving recipes. But some do intentionally make leftovers to eat later in the week. And there's also a chapter full of larger recipes for entertaining 2 to 6 people.
Extras: There's a 'Staples' section with tips for purchasing and storing ingredients along with equipment suggestions for setting up your own gourmet kitchen.
I'm not sure you'd call this an extra but I enjoyed the author's writing style. Her excitement about cooking and desire to help you 'treat yourself' to a quality meal is sincere and present throughout the book.
Skill Level: Beginner to Intermediate
Recipe Effort: Easy to Medium
This Cookbook Is For:
Single cooks looking to step out of their comfort zones.
Fans of gourmet food that want to cook smaller portions of their favorite restaurant dishes.
Smaller households that own a waffle iron, the author's a big fan of waffles so there are quite a few waffle recipes.
Click Here to Buy Cooking Solo on Amazon
Healthy Cooking for Two (or Just You)
Sometimes you want leftovers, other times you want to make just enough for one person. Healthy Cooking for Two (or Just You) by Frances Price, R.D. is a unique cookbook that lets you choose how many servings you want to make for each recipe. The recipes are low-fat with a focus on fresh ingredients, vegetables, and spices.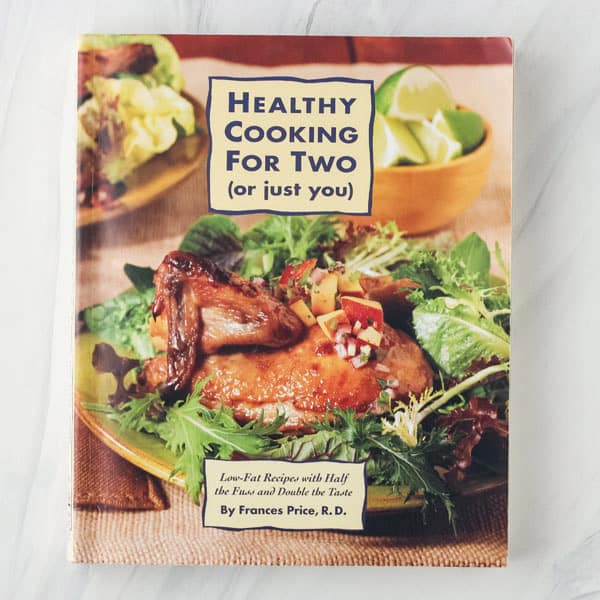 Chapters & Recipes: There are over 200 recipes. With chapters for bread and breakfast, light meals and snacks, soups, salads, meatless meals, chicken, fish, beef, vegetables, and desserts. Each recipe includes full nutritional information.
The recipes have a special format that features two ingredients lists. One list with measurements that range from 1-2 servings depending on the recipe. And another list with measurements ranging from 2 to 4 servings. This means you can easily double a recipe or make half!
Things You Should Know: Some of the recipes do call for non-fat yogurt and cheese. Though we've had no problem substituting low-fat or full-fat ingredients in the recipes we've made.
If you're not looking to lower your fat intake or comfortable swapping ingredients, this might not be the cookbook for you.
Also, while there are cute renderings throughout the book there are no pictures.
Extras: This cookbook has loads of information any small household will find useful. There's a 'Kitchen Basics' section with tips for shopping and storing ingredients. It includes 3 pages explaining the flavors and best uses for different spices.
And if you struggle with planning meals there are seasonal menu ideas in the back of the book.
In addition to the informative recipe headnotes, you'll find little asides scattered throughout the book where the author shares more about a technique or specific ingredient. They make you feel like a wise teacher or friend is popping by to help you cook better and eat healthfully.
Skill Level: Beginner
Recipe Effort: Easy to Medium
This Cookbook Is For:
Someone who doesn't mind using a cookbook without any pictures of the finished dishes.
Single cooks who want the choice of making extra or only enough for one.
Anyone looking to cook smaller amounts of low-fat meals using simple budget-friendly recipes.
Click Here to Buy Healthy Cooking for Two (or Just You) on Amazon
More Cooking For One Cookbooks:
Solo: A Modern Cookbook for a Party of One by Anita Lo 
Vegan for One: Hot Tips and Inspired Recipes for Cooking Solo by Beverly Lynn Bennett and Ellen Jaffe Jones
The Single Guy Cookbook: How to Cook Comfort Food Favorites Faster, Easier and Cheaper than Going Out by Avi Shemtov
The Pleasures of Cooking for One by Judith Jones
Eat Your Vegetables: Bold Recipes for the Single Cook by Joe Yonan
Going Solo in the Kitchen: A Practical and Persuasive Cookbook for Anyone Living Alone by Jane Doerfer
What are your favorite cookbooks for solo cooks? Let us know in the comments below!