Cooking For One Cookbooks
Cooking for one person usually means lots of boring leftovers and wasted ingredients. To help you feel less frustrated and more inspired we're rounding up our favorite Cooking For One Cookbooks. They're full of delicious single-serving recipes, kitchen tips, and more!
We ask our new email subscribers what their biggest frustration is cooking for a small household.
A lot of solo cooks say that resizing larger recipes is a pain and yields mixed results. But they put up with it because it's hard to find good single-serving recipes.
The good news is there are quite a few cooking for one cookbooks filled with tasty recipes for one!
Below is a list of the ones I've read with a brief overview of the recipes and the type of cook I think will enjoy each book.
Shopping Tip
Before purchasing a cookbook, check to see if your local library has a (physical or digital) copy available.
Some books might only have one or two recipes that interest you. If you find yourself wishing you didn't have to return the book, that's a good sign you'll be happy to have it in your cookbook collection.
I've also included a list of cookbooks that are sitting on our bookshelf waiting to be reviewed. I'd love to hear your thoughts if you've tried any of them!
Lastly, we've put together a list of Cooking For Two Cookbooks for those times when your table is set for two!
Table of Contents
Click on a title to head straight to the review for it.
College Cooking For One by Emily Hu, PHD
Spoiler: this book isn't just for students! College Cooking For One is great for anyone who's new to cooking or looking to make (mostly) wholesome smaller-serving meals on a budget. The recipes are simple with easy-to-follow instructions that require very little skill or experience in the kitchen.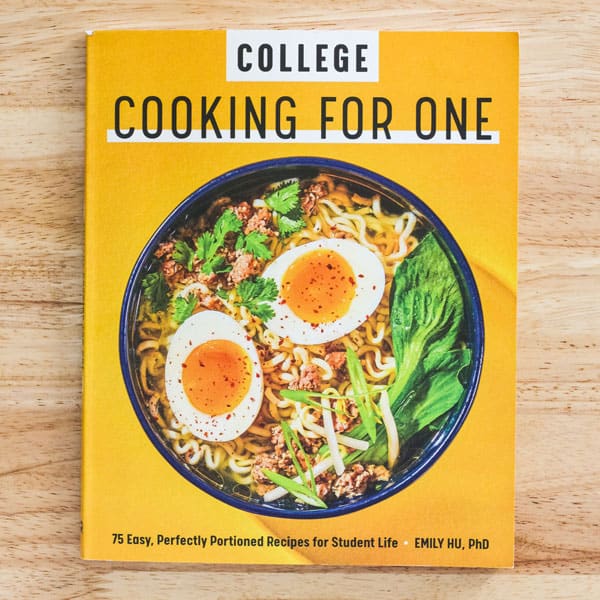 Beginner Advice: The first chapter covers the kitchen tools and small appliances needed for the recipes. It also includes short lists of pantry and fridge staples, the 10 essential spices used in the book, and a small glossary of basic cooking terms.
One of my favorite parts of this chapter was the tips for cooking on a budget and self-care for stressful times or when you've maybe overdone it the night before. You know, things that young adults and let's be honest, all adults, can benefit from.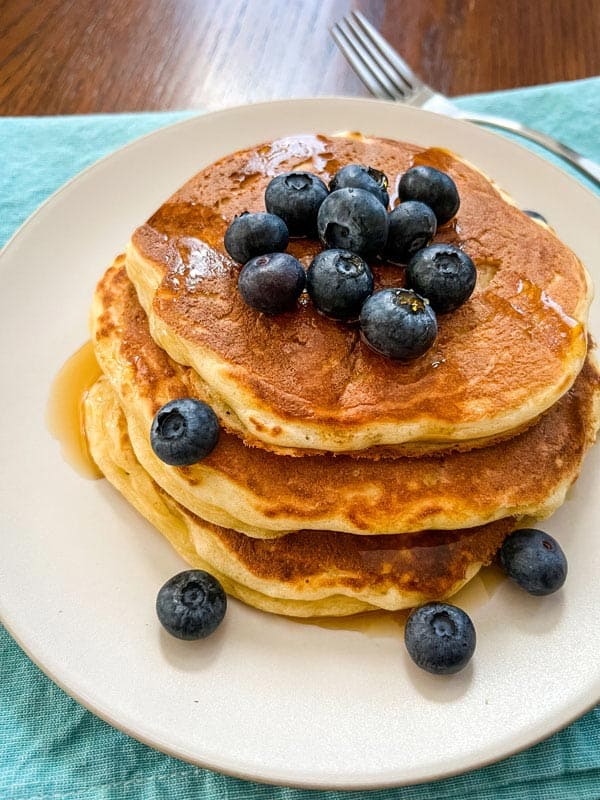 The Recipes
There are 75 recipes in total (though most have room for variations). You'll find a nice variety that includes something for all diets from meat-eaters to vegans but overall I'd describe the majority as vegetarian/flexitarian.
The 8 recipe chapters cover breakfasts, snacks, lunches, salads, soups, meals, and desserts. The Rice, Pasta, and Zoodles (aka bowl meals) and Hearty Mains chapters have the most recipes (24 combined) providing lots of fun ways to decide what to make for dinner.
The recipes are printed on a single page and include the prep time, cook time, serving size, equipment needed, and nutritional information. The headnotes do a good job of introducing the recipes and any possibly unfamiliar ingredients.
Recipes We've Cooked
Thumbing through the book, Tim and I both found recipes that we wanted to try. Here's what we've managed to make so far.
Fluffy Greek Yogurt Pancakes ~ Page 19
Tim prepared this recipe and said the instructions were easy to follow and that he liked how few ingredients it used (just 5!). The batter was a little thick but that was mentioned in the headnote so he wasn't worried.
The pancakes did bake up tall and fluffy as advertised. Texture and flavor-wise they're more like a mashup of french toast, crepes, and pancakes. Both of us thought they were tasty and we'll definitely be making them again.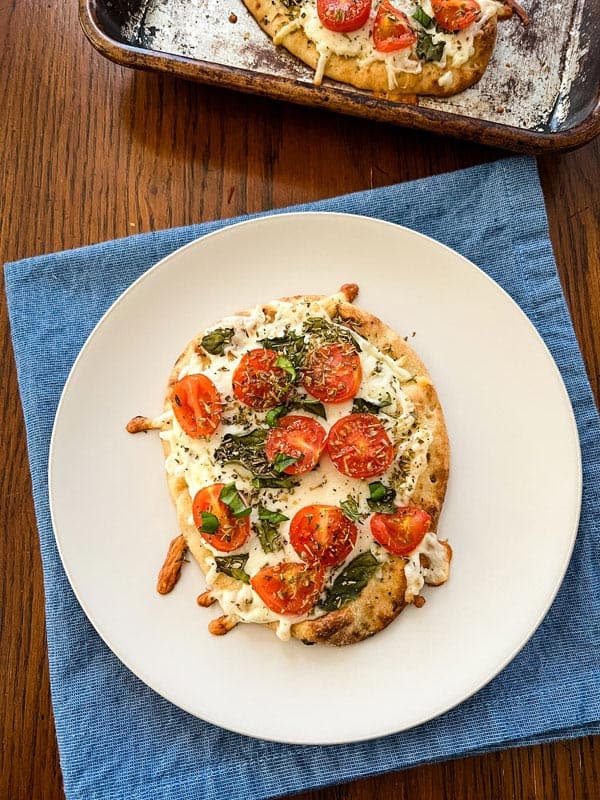 Tomato, Basil, and Cheese Flatbread ~ Page 43
Great for a quick lunch or snack, this 5-ingredient recipe was easy to throw together using the toaster oven. Melting cheese onto bread isn't a new idea but the fresh basil and Italian seasoning made our mini flatbreads feel more pizza-like.
Easy Three-Bean Salad ~ Page 53
To our surprise, this quick no-cook recipe ended up being our favorite recipe so far. The salad was super filling, had a nice crunch from the celery and onions, and an unexpected spicy kick.
One funny thing about the recipe is that the measurements are for a single-serving. If you had beans to use up that's not a problem but it left us with 3 different open cans of beans.
Since we really enjoyed the recipe we 4x the ingredient amounts and made a big batch that we ate for lunches during the week. But I'm going to circle back to this leftover issue later.
Next on our to-make list are the Sweet Potato and Black Bean Chili, Tomato and Corn Rice, Vegetarian Stir Fry Noodles, and the Two-Minute Brownie Mug Cake.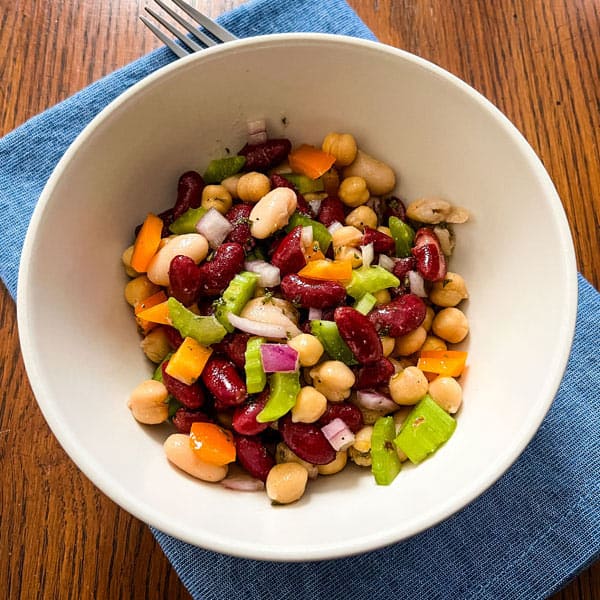 A Few Things You Should Know
There is very little photography with only one recipe photo at the beginning of each chapter.
The majority of the cooked recipes are made using a stovetop/hotplate or microwave and a few use a toaster oven. Not all of these appliances may be allowed in a dorm room.
There are plenty of single-serving recipes (about ⅔ of the book) but some recipes do make 2 servings or more.
While many of the recipes include ideas for using up leftovers there are more than a few that call for a small amount of an ingredient (like ¼ cup canned beans or ½ potato) with no information about storage or mention of using up the extras.
The measurements are in cups and do not include metric equivalents. This is not uncommon with cookbooks published for a U.S. audience but I think it's a missed opportunity since this book is for college kids. Washing dishes in a dorm situation can be super inconvenient. The ability to easily measure using a kitchen scale could really cut down on the number of dirty dishes that need to be washed up.
Bonus: A great extra is that each recipe is followed by a cooking tip, variation, or ideas for using up leftover ingredients. These little snippets are not just helpful but a smart way to drop some cooking knowledge without overwhelming beginning cooks.
Skill Level: Beginner
Recipe Effort: Easy
This Cookbook Is For:
Singles and couples looking for easy, budget-friendly, mostly vegetarian recipes.
Beginner cooks or someone on their own for the first time who wants to gain a few kitchen skills and get a confidence boost.
The Ultimate Cooking For One Cookbook
A treasure trove of single-serving recipes (there are 175!), The Ultimate Cooking For One Cookbook by Joanie Zisk is perfect for solo cooks. From breakfast to dinner and even dessert, it makes cooking for one easy and delicious.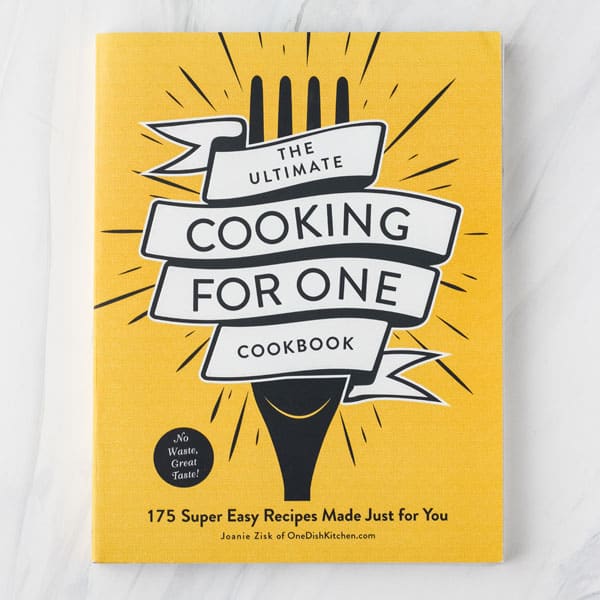 (Quick note: I received a free copy of The Ultimate Cooking For One Cookbook – you can read my full review here.)
Chapters & Recipes: There are 8 chapters in total. The first chapter focuses on the basics of cooking for one with tips for smart shopping, avoiding food waste, and small-batch kitchen equipment.
The recipe chapters cover breakfast, side dishes, chicken main dishes, beef and pork main dishes, fish and seafood main dishes, vegetarian main dishes, and desserts. There's a nice variety of healthier fare, global and regional cuisines, classic comfort food, and decadent desserts.
All of the recipes include full nutritional information and have headnotes that provide serving suggestions, substitutions, or storage tips. The majority are single-serving while a handful of recipes for desserts and baked goods make 2 to 4 servings.
Things You Should Know: There are some tasty photos but the majority of the recipes do not have an accompanying photo. While I found the vegetarian mains chapter robust (23 recipes!) and there are plenty of meatless options in the breakfast and side dishes chapters, this is not a vegetarian cookbook.
Extras: Some of the recipes include directions for properly storing leftover ingredients or ideas for using them in other recipes. There are also helpful cooking tips peppered throughout for things like "The Secret to A Perfect Meringue" or "How to Bake a Single Serving of Rice."
Skill Level: Beginner to Intermediate
Recipe Effort: Easy to Medium
This Cookbook Is For:
Empty nesters or anyone cooking for one for the first time.
Solo cooks who are bored and looking for flavorful single-serving inspiration.
Anyone who doesn't know what to make for a meal when it's just them.
Designed For One!
If you're looking for nutritious dinners for one, Designed for One!: 120 Diabetes-Friendly Dishes Just for You by Nancy S. Hughes has you covered. All of the recipes follow the American Diabetes Association's nutritional guidelines.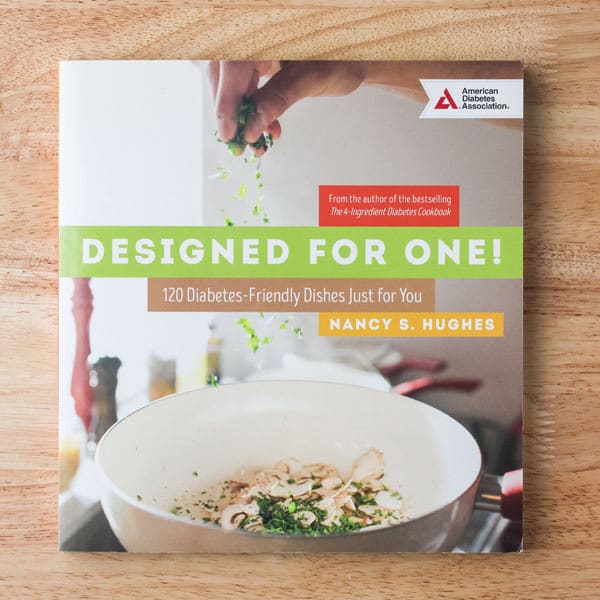 Chapters & Recipes
There are chapters for salads, starchy sides, non-starchy sides, chicken, fish, beef, and a whole chapter(!) for meatless main dishes.
The Two-For-One chapter has 16 recipes that make 3 servings (2 for dinner plus 1 for later). These could come in handy for entertaining or if you'd like to have a few prepared meals available for lunches later in the week.
Most of the recipes use around six ingredients and have clear easy-to-follow cooking instructions. Also, there is full nutritional information and exchanges included for every recipe.
The Recipes We've Cooked
Since most of the recipes look pretty basic and use only a few ingredients I wasn't sure what to expect. To my surprise, both of the recipes we tried were very flavorful.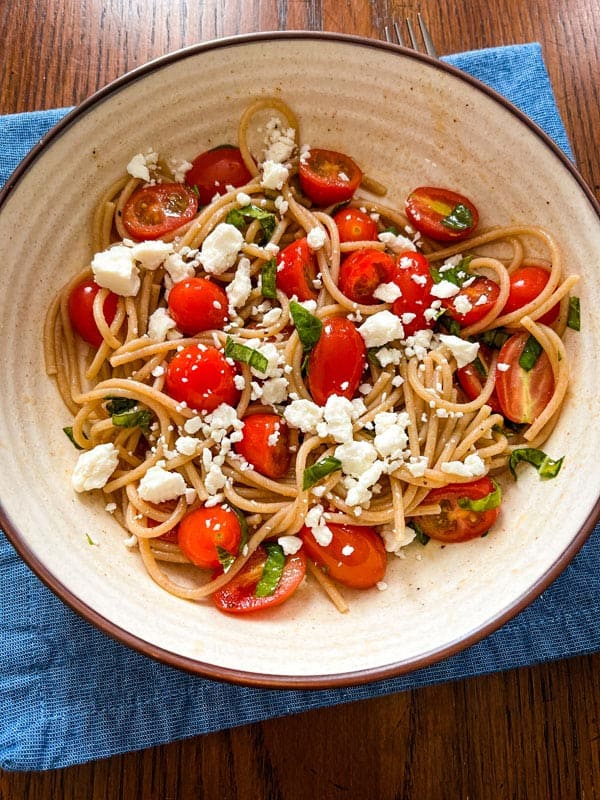 Spicy Basil Tomato Pasta with Feta ~ page 104
This yummy little bowl of pasta was surprisingly filling. The recipe is simple with only 8 ingredients and takes about 15 minutes to make. The hot sauce was my favorite – it's not overwhelming and really helps to highlight the tomatoes and basil.
We've already cooked this recipe again, doubling the ingredients to make 2 servings for dinner. It's great for busy nights when you're short on time and still want to eat well.
Minted Kiwi and Blueberries ~ page 137
Incredibly refreshing and light, this "fruit salad" would make the perfect end to any meal. Combining mint and lime with kiwi and blueberries is not something I would have come up with on my own. But it's definitely a treat we'll be enjoying often – especially since it's made with frozen blueberries so we can eat it year-round!
Next on our to-try list: Fast Fix Fried Rice, Corn and Green Pepper Frittata, and the Almond Ginger Bulgur.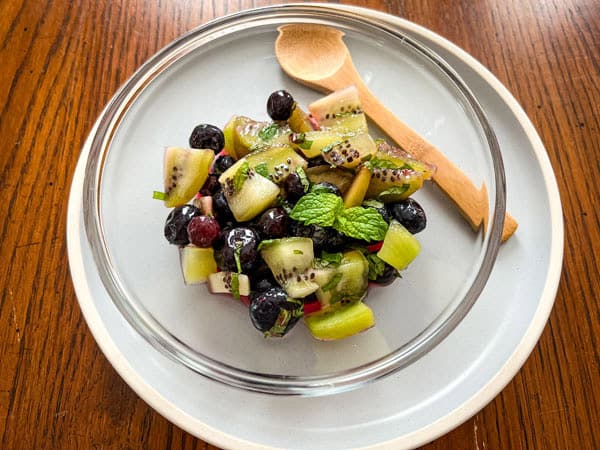 Things You Should Know
One drawback is the lack of photography, only 16 of the 120 recipes have pictures.
Also, many of the recipes are very basic flavor-wise. They make a great starting point if you like to experiment with seasonings and ingredients. But if you only want to follow a recipe, there's a chance you'll get bored after a while.
Extras: There is a great 'How To' section. It includes tips for selecting and storing fruits and vegetables, shopping for one, and handy kitchen shortcuts.
The author has also included an Extra-Easy Desserts chapter. It features healthier single-serving desserts. Most of the desserts use fruit and require little-to-no cooking or baking.
Skill Level: Beginner
Recipe Effort: Easy
This Cookbook Is For:
Your single friend or family member who's managing their diabetes and in need of budget-friendly easy recipes for one.
Anyone cooking for one and looking to add more vegetables/healthy proteins to their diet without lots of leftovers.
Cooking Solo
Klancy Miller's Cooking Solo: The Fun of Cooking for Yourself is a celebration of cooking for one. The recipes range from simple and classic to high-end restaurant fare.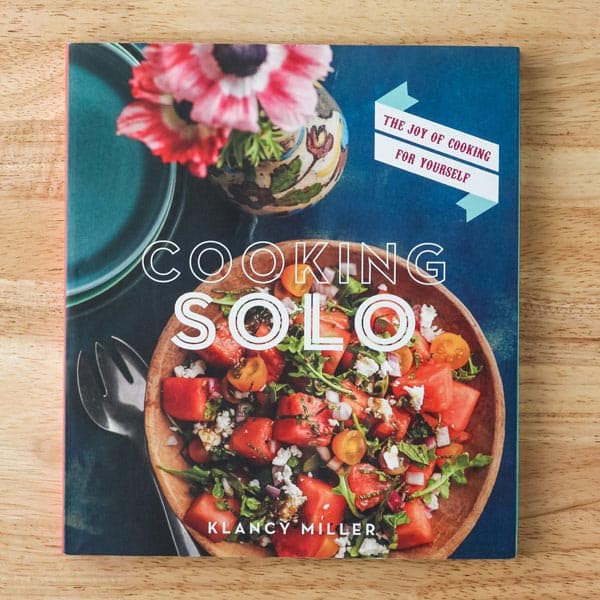 Chapters & Recipes
There are 7 chapters covering breakfast, lunch, meaty dishes, seafood dinners, vegetarian mains and sides, recipes for entertaining, and dessert.
Most of the mealtime recipes call for fresh in-season vegetables and have easy-to-follow instructions. If you're an omnivore or pescetarian, you'll be quite pleased with the number of meat and fish recipes.
The Recipes We've Cooked
There's a variety of everyday recipes like Triple The Coconut Oatmeal, Panzanella Per Una, and a Lemony White Bean Soup that I have on my to-make list. But flipping through the book, the recipes in the Entertaining Friends Chapter were drawing me in.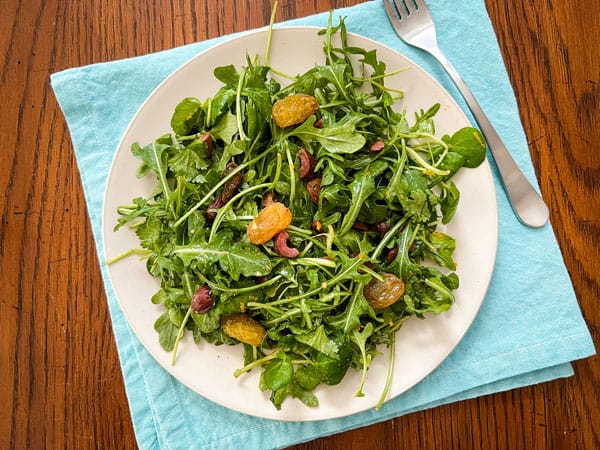 Watercress, Cilantro, and Arugula Salad ~ page 156
This recipe makes 3 servings as written but I was the only one around for lunch so I divided the ingredients in half. There are a lot of ingredients (14 total). Some are pantry staples like soy sauce and dijon mustard while others like capers and golden raisins might require a trip to the store.
But I'd say it's worth the extra effort because this salad was all the things – crisp, crunchy, sweet, and tangy. Eating it you'll feel like you're dining at a bistro or high-end restaurant.
Even if I don't make this specific recipe again I will definitely be adding watercress to my grocery list more often. It would make a great non-lettuce addition to any salad or sandwich!
Chocolate Waffles With Ganache ~ page 173
We bought an inexpensive waffle maker last year and I couldn't wait to try making these chocolate waffles with it. The recipe calls for simple pantry and fridge staples and comes together really fast.
I halved this recipe too and it made 3 full waffles. We enjoyed one fresh and put the leftovers in the freezer (they reheated fantastically in the toaster oven!)
The waffles were delicious with a great brownie-like flavor. We topped them with this small batch whipped cream but Tim really wants to try the ganache next time.
Things You Should Know
Many of the recipes call for more expensive ingredients that could be hard to find locally. Things like chestnut cream, truffled cheese, pine nuts, and quinoa flour to name a few.
If you're looking for only single-serving recipes this book is not for you. There are plenty of one-serving recipes. But some do intentionally make leftovers to eat later in the week. And there's also a chapter full of larger recipes for entertaining 2 to 6 people.
Extras: There's a 'Staples' section with tips for purchasing and storing ingredients along with equipment suggestions for setting up your own gourmet kitchen.
I'm not sure you'd call this an extra but I enjoyed the author's writing style. Her excitement about cooking and desire to help you 'treat yourself' to a quality meal is sincere and present throughout the book.
Skill Level: Beginner to Intermediate
Recipe Effort: Easy to Medium
This Cookbook Is For:
Single cooks looking to step out of their comfort zones.
Fans of gourmet food who want to cook smaller portions of their favorite restaurant dishes.
Smaller households that own a waffle iron, the author's a big fan of waffles so there are quite a few waffle recipes.
Healthy Cooking for Two (or Just You)
Sometimes you want leftovers, other times you want to make just enough for one person. Healthy Cooking for Two (or Just You) by Frances Price, R.D. is a unique cookbook that lets you choose how many servings you want to make for each recipe. The recipes are low-fat with a focus on fresh ingredients, vegetables, and spices.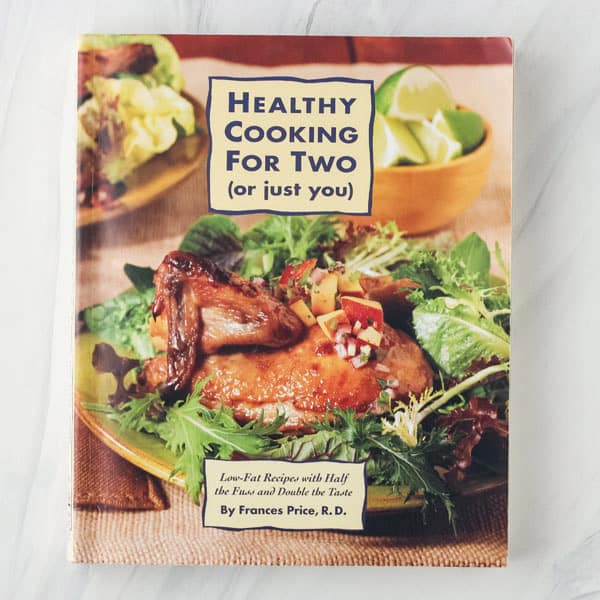 Chapters and Recipes
There are over 200 recipes. With chapters for bread and breakfast, light meals and snacks, soups, salads, meatless meals, chicken, fish, beef, vegetables, and desserts. Each recipe includes full nutritional information.
The recipes have a special format that features two ingredients lists. One list with measurements that range from 1-2 servings depending on the recipe. And another list with measurements ranging from 2 to 4 servings. This means you can easily double a recipe or make half!
The Recipes We've Cooked
With so many recipes it was hard to pick just a few to try. I've got half of the Soups & Chowders chapter on my to-make list along with the Garlic Baked Mushrooms and Rapid Ratatouille. Here's what we've made so far: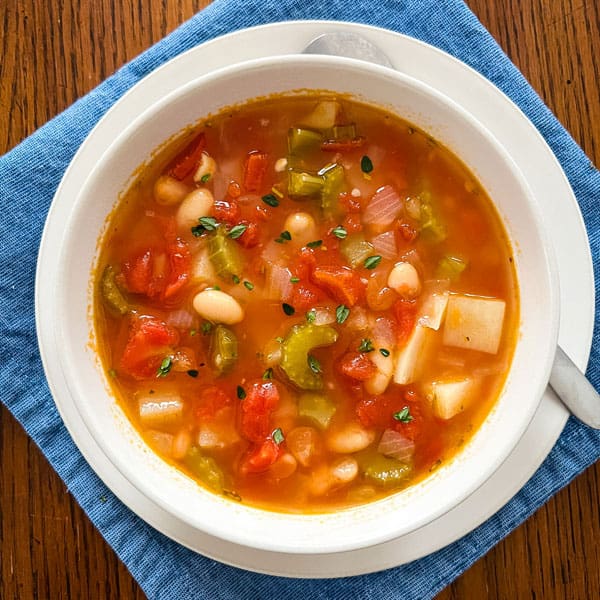 White Bean and Tomato Soup With Rosemary ~ page 67
The recipe called for mostly pantry staples and was easy to throw together. Effort-wise it only required chopping half an onion, one celery stalk, and a potato.
Initially, I made the soup as directed with water and let it simmer for 30 minutes but the flavor was lacking. So I tossed half of a vegetable bouillon cube into the pot and cooked it for another 30 minutes.
The final soup was very tasty. We were both glad I had gone with the 4 servings option so there were leftovers for lunch the next day.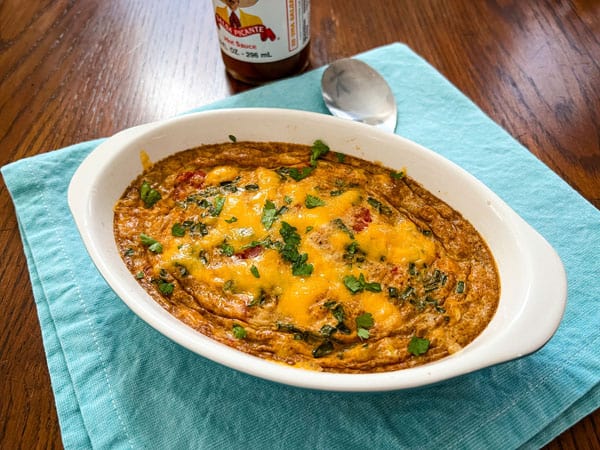 Chili-Corn Custard ~ page 145
I went with the single-serving option for this one as I was making it for my lunch. Again, the ingredients were all things I had on hand and were easy to mix up.
Using the toaster oven, my eggs took about 35 minutes to bake (about 5 minutes more than the time listed). The chili powder added a lot of smoky flavors and I loved the combo of corn + eggs.
The texture was more like a frittata which wasn't a bad thing but calling it a custard did make me expect something a little richer. The next time I cook it, which I definitely will, I'll probably try adding some Greek yogurt or cottage cheese (like we do with this toaster oven egg bake).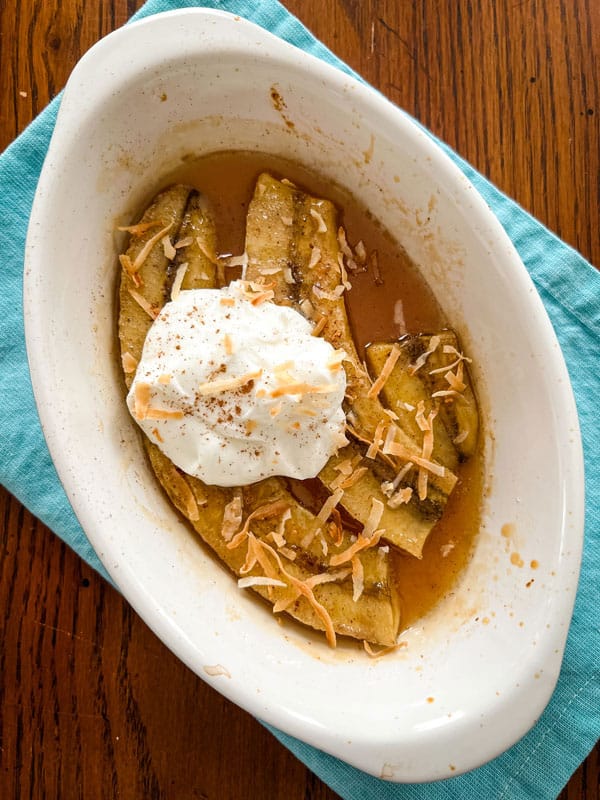 Carmel-Glazed Bananas ~ page 275
This was so good! While I wouldn't call the sauce caramel, it was delicious and went really well with the baked banana.
To make the recipe I followed the single-serving measurements and cooked it in our toaster oven. Similar to the egg dish above, it took a few extra minutes.
Between the banana, brown sugar, and orange juice, I did find it a little too sweet. Next time, I will probably reduce the sugar and add a pinch of salt. But overall, the recipe made a fantastic dessert for one!
Things You Should Know
Some of the recipes do call for non-fat yogurt and cheese. Though we've had no problem substituting low-fat or full-fat ingredients in the recipes we've made.
If you're not looking to lower your fat intake or are uncomfortable swapping ingredients, this might not be the cookbook for you.
Also, while there are cute renderings throughout the book there are no pictures.
Extras: This cookbook has loads of information any small household will find useful. There's a 'Kitchen Basics' section with tips for shopping and storing ingredients. It includes 3 pages explaining the flavors and best uses for different spices.
And if you struggle with planning meals there are seasonal menu ideas in the back of the book.
In addition to the informative recipe headnotes, you'll find little asides scattered throughout the book where the author shares more about a technique or specific ingredient. They make you feel like a wise teacher or friend is popping by to help you cook better and eat healthfully.
Skill Level: Beginner
Recipe Effort: Easy to Medium
This Cookbook Is For:
Someone who doesn't mind using a cookbook without any pictures of the finished dishes.
Single cooks who want the choice of making extra or only enough for one.
Anyone looking to cook smaller amounts of low-fat meals using simple budget-friendly recipes.
More Cooking For One Cookbooks
Here's what's waiting on my bookshelf (and tablet) to be reviewed. Which book would like us to do next?
I Love My Instant Pot Cooking For One by Lisa Childs
Cooking For One by America's Test Kitchen
The Pleasures of Cooking for One by Judith Jones
Eat Your Vegetables: Bold Recipes for the Single Cook by Joe Yonan
Your Turn!
What are your favorite cookbooks for solo cooks? Let us know in the comments below!