How to Toast Nuts in a Toaster Oven
Toasted nuts are crunchy, buttery, and full of delicious flavor. A small handful is absolutely THE BEST way to upgrade any salad or pasta dish but why wait for your big oven to preheat when you can use your toaster oven instead. It's so easy!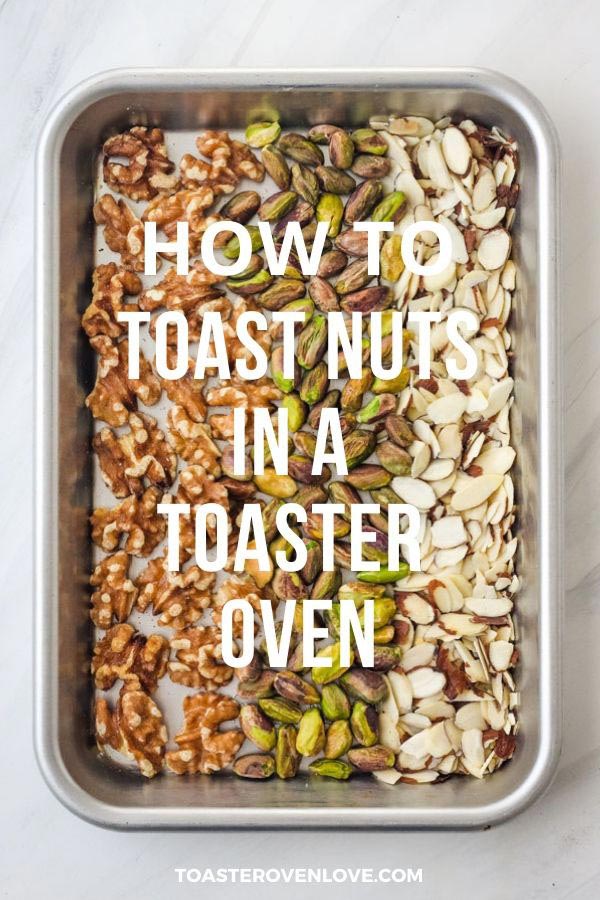 How to Toast Nuts in a Toaster Oven
There are two simple ways to toast (or roast) nuts in your toaster oven.
The first method uses the BAKE setting at 325°F for 5 to 15 minutes. It's slow, reliable, and there's less chance of accidentally burning your nuts.
The second way uses the TOAST setting. It's super quick but intense so it requires your full attention.
Regardless of which method you choose, there's one important thing to keep in mind: Chopped nuts toast faster than whole nuts.
Toasting Whole Nuts Vs. Chopped Nuts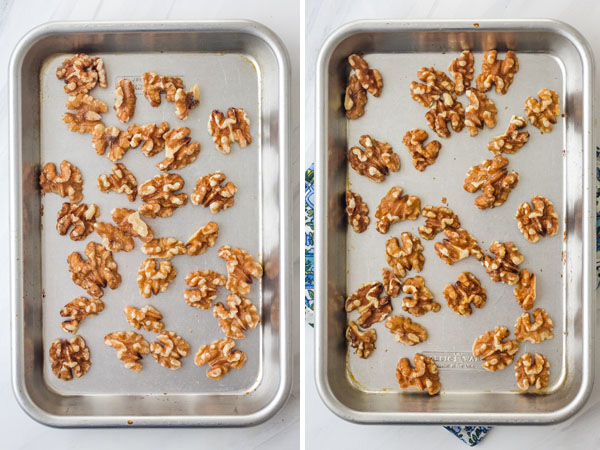 For the best results, toast your nuts whole and then chop them. This way you can easily avoid burning smaller pieces.
If your nuts are already chopped, or are pieces, sliced, or slivered you can still toast them in your toaster oven. You just need to toast them for less time and check on them sooner.
How do you know when the nuts are toasted?
When you can smell them! Toasting nuts release their natural oils which leads to deeper flavors and a great nutty roasted smell.
Also, the flesh will be a golden color. Resist the urge to toast nuts until they are a deep brown. By the time your nuts have that much color, they will be burnt and have an awful bitter flavor.
How to Toast Nuts Using the BAKE Setting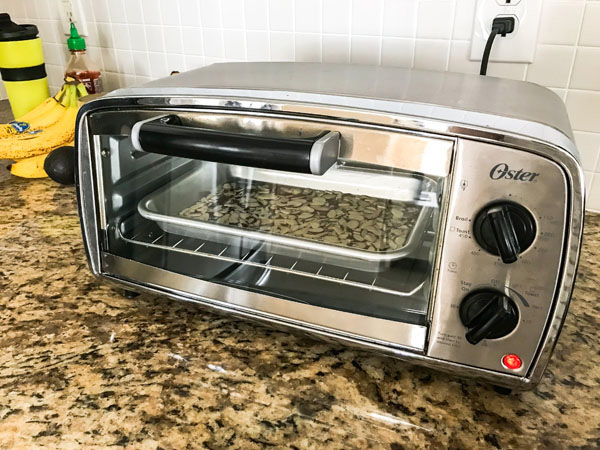 In our traditional 'Big Oven' I normally toast nuts at 350°F.
But in a toaster oven or countertop oven, the heating elements are much closer to your food. This makes the heat intense for small items like nuts and toasted coconut.
Lowering the temperature to 325°F helps your nuts toast more evenly and avoid accidentally burning them.
Here's how to toast nuts using the BAKE setting.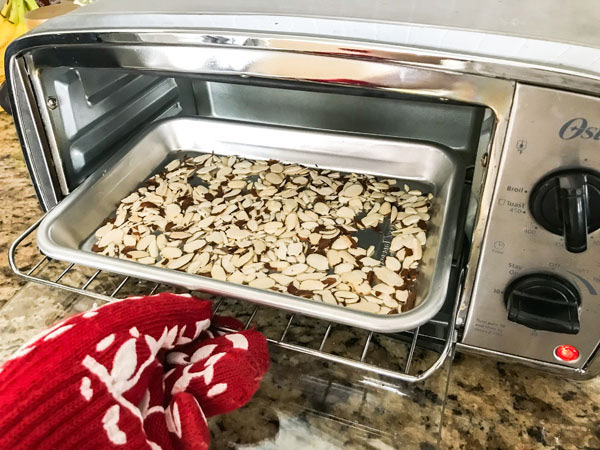 Adjust the cooking rack to the middle position.
Select the 'BAKE' setting, and preheat the toaster oven to 325°F (if your oven tends to run hot, reduce the temperature to 300 F).
Spread nuts into an even layer on an ungreased baking sheet or pan.
Toast nuts, stirring or shaking the pan every 3 to 4 minutes until they become aromatic and turn light golden brown. This can take anywhere from 5 to 15 minutes depending on the size and type of nuts you're using.
Once toasted, remove the nuts from the toaster oven and transfer to plate to cool completely.
How Long Should I Toast My Nuts Using The BAKE setting?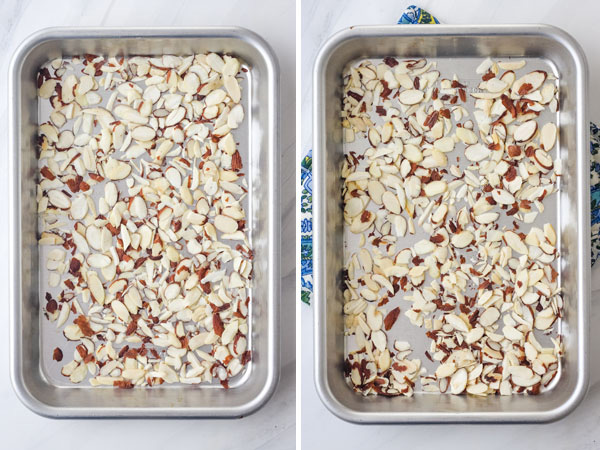 That's going to depend on the type of nuts you're trying to toast. Below are a few time estimates for toasting RAW nuts.
Since all toaster ovens and nuts are different, yours may toast faster or slower. So check on them early and often.
Pieces, Slivers or Chopped Nuts: 5 to 10 minutes.
Whole Pecans, Cashews, Shelled Pistachios, or Walnuts: 5 to 12 minutes.
Whole Almonds, Macadamia, or Hazelnuts: 7 to 15 minutes.
Mixed Nuts: Begin checking at the shortest time listed for the different nuts in the mix.
How to Toast Nuts Using the TOAST Setting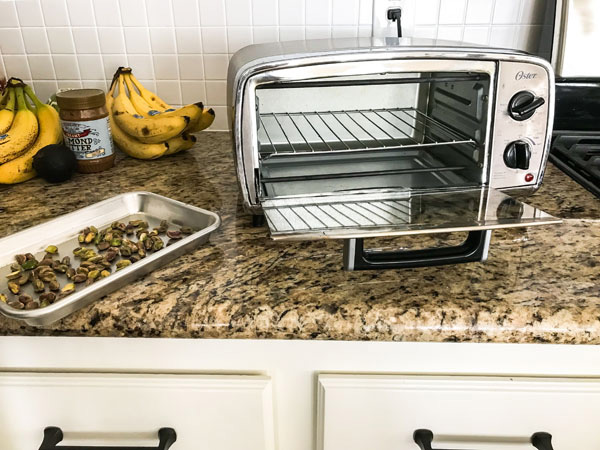 As I mentioned in this post on 3 Easy Toaster Oven Settings, how the 'TOAST' function works can vary greatly from appliance to appliance.
On our large countertop oven, the machine has a mysterious toast setting that adjusts depending on the number of slices and level of darkness selected. If you have this type of oven, the 'BAKE' setting is better for toasting nuts.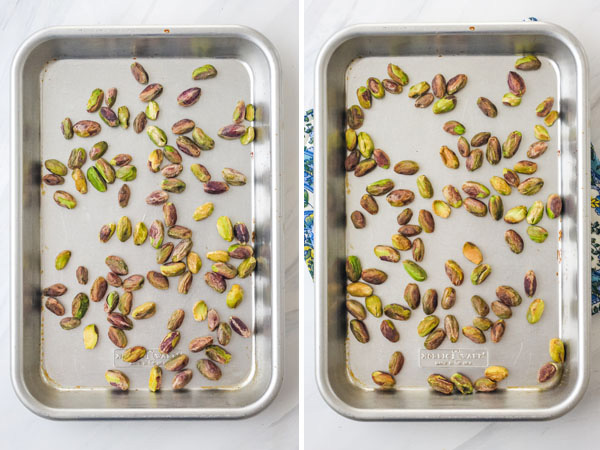 In our smaller (translation: basic) toaster oven, there is just a temperature dial and timer. When you turn the knob to 'TOAST' the elements put out an equal amount of heat.
This type of oven is great for quickly toasting nuts!
Here's how to toast nuts using the TOAST setting.
Spread nuts in an even layer on an ungreased sheet pan.
Adjust the wire cooking rack to the center position and place the pan on the rack.
Turn the Functions/Temperature Dial to TOAST
Set the timer for a LIGHT to MEDIUM toasting (about 3 to 4 minutes)
Shake or stir the pan after 2 minutes of cooking. Continue checking on the nuts every 30 seconds after that until they are fragrant, lightly toasted, and deeper in color, adding more time as needed. (Whole pistachios and whole pecans took us about 4 minutes to toast.)
Transfer nuts to a plate or a cool baking sheet to stop the cooking process. If you leave them on the hot pan they will keep toasting and burn.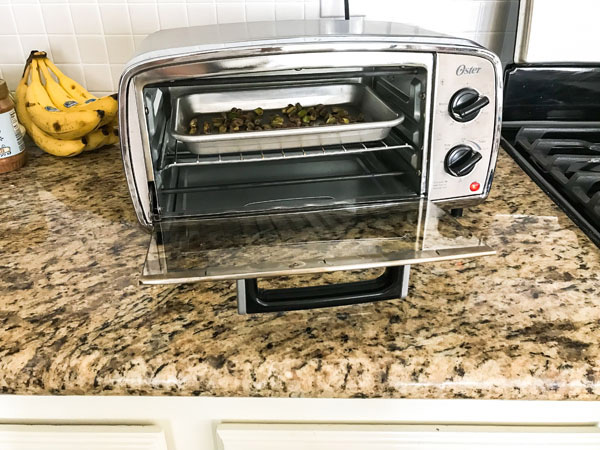 Got more questions? We've got answers!
Do You Need Oil to Toast Nuts?
No, you can dry toast/roast the nuts.
If you want to add oil you can, just keep it to a light coating and use around 1/4 teaspoon oil for every 1/2 cup of nuts.
Will toasting make my raw nuts crunchy?
Yes. Provided they're not rancid (trust me you'll know if they are), toasting nuts removes moisture and dries them out. Once cooled, your toasted nuts will be crunchier.
How Should I Store Toasted Nuts?
Leftover toasted nuts can be stored in a well-sealed container at room temperature for 2 to 3 days. After that, you can store them in the fridge or freezer for months.
What Can I Do With Toasted Nuts?