Toaster Oven Veggie Nachos
Crunchy chips piled high with shredded cheese, hearty black beans, and crisp fresh vegetables, these toaster oven veggie nachos are loaded with all the fixings! Great for movie nights, as an afterschool snack, or anytime you need your nacho fix.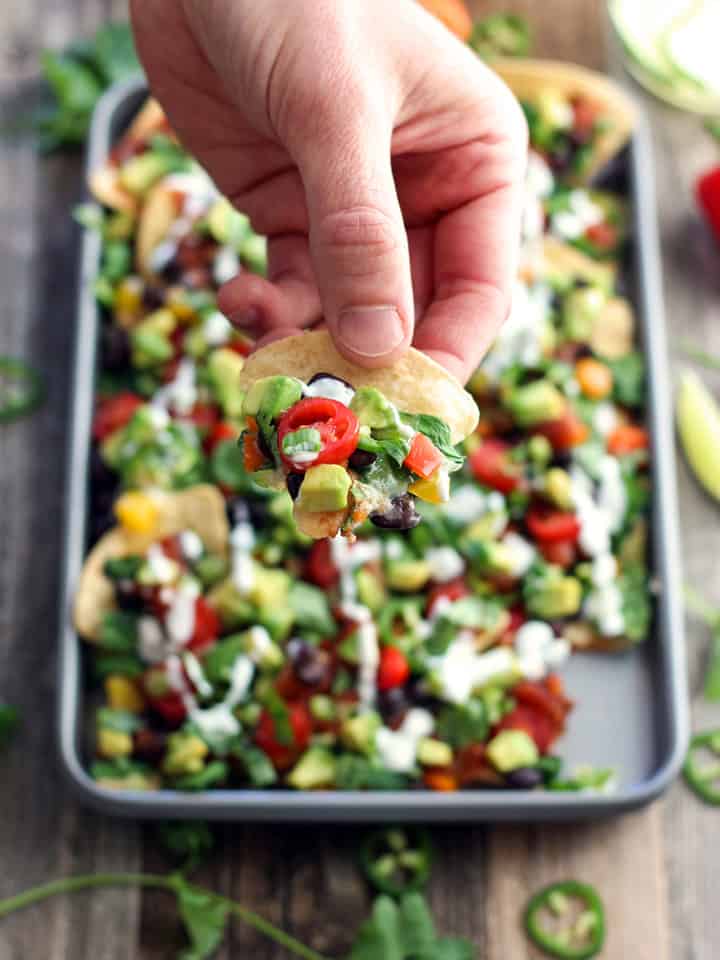 Who's ready to get a little messy?
Come along to my favorite happy messy place also known as Toaster Oven Veggie Nachos!
It's a no-forks-allowed crispy chip heaven filled with melty cheese and LOTS of delicious veggies.

Part of the reason these nachos make me oh so happy (aside from melty cheese) is because of my big sis.
It's quickly becoming a tradition that we make a double batch when she visits. And the only thing I love more than hanging out with my sister and her family is moving the party to the kitchen.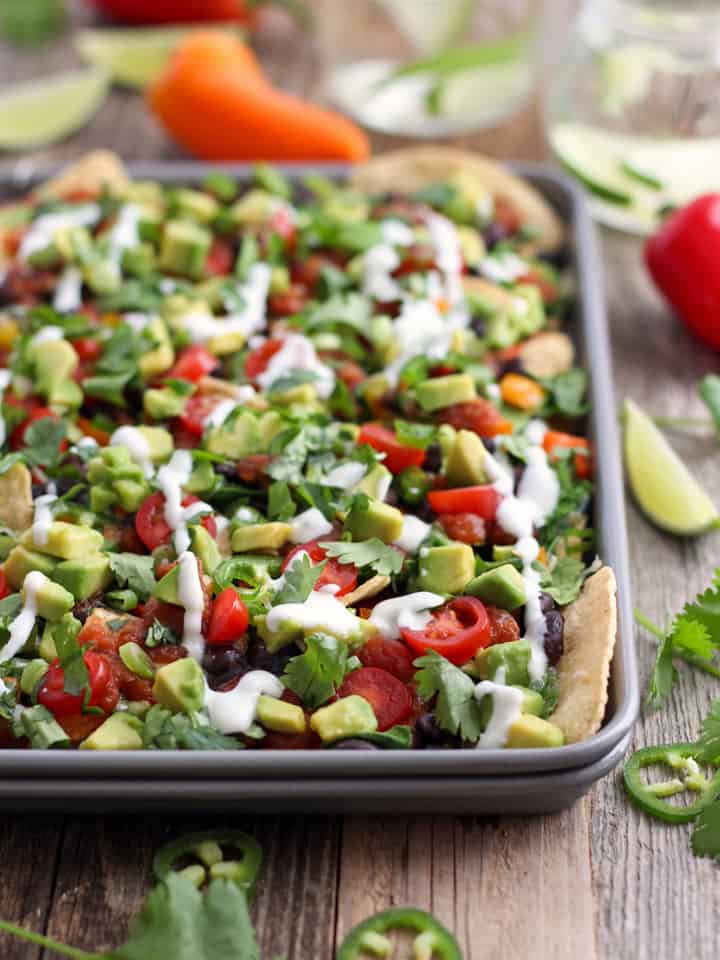 A few weeks ago my sister was trying to make these nachos at home and texted me with questions about time, temp, etc. Unfortunately, I didn't see the messages until hours later (Blurg!).
Super bummed I immediately wrote Nachos Recipe on my to-do list for the website.
I figured this way my favorite hard-working mama could always have a place to find the recipe and maybe you would enjoy it too!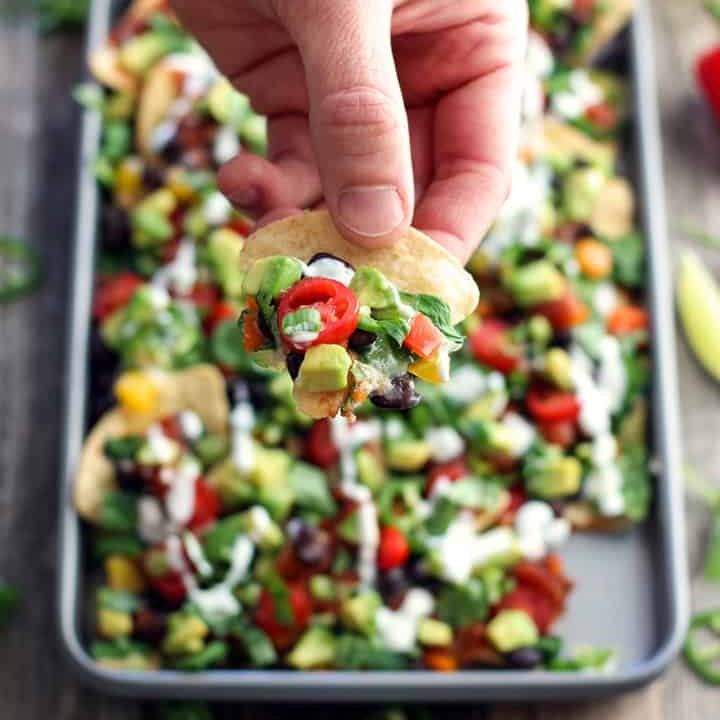 Toaster Oven Veggie Nachos
No need to heat up your oven, get your nacho fix using a toaster oven. A small batch of crunchy tortilla chips topped with shredded cheese, black beans and lots of crisp fresh veggies.
Ingredients
2 servings of restaurant style tortilla chips
1/2 cup shredded cheese, divided (use your favorite melty cheese)
1 cup fresh baby spinach torn into small pieces
1/2 cup cooked black beans
1/3 cup chopped bell pepper
1 small jalapeno, thinly sliced
2 tablespoons non-fat plain Greek yogurt, (or sub sour cream)
1/2 a small lime
Salt and pepper
1/3 cup salsa
1 small avocado, seeded and diced
1/4 cup grape tomatoes, thinly sliced
2 tablespoons chopped cilantro
1 green onion, thinly sliced
Instructions
Preheat your toaster oven to 400 F.
Spread the tortilla chips into a single layer on a rimmed cookie sheet (small enough to fit in your toaster oven).
Sprinkle chips with 3 tablespoons of the shredded cheese.
Top chips with spinach, black beans, chopped bell pepper and jalapeno slices. Sprinkle with remaining cheese.
Bake nachos at 400 F for 5 to 8 minutes until the cheese is melted and the toppings are warmed.
While nachos bake combine the Greek yogurt and juice from the lime. Mix well, season with salt and pepper to taste.
Top baked nachos with salsa, avocado, tomatoes and green onion. Drizzle with lime yogurt and serve immediately.
Notes
*If your Greek yogurt is super thick you may need to add more lime juice or a teaspoon of water to get a pourable consistency you desire.
Recipe makes enough nachos for two people, Nutritional Information is an estimate for 1 of 2 servings.
Nutrition Information:
Yield:

2
Serving Size:

Half of Recipe
Amount Per Serving:
Calories:

415
Total Fat:

24.4g
Saturated Fat:

7.6g
Cholesterol:

29.8mg
Sodium:

570.8mg
Carbohydrates:

36.5g
Fiber:

11.7g
Sugar:

4.9g
Protein:

16.8g
How to Make Nachos in Your Toaster Oven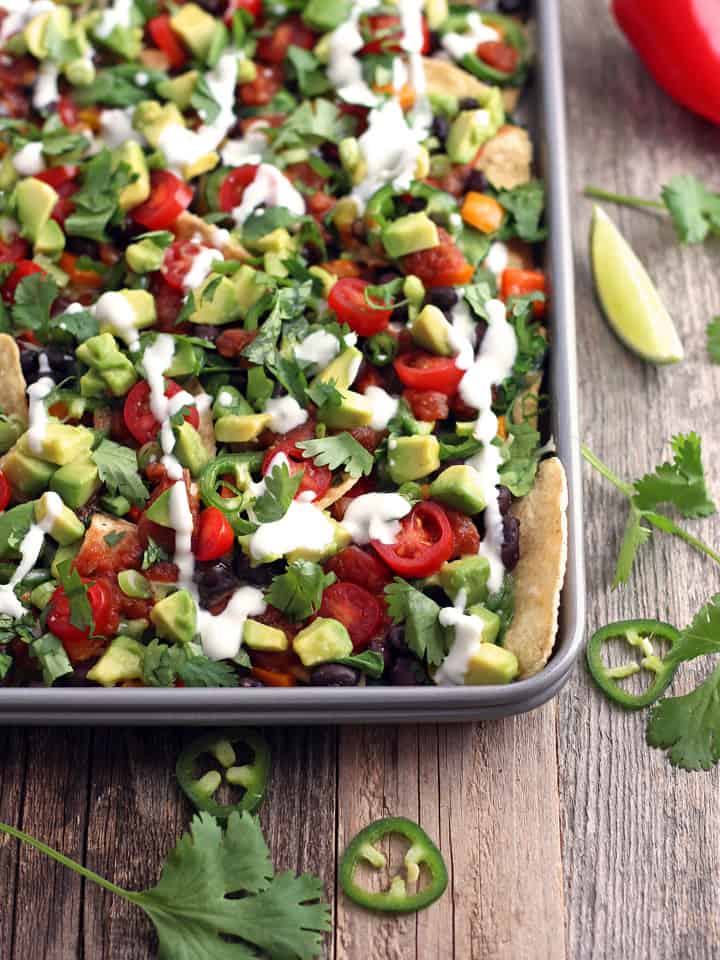 Arrange thick restaurant-style chips in a single layer.
Sprinkle with 1/3 of the cheese then add the spinach, beans, and peppers (think dry veggies like peppers now – wet veggies like avocado and tomatoes later).
Save the salsa and herbs for after the toaster oven (the salsa will make the chips soggy and the herbs will wilt).
Sprinkle with the rest of the cheese.
Pop in a 400°F toaster oven for 5 to 8 mins, just long enough to get things melted and warm.
Now top with the chopped avocado, salsa, cilantro and anything else you want (I highly recommend the lime yogurt, it cools down the spicy jalapenos)
That's it, you're all set. Just grab some napkins and dig in!