Small Batch Spiced Cashews
These Spiced Cashews are buttery and savory, with a fun gingery kick. A small handful is the perfect afternoon snack to tide you over until dinner!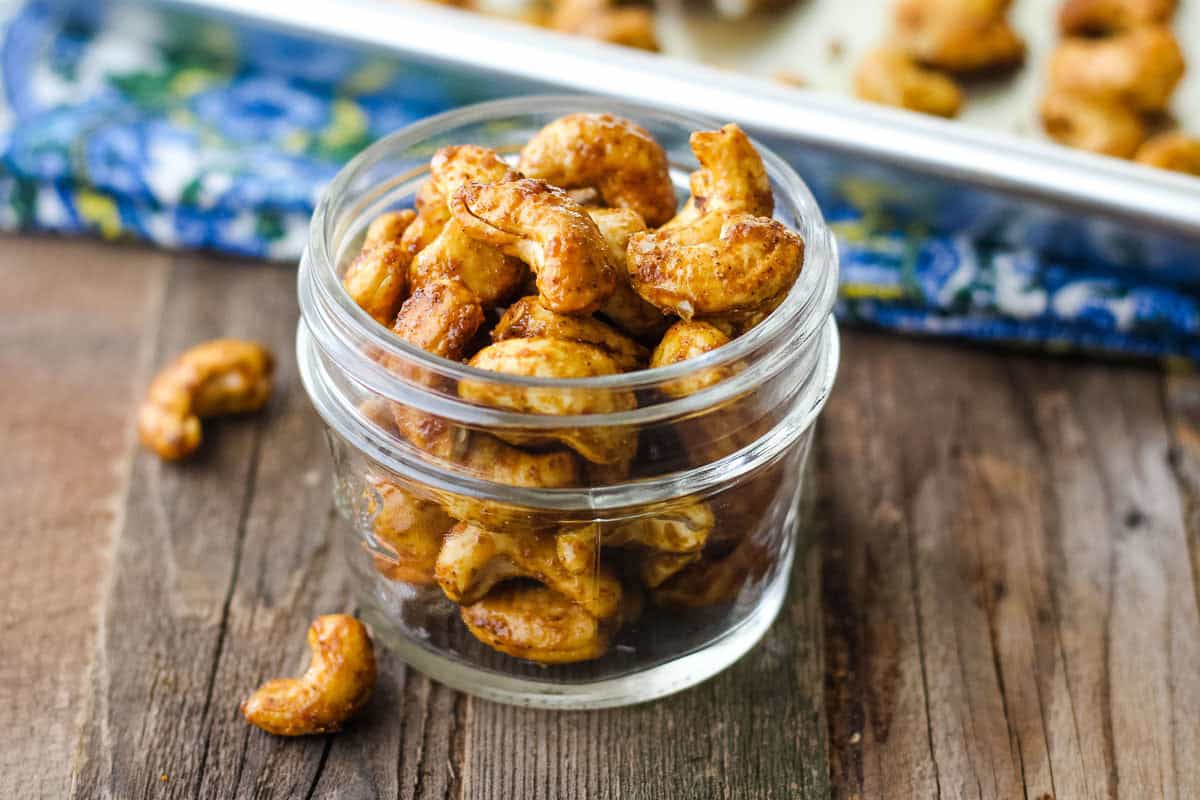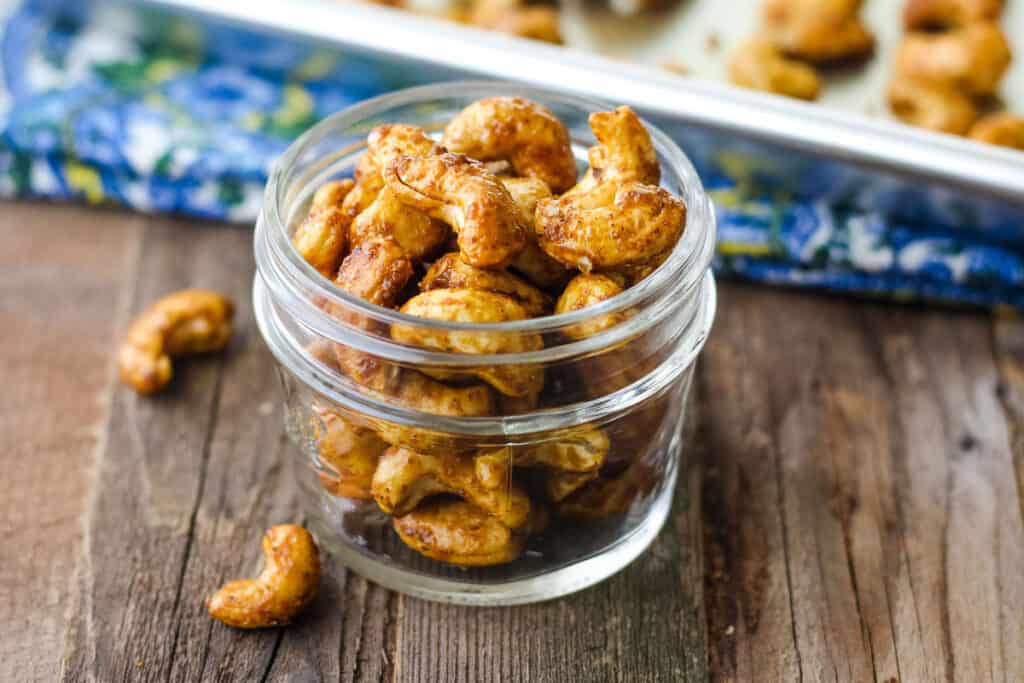 Similar to our popular rosemary cashews, this small-batch recipe makes just one cup of salty roasted nuts.
But you can easily double or triple the recipe to make more if you want!
In addition to snacking, they're also great for adding some crunch to salads and wraps. I like to toss a handful in this Curried Egg Salad For Two and our Greek Yogurt Chickpea Salad Wraps.
Recipe Ingredients
raw cashews
maple syrup
olive oil (avocado oil or coconut oil tastes good too!)
yellow curry powder (we used Trader Joe's brand)
ground cumin
ground ginger
salt
How to Make Spiced Cashews
Step 1. Start by preheating the oven or toaster oven to 325°F. Then grab a small rimmed pan (like a 1/8 Sheet Pan) and lightly spray or brush it with oil.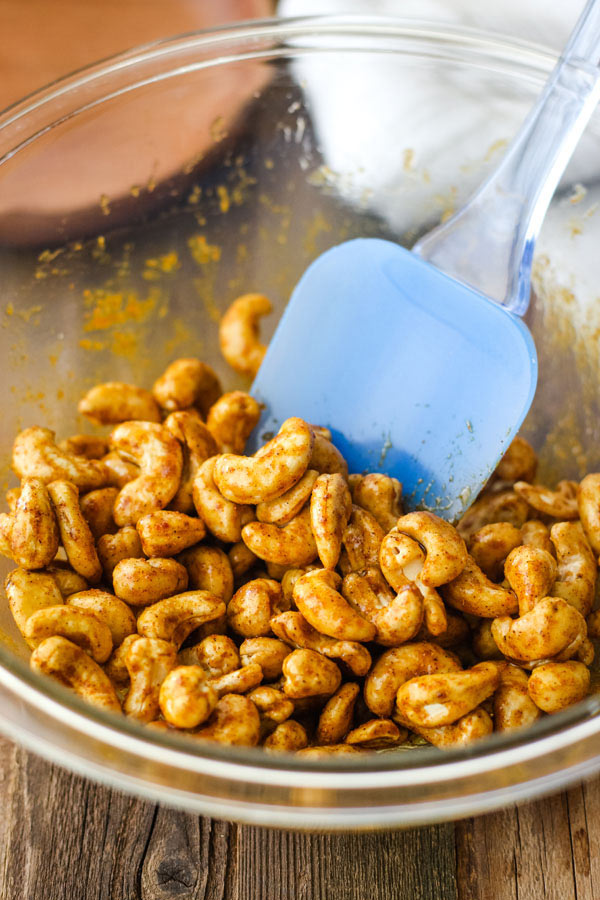 I like to use a light-colored metal pan, as this article from Taste of Home points out some darker pans absorb more heat and tend to burn nuts. If you've only got a dark pan, reduce the temperature to 300°F and check on your nuts more often.
Step 2. Gather the spices, oil, and maple syrup. Dump everything (except the cashews) into a large bowl and whisk the ingredients together. Then add the cashews.
Pro Tip: Initially, it might feel like there isn't enough coating but don't worry it will be plenty. Just keep stirring.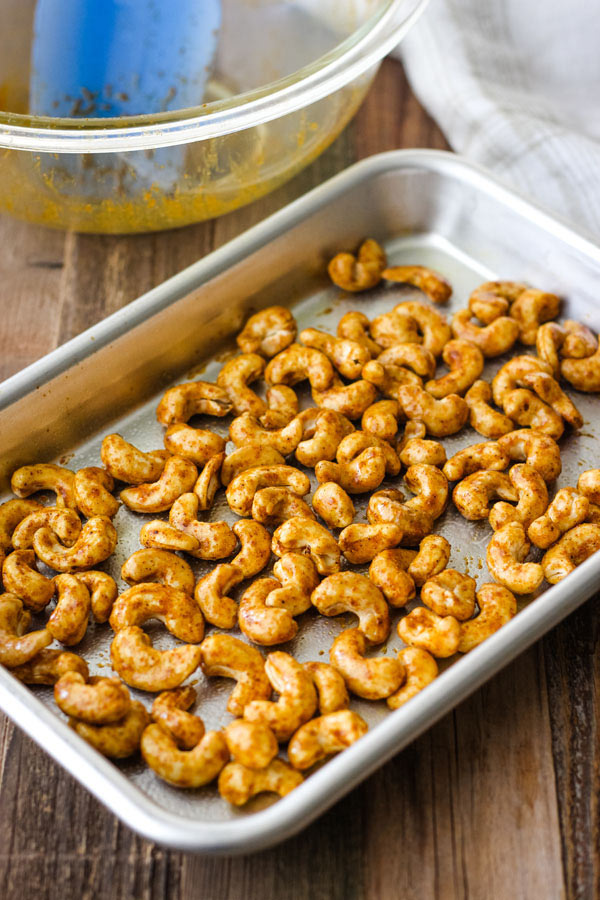 Step 3. Arrange the nuts in a single layer on your prepared pan. Cook until the nuts are fragrant and toasted, about 14 to 15 minutes.
For even toasting and to prevent sticking you'll want to stir the cashews after 7 minutes. Then again every 3 or 4 minutes until they're toasted.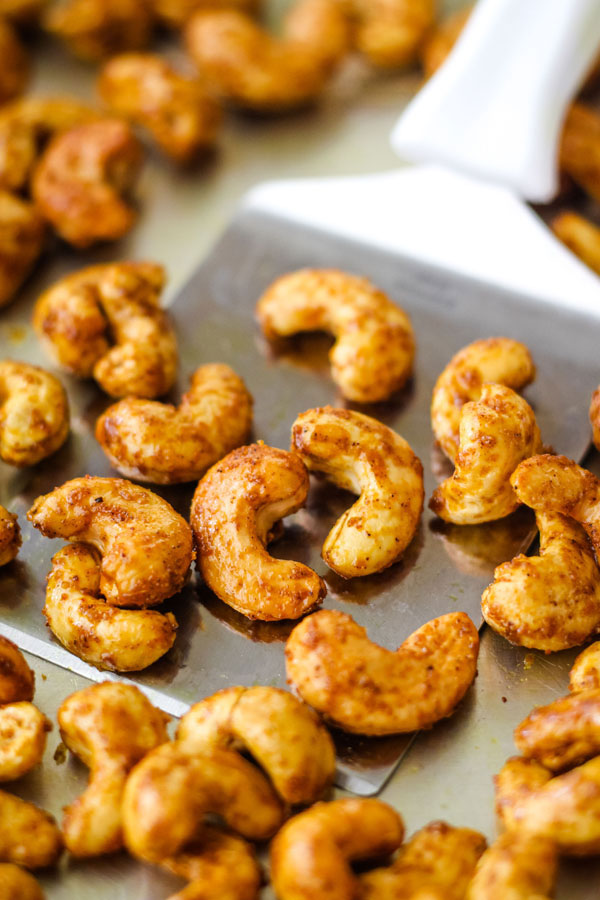 Step 4. Once the roasted cashews are ready, remove the pan from the oven and give it one last good stir. Then let the nuts cool on the pan completely.
It's okay if they are still a little sticky. The coating will dry and crisp up more while the nuts cool on the pan.
Step 5. Store your curry spiced cashews in a covered jar so they're prepped and ready to tame your next salty snack craving!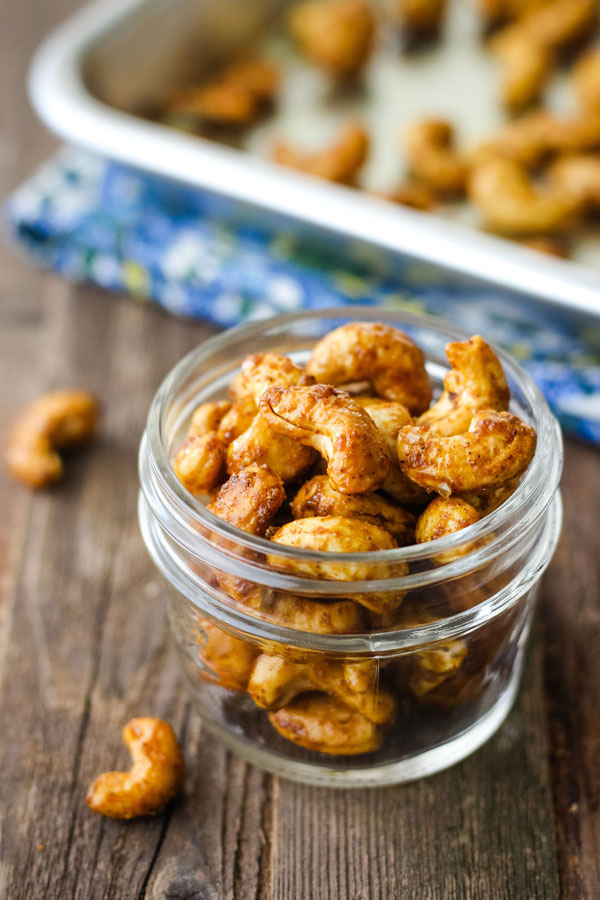 More Easy Snack Recipes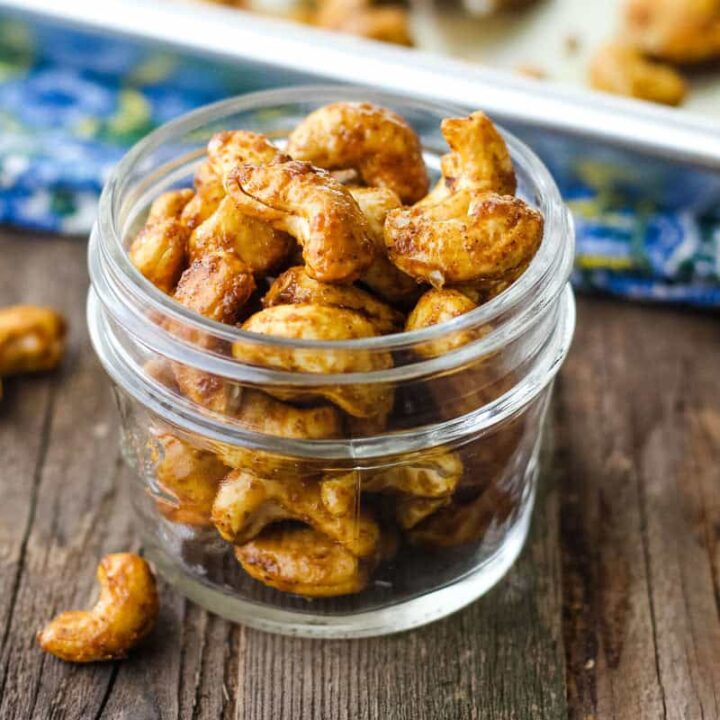 Small Batch Spiced Cashews
Yield:
1 Cup Seasoned Nuts
Perfect for a quick snack, these savory-sweet spiced nuts also make a great gift during the holidays. To whip up a larger batch, just double or triple the ingredients and use a larger pan. 
Ingredients
Spray Oil
2 teaspoons Pure Maple Syrup
1/2 teaspoon Olive Oil
1 teaspoon Yellow Curry Powder
1/4 teaspoon Cumin
1/4 teaspoon Ground Ginger
1/4 teaspoon Fine Sea Salt
1 cup Raw Unsalted Cashews
Instructions
Preheat the oven to 325°F and adjust the cooking rack to the middle placement. If using a toaster oven, move the rack to the bottom placement and select the BAKE setting.
Spray a small baking pan with cooking oil and set aside.
In a large bowl, whisk together maple syrup, olive oil, curry powder, cumin, ginger, and sea salt. Add cashews and stir well to coat.
Pour nuts onto prepared pan and arrange in a single layer.
Cook nuts until lightly toasted, stirring occasionally, about 14 to 16 minutes.
When the cashews are finished cooking, remove the pan from the oven, stir nuts again, and arrange in a single layer.
Leave nuts on the pan to cool completely before devouring or storing in a well-sealed container.
Nutrition Information:
Yield:

4
Serving Size:

1/4 cup
Amount Per Serving:
Calories:

175
Total Fat:

12.6g
Saturated Fat:

2.1g
Cholesterol:

0mg
Sodium:

123mg
Carbohydrates:

10.6g
Fiber:

1g
Sugar:

4g
Protein:

5g