Light and Fluffy Lemon Blackberry Baked Pancake
This Lemon Blackberry Baked Pancake makes breakfast almost too easy. Drop your spatula, skip the stovetop and enjoy a toaster oven-baked pancake instead!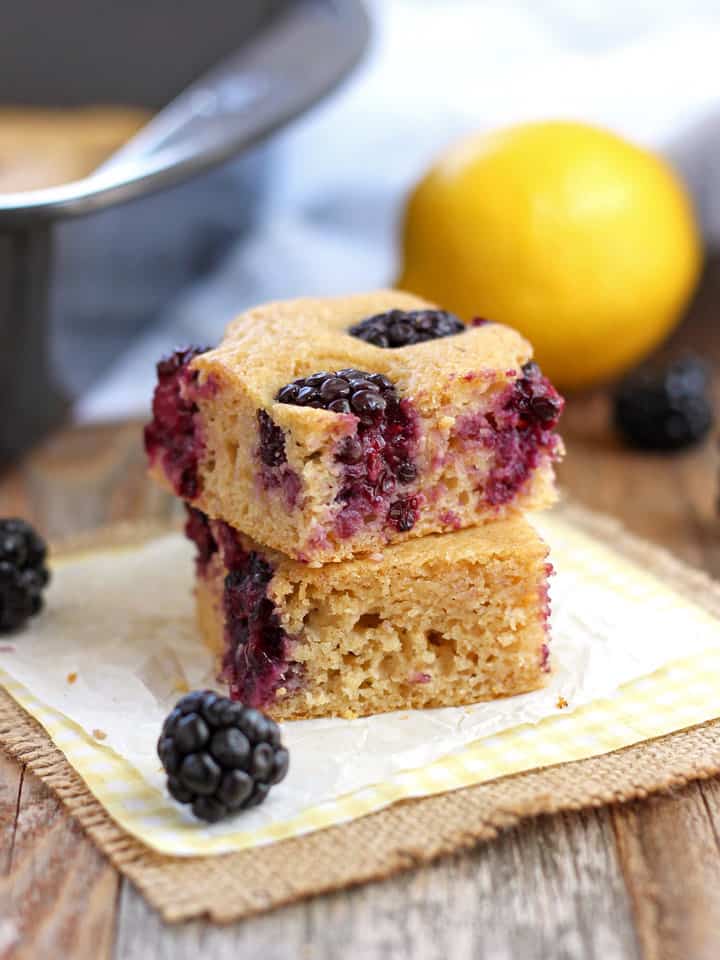 This baked pancake is one of those little effort, big reward, keep-it-in-your-back-pocket recipes.
The kind of recipe where you can quickly mix all of the ingredients together, pop it in the toaster oven and TA-DA!
A tasty breakfast magically appears.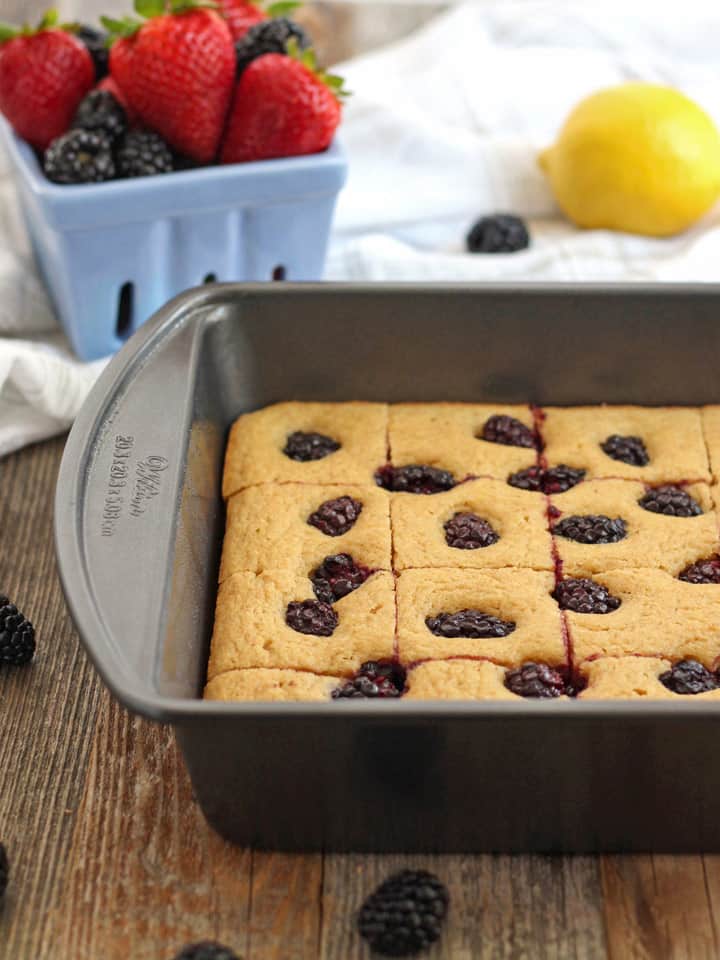 Each little lemon blackberry baked pancake bite is filled with tangy buttermilk, bright citrus, and tart fresh berries!
For convenience, I've used frozen berries a few times. Although the berries sink more in the batter they hold up well and don't get too soggy.
Know what that means?
Berry season or not, you can enjoy this blackberry filled breakfast all year long!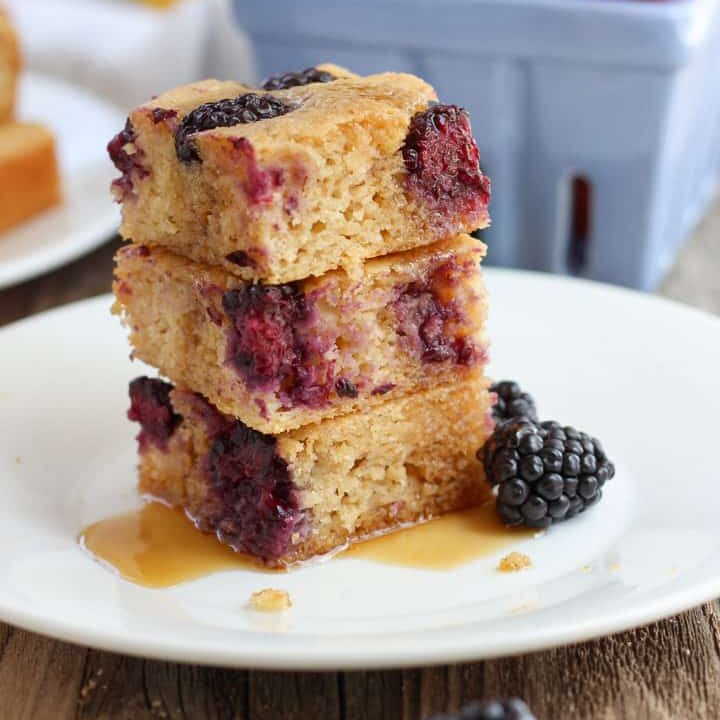 Lemon Blackberry Baked Pancake
Skip the stovetop and bake this berry-filled pancake in your toaster oven!
Ingredients
1 cup White Whole Wheat Flour
1 1/2 teaspoons Baking Powder
1/4 teaspoon Fine Sea Salt
3/4 cup Low-Fat Buttermilk
1 large Egg
1/2 teaspoon Pure Vanilla Extract
2 tablespoons Oil (like Canola, Grapeseed or Olive Oil) or Melted Butter + more for the pan
2 tablespoons Honey
1/2 teaspoon Lemon Zest
1 cup Fresh Blackberries, washed and dried
Instructions
Adjust the cooking rack to the bottom position and preheat toaster oven to 350°F on the BAKE setting. Grease an 8x8 metal baking pan.
In a medium bowl whisk together the flour, baking powder, and salt.
In a small bowl whisk together the buttermilk and egg until well combined. Whisk in the vanilla, oil, honey and lemon peel.
Make a well in the center of the flour mixture and pour in the buttermilk mixture. Stir together just until combined and no flour streaks can be seen.
Pour batter into the prepared pan and sprinkle berries over the top.
Bake until the edges are golden and a toothpick in the center comes out with a few crumbs attached, about 22 to 26 minutes.
Allow the pancake to cool for a few minutes, then slice into quarters or smaller pieces if desired.
Serve warm with maple syrup, whipped cream, yogurt or enjoy plain!
Notes
To make with frozen blackberries, do not thaw berries before adding to the recipe.
Recipe adapted from Martha Stewart.
Nutrition Information:
Yield:

4
Serving Size:

1/4 of recipe
Amount Per Serving:
Calories:

248
Total Fat:

9.3g
Saturated Fat:

1.4g
Cholesterol:

48.3mg
Sodium:

388mg
Carbohydrates:

36.5g
Fiber:

5.2g
Sugar:

12.8g
Protein:

7.6g
Last year, I saw a recipe for an Oven-Baked Blueberry Pancake on Martha Stewart's website and couldn't wait to make it. But before you could say, "babe, where's the maple syrup?" we hit a snag.
Toaster Oven Pans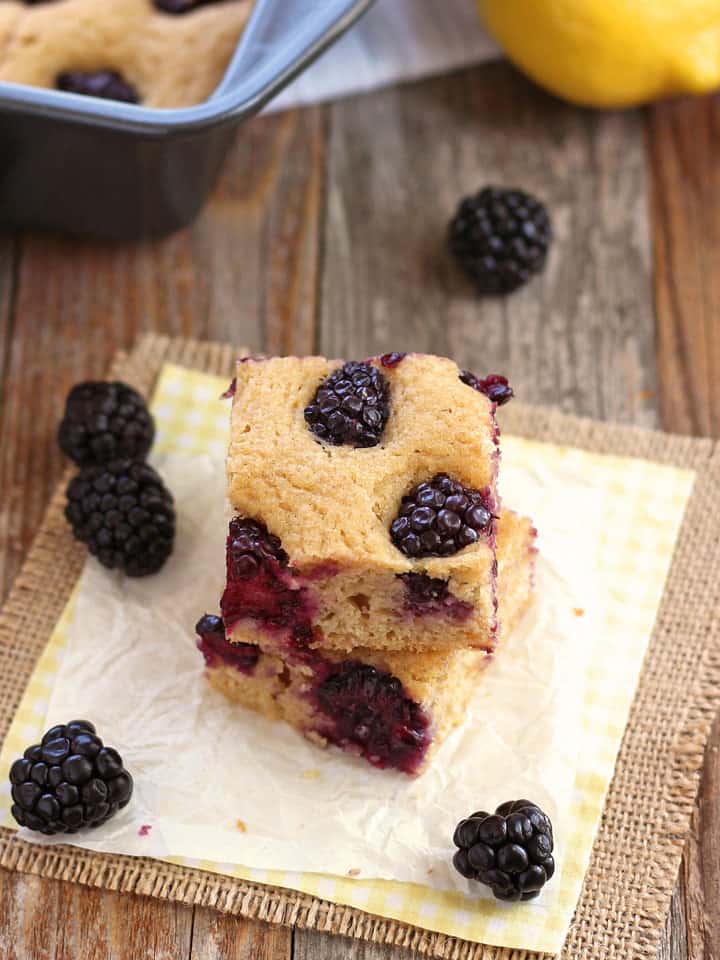 See, the original recipe calls for the batter to be baked in a 10-inch cast-iron skillet. We could never fit a skillet that size in our toaster oven.
Even our largest countertop oven, the Breville Smart Oven Pro (BOV845BSS) would be too small!
Not ready to give up my dream of enjoying breakfast with everyone instead of flipping pancakes all morning I soldiered on.
Well, it turns out an 8 x 8 metal baking pan is a pretty good substitute for a 10-inch skillet. An 11 x 7-inch baking pan, like the one in our Chicago Metallic Toaster Oven Pan Set works well too.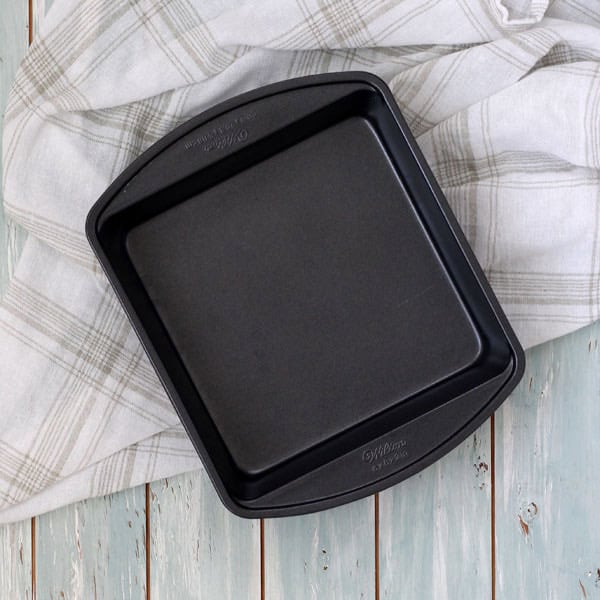 The pan gives the best "Pancake Style" results = Golden edges with a tender fluffy center.
For a fork and knife, sit at the table-style breakfast you can serve the baked pancake cut into four large slices.
But that's no fun.
Instead, we like to slice the "pancake" into 16 smaller squares. They're a kid-friendly size that's ideal for dunking in maple syrup!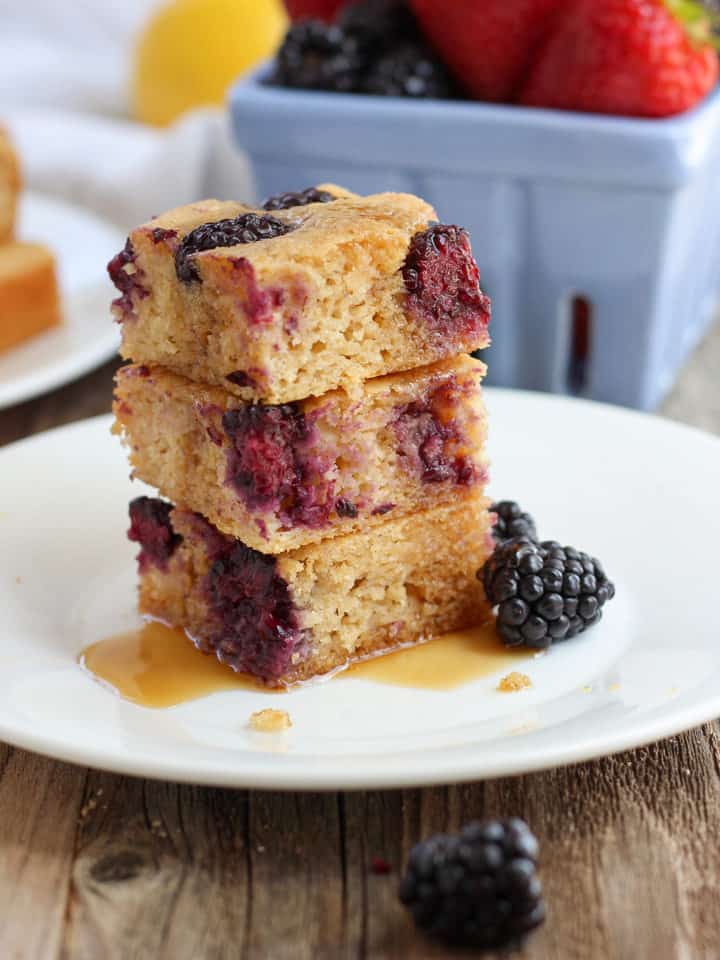 More Toaster Oven Breakfast Ideas:
FYI…this recipe is not for a Dutch baby which is sometimes referred to as an oven pancake. Dutch Babies are puffy with a custard-like center, this recipe is more of a baked pancake-cake situation.