Small Cast Iron Skillets and Pans
Small cast iron skillets and pans are a great option to consider if you're cooking for one or two people. They're virtually indestructible and come in a variety of shapes and sizes. Plus, you can use them to cook up so many tasty things in a toaster oven!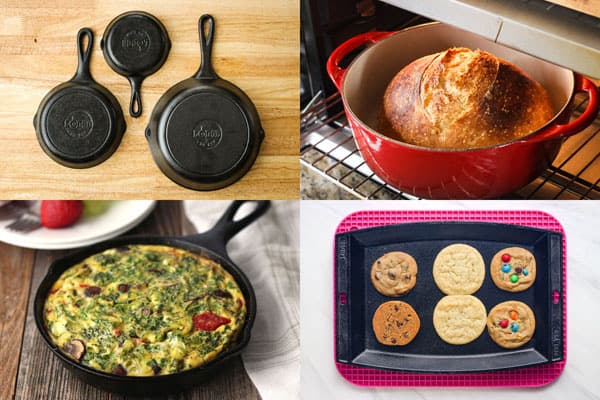 We love our cast iron pans (especially the mini ones). They hold heat really well and are great for cooking everything from cornbread and eggs to roasted veggies and even desserts.
But trying to use them in a toaster oven or countertop oven can present some challenges.
The two biggest obstacles we've run into are the size and weight of the pans.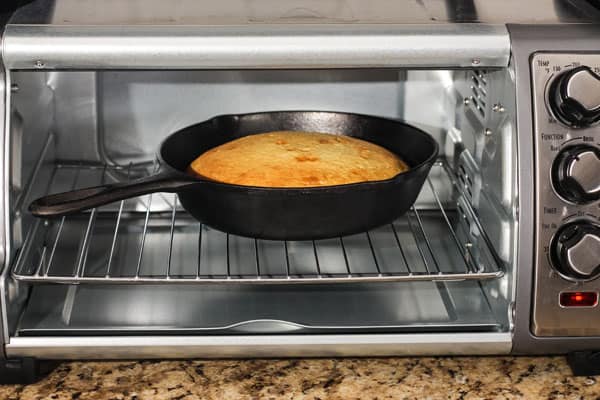 The Weight Issue
Most toaster oven cooking racks are made up of thin metal tines.
A cast iron pan is already pretty heavy when empty. Add some food and it gets heavier.
You can see where this is going right? The toaster oven's cooking rack may sag or even bend underneath the weight of the pan.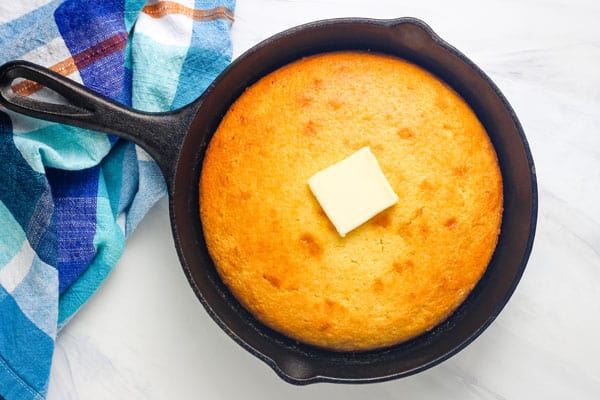 And a bent rack is no good. It can cause food to slide to one side and cook unevenly.
So you'll want to be cautious. Especially if you plan to use a dutch oven or a cast iron skillet with a lid. Check your owner's manual (or contact the manufacturer) to see if there is a weight limit for cooking vessels.
Small Cast Iron Skillet Sizes
When it comes to small skillets, weight tends to be less of an issue for us. It's the length of the pan's handle that usually causes a problem.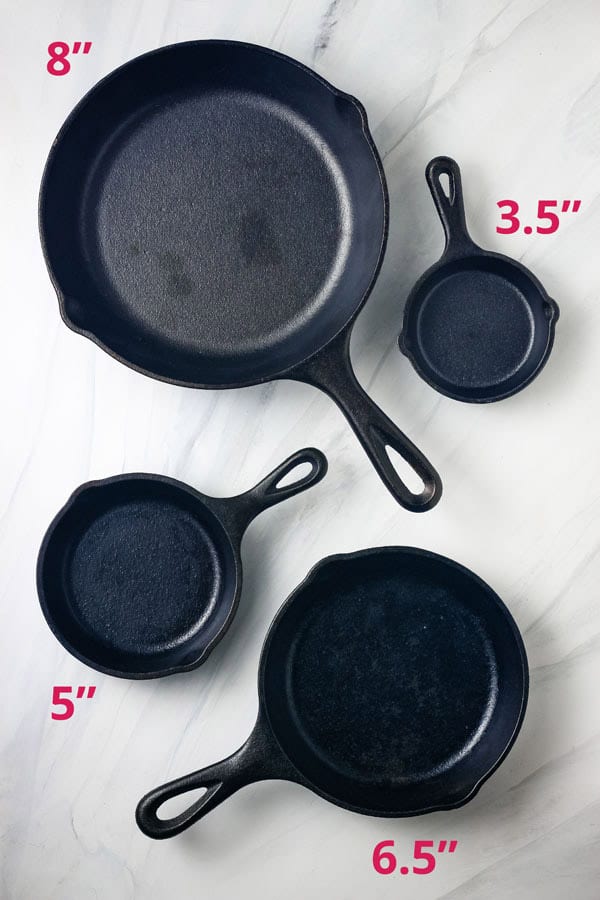 Most of our mini cast iron skillets have shorter handles. But the handles do still add a significant amount of length to the pan's overall dimensions.
Below I've measured our pans so you can see what I'm talking about. Pan designs are going to vary by manufacturer but this gives you an idea.
8-inch Skillet (12.75 inches long with handle)
6.5-inch Skillet (10.18 inches)
5-inch Skillet (7.68 inches)
3.5-inch Skillet (6 inches)
Quick Tip: If we've got a skillet that's a close fit lengthwise and the oven is on the deeper side, I can sometimes get the pan to fit by placing it at an angle on the baking rack.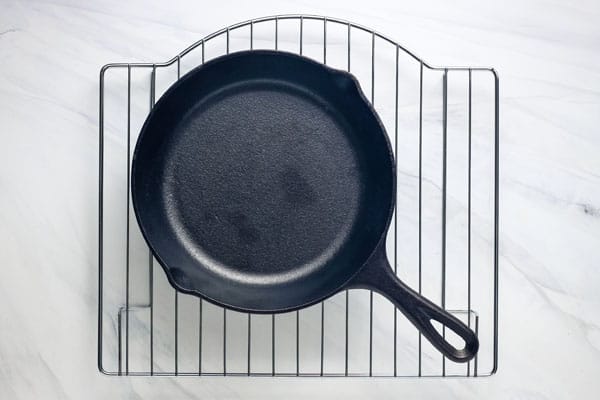 What about a mini cast iron skillet with a lid?
The company that made our pans (Lodge) has a lid for the 6.5-inch skillet. *It's sold separately from the pan.
The smaller 5-inch and 3.5-inch skillets don't appear to have a lid option. Which makes sense since they are super small.
The 3.5-inch skillet is mostly handy for melting butter or cooking up a single egg. The 5-inch skillet is a little bigger. We use it to warm dips and bake single-serving desserts (like this mini berry skillet cake). But not anything that would require a lid.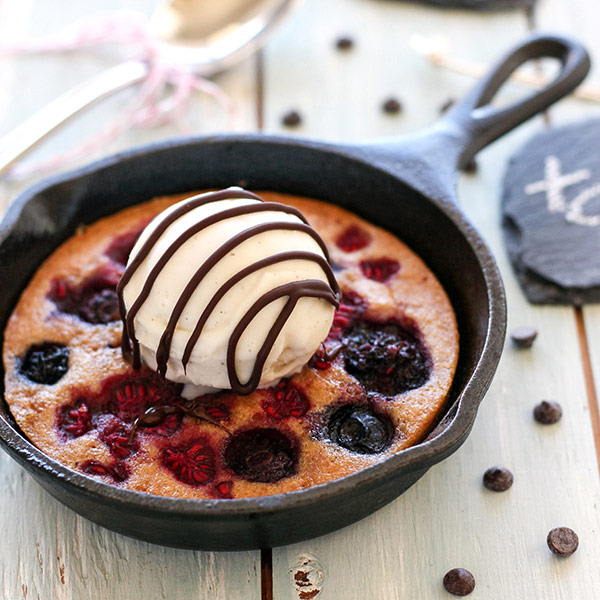 Small Cast Iron Griddles
One of my favorite pans to use in our toaster ovens is a 9.25-inch round cast iron griddle. It's similar to the fajita platters that you see at restaurants.
The griddle is about the same weight as our 8-inch skillet. Though it doesn't have a handle and offers about 2 inches more cooking surface.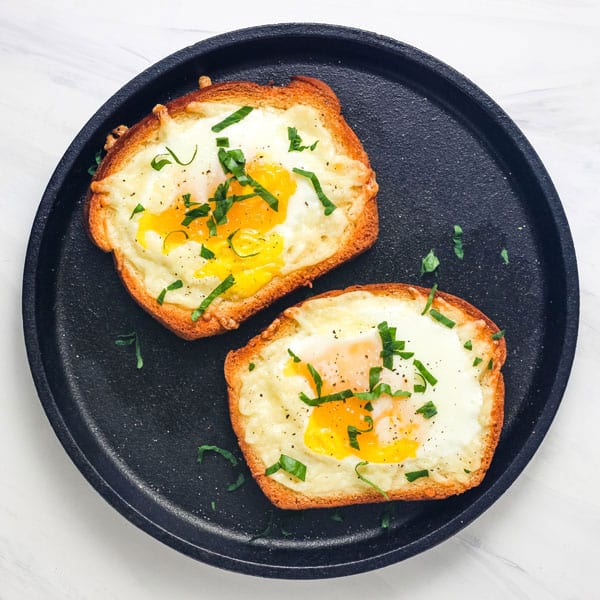 Because the sides are much lower it's not ideal for cooking frittatas or anything saucy.
Instead, we like to use it as a sheet pan for roasting vegetables, cooking veggie burgers, and making grilled cheese sandwiches or egg toasts.
One thing about cast iron is that it is fantastic at retaining heat. But it takes a bit to get warmed up.
So when I'm cooking something I want to brown or grill I pop the griddle pan into the toaster oven before preheating it. That way both the pan and the oven are nice and warm when we add the food.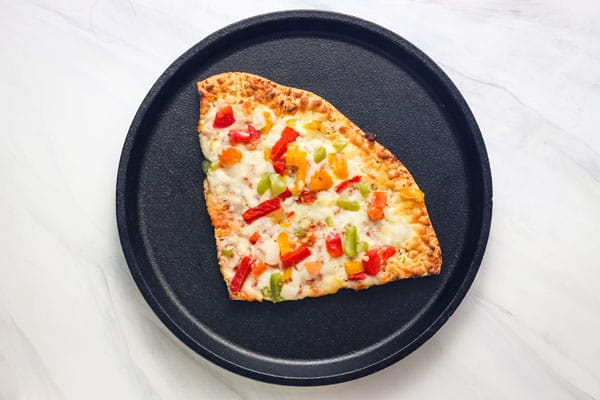 Preheating the griddle is especially helpful if we're reheating leftover pizza or cooking a slice of frozen pizza. The pizza crust gets nice and crispy.
Fun Pizza Hack: Want to see how we divide a large frozen pizza into single servings? Check out these cooking tips and tricks for small households (it's tip #1).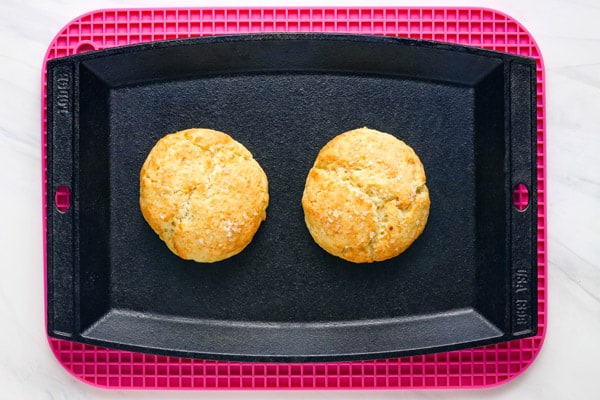 In the small griddle department, we also have an 11.5 x 7.75 Inch Rectangular Cast Iron Griddle.
Even though it's pretty large, the cooking surface is only 8.5 x 5.9 inches. That's because of the handles and the tapered sides.
The deeper cooking area is good for containing foods that need to be stirred (like peppers and onions). We've also used it to bake cookies and our biscuits for two recipe.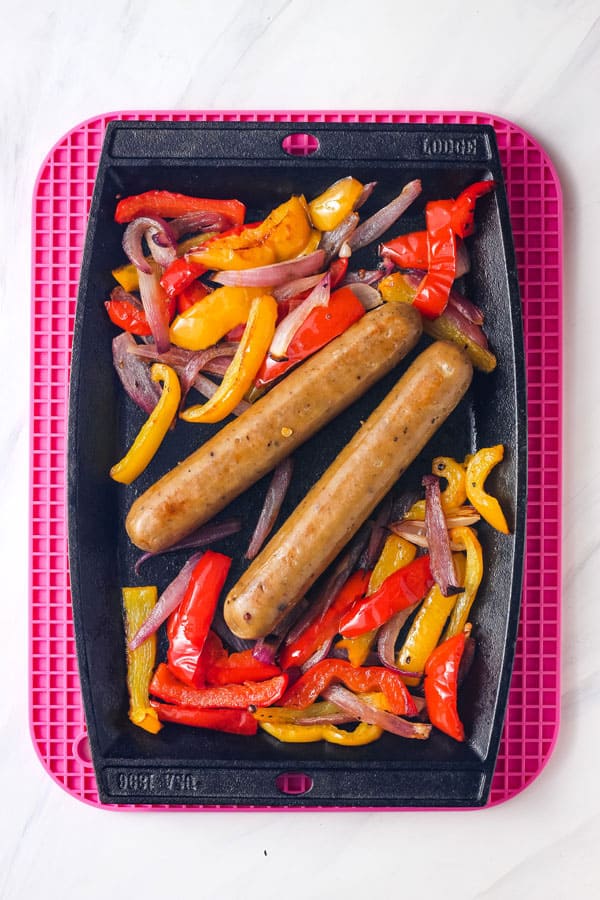 As I mentioned in our toaster oven sheet pans post this pan's a fine size if you're cooking a meal for one person. But to cook dinner for two people using it might be a tight fit.
Another thing that's cool about cast iron griddles is that you can buy a wood base for some of them. The wood trivet/base protects the table and makes for a pretty presentation if you're serving food straight from the pan.
Small Dutch Ovens
A Dutch oven is basically a heavy-covered pot (usually made of cast iron). They've been around for centuries and come in a wide variety of shapes and sizes.
Similar to the cast iron skillets, the weight and size of a Dutch oven can make it hard to use in any toaster oven. Especially small and medium-sized ovens.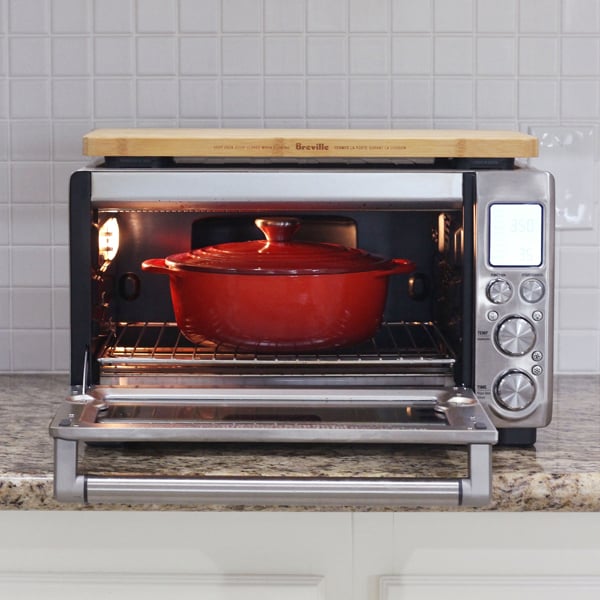 In our house, we have two small Dutch ovens. A 2-Quart made by Martha Stewart and a Shallow 2.75-Quart from Le Creuset.
We use them to cook with our main oven, a Breville Smart Oven Pro Model BOV845BSS). Both of them fit (just barely) without touching the upper heating elements.
Each one has an enamel coating on the inside and outside of the pot. I find enamel-coated Dutch ovens easier to clean and I like that they don't need to be seasoned after washing.
But lots of people enjoy cooking with uncoated pots too.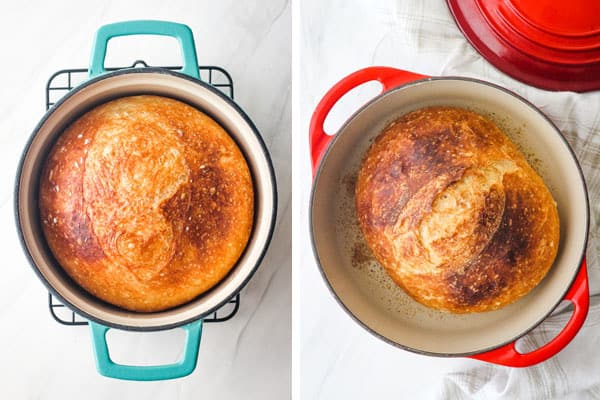 We use our Dutch ovens often to bake this small no-knead bread recipe. They're also handy for cooking casseroles and reheating leftovers in the toaster oven.
This covered baking dishes post is due for an update. But there are a bunch of great suggestions for differently-sized dutch ovens in the comments section. Plus some hacks for getting them to fit in a toaster oven.
Caring for Cast Iron
Big or small, cast iron does require some specific handling. Things like don't put it in the dishwasher and go easy on the soapy water.
Otherwise, you'll find yourself having to season your pans more often.
Want to make sure your skillet is always rust-free and ready for any recipe? Check out this great tutorial on how to care for cast iron from Rachel at the Feast and Farm.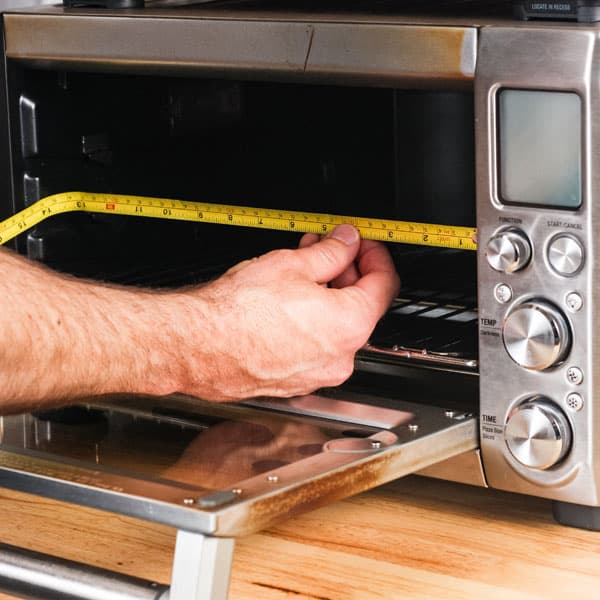 A Few Shopping Tips
Measure Your Oven. Grab a tape measure and read this post on how to measure the inside of a toaster oven.
Double Check Pan Sizes When Shopping Online. Stores often forget to include the length of a skillet's handle or the added height of a dutch oven's lid.
If you're not sure, check with the store's customer service to confirm the dimensions of the item before purchasing.
I will say that Lodge does a great job of listing a pan's weight and dimensions on their website. They even tell you how many eggs will fit in a skillet!
Shop Secondhand. Resale sites, yard sales, and thrift stores are great places to look for mini pans.
Also, it's becoming more common to find smaller cast iron cookware at stores like Target, Homegoods, and Walmart.
Last year, during the holidays I saw mini skillets at Aldi. And there's always at least one small cast iron skillet in the kitchen section of our grocery store.
Once you begin looking, I guarantee you'll start seeing mini cast iron pans everywhere!
Lastly, cast iron is pretty universal. But toaster ovens do vary and manufacturers are continuously coming up with crazy new features and heating styles.
So always refer to your oven's manual for the accessories that are acceptable to use in your specific toaster oven.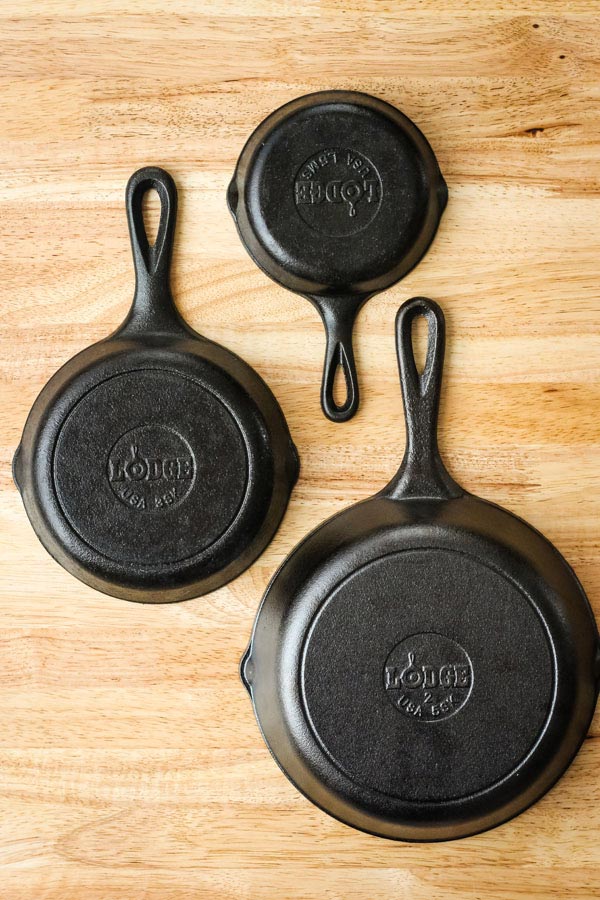 More Small Cookware Ideas