Mini Cranberry Orange Snack Cake
This tender Mini Cranberry Orange Snack Cake is loaded with fresh cranberries and bright citrus. Perfect for snacking, gifting, or small gatherings, the small-batch recipe makes enough for 2 to 4 people.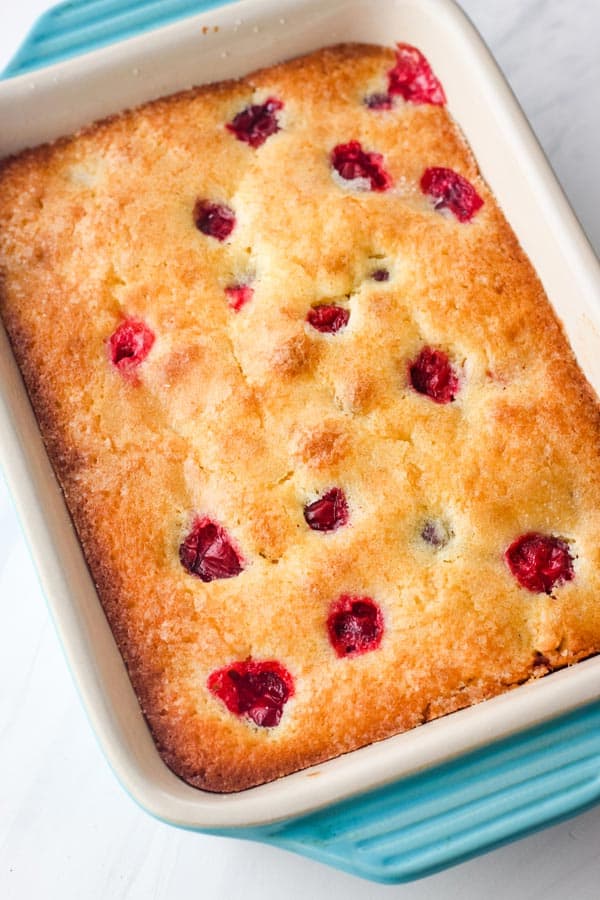 During colder months, nothing beats the refreshing combination of cranberry + orange. It's so tart and bright. If you're a fan of it too then I think you'll really enjoy this Mini Cranberry Orange Snack Cake. It's a scaled-down recipe that's great for baking in your toaster oven.
Even though this buttery snack cake is small (about 4 servings), every bite is bursting with fantastic cranberry-orange flavor. And if you're out of fresh cranberries, no worries, you can use frozen!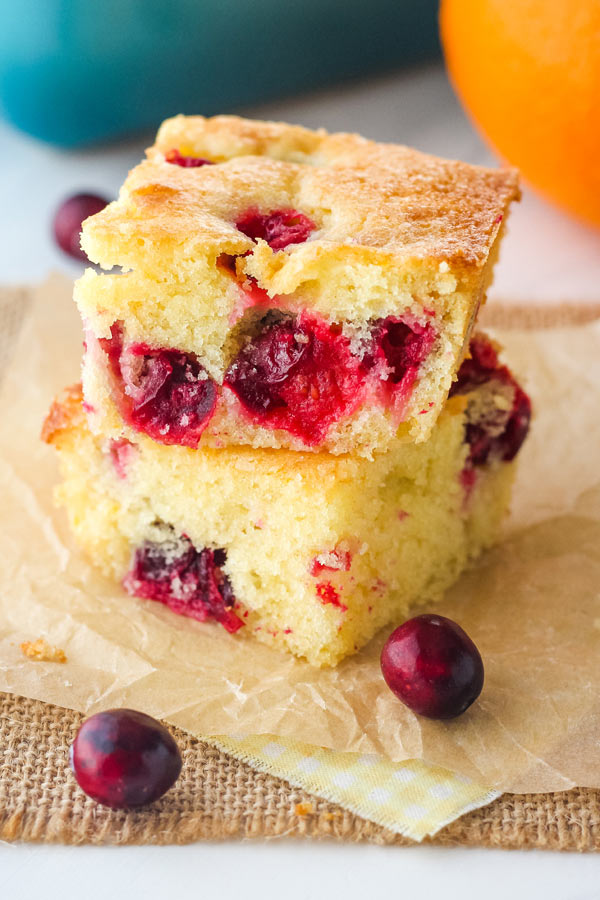 Baking Pan Options
Similar to our toaster oven carrot cake, cake mix mini cakes, and one banana bread this cake batter can be baked in a variety of different pans.
My go-to choice is a 7 x 5-inch baking dish. The slices come out fat and thick, perfect for tossing on a napkin and snacking on.
For more of a coffee cake vibe, you can use a 6 x 2-inch round cake pan. The one I baked was tender and light and took about 22 minutes.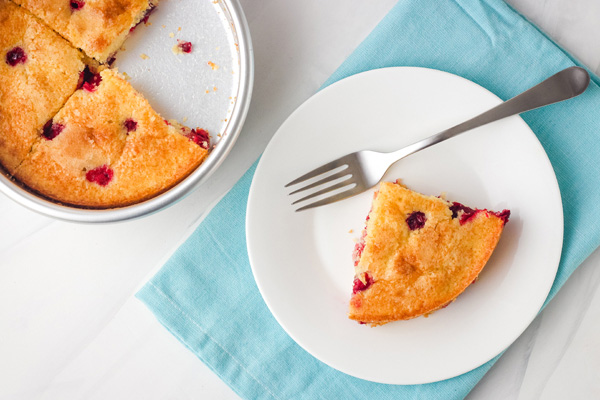 If you use an 8 x 4-inch loaf pan the cake slices will be thinner and wider. With the batter spread out more your cake will be ready a few minutes early. So start checking on it after 15 minutes.
For a tender (and tiny) loaf of cranberry bread that's perfect for gifting, bake the batter in a 3 x 5.75 x 2.5-inch mini loaf pan. Since this option takes longer, lower the temperature by 25 degrees to keep the loaf from over-browning before it's baked through.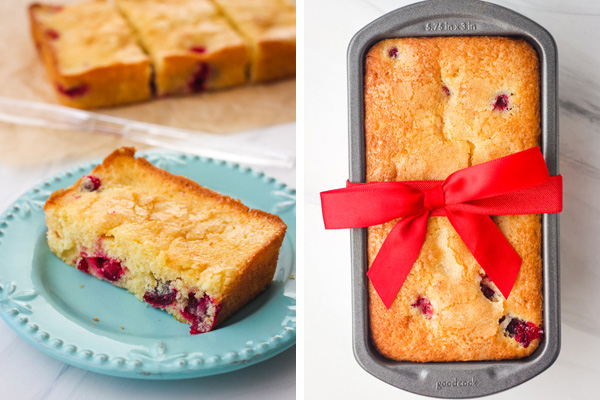 To fancy up this humble snack cake you can stir in some white chocolate chips or toasted nuts, dust the cooled cake with powdered sugar, or top it with a double-batch of the citrus glaze from this Small Batch Frostings and Glazes post.
Honestly, they're all tasty options, it's really hard to go wrong!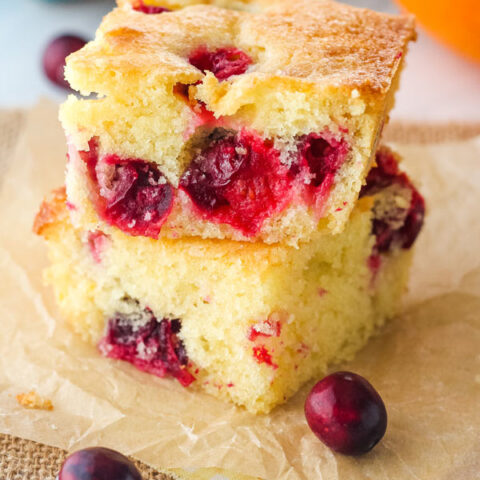 Mini Cranberry Orange Snack Cake
If you're cooking for one or two people, you can never have too many small-batch cake recipes to choose from. This one is tender, buttery, and loaded with juicy fresh cranberries. Beating the orange zest and sugar together (or rubbing with your fingers) helps to release the zest's aromatic oils giving this little cake a big dose of bright citrus flavor! 
Ingredients
1/2 cup (60 grams) Unbleached All-Purpose Flour (see note)
1/2 teaspoon Baking Powder
1/8 teaspoon Fine Sea Salt
1/2 teaspoon Orange Zest, about half a medium orange
1/4 cup (48 grams) Granulated Sugar
3 tablespoons (42 grams) Unsalted Butter, at room temperature
1 Large Egg (52 grams, weighed outside of shell), at room temperature
2 teaspoons Orange Juice
1/4 teaspoon Vanilla Extract
2 tablespoons (1 ounce) Milk
1/2 cup (50 grams) Fresh or Frozen Cranberries, washed and dried (see note)
Instructions
Preheat your oven to 350°F. If using a toaster oven, adjust the cooking rack to the bottom position, and select the BAKE setting.
Lightly butter a 7 x 5-inch baking dish or spray with cooking oil.
In a small bowl, whisk together the flour, baking powder, and salt. Set aside.
In a medium bowl, add the orange zest and sugar. Using a hand mixer set on low, beat the zest with the sugar until the sugar takes on a light orange color, about 30 seconds.
Next, add the butter to the sugar mixture and beat until light and fluffy. Use a rubber spatula to scrape down the sides of the bowl.
Beat in the egg, orange juice, and vanilla extract until smooth.
On low speed, add the flour in two parts, alternating with the milk. Begin with the flour and end with the milk. Beat just until combined.
Set aside a few of the cranberries, then gently fold the remaining cranberries into the batter.
Pour the batter into the prepared pan and use a rubber spatula to smooth into an even layer. Top with reserved cranberries and sprinkle with sugar, if desired.
Bake until the cake is golden on top, browned around the edges, and a toothpick inserted in the center comes out clean. About 20 to 25 minutes.
Cool the cake in its pan for 20 minutes before slicing and devouring.
Notes
Flour - You can substitute an equal amount of white whole wheat flour. The cake will be darker in color and won't be as light and tender but is still pretty tasty.

Cranberries - Do not thaw if using frozen.

Storage - Leftover cake can be stored in a covered container on the countertop for up to 3 days. Or wrapped in plastic and frozen for up to two months.
Baking Pan Times
6 x 2-inch round cake pan - Bake at 350°F for 20 to 23 minutes
8 x 4-inch Loaf Pan - Bake at 350°F for 15 to 18 mins
3 x 5.75 x 2.5-inch Mini Loaf Pan- Reduce temperature to 325°F and bake for 25 to 30 minutes.
Adapted from America's Test Kitchen Summer Berry Snack Cakes.
Nutrition Information:
Yield:

4
Serving Size:

1/4 of Recipe
Amount Per Serving:
Calories:

205
Total Fat:

9.9g
Saturated Fat:

5.8g
Cholesterol:

69mg
Sodium:

141mg
Carbohydrates:

25.7g
Fiber:

0.9g
Sugar:

13.2g
Protein:

3.5g
How to Make a Mini Cranberry Orange Snack Cake
Gathering the ingredients and bringing them to temperature takes the most time, after that everything comes together pretty quickly.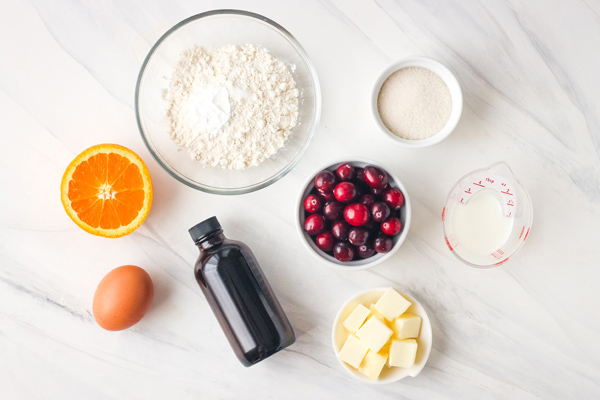 Step 1: Get Organized
Gather and measure the ingredients.
Zest part of the orange.
Bring the butter, milk, and egg to room temperature. (← this is the most important step)
Grease your baking dish.
Preheat your oven or toaster oven to 350°F.
Step 2: Mix The Dry Ingredients
Combine the flour with the baking powder and salt in a small bowl. Then set it aside.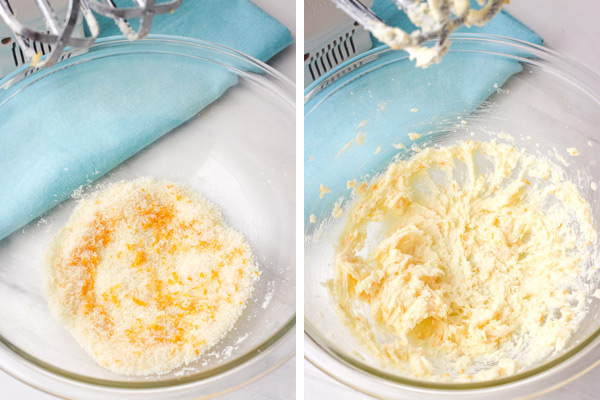 Step 3: Make The Batter
Add the orange zest and sugar to a medium bowl. Beat them together on the lowest setting until fragrant. This will release some of the orange's natural oils and enhance its flavor throughout the cake.
Next, add the butter and beat until light and fluffy. Use a small rubber spatula to scrape down the sides of the bowl.
It's really important that the butter is softened and at room temperature otherwise, it may curdle the batter when you move on to the next step.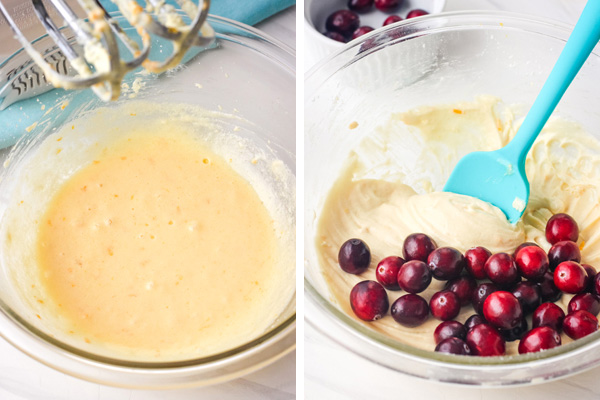 Now, add the egg, vanilla, and orange juice and beat until smooth. Then, at low speed add the flour mixture in two parts, alternating with the milk, and beating after each addition.
Start with adding half of the flour
Then half of the milk
Pour in the remaining flour
And ending with the remaining milk
Scrape down the sides and bottom of the bowl to make sure everything is combined. Then fold in the cranberries (reserving a few for topping).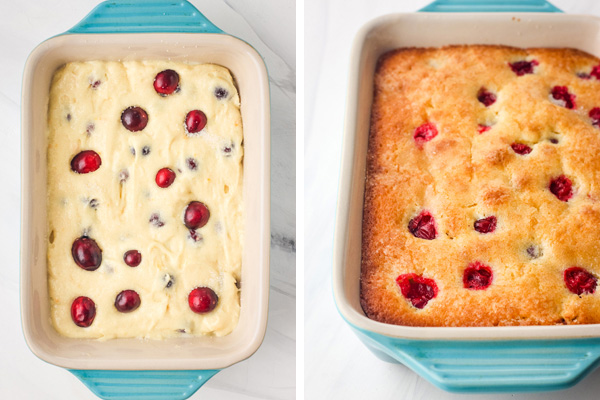 Step 4: Bake The Cake
Pour the batter into the prepared pan, smooth the top with your rubber spatula, and plop the reserved cranberries over the batter. For a sweet and sparkly topping, I like to sprinkle a little sugar over the pan before baking.
Bake for 20 to 25 minutes if you're using a 7 x 5-inch baking dish. *The total baking time can range from 15 to 30 minutes depending on the pan used. See recipe card notes for specific cooking times.
You'll know the cake is ready when it's golden all over and a toothpick inserted in the center comes out clean or with a few crumbs attached. Let the cake cool in the pan for about 20 minutes, then grab a cup of coffee or glass of milk, and serve yourself up a piece!