Toaster Oven Parmesan Crisps
Toaster Oven Parmesan Crisps are a magical 1-ingredient snack. Salty, crunchy, and so addictive we dare you to eat just one!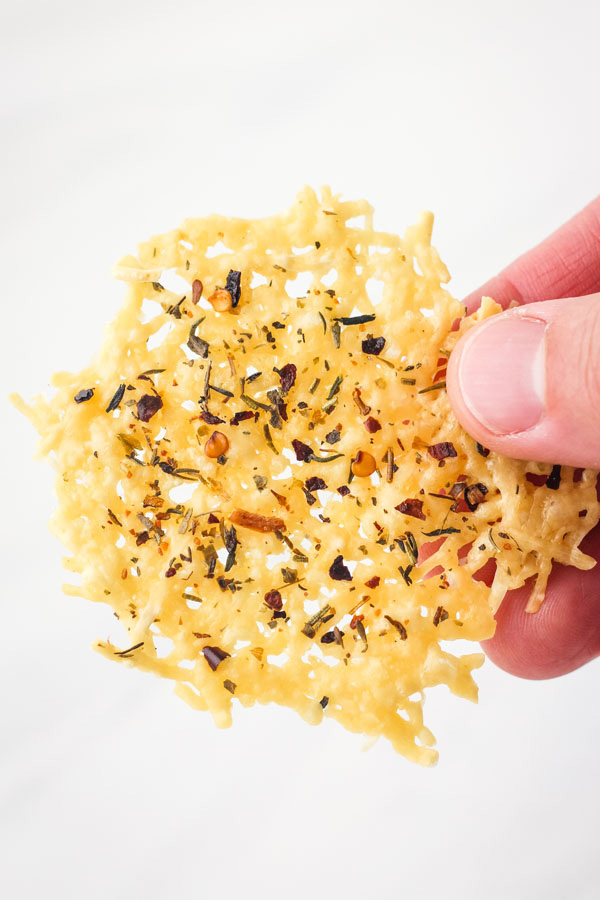 Forget the crazy fillings. And the toasted bread. My favorite part of any toaster oven grilled cheese is the deliciously crunchy cheese morsels that get melted onto the pan.
These easy Toaster Oven Parmesan Crisps are a snackable version of those little cheesy bites.
To make them all you need is ONE INGREDIENT: shredded parmesan cheese (+ seasonings if you want).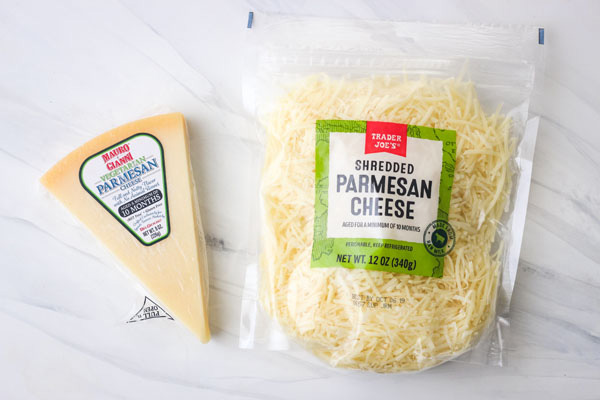 We use Trader Joe's Shredded Parmesan Cheese because it's vegetarian and works great. Avoid the powdered stuff though, that cheese doesn't really melt.
How to Make Toaster Oven Parmesan Crisps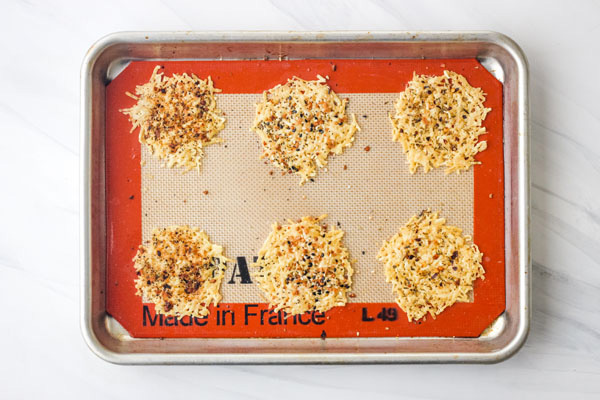 Start by preheating your toaster oven to 350°F. Then, line a sheet pan with a silicone baking mat.
We tried baking the crisps on ungreased pans and lightly greased pans. The results were mixed. In some cases, I had to SOAK and SCRAPE the cheese off the pan.
If you don't have a mat, try using a lighter-colored pan. We had the most success baking them directly on this small toaster oven pan.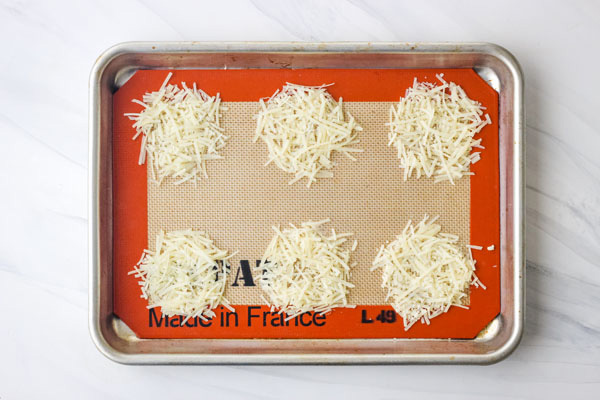 Once you've got your pan prepped, drop the shredded parmesan cheese into small piles on the pan. Gently pat each pile to spread it out and flatten in an even layer.
The first time you make them, it's a good idea to start with baking just one crisp to get your oven's timing down. Then you can make a whole batch and know they'll turn out okay.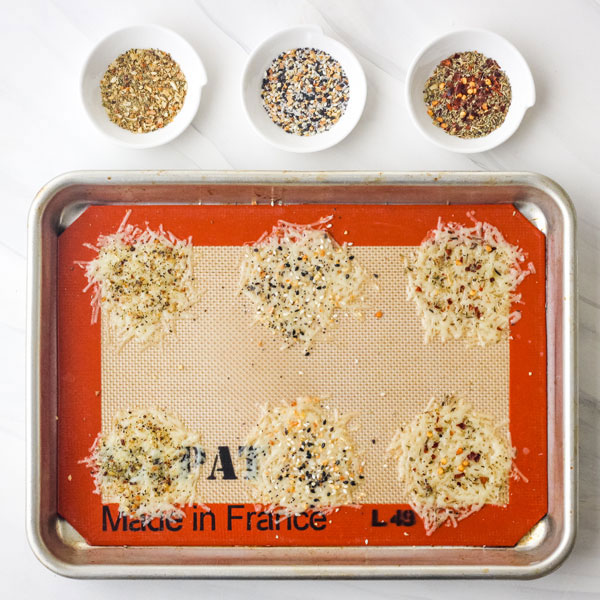 Bake for about 4 to 5 minutes until the cheese is melted and bubbling. Carefully remove the pan and top with your favorite seasoning blend(s).
We like Everything Bagel seasoning or Italian seasoning with a pinch of spicy red pepper flakes.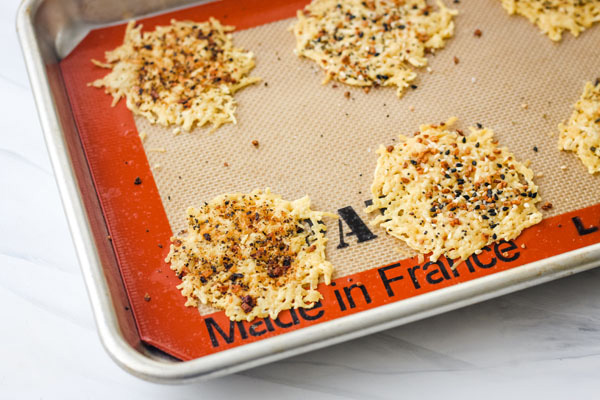 Return your pan to the toaster oven and bake for a few minutes longer until the crisps are barely golden. (You don't want them to be dark brown or they will be overcooked and fall apart when you pick them up.)
Lastly, let the chips cool on the pan for at least 5 minutes before gobbling up!
2 Quick Tips
Clean your toaster oven. The crisps splatter tiny bits of grease in the oven and on the glass. Once your toaster oven has cooled completely, give it a quick wipe down.
You can make one big parmesan crisp! It'll need to bake for a few minutes longer, ours usually takes about 10 to 12 minutes. I know this sounds silly but snapping it into pieces is really a lot of fun.

Toaster Oven Parmesan Crisps

A magical 1-ingredient snack you can make in your toaster oven!

Ingredients

6 tablespoons Shredded Parmesan Cheese

Optional Topping:

1/2 teaspoon Seasoning of Choice, like Everything Bagel Seasoning or Italian Seasoning

Instructions

Adjust the cooking rack to the bottom position and preheat toaster oven to 350°F on the BAKE setting.
Line a sheet pan with a silicone baking mat.
Drop cheese in tablespoon-sized piles about 2-inches apart on the pan. Gently pat each pile to spread it out and flatten in an even layer.
Bake until the cheese is melted and bubbly, about 5 minutes.
Remove pan and sprinkle crisps with seasoning (if using).
Return pan to the toaster oven and bake until the middle is no longer bubbly and the crisps are a light golden color, about 2 to 4 minutes longer.
Remove from oven and let crisps cool completely before eating or storing.

Notes

Watch Your Crisps

As toaster ovens vary, you may need to experiment and adjust the cooking time for your crisps (shorter or longer).

Convection Toaster Ovens

Reduce the temperature to 325°F, cooking time remains the same.

Vegetarian Parmesan Cheese

Traditional parmesan cheese is made with animal rennet (also called enzymes) which is not vegetarian. For vegetarian crisps, look for cheese that is made with microbial enzymes or non-animal rennet.

Storage

Leftover crisps can be stored in a well-sealed container at room temperature for up to 4 days.

Nutrition Information:

Yield:

1

Serving Size:

6 Crisps Amount Per Serving:

Calories:

125

Total Fat:

8.2g

Saturated Fat:

5.2g

Cholesterol:

22mg

Sodium:

509mg

Carbohydrates:

1g

Fiber:

0g

Sugar:

0g

Protein:

11.4g
Ways to Enjoy Your Parmesan Crisps
They're a great addition to any appetizer platter, especially with a side of marinara for dipping.
Layer on sandwiches.
Crumble over your next salad.
Get cozy and float a few in a big bowl of warm tomato soup.
During the holidays (when our family and neighbors are bombarded with ALL the cookies) everyone's always excited to receive savory treats. So these are definitely going on my homemade gifts list, right next to our popular Rosemary Cashews, Curry Spiced Cashews, and these crispy Toaster Oven Roasted Chickpeas.