A moist toaster oven carrot cake stuffed with raisins, pecans and pineapple.  The cinnamon cream cheese frosting and toasted coconut make it extra special.  Use this small batch recipe as the perfect excuse to bake a 6-inch cake, mini bundts, a loaf or double layer mini cakes in your toaster oven.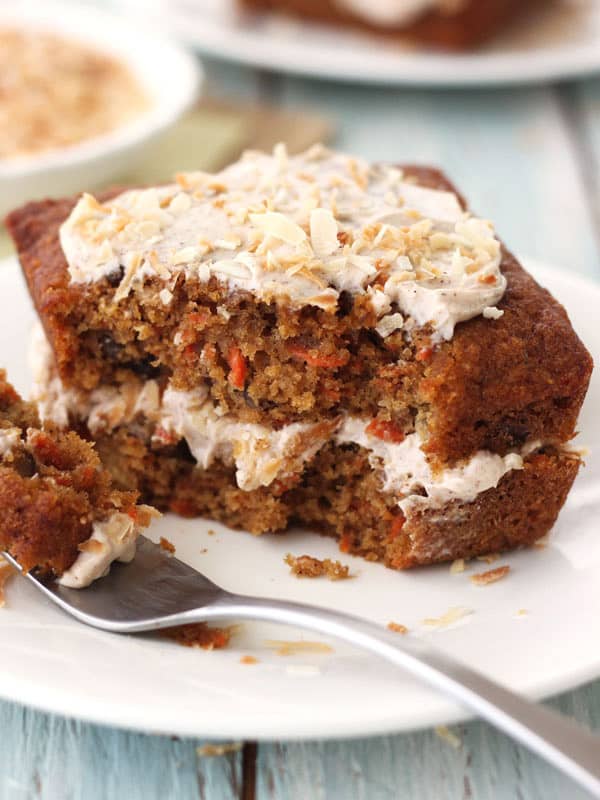 (This post contains affiliate links)
Have you been bitten by the mini pan bug?
It's known to attack once you've decided to use your toaster oven for more than warming leftovers.
You first feel it searching your cabinets for toaster-oven-sized pans. Then, right as you hop on Amazon "just to see" what's available…
It takes over and in a flash, you own more mini pans than you know what to do with!
For us, it started with this tiny cast iron skillet. After baking an awesome mini blueberry lemon cookie we were HOOKED.
It's a blur of tiny pans, but over the last two years, we've acquired mini loaf, tart, and bundt pans, two 6-inch round cake pans and so much more.
The Problem Is
We rarely use these adorable little pans.
They're like those cute dresses in the back of your closet. Honestly, you plan to wear them it's just that jeans and a t-shirt always seems like the right outfit for the day.
And when it comes to baking you go straight for the comfortable cookie sheets and ramekins too.
Barely glancing at those "fancy pans" in the back of the cupboard.
Last month, we bought this mini square pan set and I swore to myself They-Would-Get-Used.
It took a couple of tries but this moist, generously spiced, smothered in frosting and sprinkled with toasted coconut toaster oven carrot cake tastes fantastic and fits perfectly in two of those mini square pans (or two 4-inch ramekins).
You can stuff the batter full of goodies like raisins, pecans, pineapple, and coconut and your mini cakes will bake up beautifully in 25 minutes or less.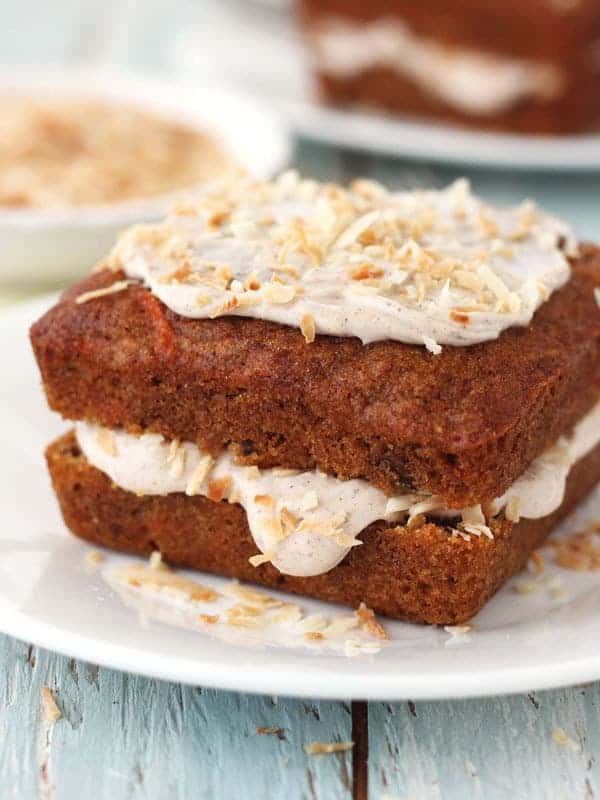 But wait! (using my best Billy Mays infomercial voice here) It gets better…this small batch of cake batter works in a bunch of pans, including a 6-inch round cake pan!
~ Keep scrolling there's step by step photos, mini pan tips, and a lightened-up frosting after the recipe ~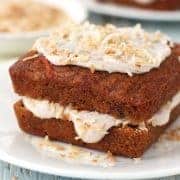 Toaster Oven Carrot Cake Recipe
With this small batch recipe, you can bake 2 mini square cakes, a 6-inch carrot cake, mini bundts or a mini loaf using your toaster oven!
Ingredients
Dry Ingredients:
½

cup

white whole wheat flour

¼

teaspoon

baking soda

¼

teaspoon

baking powder

⅛

teaspoon

salt

½

teaspoon

cinnamon

⅛

nutmeg

ground

pinch cloves
Wet Ingredients:
1

large egg

3

tablespoons

oil

1

tablespoons

unsweetened applesauce

¼

cup

brown sugar

2

small carrots

about 2/3 cup, packed, peeled and grated
Suggested Mix-ins:
1

tablespoons

chopped pineapple chunks

1

tablespoons

raisins

chopped

1

tablespoons

shredded unsweetened coconut

1

tablespoons

chopped pecans
Instructions
Preheat toaster oven to 325F and spray a 6-inch x 2-inch round baking pan with cooking oil (see pan substitutions in notes below).

In a small bowl whisk together the dry ingredients.

In a large bowl, whisk together the egg, oil, applesauce and brown sugar until combined. Stir in carrots and any mix-ins.

Fold flour mixture into the wet mixture, stirring just until combined and no flour streaks remain.

Pour batter into prepared pan, smooth the top and lightly tap pan on the counter to release any air bubbles.

Bake for 22 to 26 minutes until the top is springy and a toothpick inserted in the middle is clean or with a few crumbs.

Allow cake to cool in the pan for 10 minutes then transfer out of the pan and onto a wire rack to cool completely before frosting and topping with

toasted coconut

if desired.
Recipe Notes
Mini Pan Baking Times:
Two 3.5-inch Square Pans: 20 to 24 mins
6-inch Round Cake Pan: 24 to 26 minutes
Mini Loaf Pan: 27 to 30 minutes
Two Mini Bundt Pans: 18 to 22 minutes
Flour Substitutions:
This recipe was also tested with all purpose flour and Bob's Red Mill's 1 to 1 Gluten Free Flour. For best results, spoon flour into measuring cup and then level with a knife.
Sugar Substitutions:
This recipe was tested with regular brown sugar, organic cane sugar, and organic dark brown sugar.  The brown sugars tasted best.  For a sweeter cake, you can add an extra tablespoon of sugar to the recipe.
Oil Substitutions:
This recipe was tested with canola and melted coconut oil.  You can substitute your favorite neutral flavored oil.
Recipe was tested in a Breville Smart Oven Pro and Oster TSSTTVVGS1.  If using a smaller toaster oven like the Oster cooking time may be increased by 2 to 4 minutes.
Nutritional information is an estimate for 1 of 4 servings, unfrosted without any mix-in's.
Cake recipe adapted from 101 Things to Do with a Toaster Oven
How To Make A Toaster Oven Carrot Cake
First, decide on your mix-ins, use any combo you want just try to keep it to 1/4 cup or less total.
You'll also need 2 small carrots (or one large), peeled and grated using the large holes of the grater. Avoid the pre-shredded carrots at the store or your cake will be super dry.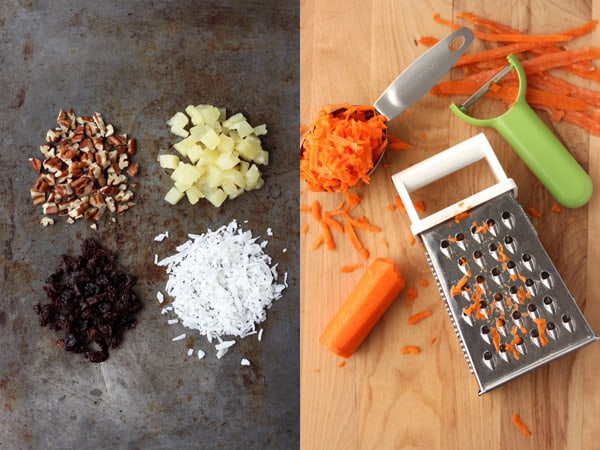 Whisk together the dry ingredients.  (We've used white whole wheat flour, all purpose flour and Bob's Red Mill's 1 to 1 Gluten-Free Baking Flour successfully)
Then sneak a 1/2 teaspoon of the flour mixture and sprinkle it over your mix-ins and the carrots. This will help them from sinking to the bottom of your cake.
Whisk the wet ingredients together, then stir in the carrots and mix-ins.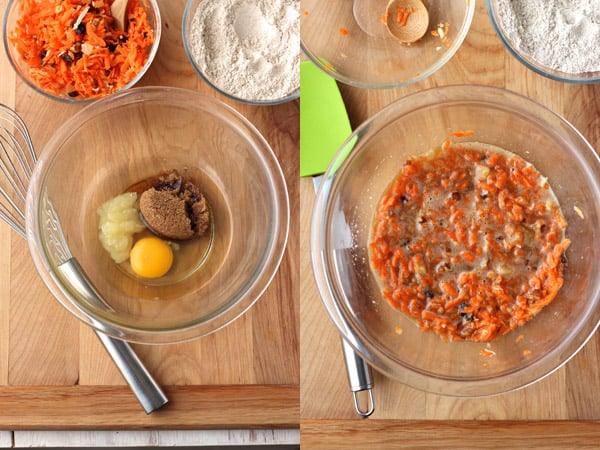 Once you've folded in the dry ingredients all that's left is to bake your cake!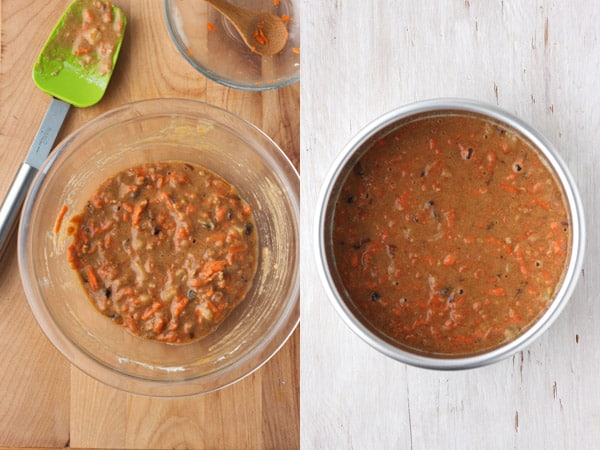 Using this 6-inch cake pan, it took about 25 minutes at 325 F.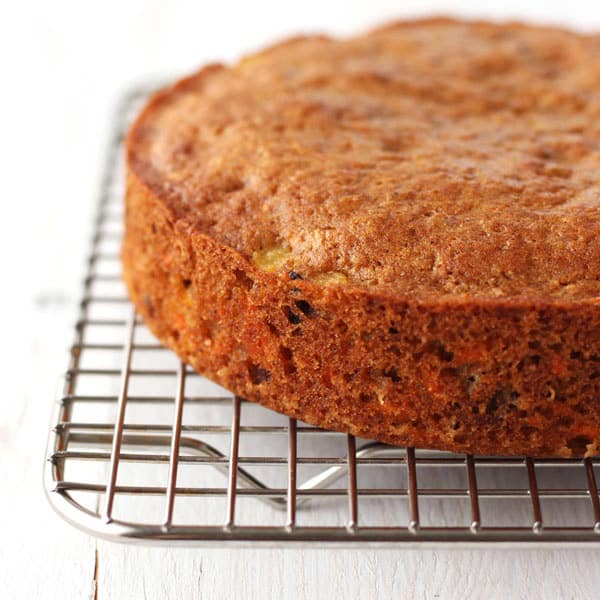 Mini Carrot Cake Loaf And Bundts
The cake batter will also fit in a mini loaf pan. You'll need to bake it a little longer, about 30 minutes.
The pans are just 5-3/4 inch by 3 inches, tiny but perfect for baking a batch of Mini Blackberry Banana Breads.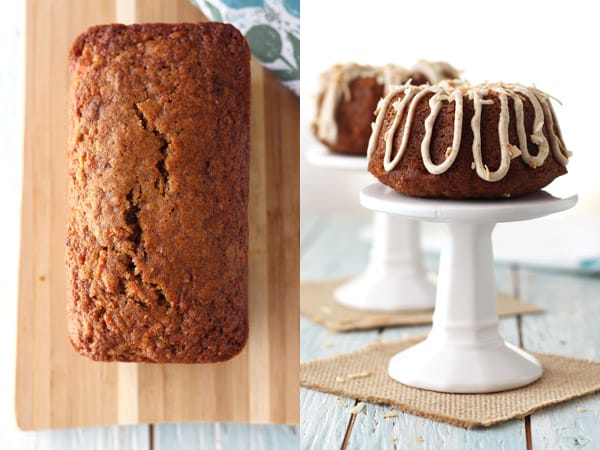 If you're using 1-cup mini bundt pans go light on the mix-ins, ours were pretty full just from the plain carrot cake batter.
Don't forget to give those tiny cake stands you bought ages ago from the Dollar Spot their moment of glory too.
Cream Cheese "Frosting"
A few years back Tim and I tried "quitting sugar" and while that clearly didn't stick I did stop buying powdered sugar.
So we had to get creative for the cream cheese frosting.
Looking online I found a recipe for Greek Yogurt Frosting (nom!) and a Maple Cream Cheese Frosting (double nom!!). We tried both and then mashed them together for a small batch of Cinnamon Cream Cheese Frosting.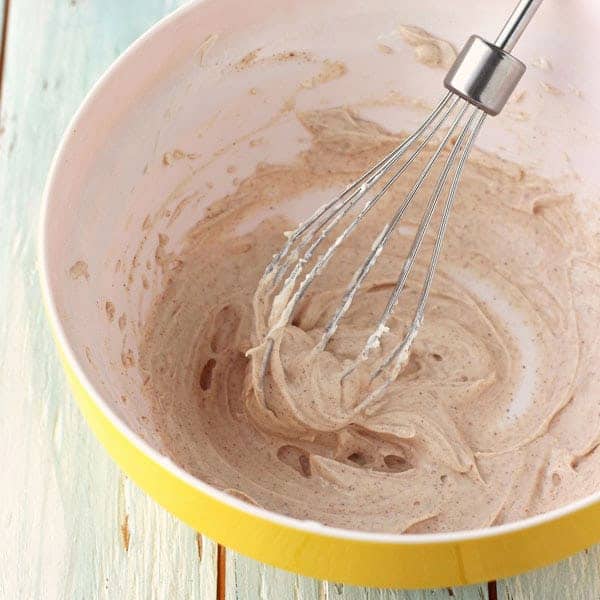 It's not super sweet.
Instead, it's rich with just the right amount of warm cinnamon and tangy flavor that goes perfectly with a tiny whole grain carrot cake, graham cracker or spoon headed for your mouth!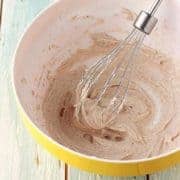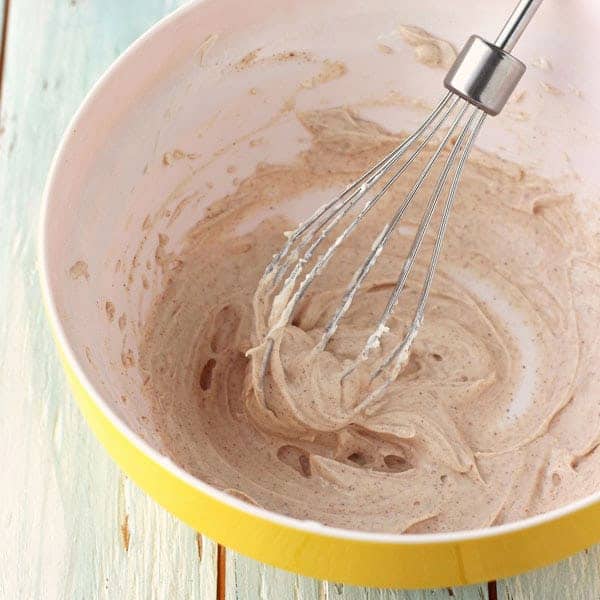 Cinnamon Cream Cheese Frosting
A small batch of cinnamon cream cheese frosting made without powdered sugar.
Ingredients
2

ounces

(4 tablespoons) Neufchatel cheese or light cream cheese

softened

1

tablespoon

non-fat greek yogurt

plain or vanilla

1

tablespoon

real maple syrup

1/4

teaspoon

vanilla extract

1/4

teaspoon

(heaping) ground cinnamon
Instructions
With a hand mixer, beat cream cheese until smooth.

Scrape down the bowl's sides and add the greek yogurt, maple syrup, and vanilla. Beat on high until combined and smooth.

Scrape down the sides again and quickly beat in the cinnamon.

Taste and adjust vanilla, cinnamon, and maple syrup to your preference.
Recipe Notes
Nutritional information is an estimate for 1.5 tablespoons, about 1/4 of the recipe.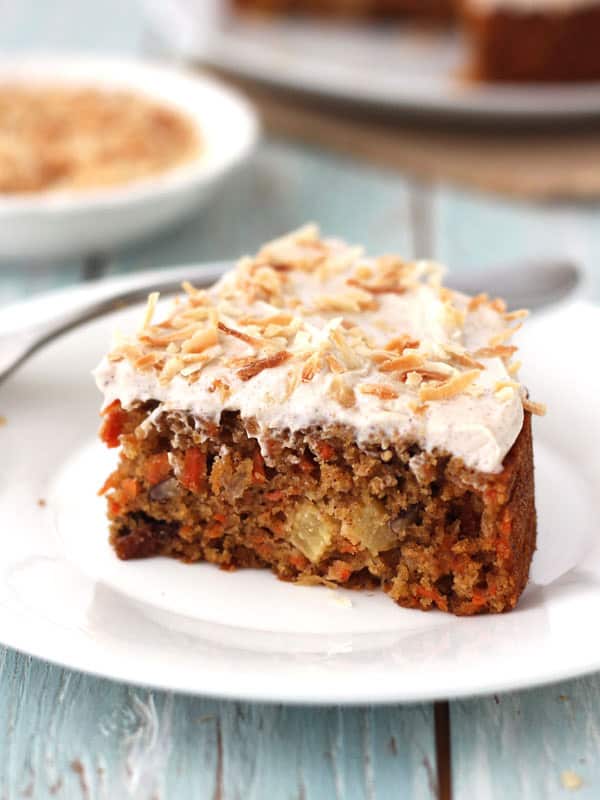 Do It Your Way
Like your cream cheese frosting on the sweet side? No hard feelings, make a 1/4 batch of your favorite recipe instead.
Want to make your cake lighter? Play around with substituting more applesauce or drained crushed pineapple for some of the oil.
Looking to feed a bigger crowd and maybe try resizing your Aunt Susan's Fabulous Carrot Cake Recipe to fit in your toaster oven? Here are 3 Tips For Halving Any Recipe Like A Pro from the Kitchn to get you started.
Regardless of your recipe, pan or kitchen attire (cute dress or comfy jeans) we hope you have fun baking something delicious with your toaster oven.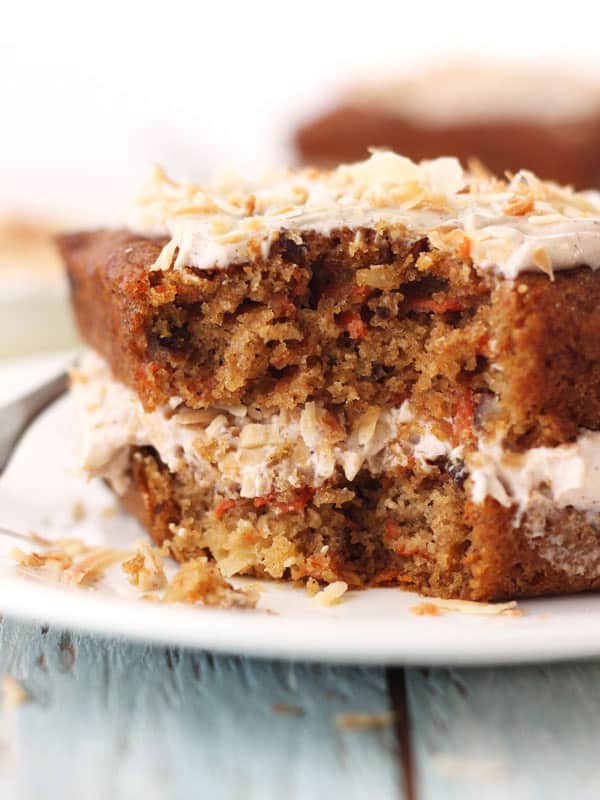 Your Turn To Spill It!
How big is your mini pan collection and what's your favorite thing to make with them?