Cozy and filling, this high-protein Toaster Oven Egg Bake features cottage cheese, eggs, and spicy pepper jack cheese. It's just what your morning needs!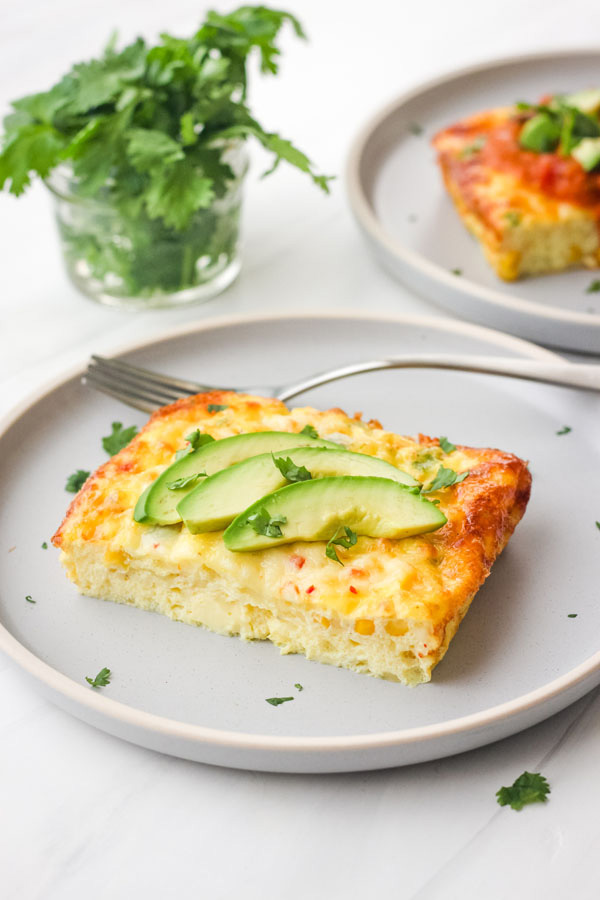 Toaster Oven Egg Bake
What's the best reason to drag yourself out of bed on a lazy weekend? Answer: This easy, cheesy, super comforting toaster oven egg bake. It's a mini breakfast casserole for two that's impressive-looking but not-one-bit-fussy: just mix, pour, and bake.
The basic recipe is simple to customize to your tastes and what's already in the pantry. You can substitute canned green chilies for the jalapeño, swap leftover roasted broccoli or sweet potatoes for the corn, and amp up the flavor with a pinch of garlic powder or chili powder.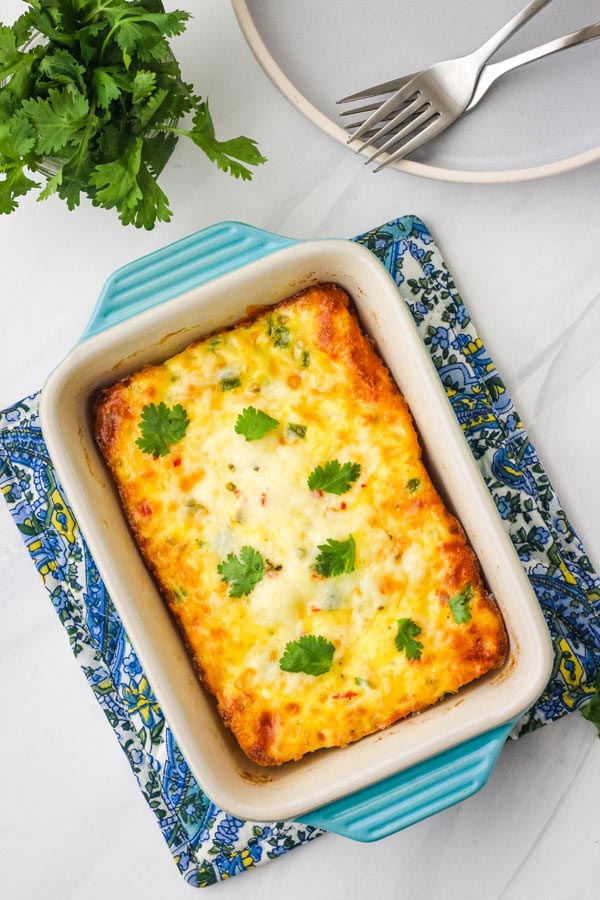 Want to make extras for easy weekday breakfasts?
Just double all of the ingredients and bake in an 11″ x 7″ pan at 350°F. Depending on the type of pan used you may need to cook the dish for a few additional minutes.
The leftovers taste great reheated or even at room temperature. To make a quick breakfast burrito chop up any leftover eggs and toss in warm tortillas with black beans and salsa. Yum!
~ Keep scrolling for step by step photos & tips after the recipe ~
How to Make a Toaster Oven Egg Bake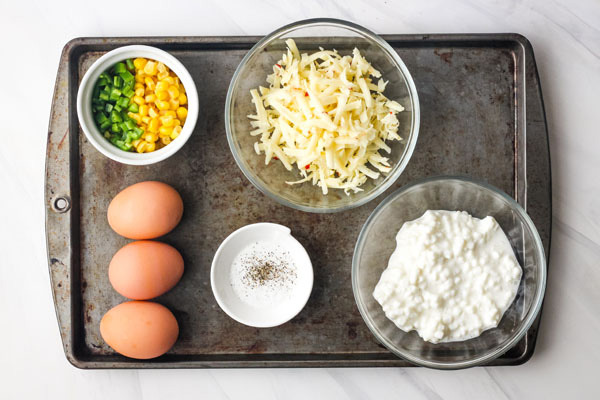 First, grab a medium bowl, add the eggs and whisk them together.
Dump all of the other ingredients in, stir them up well, and pour the mixture into an oiled 7 x 5-inch baking dish.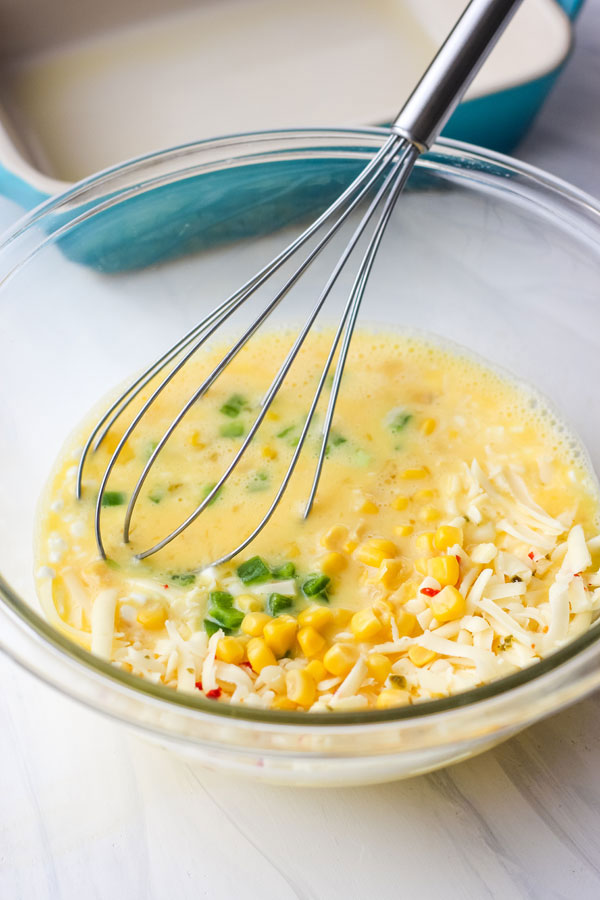 Pop the pan in a 350°F preheated toaster oven. Bake until the eggs are set (aka no more jiggle in the middle), the edges are browned, and the top is golden all over.
Remove the pan and let it cool for a few minutes. Slice the egg bake into two pieces, pile on the toppings, and dig in!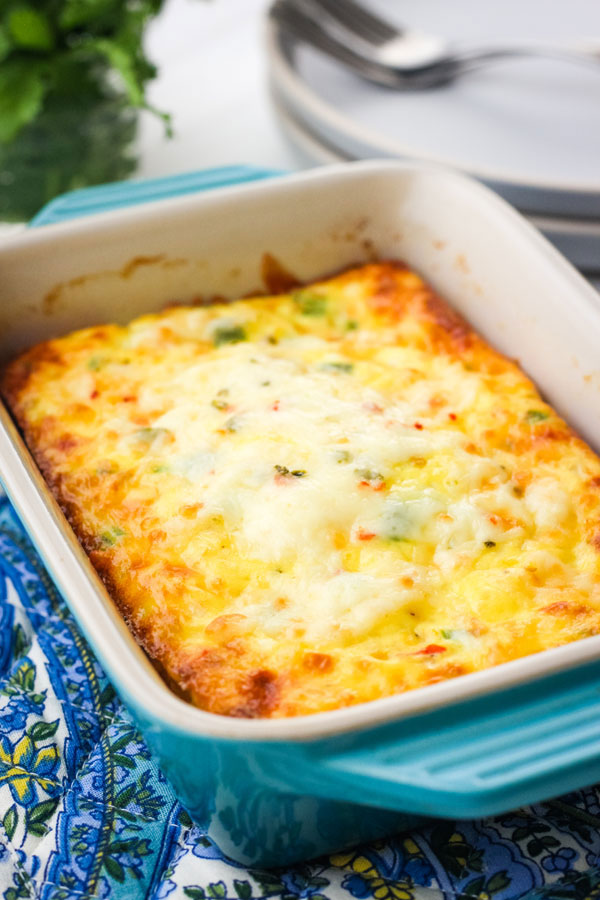 Egg Bake Tips
Choose a melty cheese. Spicy pepper jack cheese is my personal favorite but cheddar and Monterey Jack taste great too.
Use a knife to test doneness. Stick a butter knife in the center of your casserole. If it comes out clean, your eggs are cooked.
The type of pan used will affect the bake time. If you use a metal pan, the eggs will cook faster so make sure to check on them early.
Want to make it cheesier? In the last 5 minutes of baking, you can sprinkle an extra 2 tablespoons of shredded cheese over the casserole.
What if I don't have a 7 x 5 baking dish?
We've had success cooking this recipe in an 8.5″ x 4.5″ metal loaf pan (it took about 25 minutes). The one we made in a 6.5″ cast iron skillet (like our toaster oven frittata) turned out great but the mixture did fill the skillet to the top leaving zero room for additional mix-ins.
Okay, enough with the talky talk, go make some eggs!
More Easy Breakfast Recipes For Two