Ask the Readers: Toaster oven bakeware with lids?
Last month, we received a reader email asking "Where are the best places to find pans with lids for my toaster oven?"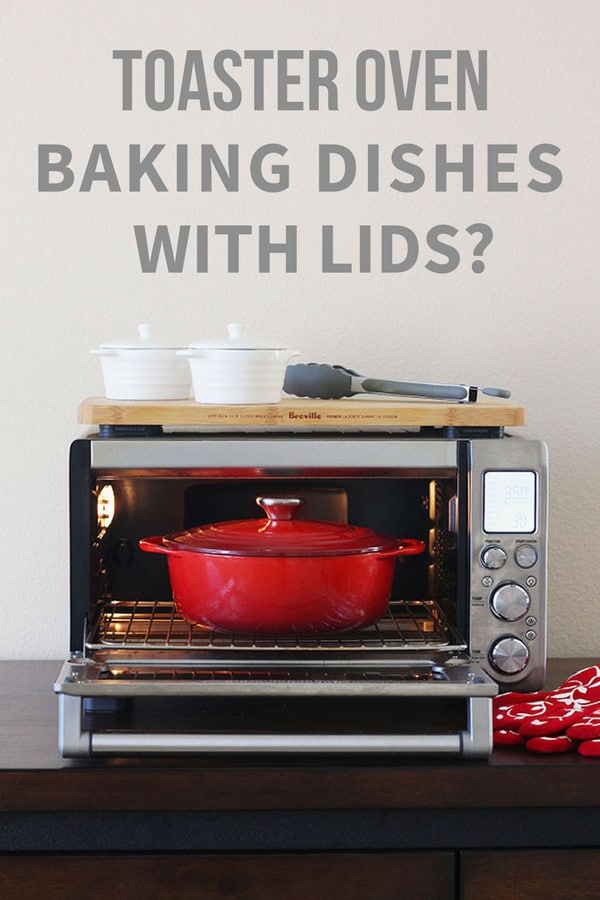 You'd think that after years of shopping for mini pans and toaster oven baking dishes I'd have a bunch of great ideas for that reader.
The Truth: not so much.
The problem is most major stores sell baking dishes and pans that use glass lids. Which means the product's Use and Care guide will likely state, at a minimum, the lid is not for use in a toaster oven.
That's why I love the "use another pan to cover your dish" trick we shared in this toaster oven baking dishes post. But that's more of a quick fix and not the ideal solution for everyone.
So we're turning to you guys for help!
Right now, we own 2 pieces of cookware with lids that we use in our toaster oven. Below we're sharing a little about each one and where they can be purchased.
Then we're asking you, our savvy toaster oven cooking community, to share about your covered baking dishes and where you shop for them.
(NOTE: We purchased these baking dishes and did not receive them for free, all opinions are our own.)
Stoneware Mini Cocottes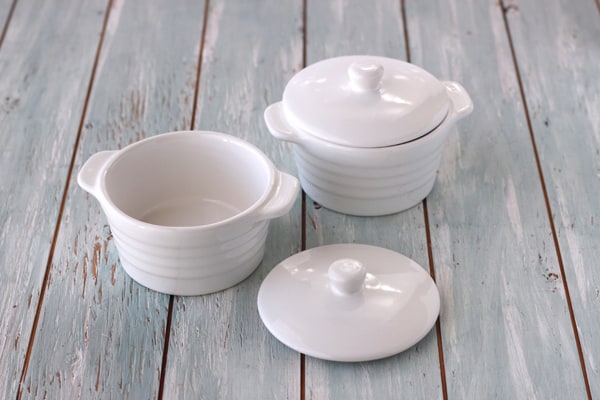 Last year, while shopping at Sur La Table I found these cute white stoneware mini cocotte. Each one measures 4″ x 2.5″ and holds 8-ounces.
Pros: They're great for roasting a head of garlic in and if you remove the lids they double as ramekins for baking individual cakes and crisps.
Cons: The knob handles on the lids are so small they're nearly impossible to pick up when hot if you're wearing oven mitts or gloves.
Does your mini bakeware have these little doll-sized knobs too?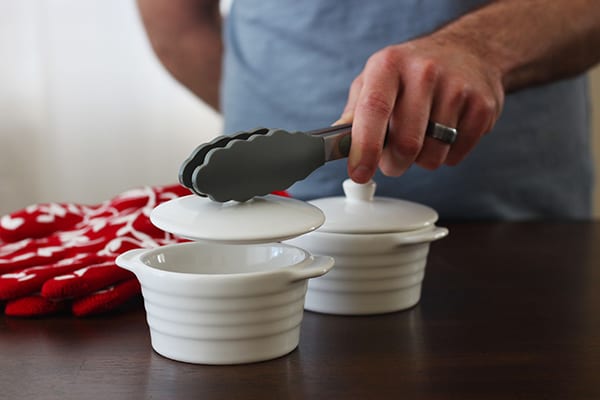 Fun tip: we use a pair of tongs to grip the knob and lift the lid. It works so much better than fumbling with a puffy oven mitt.
Le Creuset Shallow Cast Iron Cocotte – 2.75 quart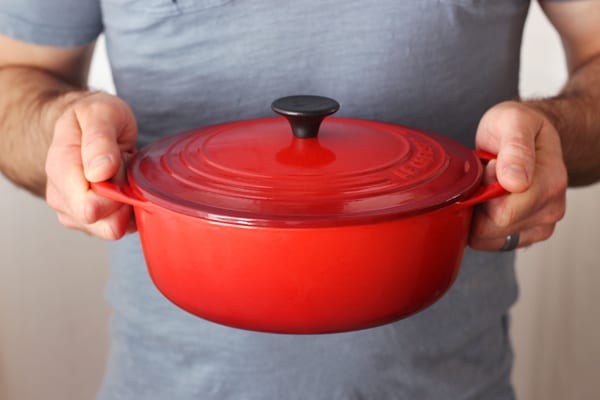 This 2.75 quart Le Creuset Shallow Dutch Oven measures 9″ in diameter (11″ including handles) x 5″ tall with the lid. At the time of this writing, it's available on Amazon in cherry red (my favorite!) and this equally eye-catching black oyster color.
You can also find it at Sur La Table online and sometimes in the store. It's not a piece they keep stocked in store year-round.
I purchased ours there for around $130.00 during a holiday sale.
Shopping Tip: The price fluctuates wildly at both stores.
So if you want to purchase from either Sur La Table or Amazon wait for it to go on sale. Usually, if it's on sale at one of them it'll be the same (lower) price at the other store too.
Why we choose the shallow 2.75-quart size
Even though I have the worst track record with yeasted bread, I've always wanted to bake a loaf of that gorgeous no-knead dutch oven bread. (If you have a favorite recipe, big or small, please send it my way!)
So when we first started looking for a dutch oven I wanted to find the largest one that would fit with the lid on inside our Breville Smart Oven Pro (BOV845BSS).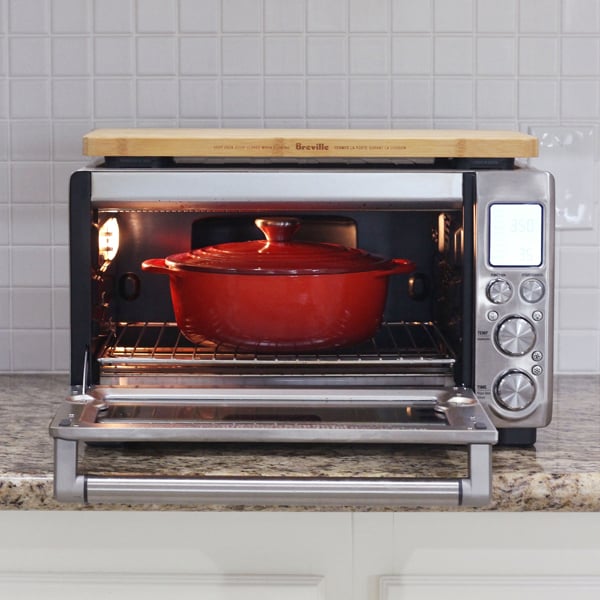 A lot of great (and super affordable) options were either too tall or would require cooking without the knob on the lid.
Unfortunately, Tim and I are C-L-U-M-S-Y in the kitchen. We NEED our hot lids to have knobs.
So we kept looking.
Then last year, on our way to visit family in San Diego we happened upon a Le Creuset outlet store.
Once we mentioned the Breville and that we wanted to cook with the lid on, the sales clerk showed us to the 2.75qt shallow dutch oven.
She also helpfully pointed out that although the black composite knob it comes with is heat resistant to 500°F, if we were going to be using it in such close proximity to the Breville's top center heating element (it's almost touching!) we should consider purchasing this replacement Le Creuset Stainless Steel Knob↓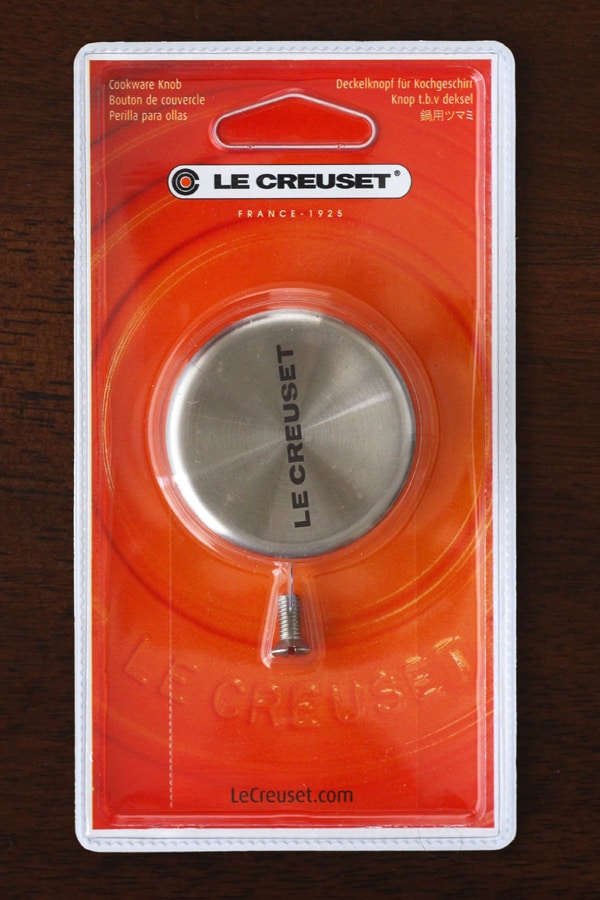 You can pick up the Stainless Steel Knob at most places that sell Le Creuset cookware. I got ours, a Medium Replacement Knob, from Amazon. It took about 60 seconds and a screwdriver to make the switch.
Little tips like that are why I love shopping for toaster oven bakeware in smaller stores like Sur La Table and Williams Sonoma. I find the salespeople are knowledgeable about the products, enjoy cooking themselves, and are usually pretty hip to the benefits of a #toasterovenlifestyle too!
Do you have any favorite places to find toaster oven pans with lids? Leave a comment below!