What is a silicone baking mat?
Silicone baking mats also known as Silpats® are a baker's best friend and a super useful toaster oven accessory. They're great for baking cookies and roasting vegetables without the mess of added oil or the waste of parchment paper. Learn more about these convenient little mats, how we use them in our toaster oven and where you can purchase them below.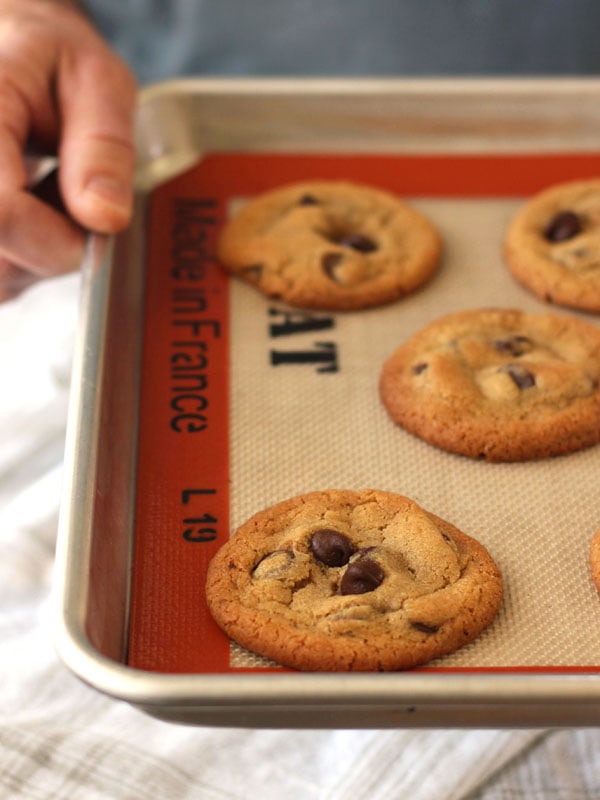 What is a silicone baking mat?
A silicone baking mat is a non-stick, reusable, food-safe silicone pan liner.
Is that different from a Silpat®?
Silpat® is a brand of silicone baking mats, similar to how Kleenex® is a brand of tissues.
Silpat® is our favorite brand and the brand of mats that we use for all of our toaster oven recipes.
We purchased their smaller 'Toaster' version for our old mid-sized Oster. It measures 7-7/8-inch x 10-7/8-inch and is made for use with an 8-inch x 11-inch pan.
For our larger Breville Smart Oven Pro (BOV845BSS) we own the 'Petite Jelly Roll' size. It measures 8-1/4″ x 11-3/4″ and fits nicely in most quarter sheet pans.
What food can you cook on a silicone baking mat?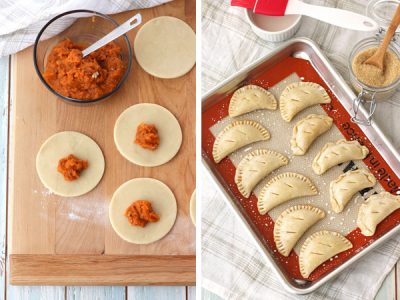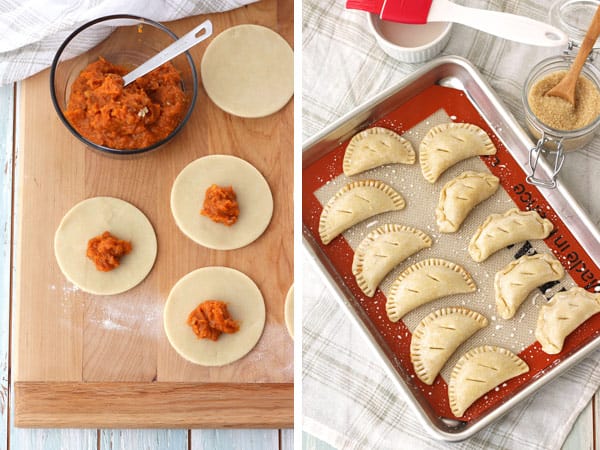 The Silpat® mats we use can be put in the oven, freezer and are great for rolling out pie and biscuit doughs too! The toaster oven and quarter sheet pan mats are oven safe up to 480°F and freezer safe to -40°F.
In a toaster oven, you can use them to:
If you've got lots of extra cookie dough leftover from your favorite "Big Oven" recipe, you can roll the dough into balls and place them on a baking sheet lined with a mat in the freezer. Once frozen, the dough balls will be easy to remove and bag for baking later. We also shared this idea in our 5 Tips That Will Make You A Toaster Oven Cookie Baking Expert post.
How do you use a silicone baking mat in a toaster oven?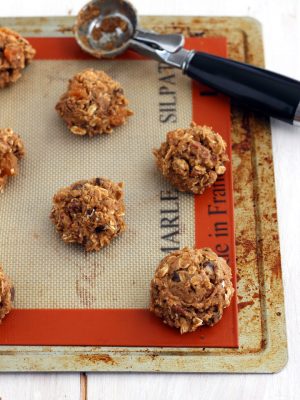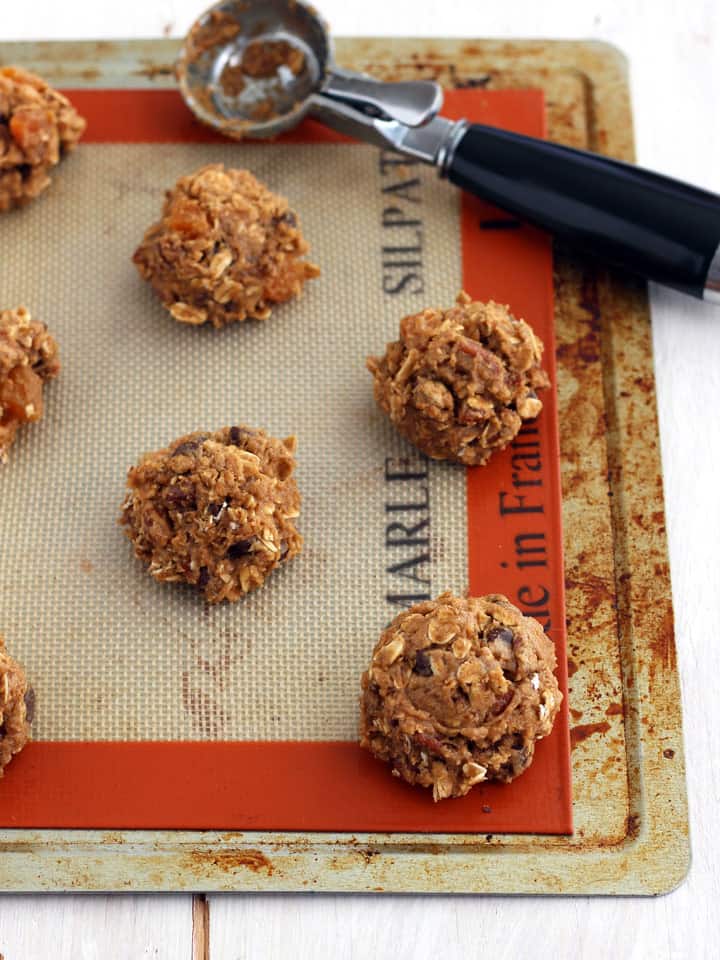 A quick disclaimer: Since toaster ovens vary, you should always review the manual that came with your toaster oven and follow the manufacturer's recommendations for materials that are acceptable to use in your specific oven.
Here's how we use a baking mat in our toaster oven:
We place the baking mat on the sheet pan before adding the food items.
Then we proceed with cooking as the recipe directs.
The non-stick surface eliminates the need to grease the pan or use parchment paper (which you don't want to put in a toaster oven anyway).
After each use, we rinse the mat clean with warm water and air-dry. If needed, you can wash the mat with mild dish soap but I always make sure to rinse it thoroughly.
Using silicone baking mats over the years, we've found they do absorb strong savory flavors.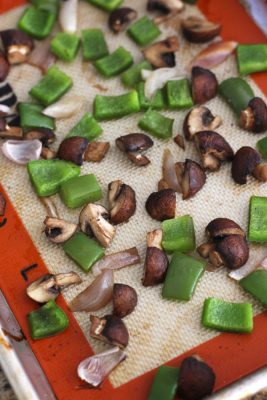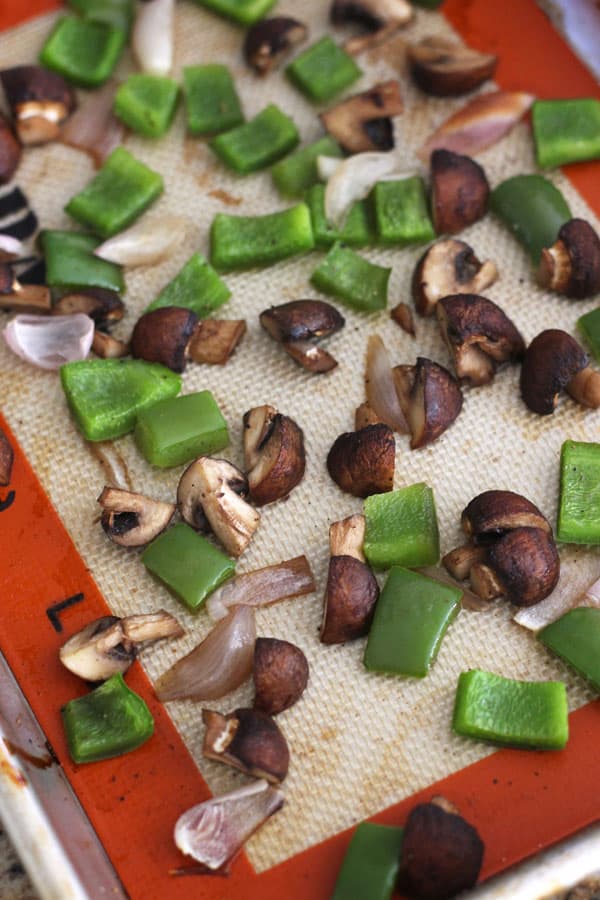 So that our cookies don't end up tasting like onions, we own 2 mats. One we use for savory dishes like roasted vegetables for toaster oven calzones and the other is for sweets like these double chocolate cookies.
Are there things you shouldn't do with a silicone baking mat?
Yep, there are.
Don't use knives or other sharp objects on the baking mat.
Also, don't cut it. Tempting as it might be, do not try to cut a larger mat to fit your toaster oven pan.
Most silicone baking mats have a fiberglass mesh sandwiched between the layers of silicone. Cutting the mats could cause the fiberglass to get into your food.
Don't use the mat when broiling food or place a baking mat directly on a heat source like your stovetop or a hot plate.
Where can you buy toaster oven silicone baking mats?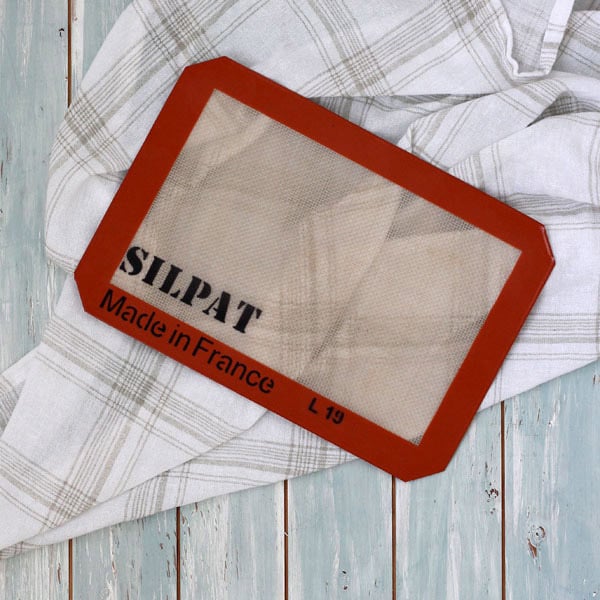 You can usually find Silpat® mats on Amazon, Bed, Bath and Beyond, Sur La Table, Williams Sonoma, and Target. There are a variety of different silicone baking mats online, these are just the ones we use and like.
Many silicone baking mats are too large for some toaster ovens and the cookie sheets in most toaster oven pan sets. Make sure to measure the area of your toaster oven baking pan before shopping to ensure any mat you get will fit.
Happy Baking!