Why Small Silicone Baking Mats Rock
Our favorite parchment paper alternative, small silicone baking mats are great for making cookies, roasting vegetables, and so much more. Because messes stay on the mat (and not on the pan) cleanup is a breeze. Learn more about these versatile little mats and how we use them in our toaster oven below.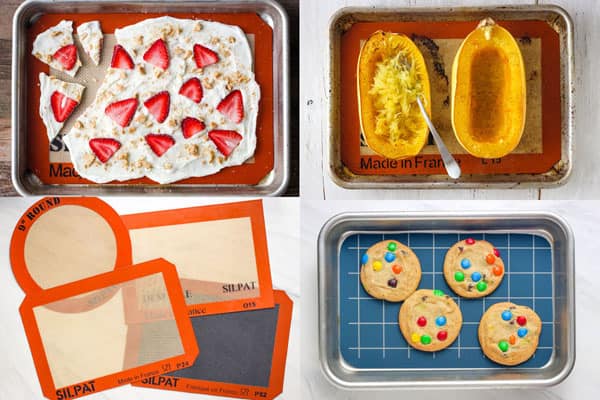 So, what is a silicone baking mat? It's a reusable pan liner that's made from food-grade silicone reinforced with a fiberglass mesh. The mesh helps to provide even heat distribution.
Magically nonstick, large full-sheet versions of these handy mats have been used in commercial kitchens and bakeries for decades.
After growing in popularity with home cooks the mats can now be found in smaller sizes. They fit a variety of different pans and make cooking for one or two people easier (and more fun too!).
What Can a Baking Mat Be Used For?
Cooking with our toaster oven we use the mats to make all kinds of recipes.
When baking pastries and bread I slide a mat onto the pan before adding food. Because the mat has a nonstick surface it doesn't need to be greased at all.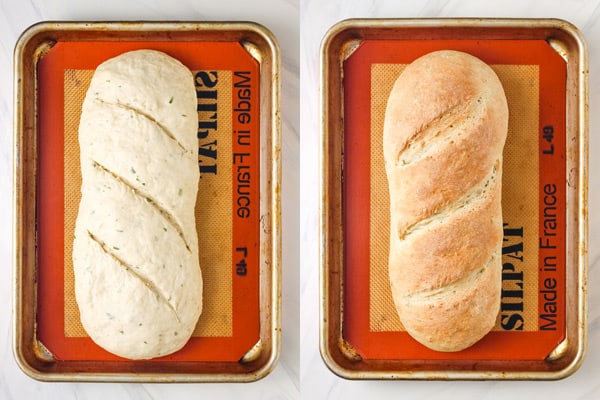 Once baked, our chocolate chip cookies, super sticky banana oat cookies, and toaster oven bread all release from the mat with ease.
The mats are also great for avoiding baked-on messes and roasting vegetables with little to no oil.
We use them all of the time to make sticky sweet potatoes and roast spaghetti squash for these yummy spaghetti squash burrito bowls. Any mess stays on the mat and is easy to clean off with hot water and a sponge.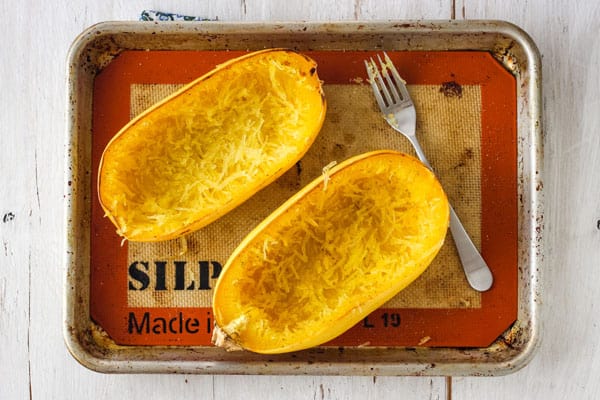 Tim uses a mat almost daily when reheating leftovers in his toaster oven at work. The sink in his office's kitchen is super tiny, so it's a lot easier to rinse off a baking mat than it is to scrub a pan.
And during the holidays, the mats are good for placing under fruit pies and saucy dishes to catch spills.
Now you may be thinking, don't parchment paper and aluminum foil do the same thing? They do but a baking mat can be reused again and again.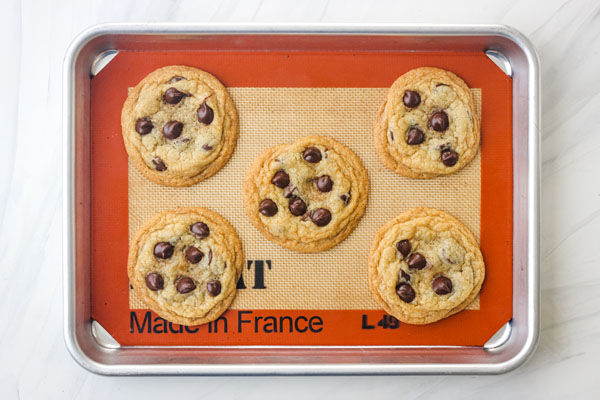 The mats last anywhere from 1000 to 3000 uses or more depending on the brand and how they are cared for.
Plus most parchment paper manufacturers warn against using their product in a toaster oven. You can read more on that in this article about the 4 surprising things I'll never use in our toaster oven.
Uses Beyond The Toaster Oven
Not just for baking, silicone mats are super versatile and have a variety of non-oven uses too.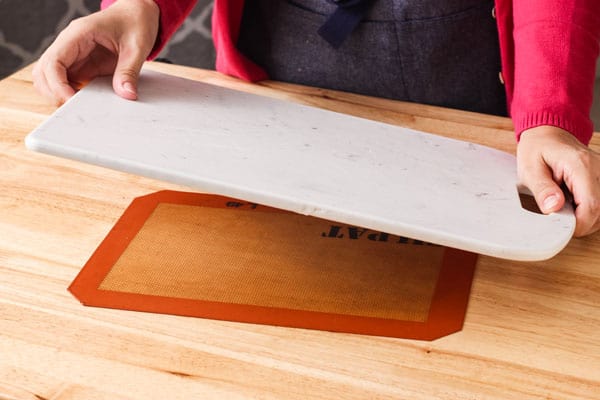 Like rolling out pastry dough or biscuits. You can also slide one under a cutting board to keep it from moving when chopping veggies or kneading dough.
And most silicone baking sheets are freezer safe too. This comes in handy if you're making a batch of frozen yogurt bark (so yummy in the summer).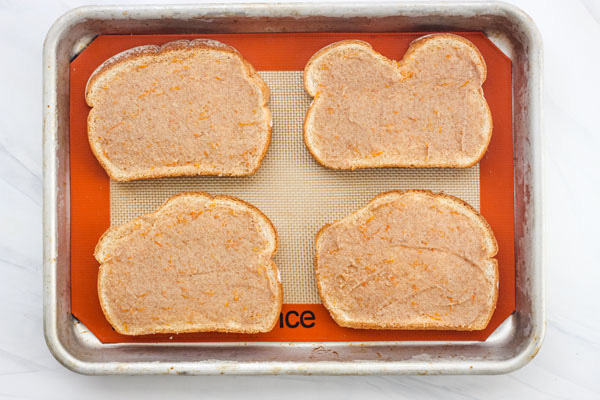 Or if you want to freeze pizza bagels, cinnamon toast, make-ahead grilled cheese sandwiches, or leftover cookie dough for baking later. Flash-freezing the items separately before bagging helps to keep them from sticking together.
Disadvantages
While we love our baking mats immensely they do have a few drawbacks.
Staining: They will discolor over time. It's not pretty but it doesn't affect the mat's cooking ability.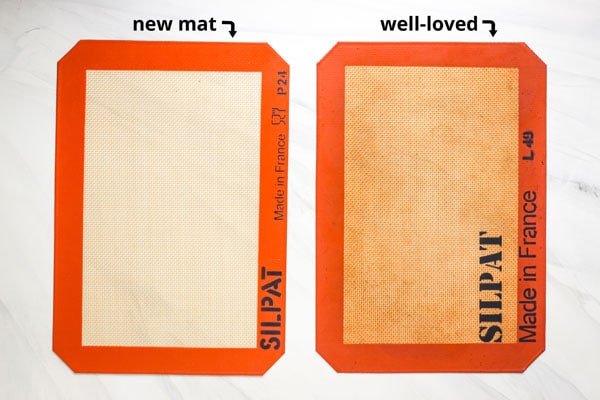 Temperature Limitations: Each mat will have a different heat tolerance but most can withstand temperatures up to 425°F or 450°F. Regardless of their heat tolerance, silicone mats should never be used when broiling.
Retaining Odors: So that our cookies don't end up tasting like onions, we own two mats. One we use for savory dishes like roasted vegetables or toaster oven calzones and the other is for baking sweets like these double chocolate cookies.
Greasy Buildup: Oil can build up on the mats and require occasional deep cleaning with baking soda or lemon juice.
Storage: They will take up at least a little cabinet space. We keep our mats stored flat on a baking sheet but they can also be rolled up and secured with a rubber band.
Size Limitations: Most mats cannot be cut to fit smaller pans (this is because of the fiberglass threads).
Not Eternal: They won't last forever and do eventually wear out. After 8 years of solid service, our first toaster oven mat finally started falling apart. Considering we paid $16 for the mat and used it almost every day, I think we got our money's worth.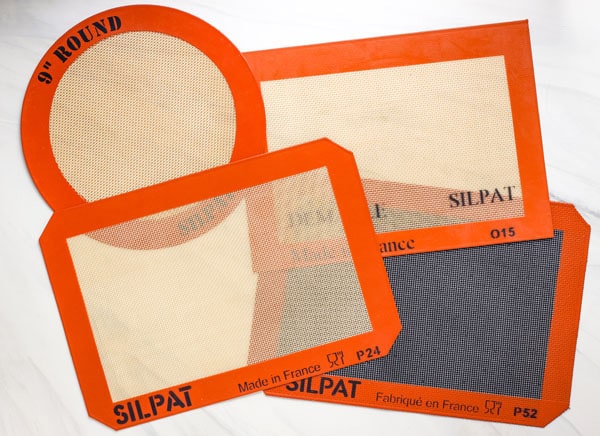 Small Silpat Baking Mats
For years we've been using mats made by Silpat® to cook in our toaster ovens. They sell super durable mats that according to their website can last for 2,000 to 3,000 uses if cared for properly.
The FAQ on their website states their mats are safe up to 500°F but that they should not be used for broiling.
Also, never place a Silpat directly on or near a heat source like your stovetop, a hot plate, or on the bottom of an oven (or toaster oven).
The company is best known for its full and half-sheet-sized Slipats. But they make some smaller mats too. Below is a list of the small Silpats that we own and use.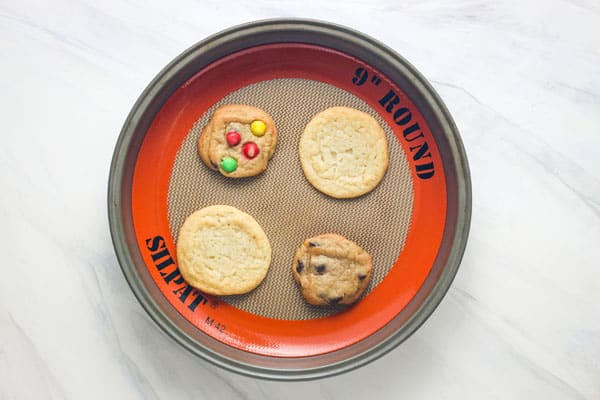 Toaster Oven Size: It's made for use with an 8″ x 11″ pan. Measures 7-⅞" x 10-⅞"
9-inch Round: I mostly use this mat with our square 10 x 10 sheet pans to make pizza. In our 9-inch cake pan, the sides do curl up the pan a little but it hasn't been a problem when baking. I recently discovered that this mat fits in our drawer-style air fryer so I plan on using it to try baking some air fryer cookies.
Petite Jelly Roll: Fits nicely in most quarter sheet pans and is the mat we use the most often. Measures 8-¼" x 11-¾".
Perfect Bread Quarter Size: This one is new – we got it for baking bread. It's supposed to give the bread a crusty finish. Measures 11-¾" x 8-¼".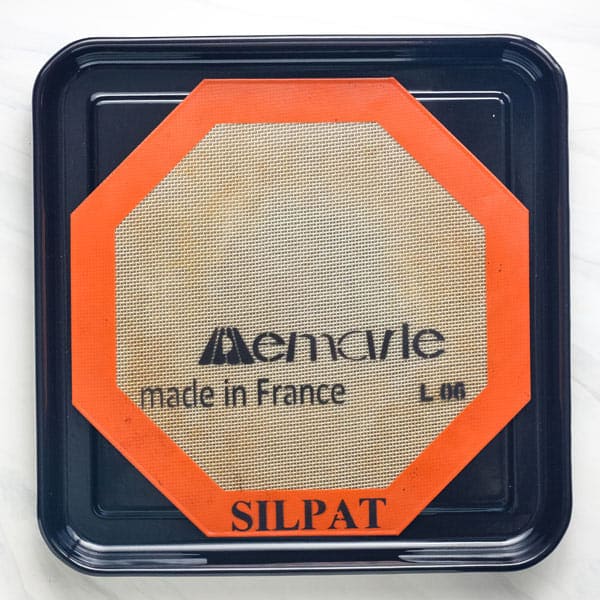 Microwave Mat: Tim uses this mat to reheat food and cook potato wedges in the toaster oven at his office. While it doesn't cover all of the square-shaped pan, it does a pretty job of keeping things clean. Measures 10-¼".
Important: Do Not Cut A Silpat
Tempting as it might be, do not try to cut a larger mat to fit your toaster oven pan.
Cutting a mat could cause the fiberglass to get into your food. For that same reason, you'll want to avoid using knives or other sharp objects on a Silpat.
Customizable Baking Mat (Great For Tiny Pans)
We've been talking about the awesomeness that is an eighth sheet pan for years. It's the perfect little pan for small toaster ovens but all of our Silpats are way too big for it.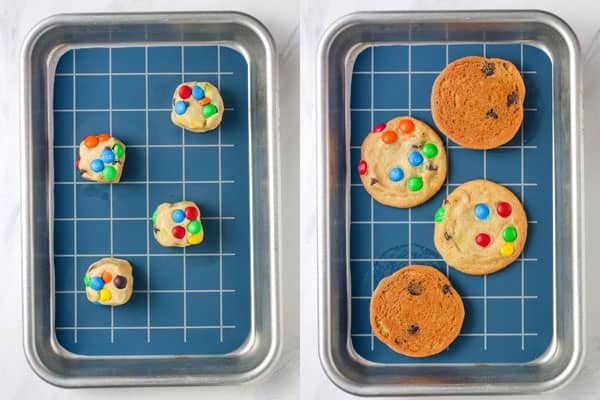 Last year I started hearing about silicone baking mats that did not contain fiberglass and were customizable. Meaning they could be cut to fit the size of a pan!
So I was pretty excited when I emailed Food52 about their Five Two Silicone Baking Mat and they said it could be used in a countertop oven or toaster oven.
Of course, I immediately bought one to try it out. Here's how things went.
The mats are solid individually. A single mat measures 11.5″ x 16.5″ and is made of BPA & BPS Free Platinum-Grade Silicone. (Source: Food52)
From one mat I was able to cut liners for (2) ⅛ sheet pans and (1) quarter sheet pan.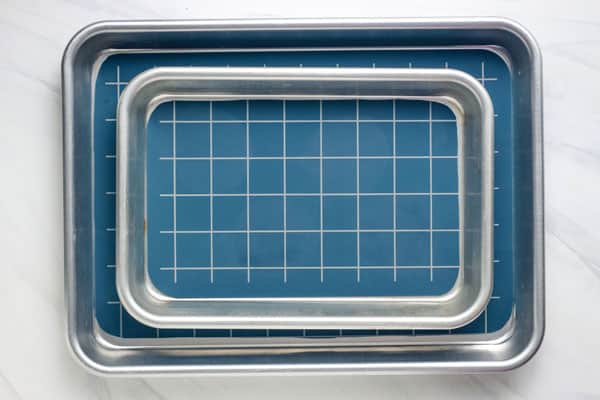 Baking Cookies
The first thing Tim and I tried baking was some store-bought cookie dough.
Right away we learned that the silicone will expand when it's heated so the mat needs to be cut a little smaller than the pan. Otherwise, the expanded mat will bunch up.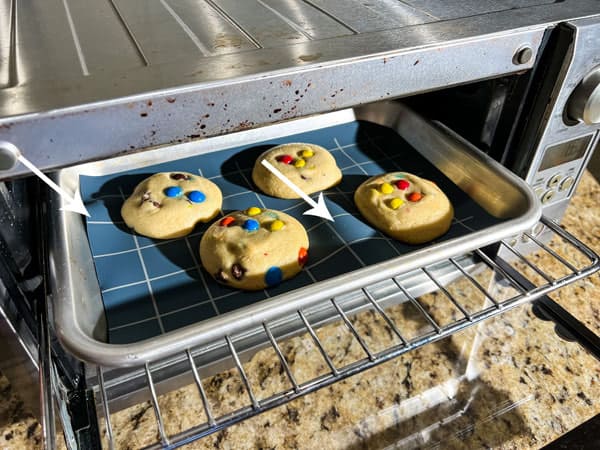 So I gave our mat a quick trim and tried again with another batch of dough. This time there was no bunching and the cookies turned out great.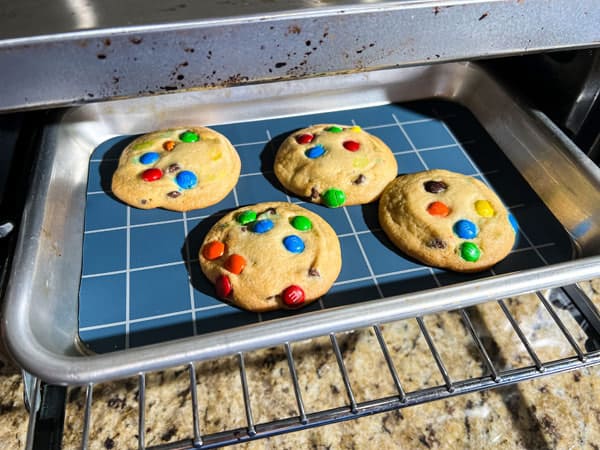 Baked Sweet Potatoes
Next, I wanted to try cooking something that I knew would be messy to see how the mats cleaned up. So I made a batch of our quick-baked sweet potatoes.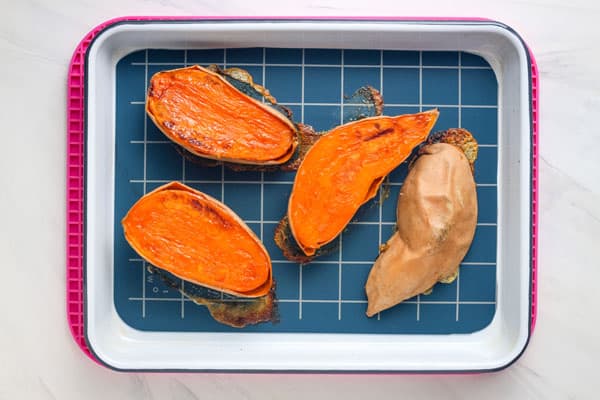 Since we already have a baking mat for our quarter sheet pan I cut that mat to fit our Crow Canyon pan. It's a little oddly sized, so I've never had a mat that fits it well.
The sweet potatoes were tender and creamy and as expected left behind a sticky mess. A quick scrub with some hot water and a sponge and the mat looked practically brand new.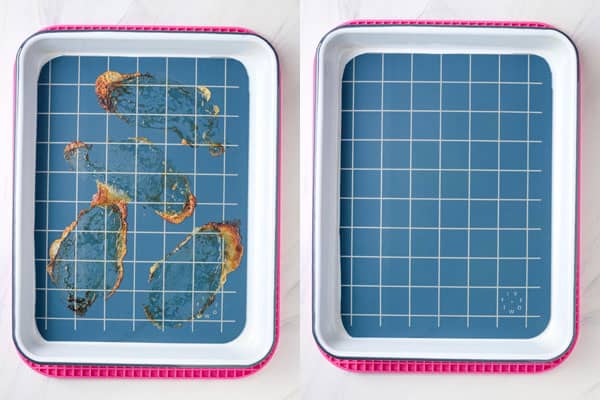 Both recipes took a few minutes longer to bake and the sweet potatoes had a little less browning than they usually do with the Silpat mats. Otherwise, the cooking results were very similar.
Even though the Materials and Care information on the Food52 website says the mat is oven safe up to 550°F I would still be cautious using it with higher temperatures in a toaster oven.
Not All Mats Are Toaster-Oven Friendly
The GIR mat made by Pattern was actually the first customizable baking mat that I came across. The sales page didn't have any info about toaster oven use so I sent them an email and asked.
That same day, I received a really nice response back letting me know: "Use in the toaster oven can cause the mats to bubble or melt if hot air becomes trapped beneath the silicone. The small space concentrates the heat to a degree that can damage the silicone."
As with any accessory we buy, I would never expect a company to know how the product will behave in every size, shape, and style of toaster oven. Since that would be impossible.
But I have found that if you take the time to ask, most companies are happy to share what they do know.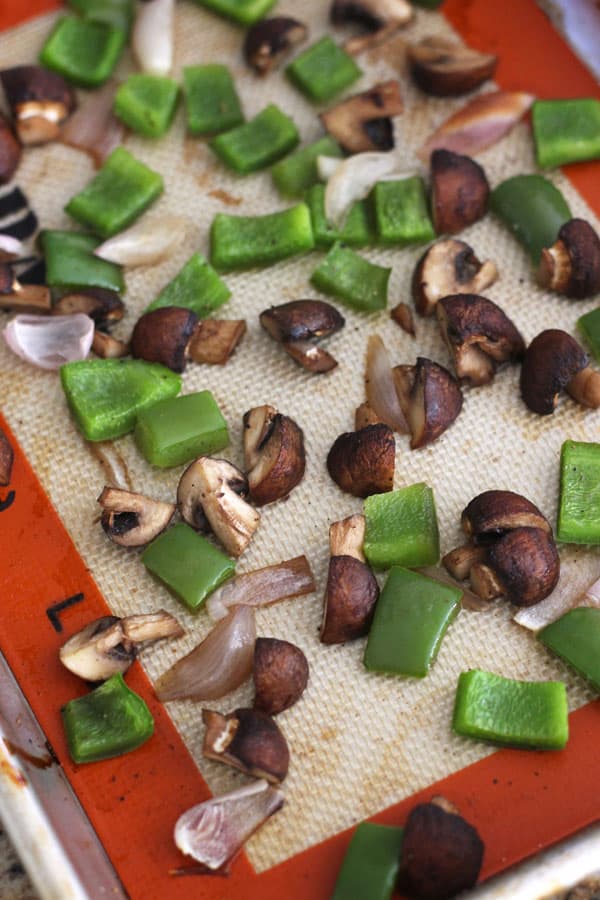 How to Clean Silicone Baking Mats
Some mats (like the Food52 mat) are dishwasher-friendly. I popped our cut-up Five Two mats on the top rack of the dishwasher and they did great.
While Silpat says their mats can be cleaned in the dishwasher, they highly recommend handwashing.
So after each use, we rinse our Silpats with hot water and air-dry. If needed, I'll add a little mild dish soap to the mix and make sure to rinse the mat thoroughly so it doesn't taste soapy.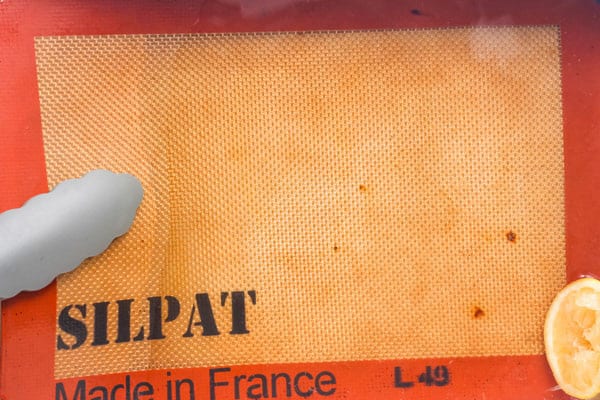 To clean super greasy mats:
I heat the mat on a pan in our toaster oven at 350°F for about 5 minutes.
Using a pair of tongs, I carefully add it to a sink filled with warm water and lemon juice and let it soak for 20 minutes or so.
After a little scrubbing with our Scrub Daddy and a thorough rinse and drying our Silpats always feel way less oily.
According to this Food Network article and this one from Food52, when heated, the silicone in the Silpat expands so the lemon juice can get into the mat and penetrate the grease. I don't know about the science but so far this method has worked really well for us.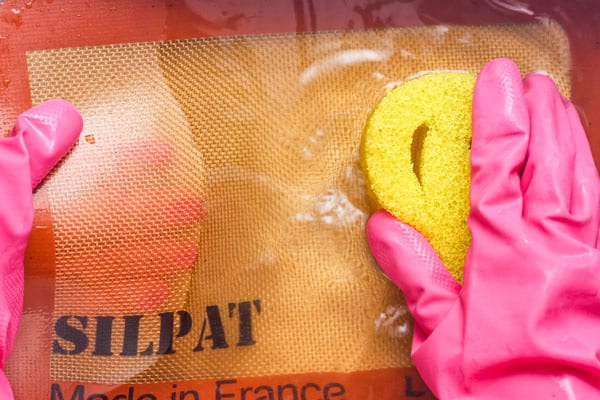 Shopping Tips
If I've piqued your interest in these sustainable mats and you're ready to get one, here are a few things to consider.
Pan sizes. Mats that fit a quarter sheet pan are pretty common these days. But "toaster oven" mats don't usually have a standard size. So I'd recommend measuring your toaster oven sheet pan before buying any mat.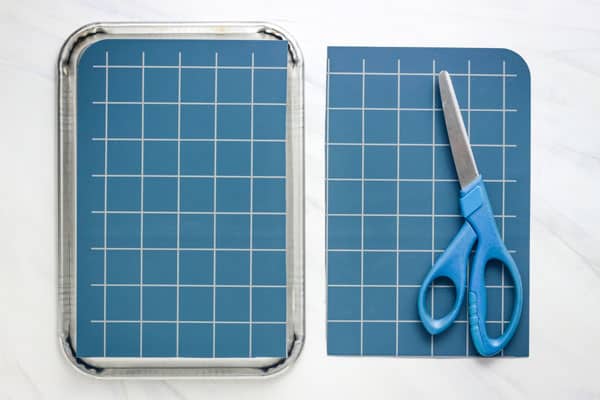 Read before cutting. If you need to be able to cut the mat to a specific size, make sure it is not made with fiberglass and is advertised by the manufacturer as safe to cut.
Watch out for counterfeits. Some large online marketplaces (especially the one that starts with an A) have had this issue with the Silpats.
Remember they are not oven liners. Silicone baking mats are intended to line a pan for baking and cooking. They should never be placed on the bottom of a toaster oven or anywhere near the heating elements.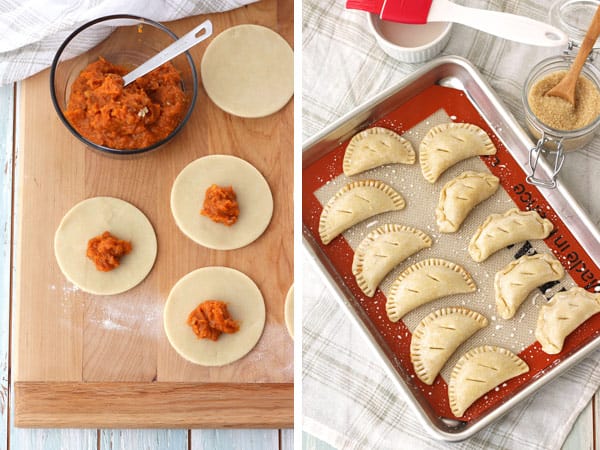 Take note of temperature tolerances. If you're planning to roast a lot of veggies, mats with lower heat tolerances are not going to be ideal. Also, check if the mat can withstand freezing temperatures if you want to use it for chilling your sweet potato hand pies before baking them.
Lastly, we haven't had any trouble using silicone mats in our ovens. But toaster ovens do vary a lot, so be cautious. Make sure to read your owner's manual and follow the manufacturer's accessory recommendations for your specific oven.
---
Well, that's it, more than you ever wanted to know about silicone baking mats. We hope this information has been helpful.
Happy Non-Stick Baking!
---
One last thing…Have you bought a silicone mat that could be cut?
These types of mats are still pretty new. If you've used one to cook with your toaster oven I'd love to hear how it went.