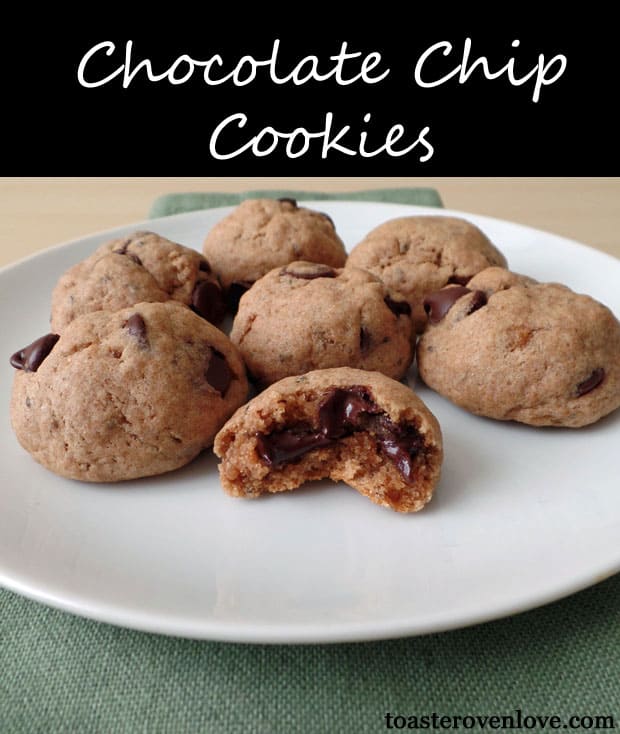 What's your favorite chocolate chip cookie recipe? My favorite has a subtle buttery brown sugar flavor with just the right amount of chocolate chips. Unfortunately, my favorite recipe is huge making over three dozen cookies. Most days my waistline prefers I stick to recipes that prepare a small handful instead.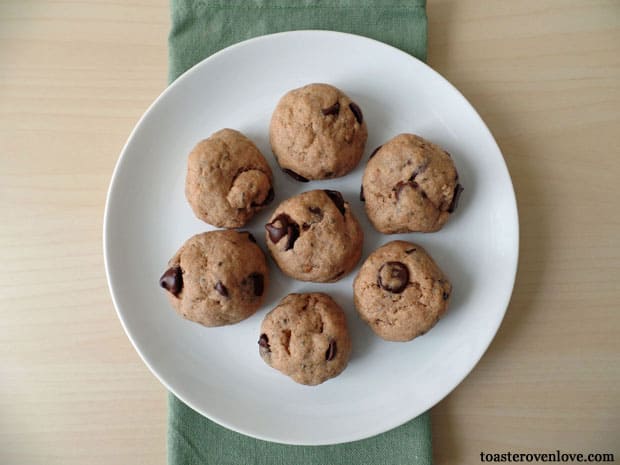 As I set about downsizing the recipe I kept butting up against those same old egg issues, how to split or quarter an egg and what to do with the rest. After reviewing the many egg alternatives from bananas to flax meal, I decided to put the chia egg to the test.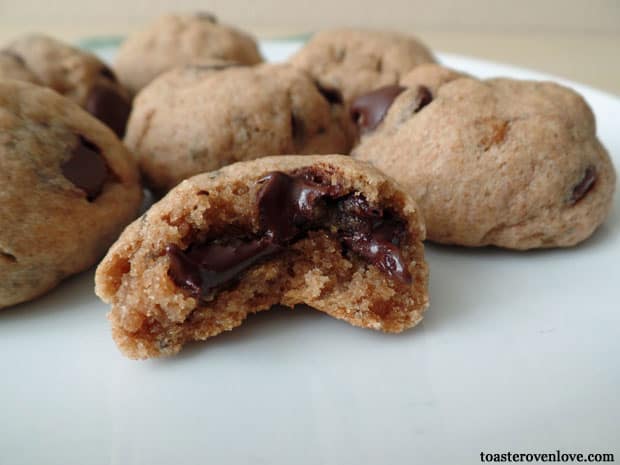 Why a chia egg? Chia seeds are high in omega-3 fatty acids, fiber, protein and most importantly were already in the pantry. What do they taste like? Not much, it's really about their texture which is crunchy when dry and gelatinous when soaked.
The chia seeds won't dissolve (unless ground) into the batter so you will have a cookie with little black flecks of seed.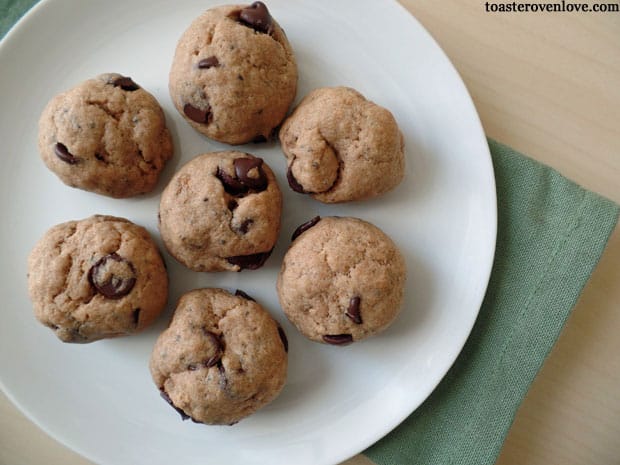 If you're looking to scratch that chocolate chip cookie itch without cracking open an egg give this recipe a try. You will end up with nine not too sweet, crispy on the outside but soft on the inside Toaster Oven Chocolate Chip Cookies.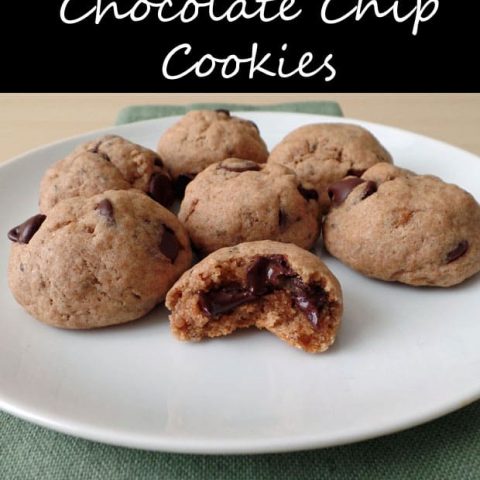 Toaster Oven Chocolate Chip Cookies
9 tasty Toaster Oven Chocolate Chip Cookies. Made with whole wheat flour and chia seeds. Not too sweet, crispy on the outside and soft on the inside.
Ingredients
2 teaspoons chia seeds
2 tablespoons warm water
2 tablespoons unsalted butter, , softened
1/4 cup packed light or dark brown sugar
1/2 teaspoon vanilla extract
1/2 cup + 2 tablespoons whole wheat flour
1/8 teaspoon baking soda
1/4 teaspoon fine grain sea salt
1/4 cup semi-sweet chocolate chips
Instructions
In a small bowl (I use a coffee mug) combine the chia seeds and warm water, mix well and place in the refrigerator for 15 minutes.
About 5 minutes before your chia egg is ready, preheat your toaster oven to 350 F and lightly oil your cookie sheet or line it with a toaster oven baking mat.
In a medium bowl use a hand-mixer to cream the butter and brown sugar. Stir in the vanilla extract and chia egg until combined.
Mix in the flour, baking soda and salt. (Dough may appear a bit shaggy, if you are using a wooden spoon and having trouble mixing just get your hands in there)
Stir in the chocolate chips.
Roll dough into 9 evenly sized balls. Place on prepared cookie sheet and bake at 350 F for 8 to 10 minutes just until the bottoms are browned.
Allow to cool on cookie sheet. Once cooled, find a friend to share with so you don't eat them all in one sitting or toss a few in the freezer for when a cookie craving strikes.
Notes
Nutritional Information is a rough estimate for 1 of 9 cookies.
Nutrition Information:
Yield:

9
Serving Size:

1 Cookie
Amount Per Serving:
Calories:

100
Total Fat:

4.3g
Saturated Fat:

2.6g
Cholesterol:

7.7mg
Sodium:

88.2mg
Carbohydrates:

14.4g
Fiber:

1.2g
Sugar:

7.9g
Protein:

1.5g