Toaster Oven Chocolate Chip Cookies
With crisp golden brown edges and chewy middles, these Toaster Oven Chocolate Chip Cookies are perfect for satisfying your next cookie craving. The simple small batch recipe is easy to throw together and makes 5 hard-to-resist cookies. We dare you to eat just one! (Post and Recipe Updated 9-30-2020, Originally Published 2-25-2015)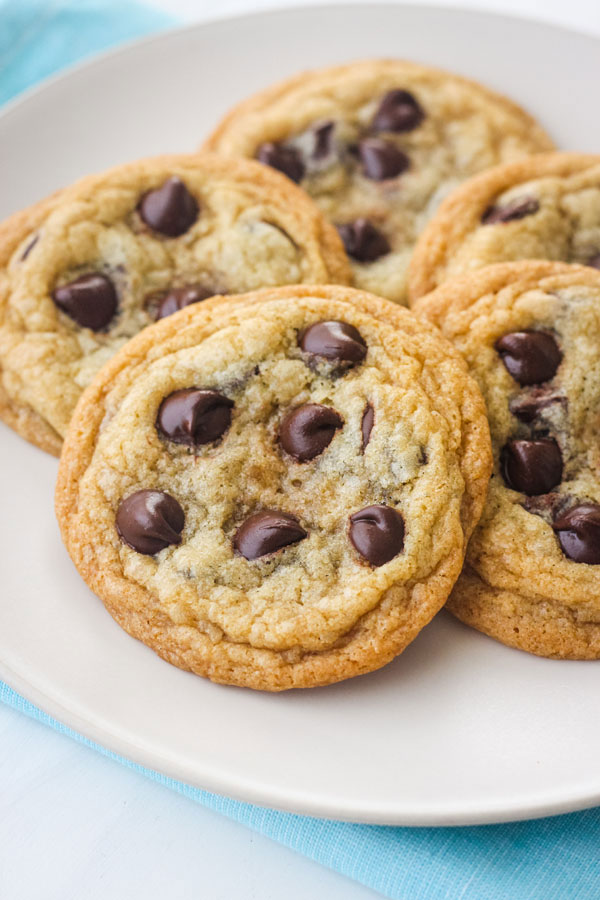 Over the years I've been working to perfect this little Toaster Oven Chocolate Chip Cookies recipe. Trying different amounts of sugar and butter, experimenting with the egg, and figuring out the best way to bake them in our toaster oven (if you've got a convection fan, use it!).
The result: 5 seriously yummy chocolate chip cookies. They're crispy on the outside, stuffed with gooey melted chocolate, and have a delightfully chewy texture. Bookmark this recipe because you're going to want to make it a lot!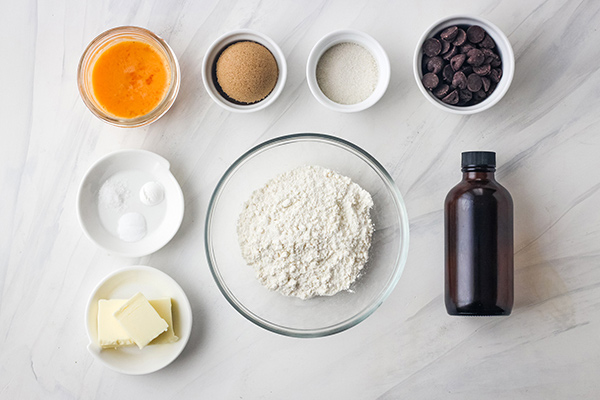 The ingredients for this recipe are pretty straightforward…with the exception of the egg.
In a recipe this small a whole egg will not work. It's too much. Using 1 tablespoon of a beaten egg has consistently turned out the best cookies for us. (If you're looking for ideas to use up the leftover egg try these Cake Mix Mini Cakes, Triple Ginger Cookies, or Chocolate Chip Pecan Oatmeal Cookies.)
We've also made this recipe using an egg yolk instead of the beaten egg. I find the cookies a little heavy but Tim thinks they're delicious. So if you've got an egg yolk that needs to be used up, give it a try and see what you prefer.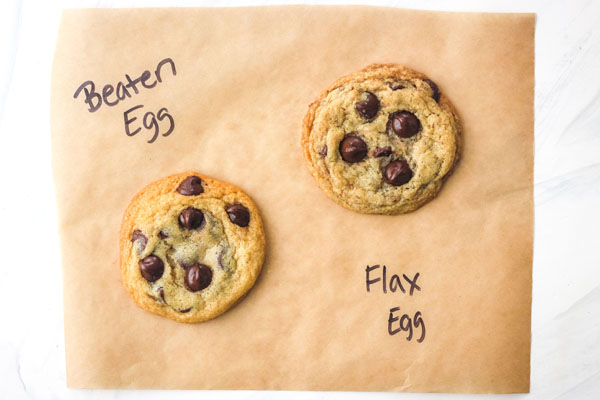 Is There A Way to Make Them Without The Egg?
Yes! You can substitute a small flax egg. Just mix together 1 teaspoon of flax meal and 1 tablespoon water. Let the mixture sit for 5 minutes and then add it to the recipe where the beaten egg is called for.
The cookies will be a little flatter and crispier on the edges. They're also very delicate straight out of the oven so I like to let them cool for longer on the pan (about 10 minutes). Before moving them to a rack to cool completely.
To Chill Or Not To Chill
Chilling the dough makes the cookies chewier, more flavorful, and keeps them from spreading too much. That said, they can be baked without chilling. Just be mindful that the cookies may spread more.
Cookies baked without chilling will bake faster too. So start checking on them after 5 or 6 minutes and add more time as needed.
Another option is to bake one cookie to enjoy right away while you let the rest of the dough chill.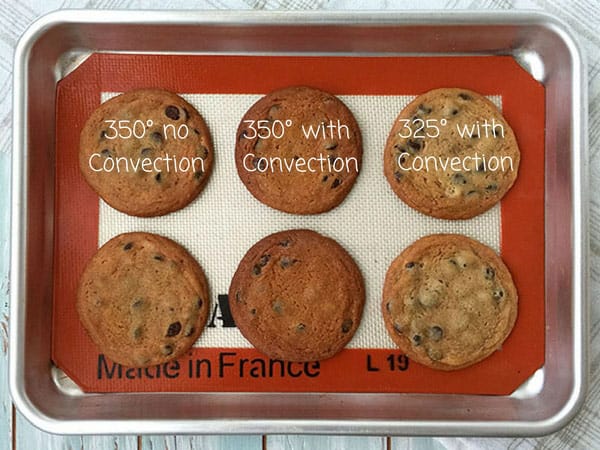 Toaster Oven Baking Tips
Baking Times: The chilled cookie dough usually takes 7 minutes in our larger countertop oven but takes more like 9 to 10 minutes in our tiny 4-slice toaster oven. Over the years I've learned that every oven (or toaster oven) bakes differently. My favorite way to figure out the best baking time for any recipe is to bake a test cookie, you can find step by step directions in this Cookie Baking Tips post.
Convection: If you're using a convection toaster oven, reduce the temperature to 325°F and start checking on your cookies after 5 or 6 minutes.
Rack Settings: The middle rack placement is great for baking cookies. If your oven only has two placements that's okay. Just use the lower one and check on the cookies early.
Avoid Dark Pans: Most toaster ovens come with a dark roasting pan that's not great for baking cookies with. That's because the darker metal can burn the bottoms of the cookies. Instead, use a light-colored pan like one of these toaster oven sheet pans.
Lining The Pan: Since parchment paper is one of those things you shouldn't put in your toaster oven, we like to use a small silicone baking mat. These cookies can also be baked on an ungreased sheet pan. If you go this route, you may need to bake them in a few batches to give the cookies enough space.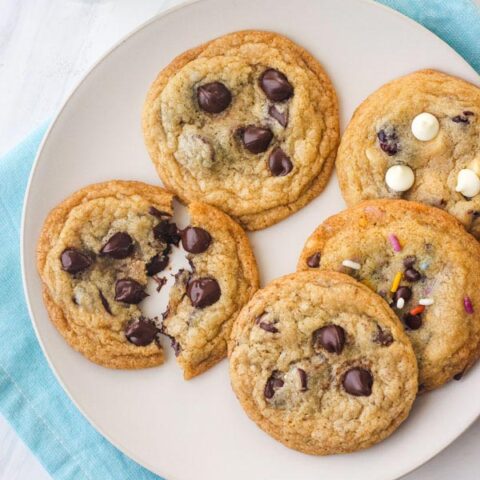 Toaster Oven Chocolate Chip Cookies
A small batch of decadent cookies with crispy edges and delightfully chewy middles. The basic dough is easy to customize, add sprinkles and mini chips or try dried cranberries and white chocolate chips, the options are endless. If you're using a convection toaster oven take note of the recommended temperature and time adjustments. 
Ingredients
2 tablespoons (28 grams) Unsalted Butter, at room temperature
2 tablespoons (25 grams) Packed Brown Sugar
1 tablespoon (12 grams) Granulated Sugar
1 tablespoon (15 grams) Well-Beaten Egg, do not add the whole egg
1/4 teaspoon Vanilla Extract
1/3 cup (40 grams) Unbleached All-Purpose Flour
1/8 teaspoon Baking Soda
1/8 teaspoon Baking Powder
1/8 teaspoon Fine Sea Salt
3 tablespoons (40 to 45 grams) Semi-Sweet Chocolate Chips, or more as desired
Instructions
In a medium bowl, add the butter and sugars. Using a rubber spatula or wooden spoon, cream together until combined.
Mix in the tablespoon of beaten egg and vanilla.
Sprinkle the flour, baking soda, baking powder, and salt over the mixture and stir until combined.
Reserve a few chocolate chips for topping the cookies after baking, then stir in the rest.
Refrigerate the dough for at least 30 minutes.
When ready to bake, adjust your toaster oven cooking rack to the middle position and preheat to 350°F using the BAKE setting. If using a convection toaster oven, reduce the temperature to 325°F.
Line a quarter sheet pan with a silicone baking mat or leave it ungreased.
Roll or scoop the dough into 1½ tablespoons sized balls and place on the prepared pan, arranging them at least 2-inches apart.
Bake until the middles of the cookies are puffed and the edges are just starting to turn brown, about 6 to 10 minutes depending on your oven. Remove from the oven and quickly top with the reserved chocolate chips.
Let the cookies sit on the pan for 5 minutes before transferring to a rack to cool completely.
Notes
Beaten Egg - To measure the beaten egg, crack an egg into a bowl and beat with a fork until the white and yolk are combined. Measure out 1 tablespoon. Refrigerate leftover egg and use it within 24 hours.

Egg Yolk - A large egg yolk can be substituted for the beaten egg.

Flax Egg Option - Combine 1 teaspoon of flax meal with 1 tablespoon of water. Allow the mixture to sit for 5 minutes. Add to the recipe when the beaten egg is called for. The cookies will be more delicate when warm, let them cool on the pan for at least 10 minutes.

Flour - We've had success substituting an equal amount of white whole wheat flour and bread flour for the all-purpose flour. The bread flour results in a thicker and chewier cookie. The cookies made with white whole wheat flour were also thicker with a light nutty flavor.

Chocolate - You can use chips, chunks, or add some of your favorite bar of chocolate roughly chopped. We like semi-sweet chocolate but feel free to substitute milk chocolate or dark chocolate if you want. Coated chocolate candies are a great option too!

Storage - You can store any leftover cookies in a covered container on the counter for 2 days. Or freeze for up to 1 month for the best flavor.

Rewarming Cookies in the Microwave - Place on a microwave-safe plate and heat for 15 to 20 seconds.

Rewarming Cooking in the Toaster Oven - If frozen, let cookies thaw on the counter for 15 to 20 minutes. Then set your toaster oven to 300°F on the BAKE setting. Place cookies on an ungreased sheet pan and add to the toaster oven. Press start (no need to preheat). The cookies should be warmed with melty chocolate in about 2 to 4 minutes.
Nutrition Information:
Yield:

5
Serving Size:

1 Cookie
Amount Per Serving:
Calories:

140
Total Fat:

6.8g
Saturated Fat:

3.6g
Cholesterol:

12mg
Sodium:

146mg
Carbohydrates:

18.8g
Fiber:

0.5g
Sugar:

10.7g
Protein:

1.4g
How to Make Chocolate Chip Cookies In Your Toaster Oven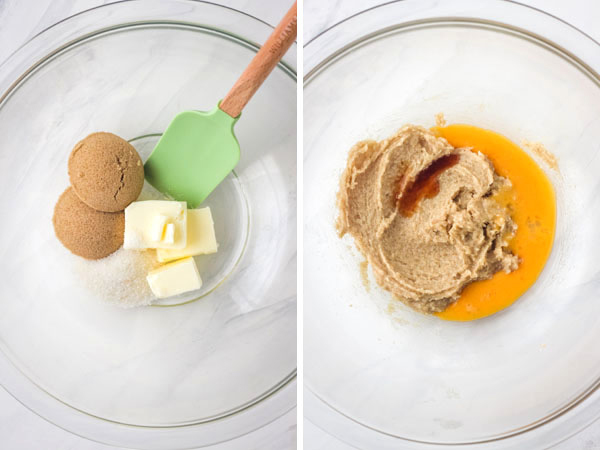 Start by creaming the softened butter and sugars together until smooth. Then add the tablespoon of beaten egg and vanilla, and mix until combined.
Sprinkle the flour, baking soda, baking powder, and salt over the egg mixture. Stir just until the dough starts to come together.
When a few streaks of flour remain, toss in your chocolate chips (set aside a few for topping later) and anything else you'd like to add like chopped nuts, sprinkles, or dried fruits. Stir to incorporate everything into the cookie dough.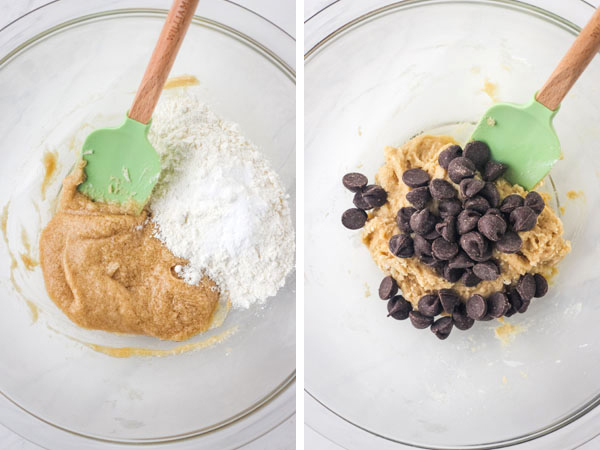 Next, chill the dough for at least 30 minutes.
Once you're ready to bake the cookies, start by adjusting the rack in your toaster oven. Our oven has 3 rack placement. I find the middle rack is the best for baking cookies. If you only have two placements, use the lower one.
For a standard toaster oven preheat to 350°F. If you're using a convection toaster oven, reduce the temperature to 325°F. Cookies are my favorite thing to bake with the convection option on our countertop oven. They come out with nice crispy edges and soft under-baked middles.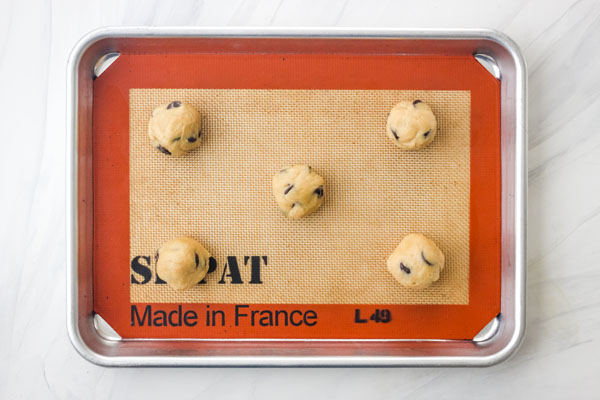 The cookies can be baked on either an ungreased sheet pan or a pan lined with a silicone baking mat. Cookies baked on the ungreased pan may spread more. You might want to bake them in 2 batches so they don't smush into each other.
Scoop or roll the dough into 1½ Tablespoons-sized balls and place on your pan. Try to give at least 2-inch of room between the balls.
Bake the cookies for about 6 to 10 minutes. We like our cookies to have chewy middles but nice and crispy edges so I wait until the edges are lightly browned and the middles are puffed and just a tiny bit underbaked.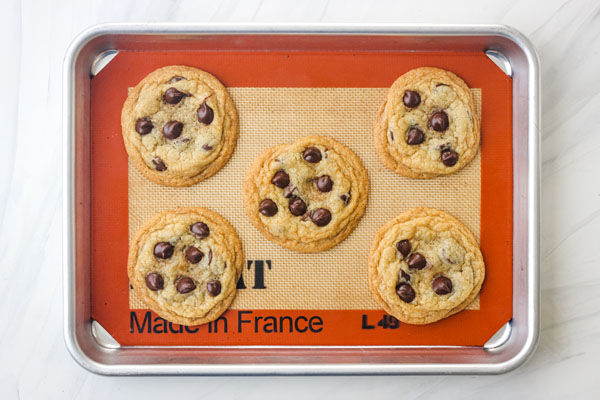 Once the cookies are baked to your liking, remove them from the oven. Quickly press any reserved chocolate chips into the tops. Sometimes I'll also sprinkle them with coarse sea salt.
Let the cookies cool on the pan for 5 minutes (or 10 minutes if you're using a flax egg). Then use a spatula to transfer them to a rack to cool completely.
Now, grab a cold glass of milk and dig in!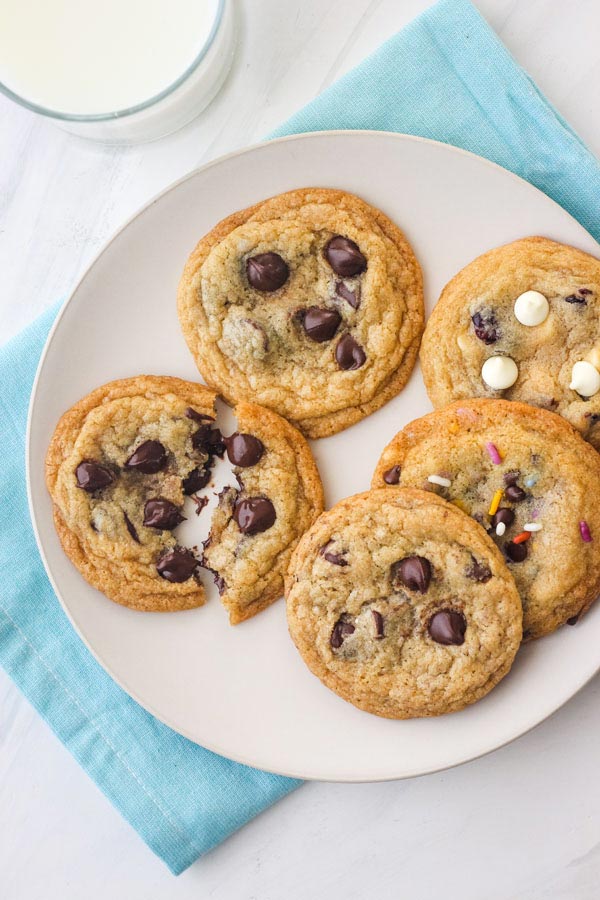 P.S. If you're looking for the old Chia Seed Cookies recipe that used to be here send me an email and I'll get you a pdf with that recipe.