Learn how to make an awesome vegetarian sandwich, even if you hate tofu! Below are 19 flavor-packed ridiculously delicious vegetarian sandwiches, wraps and toasts you're going to love.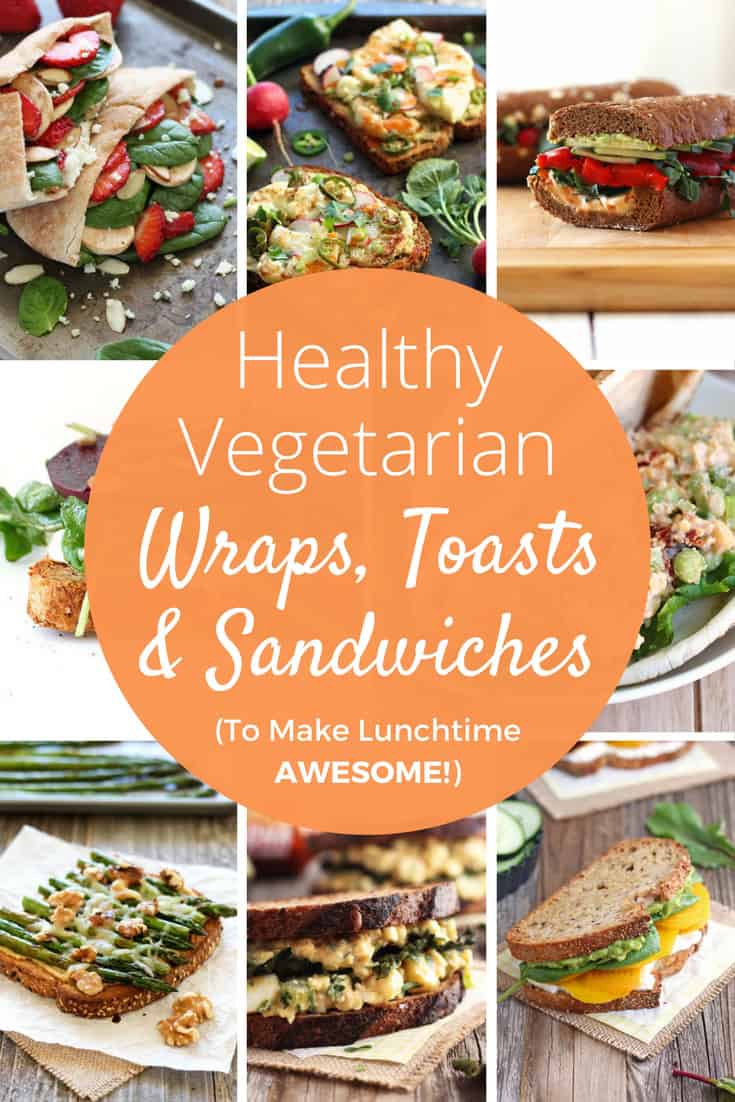 Is there a bad time for Sandwiches?
Nope!
They're the best food to take on a picnic, are easy to pack for lunch and how would you ever survive the summer without "sandwich night" for dinner at least 3 times a week?
But Here's The Problem
Sandwiches can be a snooze-fest too. Nothing is more boring than eating the same thing every day for lunch, even when it's your favorite.
That's why we've put together a list of healthy vegetarian sandwiches, wraps and toasts bound to inspire your lunch (or dinner) creations. Each one is packed with so much taste-bud tingling flavor we guarantee you'll think they're all awesome. Enjoy!
Light But Filling (under 400 calories)
1. ROASTED RED PEPPER, CARROT AND HUMMUS SANDWICH from Toaster Oven Love.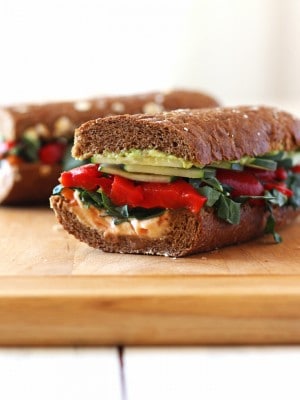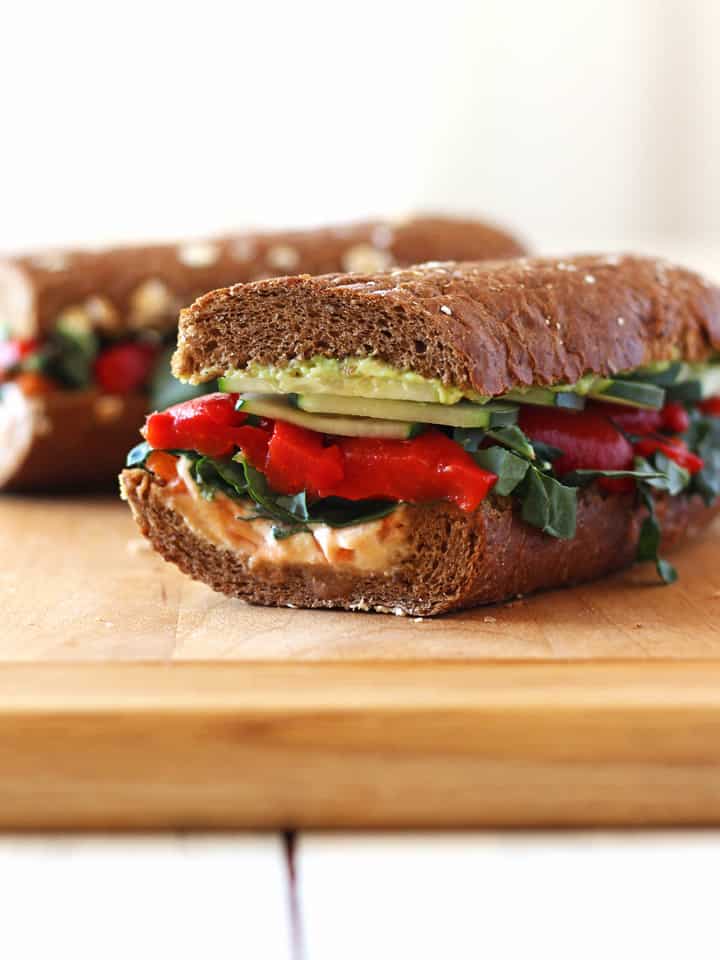 This sandwich and I go waaaay back – almost 20 years!  I dare you to not fall deeply in flavor love with this roasted red pepper, hummus, avocado, kale and carrot stuffed sandwich.  It's quick to make and vegan too.
2. SPICY BUFFALO CHICKPEA WRAPS from Minimalist Baker
A clever plant-based take on the old-school Buffalo Chicken Wrap. Creamy hummus dressing, spicy buffalo chickpeas and lots of crispy fresh veggies bundled in a soft pita wrap = #winning 🙂
3. ROASTED BEET AND COTTAGE CHEESE TOAST from Toaster Oven Love
Sweet earthy roasted beets and salty cottage cheese are a match made in flavor heaven.  Add in some whole grain toasts, bitter greens, balsamic vinegar and a drizzle of honey for an ultimate low calorie – high protein lunch!
4. CHICKPEA SPINACH SALAD from Queen of My Kitchen

Prefer your salad sandwiches more tangy than creamy?  Stuff this olive oil – lemon juice dressed chickpea and spinach salad into a chewy pita for a deliciously light summertime lunch.
5. BALSAMIC ASPARAGUS AND HUMMUS TOAST from Toaster Oven Love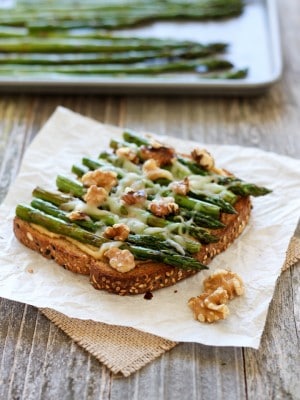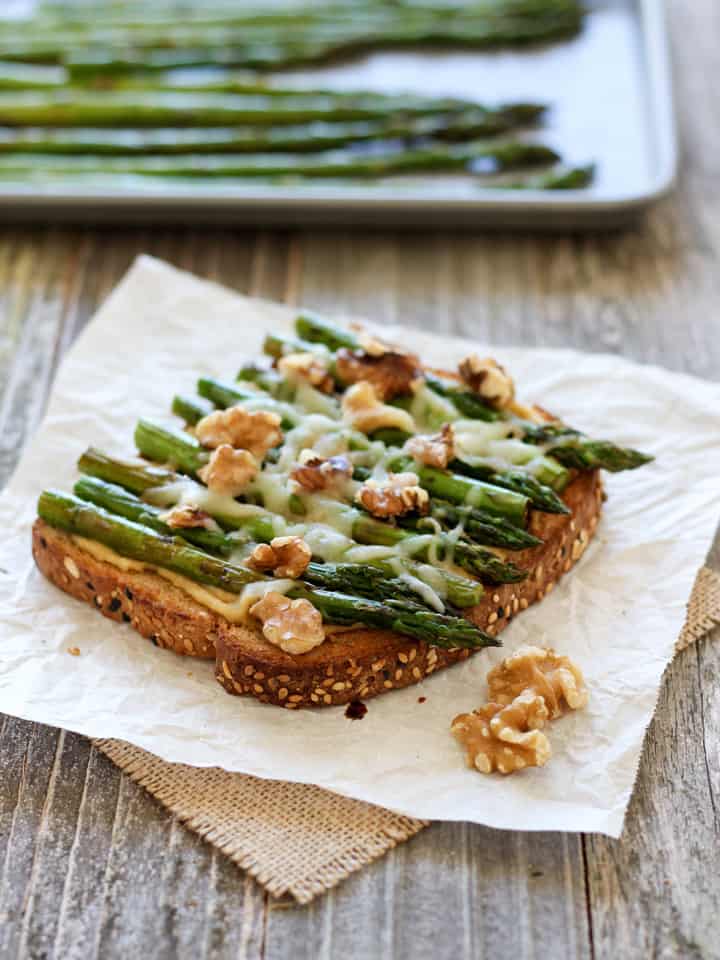 A unique toast that's all kinds of delicious featuring: creamy garlic hummus, tangy balsamic vinegar, buttery walnuts and sweet roasted spring asparagus spears.
Power Sandwiches and Pitas (15+ grams of protein)
6. SPICY CHICKPEA EDAMAME SALAD PITAS from Toaster Oven Love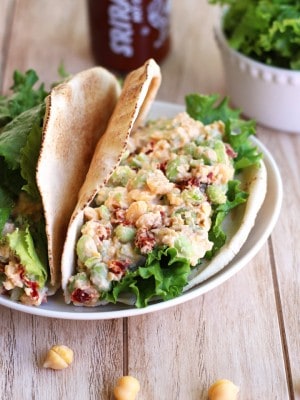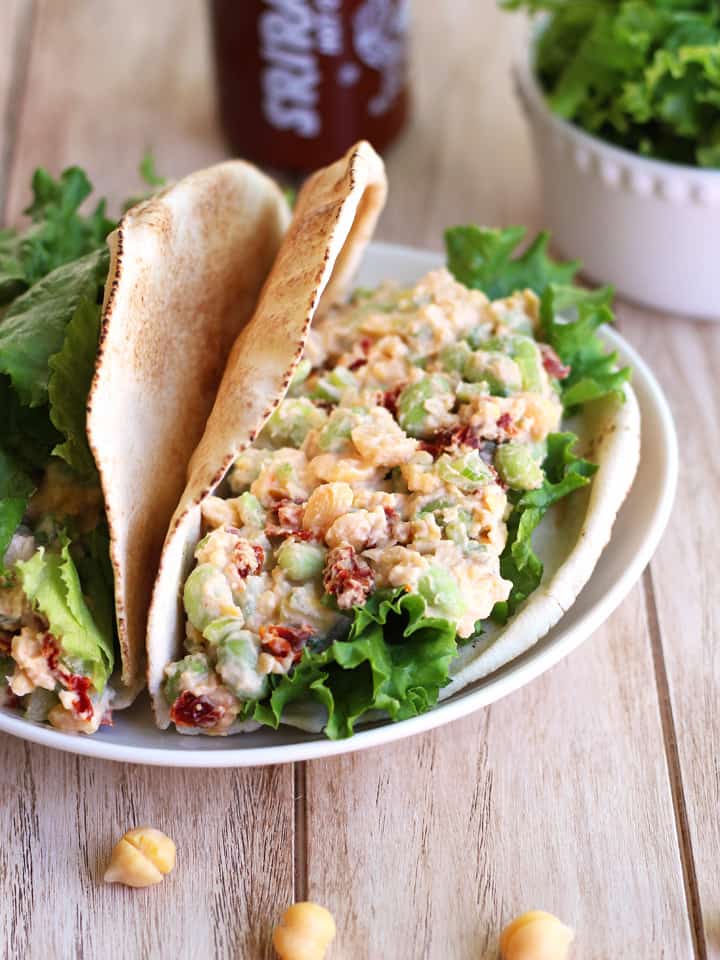 Trade in your cold cuts for this crispy, crunchy, sweet and spicy mashed chickpea edamame salad! The recipe makes two flavorful pitas, each packed with 20 grams of protein and guaranteed to keep you full until dinner.
7. SMASHED CHICKPEA AVOCADO SANDWICH from Green Valley Kitchen

A creamy crunchy mayo-free salad of smashed chickpeas, avocado, feta cheese, crunchy celery and herby parsley. Move over soggy tuna salad – there's a new salad sandwich boss in town!
8. SRIRACHA EGG SALAD SANDWICH from Toaster Oven Love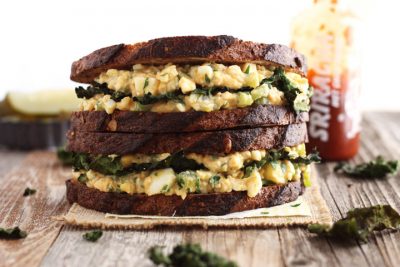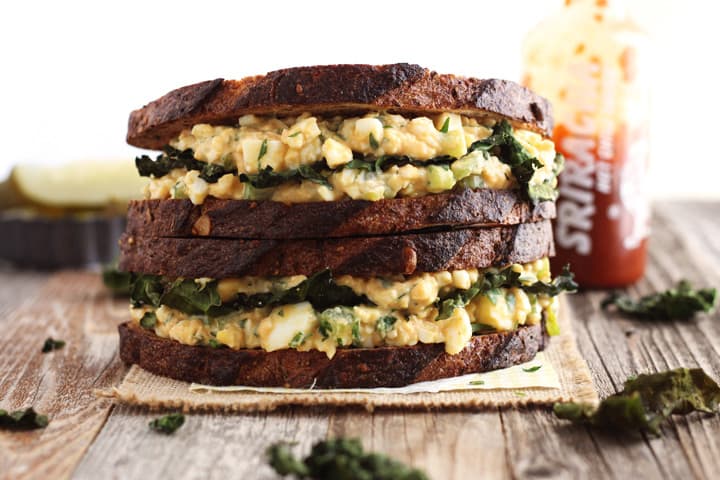 Spice up your lunchtime routine with a creamy egg salad that's lightened up with Greek yogurt and packs a flavorful Sriracha punch.  Layer with flaky garlic kale chips you can make at home or at work using your toaster oven!
9. BAKED PEANUT TOFU SANDWICHES WITH SRIRACHA MAYO from Connoisseurus Veg


Baked tofu slices slathered in a creamy Thai inspired peanut butter sauce and served with spicy Sriracha mayo. Your coworkers will be green with envy when you bust out this restaurant-level desk lunch.
We've made this recipe 3 times in the last month!  If you don't like tofu you have to try this recipe, one bite of that peanut butter crusted tofu and your mind will be changed for good.
10. GOLDEN BEET AND AVOCADO SANDWICH from Toaster Oven Love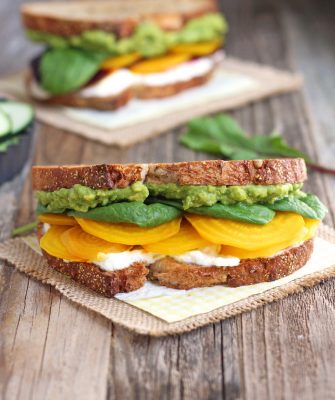 A perfect summer lunch that's big on flavor and full of quality high-protein ingredients.  Plus, learn a few tricks for making and storing golden beets.  
11. SESAME TEMPEH SANDWICH from Exploring Healthy Foods


Enjoy a tasty high-protein lunchtime boost from marinated baked tempeh on toasted whole grain bread with sprouts and tomato. Simple, healthy and delicious!
Clever Fruit & Veggie Superstars
12. STRAWBERRY SPINACH PITA POCKETS from Toaster Oven Love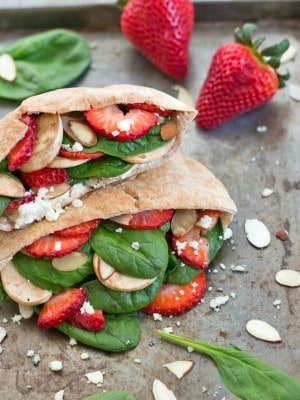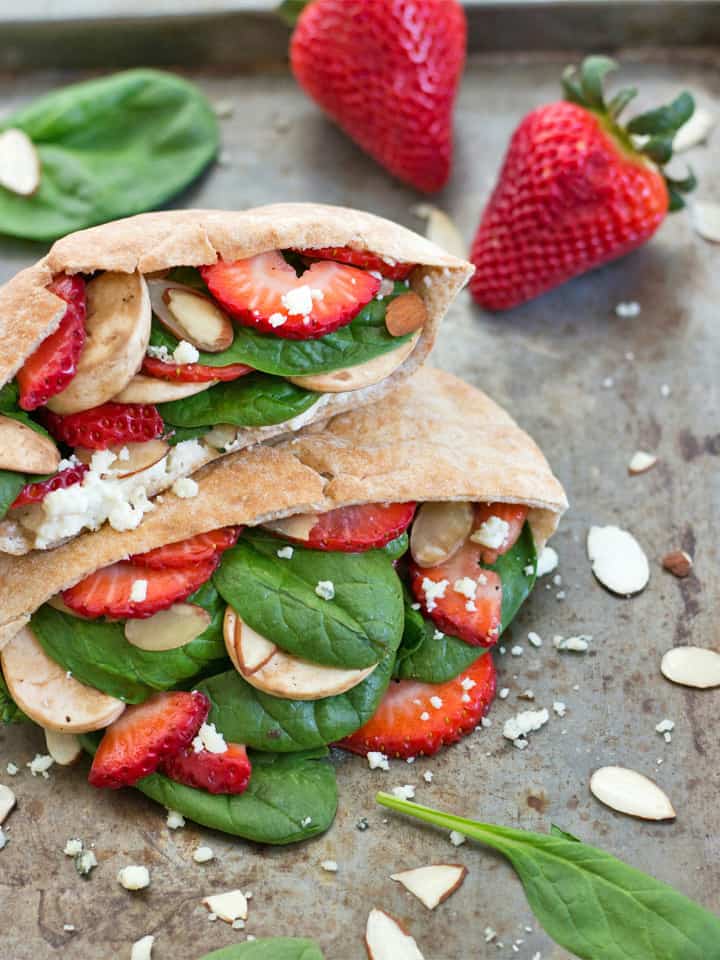 Imagine your favorite strawberry, spinach and blue cheese salad drizzled with balsamic vinegar and stuffed in a handy pita pocket. Super Easy – Super Tasty.
13. HUMMUS COLLARD WRAPS from Eating Bird Food


OMG, veggies wrapped in veggies! Enjoy a crunchy lunch full of too many vegetables to count with this easy to customize vegan and gluten-free hummus wrap.
14.  SPICY FALAFEL AND ROASTED VEGGIE NAAN-WICH from Pinch of Yum


Spicy baked falafel, roasted veggies, sun-dried tomatoes and a magic green sauce all stuffed into a chewy naan. A little bit of extra effort but oh what a T-R-E-A-T!
15. QUICK PEACH AVOCADO TOAST from Toaster Oven Love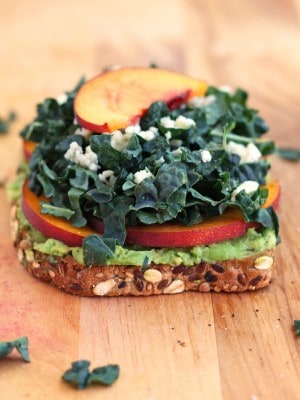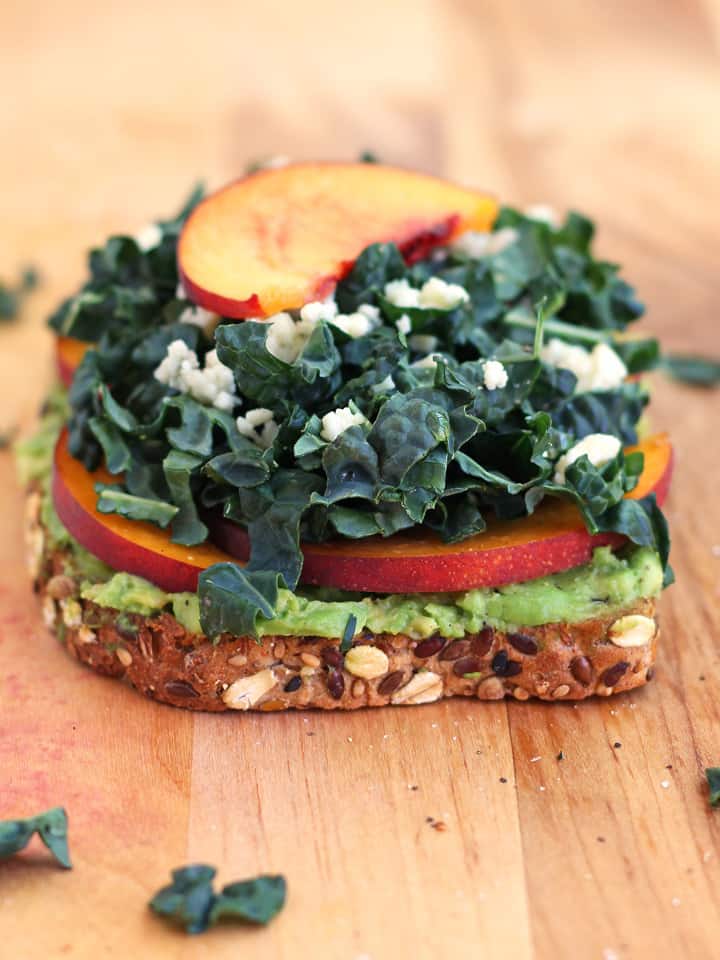 A refreshing lunch of juicy summer peaches, creamy avocado, tangy blue cheese and crunchy fresh kale on crispy whole grain toasts. Throw them together in less than 15 minutes and survive the summer heat in style.
16. PHILLY PORTOBELLO STEAK SANDWICH from Veggie Don't Bite
A sub roll topped with meaty Portobello mushrooms, sautéed pepper and onions and your choice of 4 different vegan cheese sauces – come to Momma 🙂 Pre-chop the veggies on the weekend and you can throw this meaty meatless sandwich together in no time.
17. GOURMET VEGGIE SANDWICH from Killing Thyme


Layer upon layer of veggie-filled texture and flavor! Seriously look at those thick tomato slices, creamy avocado, crispy red onion, crunchy sprouts and don't even get me started on the black pepper lemon mayo.
18. MUSHROOM QUINOA MEATBALL SANDWICHES from Pumpkin & Peanut Butter

The vegan answer to your Italian meatball sub cravings.  Sourdough bread topped with meaty mushroom and high-protein quinoa meatballs covered in your favorite red sauce.  Does it get better than this? Nope!
19. SPICY AVOCADO CAULIFLOWER TOASTS from Toaster Oven Love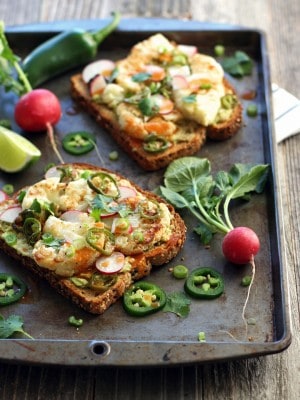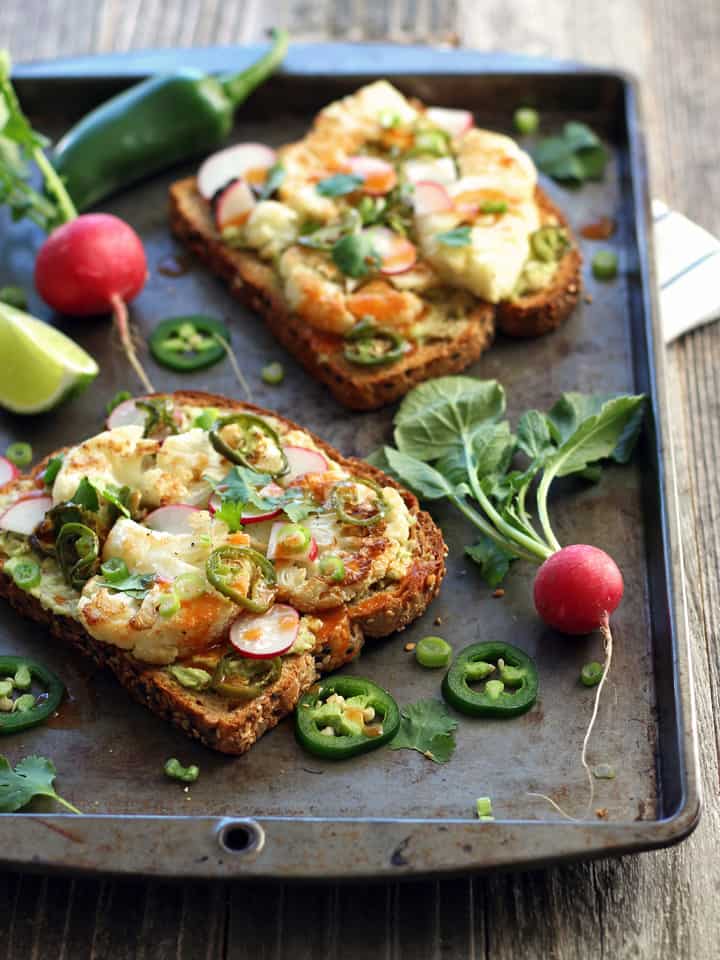 Buttery jalapeno roasted cauliflower, crunchy radishes and creamy avocado on toasted whole grain bread. There's layer upon layer of nutritious spicy flavor in an avocado toast to end them all!
No time to pick out your favorites?  Then pin this to your "Healthy Lunches" board on Pinterest for later ↓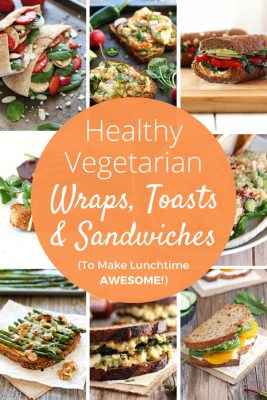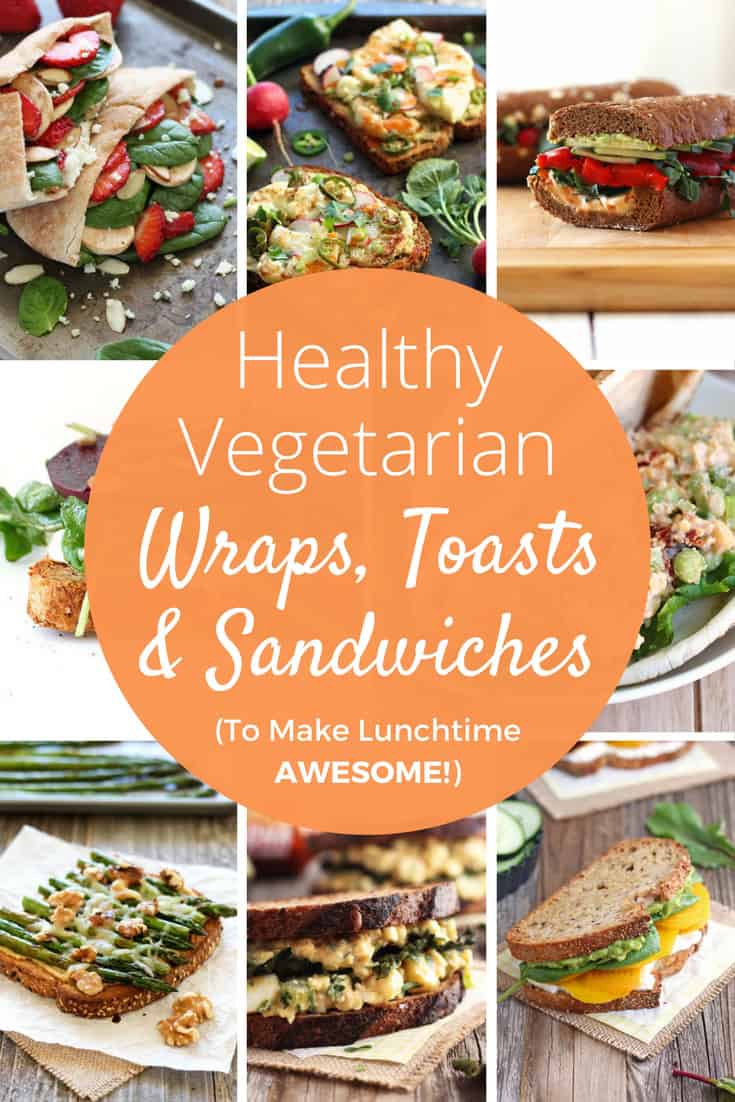 And if you share your biggest frustration with trying to eat a healthy lunch in the comments below, we'll do our best to get you some helpful solutions!