Hidden-Egg Bagel Sandwich
This Hidden-Egg Bagel Sandwich is a fun and mess-free back to school breakfast or lunch made with eggs baked in a donut pan! Stuff your donut-shaped eggs into a hollowed out bagel and fill with your favorite veggies and cheese.
Will it Donut? If you are the owner of a donut pan, you may have found yourself pondering this question about various food items…croissant dough, cheddar sriracha cornbread or even eggs.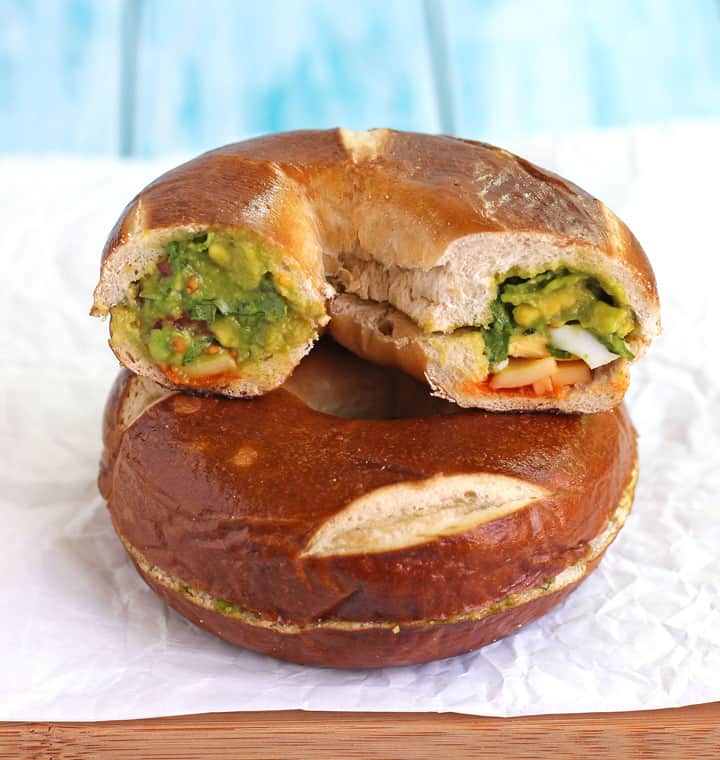 That thought crossed my mind a few weeks ago while I was frying eggs for a breakfast sandwich.
Do you remember those mini baked eggs in muffin tins that were all over Pinterest? Outside of being a bit wider and shallow, a donut pan isn't too different from a muffin tin.
My husband, Tim, a fellow "Will it donut?" wonderer enthusiastically agreed to put on his mad scientist hat and help eat a bunch of savory donut pan eggsperiments.
Three batches later a method for hard-cooked style eggs (whites and yolk cooked through) was ready for sharing so you could enjoy them too.
How to Make a Hidden-Egg Bagel Sandwich
Now, what to do with these donut-shaped eggs? Pair them with an equally donut shaped bread, the bagel!
But how would you keep the egg and all of the other obviously necessary sandwich toppings from spilling everywhere?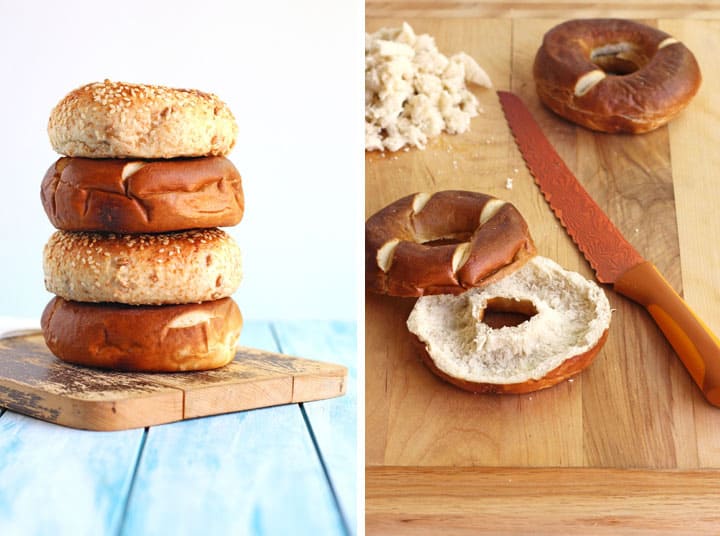 One 80's bagel flashback later, I remembered how everyone used to dig out the insides of a bagel and fill it with cottage cheese.
If you're too young to have been born/remember the 80's I might be a little jealous. Just trust me, scooped-out bagels were H-U-G-E, like side ponytail and hot pink huge.
This way you get a crusty bagel exterior, less bread, and lots of room to keep everything inside your egg bagel sandwich and not all over your car, desk, shirt, pants…you get the idea.
You can fill the top half with mashed avocado, grape tomatoes and a handful of arugula all seasoned with salt and pepper.
For the bottom half, a squeeze of sriracha (for the adults), some cheese and then throw on your cooked egg. Slap both sides together and start noming.
The best part is how customizable this recipe is.
You can make just one egg or six.
Use cheddar, pepper jack cheese or skip the cheese altogether.
Substitute spinach, add in chickpeas or make my husband's favorite a Double Donut-Egg Sandwich.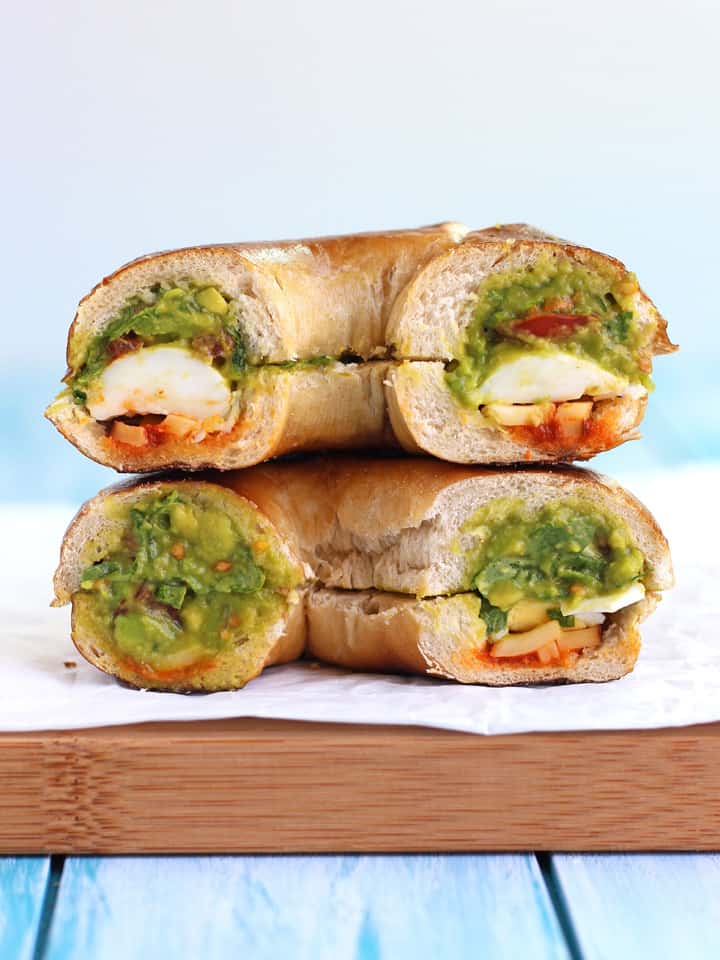 We hope you enjoy a fun and mess-free back to school breakfast or lunch with this Hidden-Egg Bagel Sandwich.
And if you happen to have any leftover bagels make some Toaster Oven Pizza Bagels or try one of these 7 Tasty Ways to Top a Bagel, they're perfect as a quick lunch or after school snack!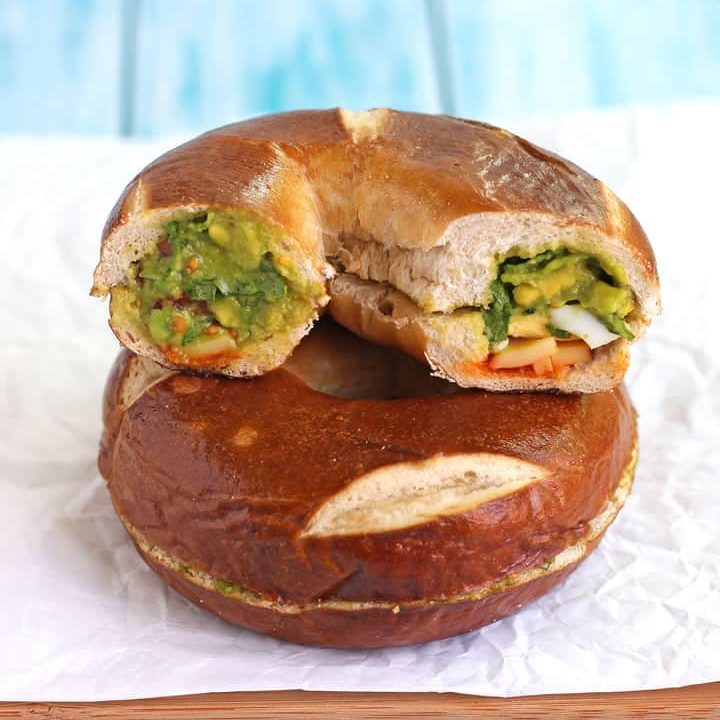 Hidden-Egg Bagel Sandwich
Yield:
2 Bagel Egg Sandwiches
A donut pan and scooped-out bagels make for a fun and mess-free back to school breakfast or lunch.
Ingredients
2 bagels, split
2 teaspoons butter, softened
2-3 sprays of non-stick cooking oil to grease the donut pan
2 large eggs
2 teaspoons sriracha sauce (optional)
1 oz thinly sliced cheese, divided
1 small avocado, pitted and smashed
1/3 cup grape tomatoes, sliced
1/2 cup arugula, roughly chopped
Salt and pepper, to taste
Instructions
PREP & TOAST BAGELS
Select the TOAST setting on your toaster oven.
Open split bagels and dig out the interior bread. Leave an 1/8-inch layer inside so you don't break through the bagel's crust.
Spread interior of each bagel with butter and toast until crispy and golden (about 3 minutes).
Once toasted, remove bagels, squeeze sriracha sauce (if using) into the bottom bagel halves, and top with cheese.
BAKE EGGS
Select the BAKE setting on your toaster oven and preheat to 350F. Grease donut pan with cooking spray.
Crack one egg into a ramekin and carefully pour into a donut pan cavity. Poke or drag a toothpick through the yolk to spread it a bit. Repeat with remaining egg. Season eggs with salt and pepper.
Bake eggs until the whites and yolks are cooked through, about 8 to 11 minutes. Cool slightly, then run an offset spatula or knife around the egg edges and remove.
ASSEMBLY
In a small bowl stir together the mashed avocado, sliced tomatoes, and arugula. Season with salt and pepper to taste.
Place a cooked egg in each bottom bagel half. (If the bagel's center hole is too big, slice the egg in half to make it fit.)
Spoon avocado mixture into the bagel tops, pressing it into the empty cavity with the back of the spoon. Sandwich the bagel tops and bottoms together and enjoy.
Notes
If you are using a toaster oven and prefer a hot bagel over cooled eggs, cook your eggs first and then toast the bagels.
Nutritional information includes one scooped-out pretzel style bagel, you can reduce the calories and increase the fiber by substituting a whole grain sprouted bagel.
Save scooped-out bagel pieces for making croutons or breadcrumbs.
Cooked egg may have a thin egg white film in the center, use your fingers or a knife to remove before assembling sandwiches if desired.
Nutritional Information is an estimate for 1 Bagel Egg Sandwich.
Nutrition Information:
Yield:

2
Serving Size:

1 Bagel Egg Sandwich
Amount Per Serving:
Calories:

527
Total Fat:

25.3g
Saturated Fat:

8.2g
Cholesterol:

210.6mg
Sodium:

727.4mg
Carbohydrates:

55.7g
Fiber:

9.1g
Sugar:

7.5g
Protein:

21.5g
*The internet being what it is, filled with curious minds and all, I don't presume I'm the first person to ever try baking eggs in a donut pan. But maybe the first to dig out a bagel and hide one in it 😉