Strawberry Spinach Pita Pockets
Strawberry Spinach Pita Pockets. The tangy-sweet flavor of your favorite spring salad in a convenient whole wheat pita pocket.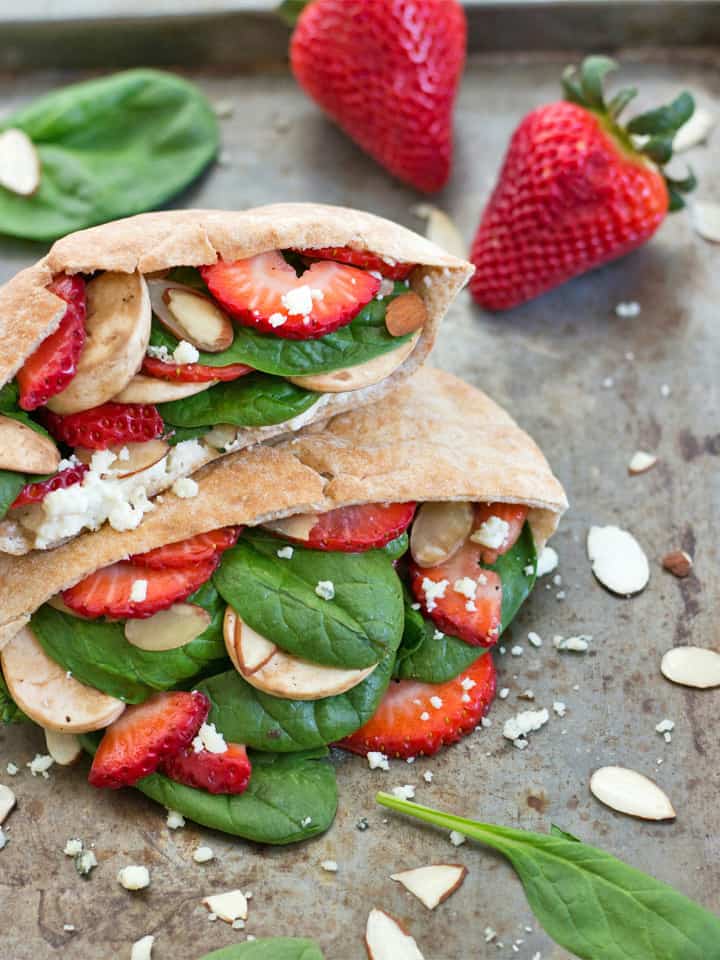 If I had a grocery store I would arrange the food next to the appliance it should be cooked with. Of course, pitas would be with the toaster ovens. I mean baked pita chips, peachy breakfast pizzas, veggie pita pizza bites and now strawberry spinach pita pockets. What can't this pair do 🙂

So, let's address the elephant in this post – the dreaded pita pocket!
Seriously though, anyone else tear the pockets to shreds trying to separate them?
You know what I'm talking about, the front is cracked and torn but you're still trying to convince yourself everything is cool. You pick up your pita to take a bite, the contents slowly creeping out the tears and in three…two…one you are now wearing your lunch!
But it doesn't have to be that way, guys. You just need to warm the pita first! With a little help from your toaster oven that filling won't be going anywhere.
Just pop the uncut pitas in a 400° toaster oven for 1 minute. Slice the pita in half while it's still warm and carefully open the pockets.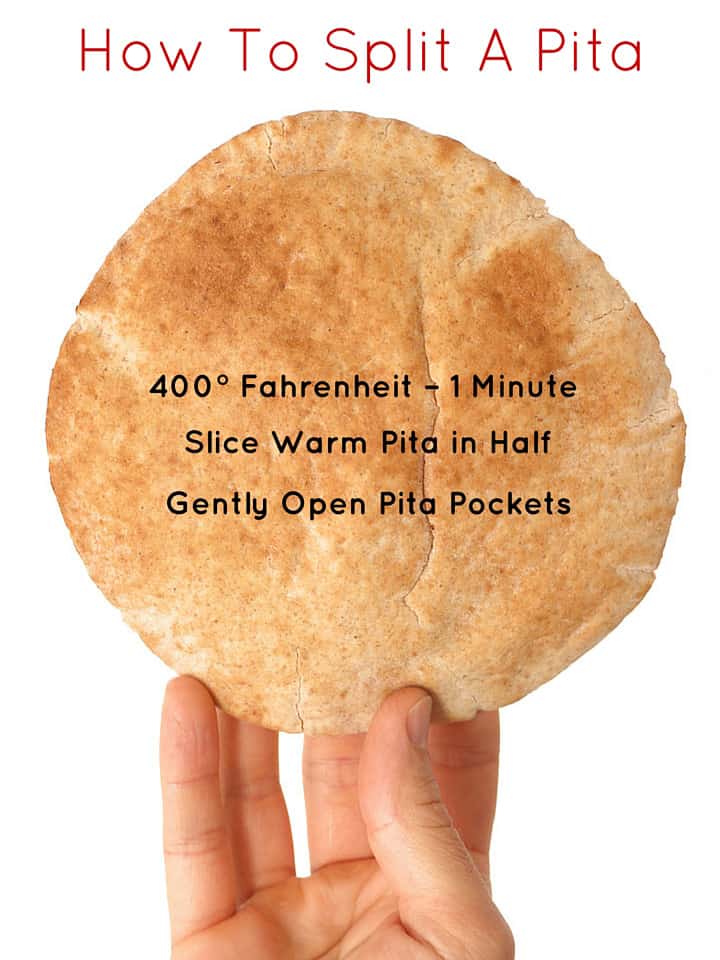 *For extra credit you can slide small measuring cups into the pita halves to really set the pocket shape as they cool. Or you can just start stuffing them with yummy fillings.
Yummy fillings like a tangy-sweet blue cheese, ricotta and honey spread!
Pair that with fresh sliced strawberries, spinach and mushrooms. Throw in sliced almonds, a drizzle of balsamic vinegar and you've got yourself a healthy lunch for two. That's right, a single serving is two of these stuffed-to-the-brim-with-flavor Strawberry Spinach Pita Pockets!
And don't feel tied to the ingredients, if you hate mushrooms add cucumbers. No almonds, use walnuts or pistachios. Cause who's the boss of this pita, Tony Danza?
Nah, you're the Pita Boss!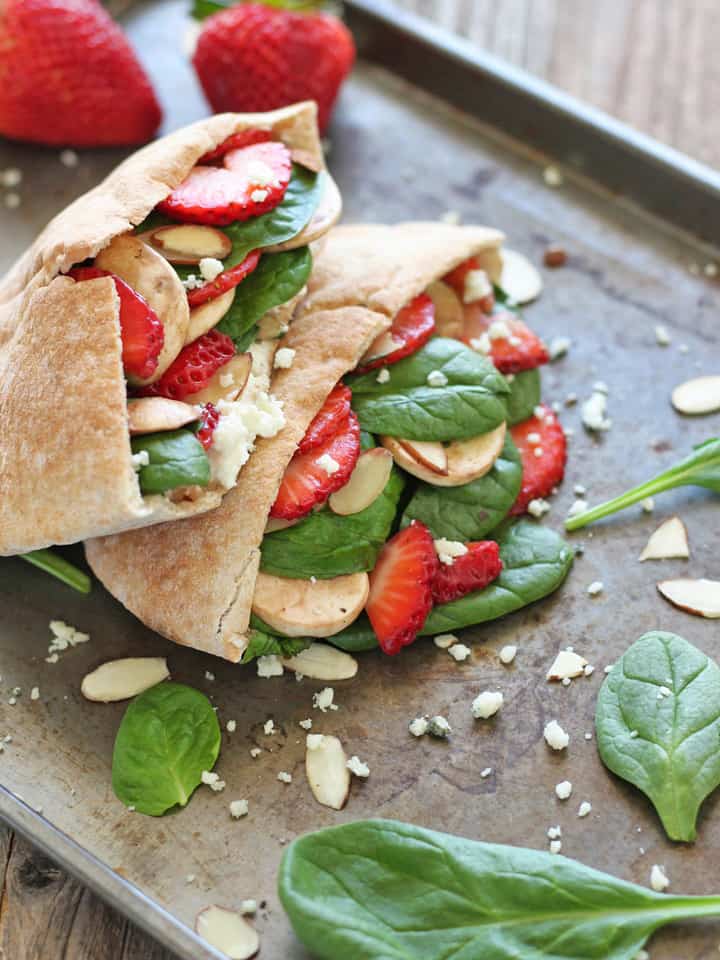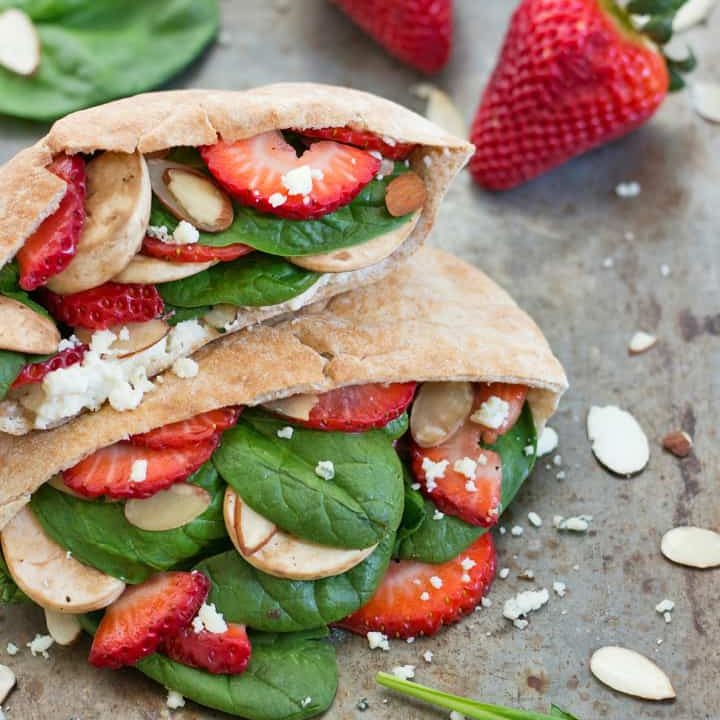 Strawberry Spinach Pita Pockets
Yield:
4 Filled Pita Halves
The tangy-sweet flavor of your favorite spring salad in a convenient whole wheat pita pocket.
Ingredients
1/4 cup + 2 tablespoons whole milk ricotta cheese
1/4 cup crumbled blue cheese
2 teaspoons honey
A pinch of black pepper
4 cups fresh baby spinach
1 cup + 1/4 cup sliced strawberries
1/2 cup sliced white button or cremini mushrooms
1/4 cup sliced almonds
1-2 teaspoons balsamic vinegar
Salt and pepper, (to taste)
2 uncut whole wheat pitas
Instructions
Preheat your toaster oven to 400 F.
In a small bowl mix together the ricotta cheese, blue cheese and honey until well combined. Mash any large chunks of blue cheese with a fork. Stir in honey and season with a pinch of black pepper. Set aside.
In a large bowl combine the spinach, strawberries, mushrooms and almonds. Drizzle with balsamic vinegar. Toss well to combine, season with salt and pepper. Set aside.
Place uncut pitas in the preheated 400 F toaster oven and bake for 1 minute. Carefully remove the warm pitas and immediately slice in half. Slowly open each pita pocket.
Spread the blue cheese mixture on the inside of each pita pocket. Fill pitas with the strawberry spinach salad and serve immediately.
Notes
*Start with 1 teaspoon balsamic, if you prefer a more dressed salad add an additional teaspoon.
If your strawberries are not very sweet, combine 1/2 teaspoon of honey with the balsamic vinegar before dressing the salad.
Recipe makes 4 filled pita pockets, nutritional information is an estimate for a serving of two filled pita pockets.
Look for blue cheese and ricotta using vegetarian rennet also called microbial enzymes to keep your pitas vegetarian-friendly.
Nutrition Information:
Yield:

2
Serving Size:

2 Filled Pita Halves
Amount Per Serving:
Calories:

345
Total Fat:

17.7g
Saturated Fat:

7.5g
Cholesterol:

35.5mg
Sodium:

404.8mg
Carbohydrates:

35g
Fiber:

6.7g
Sugar:

11.8g
Protein:

16.3g