A broiled eggplant sandwich AKA the sugar detoxer is the best vegetarian sandwich you'll ever make with a toaster oven.  It's packed full of flavorful vegetables and smothered with a lemony avocado mash. Whip two up for lunch or dinner, they're incredibly satisfying and you'll finally get to use your toaster oven's broiler function!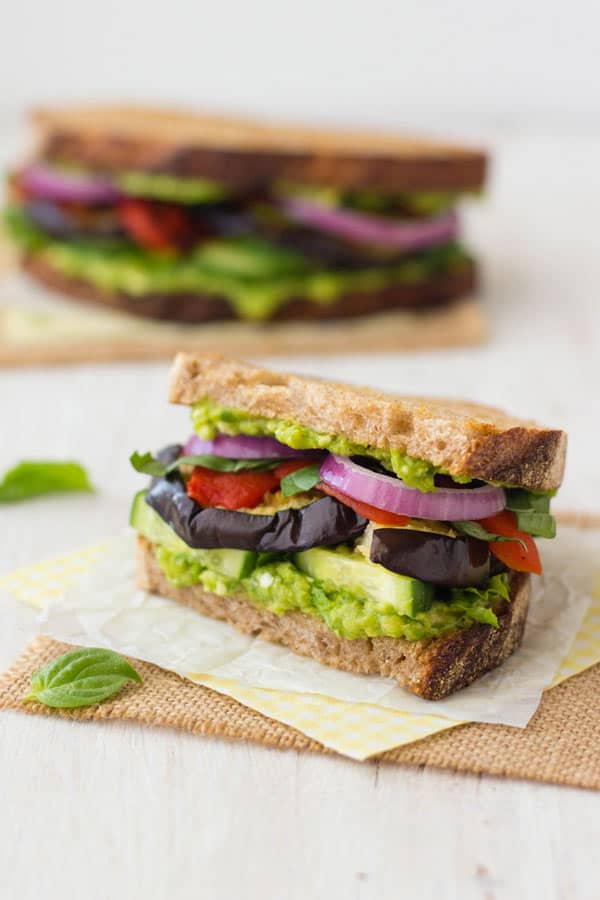 Every so often, I find myself craving A TON of fresh veggies.
Now, in all honesty, that craving usually follows a crazy sweets bender.
Like last month when my super hip sister took Tim and me to a magical place called Donut Friend in Highland Park.
Can you see the one with the chocolate drizzle on it?
Yeah, that's a Samoa donut, with coconut caramel on top and the bottom…it was dipped in dark chocolate, swoon.
The next day, my body was begging for the best medicine to cure any self-induced sugar coma: a good ol' fashioned vegetarian sandwich.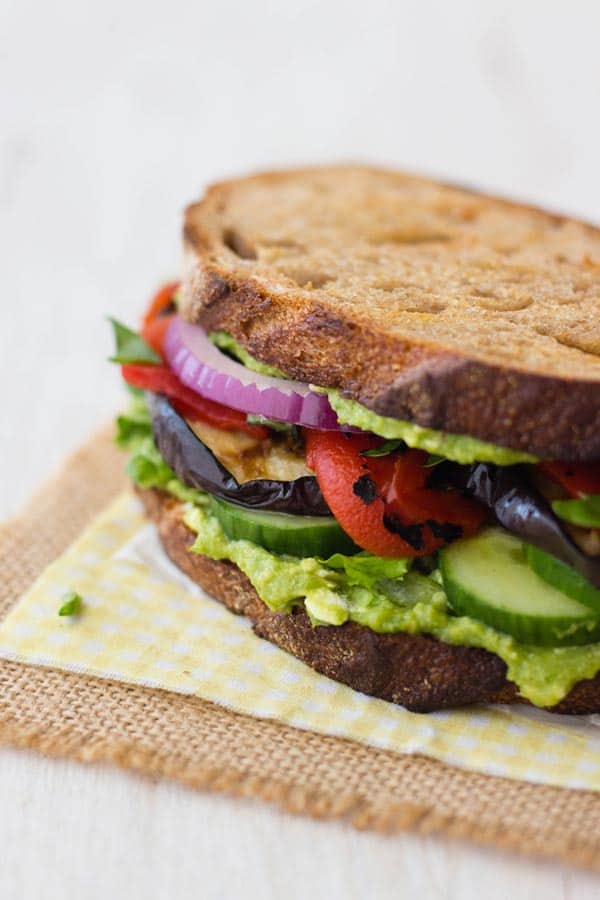 Not a boring cheese and tomato one though but an EPIC and EASY broiled eggplant sandwich!
Imagine buttery broiled eggplant slices sandwiched between toasted whole grain bread and slathered with a tangy mash of avocado, lemon, and feta.
Is your mouth watering already?
Don't stop yet. Pile those sammies high with ALL the vegetables you have on hand!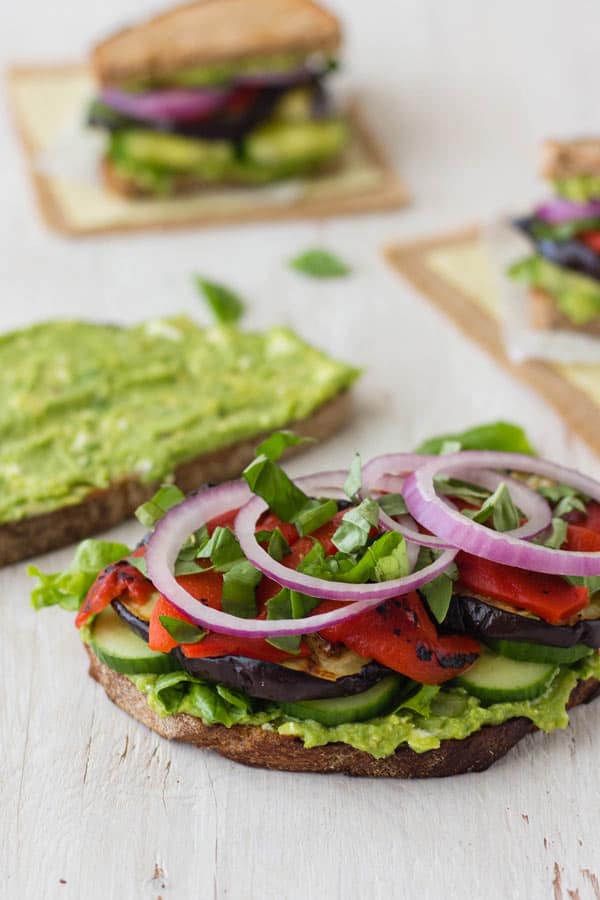 Roasted red peppers go great with eggplant. We always keep a jar around for making tortilla pizzas with sun-dried tomatoes and spinach or everyone's favorite a roasted red pepper, carrot, and hummus sandwich.
Next, toss on crunchy cucumbers, crisp lettuce, a handful of fresh basil and a few slices of red onion. They'll add loads of texture and flavor making each bite crispy, creamy, crunchy, and bright.
Now I know what you're thinking…Eggplant? Easy? Really?
With all those rules for salting, draining, and patting dry, eggplant does have a reputation for being difficult to cook.
But with a simple fork and the magic of your toaster oven's broiler, you can make eggplant that's tender, browned and creamy.  Without all that fuss.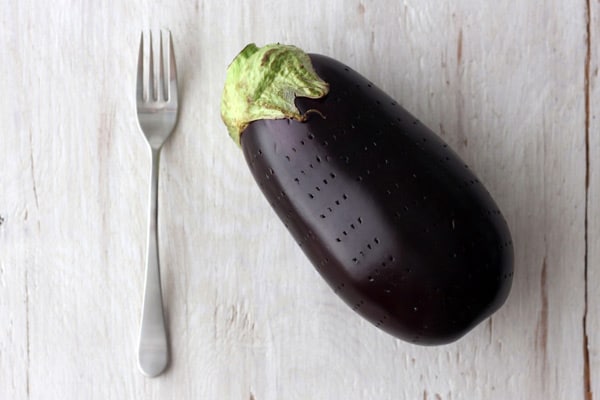 First about the fork, cause I know you're curious.
Piercing the eggplant's skin with a fork keeps it from turning tough and chewy when cooked. Work your way up and down the eggplant making rows of little dots with your fork (it's faster than it sounds).
Then cut it into ½-inch slices for broiling.
If you've never used your toaster oven's broiler, it's a lot like grilling. Except the heat is coming from above ↓ instead of below.
The broiler is great for cooking vegetables and we hear it's pretty popular with fish lovers too.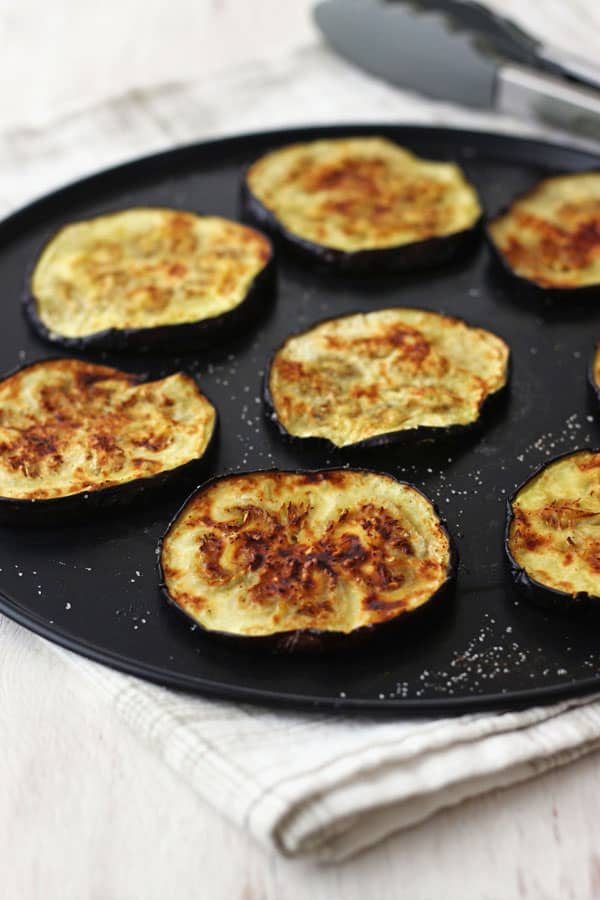 Toaster Oven Broiling Tips:
Our Breville toaster oven recommends the top rack position and no preheating for the Broil function but yours may be different so make sure to check the manual.
Use a broiler-safe pan. I like to use the metal pizza pan that came with our toaster oven because it fits more slices.
Since the heat comes from only one direction, make sure to flip your eggplant once the first side has browned.
The broiler will be wicked hot. Be careful and watch the eggplant closely at the end so it doesn't burn. A blackened (as in charcoal) eggplant sandwich won't taste nearly as satisfying.
(This broiled eggplant sandwich recipe was first posted on Food Fanatic)