Cottage Cheese Toast is not only easy to make and super satisfying, but it's also incredibly versatile. Below you'll find 15+ fun and fresh topping ideas to upgrade your toast.
And no worries if you're not a fan of the chunky texture. We'll show you how to make cottage cheese smooth and creamy in just 1-minute!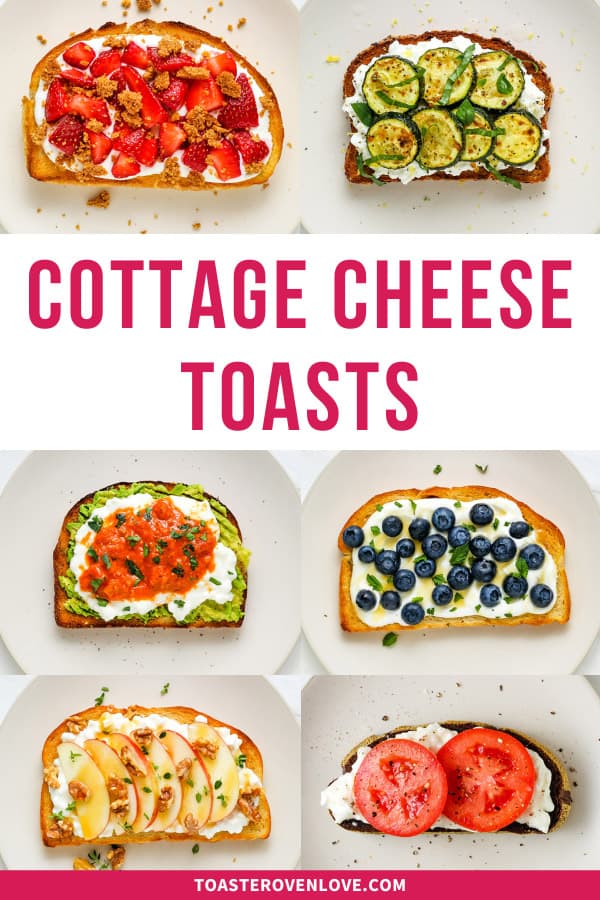 I've been putting cottage cheese on toast (and bagels) for decades and it still hasn't lost its luster. I mean what's not to like about a speedy hand-held meal that barely requires cooking and keeps you full for hours?
Plus the topping possibilities are endless. You can whip up a sweet strawberry cheesecake toast, go savory with mashed avocado and salsa, or keep things simple with a few juicy tomato slices.
It's a great way to start the day and makes a fantastic light lunch or quick snack too!
Building Your Cottage Cheese Toast
You'll need 3 things – bread, cottage cheese, and toppings.
Bread: Whole-grain bread is my favorite (especially the seedy kind) because it has a nice flavor that goes well with both sweet and savory toppings. Sourdough is another good use-it-with-everything option, as is a slice of our small no-knead bread.
But really the best bread to use is one that you like and already have in the house.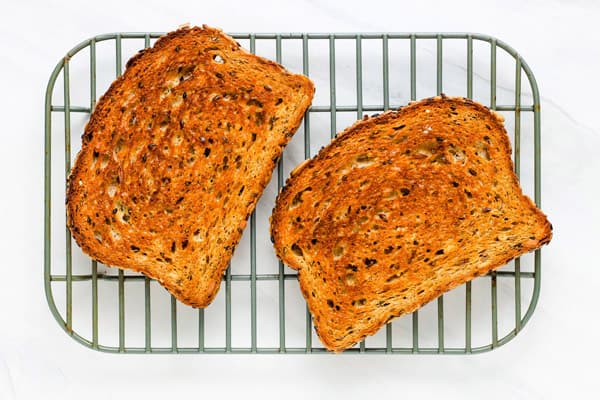 Tips For Better Tasting Toast
Brush or spray the bread lightly with oil before toasting. That little bit of oil helps to encourage browning and keeps the bread from drying out.
Cool the toast on a rack. If you just set hot toast on a plate, steam releasing from the toast has nowhere to go and makes the bread soggy. Placing the toast on a rack lets the moisture evaporate keeping it nice and crisp.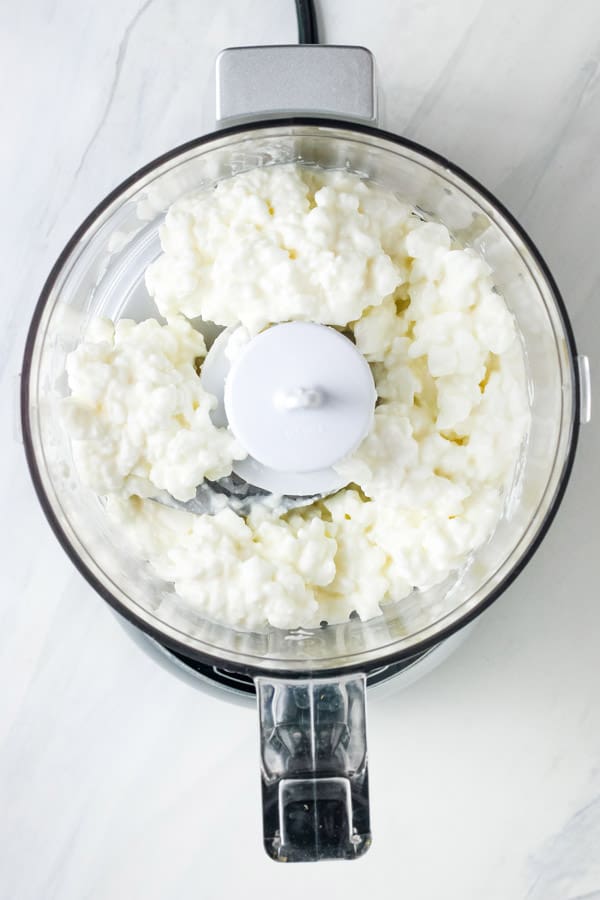 Cottage Cheese: Small curd, low-fat, or whole-milk, any type of cottage cheese can be used. How much you'll need will depend on the size of your bread slice. About ⅓ cup per toast worked well for us.
Did you know that you can whip cottage cheese? After a quick blitzing in the food processor, it goes from chunky to light and creamy. It's a great option if you're not a fan of the lumpy curds.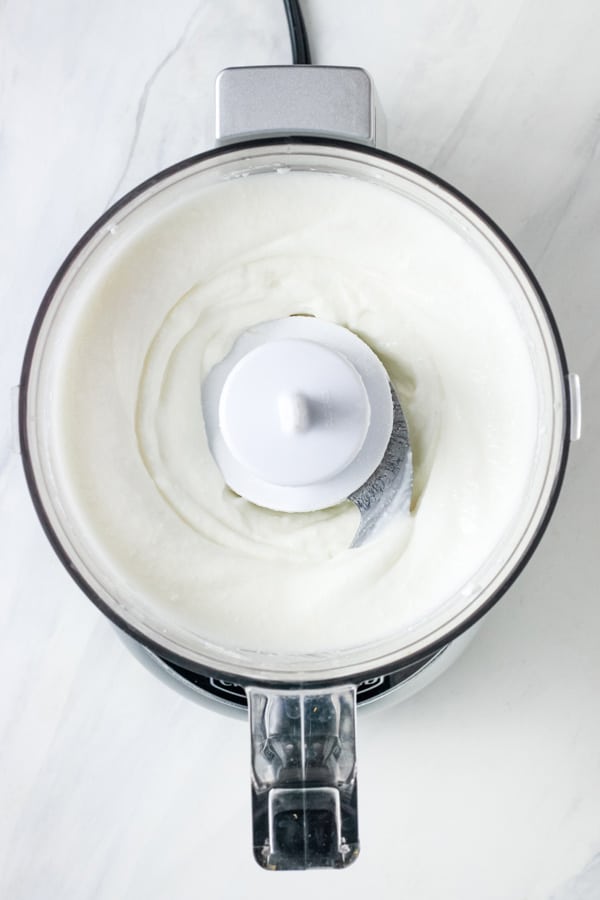 How to Make Whipped Cottage Cheese
Add about 1 cup of cottage cheese to a mini food processor.
Pulse a few times, then stop and scrape down the sides. Continue pulsing the processor until the cottage cheese is creamy and smooth. It usually takes us about 30 seconds to 1 minute.
Store any leftovers refrigerated in a covered container for up to 2 days.
Quick note: I'm not sure how fat-free cottage cheese whips up. So far, we've only tried whipping low-fat or 2% cottage cheese for a few of our dessert-style toasts.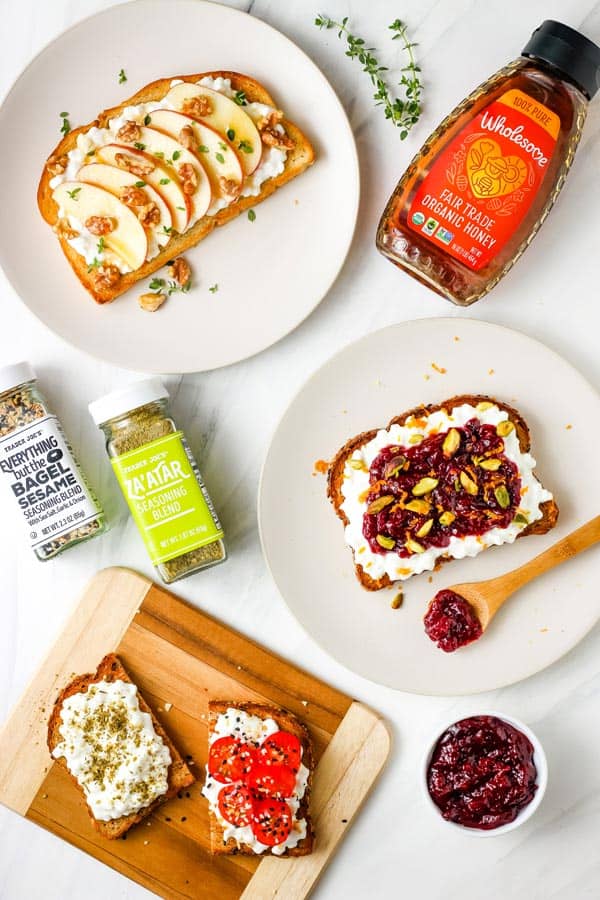 Toppings: The sky is truly the limit. You can use fresh fruits and veggies, salsa, toasted nuts, pesto, toasted coconut, herbs, spices, and so much more.
To give you an idea of just how versatile cottage cheese can be we cleaned out the fridge and threw together a bunch of yummy toasts. Some are classics, others may sound a little funky, but trust me they all taste delicious.
15+ Cottage Cheese Toast Ideas
For the toasts below, we used around ⅓ cup of cottage cheese to top each one. You may need a little more depending on the size of your bread slice.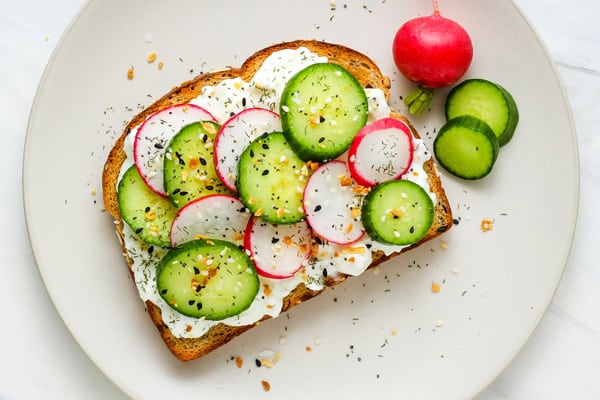 1. Cucumber Radish
Add thin cucumber and radish slices. Sprinkle with everything bagel seasoning and fresh or dried dill.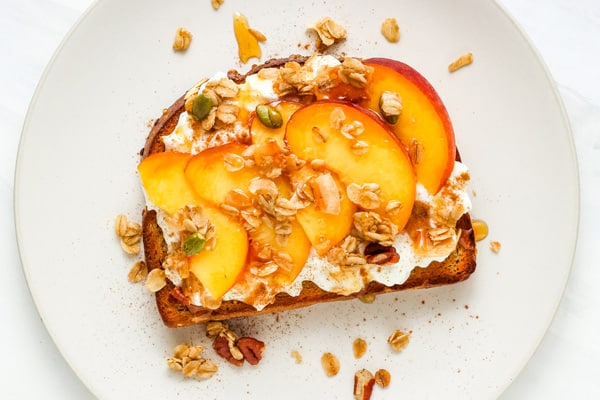 2. Cinnamon Peach
Layer with fresh or canned peach slices. Sprinkle cinnamon and granola (or chopped toasted nuts) over the toast. Finish with a drizzle of honey or maple syrup.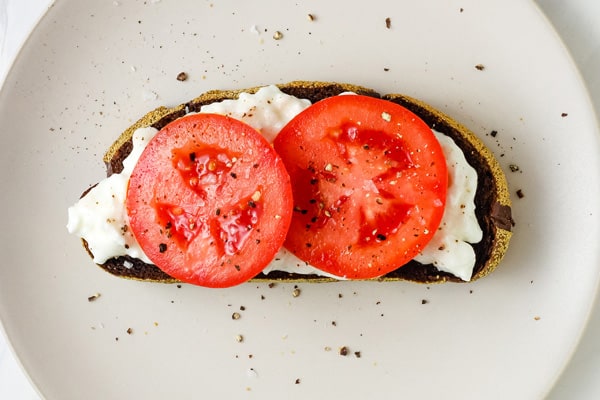 3. Simply Tomato
Grab the freshest, juiciest tomato you can find and cut it into slices. Season with flaky sea salt and freshly ground black pepper. This simple combo tastes fantastic on a thick slice of pumpernickel bread.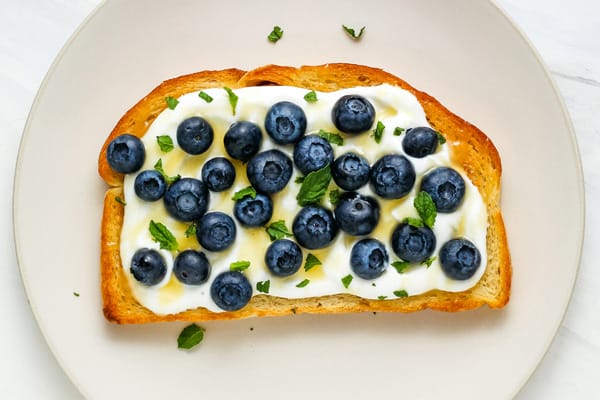 4. Blueberry Lemon
Spread the toast with lemon curd. Then top with the cottage cheese, a handful of fresh blueberries, and mint.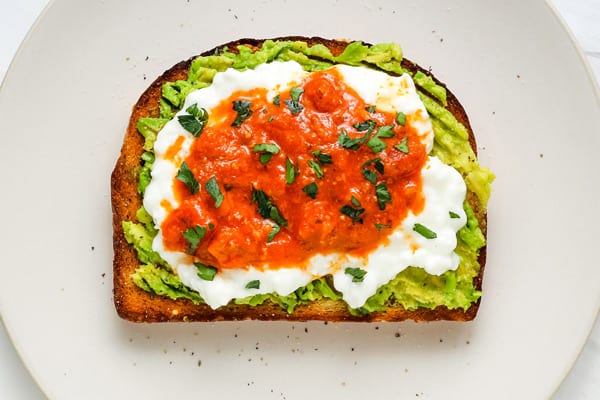 5. Avocado Salsa
Like avocado toast but better! Scoop half a small avocado onto the toast, mash with a fork, and season with salt and pepper. Top with cottage cheese and your favorite chunky salsa (we used Trader Joe's Pepita Salsa).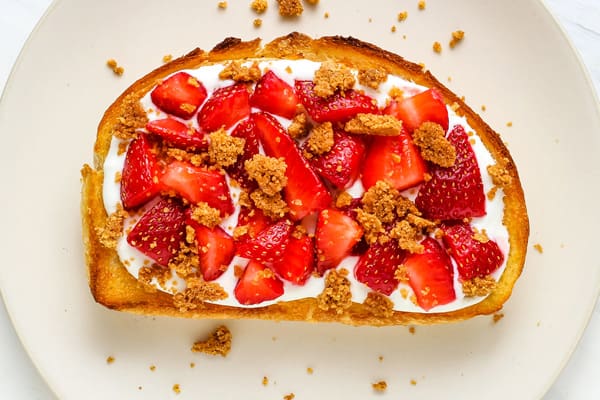 6. Strawberry Cheesecake
Mix whipped cottage cheese with a spoonful of Greek yogurt, a splash of vanilla extract, and 1-2 teaspoons of maple syrup. Spread on toast and top with chopped strawberries and crushed graham cracker (or our graham cracker crumble).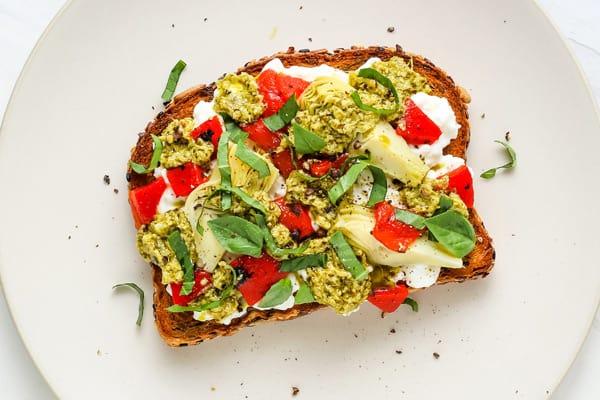 7. Pesto Red Pepper
Top with chopped roasted red pepper, dollops of pesto, and some fresh basil or parsley. Season with a few grinds of black pepper. We had artichoke hearts leftover from our tortilla pizzas to use up so I threw them on there too.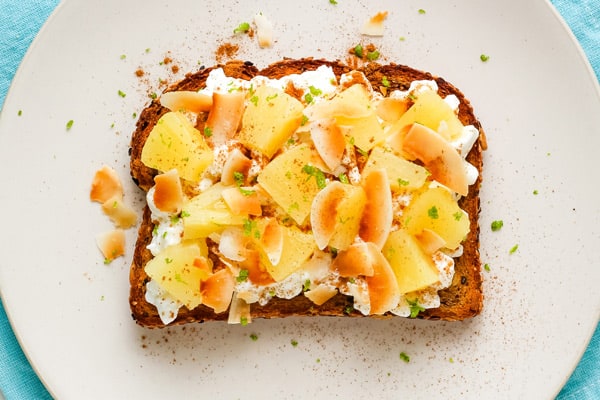 8. Cinnamon Pineapple
Sprinkle cottage cheese generously with cinnamon. Then top with chopped pineapple (we used some drained canned pineapple) and toasted coconut. *I like to add lime zest to mine too.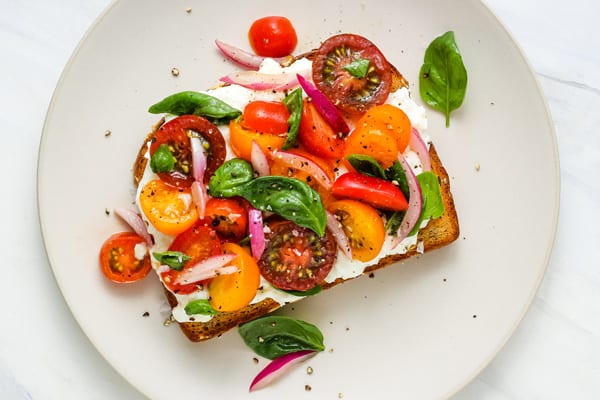 9. Tomato Salad
Cut a small handful of grape tomatoes in half and add to a bowl with thinly sliced red onion and fresh basil. Add a drizzle of olive oil, a splash of red wine vinegar, salt, and pepper. Let the salad sit for 5 to 10 minutes before spooning it over the cottage cheese.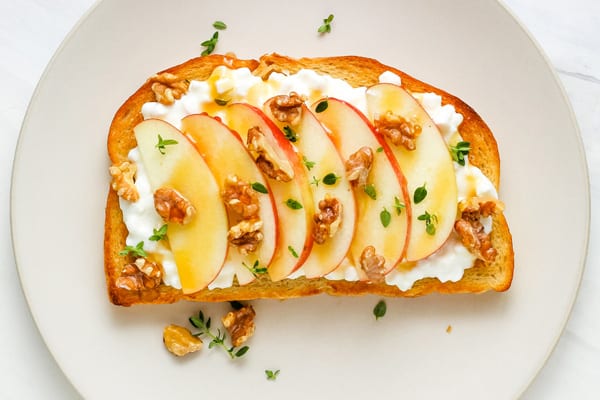 10. Apple and Thyme
Layer apple slices across the toast and top with toasted walnuts or pecans and fresh thyme leaves. Then drizzle with honey.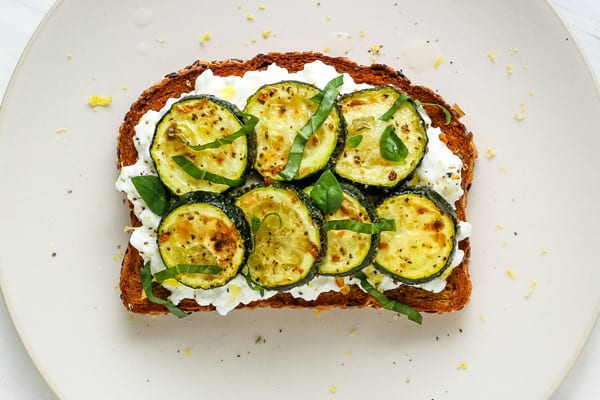 11. Lemony Zucchini
This one does require a little cooking to broil the zucchini. Toss sliced zucchini rounds with a little oil + your favorite herby seasoning blend. Broil until browned and tender. Top toast with cottage cheese, sprinkle with lemon zest, salt, and pepper. Add a layer of zucchini and some sliced basil. Just before serving, squeeze a small lemon wedge over everything.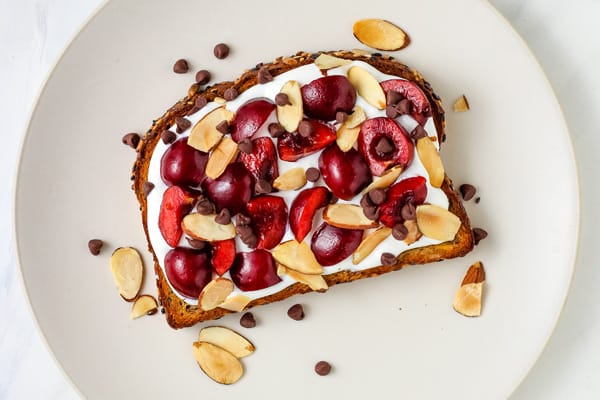 12. Cherries and Chocolate
Mix whipped cottage cheese with a splash of almond extract and vanilla extract. Top with pitted and chopped red cherries, toasted almond slices, and mini chocolate chips.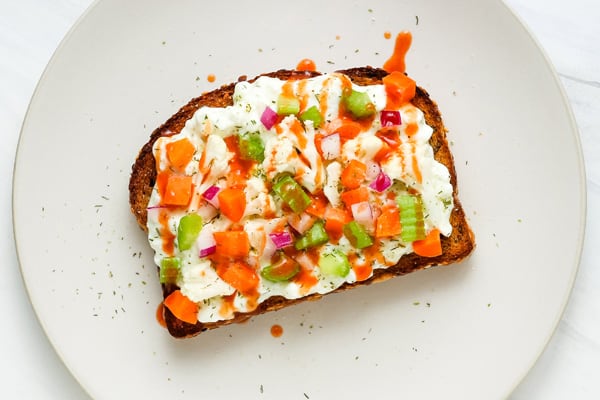 13. Buffalo Ranch
Mix ¼ to ½ teaspoon ranch seasoning with the cottage cheese and spread onto the toast. Top with a few tablespoons of finely chopped veggies (we used baby carrots, celery, cauliflower, and red onion). Drizzle with Buffalo sauce and sprinkle with more ranch seasoning as desired.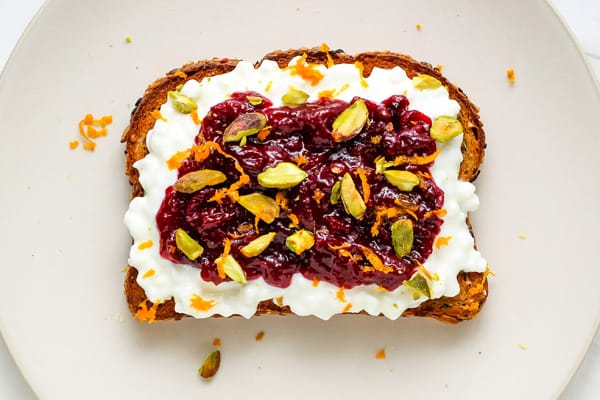 14. Cranberry Orange
This one is great for using up that post-thanksgiving cranberry sauce. Dollop a few tablespoons of cranberry sauce (I used our balsamic roasted cranberries) onto the toast. Sprinkle with chopped pistachios and orange zest.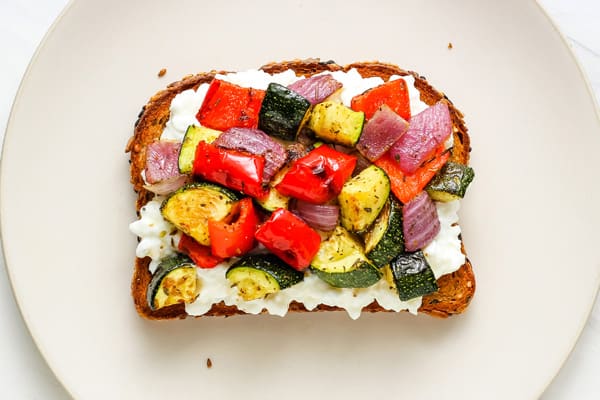 15. Roasted Veggies
Next time you roast vegetables, save some to make a quick lunch the next day. For this toast, we used leftover roasted zucchini, red pepper, and red onion from our hummus and zucchini pita sandwiches.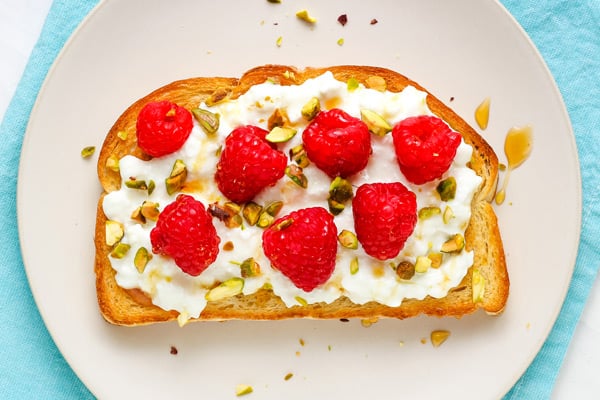 16. Raspberry Pistachio
Mix cottage cheese with a splash of vanilla extract. Dollop onto the toast and top with fresh raspberries and chopped pistachios. Drizzle with honey. If you have an orange on hand, grate a little of the peel on top – it's really good with the other flavors.
What do you like to pair with cottage cheese? Let us know in the comments below!
More Easy Toast Ideas
If you're a fan of quick meals, you might enjoy these other ideas for putting tasty things on bread:
Cottage Cheese Toast
Here's how to make a quick cottage cheese toast along with lots of sweet and savory topping ideas. It's great for breakfast, lunch, or as a snack!
Ingredients
1 Slice Bread (we used a whole grain variety)
Olive Oil or Olive Oil Spray, optional
⅓ cup (75 grams) Low-Fat Cottage Cheese
English Cucumber Slices
Radish Slices
Everything Bagel Seasoning
Dried or Fresh Dill
Instructions
Lightly brush or spray the bread with oil on both sides. Toast until golden and crisp. Set on a rack to cool.
Top toast with cottage cheese, cucumber, and radish slices. Sprinkle with everything bagel seasoning and dill. Then, dig in!
Notes
Salt-Level: Cottage cheese has a distinct saltiness that varies widely across brands. It can range from mild to whoa, that's a lot of salt. Feel free to adjust the seasonings to suit your preferred tastes.

To Make Whipped Cottage Cheese: Add about 1 cup of cottage cheese to a mini food processor. Process until smooth, 30 seconds to 1 minute, stopping to scrape the sides once or twice. Refrigerate leftovers in a covered container and use within 2 days.
Sweet Topping Ideas
Fruit: Chopped berries, cherries, pineapple, peach, or apple slices
Crunch: Toasted nuts or coconut
Extra Flavor: Vanilla extract, cinnamon, honey or maple syrup, lemon curd, chocolate chips, crumbled graham crackers, fresh mint or thyme
Additional Savory Topping Ideas
Veggies: Tomatoes, mashed avocado, roasted red pepper, artichoke hearts, roasted vegetables (zucchini, red onion, red bell pepper), finely chopped snack vegetables (carrots, celery, and broccoli or cauliflower)
More Flavor: Buffalo sauce, chunky salsa, pesto, seasoning blends (like za'atar, Italian seasoning, ranch seasoning, Old Bay, etc.), fresh basil or parsley

Nutrition Information:
Yield:

1
Serving Size:

1 Toast
Amount Per Serving:
Calories:

191
Total Fat:

3.5g
Saturated Fat:

0.9g
Cholesterol:

6mg
Sodium:

489mg
Carbohydrates:

25.6g
Fiber:

5.2g
Sugar:

5.6g
Protein:

15.5g