Roasted Red Pepper, Carrot and Hummus Sandwich
This Roasted Red Pepper, Carrot and Hummus Sandwich is the BEST vegetarian sandwich around. Sink your teeth into a crispy toasted whole-wheat baguette layered with creamy hummus, avocado, sweet roasted red peppers, carrots, and even more fresh veggies. Make it for a filling lunch or light dinner!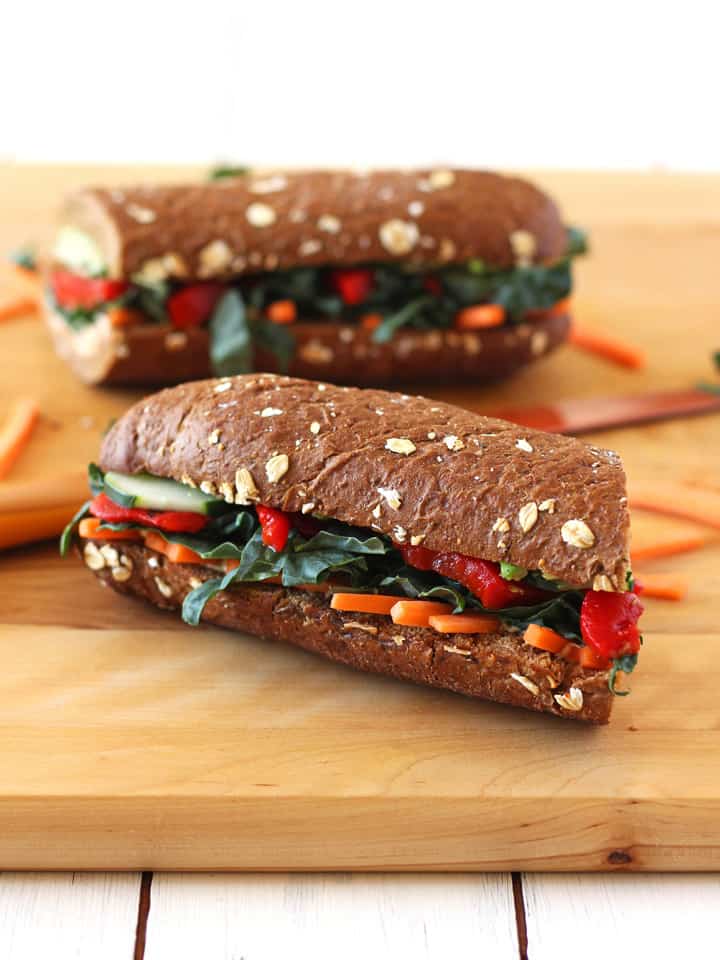 The Best Vegetarian Sandwich
The origin of this tasty recipe begins with my first real job.
At 16 I started working part-time for a small chain sandwich shop. It was fun learning how to make pineapple boats and cabbage dip bowls for catering orders.
But the best perk was the employee discount. The menu had 30 different kinds of sandwiches and my favorite was the Roasted Red Pepper, Carrot and Hummus Sandwich.
It featured a toasted whole-wheat baguette layered with hummus, provolone slices, roasted red peppers, matchstick carrots and generously topped with fresh veggies. Sounds common now but in the mid 90's it was a unique combo.
So unique in fact, it was banished from the menu a few months into my sandwich building career!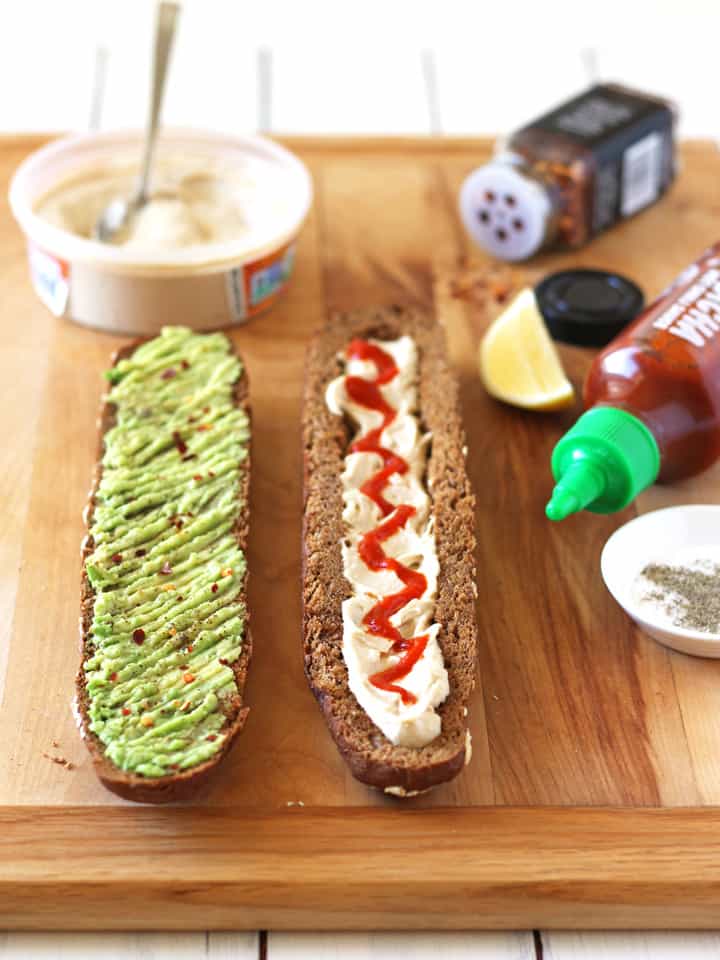 Not one to let a good thing go I've been keeping the sandwich alive creating different versions of it over the years. Sometimes I switch the cheese for heart-healthy avocado and the lettuce for vitamin-rich kale.
The original inspiring ingredients:
nutty creamy hummus
crunchy matchstick carrots
sweet roasted red peppers
Nope, I never change those.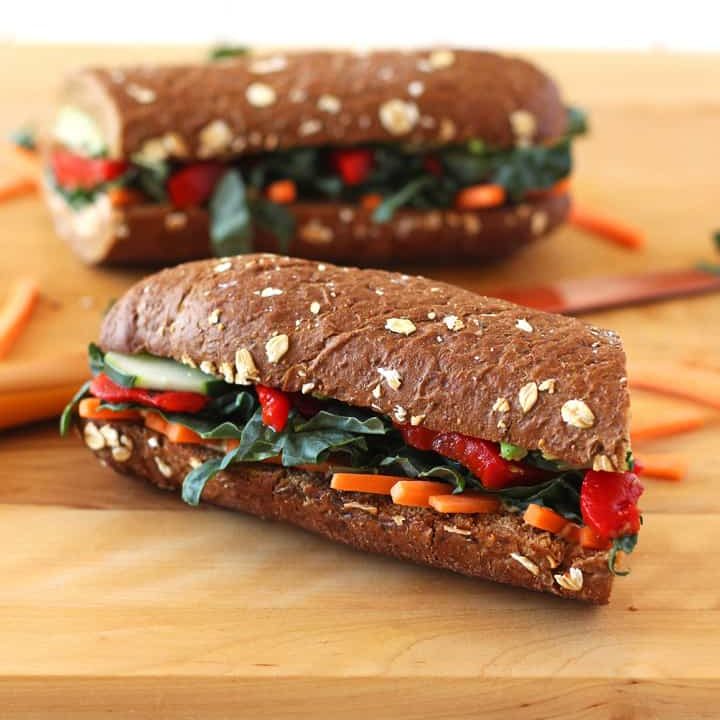 Roasted Red Pepper, Carrot and Hummus Sandwich
A not sad desk lunch bursting with flavor from sweet fire-roasted red peppers, creamy avocado, nutty hummus, bitter kale and crunchy veggies on a crusty loaf of whole grain bread.
Ingredients
1 whole grain sandwich-sized bread loaf or demi-baguette
1/2 teaspoon olive oil
1/2 a small avocado
Salt & pepper
Pinch red chili pepper flakes, (optional)
Lemon wedge
1/4 cup plain hummus
1 teaspoon sriracha sauce
1 large carrot, peeled and chopped into matchsticks
2 leaves lacinato kale, ribs removed and thinly sliced
1/2 cup loosely packed fire-roasted red peppers
1/2 a small cucumber, thinly sliced
Instructions
Slice the baguette in half lengthwise and scoop out bread from bottom half making sure to leave at least a 1/4 inch border of crust and bread. Drizzle both sides with olive oil and toast until lightly crispy.
Mash the avocado onto the top half of the loaf. Squeeze the lemon wedge over avocado and sprinkle with salt, pepper and red chili pepper flakes.
Spoon hummus into the bottom half of the loaf, spreading it into an even layer. Squeeze sriracha sauce over hummus and layer with carrots, kale, red peppers and cucumbers. Cover with top of loaf, slice in half and enjoy.
Notes
Nutritional Information is an estimate for 1/2 of the sandwich.
Nutrition Information:
Yield:

2
Serving Size:

Half of Sandwich
Amount Per Serving:
Calories:

296
Total Fat:

11.8g
Saturated Fat:

1.9g
Sodium:

414.6mg
Carbohydrates:

39.1g
Fiber:

10.4g
Sugar:

8g
Protein:

11.9g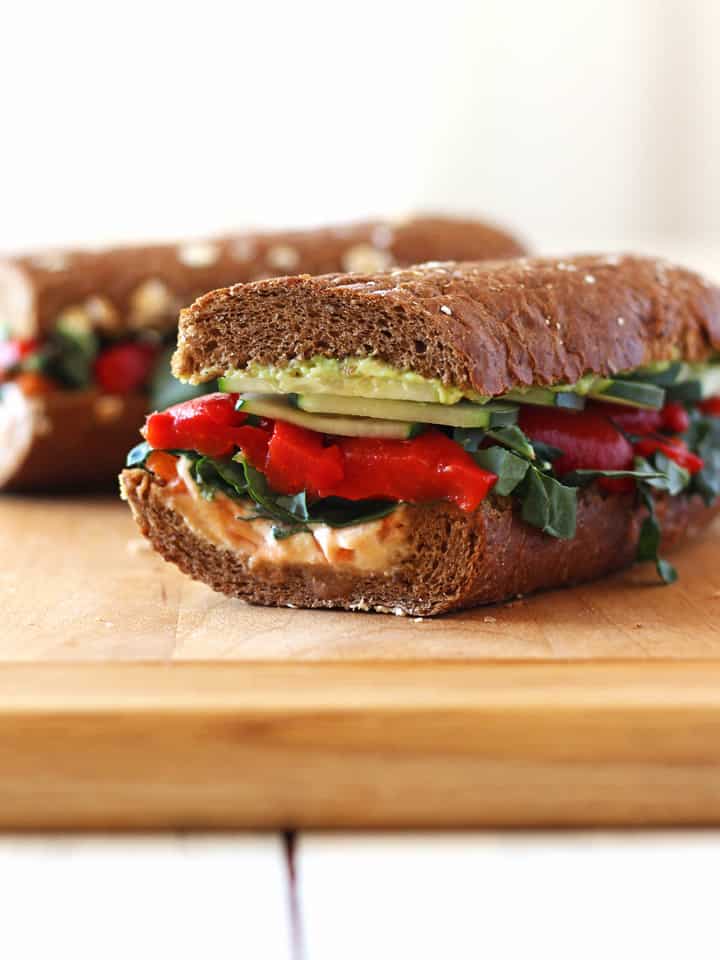 Sriracha Sauce = Better Tasting Veggies
With recipes like Sriracha Vinaigrette, Spicy Chickpea Edamame Salad Pitas, and Cheddar Sriracha Cornbread Donuts it's no surprise sriracha would make its way onto this sandwich too.
Until our Vegucation I never enjoyed spicy food. After quitting diet soda and artificial sweeteners something happened. My taste buds changed.
I went from avoiding bold flavors and spices like sriracha to craving them, especially with vegetables. Now, if only Costco would sell sriracha sauce in bulk.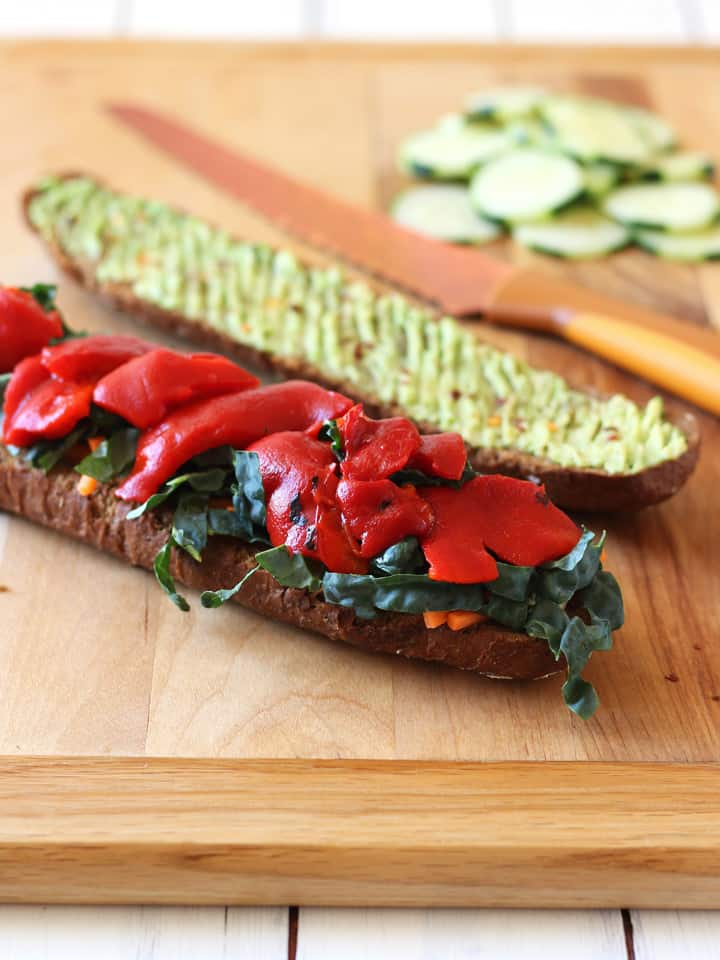 With or without a tiny helping of hot sauce this Roasted Red Pepper, Carrot and Hummus Sandwich will delight your taste buds, refuel your body and happily fill your belly.
The recipe makes enough for two, so go ahead and share. That way you and a co-worker can both enjoy a Not Sad Desk Lunch.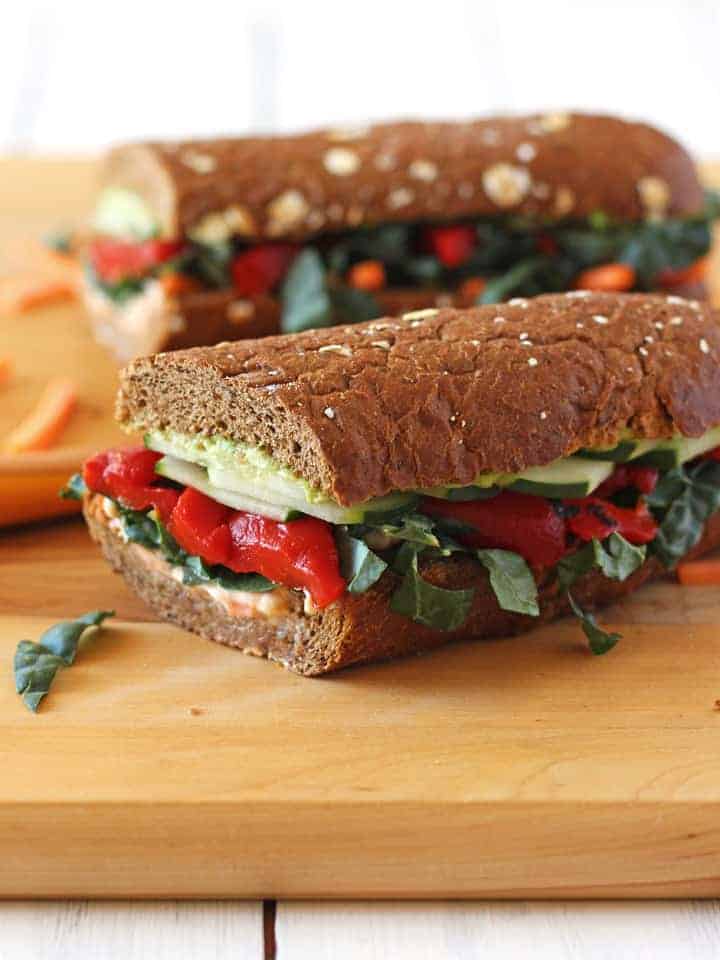 Do you remember your first job…was it scooping ice cream, folding sweaters at The Gap or were you forced to dress up as Chuck E. Cheese like my poor friend Brian? Oh, please share in the comments I love hearing first job stories.