Turn up the heat with Spicy Avocado Cauliflower Toasts. Whole grain toasts topped with creamy avocado, jalapeño roasted cauliflower, peppery radishes and more!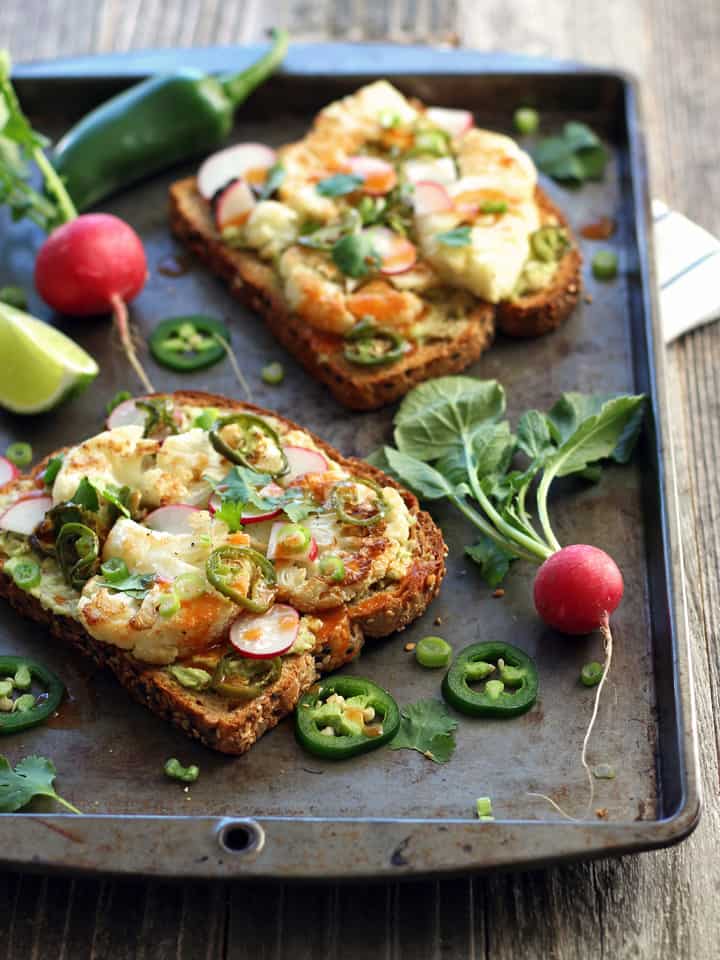 Avocado + Toast, such a fantastic combo right? Filling, quick and soooo satisfying. One of my favorite things about avocado toasts are how every fruit or veggie seems to just magically taste better on top of them.

So what tastes good with avocado on toast? Well, pretty much everything 🙂 But to get specific I guarantee you'll love it with juicy summer peaches, balsamic roasted grapes or a fresh pan of jalapeño roasted cauliflower. I know that last one's a little out there, stay with me people…it's amazing.
Imagine crispy jalapeno slices, buttery roasted cauliflower, peppery radishes and the tiny onion bite of sliced scallions. Layer all that veggie texture and flavor onto a crispy slice of whole grain toast covered in creamy mashed avocado.
Drizzle it with your favorite hot sauce, grab a few lime wedges and dig in!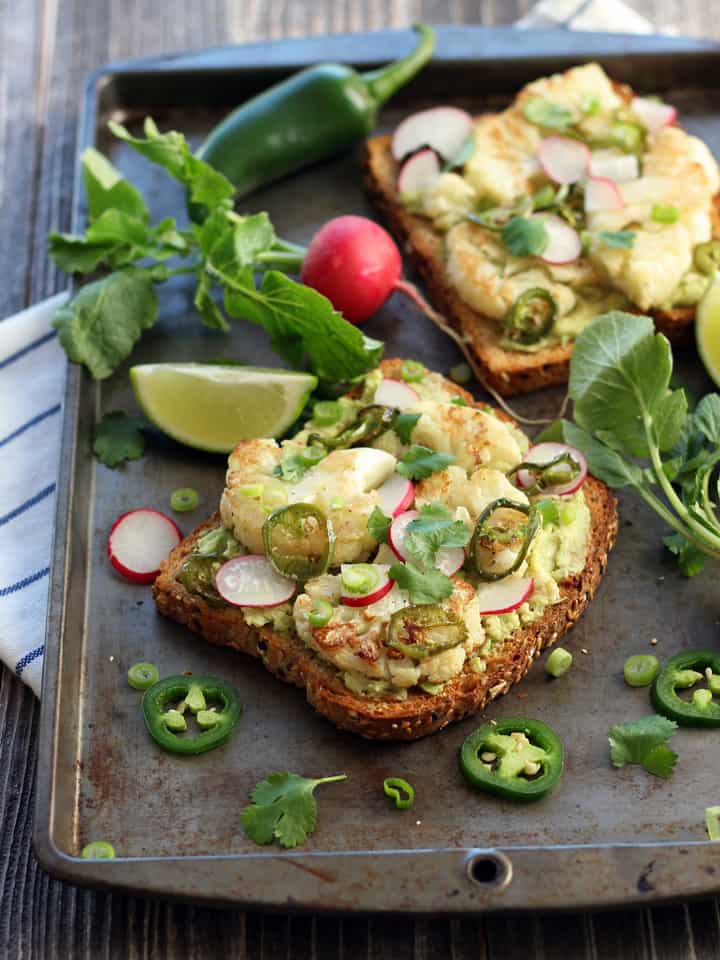 And depending on who you're making these spicy avocado cauliflower toasts for there are lots of ways to adjust the heat level.
Like if I was making one for my godmother Michele who is not a spicy food fan but such a good sport (she ate Sriracha for me, that's real love ♥).
I would knock a few of those crispy roasted jalapeño slices off her toast, skip the hot sauce all together and squeeze a lime wedge over everything to highlight the cooling avocado. Still a flavor-packed lunch but with a much milder heat.
Now, if I was making this for Tim (who will happily eat himself into a jalapeño hiccupping state) I would crank up the heat. By sprinkling the avocado with crushed red chili pepper and a few fresh jalapeno slices.
Then I'd hand Tim his toast and scoot off to fold laundry until he finished hiccupping 🙂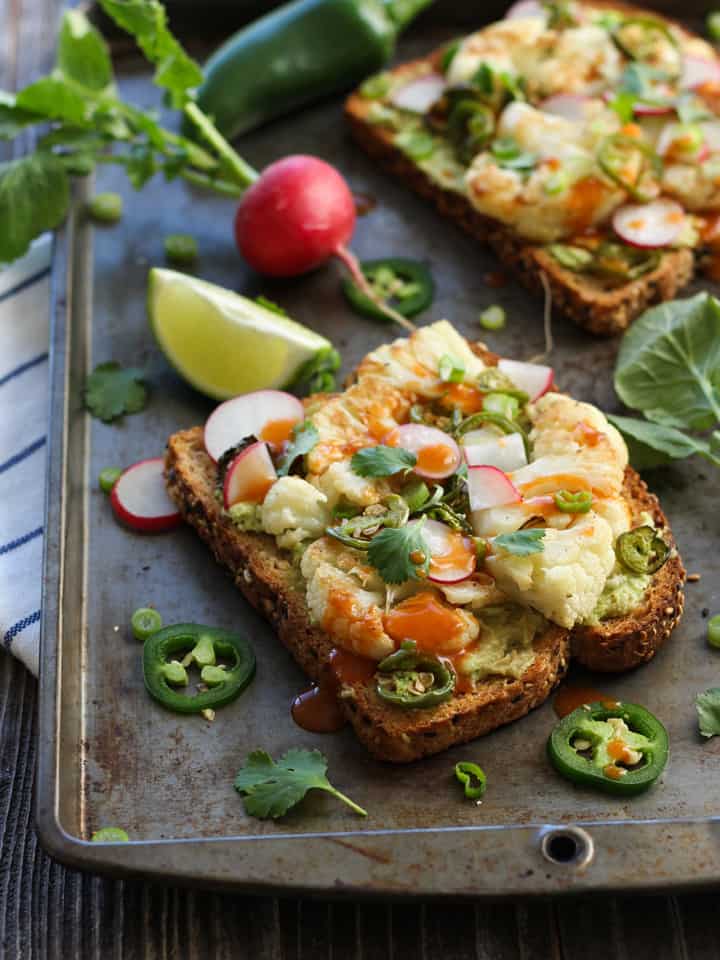 So friends, spicy or sweet what's your favorite way to top avocado toast?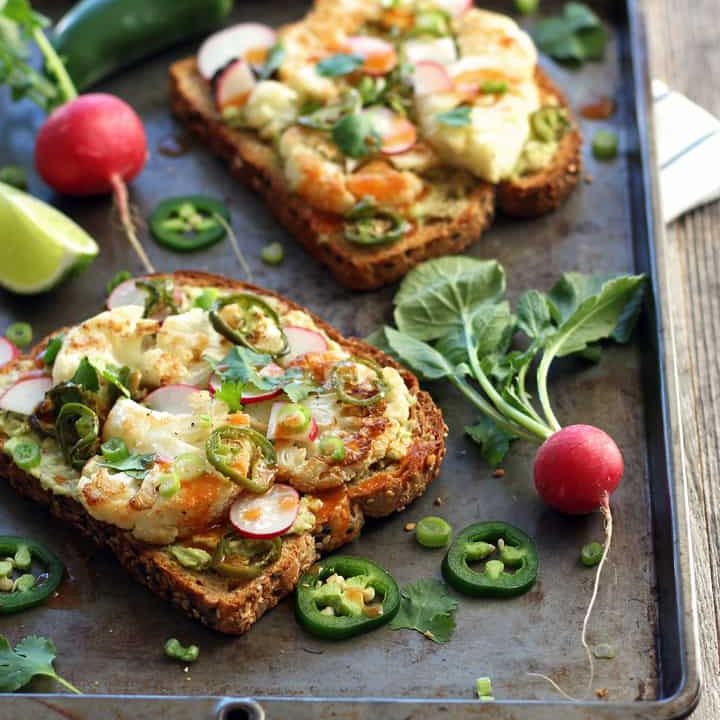 Spicy Avocado Cauliflower Toasts
Yield: 2 Spicy Avocado Cauliflower Toast

Prep Time: 15 minutes

Cook Time: 40 minutes

Total Time: 55 minutes

Make lunchtime exciting with these crispy, creamy, hot and spicy veggie topped toasts.
Ingredients
For Jalapeño Roasted Cauliflower
1/2 a large head of cauliflower with leaves removed, (10-12 ounces)
3 teaspoons olive oil, avocado oil or grapeseed oil, divided
1 small jalapeño, thinly sliced
Salt & pepper
To Prepare Toasts
2 slices whole grain bread
1/4 teaspoon olive oil
1 medium avocado
salt and pepper, (to taste)
5 radishes, thinly sliced
1 green onion, thinly sliced
1 tablespoon chopped cilantro leaves
2-3 teaspoons hot sauce
1 lime, sliced into wedges
1 small jalapeño, thinly sliced for topping (optional)
Instructions
Preheat your toaster oven to 450 F and coat your baking or roasting pan with 1 teaspoon of the oil.
Slice the cauliflower into 3/4 inch thick pieces.
Place cauliflower and jalapeño slices in a large bowl. Drizzle with remaining oil and season with salt and pepper. Mix well to make sure all of the pieces are coated with oil.
Arrange mixture in a single layer on the prepared pan and roast for 25 to 35 minutes until crispy and browned. Carefully flipping the cauliflower after 20 minutes.
When cauliflower is ready set toaster oven to toast and brush each slice of bread lightly with oil. Toast bread until golden.
Mash avocado onto toasts and sprinkle with salt and pepper.
Layer jalapeño roasted cauliflower on top of avocado. Sprinkle with radish slices, green onion and cilantro. Drizzle with hot sauce.
Serve toasts immediately with lime wedges and raw jalapeño slices if desired.
Notes
Nutritional information is an estimate for 1 of 2 toasts.
Nutrition Information:
Yield: 2 Serving Size: 1 Toast

Amount Per Serving:

Calories: 354 Total Fat: 23.8g Saturated Fat: 3.6g Sodium: 294.4mg Carbohydrates: 33.5g Fiber: 13.7g Sugar: 7.1g Protein: 9.2g

Nutritional information provided is an estimate generated by an online calculator. It should not be considered a substitute for advice from a professional nutritionist or your doctor.