With layers of vibrant flavors, colors, and textures this loaded avocado toast is a fun twist on the classic lunchtime staple!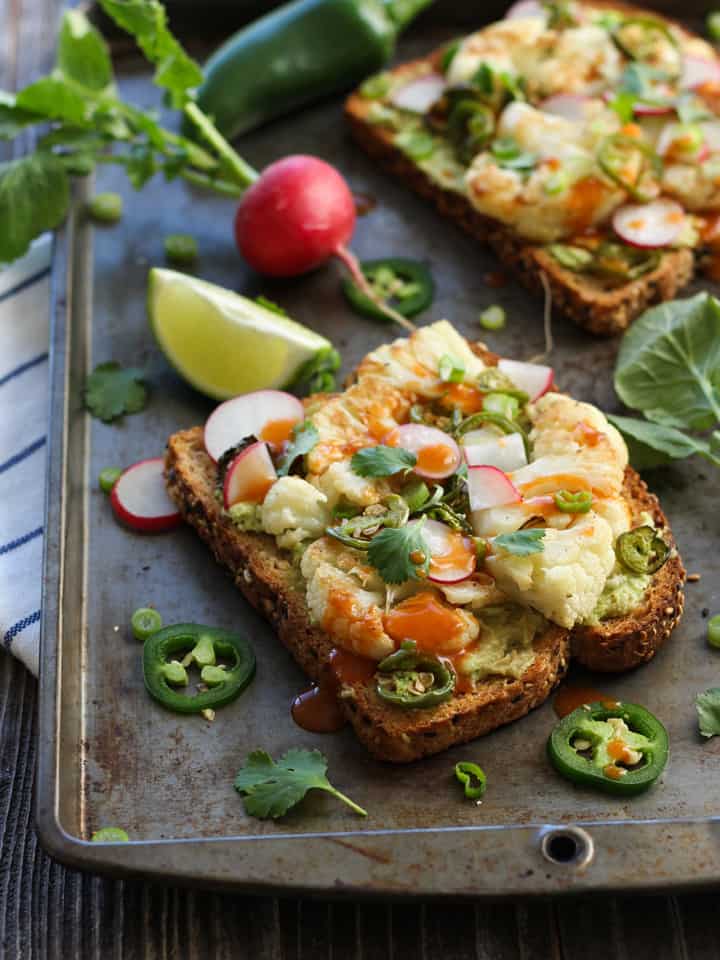 You can never go wrong with sandwiches and toasts for lunch, especially when they're loaded up with flavorful toppings.
I'm talking about mashed avocado, roasted cauliflower, jalapeno slices, and crunchy radishes. All piled atop crisp toasted bread and drizzled with hot sauce. Plus a wedge of lime squeezed over everything? Um, yes please.
There is so much to like (scratch that, love) about these fresh and filling savory toasts. Come on, let's make some!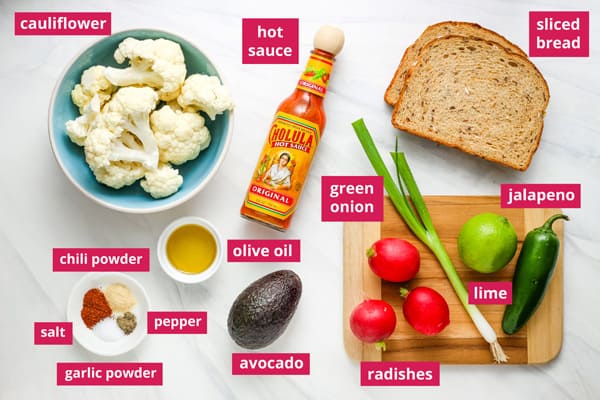 Ingredient Notes
Raw Cauliflower: You'll need around 3 cups of florets for the recipe, that's about half a medium cauliflower. This toaster oven cauliflower recipe has step-by-step directions for breaking down a head of cauliflower. But if you want to reduce the prep, grab a bag of pre-cut florets.
Chili Powder or Chili Seasoning: It's a mild blend of dried chilies, herbs, and spices. If you don't have any on hand, just omit it. Our original recipe called for roasting the cauliflower simply with just salt and pepper which also tastes delicious!
How to Make Loaded Avocado Toasts
Step 1: Preheat the oven to 425°F. To make our toasts, I usually turn on our countertop oven. It's great for roasting veggies without heating up the whole kitchen. Plus it works as a toaster for the bread!
If you're cooking with a toaster oven too, select the BAKE setting and use the bottom rack position.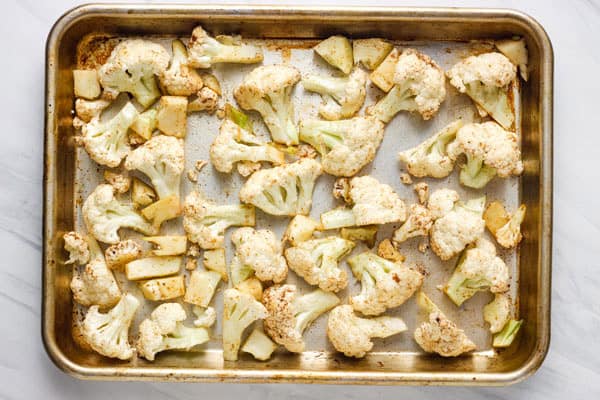 Step 2: Roast the cauliflower. In a large bowl, stir together the olive oil, chili seasoning, garlic powder, salt, and pepper. Add the cauliflower florets and toss to coat evenly. Spread onto a rimmed baking sheet and cook for 15 minutes.
While the cauliflower is roasting, toss the jalapeño slices with any of the oil and seasonings left in the bowl.
After 15 minutes of cooking, remove the cauliflower from the oven and sprinkle over the jalapeño slices. Return the pan to the oven and cook until fork-tender and crispy on the edges, about 10 minutes more.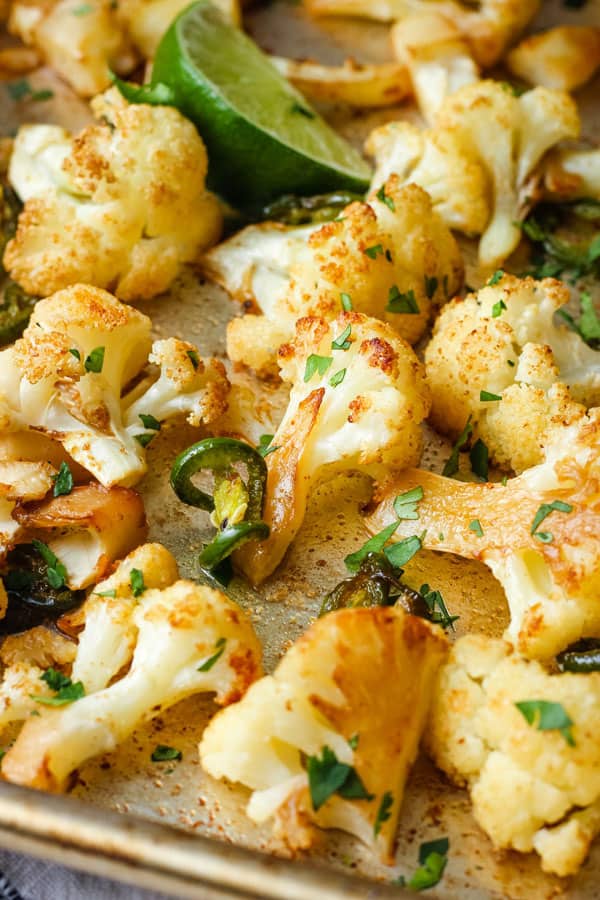 Step 3: Toast the bread. Before adding the bread to the toaster oven, lightly spray or brush both sides of each slice with oil. The oil will help the bread to brown and crisp without drying it out.
Step 4: Assemble your toasts. Scoop the avocado onto the toast, mash with a fork, and sprinkle with salt and pepper. Pile on the roasted cauliflower and jalapeño, sliced radishes, green onion, and cilantro.
Just before eating, drizzle with hot sauce and squeeze a lime wedge over everything. Then, grab some napkins (things are gonna be messy) and dig in!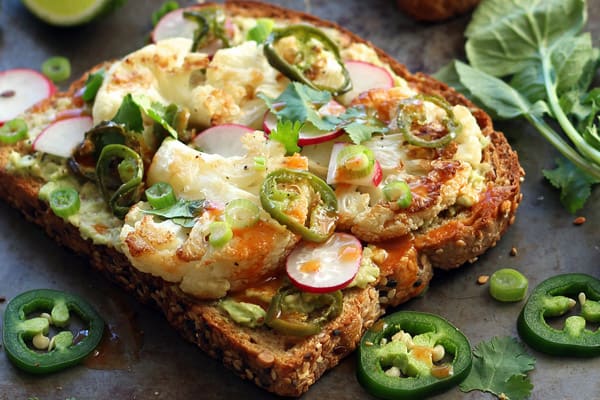 Variations
Add more flavor: As soon as the bread is toasted, rub both sides with a peeled clove of garlic.
Turn down the heat: Skip the hot sauce and go easy on the jalapeño slices.
Get cheesy: Top the toast with pepper jack cheese (sliced or shredded) and broil for 1-2 minutes before topping.
Amp up the veggies: Add grilled corn, roasted red peppers, or chopped tomatoes.
Out of bread? Stuff everything into warmed tortillas!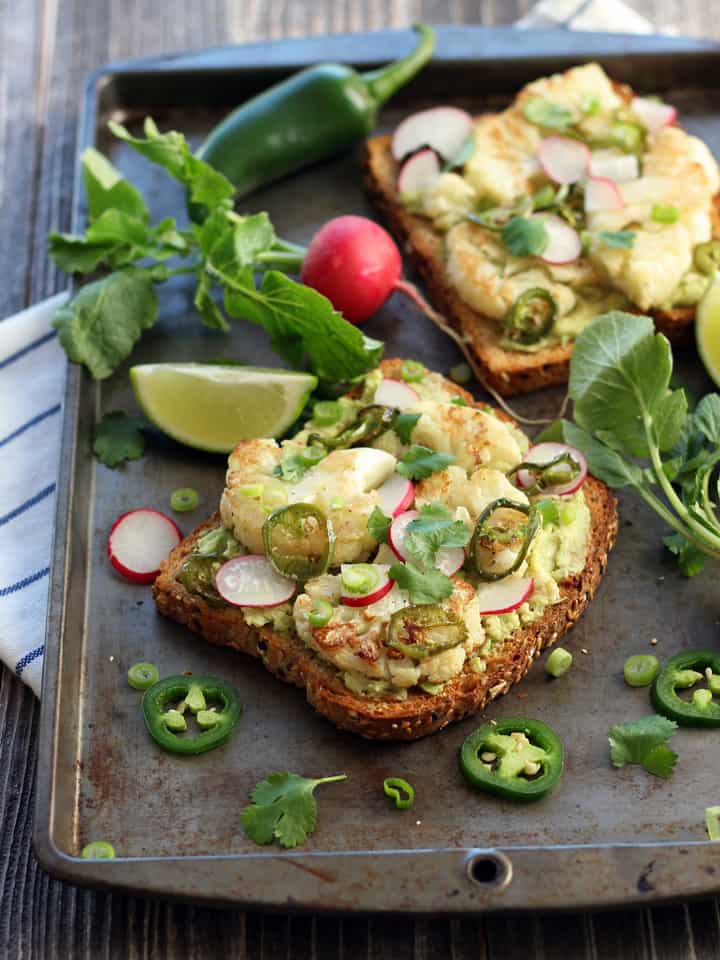 More Tasty Vegetarian Lunch Ideas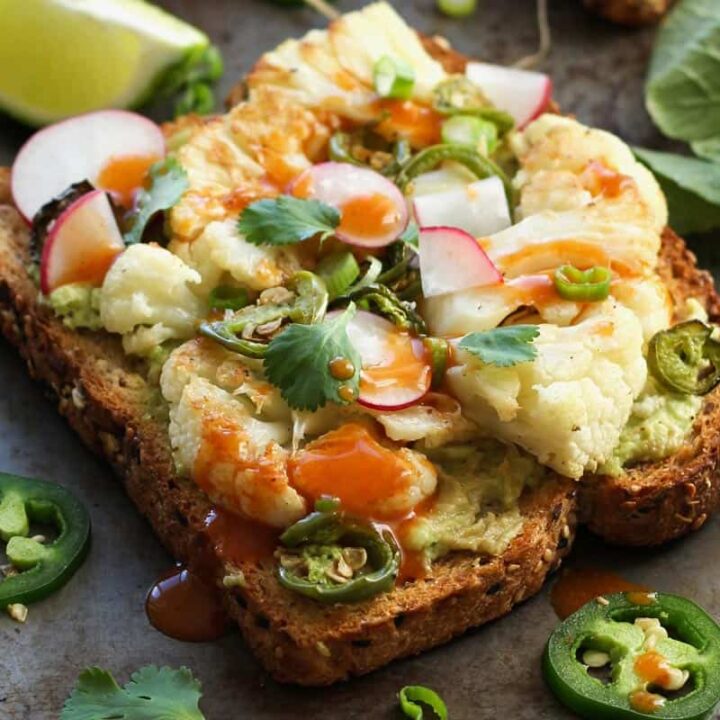 Loaded Avocado Toast
If you aren't a big fan of spicy foods, serve the jalapeño slices and hot sauce on the side. Then you can add as much (or as little) as you want.
Ingredients
Roasted Cauliflower
2 to 3 teaspoons Olive Oil or Avocado Oil
½ teaspoon Chili Powder
¼ teaspoon Garlic Powder
¼ teaspoon Salt
⅛ teaspoon Black Pepper
Half a Head of Cauliflower, leaves removed and chopped into florets (about 3 cups or 8-10 ounces)
1 Jalapeño, sliced
Toasts
2 Bread Slices (we used whole-grain)
Oil or Oil Spray
1 Ripe Small Avocado
Sliced Radishes and Green Onion
Lime Wedges
Chopped Cilantro or Parsley, optional
Hot Sauce, optional
Instructions
Preheat the oven to 425°F. If using a toaster oven, adjust the cooking rack to the lowest placement and select the BAKE setting.
To season the cauliflower, combine the olive oil, chili seasoning, garlic powder, salt, and pepper in a large bowl. Add the cauliflower and toss well to coat. Arrange the florets on a rimmed baking sheet. Roast for 15 minutes.
Meanwhile, add the jalapeño slices to the bowl and toss with any leftover oil/seasoning (add a splash more oil if needed).
Remove the cauliflower from the oven, add the jalapeño slices, and toss everything together. Return to the oven for about 10 minutes or until the cauliflower is browned and fork-tender.
For the toast, lightly spray or brush the bread with oil. Toast in the toaster oven until golden brown and crisped on both sides.
To serve, scoop the avocado onto the toasts, gently mash with a fork, and season with salt and pepper. Top with the roasted cauliflower and jalapeño, sliced radishes, green onion, and cilantro.
Just before digging in drizzle with your favorite hot sauce, squeeze a lime wedge over everything, and enjoy!
Notes
Air Fryer Cauliflower: Reduce the temperature to 370°F or 375°F and preheat the air fryer for 5 minutes. Add the seasoned cauliflower to the air fryer basket and cook for 10 to 15 minutes. Halfway through the cooking time, toss the cauliflower and add the jalapeño slices. *If using a drawer-style air fryer, whisk 1 teaspoon of water into the oil/seasoning mixture before tossing the cauliflower florets with it.

Storing Leftover Cauliflower: Depending on the size of your bread slices, you'll probably have more roasted cauliflower than you need for both toasts. We usually just eat it off the pan or enjoy it on the side. But it can also be stored in a covered container for up to 4 days. To reheat, spread the cauliflower onto a pan and pop it in a 400°F toaster oven for a few minutes until warm.
Nutrition Information:
Yield:

2
Serving Size:

1 Toast
Amount Per Serving:
Calories:

354
Total Fat:

23.8g
Saturated Fat:

3.6g
Sodium:

294.4mg
Carbohydrates:

33.5g
Fiber:

13.7g
Sugar:

7.1g
Protein:

9.2g