Golden Beet and Avocado Sandwich
Packed with flavor, this Golden Beet and Avocado Sandwich recipe makes a filling and delicious vegetarian lunch for two. Use store-bought, roasted, canned, or Instant Pot cooked beets!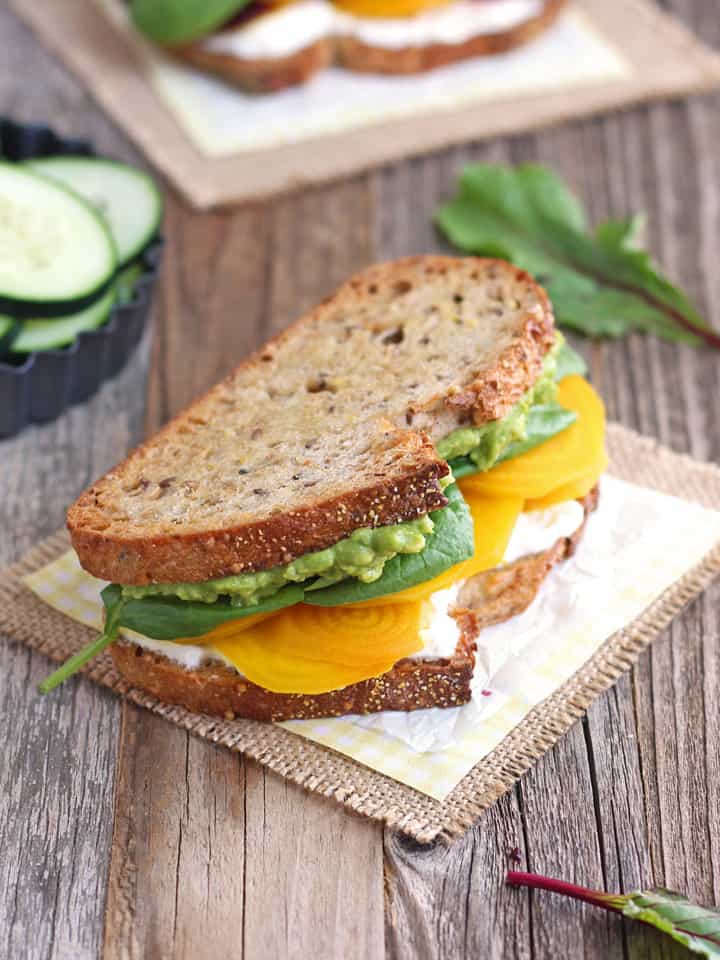 Have you ever tried golden beets?
They're sweet, a little less 'earthy' tasting than their ruby-colored counterparts, and the bright yellow flesh brings a fun springtime vibe to any meal.
Just like the red variety, you can roast golden beets using an oven, toaster oven, or countertop oven. The beets turn deliciously sweet but it's kind of a messy endeavor.
Right now, my favorite way to cook beets is using our 3-Quart Instant Pot Mini. The cleanup is crazy easy and the beets taste delish!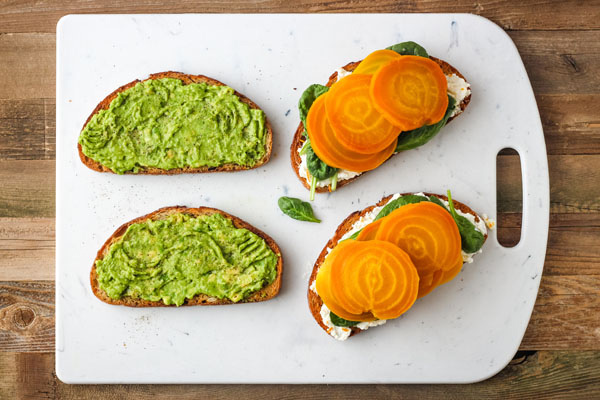 Both the red and golden beet varieties have a unique, almost meaty texture. This makes them perfect for 'beefing-up' vegetarian sandwiches.
To keep things light we paired our golden beets with:
bright orange-flavored ricotta
creamy avocado
and a few handfuls of baby spinach.
Then we slapped it all between two pieces of toasty whole-grain bread.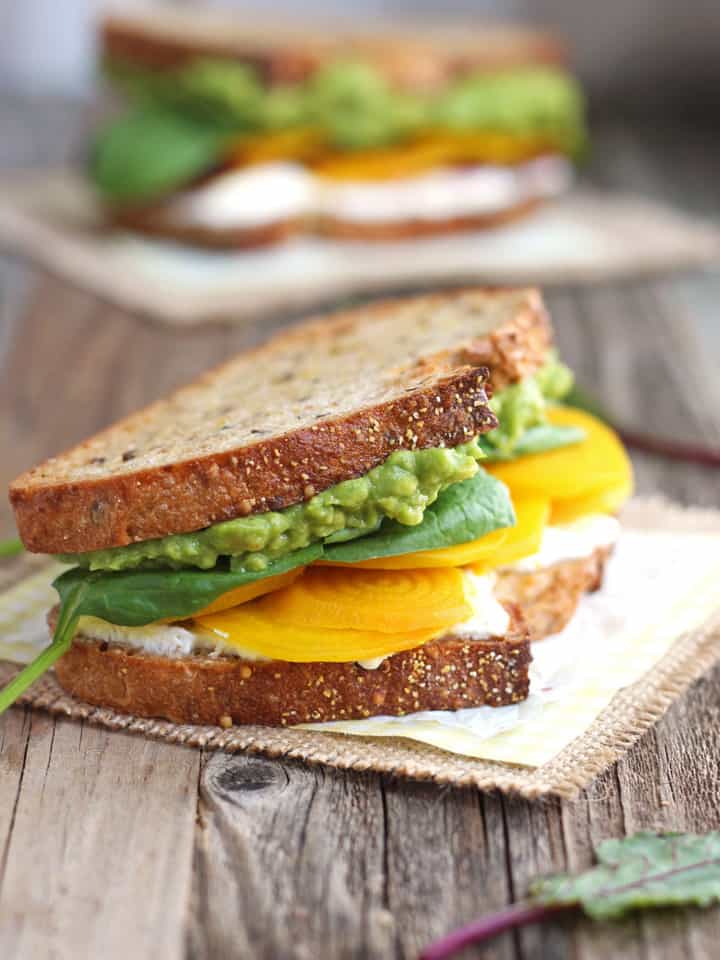 The results: a sandwich that's simple, flavorful, and easy to throw together!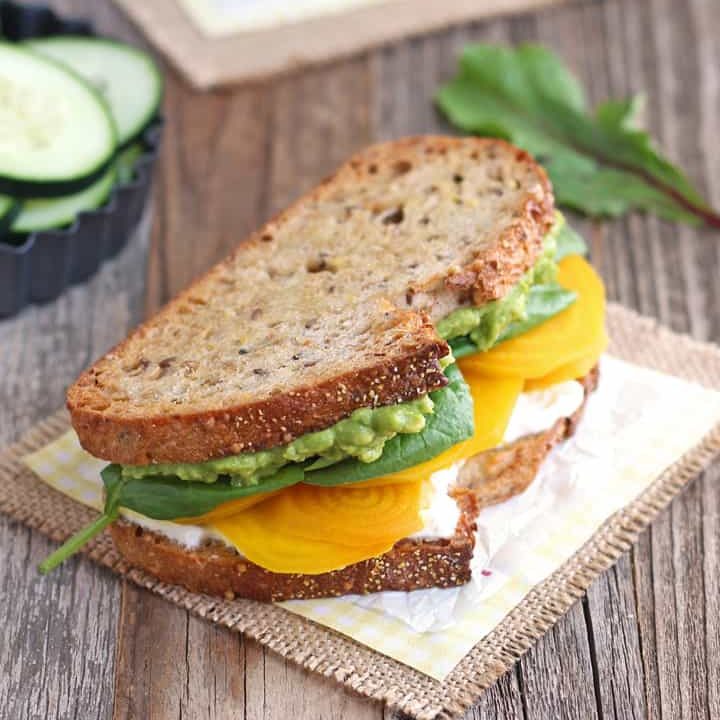 Golden Beet & Avocado Sandwich
Loaded with flavor and textures this easy sandwich is the perfect vegetarian lunch for two!
Ingredients
4 slices whole grain bread
1/4 teaspoon olive oil
1/2 cup ricotta cheese
1/2 teaspoon grated orange peel
1/2 teaspoon fresh squeezed orange juice
3 small cooked golden beets, sliced
1 cup fresh baby spinach
1/2 cup mashed avocado, about 1 medium avocado
Salt and pepper
Instructions
Preheat your toaster oven to 400 F.
Drizzle the bread with olive oil and toast until golden about (5 to 7 minutes).
In a small bowl mix together the ricotta, orange peel and orange juice until combined.
Spread ricotta onto two of the toasted bread slices. Layer with sliced beets and spinach.
Spread mashed avocado onto the remaining toasted bread slices, sprinkle with salt and pepper and top sandwiches.
Notes
For the sandwiches, you can use golden or red packaged refrigerated steamed beets, roasted beets, or instant pot cooked beet.
Nutritional information is an estimate for 1 of 2 sandwiches.
Nutrition Information:
Yield:

2
Serving Size:

1 Sandwich
Amount Per Serving:
Calories:

349
Total Fat:

16.3g
Saturated Fat:

6.4g
Cholesterol:

31.4mg
Sodium:

331.4mg
Carbohydrates:

36.5g
Fiber:

9.1g
Sugar:

9.7g
Protein:

16.4g
How to Store Leftover Golden Beets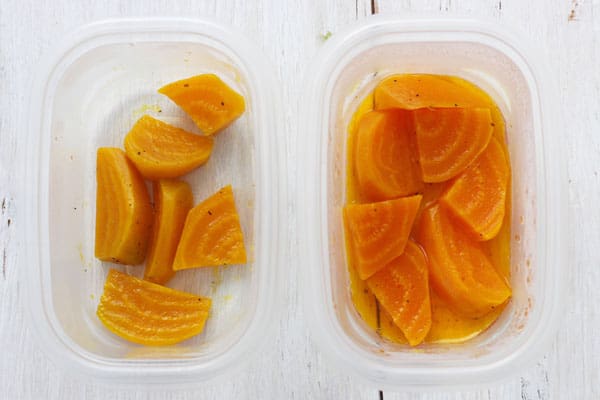 The first time we cooked golden beets and refrigerated the leftovers they developed crazy looking black spots.
It turns out that that cooked red beets also have this problem but they are so dark you can't see it happening.
Don't worry though, there are a few easy ways to keep your beets from becoming zombified.
Pour about 1 tablespoon of white balsamic vinegar over the sliced beets before storing.
Or put the sliced beets into a container and cover them with water and the juice from two lemon wedges.
Looking for Easy Vegetarian Lunch Ideas?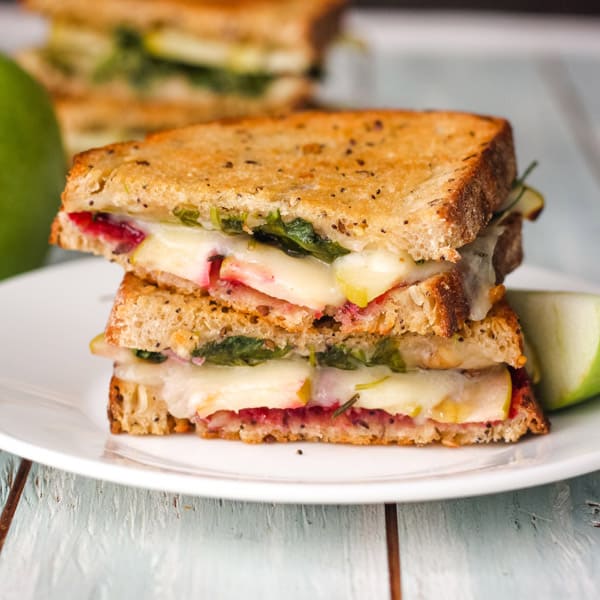 This Grilled Cheese with Apple and Havarti is perfect for busy days when you've got no time to cook. It's super satisfying and ready in just 15 minutes!
If meal prepping is your jam, a double batch of summer corn and quinoa salad will have you set for lunch all week. Store the lettuce separately and it'll keep for days in the fridge.
Trying to get more protein in your diet? Check out these Spicy Chickpea Edamame Pitas, Beet and Cottage Cheese Toast or this flavorful Curried Egg Salad For Two.