Golden Beet and Avocado Sandwich.  A simple sandwich of whole grain toasted bread topped with sweet roasted golden beets, creamy avocado, luscious orange flavored ricotta and fresh baby spinach.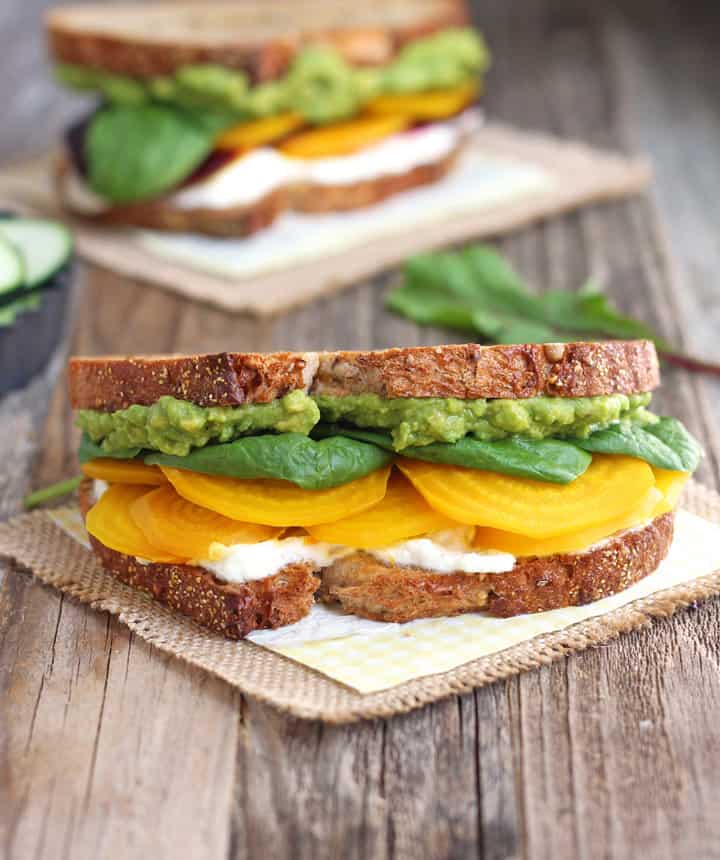 I love how life works…you start out a kid who knows nothing, become a teenager who thinks they know EVERYTHING and eventually turn into an adult who realizes there is soooo much you have yet to learn and experience.
I'm excited to be in that last phase 🙂 especially when it comes to discovering new things about the food we eat.
Last year I put together a riveting post (haha right) showing how you can roast beets in your toaster oven.  When I was picking out beets to roast and update the photos I noticed a few brownish-yellow looking beets next to my usual red ones.
The sign said Golden Beets.  Hmmm…don't think I've heard of those guys.
I moved my shopping cart to the side (I sorta loathe people who just stand in the middle of a store staring at their phones – ugh especially at Costco!), pulled out my phone/pocket computer and did a little Googling.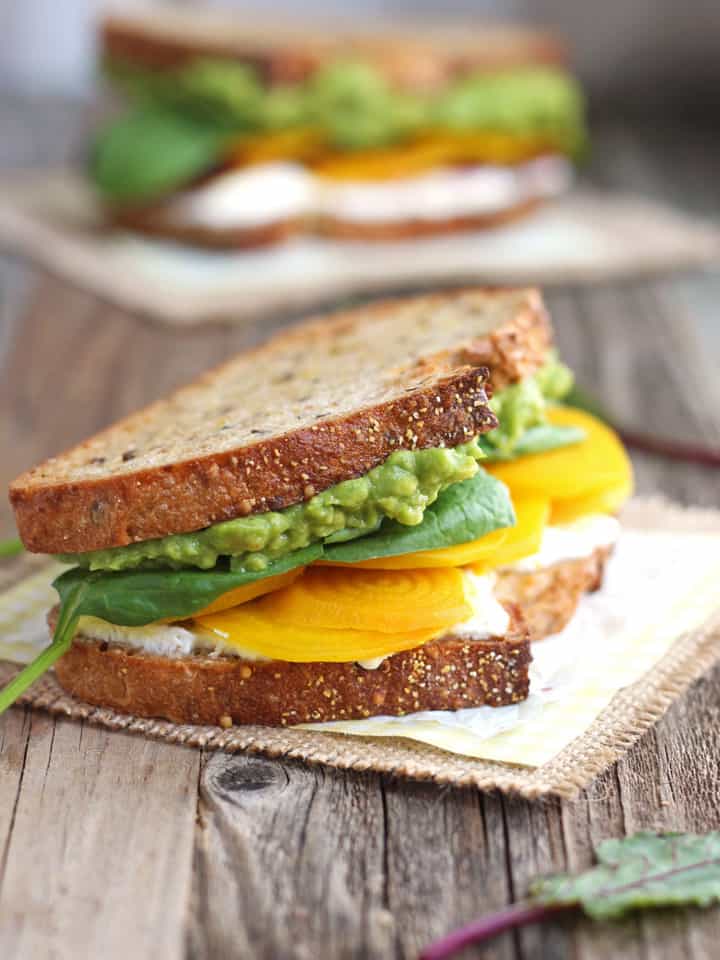 Here's the lowdown: yellow or golden beets are sweet and milder in "earthy" flavor than their red siblings.  They won't stain your fingers bright pink.  And you can roast them just like red beets.
Excited I grabbed a bunch and said you're coming home with me.  They roasted up perfectly and tasted fantastic.  After I took the new photos I sliced up the leftovers and tossed them in a container.
Hours later Tim and I were making dinner, I grabbed the container, took the lid off and was shocked to find dark black spots all over my golden beets.  Seriously, what the heck!
More Googling revealed no definitive answer but a few good ideas as to why this happened (oxidation) and that cooked and sliced red beets also have this problem but they are just so dark you can't see it happening.
Most importantly we felt confident they were safe to eat even if they looked a little zombified.
So back to that whole learning new things…I wanted to test some of the suggestions for preventing the black spots and tried the following ways:
Poured about 1 tablespoon of white balsamic vinegar over the roasted sliced beets before storing.
Put sliced roasted beets into a container, covered them with water and the juice from two lemon wedges.
Cooled a few roasted beets, left the skins on and wrapped them tightly in foil.
It was tough but we let the different beets hang in the fridge for three full days.  And….
All of the golden beets were black spot free!!!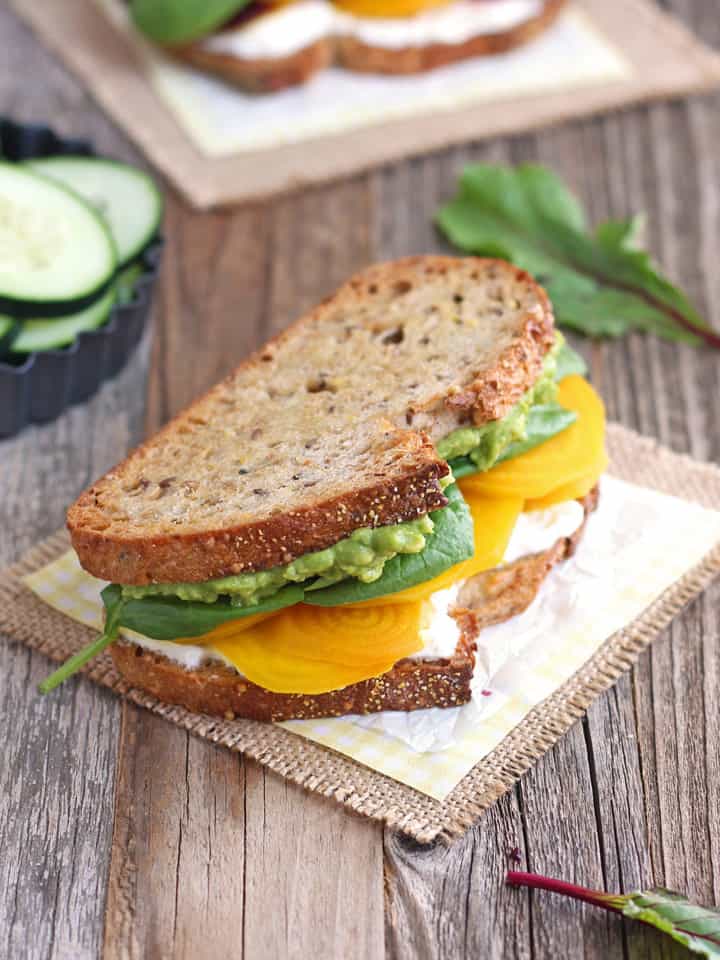 The overall beet colors did change slightly.  The lemon juice and vinegar beets became a brighter lighter shade of yellow.  While the beet wrapped in foil turned a deeper almost yellow-orange color.
All three tasted delicious and deserved to be part of this crazy good Golden Beet and Avocado Sandwich!
A simple but flavorful sandwich made of whole grain toasted bread stuffed with creamy avocado, fresh baby spinach and some super luscious orange flavored ricotta cheese.
The sandwich is rich but light, perfect for a summer afternoon lunch.  And a pretty tasty ending to what turned out to be quite an educational week 🙂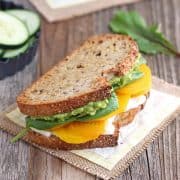 Golden Beet & Avocado Sandwich
Sweet earthy roasted golden beets, creamy avocado, luscious orange flavored ricotta and fresh baby spinach.
Ingredients
4

slices

whole grain bread

1/4

teaspoon

olive oil

1/2

cup

ricotta cheese

1/2

teaspoon

grated orange peel

1/2

teaspoon

fresh squeezed orange juice

3

small roasted golden beets

, cooled and sliced

1

cup

fresh baby spinach

1/2

cup

mashed avocado

, about 1 medium avocado

Salt and pepper
Instructions
Preheat your toaster oven to 400 F.

Drizzle the bread with olive oil and toast until golden about (5 to 7 minutes).

In a small bowl mix together the ricotta, orange peel and orange juice until combined.

Spread ricotta onto two of the toasted bread slices. Layer with sliced beets and spinach.

Spread mashed avocado onto the remaining toasted bread slices, sprinkle with salt and pepper and top sandwiches.
Recipe Notes
Click here for our Toaster Oven Roasted Beets cooking guide.
Nutritional information is an estimate for 1 of 2 sandwiches.