Creamy mashed avocado and a zippy vinaigrette take these veggie subs to the next level. Ready in just 15 minutes, they make for an easy (and delicious) vegetarian lunch!
Big sandwich fan? You may also like our roasted red pepper, carrot, and hummus sandwich or one of these 25 mouthwatering vegetarian sandwiches and wraps.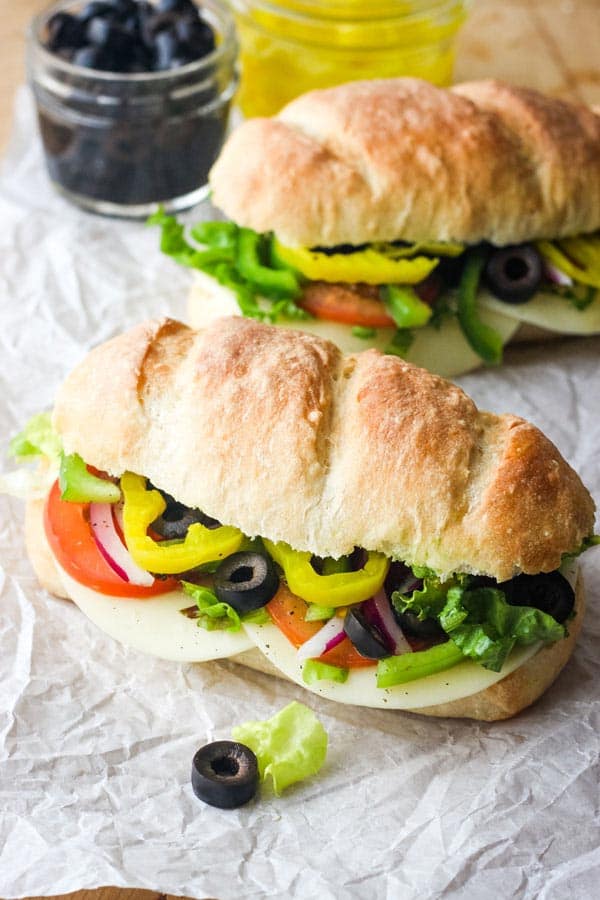 Sad, soggy, mayo-soaked bread and gross processed meats. That's what most people picture when they hear the words cold sandwiches. But these veggie subs are far from sad!
Here's why we love them and think you will too:
Lots of colorful crisp vegetables
Vibrant flavors
Super easy to throw together
Perfect for picnics, beach days, or a quick weekday lunch
Surprisingly filling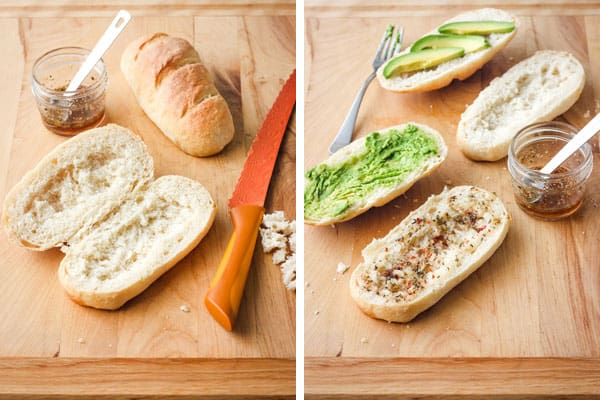 Recipe Tips
Use good sturdy sub rolls (like Italian bread or French bread). The heartier rolls will soak up the vinaigrette without getting mushy.
Don't go nuts scraping the bread out. The goal is to create a tiny empty space for the fillings. Your fingers shouldn't go anywhere near the bread crust.
You can swap the homemade vinaigrette for 2 tablespoons of a store-bought variety or your favorite Italian dressing.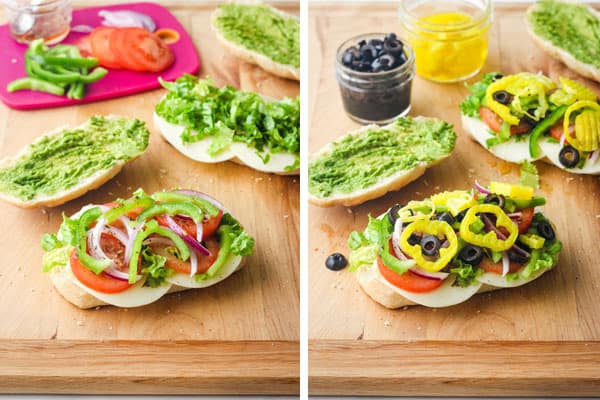 Want to make the sandwiches ahead of time for a picnic or office lunch? Dry the banana peppers and pepperoncini (plus anything else you're using that's kind of juicy) on a towel before adding them to the sandwiches.
Use what you've got! Roasted red peppers, kalamata olives, artichoke hearts, cherry peppers, pesto, iceberg lettuce – they'd all taste delish.
Ways to Use Up Leftover Ingredients
One thing you can do is make a pasta salad (or as Tim would describe it, a salad-with-pasta).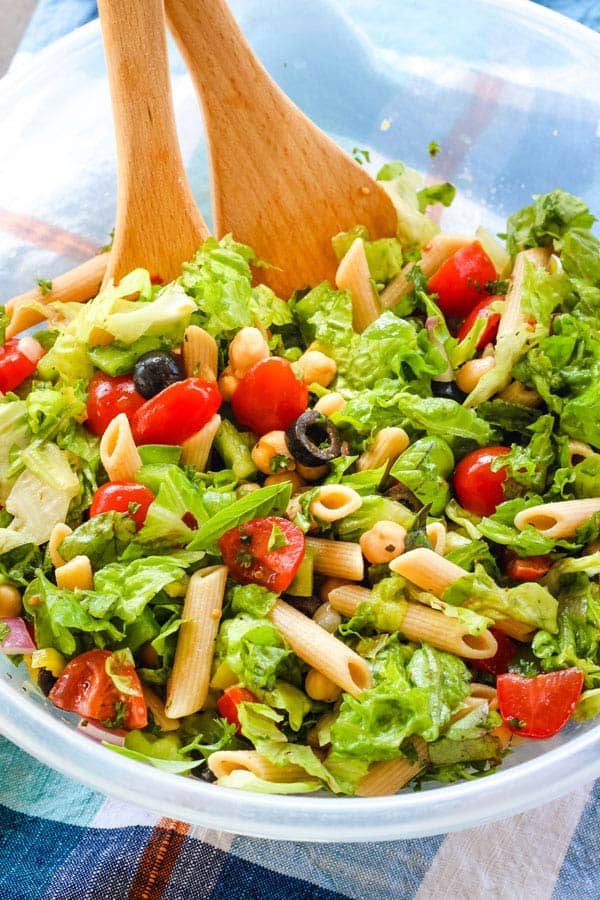 For this big bowl of tasty goodness, I started with the leftover lettuce and bell pepper. Then I added some of the red onion, olives, banana peppers, and pepperoncini slices.
Next, I cleaned out the fridge and tossed in half a can of chickpeas, grape tomatoes, and about 1 cup of cooked penne pasta.
Lastly, I grabbed fresh parsley and basil from the garden and drizzled it all with our Italian Dressing For Two. Yum!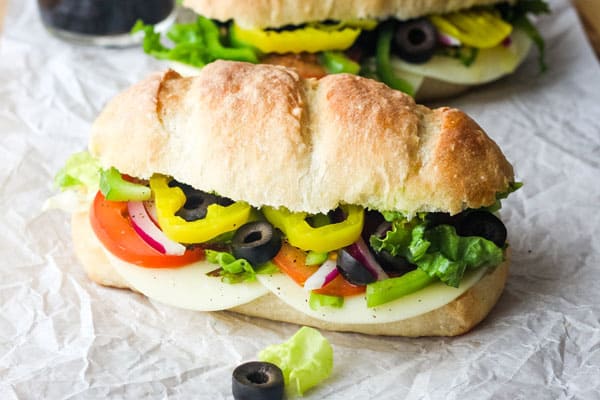 More delicious ways you can use up leftover recipe ingredients: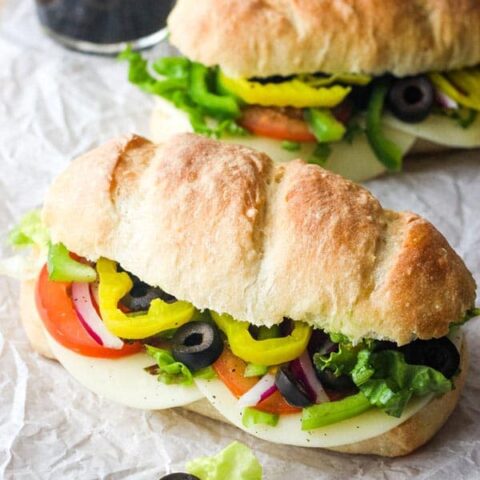 Veggie Subs with Cheese and Avocado
Hearty sub rolls are layered with creamy avocado, crisp fresh vegetables, provolone cheese, and a zippy vinaigrette for a pair of seriously satisfying vegetarian sandwiches. Don't skip the peppers, they add a big blast of tangy flavor!
Ingredients
For The Vinaigrette
1 tablespoons Olive Oil
1 tablespoons Red Wine Vinegar
1/4 teaspoon Dried Oregano
1/8 teaspoon Dried Basil
1/8 teaspoon Red Pepper Flakes
1/8 teaspoon Garlic Powder
1/8 teaspoon Fine Sea Salt
1/16 teaspoon Black Pepper
For The Sandwiches
2 Good-Quality Sub Rolls (6-inches each)
Half a Small Avocado, seeded, peeled, and sliced
4 Thin Slices Provolone Cheese
1 cup Chopped Romaine Lettuce
1 Roma Tomato, thinly sliced
1/4 Large Green Bell Pepper, thinly sliced
1/8 Medium Red Onion, thinly sliced
2 tablespoons Black Olive Slices
2 to 3 tablespoons Banana Pepper Slices and/or Pepperoncini Slices
Salt and Black Pepper, to taste
Instructions
Make The Vinaigrette
Combine all of the ingredients in a small lidded jar (like a mason jar) and then shake, shake, shake.
Sandwich Assembly
Slice sub rolls in half lengthwise. Using your fingers, pull out a little of the bread in the middle of each side. *This will help to keep all of the delicious layers from squeezing out of the sandwiches when you go to eat them.
Drizzle 2 teaspoons of the vinaigrette onto the bottom half of each sub.
Place the avocado slices on the top halves and mash with a fork.
Layer 2 slices of provolone onto the bottom of each sub. Top with lettuce, tomato, bell pepper, and onion. Drizzle the remaining vinaigrette over the veggies and season with salt and pepper.
Lastly, add the sliced black olives, banana peppers, and mildly spicy pepperoncini. Then, dig in!

Nutrition Information:
Yield:

2
Serving Size:

1 Sandwich
Amount Per Serving:
Calories:

539
Total Fat:

17.3g
Saturated Fat:

5.3g
Cholesterol:

50mg
Sodium:

654mg
Carbohydrates:

72.2g
Fiber:

4.6g
Sugar:

2.8g
Protein:

18.7g