This Sweet Potato Veggie Wrap is the filling and flavorful lunch you deserve. Made with smoky roasted sweet potato slices, hearty black beans, avocado, and fresh spinach all drizzled with the most delicious salsa yogurt sauce – lunch never tasted so good!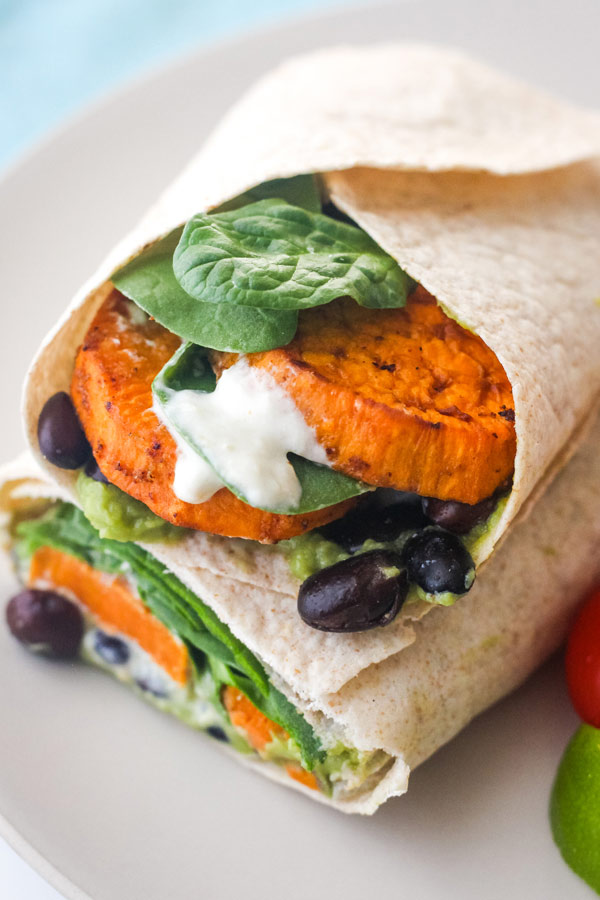 How to Make a Sweet Potato Veggie Wrap
These yummy roasted sweet potato rounds have been a big hit on the site for years.
They're great for snacking and you can cook them in any oven. Plus they even taste good cold which makes them perfect for stuffing into a lunch wrap!
Step 1 – Get Your Sweet Potato Cooking
To peel or not to peel? Normally I like to leave the skin on but if you're going to be stuffing the slices into a wrap it's best to peel the sweet potato before slicing. Otherwise, the skins can be a little tough to bite through.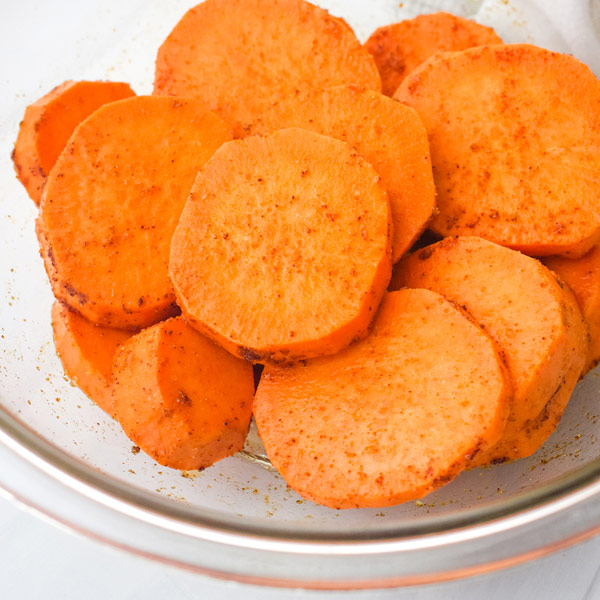 To season the slices with a smoky southwestern-style flavor I grabbed:
Garlic powder
Chili powder
Ground cumin
Smoked paprika
If you don't have these spices on hand, try substituting a teaspoon of taco seasoning. It's a little different but still very appetizing.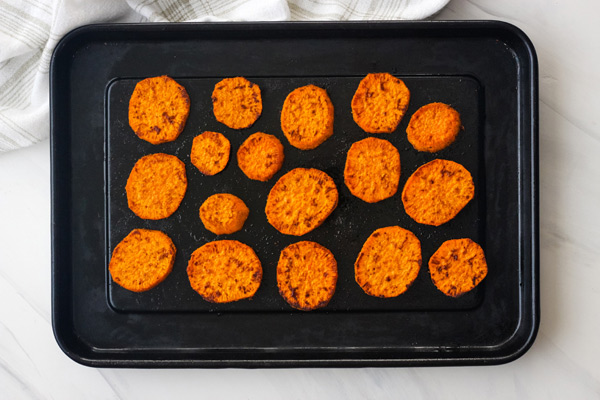 Toss the rounds with a little oil, the seasonings, and some salt. Layer them on a baking sheet and cook at 425°F.
After 10 minutes flip the slices and then keep cooking them until they are softened and browned (about 18 to 20 minutes total).
Step 2 – Choose A Base
Pita bread, tortillas, whole-grain wraps, or a big bowl of lettuce are all good options.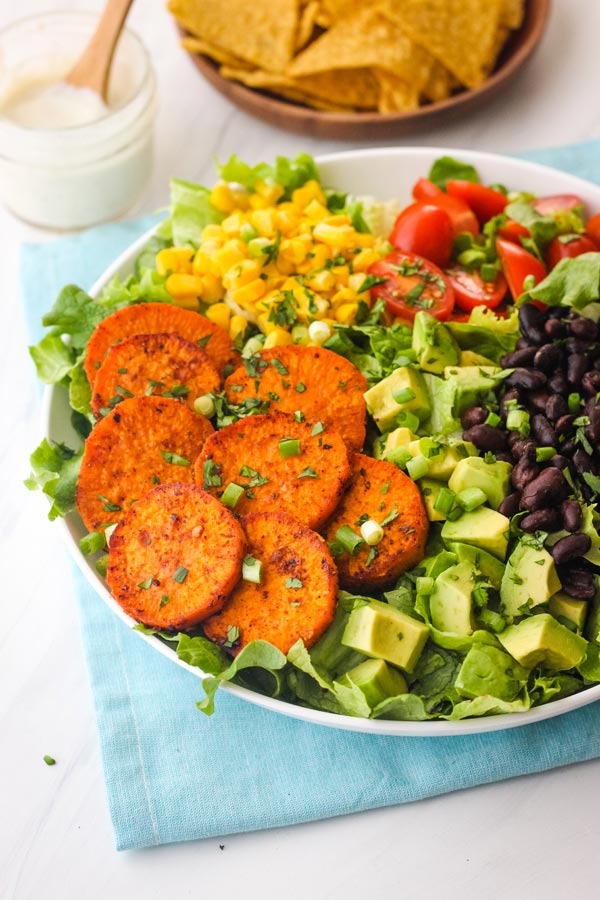 Step 3 – Add a Protein
Canned beans are a great vegetarian protein because they're affordable, super filling, and come in a variety of different flavors and textures. I grabbed a can of hearty black beans because they tend to go especially well with sweet potatoes.
Beans not your thing? Try one of these ideas instead:
Leftover cooked quinoa or brown rice.
Baked tofu slices, the sriracha-flavored variety we made these tofu tacos with would work well.
Scrambled eggs for more of a breakfast burrito-type wrap.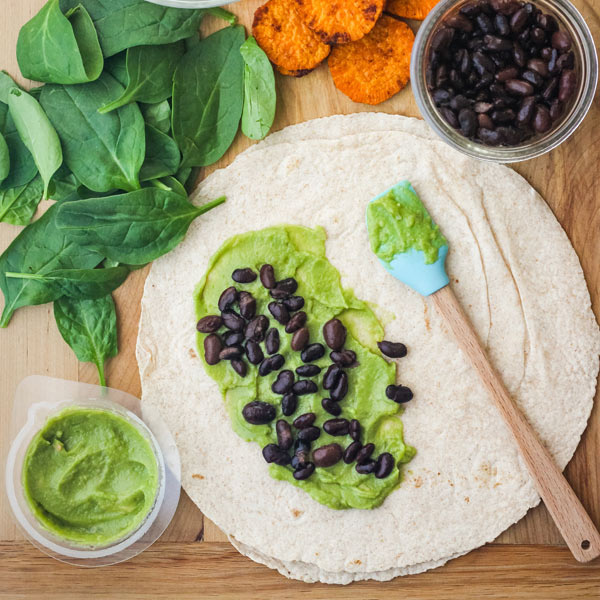 Step 4 – Pile On The Veggies
Pop your head in the fridge and grab anything that needs to be used up. For our wraps, that meant single-serving guacamole, spinach leftover from these greek yogurt chickpea salad wraps, and some fresh cilantro.
A few days later, I made this recipe as a salad to use up a head of lettuce and tossed in leftover canned corn, a small avocado, and a few grape tomatoes.
Work with what you've got: thinly sliced red onion, shredded cabbage, bell pepper slices, or green onions would all taste delish.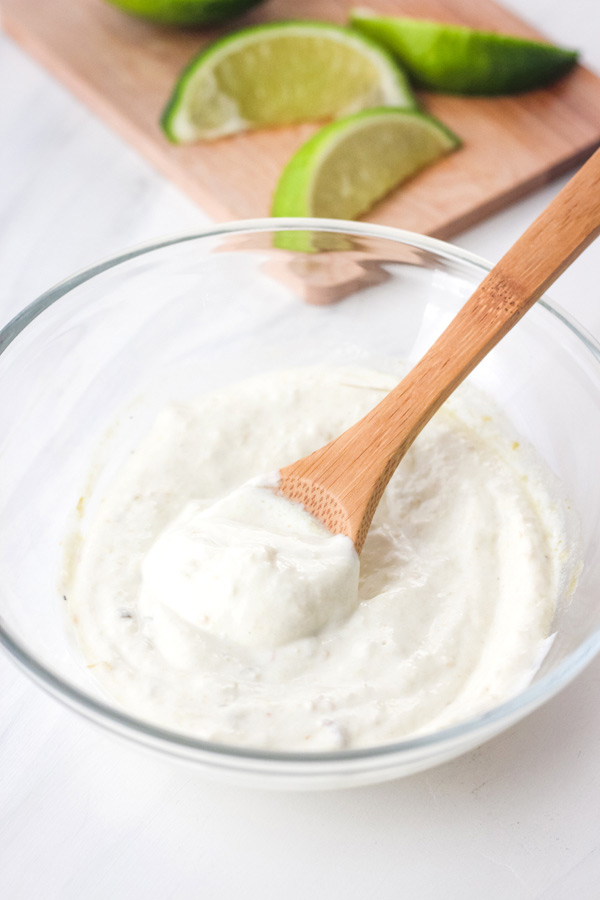 Step 5 – Get Saucy
Lastly, I like to add a sauce to bring everything together. A smoky hot sauce or ranch dressing would taste good here. But I highly recommend using this Greek Yogurt Salsa Dip.
It's creamy, spicy, and tastes so good you're going to want to put it on everything from sandwiches to roasted vegetables.
The quick sauce is made using plain Greek yogurt, a spoonful of salsa verde, and a splash of lime juice. And the best part, it can easily be thinned out to work as a salad dressing too.
Once you've got your sauce sorted, top the wrap with anything else you're craving (Tim's a fan of crushed tortilla chips). Then roll it up and dig in!
If you're looking for more ways to make baked sweet potatoes into a meal, be sure to check out this post with 10 Quick and Easy Sweet Potato Toppings.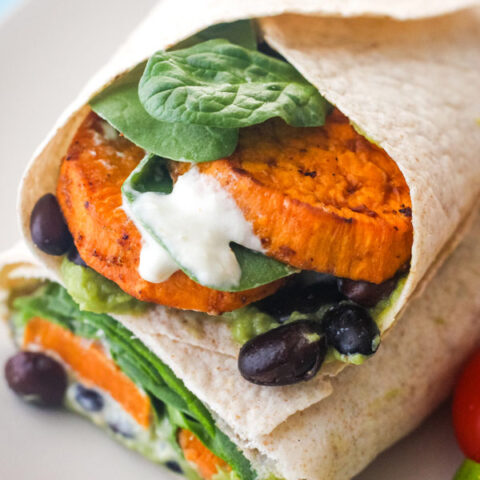 Sweet Potato Veggie Wrap
A filling lunch that's also perfect for busy weeknights, these veggie wraps are simple to customize with ingredients you have on hand. For a crisp southwestern-style salad, swap the tortillas for a bowl of chopped lettuce instead. 
Ingredients
For The Roasted Sweet Potato Slices
1 Medium Sweet Potato (about 8 to 10 ounces)
1 teaspoon Olive Oil or Avocado Oil
1/4 teaspoon Fine Sea Salt
1/4 teaspoon chili powder
1/4 teaspoon cumin
1/8 teaspoon smoked paprika
1/8 teaspoon garlic powder
For the Yogurt Sauce:
3 Tablespoons Plain Greek Yogurt
1 Tablespoon Salsa Verde
Lime juice, as needed
For The Wraps:
2 Tortilla Wraps (we used a lower-carb variety)
1 package single-serving guacamole (or a small mashed avocado)
3/4 cup Cooked Black Beans, drained and rinsed if using canned
1 cup Fresh Baby Spinach (about 2 large handfuls)
Fresh Cilantro (Optional)
Instructions
Roast the Sweet Potato Slices
Preheat your oven to 425°F. If using a toaster oven, select the BAKE setting and adjust the cooking rack to the lowest placement.
Lightly oil a quarter sheet pan.
Peel the sweet potato and slice into 1/4-inch rounds.
In a large bowl combine the sweet potato slices, oil, chili powder, cumin, smoked paprika, garlic powder, and salt. Toss well to coat.
Arrange rounds in a single layer on your prepared pan.
Bake for 10 minutes, then carefully remove the pan and flip the rounds with a fork or spatula.
Return to the oven and cook until the sweet potatoes are browned and fork-tender about 8 to 10 minutes more.
Make The Sauce
In a small bowl stir together the yogurt and salsa.
If the sauce is too thick, stir in the lime juice, 1/2 teaspoon at a time until a spreadable consistency.
Assemble The Wraps
If your wraps are stiff, warm in the microwave for 10 to 15 seconds to soften.
Spread half of the guacamole down the middle of each wrap.
Top with the black beans, spinach, and sweet potato rounds.
Spread or dollop some of the sauce over the sweet potatoes.
Roll up the wraps and enjoy.

Notes
Seasonings: 1 to 1 1/2 teaspoons of your favorite taco seasoning blend can be substituted for the chili powder, cumin, paprika, and garlic powder.
To Make a Salad: Swap the tortilla wraps for a small head of chopped lettuce (about 4 cups).
Nutritional Information is an estimate for one wrap made with an 8" high-fiber lower-carb tortilla wrap.
Nutrition Information:
Yield:

2
Serving Size:

1 Wrap
Amount Per Serving:
Calories:

314
Total Fat:

9.2g
Saturated Fat:

1.6g
Cholesterol:

1mg
Sodium:

630mg
Carbohydrates:

58.5g
Fiber:

19.3g
Sugar:

5.4g
Protein:

11.9g