Sriracha Egg Salad Sandwich (With Garlic Kale Chips)
Sriracha Egg Salad Sandwich, your flavorful (not too spicy) cure for lunchtime boredom. Made with Greek yogurt instead of mayo and topped with flaky kale chips this sandwich is perfect for a Saturday afternoon treat or busy mid-week lunch at the office. If you've got some leftover hard-boiled eggs to use up, it's a snap to throw together!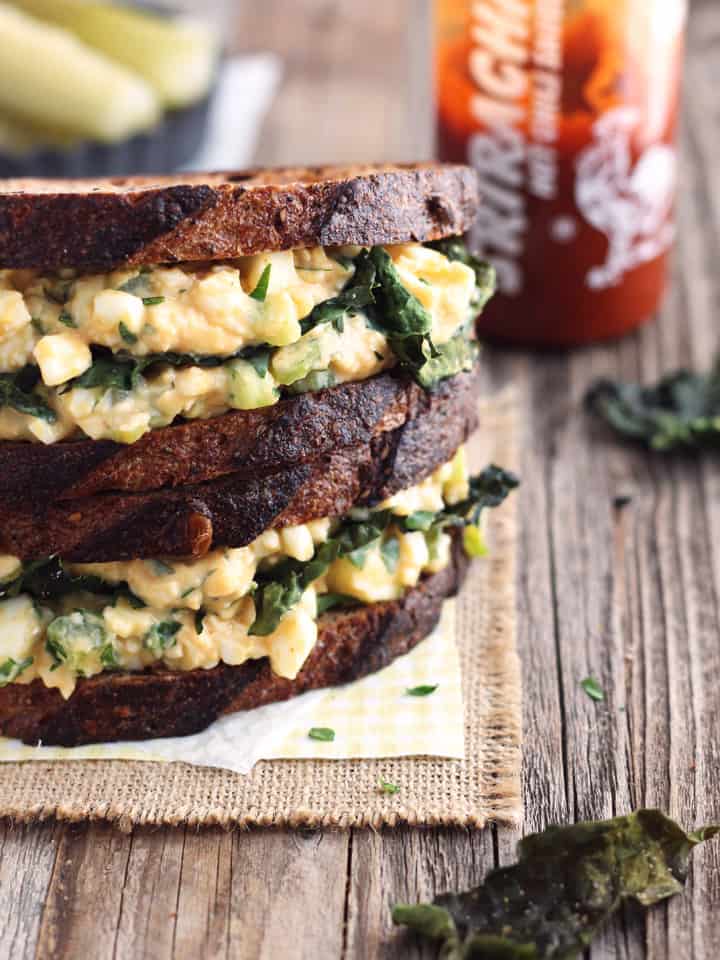 Is your office lunch awesome, amazing or more accurately described as…Meh? Feeling a wee bit jealous of your coworker's expensive takeout.
About to settle for another sad soggy sandwich…don't do it, friend, You Deserve Better.
You should be enjoying an exciting, flavorful and nutritious meal. Something that inspires Level-10 Lunch Envy.
Just one look at this Sriracha Egg Salad Sandwich and your coworkers will be begging YOU for a bite.
The Sandwich Rundown:
Creamy, Sriracha-spiked, lip-smacking good egg salad made with Greek yogurt instead of mayo.
Flaky toaster oven kale chips sprinkled with garlic salt.
Hearty whole grain bread slices toasted to perfection.
Yep, this my friend is the lunch you deserve!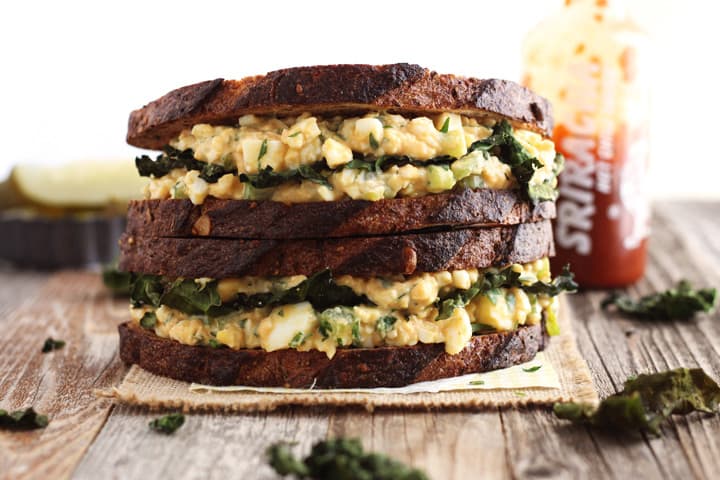 ~ Keep scrolling for lunchroom sandwich tips after the recipe ~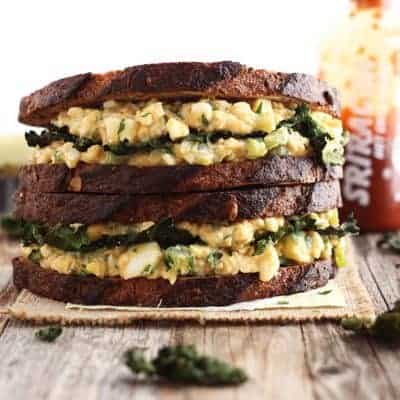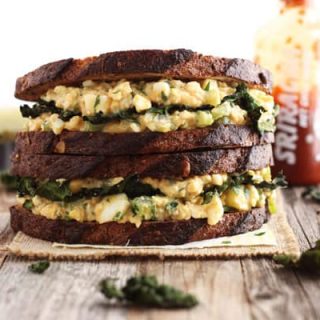 Sriracha Egg Salad Sandwich
A flavorful (not too spicy) cure for lunchtime boredom.
Ingredients
Sriracha Egg Salad
3 hard-boiled eggs
2-1/2 to 3 tablespoons non-fat plain Greek yogurt
1 to 2 teaspoons sriracha sauce
1/4 teaspoon apple cider vinegar
salt and pepper
1 green onion, thinly sliced
1 large celery stalk, finely chopped
2 teaspoons finely chopped parsley
Kale Chips
1 large kale leaf, (washed, dried completely and torn into pieces)
2 sprays of olive oil
1/4 teaspoon garlic salt
Sandwich Assembly
4 slices whole grain bread
Instructions
Prepare the egg salad by using a fork to mash the eggs, yogurt and sriracha sauce together to desired chunky texture. Stir in vinegar and add more yogurt if mixture is too dry. Season with salt and pepper to taste then stir in green onion, celery and parsley. Refrigerate until ready to eat.
Prepare kale chips by preheating your toaster oven to 300 F. Place kale on a cookie sheet and spray with oil. Rub pieces around cookie sheet to coat the bottoms with oil. Sprinkle with garlic salt and arrange pieces so they are not touching.
Bake kale for 6 minutes. Rotate pieces from back to front and bake an additional 3 to 5 minutes until crisp and dry. Allow kale chips to cool completely on the cookie sheet.
To assemble sandwich toast bread slices and cool. Divide egg salad into four portions and spread onto cooled toasts. Layer kale chips onto two of the toasts, top with remaining slices and serve immediately.
Notes
Egg salad can be stored refrigerated for 3 to 4 days.
Keep kale chips crisp by storing in a brown paper bag or sealed container with 1 tablespoon of uncooked rice.
For tips on assembling sandwich at work see post.
Easy to follow instructions for making hard-boiled eggs from the experts.
Step by Step instructions for making Kale Chips
Nutrition Information:
Yield:

221
Serving Size:

1 Sandwich
Amount Per Serving:
Calories:

270
Total Fat:

9.2g
Saturated Fat:

2.6g
Cholesterol:

246mg
Sodium:

521mg
Carbohydrates:

32.5g
Fiber:

5.3g
Sugar:

6.9g
Protein:

17.6g
I know what your thinking, "I want this but let's be real you can't make it at work"…Kale chips won't stay fresh. Egg Salad – that's going to be a soggy mess by lunchtime.
We had those same worries too. So Tim took the recipe for a "real world" test drive.
How to Make Your Sandwich at the Office
The night before, we spent about 20 minutes making the egg salad and kale chips.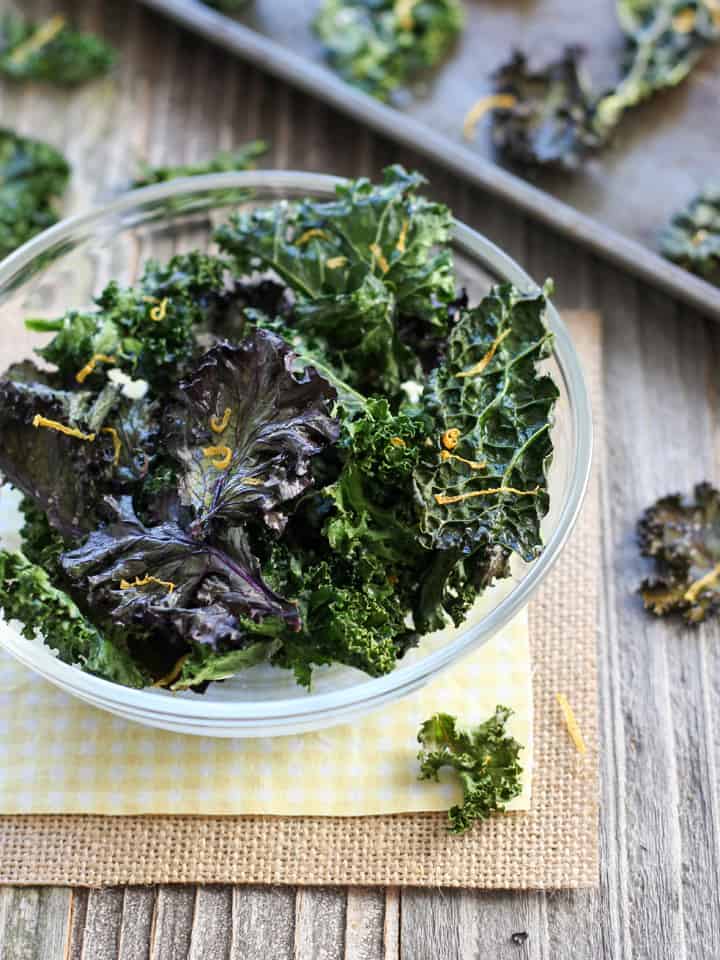 Uncertain of how to keep the kale chips fresh we packed them two ways. One handful in a brown paper bag. One handful in a plastic sandwich bag with uncooked rice.
Two days in a row Tim made the sandwich at work and took notes for you:
Total Assembly Time = 10 minutes
If you have access to a toaster, toast the bread at work and let it cool before topping
Both days there was liquid at the bottom of the egg salad container (my note: it's whey from the yogurt, you can just drain it off)
Kale Chips Day 1: Each bag was crispy and flaky
Kale Chips Day 2: Awesome Sauce! Both chips were still crispy, flaky and delicious
Final Verdict: More effort than a PB&J but absolutely worth it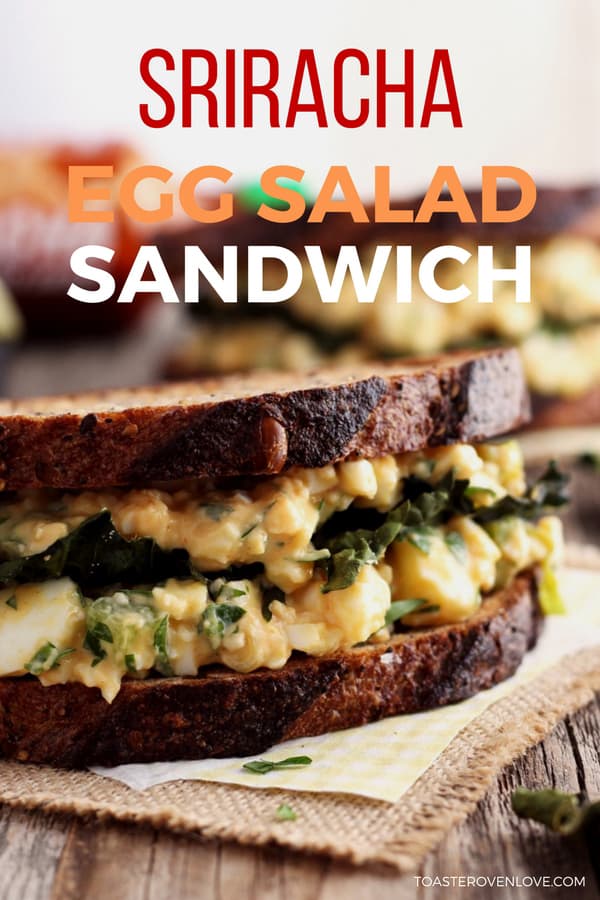 If you love these sriracha egg salad sandwiches you might also enjoy: