Chickpea Cucumber Pita Sandwiches
Stuffed with crisp veggies and a tangy feta yogurt sauce, these filling chickpea cucumber pita sandwiches are a nutritious vegetarian lunch option. They come together in just a few minutes and are perfect for customizing with what's in the fridge.
Did you know that pitas and flatbreads freeze well? Like really well.
When lunchtime rolls around you can just toss a few on the counter to defrost while you throw together a tasty filling. 
To make these beauties we whipped up a quick chickpea spread, piled on the fresh veggies, and added a tangy dill yogurt sauce. The mix of spices and herbs gives them a fun falafel-style vibe.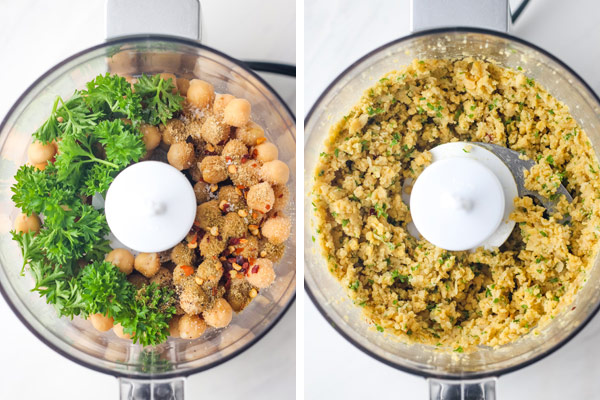 Pita Sandwich Ingredients
Chickpeas – mashed with cumin, coriander, garlic powder, fresh parsley, and olive oil in a mini food processor. I like to leave the spread kinda chunky. If you prefer something smoother add a little tahini, lemon juice, or more olive oil and process it longer.
Whatever Veggies You Like – We had half a cucumber and a few tomatoes to use up so that's what I went with. Feeling fancy, I busted out our handheld spiralizer but you could use a vegetable peeler or just thinly slice the cucumber if you want.
Red onion slices, spinach, bell pepper, or any leftover roasted veggie (like cauliflower or asparagus) would also taste great.
Feta Yogurt Sauce – This salty tangy sauce is super easy to make and brings everything together. All you need is feta, Greek yogurt, lemon juice, dried dill, a little garlic and black pepper. Plus a few teaspoons of milk to thin things out.
Fresh Mint – Adds a vibrant punch that takes things over the top.
Oh, and if you're in the mood for a cute little pizza-style treat you can use mini pitas. The smaller version makes a fun party snack or appetizer.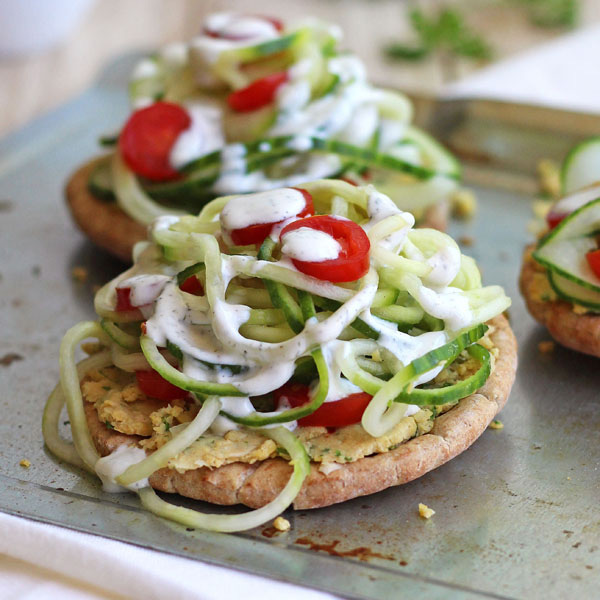 More Tasty Vegetarian Sandwiches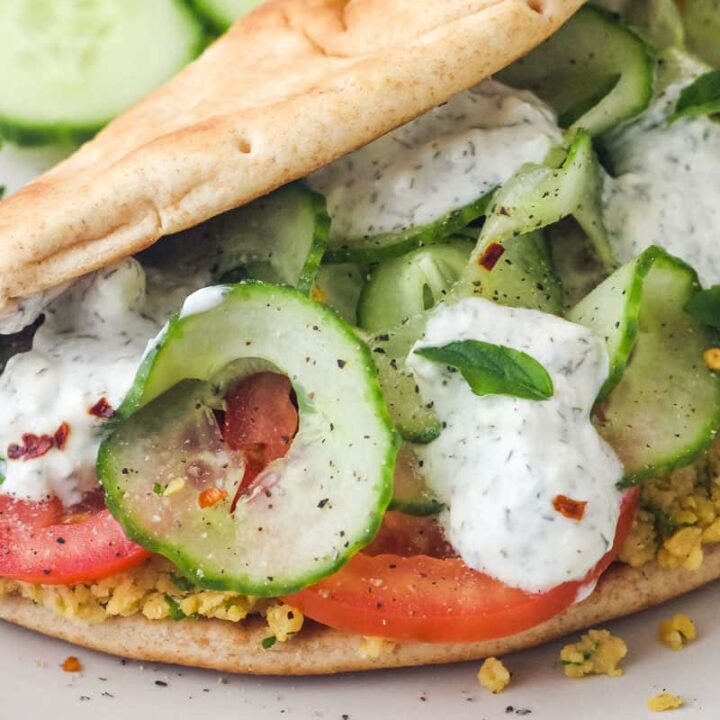 Chickpea Cucumber Pita Sandwiches
These stuffed pitas are loaded with crunchy veggies, seasoned chickpea mash, and a tangy feta sauce for a filling and flavorful vegetarian lunch.
Ingredients
Chickpea Spread
1 cup (150 grams) Cooked Chickpeas, rinsed, and drained if using canned
1/4 teaspoon Cumin
1/4 teaspoon Coriander
1/8 teaspoon Garlic Powder
1/8 teaspoon Red Pepper Flakes
1/8 teaspoon Fine Sea Salt
Pinch Black Pepper
1/4 cup Fresh Parsley, with most of the stems removed
1 Tablespoon Extra Virgin Olive Oil (use more for desired consistency)
Feta Yogurt Sauce
2 tablespoons (28 grams) Crumbled Feta Cheese
1/4 cup (56 grams) Plain Greek Yogurt
1 Tablespoon Lemon Juice
1/2 teaspoon Dried Dill (or 1½ teaspoons fresh dill)
1/8 teaspoon Garlic Powder
Salt and Pepper, to taste
2 to 3 teaspoons Milk, to thin the sauce as needed
Assembly
2 Whole Wheat Pitas
Half an English Cucumber (about 6 ounces/170 grams), spiralized or thinly sliced
2 Roma Tomatoes, sliced
Fresh Mint
Instructions
Chickpea Mash
Place the chickpeas, cumin, coriander, garlic powder, red pepper flakes, salt, pepper, and parsley in a mini food processor. Pulse 4 to 5 times.
Scrape down the sides, drizzle with the oil, and process until well combined with small chunks remaining.
Taste and adjust seasoning. If you want a smoother spread, add more olive oil (or a little tahini or lemon juice) and process to desired consistency.
Feta Yogurt Sauce
Add feta to a small bowl and mash with a fork. Mix in the Greek yogurt, lemon juice, dill, garlic powder, and a pinch of black pepper. Slowly stir in the milk, a teaspoon at a time, until it's thin enough to dollop or drizzle. Taste and add more salt and pepper if needed.
Warm The Pitas in a Toaster Oven
I usually put the pitas on the cooking rack, set the oven to 325°F, and leave them for 3 or 4 minutes. You're looking to just warm (not toast) the pitas.
Assemble Sandwiches
Spread chickpea mixture onto each pita. Top with cucumbers and tomatoes. Dollop on the sauce, top with fresh mint, and dig in!
Nutrition Information:
Yield:

2
Serving Size:

1 Pita Sandwich
Amount Per Serving:
Calories:

387
Total Fat:

14.3g
Saturated Fat:

3.9g
Cholesterol:

14mg
Sodium:

625mg
Carbohydrates:

53.5g
Fiber:

11.8g
Sugar:

11.9g
Protein:

17.6g