This Toasted Caprese Sandwich is loaded with juicy tomato slices, melted mozzarella cheese, fresh basil, and a drizzle of balsamic glaze. It tastes so good you'll want to make it for lunch all summer!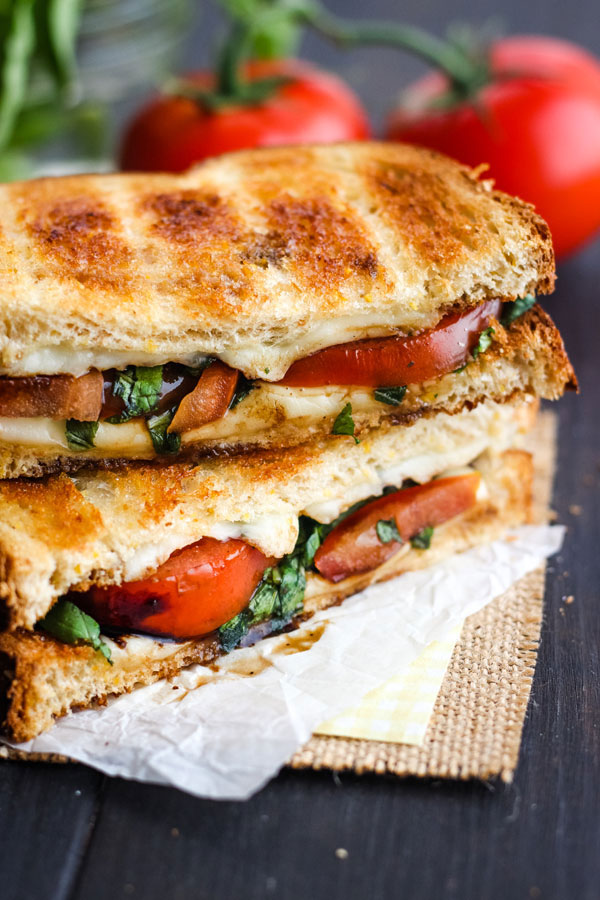 With a basic recipe for toaster oven grilled cheese and this gourmet-style apple and Havarti grilled cheese, do you really need more cheese sandwich recipes? The short answer: Yes!
This recipe is made a little differently from those other toaster oven grilled cheeses. It uses the TOAST setting so there's no stopping to flip the sandwich.
Plus, toasting the bread and cheese first helps to keep the juicy tomato slices from making things soggy. This way you end up with a sandwich that's the perfect combo of gooey, toasty, fresh, and tasty.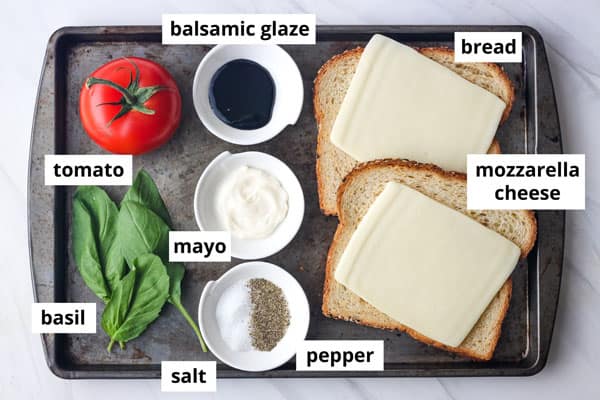 Ingredient Notes
Mayo: It's fantastic at turning bread golden and toasted. Plus you don't have to wait for it to soften like butter. But if you don't like mayo, butter works too.
Small Tomato: Use the best, reddest, freshest tomato you can find.
Balsamic Glaze: It's thick, tangy, sweet, and tastes delicious drizzled on any vegetable but especially on fresh tomatoes. Balsamic glaze can be found at most major grocery stores on the oil and vinegar aisle. If you want to try making your own, check out this easy Balsamic Glaze Recipe from Rachel Cooks.
Step-By-Step Instructions
1. Start by spreading two pieces of bread with a little mayo on one side. Flip the pieces over and top each of the dry sides with a slice of cheese.
Yummy Reader Recommendation: for an extra pop of flavor, spread the bread with pesto before adding the cheese.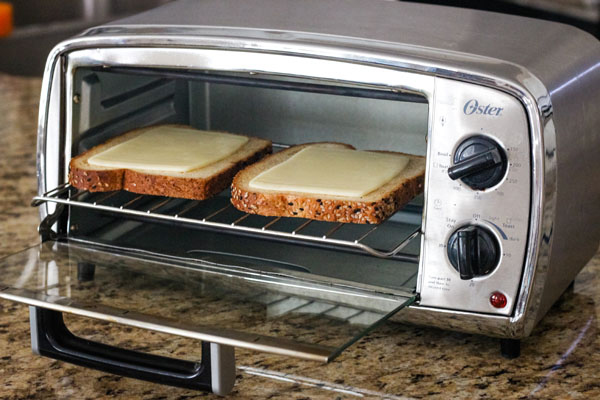 2. Next, place the bread side-by-side on the rack in your toaster oven. Set the machine to TOAST and cook until the cheese is melted and the bread is toasted about 4 to 5 minutes.
3. Let the cheesy toast cool for a few minutes while you slice the basil and tomatoes.
4. Layer one slice of bread with the basil and tomato slices. Season with salt and pepper, a generous drizzle of balsamic glaze, and more basil.
5. Top with the remaining cheesy toast and dig in!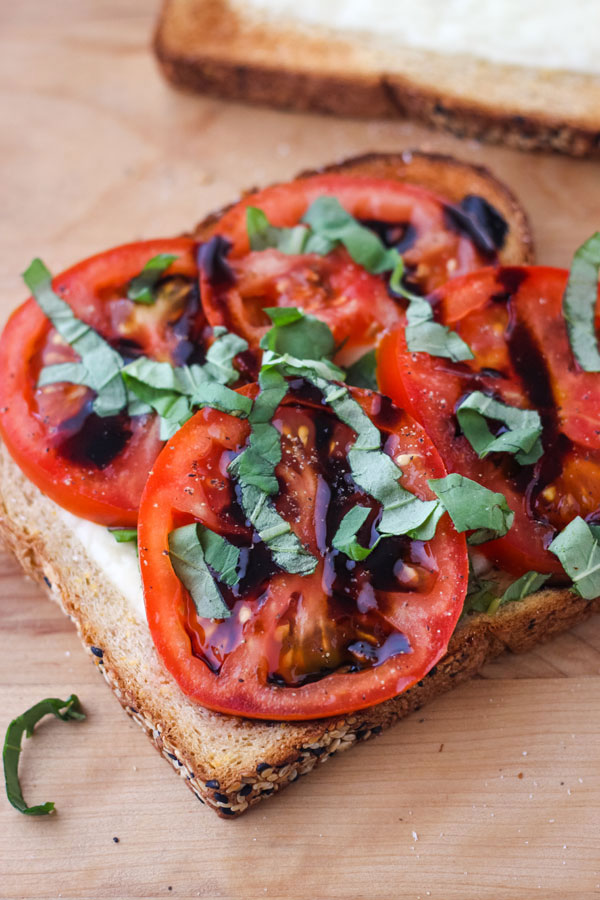 Baked Cheese and Tomato Sandwich
This Toasted Caprese Sandwich Recipe works best in a traditional old-school toaster oven.
If your oven doesn't have a TOAST setting or you've got one with "smart toasting technology" (like our Breville Smart Oven Pro BOV845BSS) you can use the BAKE setting instead. This method is very similar to our toaster oven baked grilled cheese recipe.
Use the bottom rack placement and preheat to 400°F on the BAKE setting.
Prep the bread and cheese as directed but place the slices on a baking sheet. 
Cook until the bottom of the bread is golden and toasted, about 6 to 7 minutes. If the bread is toasted but the cheese is not melted enough, switch to the BROIL setting for 1 to 2 minutes. 
Top your toasted cheesy bread with the basil, tomato, and balsamic glaze, and dig in!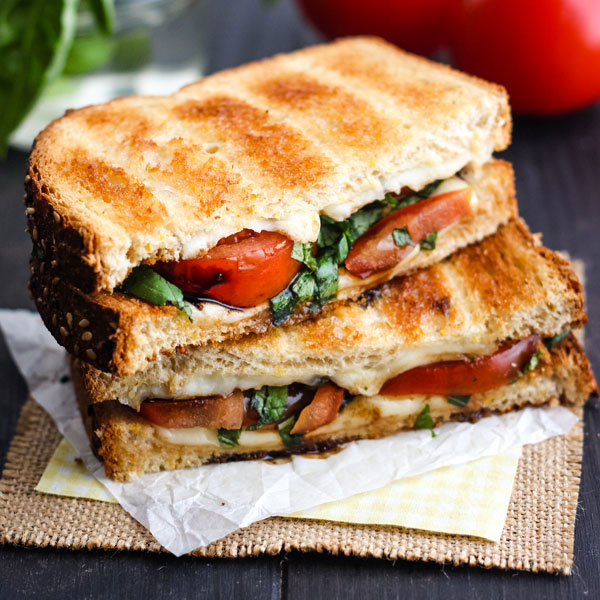 More Tasty Sandwich Recipes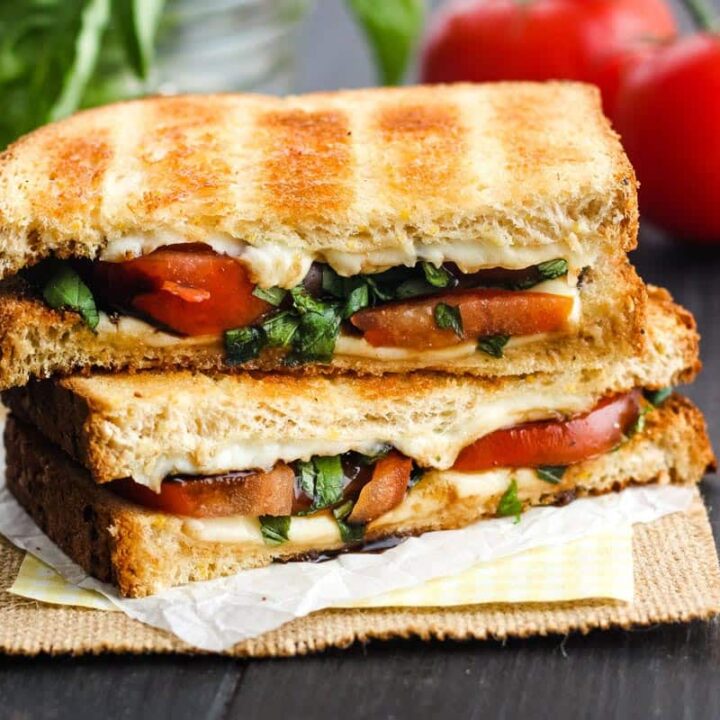 Toasted Caprese Sandwich
The classic flavors of Caprese salad in a quick and easy toaster oven sandwich.
Ingredients
2 slices Multigrain Bread
2 teaspoons Mayonnaise (or softened butter)
2 slices Mozzarella Cheese
1 small Fresh Tomato, ripe and cut into 1/4-inch thick slices
3 large Fresh Basil Leaves, thinly sliced
Salt and Pepper, to taste
Balsamic Glaze
Instructions
Spread mayonnaise on one side of each bread slice. Flip slices over and top each one with a slice of mozzarella.
Place bread with cheese facing up directly on the toaster oven cooking rack. Set toaster oven to TOAST and cook until bread is toasted and cheese is melted about 4 to 5 minutes.
Sprinkle half the basil on one slice of toasted cheese bread. Add tomato and season with salt and pepper drizzle with balsamic glaze.
Top with remaining basil and place the other toast on top (cheese-side down) and dig in!
Notes
To prepare using the BAKE setting:
Preheat the toaster oven to 400°F.
Follow the instructions for preparing the bread and cheese and place the slices on a baking sheet. 
Cook until the bottom of the bread is golden and toasted, about 6 to 7 minutes. If the cheese is not melted enough, broil for 1 to 2 minutes. 
Top with the basil and tomato, and enjoy!
To make this sandwich in our Breville Smart Oven Pro Countertop Oven we used the TOAST function with a Darkness Level of 5 or 6 and a Slices Setting of 4.
Nutrition Information:
Yield:

1
Serving Size:

Sandwich
Amount Per Serving:
Calories:

354
Total Fat:

15.7g
Saturated Fat:

7g
Cholesterol:

33mg
Sodium:

633mg
Carbohydrates:

30.6g
Fiber:

5.1g
Sugar:

6.4g
Protein:

22g