Handy Small Batch Cooking Tools
Make cooking recipes for two (or just you) quicker, easier, and safer with these useful little kitchen tools! Some are great for resizing recipes or avoiding food waste. While others are everyday essentials (mini rubber spatula we could not live without you). And a few are just plain fun to cook with.
But you don't need to run out and buy all of them to make our recipes for two. Instead, I recommend slowly building your mini tool collection over time. It'll help you avoid clutter and make sure each tool has earned its place in your small batch kitchen.
Oh, and if you have trouble coming up with gift ideas – bookmark this page! These tools make great housewarming gifts, stocking stuffers and are super useful for recent graduates, empty nesters, or anyone cooking for a smaller household.
We hope you love the products we recommend! These are items we've independently purchased and have used for years. Disclaimer: Some of the links on this page are affiliate links. We may earn a commission for purchases made through them.
Below, we've broken down the tools into different sections. Just click on the section you're interested in and you'll be taken right to it.
Small Batch Kitchen Tools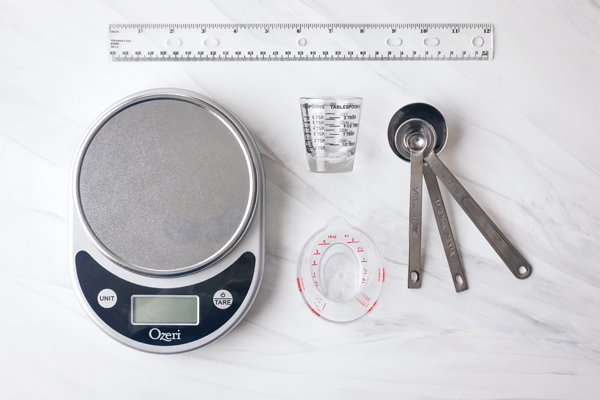 Measuring Tools
These little measuring tools are great for small batch baking and make resizing larger recipes an easier process.
Kitchen Scale
What We Use: Ozeri ZK14-S Pronto Digital Multifunction Kitchen and Food Scale. It was America's Test Kitchen's Budget Choice and even though it's compact, the numbers are very easy to read.
What's Great About It: Accuracy, Better Baked Goods, and Less Dirty Dishes
A scale allows you to accurately measure ingredients by weight instead of volume. This is especially helpful when resizing recipes. Dividing ingredients by volume (using measuring cups) requires fractional math and trying to remember things like how many teaspoons are in 1/3 cup.
Plus it's easy to compact your measuring cup and end up with more flour than what's called for in a recipe. An extra tablespoon of flour really can mean the difference between a moist or dry mini banana bread.
Since you won't be busting out ALL of your different measuring cups, there will also be fewer dishes to clean. When I use our scale to make half a cake mix or these toaster oven chocolate chip cookies there's very little that needs washing up.
Mini Liquid Measuring Cups
What We Use: OXO Good Grips Mini Angled Measuring Cup and Kolder Mini Measure Cup
What's Great About Them: Measuring a tablespoon or teaspoon of liquid in a traditional metal measuring spoon can be a messy ordeal. These little cups provide an easy hands-free alternative.
The OXO Good Grips Mini Angled Measuring Cup measures up to 1/4 cup and has tablespoon, ounce, cup, and milliliter markings. The angled design allows you to see the measurements from above while you're filling the cup. *Because it's made out of plastic, I've found that certain liquids like oil are difficult to clean off of it.
The Kolder Mini Measure Cup is made out of glass and measures up to 2 Tablespoons of liquid and has teaspoon, ounce, and milliliter markings.
Non-Standard Measuring Spoons
If you find yourself dividing recipes often or enjoy small-batch baking, these less-standard measuring spoons are convenient to have on hand. *Make sure to check your kitchen drawer as some measuring sets do come with one or more of these spoons.
1/8 Teaspoon Measuring Spoon. A common measurement in small batch baking, 1/8 teaspoon is equal to half of 1/4 teaspoon. This is my favorite measuring spoon – in addition to baking, we use ours daily to add a splash of lemon extract to oatmeal and for measuring herbs and spices for small-batch salad dressings and dips.
1/2 Tablespoon Measuring Spoon. Equal to 1 1/2 teaspoons, this measuring spoon is convenient but not necessary.
1 1/2 Tablespoon Measuring Spoon. I mostly use this spoon to measure half an egg. It's also convenient to have on hand if you're resizing a recipe and need to divide 3 tablespoons. In case you were wondering, it's equal to 4 1/2 teaspoons.
What We Use: RSVP Endurance 1/8 teaspoon Measuring Spoon and RSVP Endurance 1 1/2 Tablespoon Measuring Spoon. Our 1/2 tablespoon came in a random measuring spoon set.
Ruler
Rolling out pie dough and need to check the length and width?
Want to see if the sweet potato chunks you're chopping are the ¾-inch thickness called for in your recipe?
Baking banana bread but you're not sure what size your loaf pan is?
A basic ruler will answer all of those questions!
What We Use: Any kind of ruler will work, but we're a messy bunch so I opt to use a flat plastic 12-inch ruler since it's super easy to clean. You can find them online, at Target, and at office supply stores.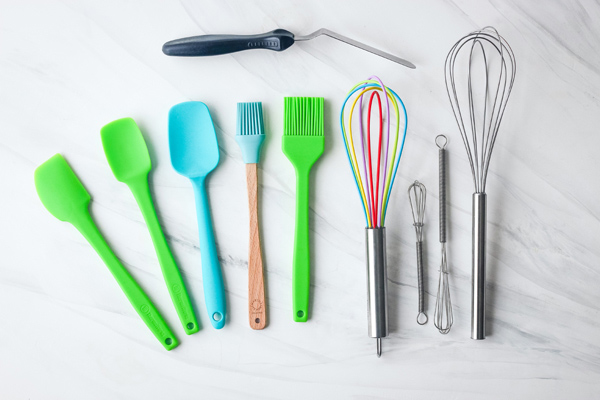 Little Kitchen Utensils
From scraping a tiny bit of batter out of a bowl to frosting mini cakes and whisking up a tangy orange vinaigrette for two – a mini tool is usually the best tool for the job.
Mini Rubber Spoonula and Spatula
What They're Good For: Mixing up everything from chickpea salad to cake batter, spooning batter into pans, getting that last little bit of frosting or dough out of the bowl, scraping the bottom of your peanut butter jar, and so much more.
What We Use: Mini Spatula/Spoonula Set from ThermoWorks. They come in a variety of colors and are Rated to 600°F. The spoonula is one of my favorite kitchen tools. It's like a cross between a spatula and a spoon with a rounded edge that makes it great for scraping and scooping. 
Mini Offset Spatula
Think of an offset spatula like a butter knife but better. The tip is rounded and the blade is blunt, thin, and flexible. They come in a variety of sizes but for small-batch cooking, the mini is the way to go!
It's Great For:
Transferring small cookies to a cooling rack
Spreading batters and fillings into an even layer
Frosting cupcakes, cookies, and small cakes
Loosening stuck baked goods (especially muffins) from their pans
What We Use: I've been using the same Wilton 9-inch Angled Spatula for over a decade now.
Small Silicone Brush
It's Good For: Applying glazes or sauces to all kinds of sweet and savory foods, brushing cream or egg washes on mini hand pies and biscuits, or coating a pizza pan with olive oil before adding the dough.
What We Use: 8″ Hi-Temp Silicone Brush from ThermoWorks. While it's less delicate than a typical nylon pastry brush I've found the silicone holds up better over time and this particular brush does a good job of holding and applying sauces/oils/glazes.
Mini Whisks
What They're Good At:
Whipping up eggs and heavy cream
Blending ingredients into a smooth batter
Creating emulsions for salad dressing and sauces
Sifting dry ingredients
We have a few small and medium all-purpose whisks for baking but these tiny RSVP Endurance Mini Whisks are the ones we use daily. That's because they're perfect for everyday small jobs like whisking together a batch of ranch dressing for two, stirring up a drink, or beating a single egg.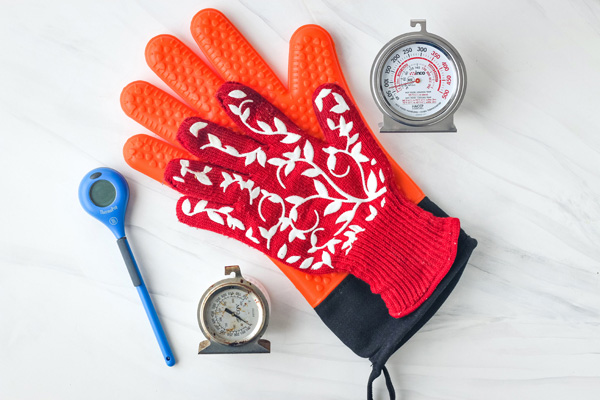 Thermometers
Baking temperatures can make or break your dish, these handy little thermometers are great for testing the temperature of your oven (and your food).
Instant-Read Thermometer
What We Use: The ThermoPop by ThermoWorks is our go-to thermometer. For $34 this little guy gets the job done, doesn't take up much space, comes in a bunch of fun colors, and has an easy-to-read screen. 
What It Does: With an instant-read thermometer you can quickly monitor the internal temperature of whatever you're cooking, from frozen meals to bread loaves and everything in between. They're also useful for testing the temperature of poaching liquids, oil for frying, and warm water for yeasted doughs.
Oven Thermometer
What We Use: CDN ProAccurate Oven Thermometer and Winco Oven Thermometer. The CDN's compact size makes it better suited for small to medium-sized toaster ovens but the large markings on the Winco are easier to read.
Why It's Great: All ovens (big or small) have their heating quirks. An oven thermometer is an easy way to find out how accurate your oven temperature is and make adjustments for any funky heating behavior. If you're not sure how to use an oven thermometer, check out this post from Stress Baking for How to Calibrate Your Oven For Better Results. And here are some step-by-step instructions for testing your toaster oven's temperature.
Oven Gloves or Mitts
Since we're talking about heat, it seems like a good time to bring up heat protection. Burns are serious business. That's why oven mitts (or gloves) are essential in any kitchen.
I prefer gloves because they allow your fingers to grip more of the pan but mitts are great too. These days, there are a ton of options for high heat-resistant gloves and mitts. Some are made from machine washable materials while others use silicone. Get yourself a pair you like and use them often.
What We Have: Recently I picked up this pair of GEEKHOM Grilling Gloves on Amazon. I like the longer cuff which protects my wrist from the toaster oven and that you can easily wipe them clean. While they are slightly bigger on my small hands and a little tight for Tim, we're both able to use them without a problem.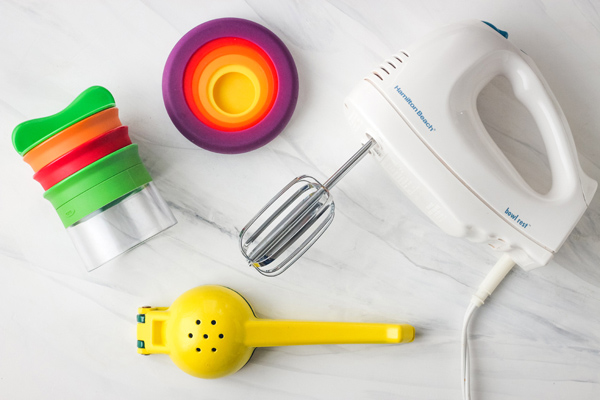 Gadgets and Small Appliances
From reducing food waste to helping you eat more veggies, these little gadgets and appliances make cooking for a smaller household delicious, efficient, and fun!
Vegetable Spiralizer
What We Have: OXO Good Grips 3-Blade Hand-Held Spiralizer
Admittedly, this little tool doesn't get a ton of use in our kitchen. I mostly whip it out during the summer when zucchini is cheap and plentiful. But that's why I love this handheld spiralizer, it's super tiny and fits easily in a kitchen drawer so I don't feel a lot of guilt about not using it often.
Larger spiralizers are good if you're looking to feed a large family but if you're cooking for one or two people this little hand-held option makes a fantastic small batch of zucchini noodles or cucumber ribbons in just a few minutes. *Quick Note: This tool does require a good amount of hand strength to use.
Hand-Held Spiralizer Recipes
Food Huggers
What We Have: Food Huggers Reusable Silicone Food Savers Set (Bright Berry).
What They Do: These inventive silicone covers are meant to help you reduce food waste and single-use storage (like plastic wrap and foil). They come in a variety of sizes and literally hug your food to keep air out and your produce fresher longer.
The first time I tried one it was to store half of a cut eggplant. When I went to cook up the remaining eggplant two days later I was blown away. The sliced flesh that had been inside the hugger had barely browned. We had a similar experience with storing half a banana and half an apple. *One thing to note, the silicone does seem to absorb strong odors so I wouldn't use them for storing onions.
They're also great for covering jars and open cans and when not in use, the covers nest together for easy storage.
Citrus Press
What It Does: A handheld citrus press/squeezer is great at quickly getting a lot of juice out of lemons and limes and without dumping the seeds into your glass.
If you're a fan of citrus-flavored sweets, small batch peanut lime sauce, or lemon veggie pasta for two, this handy tool is definitely worth the drawer space. *Quick Note: The pressing does require a bit of hand and wrist strength.
What We Have: I couldn't find the manufacturer for the one we use, (we received ours from my mother-in-law for Christmas years ago) but this Zulay Metal Lemon Lime Squeezer is very similar to it.
Hand Mixer
What It's Good For: Creaming butter for small batches of cookies, frostings, or a mini cranberry orange snack cake. Whipping egg whites, heavy cream, and more.
What We Use: Hamilton Beach 6-Speed Electric Hand Mixer, Beaters, and Whisk, with Snap-On Storage Case. It's super basic but gets the job done and has a fun whisk attachment that's perfect for making a small batch of whipped cream.
*We used to own a large KitchenAid stand mixer but it was pretty much useless for our small batch lifestyle. So I found it a home where it would get more attention. If you're an avid baker and cooking for only a few people, KitchenAid does make an adorable 3-Quart mini stand mixer.
Mini Food Processor
What It's Good For:
Making small batches of pesto, cranberry orange relish, salsa, hummus, or your favorite dip.
Grinding oats into oat flour and chopping nuts or veggies.
My favorite way to use ours is making small batch cookies because you don't have to wait for the butter to soften – I just toss it in cold and the machine creams it with the sugar in seconds!
Why Mini? Large food processors are designed for processing larger amounts. When I'd try to blend a few dates or grind half a cup of nuts in our old 10-cup processor the blades would just spin and spin barely making contact with the ingredients. A mini-processor is meant to hold just a few cups of ingredients so the blades are positioned closer to the bottom of the container and better at processing smaller amounts.
What We Use: Cuisinart Mini-Prep Plus. There are so many great options for mini food processors these days, I'm not sure if this is the best one but we like it. Also, a lot of smaller single-serving blenders like the NutriBullet can do most of the things I listed above.
3-Quart Instant Pot
It took some getting used to but I love our little 3-quart Instant Pot. It's perfect for cooking small batches of grains like white or brown rice and quinoa. And we use it every day to make a wholesome breakfast of oatmeal for two. You can also steam beets without making a mess, hard boil eggs, or even make an impressive 6-inch cheesecake.
What We Use: 3-Quart Instant Pot Duo Plus Mini. Ours is a few years old and still going strong. If you're new to pressure cooking, I'd recommend splurging for the Instant Pot Ultra as it has a quick-release button. It can be kind of intimidating to release the pressure when you're first getting started.
Check out this Instant Pot Mini Beginners Guide for helpful cooking tips and resources.
Toaster Oven
If you're cooking for one or two people a toaster oven is one of the most useful small appliances to have. Yes, I am completely biased. But our hundreds of delicious toaster oven recipes will back me up here.
A quality toaster oven can preheat faster than a traditional big oven and uses energy more efficiently.
It's great for little jobs like toasting nuts and making croutons or bigger tasks like a sheet pan meal for two or baking half a cake mix.
Since the oven's kept on the counter, it's easier to keep tabs on how your food is cooking and you don't have to bend over to remove hot dishes.
Depending on the size and features of your toaster oven, you may never need to turn on your big oven again (or at least only for entertaining and around the holidays).
What We Use: The Breville Smart Oven Pro (BOV845BSS) has been our go-to daily oven for a few years now. It's large but not too large, heats evenly, and is an all-around workhorse. You can see more about the different ovens we cook with on this Meet The Toaster Ovens page.
---
Okay, that about sums it up. Now, it's your turn! What's your favorite small batch kitchen tool?