Meet the toaster ovens of Toaster Oven Love. These are the little ovens we use to develop and test toaster oven recipes for the site. You may also recognize them from these step-by-step tutorials too. What are you cooking with? We'd love it if you'd tell us about your toaster oven in the comments below!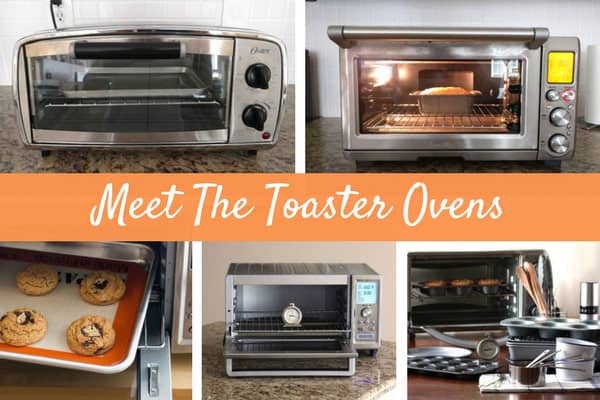 This is our (ever-expanding) team of toaster ovens, big and small they do the heavy lifting around here.
(NOTE: We purchased these toaster ovens and did not receive them for free, all opinions are our own.)
The Boss (Breville Smart Oven Pro BOV845BSS)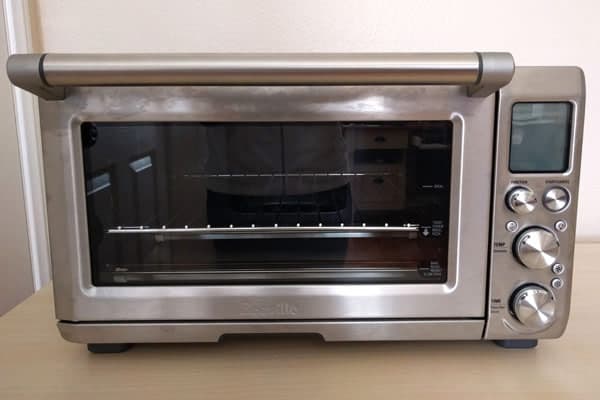 The most recent addition to the team is the Breville Smart Oven Pro BOV845BSS.
More expensive than most toaster ovens its features (including convection), design and reliability deliver the goods.
The oven light is great for checking the doneness of your meal without having to open the door (which can cause up to a 25% drop in temperature).
The interior's special nonstick coating makes cleaning simple (you can just wipe it down with a damp sponge).
The rack positions for cooking different items are printed on the door so you don't have to check the manual every time.
It comes with a sturdy baking rack, large roasting pan, and pizza stone.
We were skeptical about all the hype but it's a great little oven.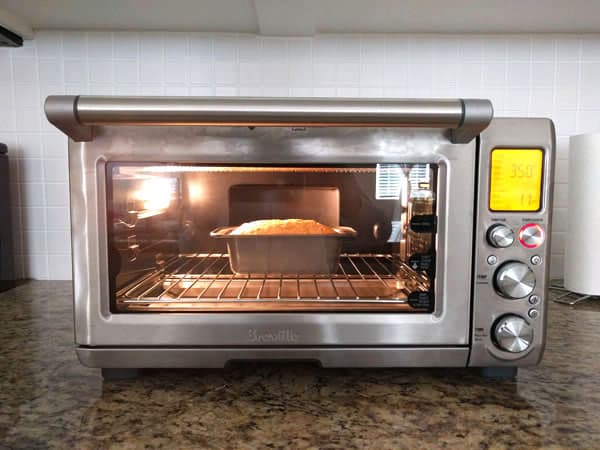 However, it does have one annoying "feature."
The beep or alert is ridiculously loud and there is no way to adjust the sound level. If you're trying to sneak a midnight snack of potato wedges, prepare to share because that beep will wake up the whole house.
On the plus side, you'll probably never accidentally turn it on and not know it.
Tiny T (Oster TSSTTVVGS1)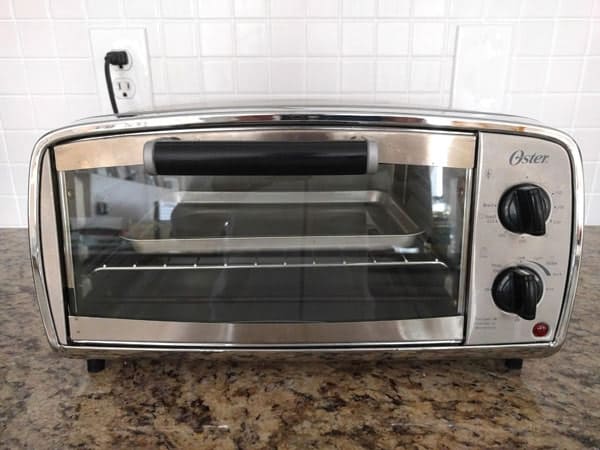 Originally an office lunchroom toaster oven, this Oster TSSTTVVGS1 joined the team after Tim took our Cuisinart to work (see Lunchroom Beast below).
Reasonably priced, this cute little (17.4 x 11.1 x 9.5 in) countertop oven's features include broiling, baking, toasting, and a 30-minute timer with a stay-on position for recipes that take longer.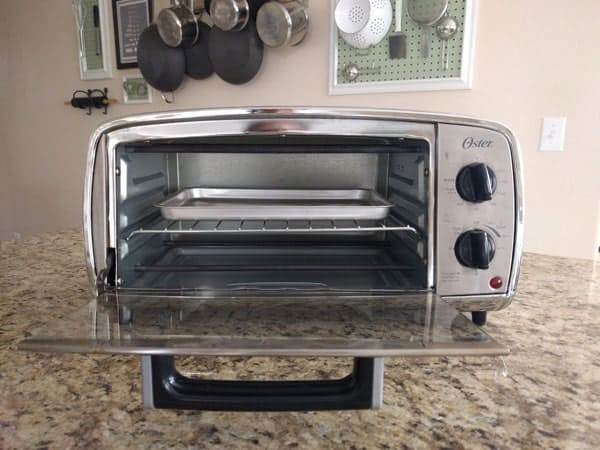 We're still getting to know this tiny toaster but he's already helped expand the recipe testing and tutorials on Toaster Oven Love beginning with these posts on How To Toast Coconut In Your Toaster Oven and How To Bake A Toaster Oven Carrot Cake.
Mr. Toaster Oven (Oster Countertop Oven)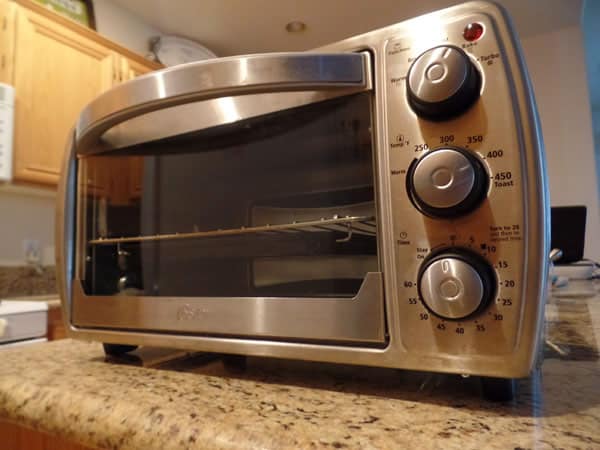 The toaster oven that started it all, an Oster Countertop Oven, TSSTTVCG02. A mighty little machine that made tasty baked donuts.
After 4 years, hundreds of baked potatoes and too many burnt appendages, Mr. Toaster Oven has been retired from daily cooking.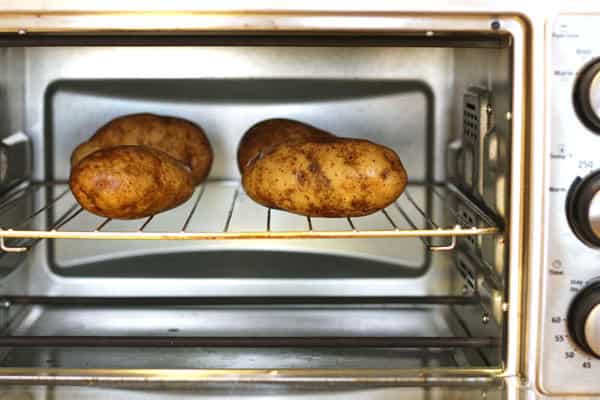 Today, he serves a greater purpose as the official Toaster Oven Love Community Test Subject. Right now he's helping us discover the best (and worst) methods for cleaning your toaster oven.
Lunchroom Beast (Cuisinart Chef's Convection)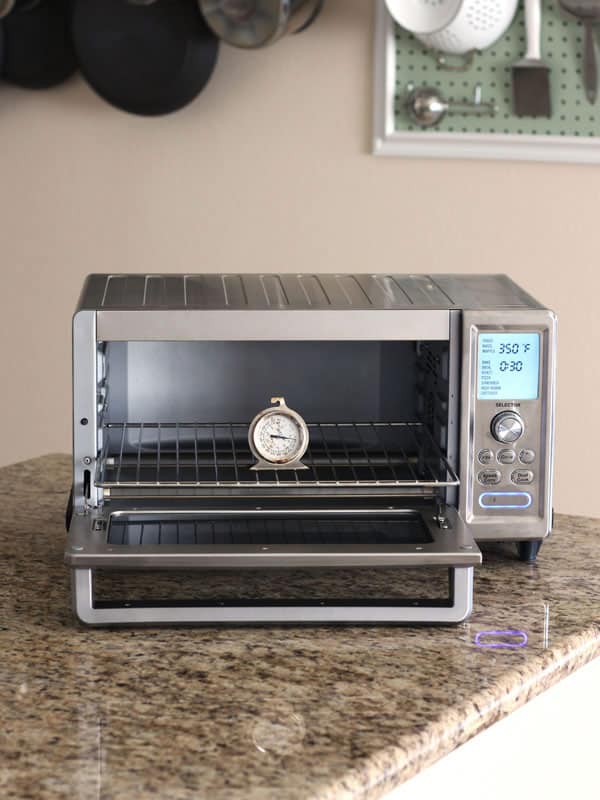 Last year, we purchased the Cuisinart Chef's Convection Toaster Oven to replace Mr. Toaster Oven.
It's dreamy with a huge interior, efficient convection and reliable temperature. Highest on our must-have list, it fits a quarter sheet pan, the perfect sized pan for cooking a pan of addictive roasted sweet potato rounds or buffalo broccoli and cauliflower bites.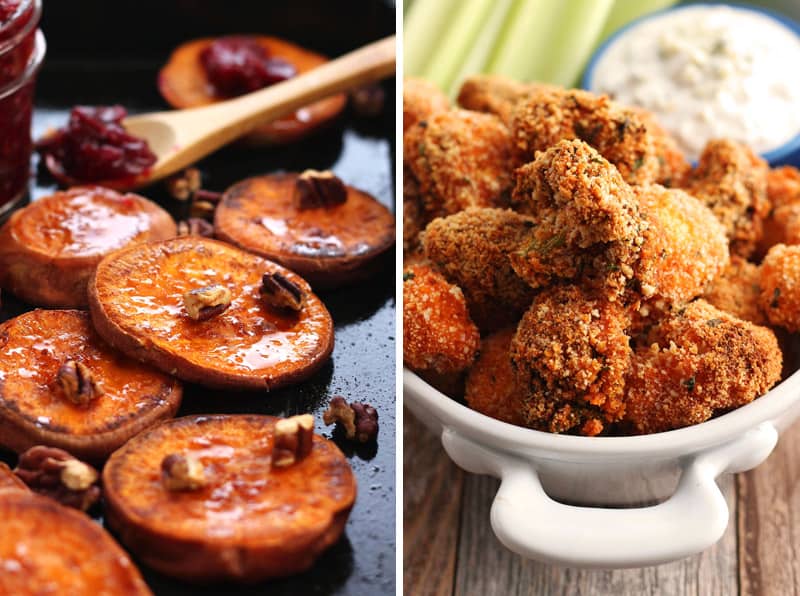 The Problem Is
After just a few uses the buttons started rubbing off. Not a huge deal but for close to $200 you kind of feel entitled to buttons that identify what they do when pressed.
Cuisinart's customer service was very friendly and offered to send a replacement toaster oven if we agreed to mail them the cord for the original once we received to replacement. #nocookiedowntime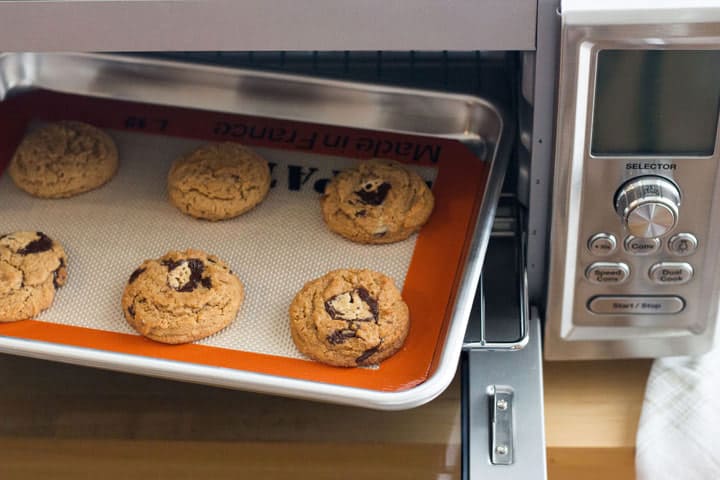 A Few Weeks Later:
We received the new toaster oven.
Chopped the cord off the old one, mailed it back and set the now cordless toaster oven in the garage to take for recycling.
After 4 days of use, the buttons on the new toaster oven began rubbing off!
Why It Matters Where You Purchase Your Toaster Oven
If you hear the words 3-Year Warranty and think that must include money back for a defective item, you would be wrong.
Cuisinart would not refund our money because their warranty only covers parts and replacements. To their credit, they were willing to keep sending us a new toaster oven each time the buttons rubbed off.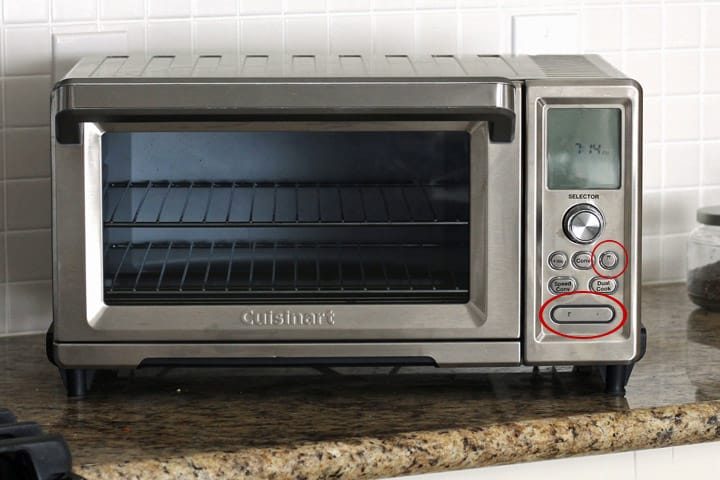 If we wanted a refund, we'd have to take that up with the store we bought it from.
Now, some stores have generous return policies, others not so much.
We had never shopped at Bloomingdales before purchasing this toaster oven during a sale. Turns out they have a more than generous return policy, were happy to refund our original purchase price, and gave us a shipping label to send them the cordless toaster oven.
Less than 3 weeks later we received our refund.
What About The Replacement Toaster Oven?
Cuisinart didn't want it back and we had already purchased the Breville Smart Oven Pro BOV845BSS.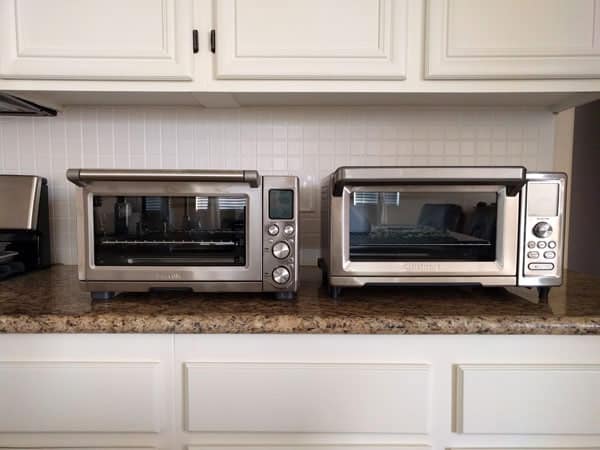 So, Tim took it to work and his old work toaster oven (Tiny T) joined our home testing team.
THINKING ABOUT UPGRADING YOUR TOASTER OVEN?
If you can wait, we'd encourage you to skip the sales for now and instead:
Once you've decided on the toaster oven that will fit your counter space and meet your cooking needs, a good sale is always waiting around the corner.
So, Whatcha Cooking With?
Tell us about your toaster oven.
Do you absolutely love it or are you struggling to cook the things you love? Share in the comments below!