Small Batch Cranberry Relish
Fresh cranberries, orange (flesh + peel!), and sugar get whipped together for a quick Small Batch Cranberry Relish everyone will enjoy. Perfect for the holidays, this no-cook relish is great on its own, dolloped on crackers, spread on sandwiches, and more!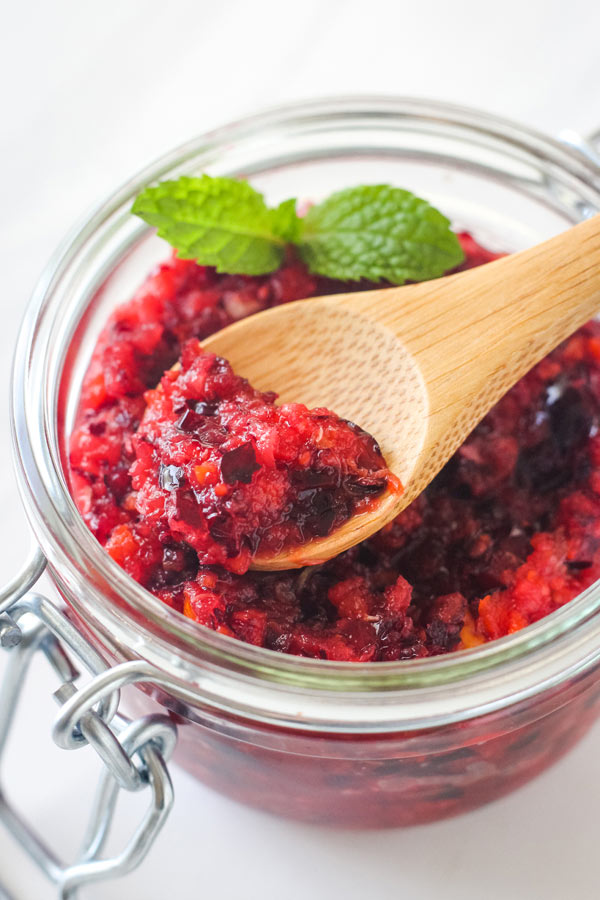 Today we've got a quickie condiment for you. This small batch cranberry relish requires just a few ingredients and is super fast to make in a mini food processor.
It's bright and tart and there are a zillion ways to customize and use it. Wait till you see the ricotta toast!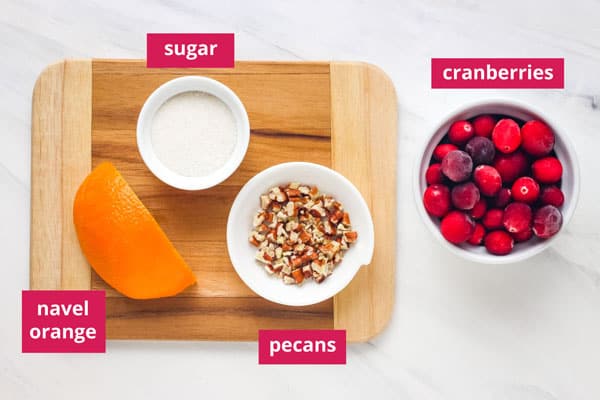 Ingredient Notes
Orange: The classic recipe for this dish call for a whole orange. Since this is a small batch recipe we'll be using only a quarter.
Cranberries: Fresh or frozen. If using frozen, let the cranberries thaw for 20 to 30 minutes before processing.
Step-By-Step Instructions
1. Start by slicing the ends off of the orange quarter. Then cut it into chunks. I love the texture and flavor the orange peel adds but I'm not a huge fan of the bitter pith (the white stuff). So I use a pairing knife to slice the thicker parts away from the flesh.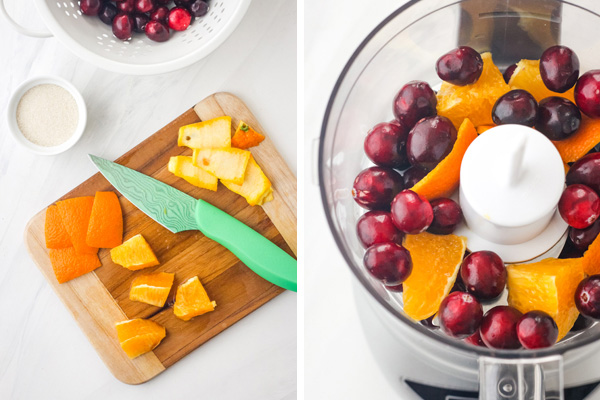 2. Once you've got your orange sorted, add the pieces and cranberries to a mini food processor. Pulse until the mixture is finely chopped into tiny pebble-sized pieces.
To make sure everything gets chopped, scrape down the sides of the processor once or twice.
3. Pour the cranberry mixture into a small bowl and stir in the sugar. Start with 1 tablespoon. Mix it in well, taste, and then add more sugar 1 teaspoon at a time as desired.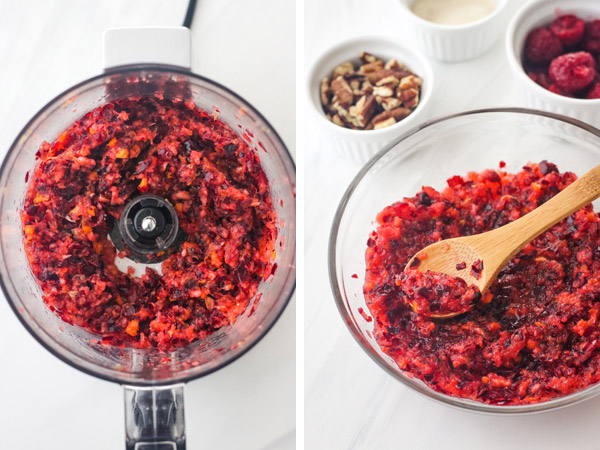 4. Cover the bowl and chill the relish for at least 1 hour before serving. It will keep in the fridge for up to 5 days.
5. Just before serving, stir in the chopped pecans. Not sure if everyone likes nuts? Serve them on the side!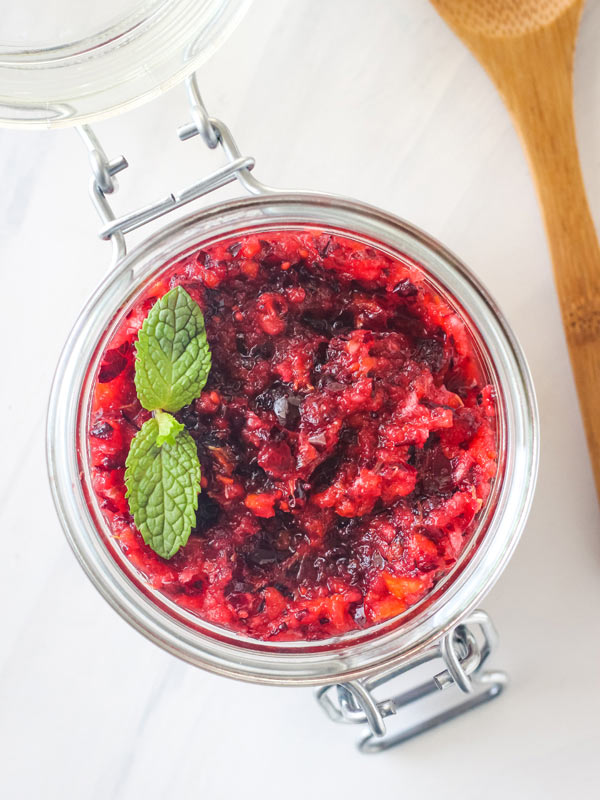 Tips and Variations
There are so many ways to customize this relish, below are a few popular ideas.
Stir 1/4 cup of thawed frozen raspberries into the cranberry mixture before adding the sugar. It gives the relish a vibrant pink color (see the photo below) and a sweeter flavor.
Warm spices like cinnamon and nutmeg give the relish a distinct holiday flavor. A little goes a long way though so only use a pinch or two, otherwise, the spices will overwhelm the other flavors.
For a spicier bite, add a teaspoon of peeled and chopped fresh ginger to the processor.
Granny Smith apple adds a nice crunchy texture. Just deseed 1/4 of a small apple, chop it into a few chunks, and throw it in the processor with the orange and cranberries.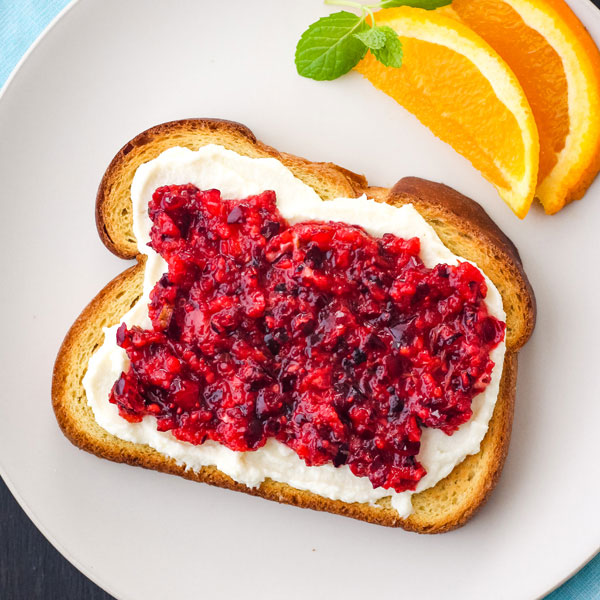 Cranberry Relish Uses
The perfect addition to any holiday meal, this bright and fresh condiment has a lot of other tasty uses.
Spread it on toast with whipped ricotta
Serve with crackers and cream cheese
Top a batch of quick baked sweet potatoes
Enjoy with yogurt or cottage cheese and granola
Dollop on your morning oatmeal
Or just eat it by the spoonful!
More Holiday Recipes For Two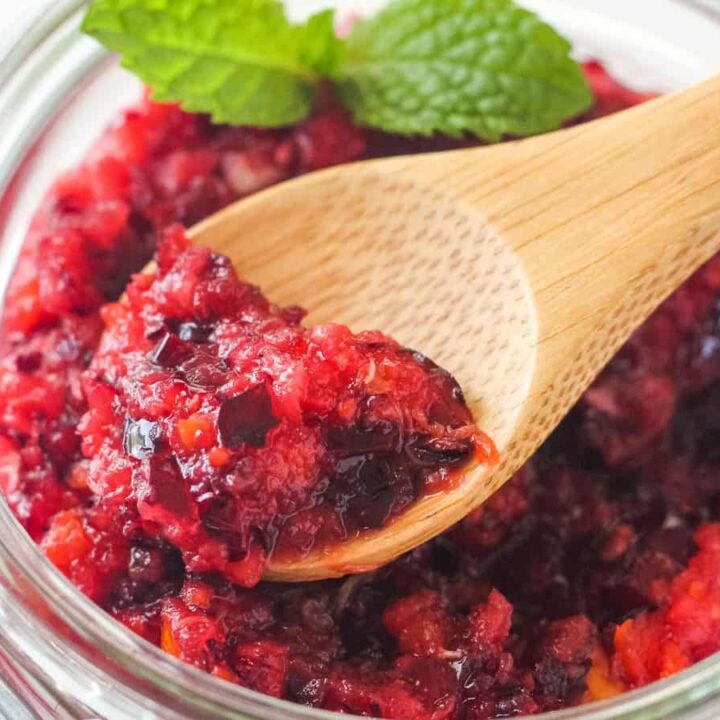 Small Batch Cranberry Relish
Yield:
About 8 tablespoons
Total Time:
1 hour
10 minutes
This fresh and tart raw alternative to traditional cranberry sauce takes just a few minutes to make. Enjoy it with your holiday meal, stir into oatmeal, or use it to top baked sweet potatoes and toasts.
Ingredients
1/4 a Large Unpeeled Navel Orange
3 ounces Fresh or Frozen Cranberries (see note), washed and dried (about 3/4 cup)
1 to 2 tablespoons Granulated Sugar
1 tablespoon Finely Chopped Pecans, optional
Instructions
Cut the orange piece into 3 or 4 chunks and discard any seeds. If desired, use a pairing knife to cut away the peel and remove some of the bitter white pith from the flesh.
Add the orange peel and flesh and cranberries to a mini food processor. Pulse until finely chopped.
Transfer mixture to a bowl and stir in 1 tablespoon of sugar until dissolved. Taste and add more sugar, 1 teaspoon at a time, until it reaches your preferred level of sweetness.
Cover and refrigerate for at least 1 hour to allow the flavors to blend together.
Just before serving, stir in chopped nuts if using.
Notes
Frozen Cranberries - Let them thaw about 20 minutes before using otherwise it will sound like you're trying to grind rocks in your mini processor.

Orange - Since you're eating the skin, grab an organic orange if you can (if you can't don't stress about it). Half a small mandarin orange works too.

Sweetener - We've had good luck with substituting maple syrup for some of the sugar. It does not add a maple flavor, just sweetness.

Nuts - Totally optional but highly recommended. Chopped pecans are my favorite but walnuts or pistachios taste great too.
Storage - Cover and refrigerate for up to 5 days. Stir well before serving.
Flavor Variations
Rasberry: Stir and lightly mash 1/4 cup of fresh or thawed frozen raspberries into the cranberry mixture.
Apple: Seed 1/4 of an apple, chop into chunks, and add to the processor with the cranberry and orange.
Spiced: Add a few pinches of cinnamon, nutmeg, or ginger to the cranberry mixture.
Nutritional information is for a relish made using 4 teaspoons of sugar.
Nutrition Information:
Yield:

4
Serving Size:

2 tablespoons
Amount Per Serving:
Calories:

34
Total Fat:

0.4g
Saturated Fat:

0g
Cholesterol:

0mg
Sodium:

0mg
Carbohydrates:

7.1g
Fiber:

1g
Sugar:

5.5g
Protein:

0.1g