Zesty Zucchini Pasta Salad
A zesty zucchini pasta salad with spiralized zucchini, whole wheat spaghetti, veggies, parmesan cheese, and a zippy Italian dressing. Perfect for hot summer days, this cold salad can be made ahead of time and chilled; as it sits the flavors get even better!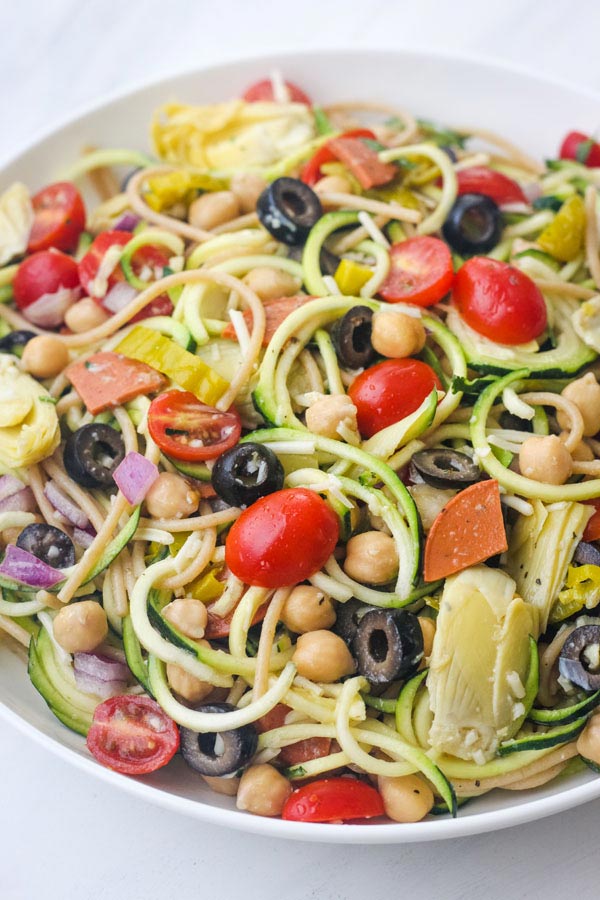 Every summer there comes a point where it's too hot to even look at your oven (or toaster oven). That's when we pull out a favorite but oft-forgotten kitchen tool: the vegetable spiralizer. 
Ours is a tiny handheld device that's great for whipping up small batches of refreshing zucchini noddles. The perfect base for a quick summer salad like this bright and tangy Zesty Zucchini Pasta Salad.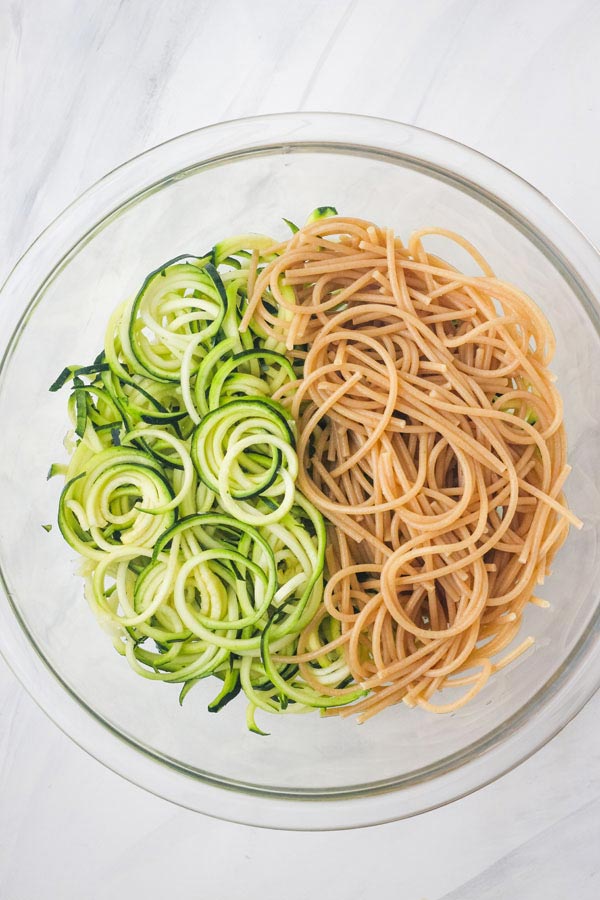 This fresh bowl of deliciousness starts with a 50/50 mix of cooked spaghetti and raw zucchini noodles. 
Next comes briny artichoke hearts, juicy tomatoes, sliced pepperoncini, black olives, chickpeas, and parmesan cheese.
Lastly, it's all bathed in a zippy Italian vinaigrette that will delight your tastebuds and wake up your mouth!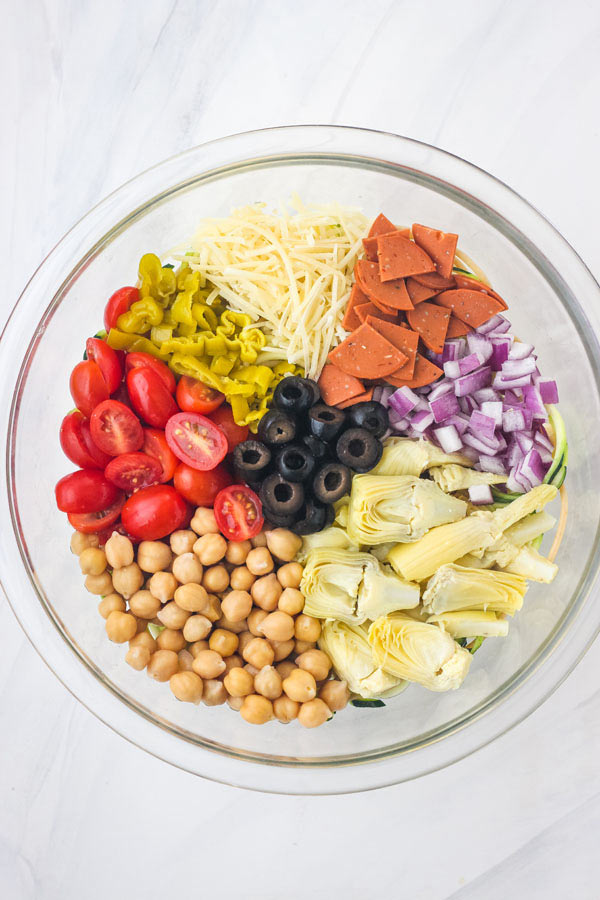 Now, don't be intimidated by the ingredients list. Use what you have, skip what you don't. 
If you're out of tomatoes add half of a diced red or yellow pepper instead.
Swap the parmesan for mini mozzarella balls or crumbled feta.
Use kalamata olives in lieu of black olives, or try a mix of both.
Toss in some fresh parsley or basil if you've got it on hand.
While the vegetarian pepperoni is purely optional I think it's a fun addition and really brings home the pasta salad vibe.
The dressing is super easy to whip up using a mason jar and a few shakes of your wrist. If you've got a favorite bottled Italian dressing on hand, feel free to substitute a few tablespoons instead.
Drizzle it on, give everything a good toss, and dig in!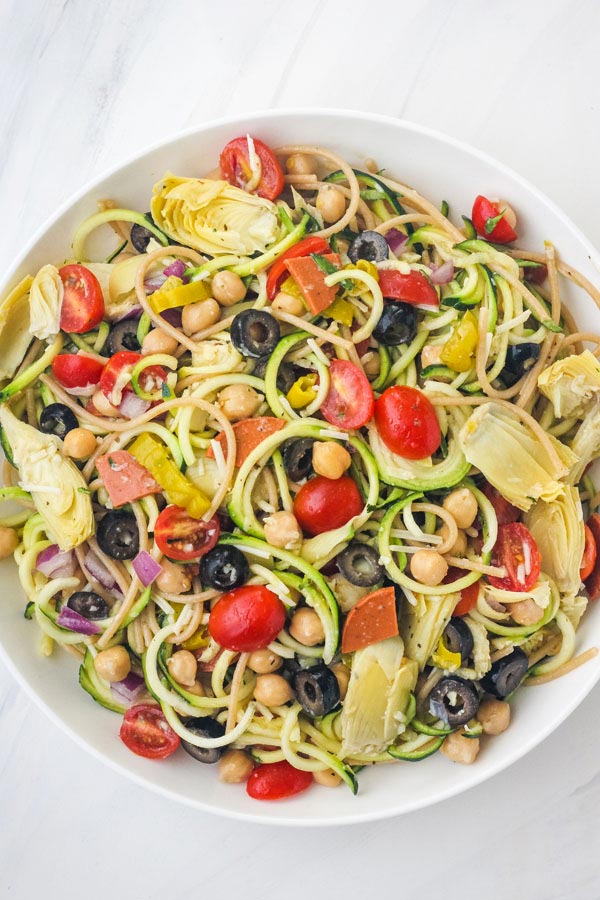 More Zucchini Noodle Ideas
The first summer with our spiralizer we made this quick and easy Southwestern Zucchini Noodle Salad. It features ripe tomatoes, black beans, corn, and avocado tossed with a quick cumin lime vinaigrette. The recipe makes a great lunch for one but can easily be doubled to feed two people.
Last year, we upped our veggie noodle game with this Quinoa and Zucchini Noodles Salad. It packs a cool one-two punch of filling vegetarian proteins with nutty quinoa and chickpeas. My favorite thing about this salad is that it gets better the longer it sits. We took a container of it camping and it was a hit served at both dinner and breakfast the next day!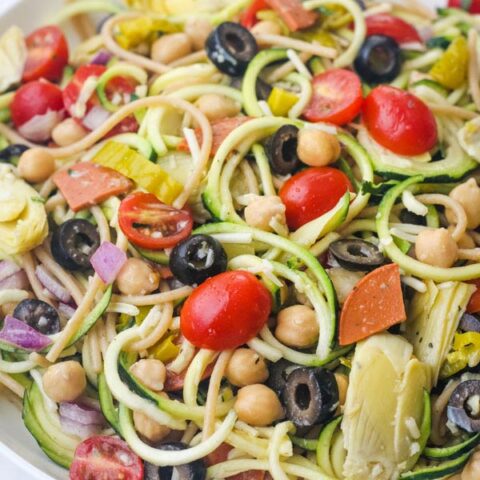 Zesty Zucchini Pasta Salad
This tangy cold pasta salad is loaded with fresh veggies, olives, chickpeas, and a zippy Italian dressing. Make it ahead for an easy lunch or light dinner for two! 
Ingredients
For the Salad:
2 ounces dry Whole-Grain Spaghetti, broken in half
2 small Zucchini (about 6 ounces each)
1 cup Cherry Tomatoes, halved (3 ounces)
1 cup Artichoke Hearts, drained and quartered (about 6 whole hearts)
1/4 cup diced Red Onion
4 Pepperoncini, thinly sliced
1/4 cup Sliced Black Olives (32 grams)
3/4 cup Cooked Chickpeas, drained and rinsed if using canned
1/4 cup Shredded Parmesan Cheese (1 ounce)
6 slices Veggie Pepperoni, quartered (optional)
For the Dressing:
1 tablespoon Extra-Virgin Olive Oil
1½ tablespoons Red Wine Vinegar
1 tablespoon Lemon Juice
1/8 teaspoon Dried Basil
1/8 teaspoon Dried Oregano
1/8 teaspoon Garlic Powder
1/8 teaspoon Fine Sea Salt
1/16 teaspoon Black Pepper
Instructions
Cook pasta to al dente according to the package directions. Drain pasta and rinse under cool water.
While the pasta is cooking, spiralize the zucchini and prep the other salad mixins.
To make the dressing add the oil, vinegar, lemon juice, and seasonings to a jar with a tight-fitting lid. Shake well to combine.
In a large bowl combine the cooked pasta and zucchini noodles, toss with tongs. Add in the remaining salad ingredients, drizzle with the dressing, and toss everything together to coat well with the dressing.
Chill, covered in the fridge until ready to eat.
Notes
Vegetarian Parmesan Cheese: Traditional parmesan cheese is made with animal rennet (also called enzymes) which is not vegetarian. If you want to keep the salad vegetarian, use cheese that is made with microbial enzymes or non-animal rennet.
Spaghetti: For this salad, we like to break our spaghetti noodles in half before cooking. It helps the pasta to cook up evenly and makes it easier to get more of the different salad ingredients on the fork at the same time. If you prefer longer noodles, just leave them whole.
Nutrition Information:
Yield:

2
Serving Size:

Half of Recipe
Amount Per Serving:
Calories:

461
Total Fat:

13.7g
Saturated Fat:

4.8g
Cholesterol:

15mg
Sodium:

1050mg
Carbohydrates:

59.2g
Fiber:

9.3g
Sugar:

8.1g
Protein:

25.5g