Quinoa and Zucchini Noodles Salad
Fresh and delicious, this Quinoa and Zucchini Noodles Salad is packed with tasty Mediterranean-inspired flavors and filling vegetarian protein. Enjoyed cold, it makes a great summer dinner for two.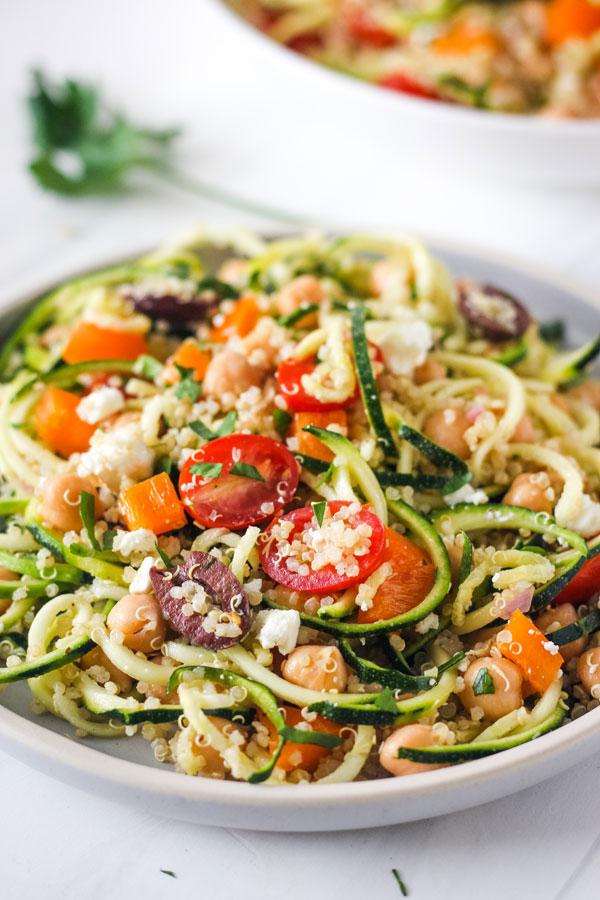 Zucchini Noodles
Are you a fan of zucchini noodles? I'm still learning to appreciate them cooked but absolutely love raw zucchini noodles. They're crisp, sweet, and easy to turn into a fun salad.
Last year I bought a handheld spiralizer and used it all summer to make this Southwestern Zucchini Noodle Bowl for lunch. The little gadget does a great job if you're trying to turn just one or two zucchini into noodles aka Zoodles. (In case you're interested, I've linked to our spiralizer at the bottom of the recipe card)
What I like best is that it's small enough to fit in a kitchen drawer, so you feel less guilt when a whole year goes by before you pull it out again next summer (or maybe that's just me).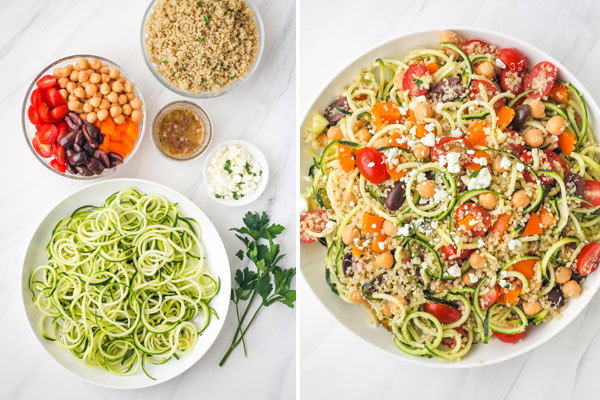 If you don't have a special tool and/or zero desire to store "one more gadget" in your kitchen, no worries. You can use a vegetable peeler to make zucchini ribbons or chop the zucchini into small pieces.
For the quinoa, you can cook it on the stovetop or my favorite option: use your Instant Pot Mini. If you want to make things super easy, grab a pouch of pre-cooked quinoa at the grocery store.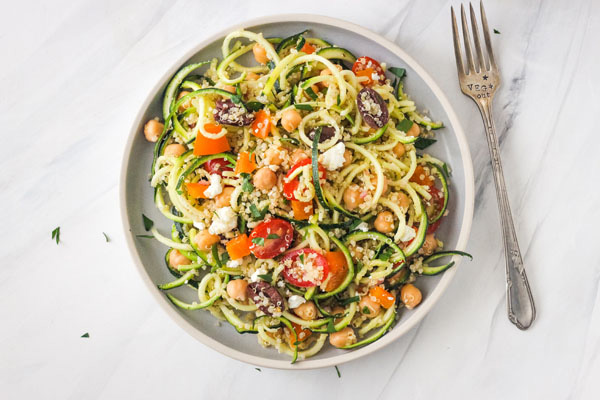 This salad is yummy when freshly made, but tastes even better after sitting in the fridge for an afternoon. It gives all of the flavors time to mingle together and the zucchini noodles soften a little.
You end up with a Quinoa and Zucchini Noodles Salad that's crisp, light, refreshing, and loaded with flavor. Just what you want to eat on a hot summer day!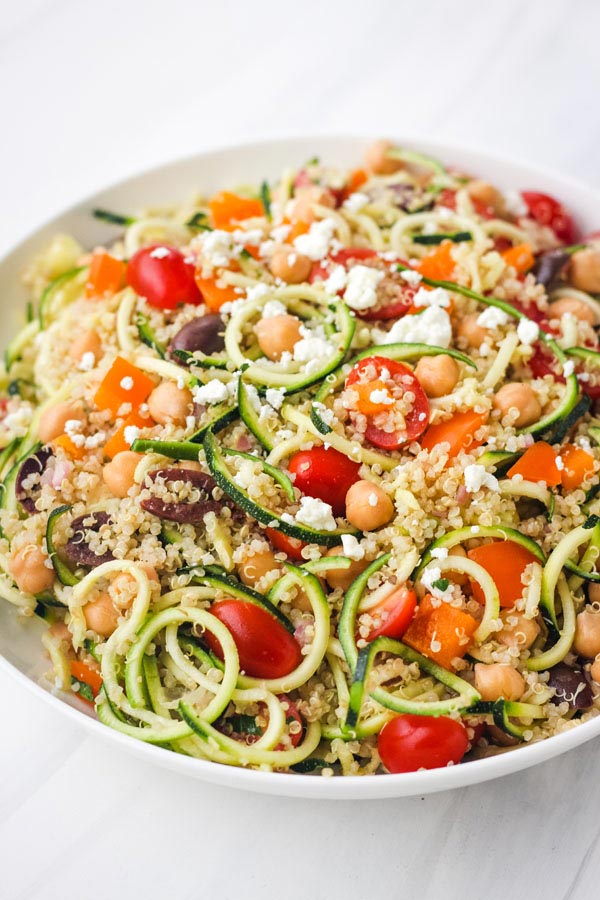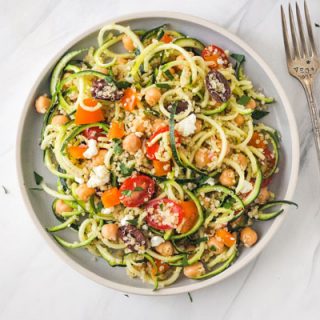 Quinoa and Zucchini Noodles Salad
A Mediterranean-inspired vegetarian salad with chickpeas, quinoa, and raw zucchini noodles. 
Ingredients
Zucchini Noodle Salad
1/2 cup uncooked Quinoa, rinsed (substitute 1½ cups cooked quinoa)
2 medium Zucchini (about 8 to 9 ounces each), spiralized or chopped into small pieces
1 cup Cooked Garbanzo Beans (drained and rinsed if using canned)
1 cup Grape Tomatoes, sliced in half
Half an Orange Bell Pepper, seeded, diced
10 Kalamata Olives, sliced in half
3 tablespoons Crumbled Feta Cheese
Fresh Parsley or Basil Leaves, finely chopped
Vinaigrette
1 tablespoon Diced Shallot (optional)
1.5 tablespoons Extra-Virgin Olive Oil
1 tablespoon Red Wine Vinegar
1 tablespoon Lemon Juice
1/2 teaspoon Dried Oregano
1/4 teaspoon Fine Sea Salt
1/8 teaspoon Garlic Powder
1/8 teaspoon Black Pepper
Instructions
Quinoa

Prepare quinoa according to the package directions or make a batch in your 3 QT Instant Pot Mini. Stick cooked quinoa in a large bowl and place in the fridge to cool.

Dressing

Combine the vinaigrette ingredients in a lidded mason jar and shake until combined. Taste and adjust seasonings as desired.

Assembly

Add all of the remaining salad ingredients to the bowl with the quinoa. Shake the vinaigrette jar again, drizzle over the salad and toss well to coat. Serve immediately or cover and chill for up to 24 hours.

Nutrition Information:
Yield:

2
Serving Size:

1
Amount Per Serving:
Calories:

476
Total Fat:

21.3g
Saturated Fat:

4.4g
Cholesterol:

13mg
Sodium:

787mg
Carbohydrates:

57.3g
Fiber:

10.3g
Sugar:

8.2g
Protein:

17.7g
P.S. Are You Cooking For One? The leftovers will keep overnight, and make a tasty lunch the next day!
Browse More Easy Zucchini Recipes For Two