Air Fryer vs. Toaster Oven Air Fryer
Air fryers, do they live up to the hype? Which is better: air fryer vs toaster oven air fryer? Is one harder to clean? What else can they do? You've got questions. We've got answers!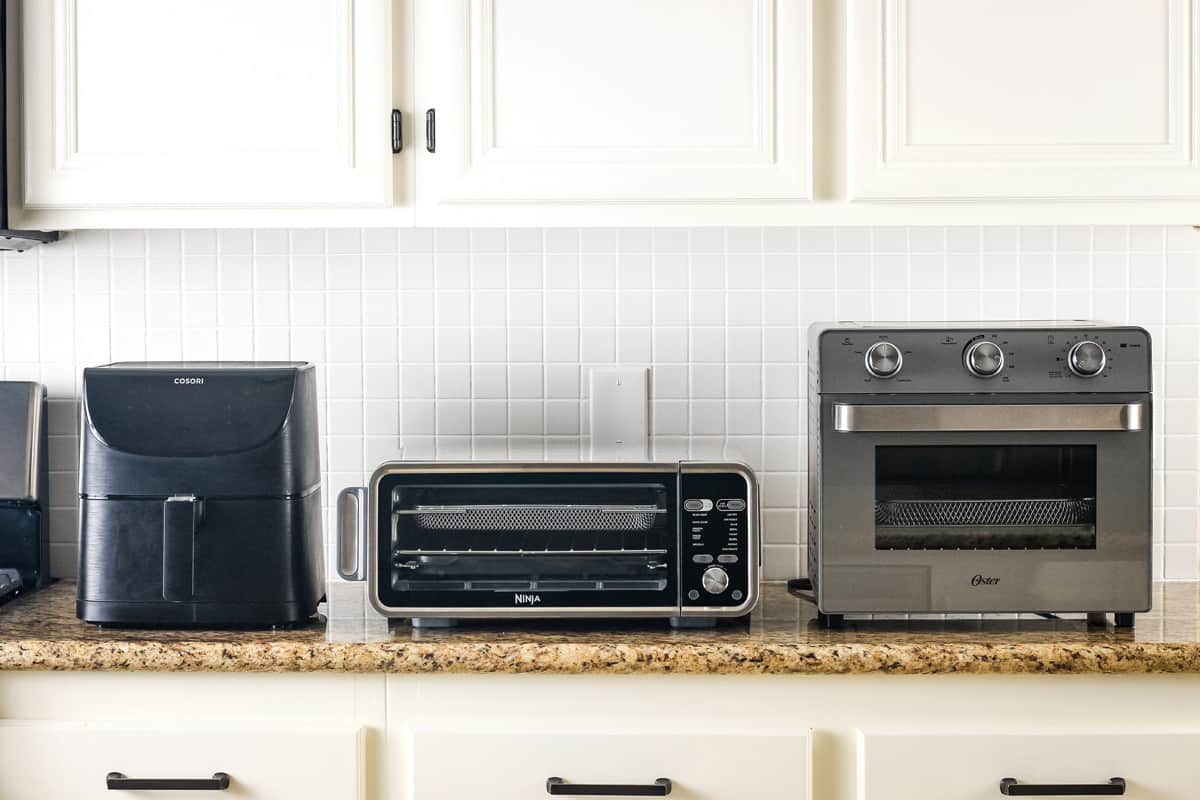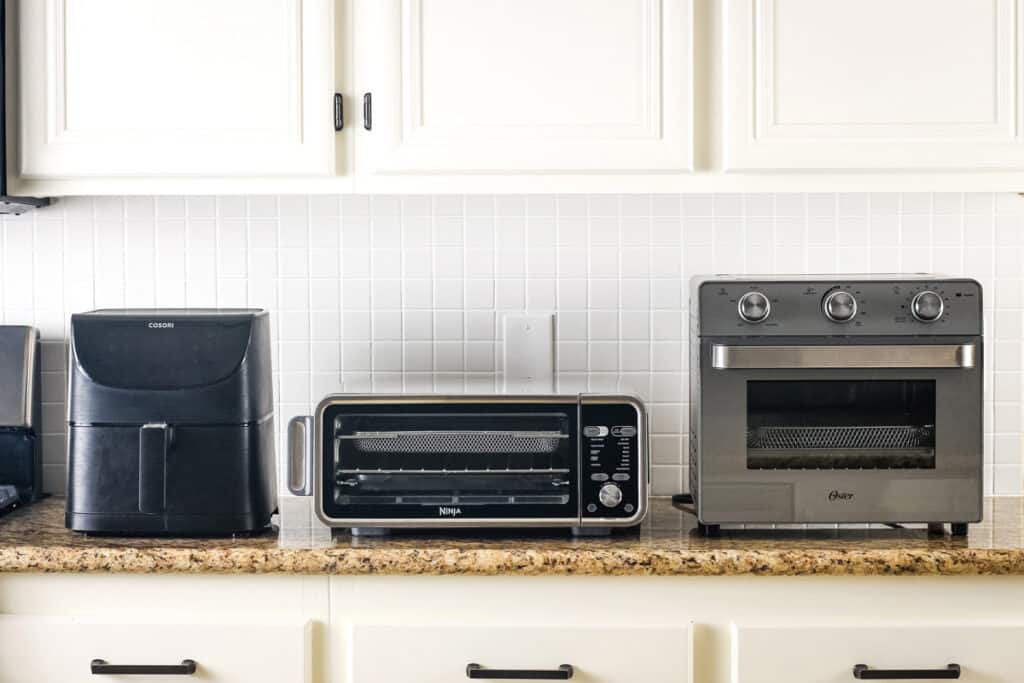 If you've been thinking about getting an air fryer but aren't sure if you really need one or which style to go with, you're in the right place.
In this post, we'll give you a quick overview of what air frying is and the actual results you can expect.
Then we'll run down all of the differences between a drawer-style air fryer and an air fryer toaster oven. From how well the food cooks to keeping things clean you'll find an honest look at the pros and cons for each appliance.
While you won't find any brand recommendations, we will try our best to answer all of your questions so you can figure out which one is right for you!
Quick Note: To be useful for beginners this post covers a lot of basics. If you already know all about air frying feel free to use the table of contents below to skip ahead.
What Is Air Frying?
It's a clever marketing term for something that's been around for decades…cooking with convection.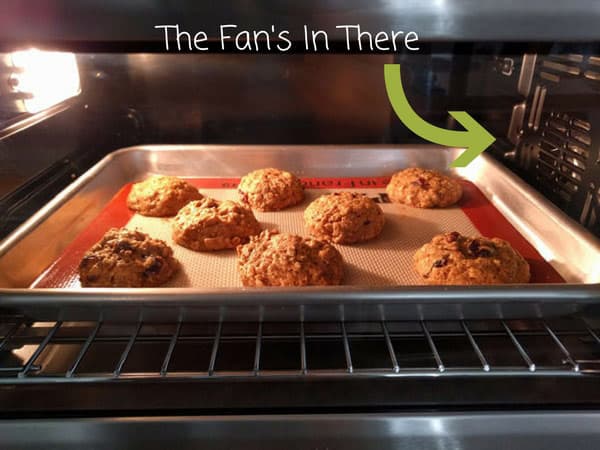 Convection Cooking 101
In a traditional convection oven, fans are used to circulate heated air around the inside of the oven.
When food is first placed in an oven it is surrounded by a layer of natural cool air.
The forced hot air from the convection fan removes that blanket of cool air from the food along with surface moisture.
Throughout the cooking process, the fan keeps the warm air continuously moving around the oven. This results in more evenly cooked foods with tender moist interiors and crisp browned exteriors.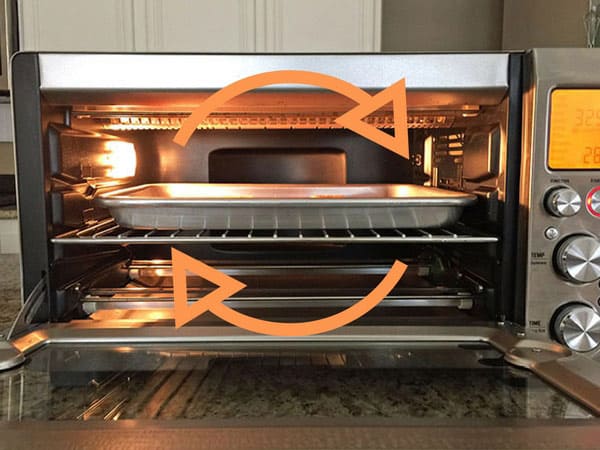 If you've read our post on everything you need to know about convection toaster ovens this might all be sounding very familiar.
Air frying is basically convection cooking on steroids. The fan moves at a faster speed for a higher rate of airflow resulting in a crispier exterior. According to Wikipedia, this is intended to "simulate deep frying" while using less oil.
Does the food actually taste fried?
Don't buy the hype. While air-fried food is very crispy outside and moist and tender inside it would never be mistaken for the real deal (aka deep-fried).
Traditional deep-frying as described by Harold McGee in Keys to Good Cooking "…immerses foods completely in hot oil. It forms a brown, flavorful crust over whole pieces while the insides heat through."
Air fried food tastes fantastic but it doesn't taste like it was immersed in hot oil.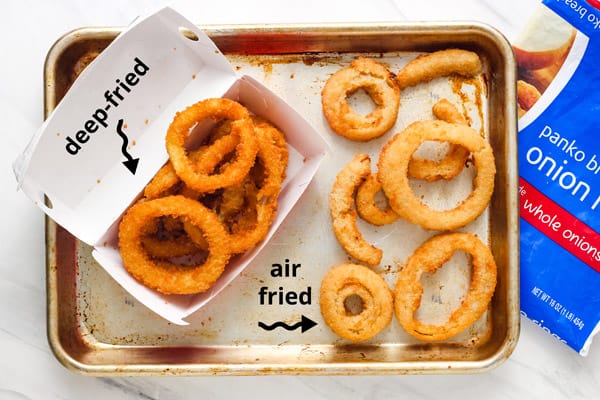 This is why air fryer is a silly name. It's enticing and magical sounding but it sets the wrong expectation. Convection crisping or convection baking are more accurate descriptions of the cooking process.
Are there benefits to air frying food?
Even though your food doesn't taste deep-fried, air frying can still be fun, quick, and delicious. Below are a few of the reasons you might want to try it.
The Food Is Ready Faster. Some things (like frozen french fries and roasted Brussels sprouts) are ready in half the time it would take in a traditional oven.
There's Less Mess. Air frying is definitely easier, cleaner, and requires less attention than deep-frying with a big pot of hot oil.
Potential Health Benefits. People really like to tout air frying as healthier because you're using less oil. But the less oil aspect is more nuanced.
Yes, you are definitely going to use less than deep-frying. But you still need to toss your broccoli and Brussels sprouts with some oil otherwise you'll turn them into a dry jerky.
Most frozen foods don't need extra oil. But the "oil savings" are not that significant for foods you'd normally bake or roast in a traditional oven.
More Evenly Cooked Food. We touched on this earlier but cooking with convection results in crispy, tender, uniformly cooked food that tastes great.
Can you air fry with a convection toaster oven?
For years we've used the convection fan on our Breville Smart Oven Pro (BOV845) plus a wire rack inserted into a sheet pan to cook all manner of crispy vegetarian foods with great results.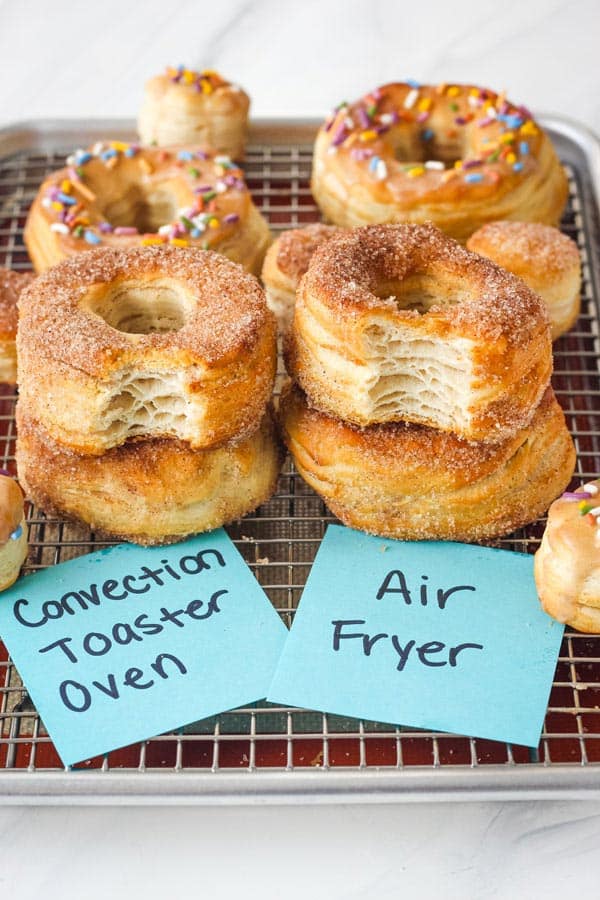 If you've got a convection toaster oven that you love, upgrading for one single feature (you may or may not use) probably isn't going to be worth it.
To help you try out air fryer recipes in your toaster oven we've put together this post with tips on how to air fry with a convection toaster oven.
You may find that your current toaster oven does a great job air frying. If not, you can always come back and read the rest of this article!
Air-Fryer Toaster Oven vs Drawer-Style Air Fryer (Quick Overview)
Design differences aside, both types of air fryers are essentially small countertop convection ovens with the following components:
Heating Element(s)
Convection Fan
Basket or Cooking Tray (with holes to allow for air flow)
After cooking lots of frozen foods, roasted veggies, and more we came to the conclusion that each style has its pros and cons.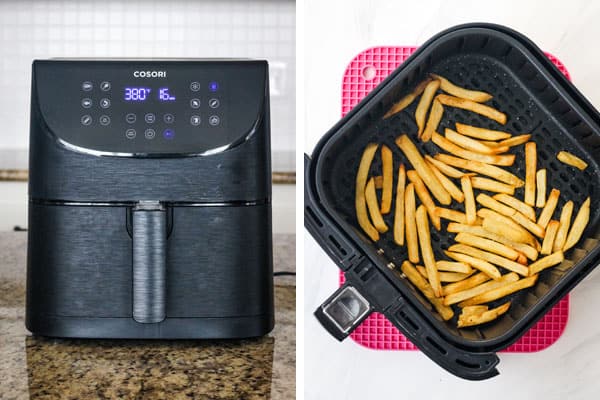 Drawer Style Air Fryers
This type of air fryer has a pull-out drawer and a basket that holds the food. It is usually a little larger than a coffee maker and can be square, egg, or barrel-shaped. In my opinion, this style is the best at air frying.
Benefits
Heats up quickly.
Takes up less space.
Easy to use and clean.
Doesn't heat up the kitchen.
Cooks crispy food fast and efficiently.
Trade-Offs
Has less cooking functions.
May have to store multiple appliances (if you also want a toaster oven).
Limited capacity leading to cooking food in multiple batches.
Can be quite loud.
Can't see the food while it's cooking without opening up the machine.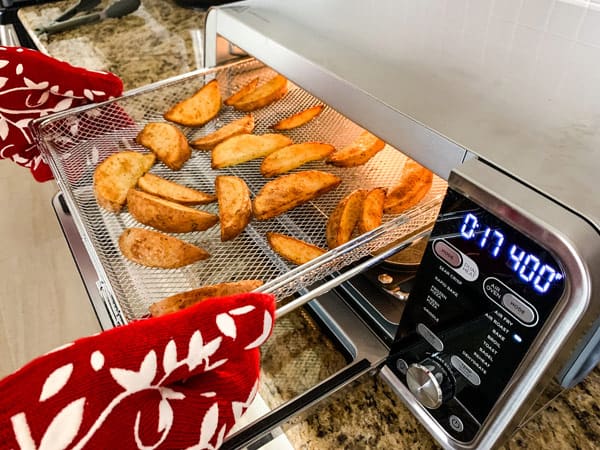 Air-Fryer Ovens
Recently, toaster oven manufacturers have been adding an air frying function to their ovens. This setting usually involves a faster convection fan speed and the use of a metal air frying basket.
Benefits
Variety of cooking functions (baking, toasting, broiling, reheating, and air frying).
Can monitor food through a glass door.
Convection fan is usually quieter.
Larger capacity allows for more food to be cooked.
Usually comes with more accessories (pizza pan, dehydrating racks, roasting pan, etc.).
Can use different types of pans (like muffin pans, baking dishes, and sometimes even a dutch oven).
Trade-Offs
Larger footprint.
Cleaning can be challenging.
Hot exterior / heats up the kitchen more.
Usually more expensive.
May not crisp food as effectively as the drawer-style.
If you're still not sure which one is right for you, keep reading for a more in-depth look at both styles.
What are the differences between a Drawer-Style Air Fryer and an Air Fryer Oven?
Quick Note: The mention of a specific brand name should not be viewed as an endorsement. If you're looking for individual reviews and recommendations, America's Test Kitchen and Consumer Reports are our favorite places to start.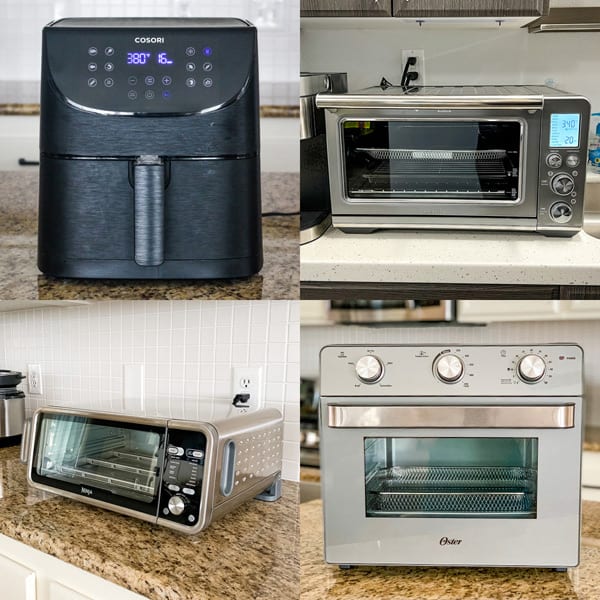 To compare and contrast the differences, we'll be cooking with the following:
COSORI Air Fryer Max XL 5.8 QT (Model: CP158-AF)
Breville Smart Oven Air Fryer (Model: BOV860 – this is the smaller oven, not the larger pro version)
Ninja Foodi 13-in-1 Dual Heat Air Fry Oven (SP300 Series)
Oster Countertop Oven with Air Fryer (Model: TSSTTVMAF1)
1. The Air Frying
The most common complaint I hear is that air fryer ovens are not as good at air frying. Having used both the drawer-style and multiple ovens, I'd say that's fairly accurate.
A drawer-style air fryer is advertised as a capital A, capital F, Air Fryer. It may have additional settings but its main job is to air fry food.
Also, the smaller size of the drawer style means that the warm air is more concentrated on the food. While there might be a few duds on the market, a highly rated one is going to be very good at air frying.
After years of cooking with different countertop ovens and toaster ovens, I'd argue that their main job is to be a good oven. (Which is why so many are bad at toasting bread but that's a topic for a different day.) While the ovens we've air fried with have done a great job, they are less efficient at it.
Below, we cooked up some of our favorite foods using the drawer-style COSORI Air Fryer Max XL and the air fryer ovens so you could see a side-by-side comparison. *For each recipe, we preheated both appliances prior to adding the food.
Oven Used: Ninja Foodi 13-in-1 Dual Heat.
Temperature: Both batches were air fried at 400°F until browned and fork-tender.
Cook Times: The Cosori took 15 minutes, while the Ninja took 20 minutes.
Results: The Cosori batch was a little crispier but there wasn't a huge difference between the two.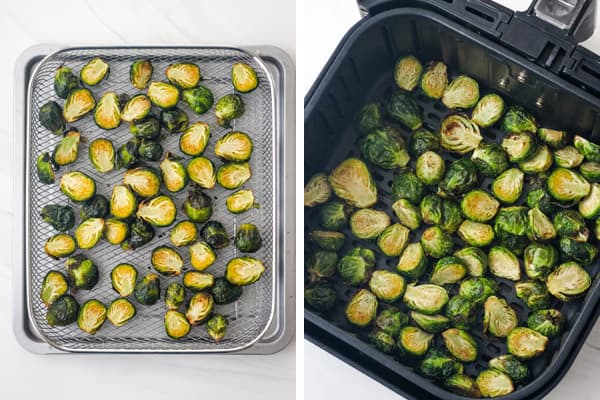 Oven Used: Oster Countertop Oven with Air Fryer.
Temperatures: The sprouts were air fried at 370°F (Cosori) and 375°F (Oster) until crispy on the outside and fork-tender in the middle.
Cook Times: The Cosori batch was ready after 12 minutes, while the Oster took 14 minutes.
Results: Both tasted great and were very flavorful but the Cosori batch was noticeably crispier.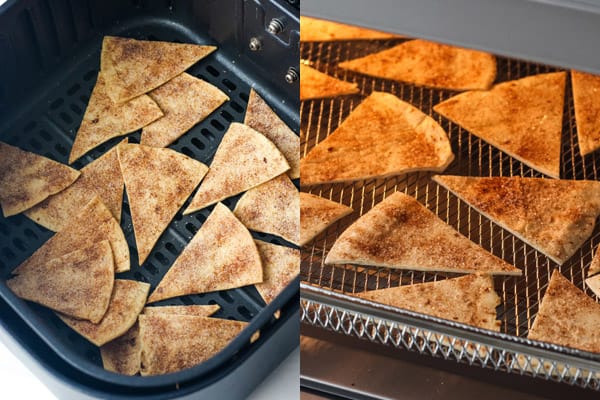 Oven Used: Breville Smart Oven Air Fryer.
Temperatures: The chips were air fried at 330°F (Cosori) and 325°F (Breville) until they had just started to brown.
Cook Times: About 4 minutes for the Cosori batch and 5 minutes for the Breville batch.
Results: The chips were identical, both batches were equally browned, crispy, sweet, and flaky.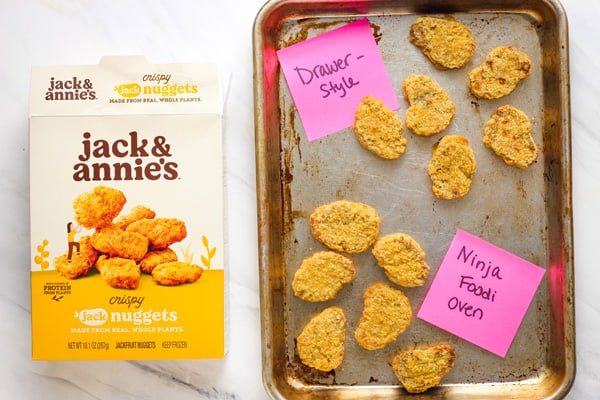 Jack and Annie's Plant-Based Frozen Nuggets
Oven Used: Ninja Foodi 13-in-1 Dual Heat.
Temperature: Both batches were air fried at 400°F until they were crisped and had reached an internal temperature of at least 165°F.
Cook Times: The Cosori batch was ready after 9 minutes, the Ninja batch took 11 minutes.
Results: All of the nuggets tasted identical and were crispy outside, tender and juicy inside. Side note, if you haven't tried this brand of "chicken" nuggets they are really tasty and the box includes air fryer directions!
Your experience may be different depending on what you're trying to cook. But for most vegetarian foods, we noticed that the ovens usually take longer and there are some minor differences in crispiness.
2. Footprint / Mobility
Although the ovens are usually larger, if you consider that they combine multiple appliances into one (toaster + oven + air fryer), the oven style could end up actually saving some space.
There's also the option of something like the Ninja Foodi Oven which uses a lot of countertop area during cooking but flips up and away when not in use.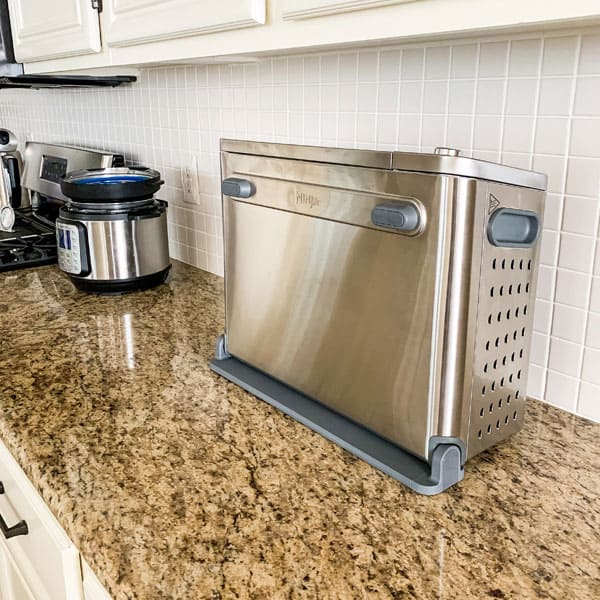 Our drawer-style air fryer weighs about 12 pounds empty and is fairly easy to pick up and move around. Given its more compact size, it can be stored in a tall cabinet or in the pantry.
I would not describe any of the ovens we've used as easy to move and none of them could be stored in a kitchen cabinet.
3. Usability
With intuitive digital controls for preheating and cooking, our drawer-style air fryer was the easiest to use straight out of the box.
The temperature and time settings could quickly be adjusted (even while cooking) and we found the presets for things like root vegetables and french fries to be fairly accurate.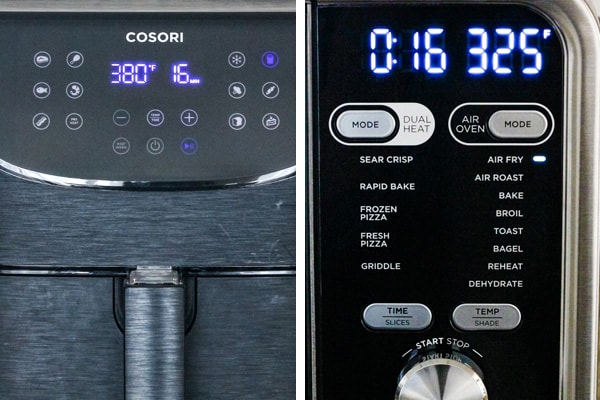 The ovens usually have more cooking options which can lead to a more complicated interface. Initially, we found the Ninja Foodi control panel a bit challenging. But it came with a great manual that helped us get over the steeper learning curve.
In a drawer-style air fryer, the entire machine is enclosed. The only way to check for doneness is by pulling out the drawer. *The new Instant Vortex Plus ClearCook model does have a little window that you can monitor the food through.
The good news is that this type of air fryer is designed to be opened often and doesn't experience a large temperature loss each time.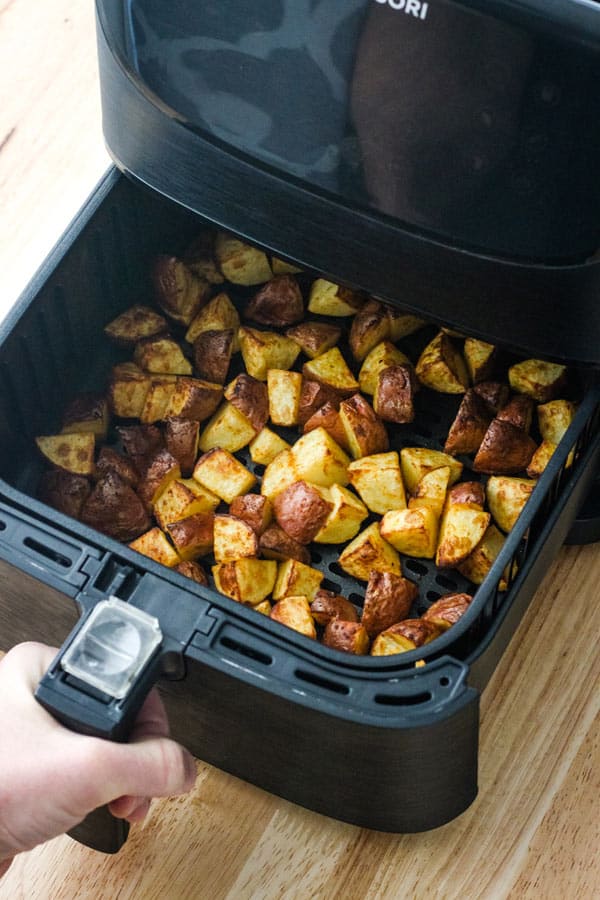 Because the fan and heating coil are positioned in the top of a drawer-style air fryer the warm air is blown down and around the food. For even cooking, the food needs to be tossed at least once and occasionally more often depending on what you are cooking.
Many air fryers will pause the cooking time when you open the drawer. So you don't need to reset the timer if you spend a lot of time flipping the food.
Oven-style air fryers have a glass door that allows you to visually monitor the progress of the food and see if it is ready or if it needs more time.
One drawback is heat loss when you open the door to toss your food. But as long as you don't keep opening the door, the temperature will recover fairly quickly.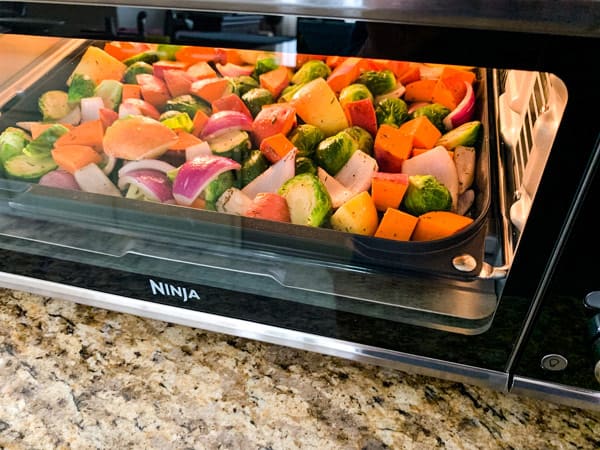 In ovens with the fan in the top, most foods need to be flipped at least once or the bottom won't get browned. If the fan is on the side of the oven or in the rear, we usually just rotate the pan or basket as the side closest to the fan tends to brown faster.
A lot of air fryers will beep to remind you to toss the food. Most ovens do not remind you, so you'll need to set a separate timer.
4. Cleaning
This one is not even close. Drawer-style air fryers are significantly easier to clean than air fryer toaster ovens.
That's because keeping a basic toaster oven clean takes some commitment. While toasting and baking don't make much of a mess, roasting and air frying are a different story.
Depending on what you're cooking, you can end up with oil and/or sauce splattered on the walls, door, ceiling, and crumb tray. All of those places need to be wiped down regularly.
Otherwise, the splatter will bake onto the oven reducing its efficiency and causing it to stink.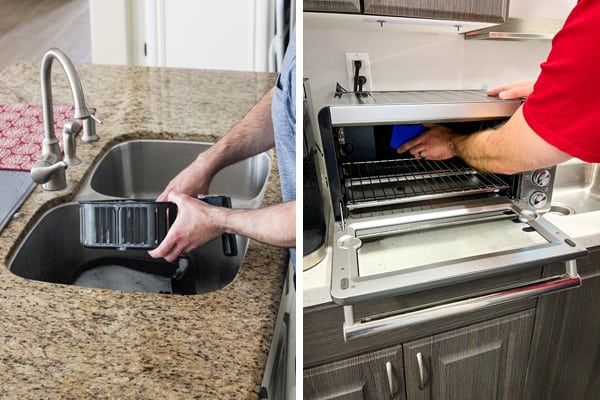 With a drawer-style air fryer, the basket, drawer, and interior walls of the machine usually have a nonstick coating.
After cooking with the Cosori, we just fill the basket/drawer with soapy water, give it a quick scrub, and done. Once a week I take a damp towel and wipe the inside of the appliance after it's cooled down.
The large drawer is very heavy and bulky when it's full of water. Which may make it difficult for anyone with reduced grip or upper body strength to maneuver in the sink. But according to the Cosori manual, both the drawer and basket are dishwasher safe.
In a drawer-style air fryer drippy sauces and crumbs are collected in the bottom drawer. Making them easy to dispose of before washing.
The metal air frying baskets that come with most toaster oven air fryers usually do not have a non-stick coating and can be difficult to clean. We've shredded a few Scrub Daddy sponges trying to remove baked-on cheese, breading, and sauces.
In some ovens, the air fryer basket sits on a pan. This keeps any mess from falling onto the heating elements and the bottom of the toaster oven.
But not all of the baskets are designed this way. There are some that keep the basket and bottom pan separate. This design is great while cooking but doesn't protect the door and oven from drippy messes when removing the basket to toss food.
Also, there are a few ovens where you can't even fit a pan under the basket. We struggled with this in the Breville Smart Oven Air Fryer (Model: BOV860) and usually substitute a sheet pan with a wire rack for the basket that comes with it.
6. Cooking Options
This is where the ovens shine. A toaster oven air fryer combination offers more options. From the ability to toast, bake, broil, and roast in addition to air frying.
Some also include functions for slow cooking, proofing dough, dehydrating, griddles, and even steaming foods.
Drawer-style air fryers are usually more streamlined with fewer cooking options. That said, If you're willing to get creative you can find a way to cook pretty much anything in one. From baking muffins and bagels to mini frittatas and even macaroni and cheese YouTube is full of endless ideas.
7. Capacity and Cooking Area
In the US drawer-style air fryers generally have their capacity in quarts. But that amount is if you fill the basket to the top. For the best results, the food should be cooked in one layer.
Given that, we've found what's most important is not the volume (how much food you can pile into the machine) but the cooking area (how much food you can fit in a single layer).
In the photo below you can see how one pound of Brussels sprouts fits in the baskets for the Cosori, Oster, and Ninja.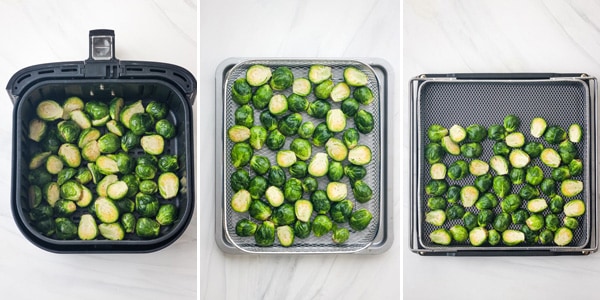 When I was originally researching drawer-style air fryers, every review site I looked at said to get an air fryer with a square basket for more cooking surface.
They also recommended going bigger than you thought you needed. So if you're cooking for two, get something that has the capacity to cook for 3 or more people. That way you don't end up having to cook food in multiple batches to keep it from being piled up.
Because air-fryer toaster ovens are usually larger they tend to offer more cooking surface area and space. Depending on the size of the oven, you could potentially use it to make no-knead bread in a dutch oven or even bake a whole cake mix in a 9 x 13 pan.
7. Exterior Temperature
All toaster ovens get hot inside and outside. If you're not paying attention, it's easy to accidentally burn yourself on the metal exterior or the glass door.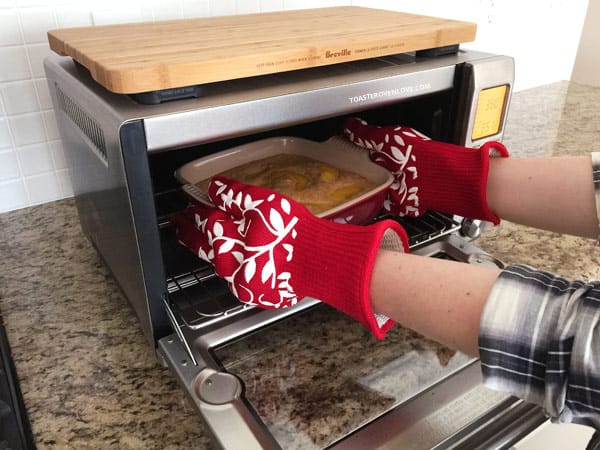 In our kitchen, I view the toaster oven as similar to a pot of boiling water. It's definitely something you need to use care (and oven mitts) when working around.
We can't speak to how all drawer-style air fryers function but the Cosori's exterior does not get very warm during use. I could rest my hand on the top of it without a problem and the handle stays cool so I don't need oven mitts to touch it.
Also, because the basket slides out for flipping and tossing the food I don't have to put my hands anywhere near the hot interior elements during cooking.
Should You Get an Air Fryer or an Air Fryer Toaster Oven?
The style of air fryer that's right for you is going to depend on things that are specific to your household like how many people you need to feed, your budget, your available counter space, and what you want to cook with it.
In our small two-person household, a drawer-style air fryer was the best option. That's because we already had a convection toaster oven that we loved (our 5-year-old Breville Smart Oven Pro Model: BOV845) and enough space for a second appliance.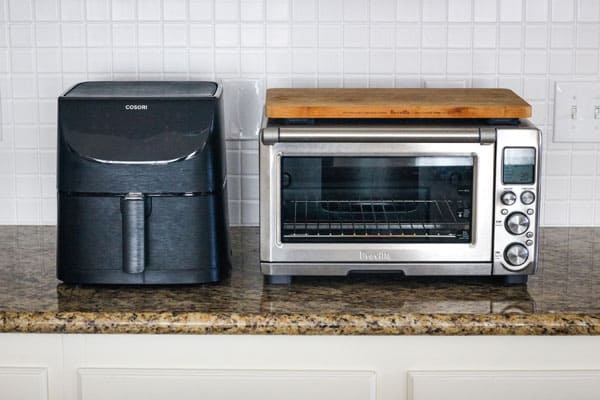 The drawer-style air fryer is super easy to clean and great for quickly roasting veggies or making a fast batch of fries while the countertop oven is perfect for baking small batch cakes and muffins, cooking sheet pan meals for two, toasting bread, and more.
In the event that I could only have one appliance, I would probably go with an air fryer toaster oven.
While I love how easy it is to clean the drawer-style air fryer, we use our toaster oven way more – it's basically our main oven. I'd be looking for a good toaster oven and would consider the air frying function a bonus, not the main selling point.
But if I was buying one for my sister, I'd get her a drawer-style air fryer because:
She doesn't have a lot of counter space in her kitchen and it could be stored in the pantry when not in use.
It's easier to clean (and keep clean).
They already have a toaster that they use daily to make toast and waffles.
She doesn't bake often and when she does she uses her regular oven to make full-sized recipes for sharing and freezing.
Given the cooler exterior and simplicity of the controls I think it would be easier/safer for my nephew to use (with supervision).
At Tim's office, counter space is limited so he got an air fryer oven (Breville Smart Oven Air Fryer Model: BOV860).
The oven handles the most important jobs that everyone in the office needs it to do like reheating pizza or other lunch items, baking fries, toasting bread and bagels, and if he wants to air fry something he can!
A drawer style is a great option if you're just looking to give air frying a try. You might want to consider getting a used one to start or borrowing one from your friend who never stops talking about how awesome their air fryer is.
If you have the extra space and are already in the market for a toaster oven, an air fryer oven might work for you.
Just remember that they're usually an oven first and an air fryer second. So air frying with one is probably going to take a little longer and the results (while tasty) may not be identical to that of a drawer-style air fryer.
Do you have an air fryer or air fryer oven that you love? Tell us about it in the comments!