Small Batch Cake Mix Cookies
With only 3 ingredients and one bowl, these tasty small batch cake mix cookies are simple to throw together. The recipe makes just 12 delicious cookies, the perfect treat for any occasion!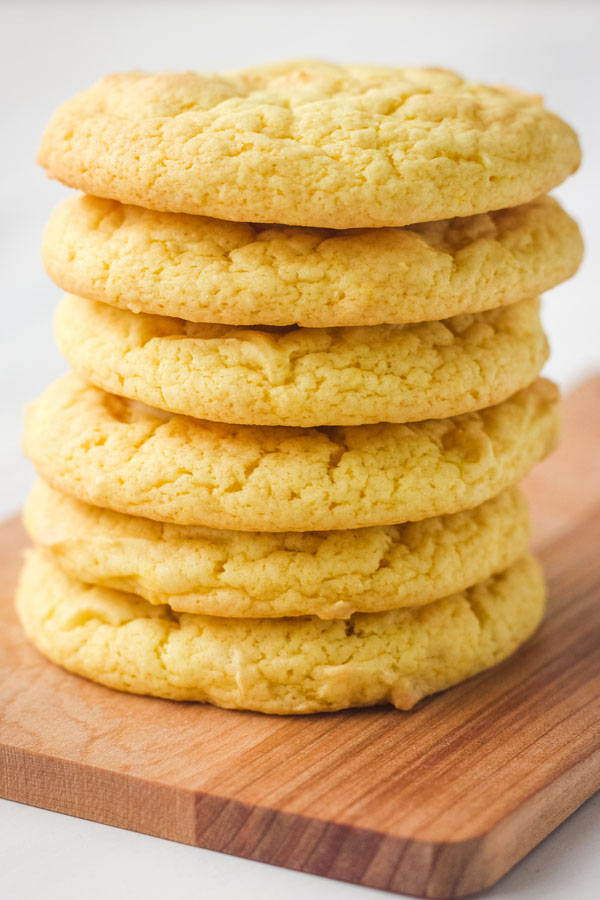 Small batch cookies are a go-to dessert in our house. From fudgy double chocolate cookies to these spicy triple ginger cookies, we love them all.
Right now, these easy small batch cake mix cookies are our new favorite treat! They're sweet, chewy, and come together in minutes.
Since the recipe uses only half a boxed cake mix you end up with just 12 flavorful cookies. While that's still a lot of cookies for our small household, the extras freeze really well.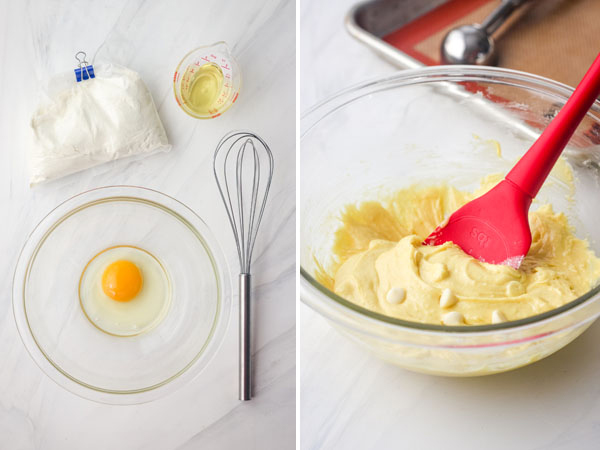 2 Ways to Divide a Boxed Cake Mix in Half
In this post on How to Make Half a Cake Mix we covered two methods for evenly splitting a standard 15.25-ounce cake mix.
My favorite method is using a kitchen scale. You just place a bowl on the scale, zero it out and measure 7.62 ounces of the mix into the bowl.
If you don't have a scale, you can measure out 1⅔ cups of the cake mix. Make sure to use the spoon-and-sweep method of measuring otherwise you'll end up using too much mix and the cookies will be dry.
Not sure what to do with the remaining mix? You can make a batch of fudgy Chocolate Pumpkin Muffins, a pair of Cake Mix Mini Cakes, or save it for the weekend and treat yourself to a yummy Blueberry Coffee Cake!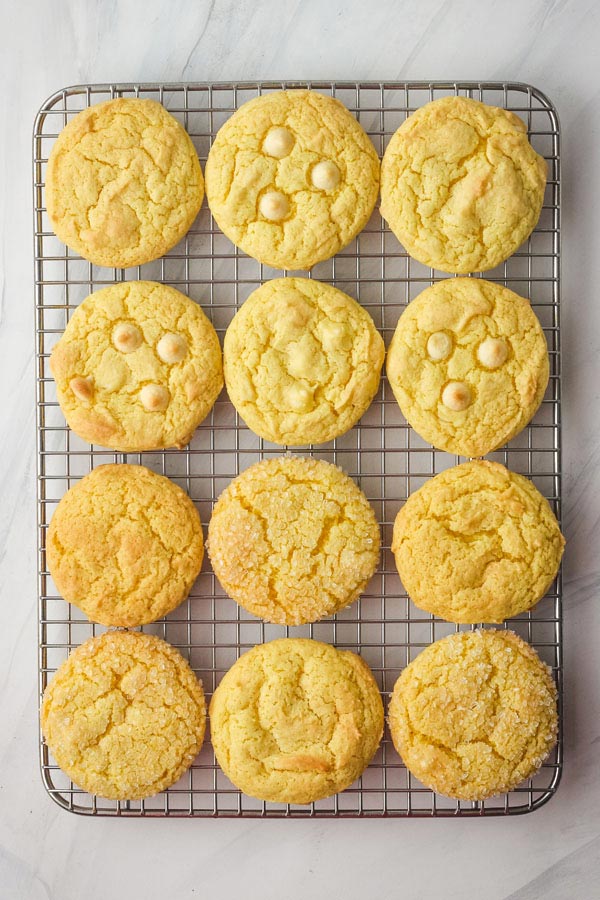 Top Tips for Making Cookies Out of Cake Mix
The dough is super sticky and thick. If grip or wrist strength is a concern, you might want to use a hand-mixer.
For puffier cookies that are easier to scoop and spread less, refrigerate the dough for at least 30 minutes before baking.
Use a cookie scoop or tablespoon to measure the dough, that way all of your cookies will be the same size.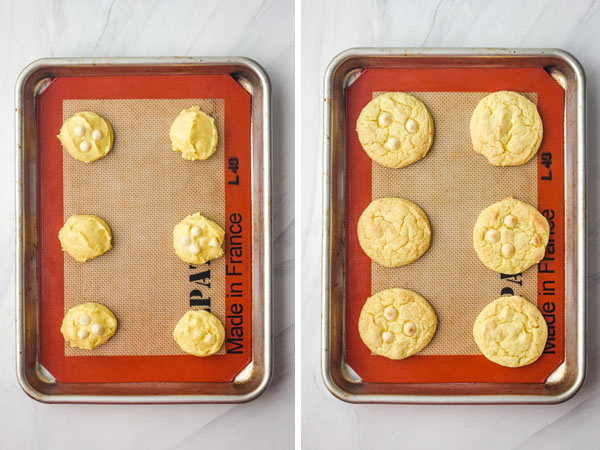 The cookies will almost double in size during baking so make sure to space the dough about 2-inches apart.
If you're using a toaster oven, you'll need to bake the cookies in multiple batches. For smaller toaster ovens, you might want to try these Small Batch Cake Mix Cookie Bars instead.
The cookies will puff up during baking but fall afterward. Don't worry, this is what gives them a chewy texture in the middle.
I like to underbake our cookies a little 1) because it's easy to over bake them, especially chocolate varieties, and 2) the cookies will continue cooking as they cool on the pan.
You can make them with any flavor of cake mix and mixins that you have on hand. We made our cookies using a lemon cake mix and white chocolate chips. The ones we rolled in sugar were the best, it gave them a fun sparkly appearance and unexpected crunch.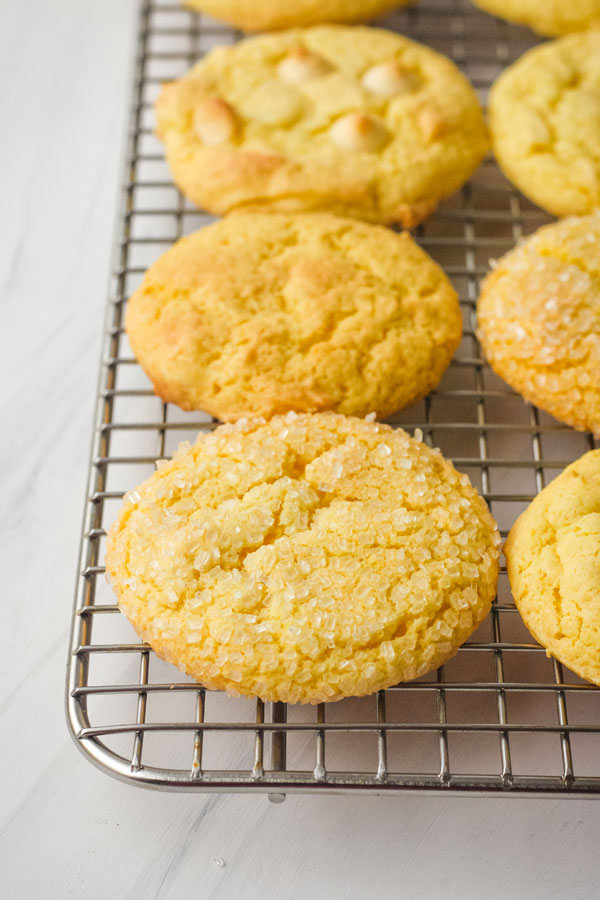 After the recipe card, see how we use a test cookie to find the perfect baking time and temperature for any oven.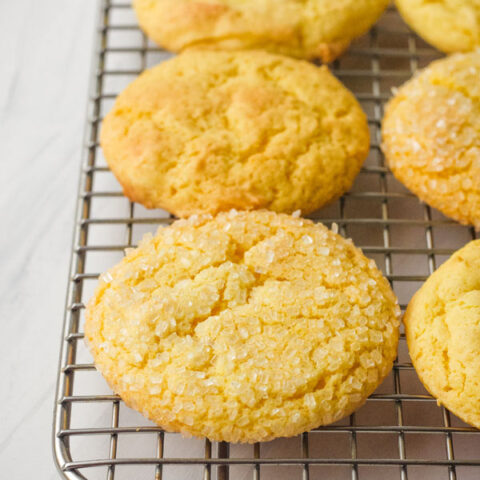 Small Batch Cake Mix Cookies
Chilling Time:
30 minutes
Soft and chewy, these cookies couldn't be easier to make. All you need is an egg, oil, and half of your favorite boxed cake mix!
Ingredients
1 Large Egg
3 tablespoons Neutral Oil (see note)
7.62 Ounces Cake Mix, about 1⅔ cups
1/4 cup chocolate chips (optional)
Instructions
In a medium bowl, whisk together the egg and oil. Add the 7.62 ounces of cake mix and stir until combined, then stir in the chocolate chips. The dough will be very thick.
Refrigerate the dough for 30 minutes.
When ready to bake, preheat your oven to 350°F. If using a toaster oven adjust the cooking rack to the middle position and select the BAKE setting.
Line a quarter sheet pan with a silicone baking mat or lightly grease.
Using a cookie scoop or tablespoon, drop the dough onto the prepared pan. You'll want to space the cookies about 2 inches apart as they will spread during baking.
Bake until the cookies are puffed up, set around the edges and no longer wet-looking, about 8 to 11 minutes. To find the best baking time for your oven before making a whole batch bake a test cookie (see tip after the recipe card).
Let cookies cool on the pan for at least 5 minutes before using a spatula to transfer them to a wire rack to cool completely.
Once the pan is cool to the touch, scoop and bake the remaining dough.

Notes
Oil: We've made these cookies using canola oil, olive oil, avocado oil, and grapeseed oil. An equal amount of melted and cooled butter can also be used.
Cake Mix Measurements: This recipe uses half of a 15.25-ounce boxed cake mix. Get tips for dividing a box of cake mix here.

Mixes: We've tried Betty Crocker and Pillsbury cake mixes. Other brands may or may not give the same results.

Chilled Dough: Chilling the dough makes it much easier to scoop and results in the best tasting cookies. That said, the cookies can be baked without chilling. They will spread more and have crispier edges.

Rack Placement: In our toaster oven the bottom rack placement works fine, it just baked the cookies faster with crispier edges. If you're using the bottom rack, you may need to shorten the baking time for your cookies.

Convection Adjustments: Reduce the temperature to 325°F. Begin checking for doneness after 7 minutes and add more time as needed. The cookies will spread less and be a little fatter, thicker, and taller than cookies made using the traditional BAKE setting.

Smaller Toaster Ovens: The cookies will need to be baked in smaller batches and may take longer. Instead, you can bake them into cookie bars. See this Small Batch Cake Mix Cookie Bars Recipe for directions.
Storage
Store cooled cookies in a sealed container at room temperature for up to 3 days.
To freeze cookies, cool them completely and then add to a freezer-safe bag in a single layer. For the best flavor, eat within 3 months.
To defrost frozen cookies, place a few on a plate and leave at room temperature for about 10 to 15 minutes.

Nutritional Information is an estimate for 1 plain cake mix cookie without any mixins.
Nutrition Information:
Yield:

12
Serving Size:

1 Cookie
Amount Per Serving:
Calories:

107
Total Fat:

5.1g
Saturated Fat:

0.9g
Cholesterol:

16mg
Sodium:

123mg
Carbohydrates:

14.2g
Fiber:

0g
Sugar:

7.5g
Protein:

1.4g
What's a Test Cookie?
Since all ovens and toaster ovens can heat differently, baking a test cookie is an easy way to find the best timing for your specific oven.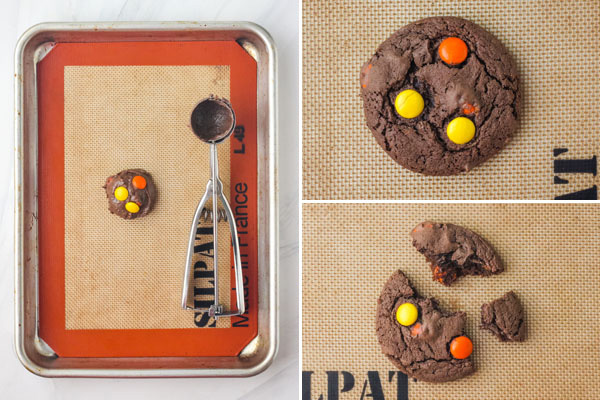 How To Bake A Test Cookie
Prepare the cookie dough (including any chill time).
Preheat your oven and prep your pan as directed (i.e. grease, line with a silicone baking mat).
Place a single scoop of cookie dough in the center of your prepared pan.
Bake according to the recipe but begin checking on it 2 or 3 minutes early. Continue baking, taking note at what time the cookie is baked to your liking.
Let the cookie cool and then taste it. Note any adjustments (less time, higher or lower temperature) you want to make before baking the entire batch.
For more helpful cookie info, check out this post with 5 Tips That Will Make You a Toaster Oven Cookie Baking Expert.