Sweet, moist, and chewy, these Banana Oat Cookies taste like mini bites of baked oatmeal. Made with just a few ingredients, they're easy to throw together and a great dessert option if you're trying to avoid added sugar.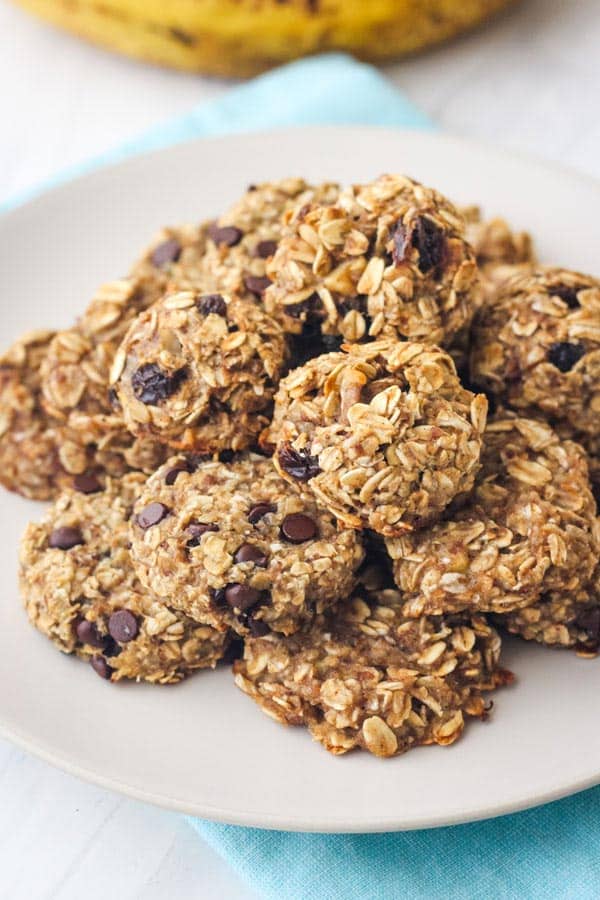 Do you have an overripe banana sitting on your counter? I usually make this one banana banana bread or a mini eggless banana bread when I've got one to use up.
But if I'm craving a treat with less sugar and a heartier texture these tasty Banana Oat Cookies are my go-to.
Why we love them and think you will too:
They come together quickly.
Freeze well.
Are customizable – walnuts and chocolate chips? Um, yes please!
Paired with Greek yogurt they make a great start to the day or a wholesome afternoon snack.
What Do You Need to Make Them?
A very ripe banana – use one that has lots of brown spots.
Quick or old-fashioned oats – if you've got a few extra minutes, toast the oats first. It will make your 'healthy' cookies taste 1000 times better.
Cinnamon – for a yummy banana bread vibe.
Flax Meal (aka ground flaxseed) – totally optional but it helps to bind the cookies together.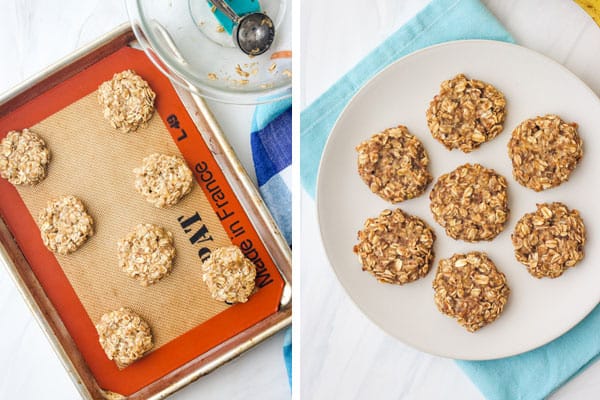 How to Make Banana Oat Cookies
Mash the banana until there are no lumps, then stir in the flax meal, cinnamon, and 1/2 cup of oats. Stir in more oats as needed until the mixture comes together.
Scoop the dough onto a lined pan and bake at 350°F for about 15 minutes. Then let the cookies cool completely before gobbling them up.
I highly recommend trying one with a quick slather of peanut butter and a sprinkle of sea salt – so good!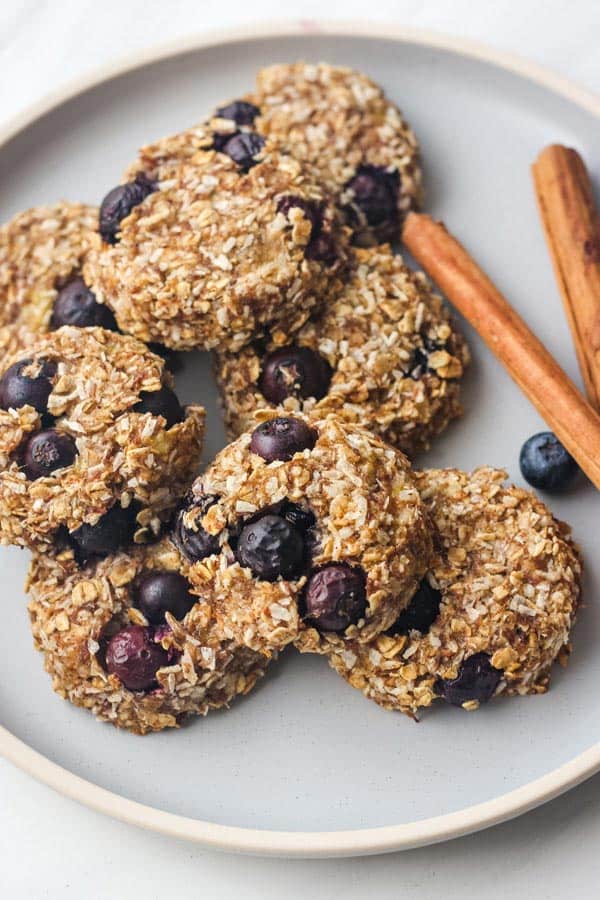 Banana Cookie Mixins
Now that you've got the basic recipe down, let's talk flavor customizations.
Chocolate Chip: Stir in 1/4 teaspoon vanilla extract and 1-2 tablespoons mini chocolate chips.
Coconut Blueberry: Add 1/4 cup fresh blueberries and a few tablespoons of unsweetened shredded coconut.
Walnut Raisin: Stir in 1-2 tablespoons of roughly chopped raisins and 1-2 tablespoons chopped walnuts
For more tasty ideas check out these Persimmon Banana Breakfast Cookies, Cherry Banana Oat Cookies, and Butterscotch Banana Oatmeal Cookies.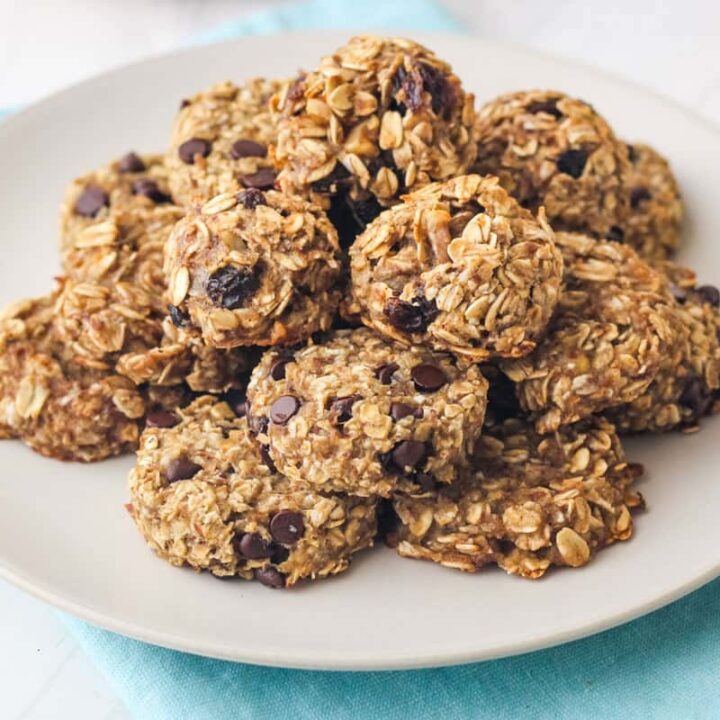 Banana Oat Cookies
Made with just a few ingredients, these cookies are easy to throw together for a quick snack or dessert. Toss in mini chocolate chips for a sweeter treat! 
Ingredients
1 very ripe banana
1 teaspoon Flax Meal (optional)
1/4 teaspoon Cinnamon
1/2 cup to 3/4 cup Quick Oats or Rolled Oats, toasted if desired
Instructions
Adjust cooking rack to the middle position and preheat oven to 350°F. If using a toaster oven, select the BAKE setting.
Line a quarter sheet pan with a silicone baking mat or lightly oil.
Add the banana to a medium bowl and mash very well. Stir in the flax meal (if using) and the cinnamon. Then stir in 1/2 cup of oats. If the mixture looks too wet, stir in a few extra tablespoons of oats until everything comes together and is scoopable.
Use a cookie scoop or tablespoon to drop the mixture onto the prepared pan.
Leave mounded or moisten fingertips with water and gently pat into even rounds.
Bake cookies until they are no longer wet-looking and just starting to brown around the edges, about 12 to 15 minutes.
Allow cookies to cool completely on the pan before using a spatula to remove them.
Notes
Rack Placement: If your toaster oven only has two placements, use the bottom one.
For Toasted Oats: Spread oats in a single layer on an ungreased rimmed pan. Add to a 350°F oven or toaster oven and cook, stirring occasionally, until the oats are golden and toasted, about 8 to 10 minutes. Cool oats completely before adding to the recipe.
Flax Meal: Omit or substitute an equal amount of chia seeds.
Leftovers: Store them in the fridge in a covered container for 2 to 3 days or freeze for up to 2 months. When frozen they make for a great on-the-go snack as they come to room temperature in about 15 to 20 minutes. 
Nutrition Information:
Yield:

7
Serving Size:

1 cookie
Amount Per Serving:
Calories:

43
Total Fat:

0.7g
Saturated Fat:

0.1g
Sodium:

0.7mg
Carbohydrates:

9.8g
Fiber:

1.5g
Sugar:

2.1g
Protein:

1.4g