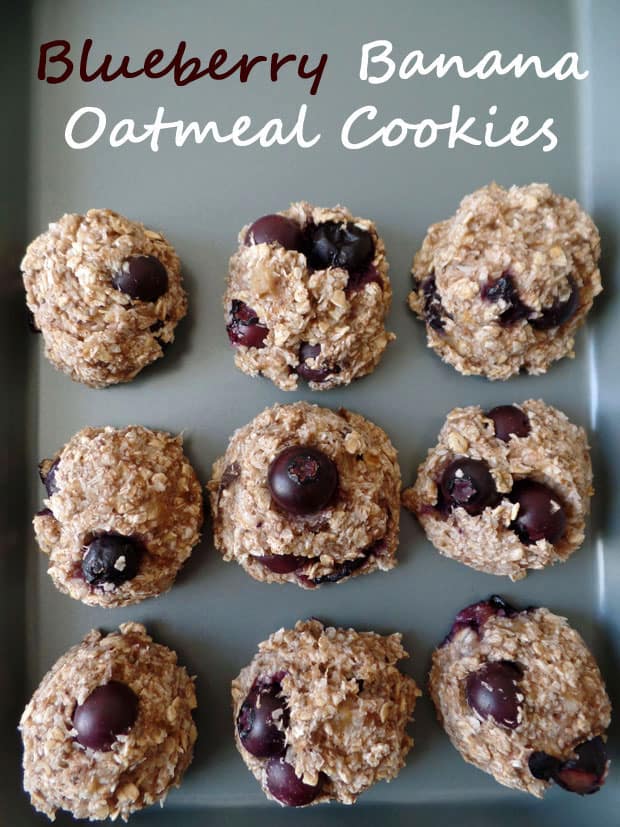 Looking for a cookie you can make with kids? These Cinnamon Blueberry Banana Oat Cookies are the perfect treat for kids to help make and everyone to enjoy.
A kid friendly recipe needs to be egg free since it is inevitable uncooked dough will finds its way into a little one's stomach. Enter the chia egg. A perfect cookie binder high in Omega 3 fatty acid and a great source of protein. Not to mention, very fun to play with once it's been in the fridge for a bit.
No added sugar, just the natural ones found in fresh fruit. For good messy fun, have the little ones mash the banana using freshly washed hands. Drop some science on them with this article explaining why the berries turn from blue to purple (and sometimes even green) when cooked.
Now for something hearty to add substance and really chew on. Oats and coconut will keep their teeth busy.
High in fiber, protein, healthy fats and only 41 calories per cookie these Cinnamon Blueberry Banana Oat Cookies will please children and adults alike.
Looking for more egg-free "cookie recipes"? Check out these Strawberry Clementine Cookies or Toaster Oven Chocolate Chip Cookies, both use chia seeds instead of eggs.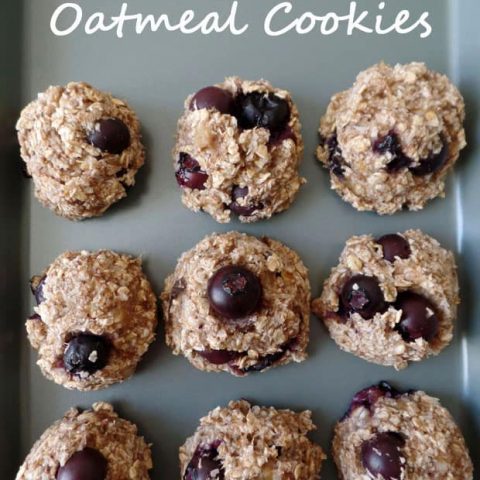 Cinnamon Blueberry Banana Oat Cookies
Loaded with oats, coconut, and delicious fresh fruit, these easy "cookies" are perfect for kids and adults.
Ingredients
1/3 cup Quick Oats, toasted if desired
1/2 cup Mashed Banana, about 1 very ripe large banana
1 tablespoon Water
2 teaspoons Flax Meal
1/2 teaspoon Ground Cinnamon
1/4 cup Finely Shredded Unsweetened Coconut
1/3 cup Fresh Blueberries, washed and dried
Instructions
Toast The Oats
Adjust the cooking rack to the middle position and preheat your oven to 350°F. If using a toaster oven, select the BAKE setting.
Spread oats in a single layer on an ungreased rimmed pan and add to the oven. Cook until the oats are toasted, about 8 to 10 minutes. Set pan aside to cool completely before adding to the recipe.
Make The Cookies
Line a quarter sheet pan with a silicone baking mat or lightly oil.
In a medium bowl add the mashed banana, water, flax meal, and cinnamon. Mix well. Stir in the oats and shredded coconut until combined. Gently fold in the blueberries.
Use an ice cream scoop to drop the cookies onto the prepared sheet pan.
Bake cookies until they are no longer wet looking and just starting to brown around the edges, about 12 to 14 minutes.
Allow cookies to cool completely on the pan before using a spatula to remove them.
Notes
Toasting Oats: Depending on your toaster oven, using the TOAST setting can be a great way to toast the oats. We use a MEDIUM darkness level and it takes about 2 to 3 minutes to toast the oats. As toaster ovens vary, you'll need to experiment a bit to find the right time for your oven.
If you don't have flax meal, you can omit it or substitute an equal amount of chia seeds.
Nutrition Information:
Yield:

8
Serving Size:

1 cookie
Amount Per Serving:
Calories:

41
Total Fat:

1g
Saturated Fat:

0.4g
Sodium:

0.7mg
Carbohydrates:

7.3g
Fiber:

1.3g
Sugar:

1.5g
Protein:

1.3g