Toaster Oven Pan Sets and Bakeware
Take your toaster oven cooking to the next level with these toaster oven pan sets, bakeware, mini pans and more. Plus find out the 3 toaster oven essentials everyone should have and get tips for keeping your new pans in good shape.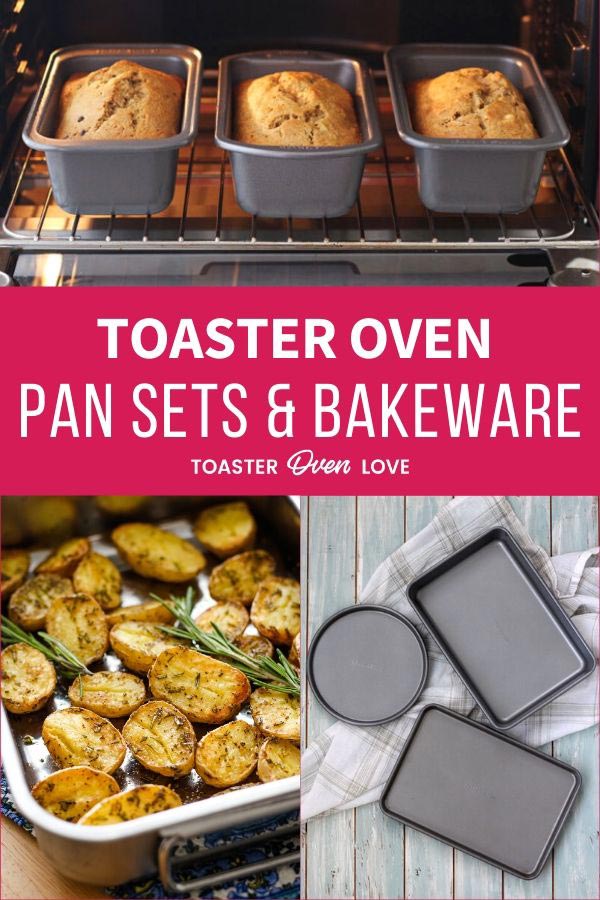 (Disclosure: As an Amazon Associate, we receive a commission for purchases made using the links on this page.)
When it comes to cooking with a toaster oven there are only 3 things you need: the manual, an oven thermometer, and a baking sheet. Everything else falls into that nice to have category.
So let's chat real quick about those 3 essentials and then we'll get to the fun stuff. Like toaster oven pan sets and ALL the mini bakeware!
3 TOASTER OVEN ESSENTIALS
1.THE MANUAL
If you want to really enjoy your toaster oven the first thing you should do is to read your toaster oven's manual and follow it's directions and recommendations.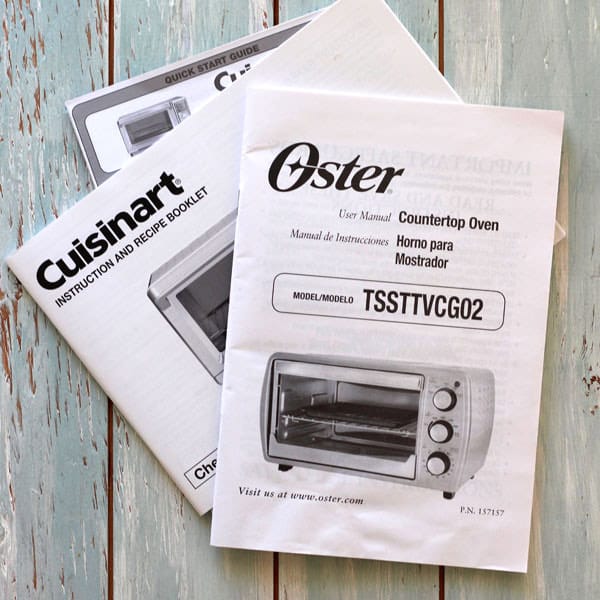 Missing the manual?
No worries, most major manufacturers offer appliance manuals as free PDF's on their company websites. Just Google your toaster oven's manufacturer name and the model number.
Example: Oster Toaster Oven Model TSSTTVCG02 Manual
2. OVEN THERMOMETER
All ovens (big and small) can have unreliable temperature settings. The best way to combat a fussy toaster oven is with an inexpensive thermometer.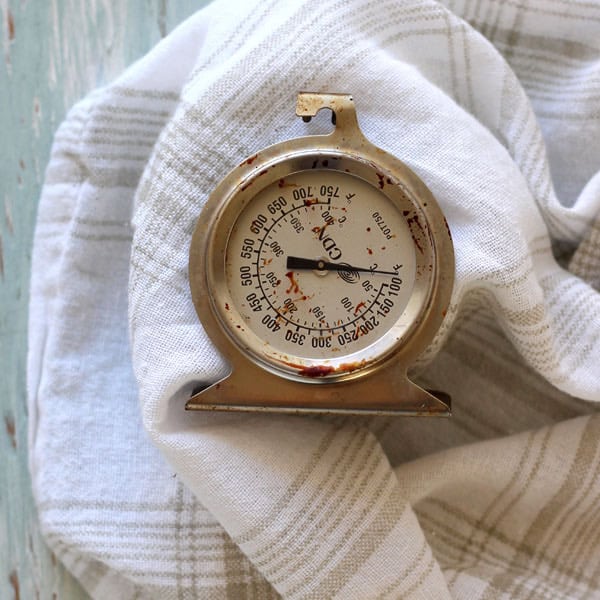 We paid $7 on Amazon for ours. Look for thermometers that have a steady base and/or the ability to hang.
Check out our Toaster Oven Temperature Guide for step-by-step directions on using a thermometer to find out how accurate your little oven is.
3. A BAKING PAN OR SHEET PAN
Most toaster ovens come with at least one baking sheet or roasting pan. Sometimes that pan and a few reliable toaster oven recipes are all you need to cook something delicious.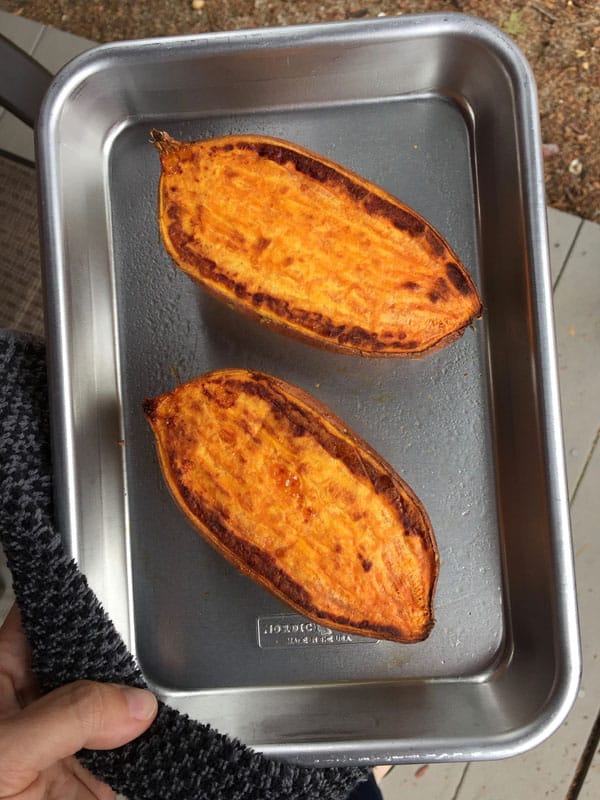 But having a second sheet pan on hand can make meal prepping quick baked sweet potatoes or baking batches of cookies a lot easier. You can see some of our favorite Toaster Oven Sheet Pans here.
FULL-TIME TOASTER OVEN COOKING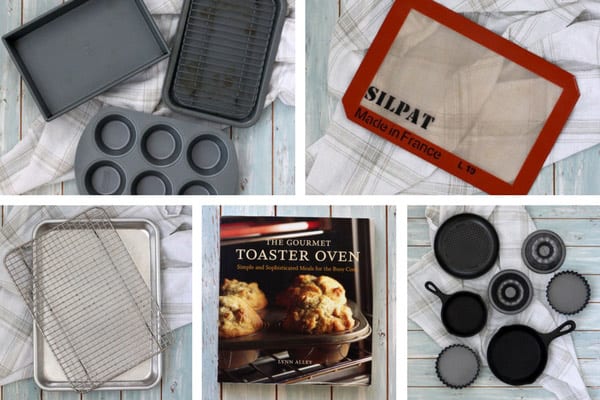 While not essential, it is nice to have a few extra pans and accessories for your toaster oven. Things like mini loaf pans, small cake pans, or a roasting rack will help you get more out of cooking with your compact oven.
Below are some of the pan sets and bakeware that we use regularly along with links to a few tasty recipes.
*Since toaster ovens and pan sizes vary greatly, make sure to review each pan's measurements before purchasing. Also, always follow your manufacturer's recommendations for what materials are acceptable to use in your specific oven.
TOASTER OVEN PAN SETS
A pan set is a great way to start using your toaster oven for more than just toast. Most sets include at least one tiny baking sheet, a baking pan and then some accessory like a muffin tin, baking/roasting rack, or pizza pan.
The sets below are geared towards small and medium-sized ovens. If you have a larger toaster oven/countertop oven Williams Sanoma has some very nice sets you might want to check out.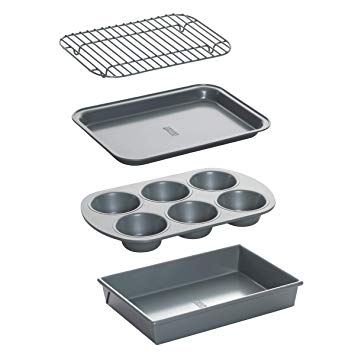 Photo Credit: www.amazon.com
We purchased this set over 4 years ago and still regularly use the muffin tin and cookie sheet/rack combo.
It's not perfect (the tiny pan warps at higher temps, the muffin tin doesn't fit in smaller ovens and the baking pan is a little difficult to clean) but for the price, it's a good set for getting started. 
The baking pan in this set is my favorite, it's great for making small-batch almond granola, banana bread, and recipes that call for using an 8x8 pan.
Again it's not perfect, the sheet pans do warp sometimes but they are a nice size for baking cookies or making veggie nachos for two.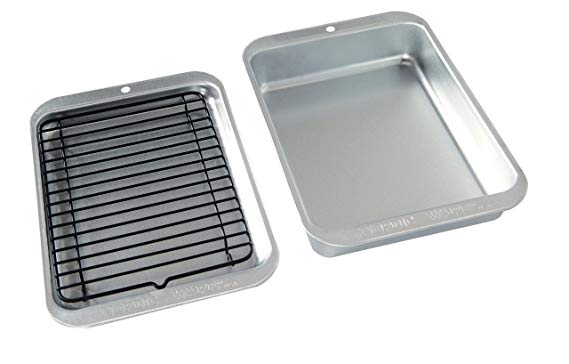 Photo Credit: www.amazon.com
This is a fun little set that's perfect for just one or two people. You can reheat a slice of pizza, bake potatoes, and cook small batches of crispy frozen fries with the mini rack and pan. The baker is ideal for smaller casseroles and is the perfect size for baking half of a boxed cake mix.
CLASSIC METAL BAKEWARE
Before you go buying a bunch of new pans dig around your cabinets. Standard metal bakeware like an 8-inch or 9-inch square baker, pie pans, an 8-inch or 9-inch round cake pan, or a loaf pan will give you loads of options for cooking and baking in your toaster oven. Below I've highlighted a few of the pans we use regularly.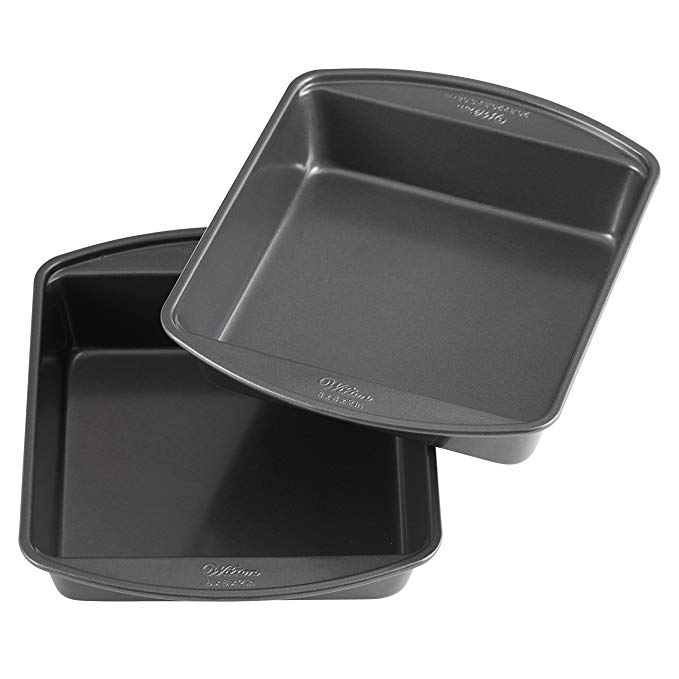 Photo Credit: www.amazon.com
An 8" x 8" pan can be used to cook pretty much any recipe, from casseroles to brownies and even a lemon blackberry baked pancake. *This pan will not fit in small rectangular-shaped ovens.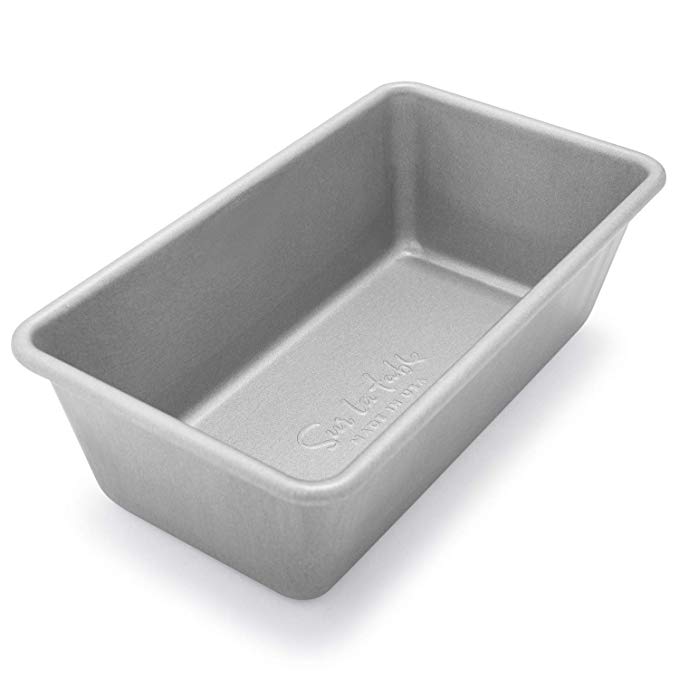 Photo Credit: www.amazon.com
A good loaf pan is handy if you're cooking for two. From banana bread to lasagna or a high-protein toaster oven egg bake its uses are endless. *Not ideal for smaller ovens as baked goods may rise up and touch the heating elements. See mini bakeware below for alternatives. 
Photo Credit: www.toasterovenlove.com
This little stainless steel pan is awesome. It heats evenly and is easy to clean. I love using it for roasting rosemary potatoes and baking small batches of Chex mix during the holidays.
We got our pan in store but you can also order it online (though you will miss out on those tasty ice cream cones). 
SPECIALTY BAKEWARE 
Mini pans are cute and fun but I've got to warn you, they are crazy addictive. There are tons of available options and you're going to want all of them. Below are some of our most-used mini pans. 
Tip: To keep our collection from overtaking the house, I try to think of at least 3 things I'll make with a pan before bringing it home.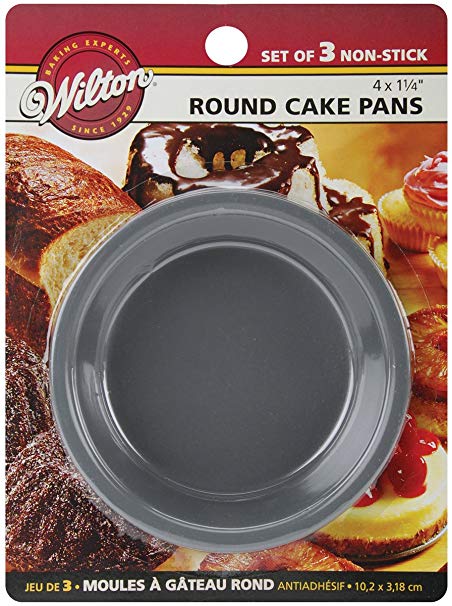 Photo Credit: www.amazon.com
These little round pans are fantastic for making quick toaster oven breakfast sandwiches. They'd make a great gift for college students or anyone looking to skip the morning drive-thru.  
We use this adorable little cake pan to bake toaster oven carrot cake, apple crisps, cornbread, and even the occasional frozen meal. Bonus: It also fits in a 3-Quart Instant Pot Mini.  
Photo Credit: www.amazon.com
It's undeniable, donuts are THE BEST. Armed with a donut pan, you can whip up a batch of freshly baked buttermilk donuts in less than 30 minutes. *Make sure to check the measurements - these pans will not fit in smaller toaster ovens.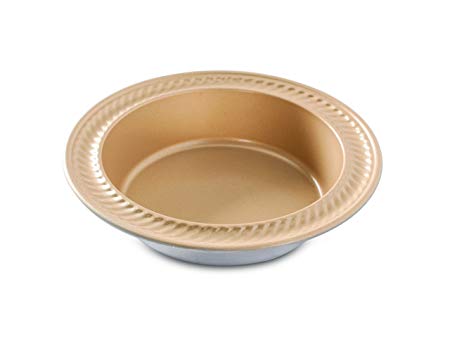 Photo Credit: www.amazon.com
Great for baking mini pies or crisps, reheating leftovers, and cooking individual pot pies. 
Photo Credit: www.amazon.com
If you have a smaller oven that won't fit a large loaf pan, these mini pans might work better for you. We use ours to make a single loaf of banana bread in our little toaster oven and can fit 3 pans side-by-side in our larger countertop oven. 
4 Tips For Longer Lasting Toaster Oven Pans
We've cooked with the pans listed above for years, they have a few scrapes and scratches but for the most part, are in great condition. If you're like me and don't like to waste your money (or create unnecessary landfill additions) below are a few best practices for taking care of your pans.
Handwash them. It's okay to soak the pans but don't submerge them in water (this may lead to rust). Even if the manufacturer says it's okay to put a pan in the dishwasher, the detergents can discolor or corrode pans and damage nonstick coatings.
Be conservative with cooking spray, it can leave a sticky residue. I've found the main culprit is any spray on the pan that is not covered by food. It gets 'baked on' and is difficult to remove.
Keep metal utensils and knives away from your pans. Use wooden or silicone cooking utensils instead.
For easy cleanup try a silicone baking mat. If you want to use foil just make sure to consult your manual and follow the manufacturer's instructions.
What about glass baking dishes?
Those are a little trickier, check out this post for 4 Surprising Things I'll Never Use In Our Toaster Oven for more information.