This toaster oven frittata is stuffed full of veggies, high in protein and tastes so darn good you'll want to eat it all day, every day. Sized to fit your little toaster oven it makes a tasty dinner or Sunday brunch for two.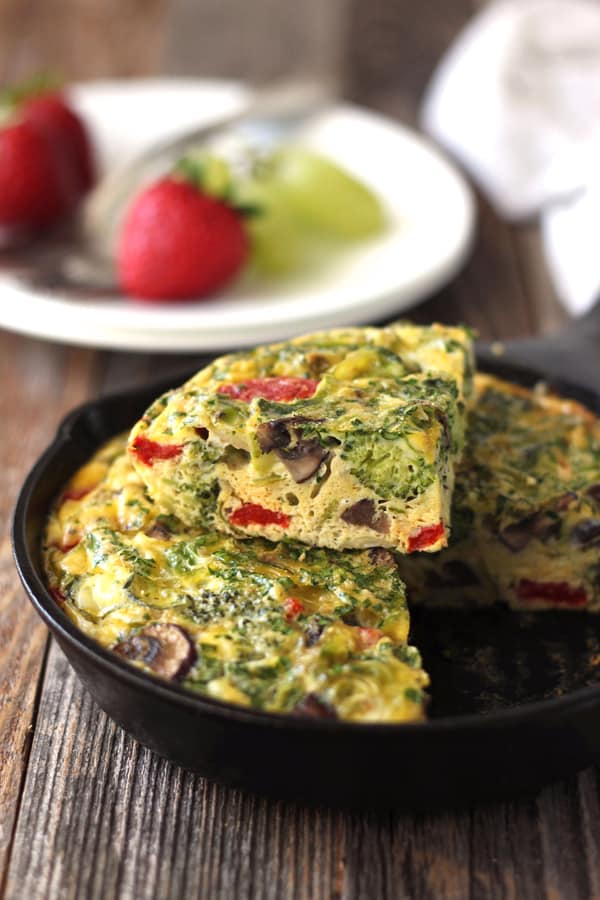 While this recipe is perfect for any meal, I absolutely LOVE making it on a lazy weekend morning. Mostly because you get to ditch standing at the stove and let your toaster oven do all the work.
Like the sound of that? Then you should check out this lemon blackberry baked pancake or Baked Eggs and Green Beans recipe.
But first, let's make a frittata!
~ Keep scrolling for step by step photos & toaster oven frittata tips after the recipe ~
(This Toaster Oven Frittata Recipe was first posted on Food Fanatic)
How To Bake a Frittata In Your Toaster Oven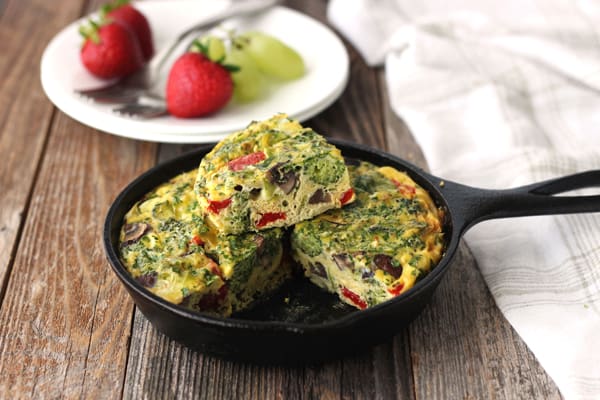 (Quick Note: This post contains affiliate links, as an Amazon Associate we earn commissions from qualifying purchases.)
Next weekend, once you've convinced yourself to get out of bed, pop into the kitchen and toss a few handfuls of finely chopped vegetables in the toaster oven.
For this recipe, I like to use this cute 6.5-inch cast iron skillet (affiliate link) but a very well-greased 7 x 5 casserole dish (affiliate link) works too.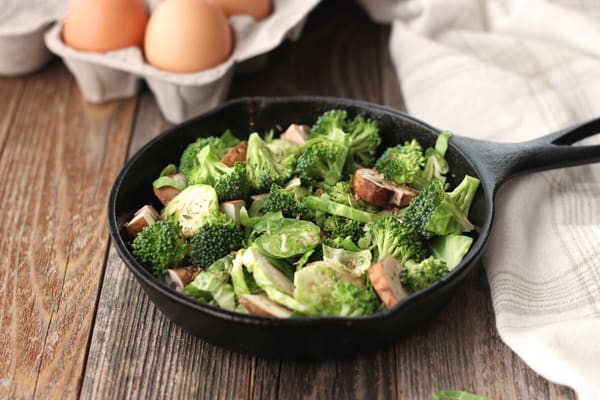 By the time you've started a pot of coffee and checked out the latest on Facebook those veggies will be just pre-cooked (softened but still toothy). Sprinkle with salty feta cheese, roasted red pepper and pour a few whisked eggs over everything.
Quickly (but carefully) shove the pan back in your toaster oven, grab a nice fresh cup of Joe and immediately hop back under the covers!
About 20 minutes later an irresistible savory aroma will lure you into the kitchen for a thick slice of your tiny but mighty toaster oven frittata.
Pretty much the perfect Sunday morning…unless you use grape tomatoes. Those juicy red jewels are little troublemakers!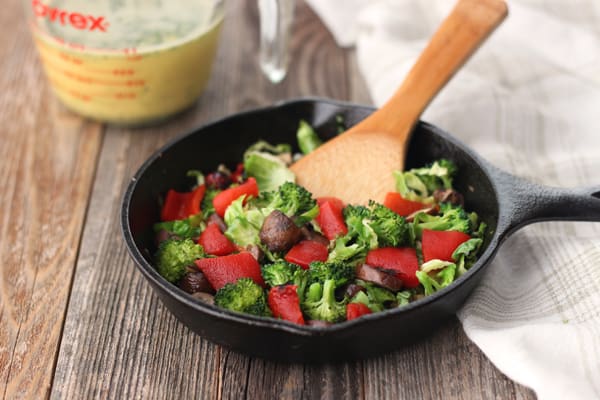 When we got our new Breville Smart Oven Pro earlier this year I was so excited to cook with it. The first recipe I made was a baked frittata. Without a second thought, I dumped a whole handful of grape tomatoes in with the eggs.
About 10 minutes later, I heard a popping noise.
I pressed on the light to look inside the toaster oven and just as it lit up, a stream of tomato juice shot across the inside.
Then another tomato burst. And another.
My first instinct was to get the pan out of the toaster oven STAT! But the eggs were nowhere near done.
For the next 10 minutes, I just waited (wet rag in hand) for my mini tomato disaster to end.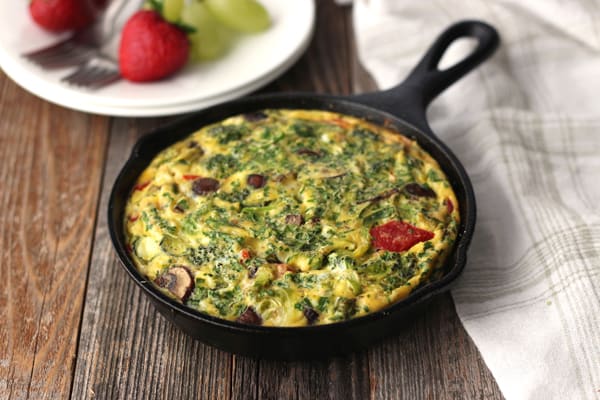 Once I got up the courage to try again, I cautiously added sliced grape tomatoes. There were no juicy explosions but the frittata came out watery.
So I always skip tomatoes and add half a chopped roasted red pepper to our frittatas instead.
Roasted red peppers are SWEET and BRIGHT like tomatoes but won't make the eggs watery or have you spending hours cleaning your toaster oven. That last one's really important for the whole lazy Sunday morning thing.
Plus, an open jar is a perfect excuse to make even more veggie-filled toaster oven recipes like: