Ready in 15 minutes, this easy egg toast is perfect for a quick breakfast or lunch. Just grab a slice of bread, top it with an egg, and bake in the toaster oven!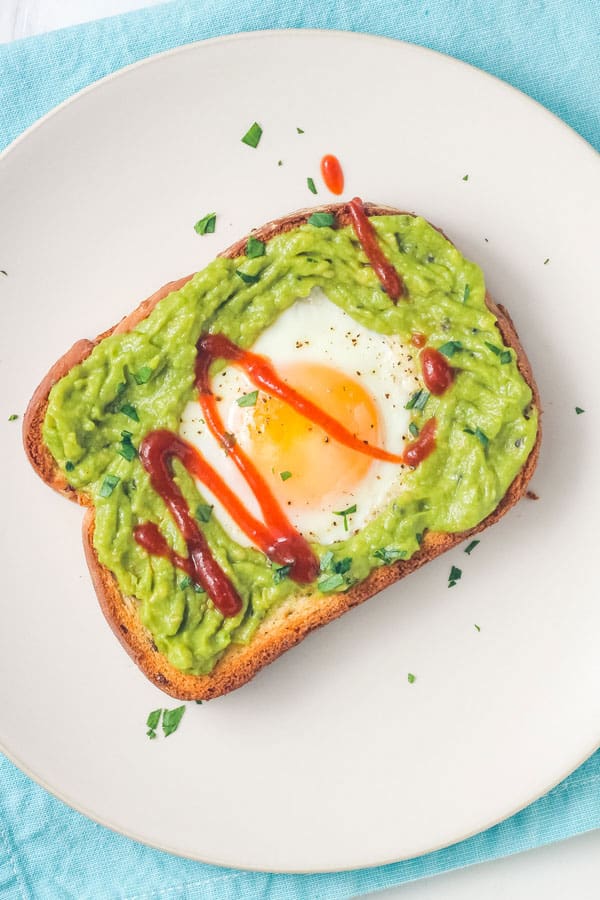 If you grew up eating Egg in a Hole (or one of the other cute names it's known by like Eggs in a Basket or Egg in a Nest) this savory toast is a riff on that classic breakfast recipe.
Usually, it's made in a skillet but we're cooking everything in the toaster oven so there's no stovetop required.
And you don't have to cut a hole for the egg to cook inside the toast. With this method, the egg is baked right on top of the bread!
It's simple, customizable, and a delicious way to start the day.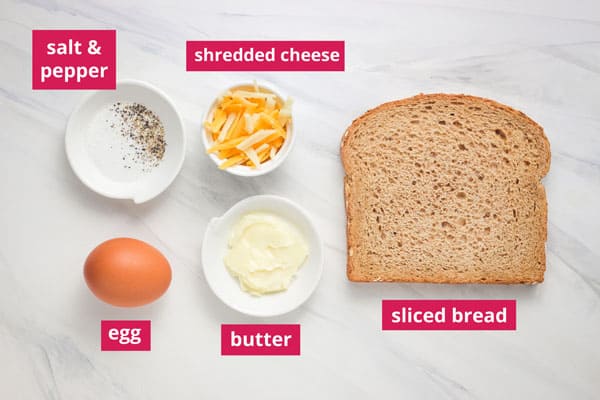 Recipe Ingredients
Sliced Bread: To keep the egg contained you'll want to use a slice that's at least ½-inch thick. Similar to making these egg and cheese toasts, avoid bread that has a bunch of holes in it. Otherwise, the egg will just seep through.
Salted Butter: Adds flavor, browns and toasts the bread, and keeps it from sticking to the pan. Instead of butter you can lightly brush or spray the bread with olive oil.
One Large Egg
Shredded Cheese (optional)
Salt and Pepper
How To Make Egg Toast In A Toaster Oven
1. Start by adjusting the toaster oven's cooking rack to the bottom placement. Select the BAKE setting and preheat to 400°F.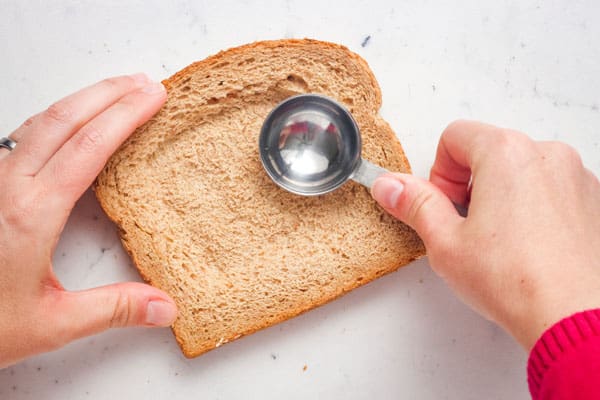 2. Using your fingertips or the back of a spoon (like a rounded tablespoon) press down the middle of the bread to create a well for the egg.
Try to leave a ½-inch border near the crust. And be firm but gentle when pressing. You don't want to tear or cut through the bread.
I like to press the well into a nice wide rectangle. This way the egg white will spread out into a thinner layer and cook faster (similar to how eggs cook in a frying pan).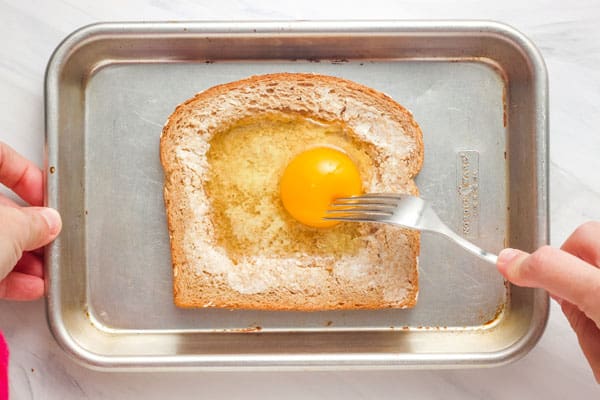 3. Next, lightly butter both sides of the bread and add to a small sheet pan. Then carefully crack an egg into the center pocket.
If you want a medium-hard yolk that is cooked through (not runny), I find that poking the yolk before baking helps to avoid over-cooking the egg white.
For a runny over-easy style yolk don't poke it!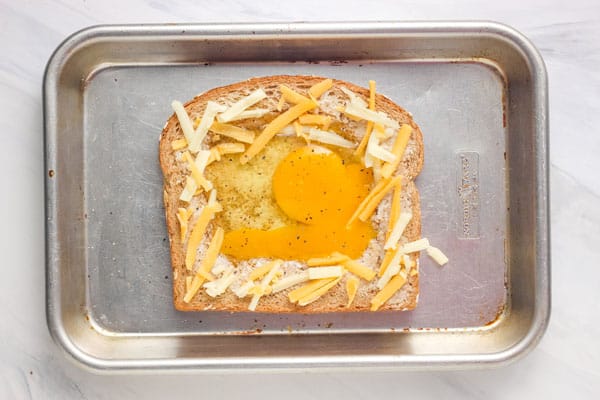 4. Lastly, sprinkle the shredded cheese around the outside border and season everything with salt and pepper.
5. Bake until the bread is toasted, the egg white is set (not jiggly) and the yolk is cooked to your liking. About 8 to 10 minutes for softer yolks and 10 to 13 minutes for hard-cooked yolks.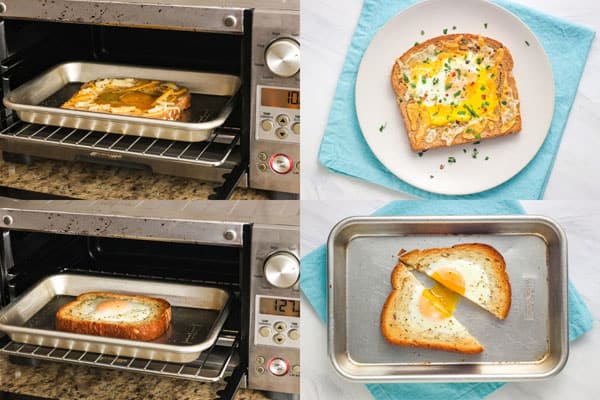 I like my yolk to be fairly well-cooked but still a little jammy. In our toaster ovens that means about 10 minutes of cooking.
But all ovens vary. So you may need to cook your egg for more or less time.
Cooking Tip: The first time you make the toast I'd recommend checking on it after 6 or 7 minutes of cooking. Then keep adding more time until the egg is done to your liking.
Tasty Topping Ideas
One of my favorite things about this savory breakfast recipe is how easy it is to customize.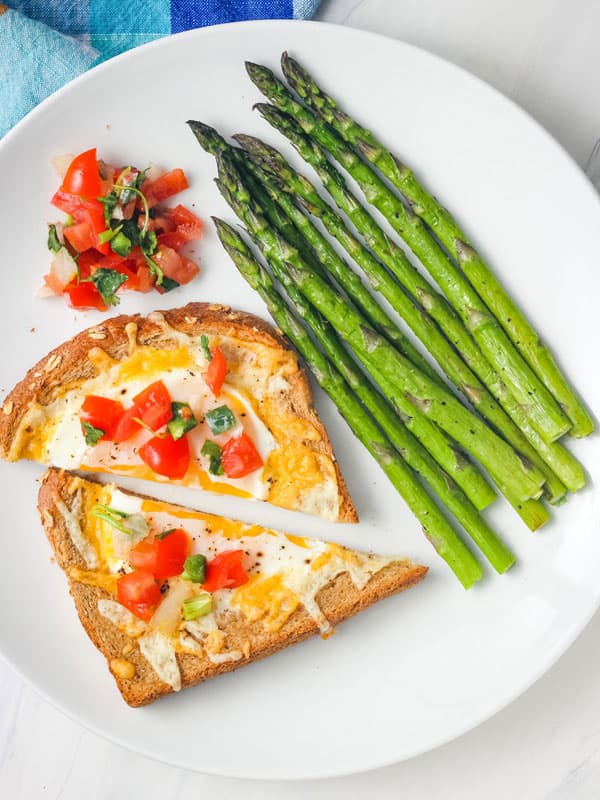 Using different seasonings, sauces, or whatever leftovers are in the fridge you can enjoy a new unique version every day!
Below are some topping ideas but really the sky's the limit.
Spices: red pepper flake, everything bagel seasoning, za'atar, paprika, garlic, or onion powder
Sauces: sriracha, salsa, pesto, or marinara
Fresh Herbs: thyme, basil, cilantro, or parsley
Veggies: avocado, pico de gallo, radishes, pickled red onions, or leftover roasted vegetables (red peppers or brussels sprouts are my faves)
If your toaster oven can fit a larger pan, try roasting asparagus spears alongside the egg toast. It makes for a light spring meal that's perfect for breakfast, lunch, or dinner.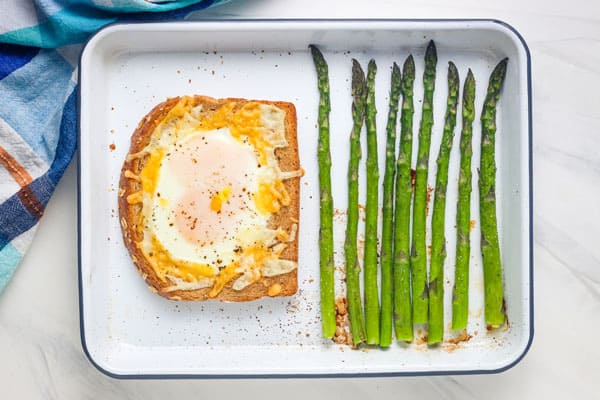 More Toaster Oven Egg Recipes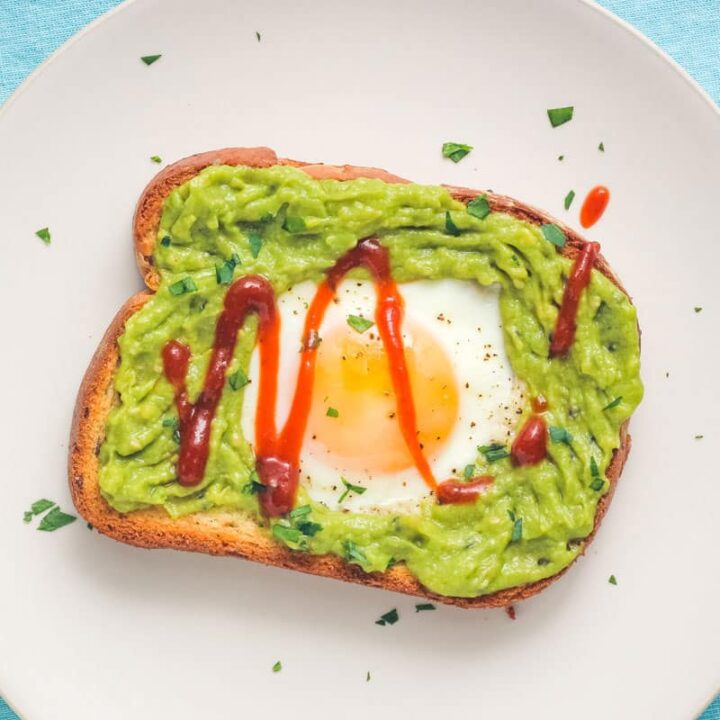 Egg Toast Recipe
This easy egg toast is a speedy dish that's perfect for any time of day, not just breakfast! For a more filling meal, top it with avocado or leftover veggies.
Ingredients
1 Slice Whole Grain Bread (at least ½-inch thick)
1 teaspoon Salted Butter
1 large egg (50 grams, weighed outside of shell)
Salt and Pepper, to taste
2 tablespoons Shredded Cheddar Cheese (optional)
Instructions
Adjust the toaster oven's cooking rack to the bottom placement. Select the BAKE setting and preheat to 400°F.
In the meantime, press the middle of the bread down using your fingertips (or the back of a spoon) to create a well. Try not to tear the bread or the egg will leak out.
Lightly butter both sides of the bread and add it to the pan.
Crack the egg into the center well. If a more hard-cooked yolk is desired, gently poke the yolk with a fork.
Sprinkle the cheese around the edge of the bread. Then season everything with salt and pepper
Bake until the egg white is set and the yolk is cooked to your liking, about 8 to 13 minutes. *For the best results, check on the egg after 7 minutes, then keep adding more time as needed until it is cooked as desired.
Once ready, top the toast with hot sauce or fresh herbs, and enjoy!
Notes
Cooking Times: Ingredients and toaster ovens vary so your egg may cook faster or slower. Adjust the cooking time as needed to suit your preferred egg doneness.

No Butter Option: Lightly brush or spray the bread with olive oil. If you want to omit the butter/oil entirely, you may need to line the pan with something like a silicone baking mat to keep the bread from sticking to it.
Nutritional info is an estimate for one toast made with cheese.
Nutrition Information:
Yield:

1
Serving Size:

1 Egg Toast
Amount Per Serving:
Calories:

239
Total Fat:

11.8g
Saturated Fat:

4.6g
Cholesterol:

199mg
Sodium:

298mg
Carbohydrates:

22.5g
Fiber:

5g
Sugar:

5.4g
Protein:

12.1g