Streusel Topped Sweet Potatoes
Sweet and creamy, these Streusel Topped Sweet Potatoes are loaded with an irresistible crispy oat topping. From Thanksgiving to Easter, it's the perfect side dish for your holiday table!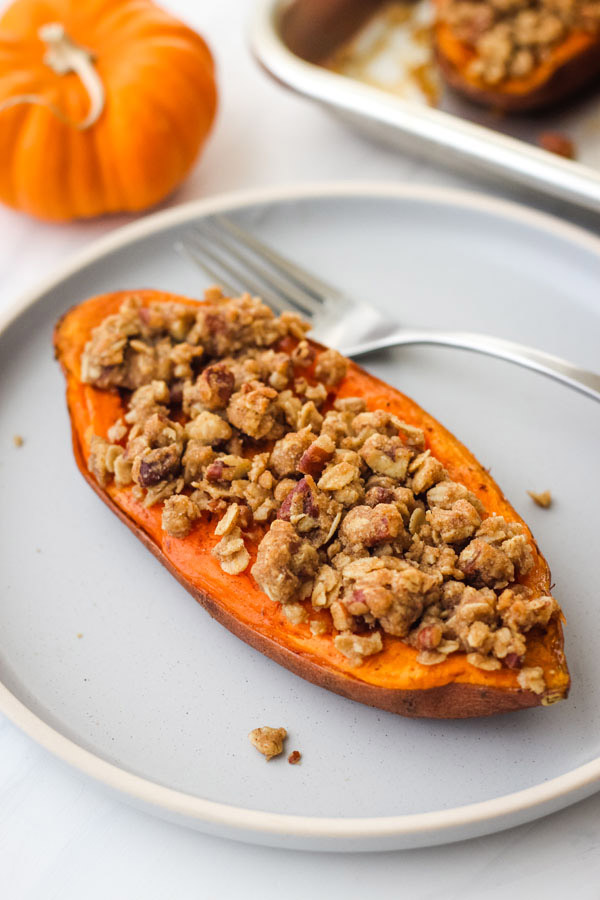 From spicy Roasted Brussels Sprouts with Sriracha to indulgent Potatoes Au Gratin For Two, during the holidays our toaster oven is a side dish making machine. This year I thought it would be fun to try something a little sweeter.
Enter Streusel Topped Sweet Potatoes! Creamy baked sweet potatoes topped with a crispy, buttery, crumbly oat and nut mixture. They're basically single-serving sweet potato casseroles.
Quick Baked Sweet Potatoes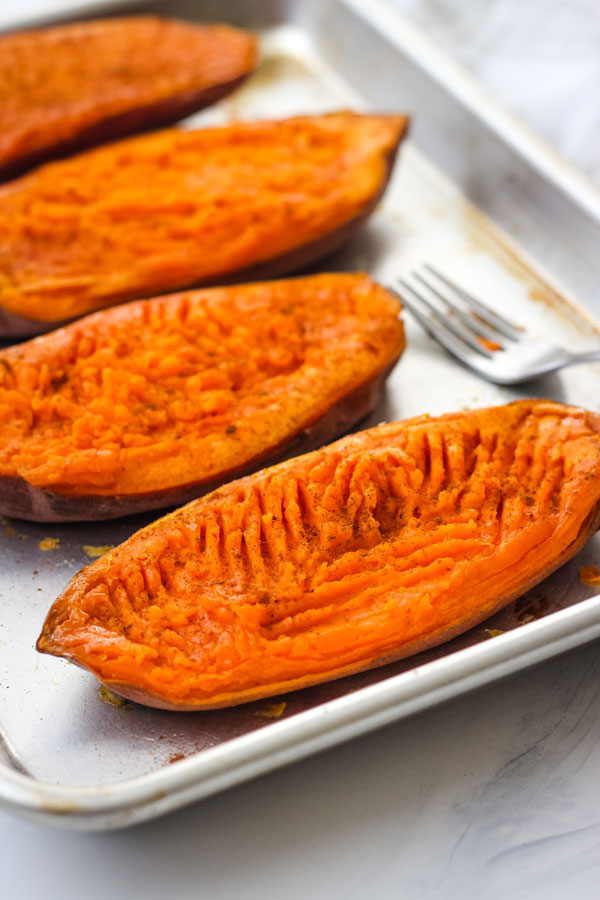 Most baked sweet potato recipes have you put your big fat potatoes in the oven (or toaster oven) and then wait FOREVER for them to cook through. For this recipe, we're going to cut the cooking time in half by using our popular quick baked sweet potatoes.
You ready for the super-secret method…just slice the sweet potatoes in half lengthwise before cooking. Seriously, that's it.
While I love the shorter cooking time (especially for dinners like these BBQ Tempeh Stuffed Sweet Potatoes), my favorite thing about making sweet potatoes this way is their flavor.
There's the usual sweetness plus a hint of roasted flavor. Perfect for pairing with a crunchy pecan streusel!
~ Keep scrolling for substitutions & tips after the recipe ~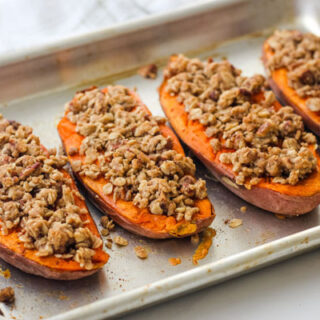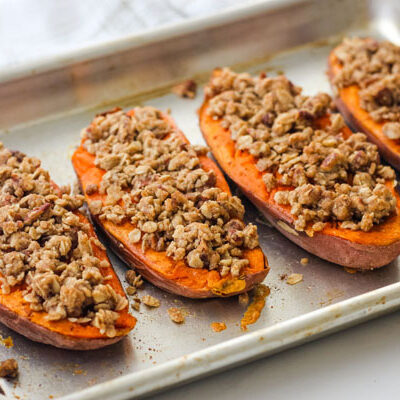 Streusel Topped Sweet Potatoes
Quick baked sweet potatoes with a decadent pecan, oat and brown sugar topping.
Ingredients
For the Sweet Potatoes:
2 Sweet Potatoes, 10 to 12 ounces each, scrubbed and dried
1 1/2 teaspoons Olive Oil
1/4 teaspoon Cinnamon
1/16 teaspoon Ground Nutmeg
For the Streusel:
1 ounce Raw Pecan Pieces, (about 1/4 cup)
1/4 cup Old Fashioned Rolled Oats
3 tablespoons Brown Sugar
2 tablespoons White Whole Wheat Flour
1/4 teaspoon Ground Cinnamon
1/8 teaspoon Fine Sea Salt
2 tablespoons Unsalted Butter, cold, cut into pieces (dairy-free stick butter will also work)
Instructions
Bake the Sweet Potatoes:
Preheat oven to 400°F. If using a toaster oven, select the BAKE setting and adjust the cooking rack to the lowest position.
Slice sweet potatoes in half lengthwise, add to a baking sheet and drizzle with oil. Use your hands to rub the oil over the skins and flesh.
Bake sweet potatoes (with the cut side facing the pan) until fork-tender, about 25 to 30 minutes.
Once cooked, remove the pan from the oven and allow the sweet potatoes to cool for 5 minutes. Reduce the temperature to 375°F and leave the oven on.
Make the Streusel:
Roughly chop the pecans. Combine the chopped pecans, oats, brown sugar, flour, cinnamon, and salt in a medium bowl. Add the butter and use your fingertips to work the butter into the oat mixture until it forms into small clumps.
Refrigerate streusel until the sweet potatoes are ready for topping.
Assembly:
Flip the cooled sweet potatoes over and sprinkle with cinnamon and nutmeg. Use a fork to gently mash the flesh and combine the seasoning.
Distribute crumble topping evenly over the sweet potatoes.
Bake until the streusel is lightly browned and crispy, about 15 minutes. Cool slightly before digging in!
Notes
Reheating
Place stuffed sweet potatoes on a sheet pan. Bake at 325°F for about 10 minutes or until the sweet potatoes are warmed through and the crumble is crispy again.
Nutrition Information:
Yield:

4
Serving Size:

1 streusel sweet potato
Amount Per Serving:
Calories:

218
Total Fat:

8.4g
Saturated Fat:

4g
Cholesterol:

15mg
Sodium:

95mg
Carbohydrates:

33.4g
Fiber:

3.6g
Sugar:

13g
Protein:

3.5g
Substitutions and Tips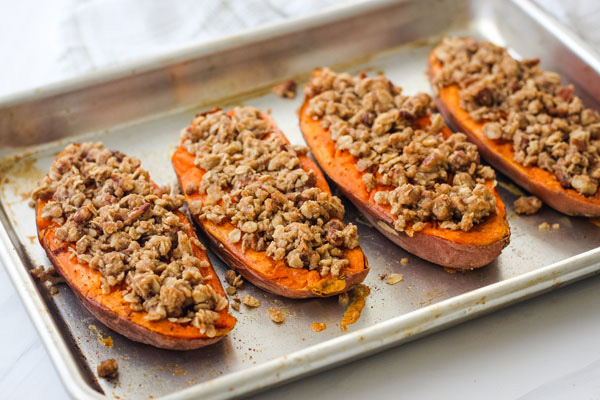 The holidays are ALL about navigating a variety of dietary restrictions and personal preferences right? Below are some of the ingredient substitutions we've tried (oat flour is my favorite!) plus a few tips for customizing your sweet potatoes.
Substitutions: Vegan butter (stick not spread) works great and you can swap the wheat flour with oat flour, more rolled oats, a gluten-free flour blend or almond meal.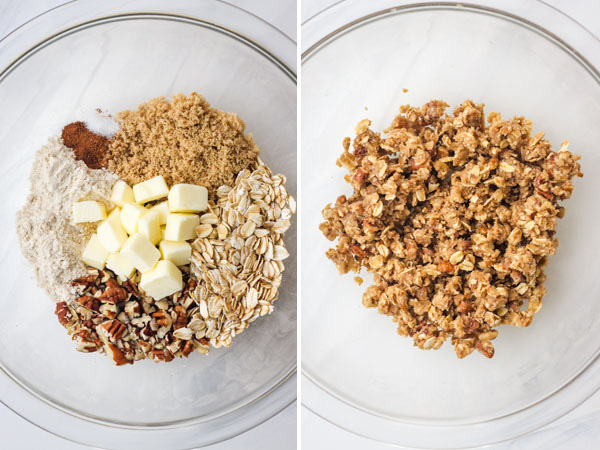 Less Sweet: I like to keep things basic on the filling side and just sprinkle the baked sweet potatoes with a little cinnamon and nutmeg. Then I take a fork and mash the flesh a bit before topping.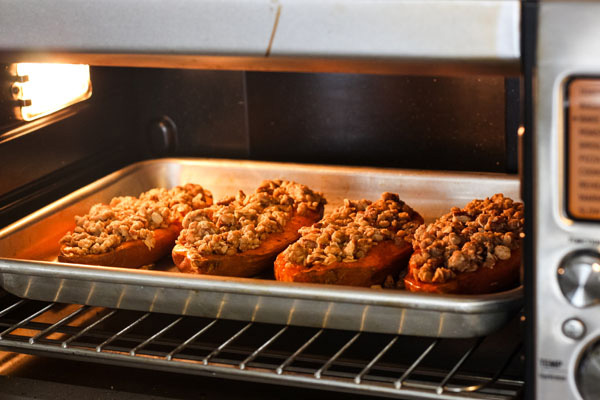 Sweeter: If you'd like a sweeter dish, you can drizzle the sweet potatoes with maple syrup before mashing. For an over-the-top side dish, scoop out some of the flesh and mix it with a little cream, orange zest, and brown sugar. Then stuff it back into the sweet potato shells.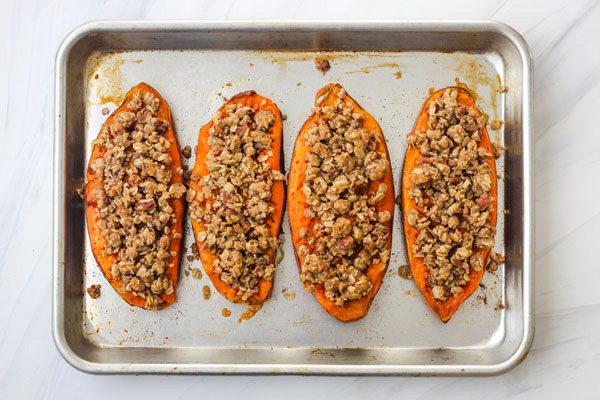 Reheating: Place cooked sweet potatoes on a baking sheet and add to a preheated 325°F toaster oven for about 10 minutes or until they are warmed through and the topping is crispy again.