Pizza Stuffed Sweet Potatoes
Comforting, cheesy, and delicious, these Pizza Stuffed Sweet Potatoes make a tasty vegetarian lunch, dinner, or side dish. Clear out your fridge and pile on the toppings!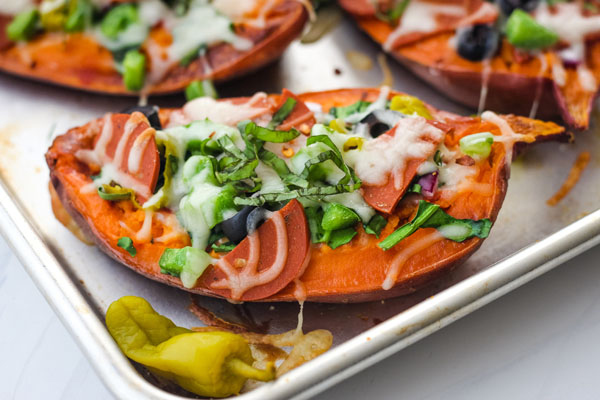 One of the many reasons I love sweet potatoes is how their squash-like flavor pairs so well with other sweet and savory ingredients.
This versatility really comes in handy when it's time to clean out the fridge. You can: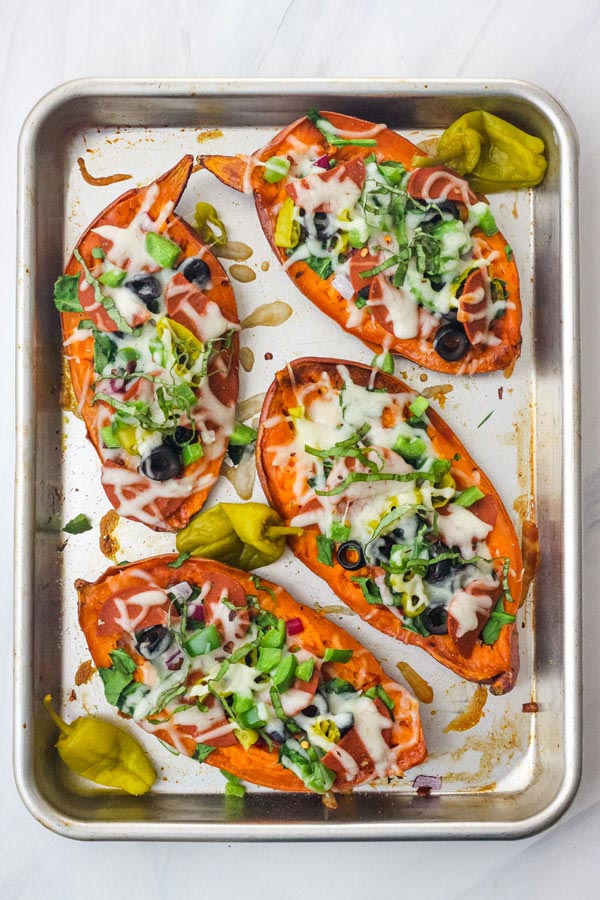 These pizza-style sweet potatoes start with our popular quick baked sweet potatoes. They bake up in 25 to 30 minutes and make a great base for your favorite toppings.
Once they're ready dollop on a little sauce and a handful of shredded cheese. Then rummage through your fridge's produce drawers and condiment shelf.
In our fridge, I found some pepperoncini which added a zesty bite, sliced black olives (the best!), veggie pepperoni, a handful of spinach, and half a small green bell pepper.
But feel free to use anything you want, it's really hard to go wrong.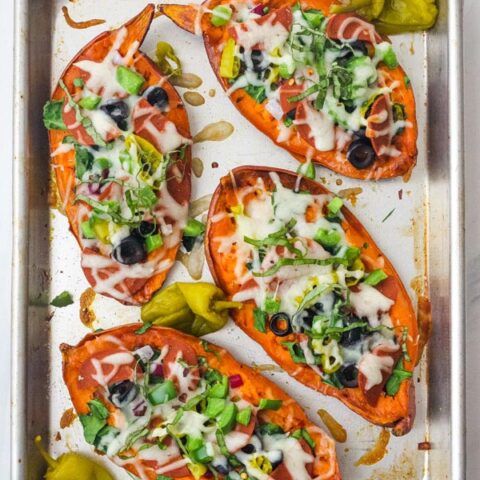 Pizza Stuffed Sweet Potatoes
Yield:
4 Pizza Sweet Potatoes
Load up a batch of sweet potatoes with pizza sauce, cheese, and ALL the toppings for a fun and filling vegetarian dinner for two!
Ingredients
2 Medium Sweet Potatoes, 7 ounces each, washed and dried
1 teaspoon Olive Oil
Salt and Pepper, to taste
1/2 teaspoon Italian Seasoning Blend
4 tablespoons Pizza Sauce (or marinara sauce)
1/2 cup Shredded Cheese (we used mozzarella)
1/2 to 3/4 cup Toppings of Choice
Instructions
Preheat oven to 400°F. If using a toaster oven select the "BAKE" setting and use the bottom rack placement.
Slice sweet potatoes in half lengthwise and place on a baking sheet. Drizzle with oil and using clean hands rub oil onto the potatoes and pan.
Bake sweet potatoes (with the sliced-side facing the pan) until they are fork-tender, about 25 to 30 minutes.
Let potatoes cool for a few minutes, then flip them over and mash the flesh with a fork. Sprinkle with salt, pepper, and Italian seasoning.
Spread 1 tablespoon of pizza sauce onto each sweet potato, top with 2 tablespoons of shredded cheese and add your favorite pizza toppings.
Return the sweet potatoes to the oven and bake until the cheese is melted, about 8 to 10 minutes more. Cool for a few minutes, then dig in!
Notes
Convection Toaster Ovens, bake sweet potatoes at 400°F but begin checking for doneness after 20 minutes, adding more time as needed. After topping, return to oven until the cheese is bubbly and melty, about 6 to 8 minutes.
Feeling extra? Use more sauce or cheese if you prefer your pizza potatoes saucier or cheesier.

Scroll down for ingredient substitutions and toppings ideas after the recipe card.
Nutritional Information does not include toppings.
Nutrition Information:
Yield:

2
Serving Size:

2 pizza sweet potato halves
Amount Per Serving:
Calories:

284
Total Fat:

4.7g
Saturated Fat:

1.7g
Cholesterol:

6mg
Sodium:

97mg
Carbohydrates:

56.5g
Fiber:

8.3g
Sugar:

1.2g
Protein:

4.9g
Substitutions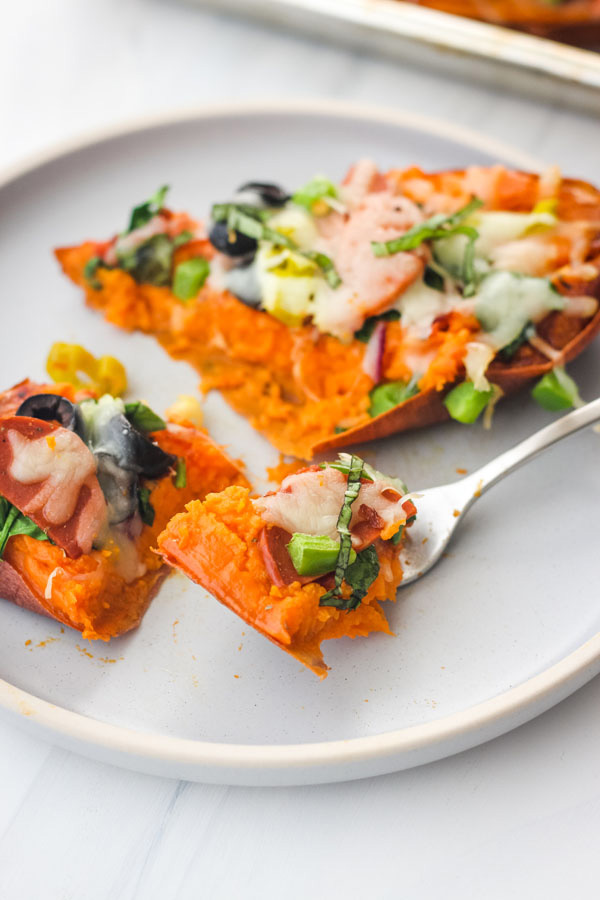 Vegetable Base: Instead of sweet potatoes, you could use a batch of roasted frozen broccoli, quick baked potatoes, or crispy french fries. If you've got more time on your hands, try these Pizza Spaghetti Squash Boats.
Sauce: Marinara, pesto, or alfredo sauce are good pizza-style options. For something different, you could omit the Italian seasoning and use BBQ sauce, peanut lime sauce, or salsa.
Toppings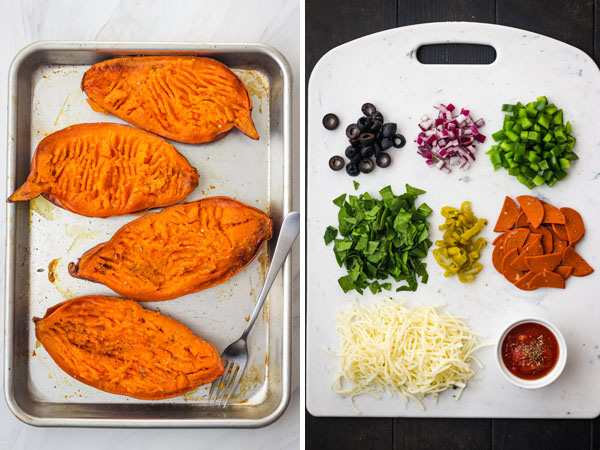 This is the perfect time to clean out the fridge!
First, grab ANY leftover roasted vegetables (like broccoli, cauliflower, eggplant, or zucchini) or random stragglers hiding in your produce drawer. We see you cherry tomatoes.
Then, after checking these condiment food-safety tips pop open those long-forgotten jars and bottles in your packed fridge door.
While you're gathering things up, here are some items to keep an eye out for:
artichoke hearts
fresh or marinated mushrooms
black olives
faux-meaty toppings (like veggie pepperoni or cooked soy chorizo)
pineapple chunks
jalapeno slices
pepperoncini
roasted red pepper
sun-dried tomatoes
fresh basil
Lastly, I like to stop by the pantry for a pinch of red pepper flakes.
Whether you keep things simple or go all out with the toppings, I hope you have lots of fun making (and eating) your personal sweet potato pizzas!