Vegan Twice-Baked Sweet Potatoes with Pineapple and Coconut
These sweet and creamy Vegan Twice-Baked Sweet Potatoes with Pineapple and Coconut make for a fun weekend breakfast or brunch. They're packed with color, textures, and an irresistible cinnamon-ginger flavor.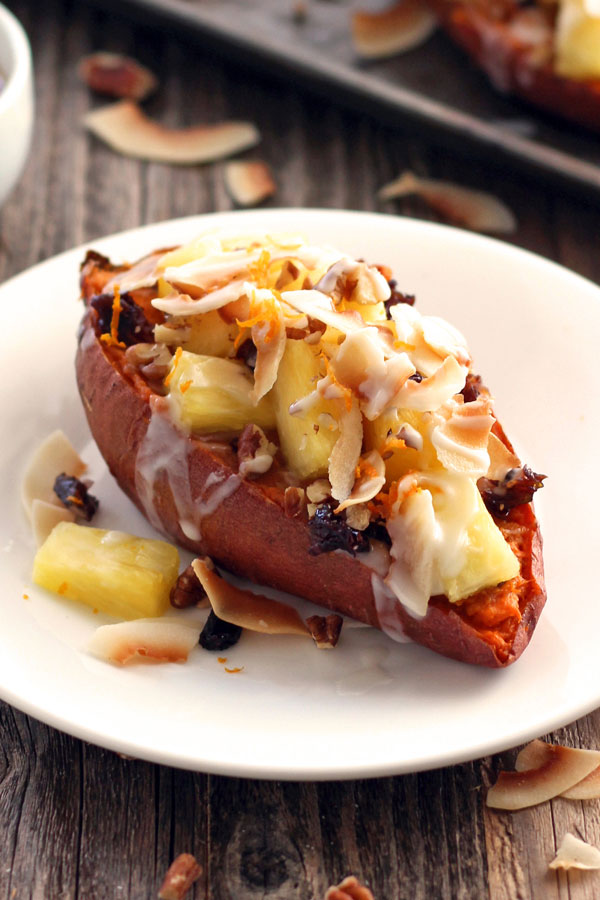 What's not to like about sweet potatoes? They're comforting, delicious, and super versatile too.
You can enjoy them as snackable roasted sweet potato rounds, mini hand pies, or load them up with any of these 10 tasty topping ideas to turn them into a meal.
Lately, we've been making these vegan twice-baked sweet potatoes with pineapple and coconut. They're perfect for lazy weekend mornings.
The lovely combination of squash-like sweet potatoes with warm spices, crunchy pecans, raisins, tangy-sweet pineapple, and creamy coconut butter tastes even more delightful than it looks.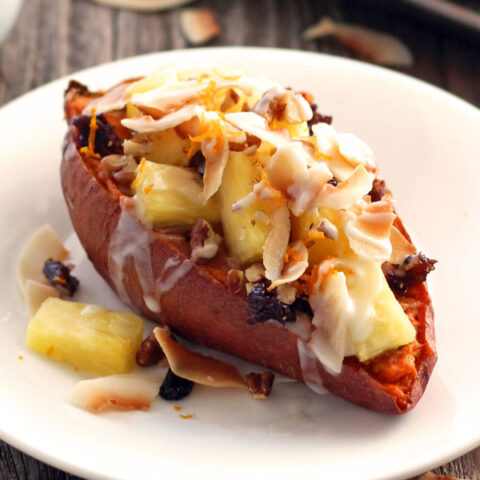 Vegan Twice-Baked Sweet Potatoes with Pineapple and Coconut
Yield:
4 Sweet Potato Halves
Baked sweet potatoes stuffed with cinnamon, pecans, pineapple, and creamy coconut butter. They're a delicious vegan treat that's perfect for breakfast or brunch.
Ingredients
For The Baked Sweet Potatoes
2 medium Sweet Potatoes, about 7 to 9 ounces, washed and dried
1 teaspoon Oil (we used coconut oil)
For The Filling
1/2 teaspoon Cinnamon
1/2 teaspoon Orange Zest
1/4 teaspoon Fresh Ginger Root, peeled, finely grated
Pinch Fine Sea Salt
1/4 cup Chopped Pecans, divided
1 tablespoon Raisins, chopped, divided
Toppings:
1 cup Pineapple Chunks, (if using canned, drain before measuring)
2 tablespoons Coconut Butter, (in a creamy and stirrable state)
3 tablespoons Unsweetened Flaked Coconut, toasted (*see note)
Instructions
Preheat oven to 400°F. If using a toaster oven, select the BAKE setting and adjust the cooking rack to the bottom placement.
Slice sweet potatoes in half lengthwise. Place on a baking sheet, drizzle with oil and using clean hands rub the oil onto the potatoes and the pan. Flip sweet potatoes over so the sliced sides are facing the pan.
Bake until fork-tender, about 25 to 30 minutes. Once ready, remove from oven and cool 5 to 10 minutes.
Use a spoon to scrape out most of the sweet potato flesh leaving at least a 1/4 inch layer intact.
Mash the sweet potatoes with a fork until almost smooth. Stir in the cinnamon, orange zest, ginger, and salt. Add half of the pecans and raisins.
Spoon the filling into the empty sweet potato shells and place on a baking sheet. Bake until warmed through, about 10 minutes.
Top sweet potatoes with pineapple, toasted coconut, pecans, and raisins. Drizzle with coconut butter and dig in!
Notes
For a creamier filling that's also higher in protein, stir in 2-3 tablespoons of non-dairy yogurt, coconut cream, or coconut milk when mashing the sweet potato flesh.
Step-By-Step Instructions for How to Toast Coconut in Your Toaster Oven
Nutrition Information:
Yield:

2
Serving Size:

2 twice-baked sweet potato halves
Amount Per Serving:
Calories:

438
Total Fat:

18.3g
Saturated Fat:

14.8g
Cholesterol:

0mg
Sodium:

8mg
Carbohydrates:

66.3g
Fiber:

8.6g
Sugar:

12.2g
Protein:

4.3g
Steps and Tips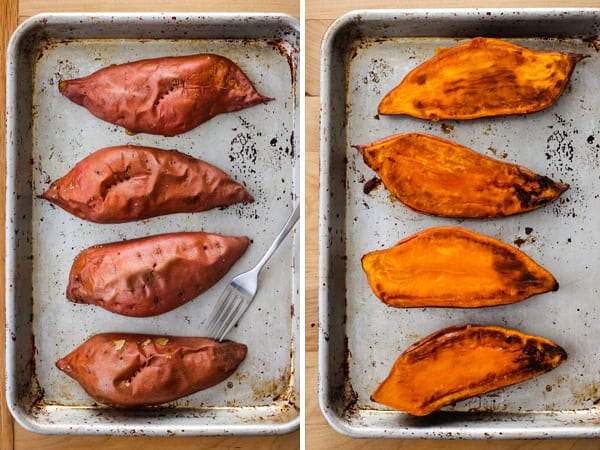 We used to make this recipe using traditionally baked sweet potatoes but that can take almost an hour.
These days I like to start with a batch of quick baked sweet potatoes. By slicing the potatoes in half they cook faster, in about 25 to 30 minutes.
Once the sweet potatoes are ready let them cool for a few minutes. Then scoop out the flesh and mash with cinnamon, ginger, orange zest, pecans, and raisins.

When it comes to mashing I'm a little lazy and just use a fork but if you want things ultra-creamy bust out your hand mixer.
Next, stuff the sweet potato shells with the spiced mash and pop them back in the oven for a few minutes to get everything warm.
Once they're warmed up, top those tasty sweet tubers with juicy fresh or canned pineapple chunks, toasted coconut and a few more pecans and raisins.
Then finish them off with a generous drizzle of rich and creamy coconut butter.
Now, grab the nearest fork and dig into these super filling, over the top fun Twice-Baked Sweet Potatoes!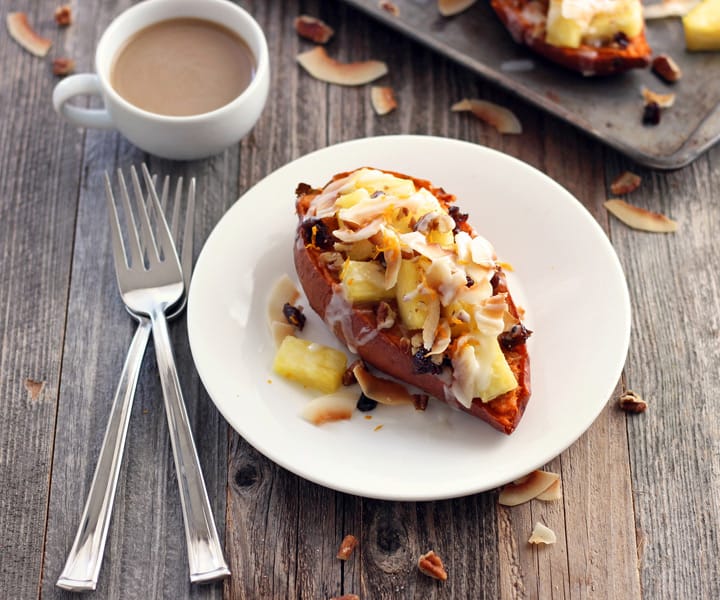 What's Coconut Butter?
Coconut butter also called Coconut Manna is the flesh of the coconut that's been ground into a smooth paste. It's not very sweet but has a super strong coconut flavor.
It tastes great spread on toast and muffins or drizzled over a batch of Instant Pot Mini Oatmeal For Two.
Coconut butter can be found at most "health food" stores or you can order it from Amazon. Our favorite is the Nutiva brand.
You can also try making coconut butter at home using shredded unsweetened coconut. Full disclosure: we've never made our own since it seems a little hit and miss depending on the appliance used.