Veggie Hummus Flatbread is a semi-homemade meal of seasoned toasted flatbread covered with hummus and fresh flavorful veggies! Throw together this easy recipe in less than 30 minutes for a light and healthy vegetarian lunch for one or two.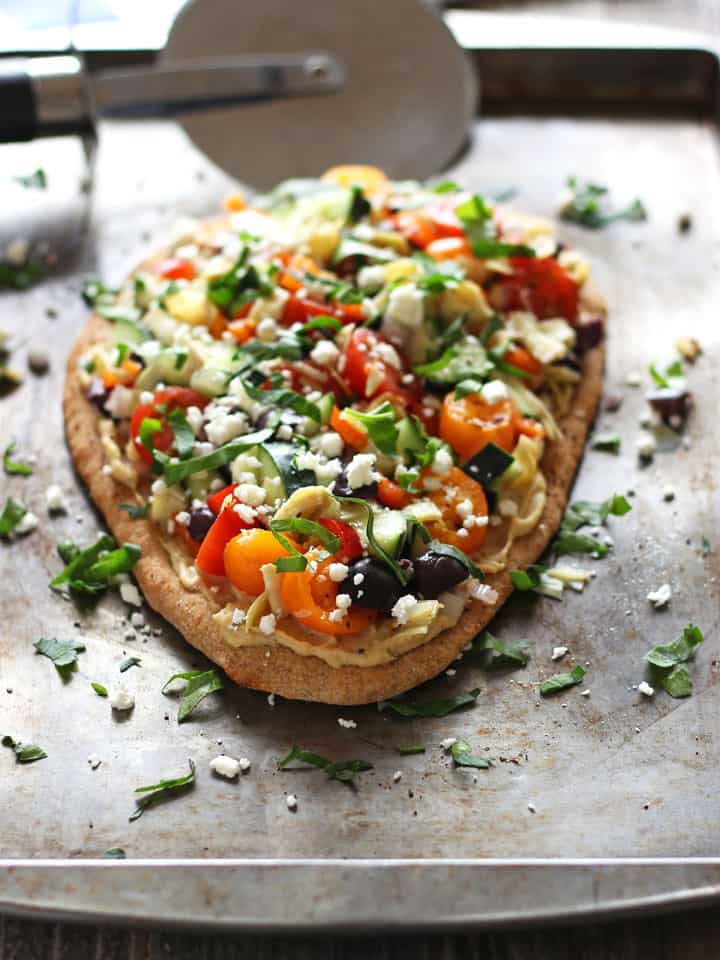 The ingredients list for this recipe may seem a little long but trust me it's worth it.
Using small amounts of different veggies brings more flavor and textures than just one or two would.
Sweet grape tomatoes balance the salty Kalamata olives.
Crunchy cucumbers and mini bell peppers contrast the meaty artichoke hearts.
And the best "cooking for two" onion, the mighty shallot contributes a little bite.
If you're not sure what to do with the leftover Kalamata olives, artichoke hearts or grape tomatoes we've got a few tasty lunchtime options. Like tossing them into this Quinoa and Zucchini Noodles Salad or on a batch of Greek-Style Loaded Fries For Two.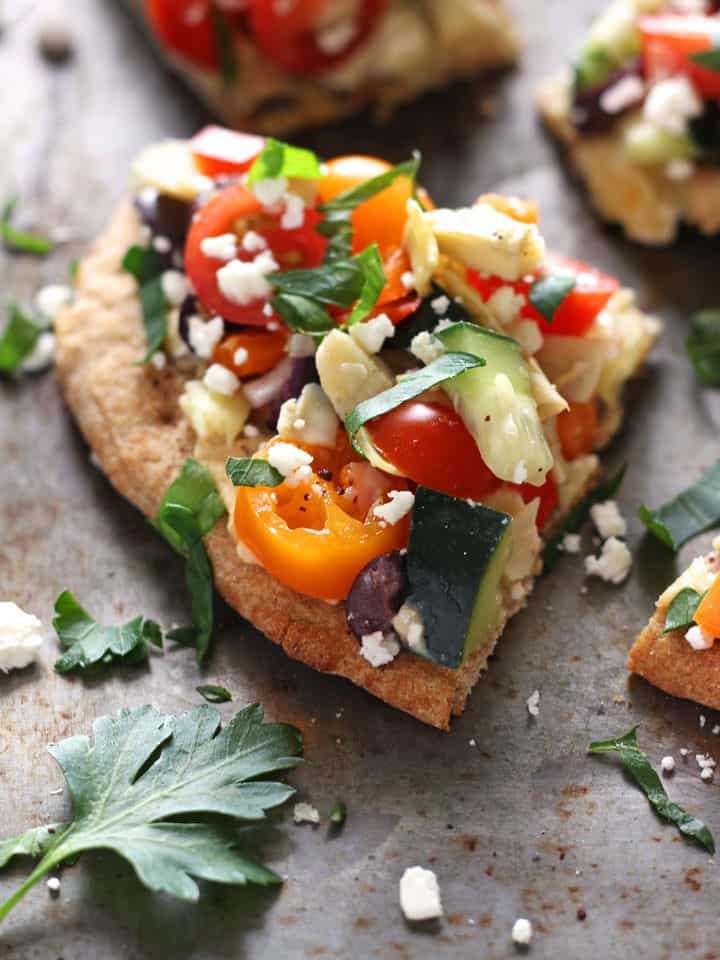 For a more filling lunch, add a cup of soup or indulge in a sweet treat like these Apple Nachos for Two.
And if you've got a group to feed, this Veggie Hummus Flatbread recipe can easily be doubled (or tripled) for a crowd-pleasing fresh and healthy Game-Day appetizer!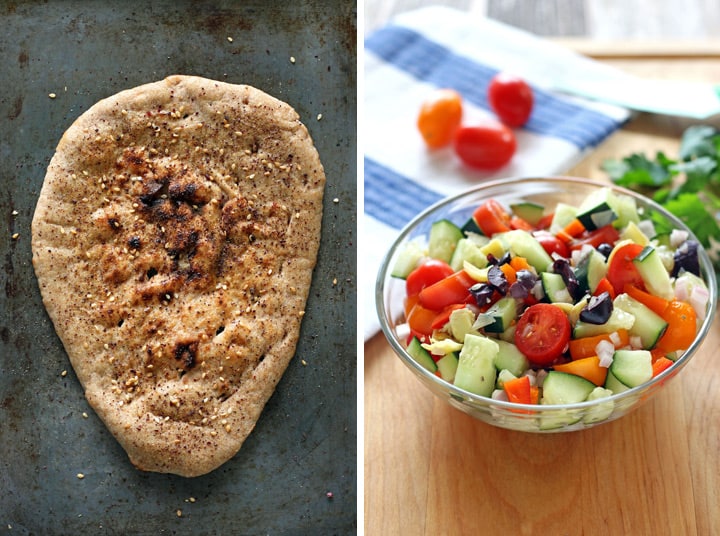 How To Make This Easy Vegetarian Lunch
Start by giving your naan a quick bake in the toaster oven to warm up. It'll get crispy on the outside but stay pillowy and chewy in the middle.
Pre-made flatbread can be a little bland. Brushing the naan with a little olive oil and sprinkling on a bold seasoning like za'atar* before baking adds a punch of flavor to your plain store-bought flatbread.
Plus it makes the kitchen smell fantastic!
*Za'atar is a Middle Eastern spice blend. Some grocery stores like Whole Foods carry it or you can make your own with this recipe from Bon Appétit. You can also substitute Italian seasoning or your favorite spice blend instead.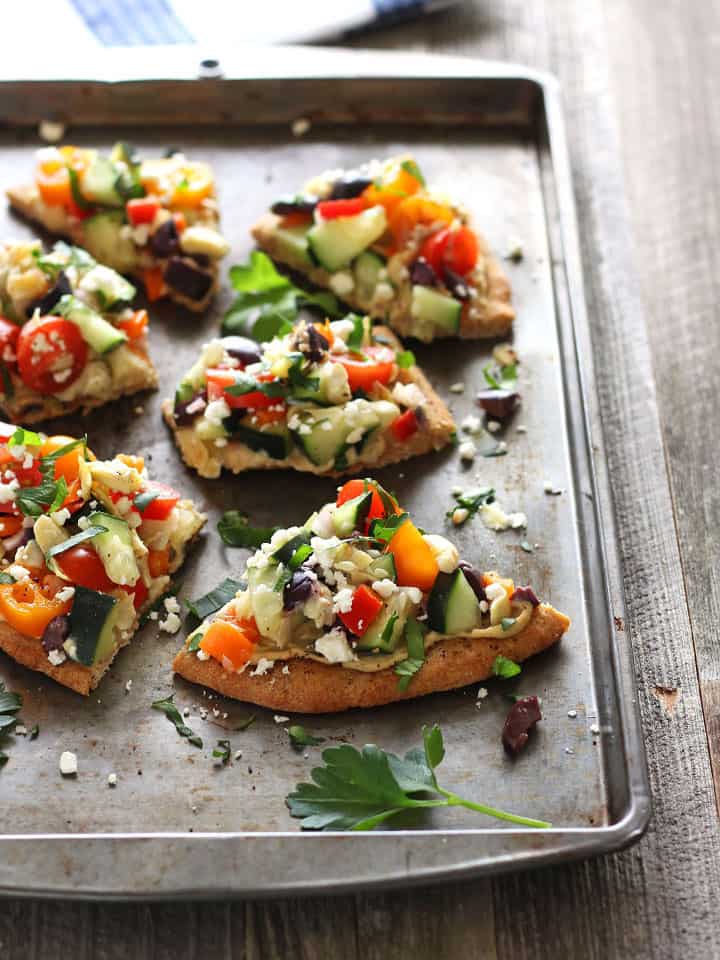 Time For Toppings
While the flatbread warms, chop and mix up your toppings.
The trick to keeping the toppings from falling off the flatbread is to chop the veggies into smaller pieces. This way most of them have contact with the hummus and stay put.
Slather your toasted flatbread with your favorite hummus and pile on those fresh vegetables. Sprinkle with salty feta and chopped parsley and dig in!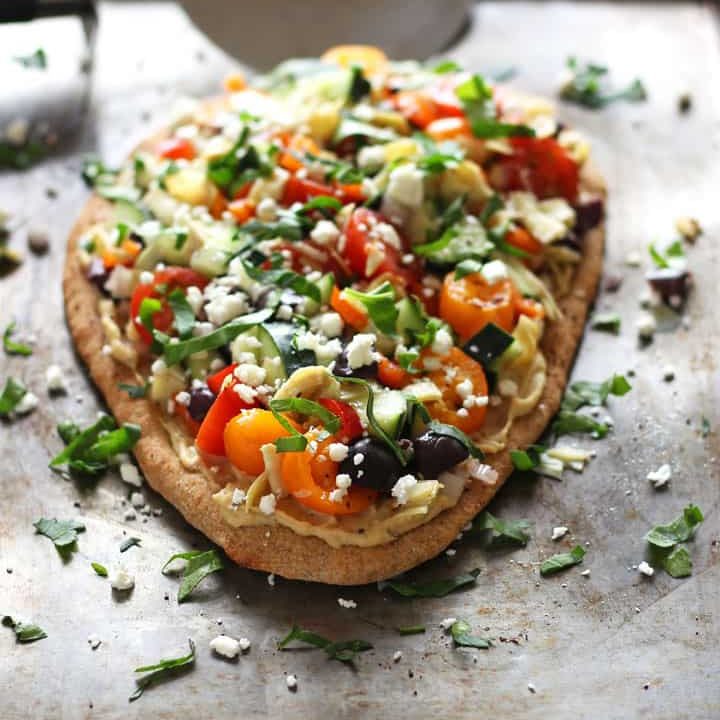 Veggie Hummus Flatbread
Delicious whole wheat naan topped with protein rich hummus and flavorful fresh veggies. A perfect quick and healthy lunch for two.
Ingredients
1 whole wheat Naan flatbread
1 teaspoon extra virgin olive oil
1/2 teaspoon and 1/4 teaspoon Za'atar seasoning, divided
2 artichokes hearts canned in water, drained, dried and roughly chopped (about 1/4 cup chopped)
2 large Kalamata olives, chopped (about 1 tablespoon)
6 grape tomatoes, chopped
1/2 a small cucumber, chopped into 1/4 to 1/2 inch pieces
2-3 mini bell peppers, roughly chopped
2 teaspoons finely chopped shallot, (or red onion)
2 teaspoon fresh squeezed lemon juice
1/4 cup or 2 ounces plain hummus
2 tablespoons thinly sliced flat leaf parsley
2 tablespoon crumbled feta cheese
Instructions
Preheat toaster oven or oven to 400 F.
Place flatbread on an ungreased cookie sheet and brush (or spray) each side of flatbread with oil. Sprinkle with 1/2 teaspoon Za'atar seasoning.
Bake flatbread at 400 F for 7 to 8 minutes until golden and crisp on the edges. Allow flatbread to cool 3 to 4 minutes before topping.
While the flatbread cools mix together the artichoke hearts, Kalamata olives, tomatoes, cucumber, bell peppers and shallot in a small bowl. Drizzle with the lemon juice and add remaining 1/4 teaspoon Za'atar seasoning. Stir well to combine.
Spread cooled flatbread with hummus and top with chopped vegetables. Sprinkle with parsley and feta.
Use a pizza cutter to easily divide into six slices and enjoy.
Notes
Nutritional information is an estimate for 1/2 of the topped flatbread.
Nutrition Information:
Yield:

2
Serving Size:

Half of Recipe
Amount Per Serving:
Calories:

332
Total Fat:

12.1g
Saturated Fat:

2.8g
Cholesterol:

8.5mg
Sodium:

623.1mg
Carbohydrates:

46g
Fiber:

11.3g
Sugar:

11.9g
Protein:

14.1g