Fresh and filling, these Asparagus Couscous Bowls are a fantastic dinner for two. Perfect for spring, they're bursting with flavor from roasted asparagus, sweet peas, salty feta, and fresh mint!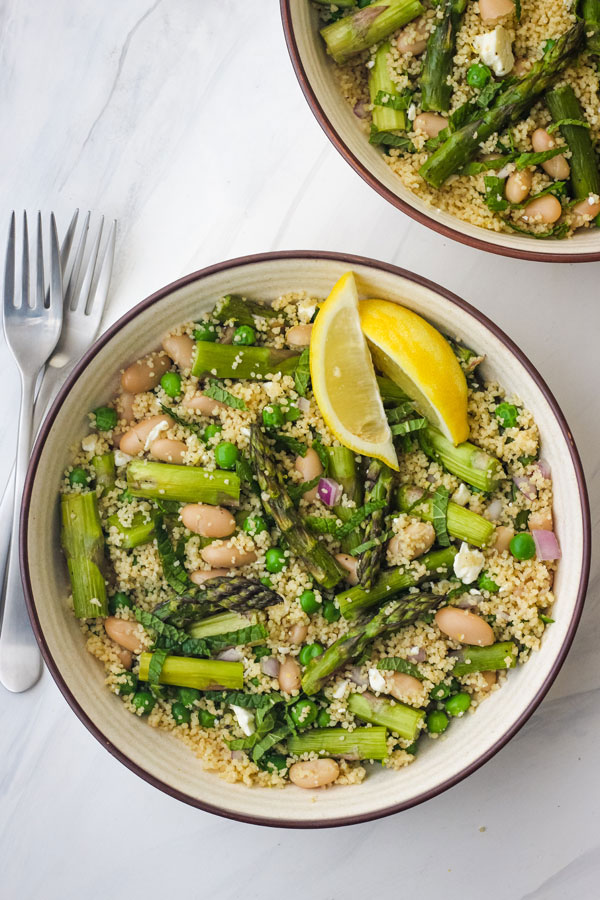 While I'd never turn down an Asparagus and Hummus Toast, these nourishing Asparagus Couscous Bowls are definitely my favorite way to enjoy spring's best veggie.
They feature savory roasted asparagus, quick-cooking couscous, and a bunch of satisfying vegetarian proteins like creamy white beans, peas, and feta cheese.
But the surprise superstar in these big bowls of deliciousness is the mint. It's so refreshing and gives each bite an unexpected zing.
It's okay if you don't have any mint, they will still taste yummy – just promise you'll give it a try sometime.
Asparagus Couscous Bowls
Celebrate spring with this refreshing asparagus salad that's packing plenty of protein and bursting with flavor.
Ingredients
For the Asparagus
1 bunch Fresh Asparagus (about 12 to 13 ounces)
2 teaspoons Olive Oil
Salt and pepper, to taste
For the Bowls
3/4 cup Low-Sodium Vegetable Broth
1/2 cup Whole-Wheat Couscous
1/2 cup Frozen Peas
3/4 cup cooked Cannellini (White Kidney) Beans, drained and rinsed well if using canned
1/4 cup Crumbled Feta Cheese
1/8 medium Red Onion or a Shallot, finely chopped (about 2 tablespoons)
1 Lemon, zested and sliced into wedges
Handful Fresh Mint, thinly sliced
Olive Oil, for drizzling
Instructions
Roast the Asparagus:
Preheat oven to 425°F. If using a toaster oven, adjust the cooking rack to the bottom placement and select the BAKE setting.
Chop asparagus in 1½ -inch long pieces. Add to pan and drizzle with oil, season with salt and pepper. Toss well to coat.
Roast for 7 minutes. Carefully remove the hot pan and toss the asparagus. Continue roasting until fork-tender about 3 to 6 minutes more depending on the thickness of the stalks.
Cook the Couscous:
While the asparagus cooks, bring the vegetable broth to a boil.
Once boiling, stir in the couscous and add the peas. Cover with a lid, remove the pot from the heat and set aside for 5 minutes.
Assembly:
To make the salad, fluff couscous and stir in the beans, feta, red onion, lemon zest, and roasted asparagus. Taste and adjust seasoning with salt and pepper.
Just before serving stir in the fresh mint. Divide into bowls, drizzle lightly with olive oil and squeeze lemon wedges over each bowl. Taste and adjust seasoning with salt and pepper if desired, then dig in!
Nutrition Information:
Yield:

2
Serving Size:

1 Bowl
Amount Per Serving:
Calories:

377
Total Fat:

12.5g
Saturated Fat:

3.9g
Cholesterol:

17mg
Sodium:

318mg
Carbohydrates:

53.2g
Fiber:

14.3g
Sugar:

10.1g
Protein:

17g
Substitutions and Tips
These spring veggie bowls are very versatile.
The creamy Cannellini beans are my favorite but navy beans or chickpeas will have a similar mild flavor. If feta's not an option, crumbly goat cheese or grated vegetarian parmesan cheese will play nice too.
Craving some crunch? Add sliced radishes, crisp lettuce, or a handful of toasted nuts (walnuts, sliced almonds, or pistachios would be delish!).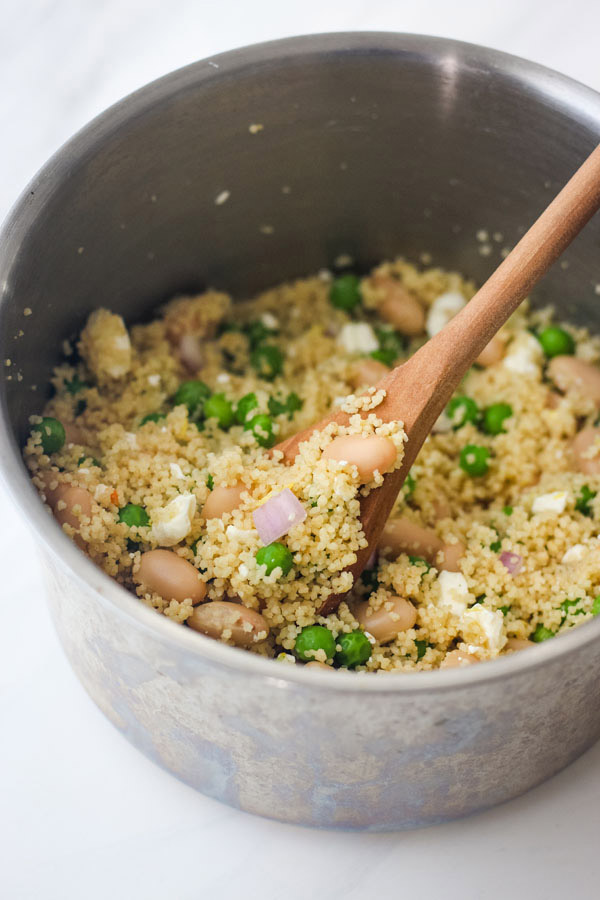 If you're planning to serve this salad as a side dish, the couscous can be made in a large heat-safe bowl instead of on the stovetop.
Add the couscous and frozen peas to the bowl, warm the broth and then pour it over.
Let the couscous stand until it's cooked, about 5 minutes.
Then fluff and add in the other ingredients.
If you don't have any couscous, swap it for quinoa or wild rice. Just follow your package's direction for cooking, defrost the peas, and toss them in after fluffing.
We used olive oil and lemon juice to dress these bowls but they'd also taste great with the tangy citrus dressing from this roasted baby potatoes and chickpeas salad or your favorite light dressing.
See what I mean – very versatile.